NEW FOR 2022! There's new stuff for '22 – Check out Rep Fitness Black Friday 2022.
Here's the details on the Rep Fitness Black Friday Sale for 2021.
This year, Black Friday falls on Nov. 26, 2021. Black Friday is generally the day after Thanksgiving and signals the official kick-off of the holiday shopping season. Rep Fitness is once again joining this tradition and offering great deals for different equipment.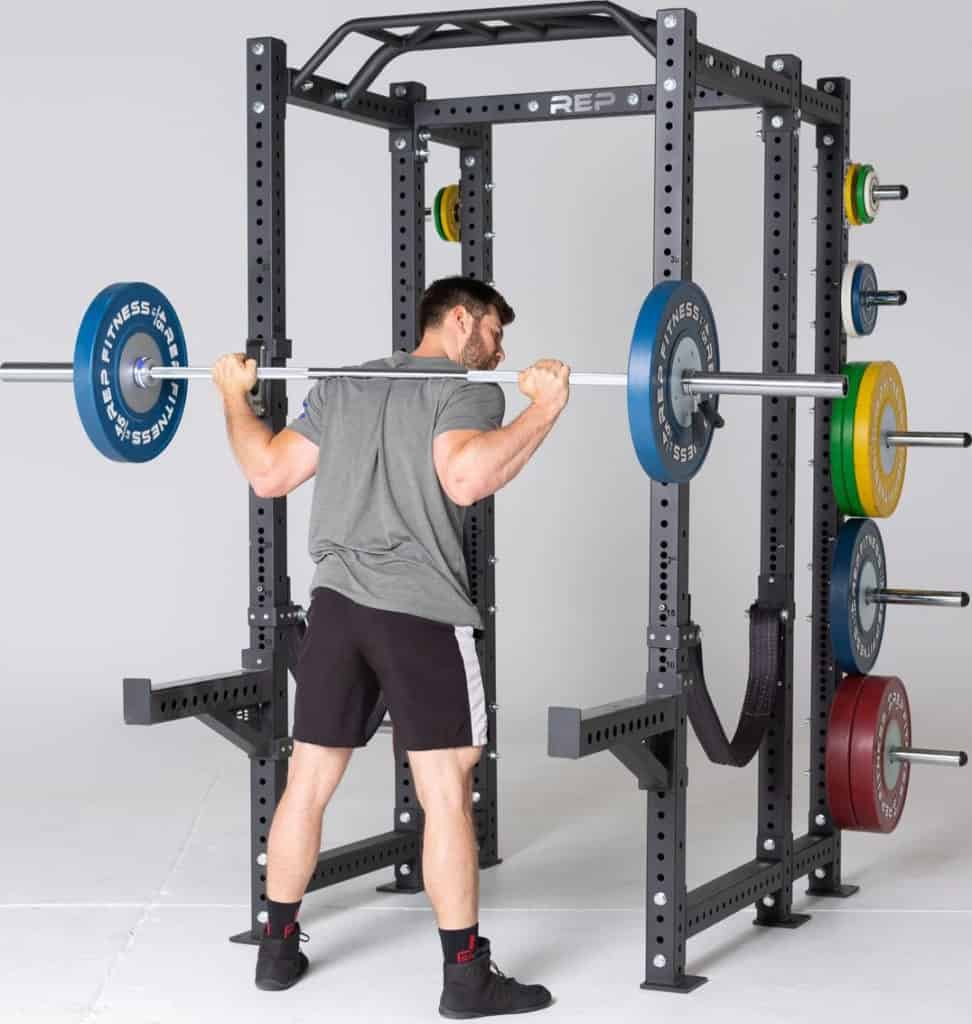 Here are some of the sales Rep Fitness has now – there's more – much more:
Rep Fitness Black Friday 2021 – Overview
Rep Fitness is manufacturing well-built and best value equipment and continuously increasing their inventory. They focus on exceeding their customers' expectations regarding innovation, customer service, and value for high-quality gym equipment. This is the continued vision and motivating factor behind the growth and development of REP Fitness.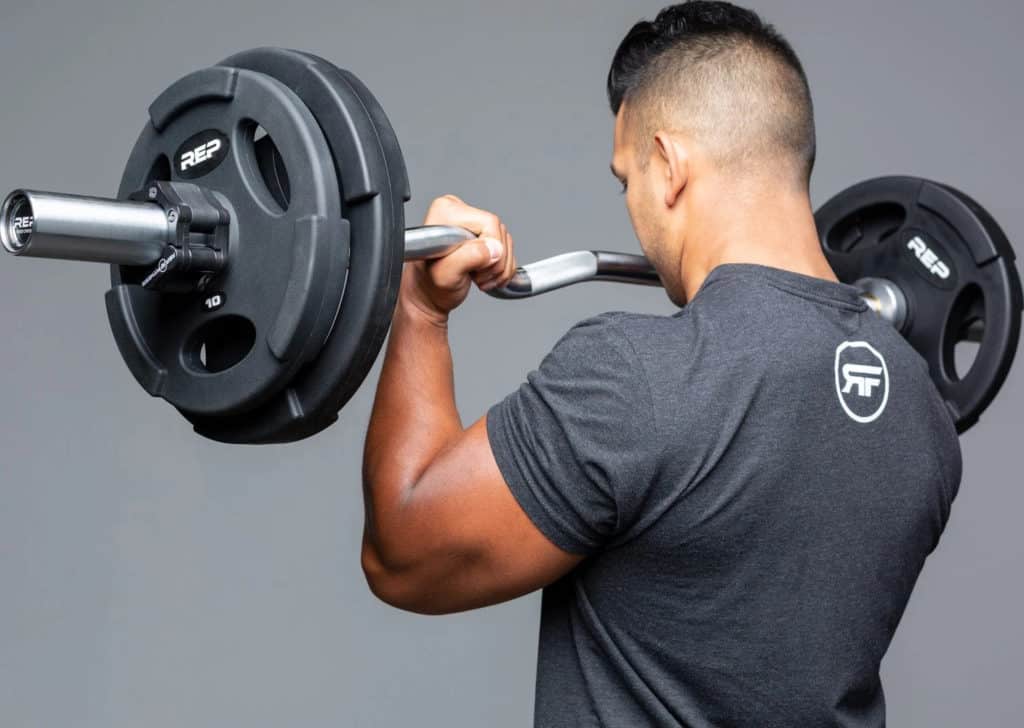 On Black Friday, they will be offering hot deals on plyo boxes, barbells, bumper plates, and weightlifting belts, as well as discounted dumbbells and slam balls and more than 60% off on kettlebells. This sale will continue until supplies last. They have a limited quantity of some SKUs, so they will be offering those on a first-come, first-serve basis. Discounts will not be applied retroactively when they come back in stock.

Looking for something else? Check out the black friday deals from other home gym manufacturers.
Stackable Wood Plyos
With Stackable Wood Plyos, you can now put your gym floor into order. These plyoboxes stack firmly on top of each other for effortless storage when you are not using them. The unique black textured non-slip surface affords more powerful traction whether the surface is wet or dry.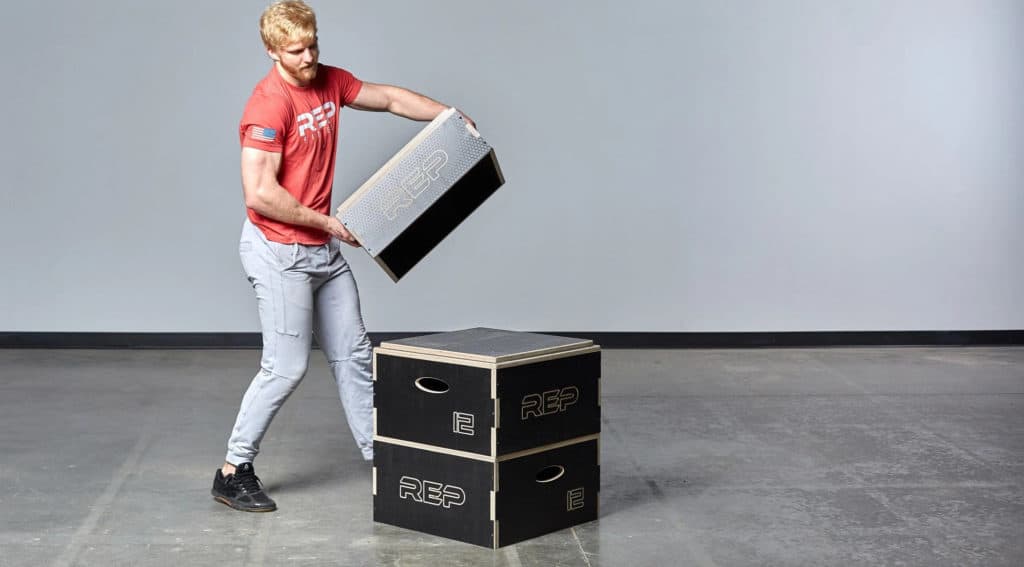 They are the perfect solution if you need a range of sizes for all of your plyometric and HIIT exercises, as well as pushups, box jumps, dips, box squats, step-ups, or negative jumps. Each box is powerful enough to be used on its own or can be merged with others to build a wide variety of sizes. These boxes are rated to 400lbs so you can jump and step up with confidence, and the sides and corners are rounded to help avoid scrapes on missed jumps.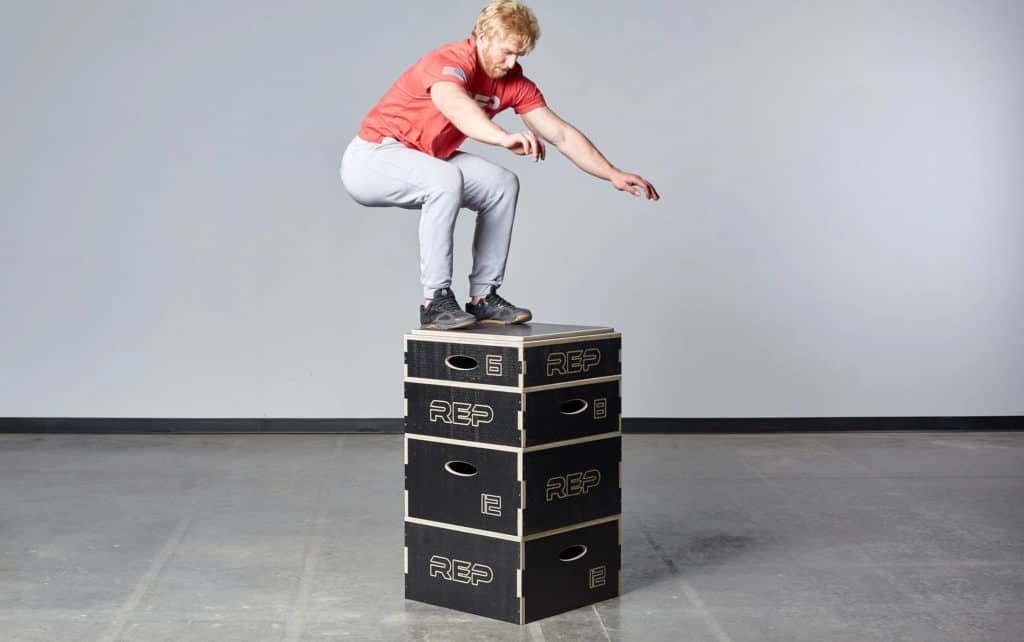 Color Bumper Plate Pairs
The Color Bumper Plates are perfect for cross-training/HIIT workouts and Olympic weightlifting because of their extreme durability. They are built to the same high criteria as the black plates, but the addition of full color makes it comfortable to load the bar every time correctly and to see how much weight is loaded in an extensive training setting. Bumper plates are more silent than metal plates, making them great for home use or personal training studio.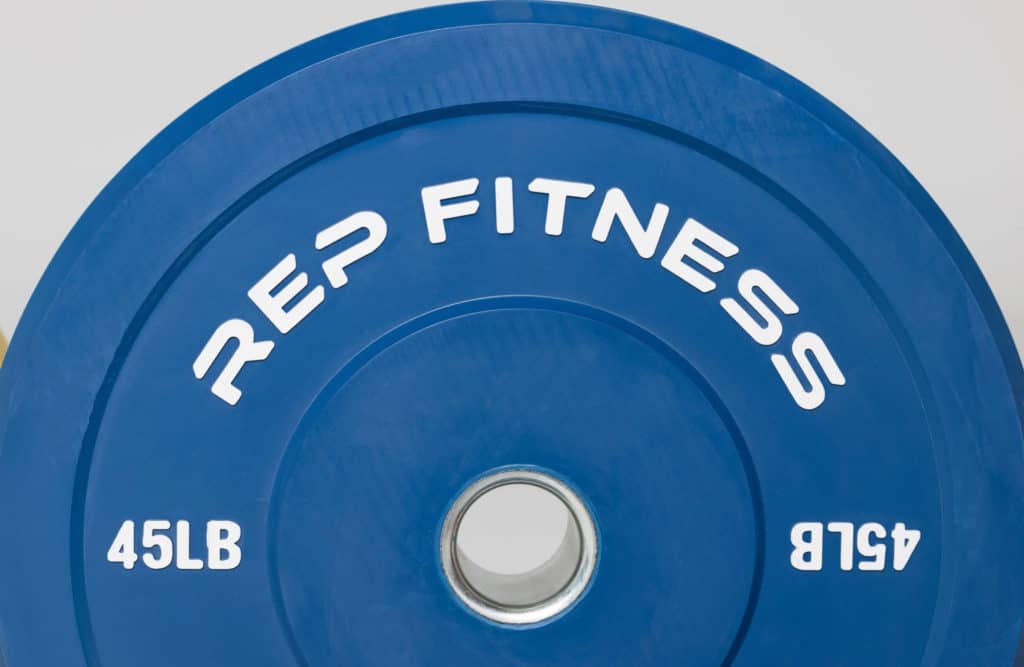 The Color Bumper Plates are made with more refined craftsmanship and design, having been tested to withstand over 12,000 drops from a height of 8 ft. The steel inserts fashioned into the bumper plates enhance sturdiness versus older designs with brass inserts. They also have a thin profile, and you can fit 515lbs of our bumper plates on the bar.

Rubber Grip Hex Dumbbell Pairs
The Rubber Grip Hex Dumbbell saves space on your rack and gives you room to add more weights because they are more compact than their standard rubber hex counterparts. This dumbbell has a unique feature with a classic rubber-coated hex design that is silent and smooth on your floors.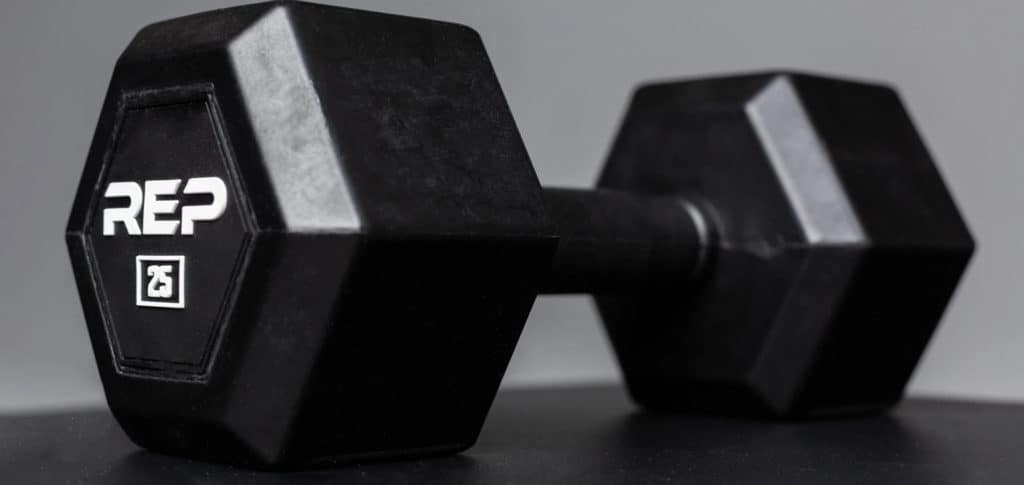 That very premium rubber is applied to cover the grip handle, reducing the risk of eroding, chipping, or stripping over a long period. The most significant benefit of a rubber handle is that you no longer have to "warm-up" the dumbbell to get started.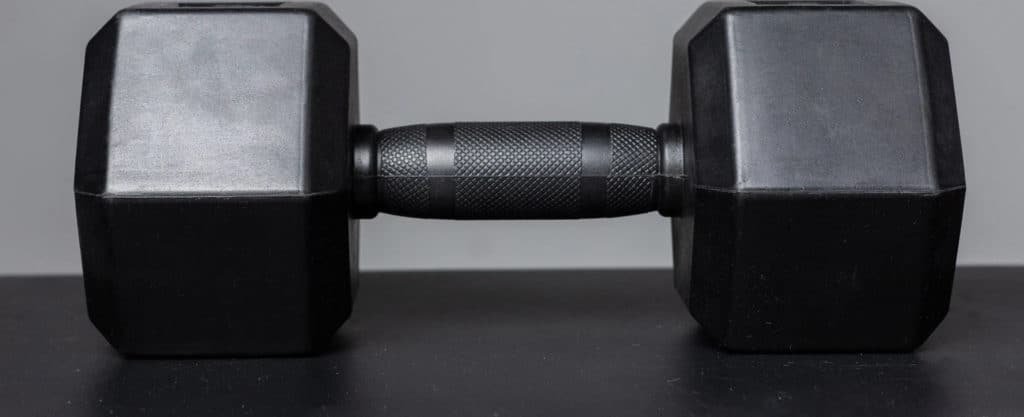 EZ Curl Barbell
The EZ Curl Barbell is a rare find. They are rackable and eliminate pressure on the wrists and elbows, so you can continue upper body barbell work with no risk of fracture. You have the freedom to curl inside your rack in your home gym with this barbell. This curl bar combines the same knurling from Rep Fitness' best-selling mixed-use bars to produce a grip that persists through high rep sets without cutting your hands.

The cambers on these bars support a semi-supinated grip so you can grow your biceps and triceps in a joint-friendly form. With one needle bearing and one bushing per sleeve, these bars are the ideal blend of spin and stability. This unique blend lessens wrist pressure while helping confine various muscle groups.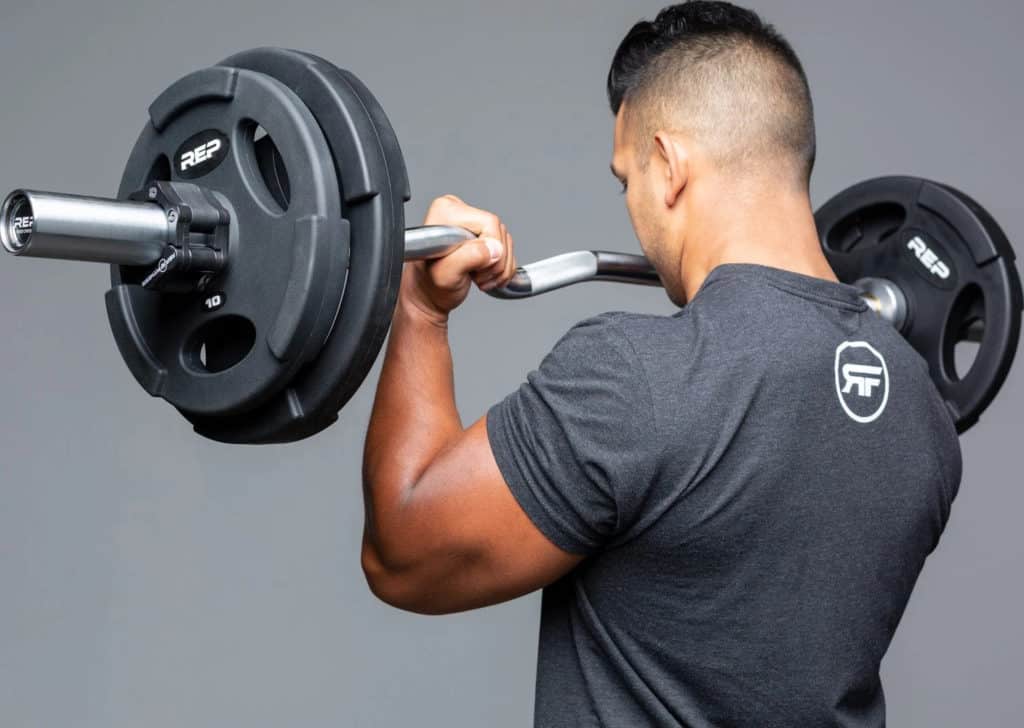 Sabre Bar
The Sabre Bar is ideally suitable for benching, squatting, and deadlifting along with Olympic movements. The 20kg bar comes in two options — with or without a center knurl. Center knurling is necessary to hold the barbell on your back during back squats and assists with low rep Olympic Lifting. If you do high rep workouts or more Olympic lifting, you can consider the "No Center Knurl" option.


The Sabre barbell is now offered in black zinc and with no center knurling. A medium depth knurl and the reduction of center knurling is ideally produced for Cross Training/HIIT style workouts and Olympic Lifting without ripping your hands and your chest.

FB-3000 Flat Bench
Set to International Powerlifting Federation (IPF) standards, the FB-3000 Flat Bench is constructed from 11-gauge heavy-duty steel and highlights our super-grippy high-density foam pad for solid weight lifting. The height of the bench enables proper foot placement while arching to bench press heavyweight with the appropriate form. There is also a four contact point design that is more stable than the three-point design flat benches.
Flat benches are excellent for bodyweight movements like dips, elevated pushups, and deficit pushups. You can also mix your flat bench with an Olympic barbell, bumper plates, and power rack to create a cost-effective home gym setup with minimum equipment. This vertically attached bench hanger connects quickly and securely into studs or concrete with 16-inch spaced mounting holes.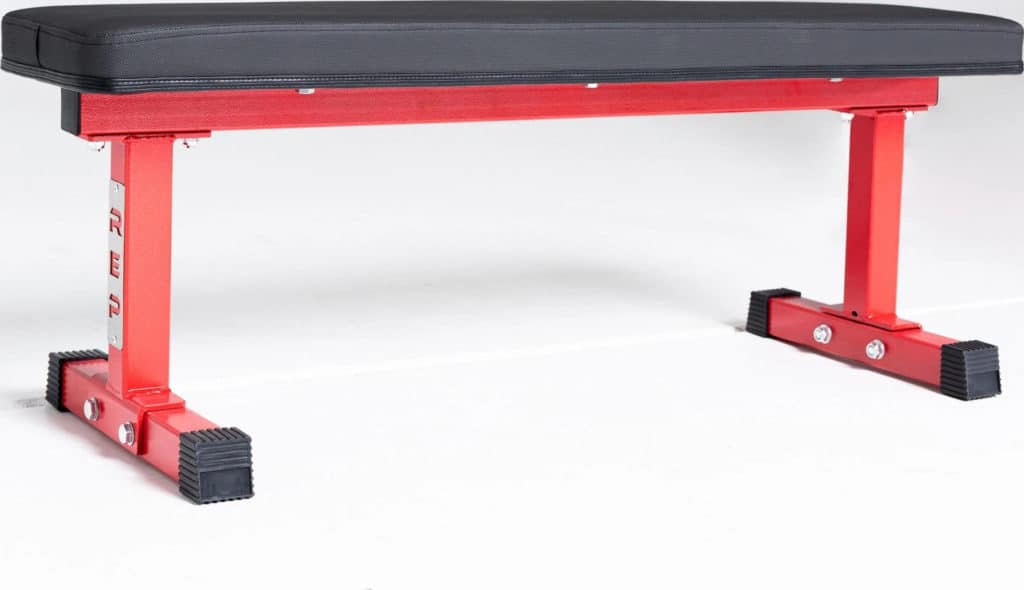 PR-4000 Build Your Power Rack
The PR-4000 is a heavy-duty, 1,000 lb rated commercial-grade power rack emphasizing 3×3" 11 gauge steel with 1" hole spacing through the bench zone and 5/8" pinholes. The 24″ depth 4-post rack is a space-saving version of the PR-4000 with plenty of functionality. The 30″ depth 4-post rack is the most common depth of the PR-4000, while the 41″ depth is spacious with lots of working space, all while adding a ton of stability.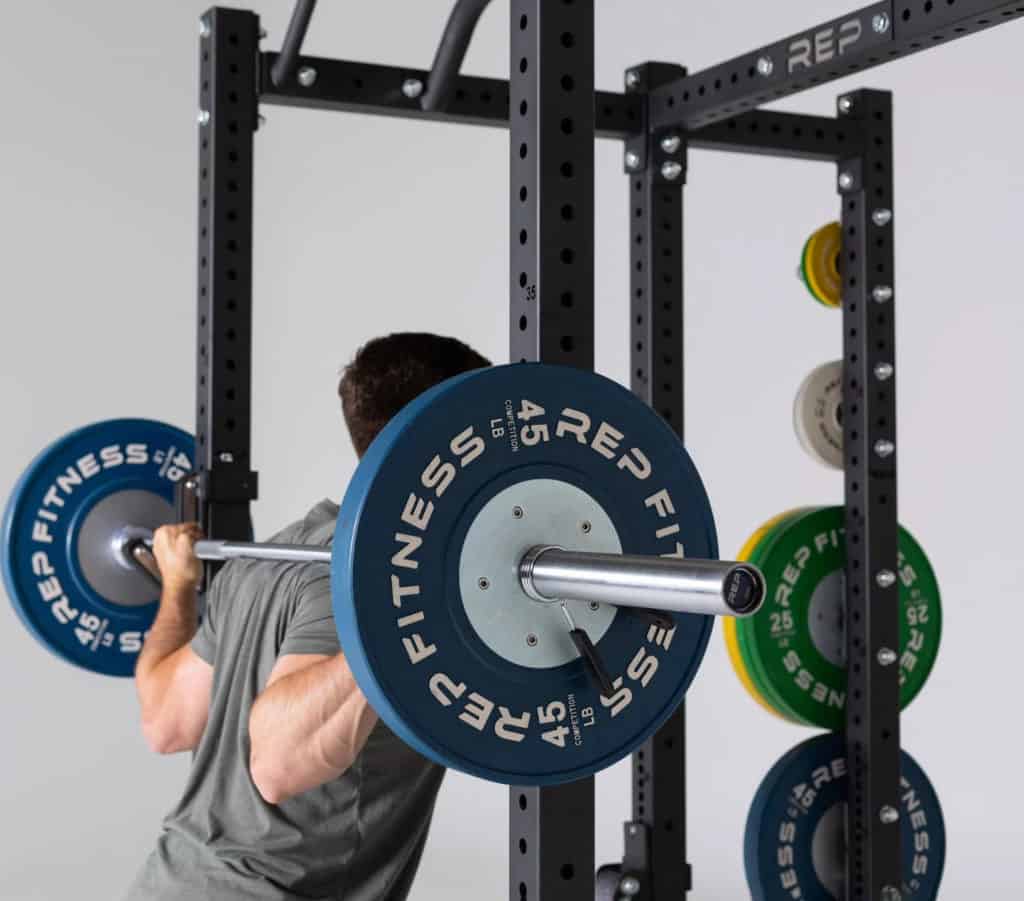 You can create the only power rack system you'll ever need by combining the multiple color and height options with an ever-expanding list of accessories and attachments. Every rack comes with Rep Fitness' top rear logo cross-member, which works as a suitable anchor point for future attachments you may want to add.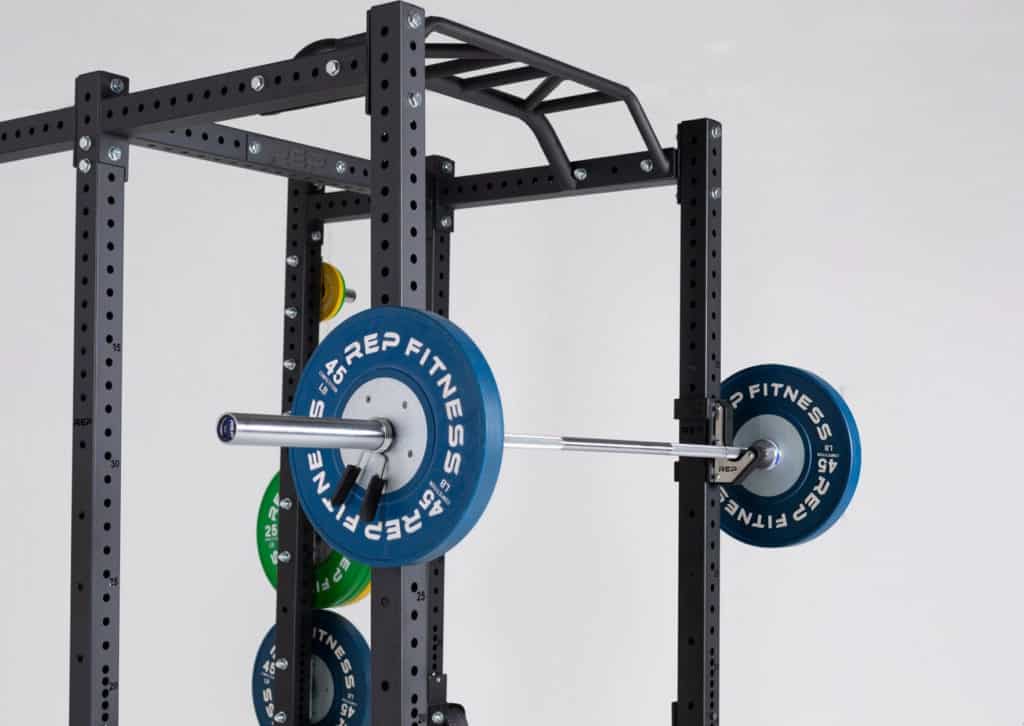 Rep Fitness Black Friday 2021 – In Summary
That's our close-up look at Rep Fitness Black Friday 2021.
Want more? Check out :
If you've been planning to start a garage gym for a long time now, Black Friday is the perfect time to purchase different equipment. Fitness equipment and gear from Rep Fitness are of high-quality quality at an affordable price. From dumbbells to power rack and flat bench, Rep Fitness offers excellent deals that you can take advantage of on Black Friday.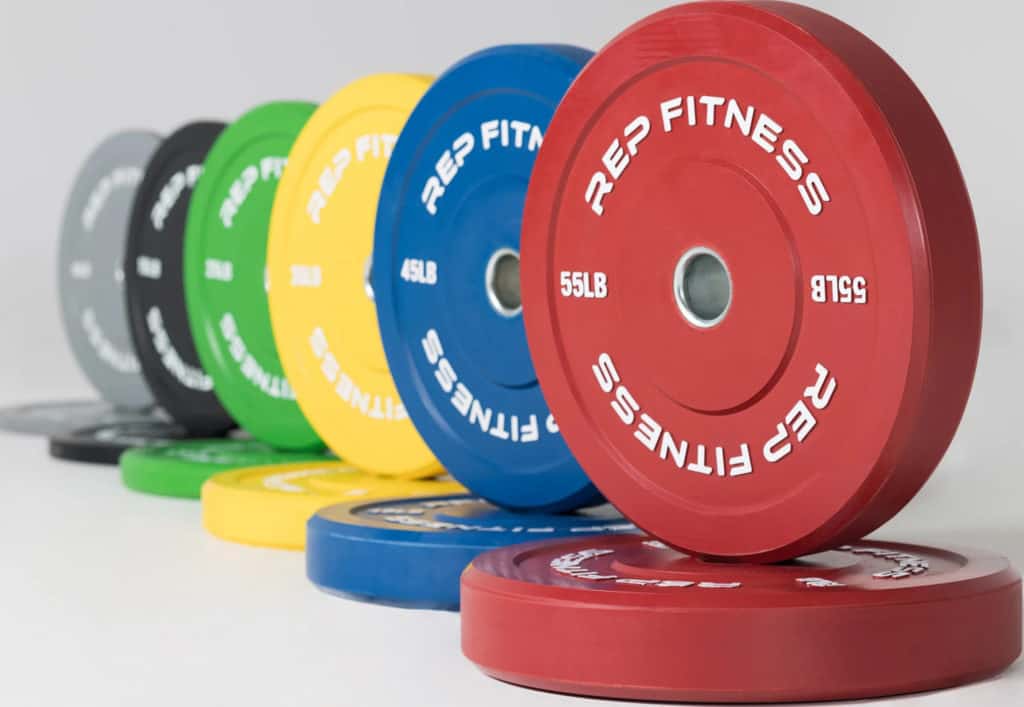 Photo Credits
Product photos on this page are property of Rep Fitness.
This website is not affiliated or associated with CrossFit, Inc. CrossFit is a registered trademark of CrossFit, Inc.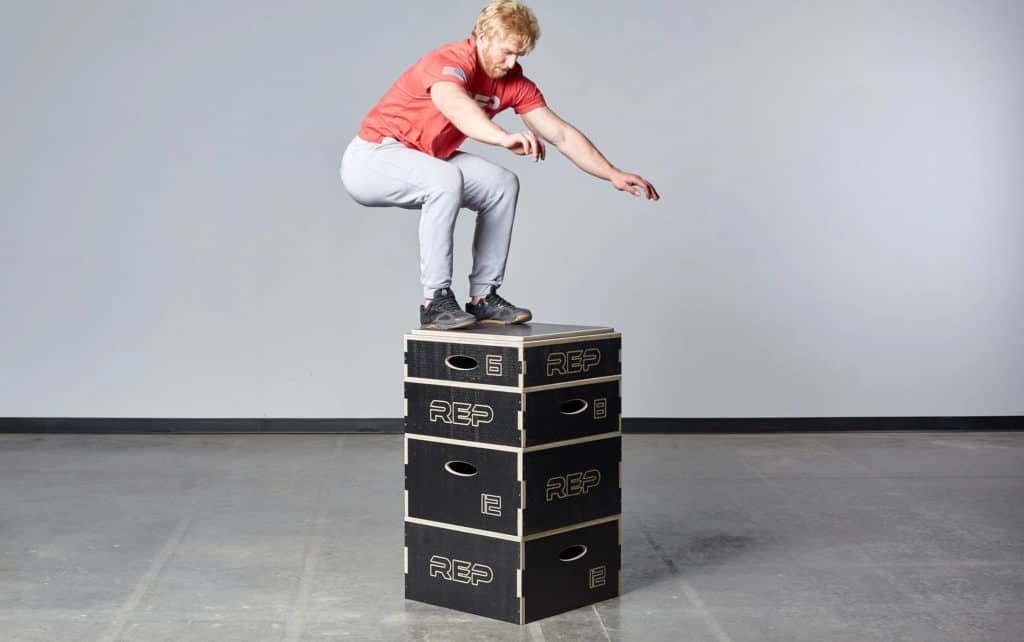 Affiliate Disclaimer
We are an affiliate of Rep Fitness and others that sell this training gear. If you buy clothing or other training gear after clicking the links in this article, we receive a small commission at no extra cost to you. This helps us to bring you in-depth information and content on these great training products.
Tim is the founder of FitAtMidlife.com – an avid gym rat for 30+ years, he's a reviewer of many, many shoes – and founder of the Speed Bag Gathering – the world's only gathering of speed bag punching enthusiasts.  See more gym reviews at Tim's YouTube channel.