Rogue Fitness just dropped new Color Medicine Balls – let's take a look.
Medicine balls bring new quality and dimension to your training and are an exciting gear that aids in training athletes. These balls are also used for physical therapy or rehabilitation and can be used as an alternative for other kinds of training when safety or injury is a problem. Training with medicine balls enhances athletic strength and skills by copying the same moves demanded in the ring, field, or court.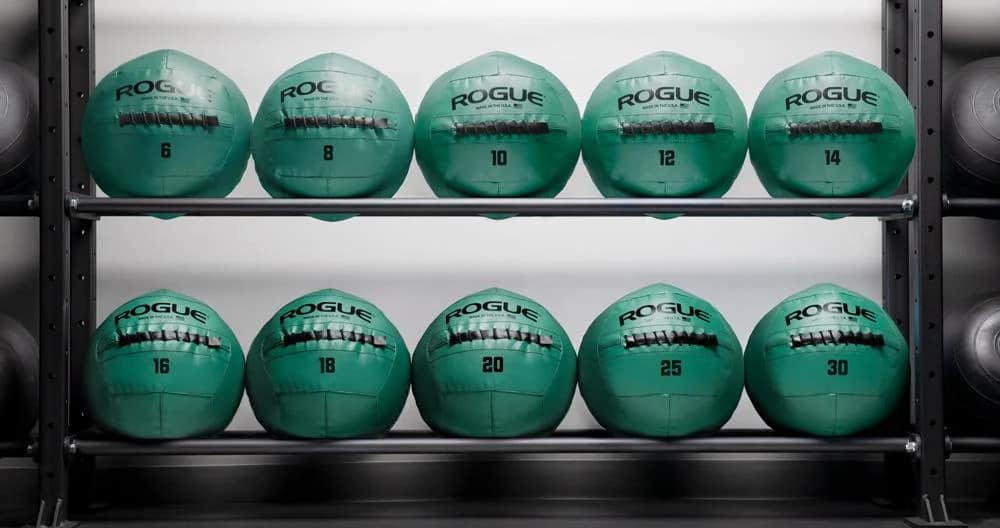 Here's some of the styles we are going to look at:
Color Medicine Balls from Rogue – Overview
To improve core strength, endurance, and explosiveness, many turn to medicine balls. They are great for presses, wall ball throws, sit-ups, traditional trunk twists, squats, and more. Color Medicine Balls from Rogue are battle-tested at some of the biggest competitions, including the CrossFit Games. They also earned their keep in the daily toil at thousands of professional, academic, commercial, and home gyms everywhere. Rogue Color Medicine Balls can handle day-to-day indoor and outdoor misuse in plenty of utilization.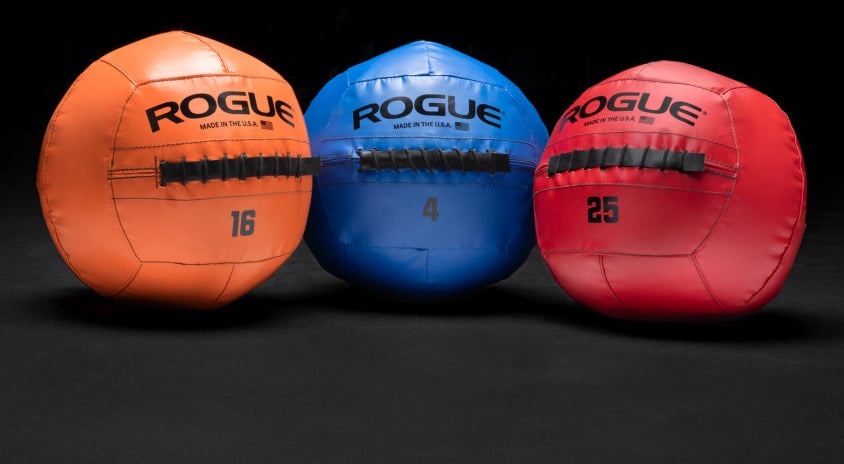 Handmade in the USA, the Rogue Color Medicine Balls feature a precision nylon thread seam structure with a moisture-resistant and scuff-resistant coated-vinyl shell. The interior filling is rather large to keep the ball in its shape across repeated use. It is also lenient and adaptable, so you can carefully stop or catch the ball at high velocity. The Rogue Color Medicine Balls measure 14" in diameter regardless of their weight and color. All seams are double-stitched and even added a top stitch to the heavy range of 14LB to 30LB versions.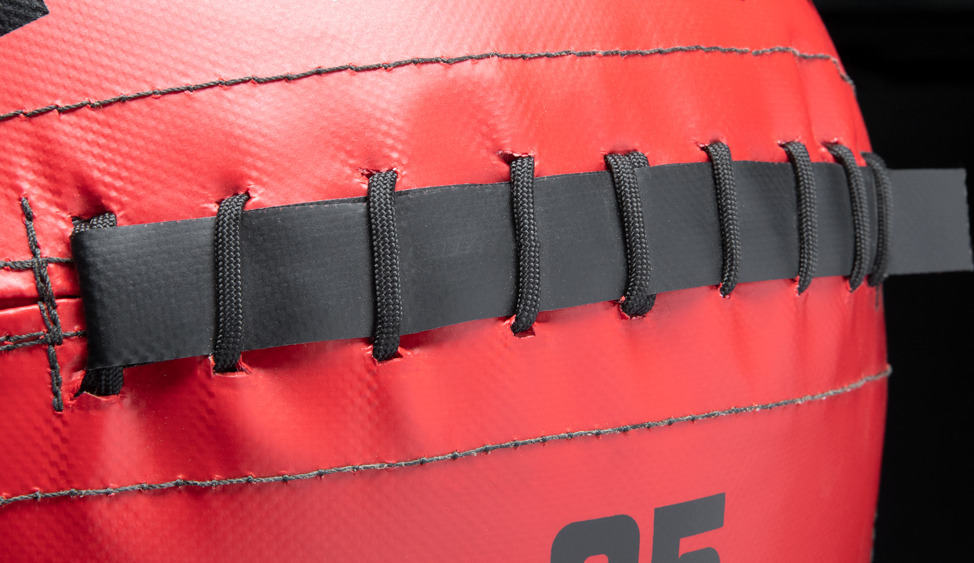 Instead of Rogue assigning particular colors to particular weight increments, they give you the chance to custom-select the shell color of any medicine ball you order. You can order a whole set in a single color (to suit the color scheme of gym, team, business, etc.), or mix and match colors according to your preference. Coaches will benefit from selecting one color for all 10LB medballs, another for all the 14LB, and another for the 20LB, as it would be easier for them to instruct and identify medball weights from a distance. Green, Royal Blue, Light Blue, Maroon, Purple, Navy, Orange, Red, and Yellow are the available colors.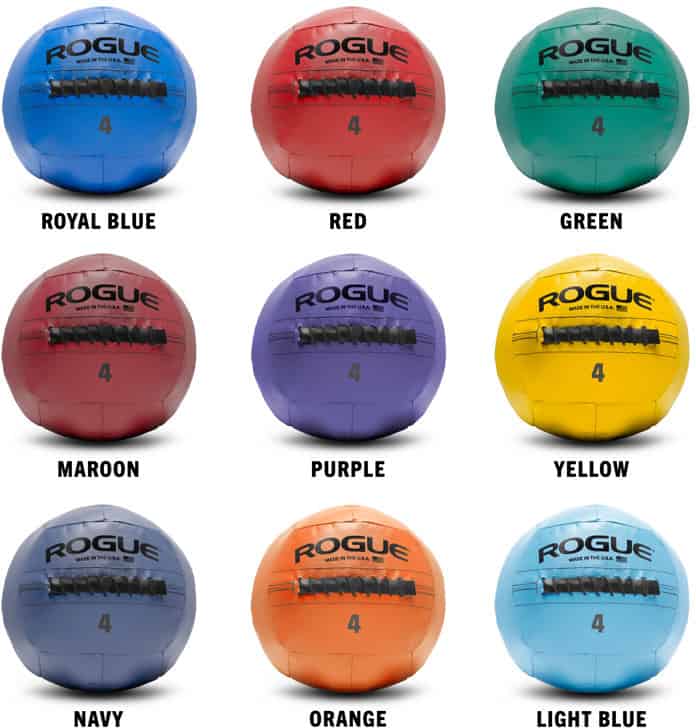 Color Medicine Balls from Rogue Review – In Summary
That's our first look at these new Color Medicine Balls from Rogue.
Rogue's Color Medicine Balls are exclusively created to the same specs as Rogue's standard black medballs and are available in the same weight additions from 4LB up to 30LB. They have a soft shell that is safe to use at high speeds but sturdy enough to keep a steady and solid shape. Using them hits different muscle groups, including your abs and obliques, and forces you to do it in a simple, explosive way.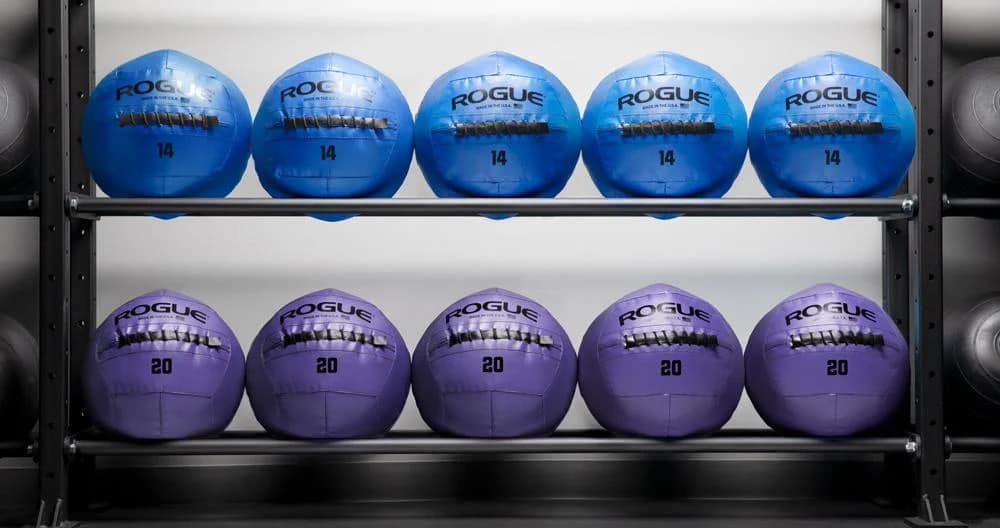 Photo Credits
Product photos on this page are property of Rogue Fitness.
This website is not affiliated or associated with CrossFit, Inc. CrossFit is a registered trademark of CrossFit, Inc.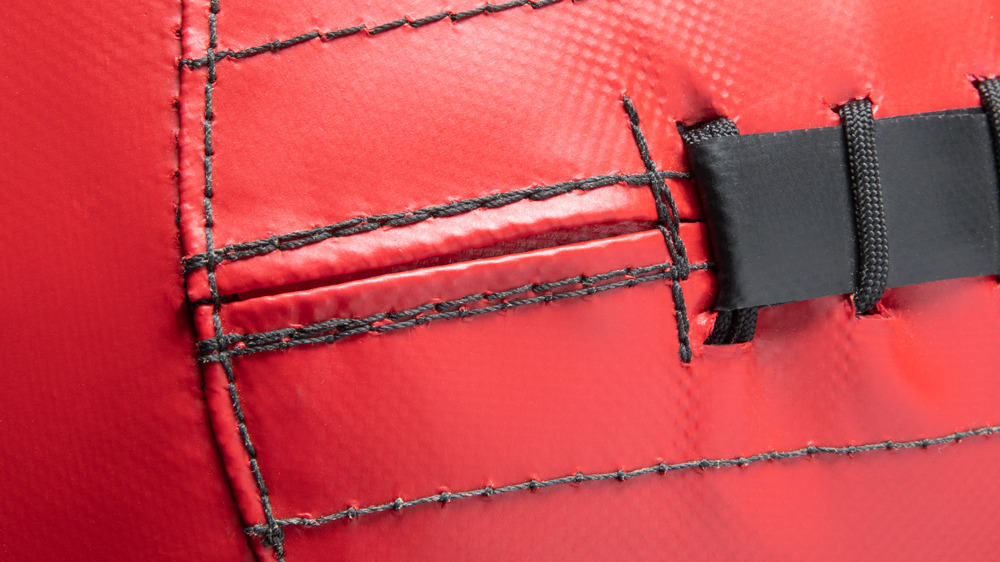 Affiliate Disclaimer
We are an affiliate of Rogue Fitness and others that sell this training gear. If you buy clothing or other training gear after clicking the links in this article, we receive a small commission at no extra cost to you. This helps us to bring you in-depth information and content on these great training products.
Tim is the founder of FitAtMidlife.com – an avid gym rat for 30+ years, he's a reviewer of many, many shoes – and founder of the Speed Bag Gathering – the world's only gathering of speed bag punching enthusiasts.  See more gym reviews at Tim's YouTube channel.