Like to workout with music?
Then you need wireless earbuds.
But not just any old pair of wireless earbuds, you want the best sweat resistant wireless earbuds, especially for CrossFit.
We'll review those here.
We recommend exercising with music – it makes you work harder, and it is more fun. And more fun means you are likely to stick with it.
Here's the earbuds we are going to review in this article.
Be sure to read the whole article to understand the pros and cons of each.
Apple AirPods Pro
I was really excited when I heard about the launch of the Apple AirPods Pro.
The original AirPods are a great product – easy to use, great battery life, and reliable.
But, the sound quality leaves a lot to be desired – especially for listening to music during your workout.
The problem is there just isn't any bass.
There's no "punch" at all – and that's a problem.
Apple has solved this issue with the Apple AirPods Pro (Buy on Amazon).
The AirPods Pro are a sealed eartip design. There's a soft silicone cup that forms a noise blocking seal between your eardrum and the outside world.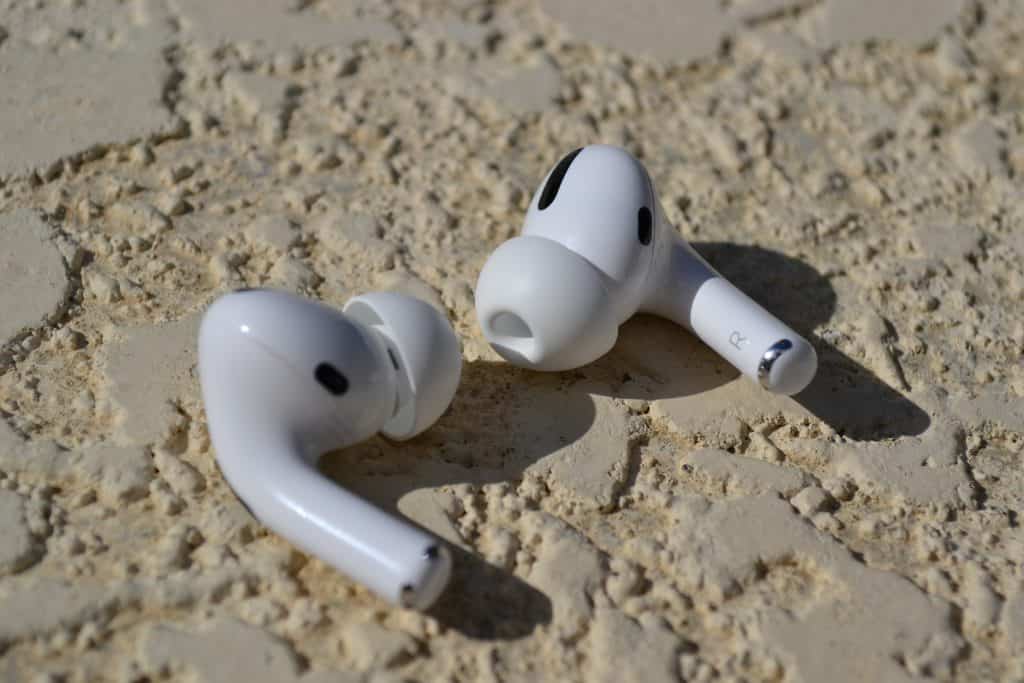 And that helps keep noise out, but it also helps the driver (miniature speaker) in the earbud work much better.
Hallelujah – these have great sound – and good bass.
These combine this "passive noise cancellation" with active noise cancellation also.
The external facing mics on the earbuds can detect and counter-act background noise.
It does this by emitting a sound wave that cancels out the noise.
As with all active noise cancelling headphones, this works best with continuous sounds – think jet engine noise, highway/road noise, etc.
With those two things combined these offer an excellent "get in the zone" isolated listening experience.
But that can be a problem also.
If you are jogging, or working out in group settings (like the box or gym) how do you get the great musical sound , but also keep awareness of your surroundings?
The AirPods Pro feature Transparency Mode.
This is not unlike the passthrough sound function in electronic headsets used for shooting sports.
When Transparency Mode is activated, you can hear your music, and the ambient conversation – the super-smart chip in the Apple AirPods passes that sound through the mics and speaker.
It's got a decent natural sound.
That, combined with outstanding comfort make the Apple AirPods an excellent choice for an earbud.
Amazon Echo Buds
Amazon has launched a new earbud that can give the AirPods Pro a run for their money.
We're pretty excited about the Echo Buds (Buy on Amazon) from Amazon.
They have active noise cancellation, passive noise cancellation, passthrough mode (for situational awareness), and more.
And, they are relatively cheap (compared to the AirPods Pro.)
Amazon is diving into the earbud market in a BIG way.
These offer premium sound, full voice control via Amazon's Alex, and premium noise reduction via Bose Active Noise Reduction.
That's a lot of great features -but for the purposes of our discussion – we think these will be great workout earbuds also.
First of all, these are IPX4 waterproof rated – and tested to withstand water splash.
That means workout perspiration or light rain will not be an issue.
These fit very securely – because they use a sealed eartip design – this helps keep the earbud in place (and makes for great sound quality.)
By the way, these have a "passthrough mode" for ambient conversation and situational awareness – just like the AirPods Pro.
The passthrough mode on the Echo Buds sounds less natural than that on the Apple – but it gets the job done.
The Echo Budsthese also have optional "wingtips" you can use to help these fit even more securely.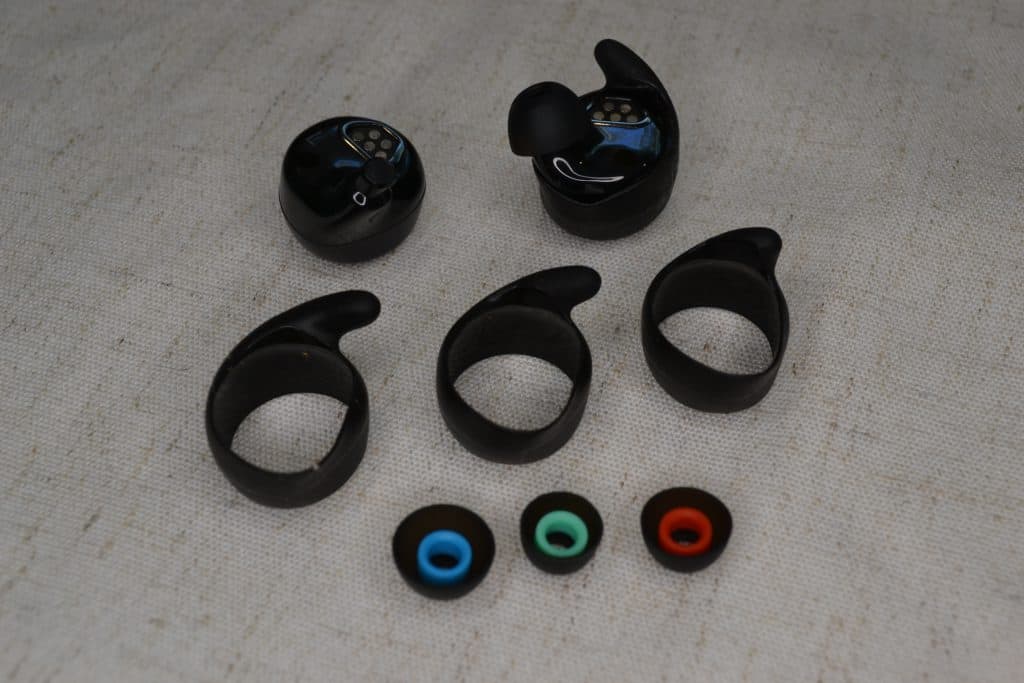 Also – because these have full voice control via Alex – it offers some very interesting possibilities for workouts.
For example, imagine you can easily – in a hands-free fashion with no "taps" required – set a timer for holding a plank.
Secondly these should offer a very secure fit thanks to an in-ear "sealed" design.
They will come with 3 different "wing tips" and "ear tips" that are interchangeable to ensure a perfect fit.
We believe these will offer a big step-up from the Apple Airpods in terms of staying put.
These will have battery charge (5 hours) on par with other devices – and is actually impressive given the tech they are packing into these – and the relatively small battery size.
As with most premium earbuds – they will come with a protective charging case.
And that's really the only major downside to the Echo Buds.
The charging case is HUGE (compared to that of the AirPods Pro or original AirPods.)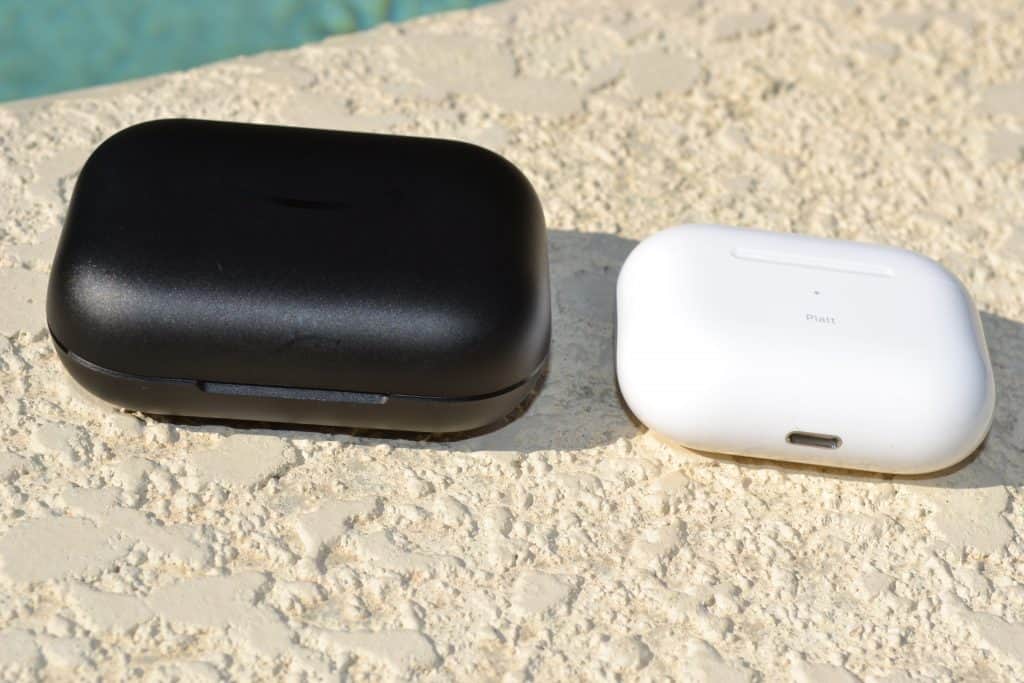 It's really too large to be carried comfortably in your pocket.
Powerbeats Pro
Want great sound quality, sweat and water resistance, and a wireless headphone that will stay put even during your toughest HIIT workout?
Then you might want to check out the new Powerbeats pro headphones (Buy on Amazon).
These are known for staying put during your workout.
Honestly, these are our top pick for that reason. You can see from the design – the combination of ear tip and ear hook is just going to keep these more secure than nearly any other option.
They are not cheap, but they are very nice.
This is a very new item, so stock is limited.
The only downside to these – they've got a very bass heavy sound.
It's too much for some people – and maybe just right for others.
They are tuned very much like the Beats headphones in that regard.
Jabra Elite Active 65t Earbuds
Jabra is a legendary name in the headphone and headset business.
And they make the Jabra Elite Active 65t Earbuds (Buy on Amazon).
How are these a great set of wireless earbuds for CrossFit?
First of all, these are small but mighty.
IP56 waterproof rating and they are built to stay fit in your ears, even during rigorous activities.
They come with a variety of size options, as shown here.
They are Apple and Android compatible.
And, they are confirmed to work with Apple Watch.
There is an app you install on your smartphone that will customize various settings for the earbuds.
They have great sound and a super-stable wireless connection to your Bluetooth device – so they are great for phone calls too.
Expect a 5 hour battery life – but get 15 hours total with the pocket friendly charging case.
And, these come with a 2 year warranty.
Just bear in mind this – it is simple PHYSICS that this style of earbud just isn't going to stay in place as well as something like the Powerbeats Pro.
Plantronics BackBeat FIT 2100 Earbuds
Plantronics is a name brand that is well known in the headphone and earbud market space.
They have been making these sort of devices for years – and it shows.
The BackBeat Fit line of earbuds (Buy on Amazon) are a great choice.
First, they are great earbuds.
Second, they are IP57 water resistant rated – which means you are not going to kill these with water – whether sweat, rain, or anything else liquid.
These also stay put thanks to secure-fit ear tips and a neckband.
The "loop over the ear" design ensures these will stay fit – especially if you have problems with other styles of earbuds staying in place.
Bose SoundSport Wireless Headphones
Bose is known for killer sound quality.
And while it is hard for an earbud to compete with an "over the ear" style headphone – these are still pretty good.
Let's talk about what makes the Bose SoundSport Wireless Headpohones (Buy on Amazon) so great.
These are sweat and weather resistant – and will go the mile.
These are IPX4 rated, with a 6 hour battery life – which is really good considering the size of these earbuds – they are tiny.
And here's something great – they've got a pulse model that includes a heart rate monitor (HRM) function.
Raycon E50 True Wireless Bluetooth Headphones
The Raycon E50 True Wireless Bluetooth Headphones (Buy on Amazon) are another great option for workout earbuds.
These are IPX4 rated water resistant – which means they are great for sweaty workouts.
They also claim to do noise cancelation – but be aware this is passive noise cancellation – not the much more effect active noise cancellation.
Noise cancellation is a great feature because it makes these a great option for drowning out background noise with the music of your workout.
It also means you don't have to pump the volume up so high to hear your own music.
And that's better for your hearing over the long term.
These will work with Android or iPhone.
Apple Airpods
Apple doesn't claim that Apple Airpods (Buy on Amazon) are water proof, or even water resistant. They have no Ingress Protection (IP) Rating whatsoever.
But – these earbuds are incredibly durable – that's a fact.
Anecdotally, people have put them through the washing machine, submerged in water, and more – and they still work.
Given that, they are certainly water resistant enough for a super-sweaty workout.
NOTE: The charging case will fail if exposed to water.
Also – if you should happen to drop the AirPod earbud itself they are quite resistant to drop damage as well.
Apple Airpods sound great, work great, and they are tough – it's a winning combination.
The downside? They are expensive, and only work with Apple iOS and MacOS devices.
(Well, they'll work with Android – but you'll be paying a lot for special features you can't use – like "hey Siri".)
But, if that is what you've got, these are a great option.
In Summary – Best Sweat Resistant Wireless Earbuds
Music makes your CrossFit workout better.
But a poor pair of earbuds isn't going to help – it will be a distraction.
You need something that looks good, works well, and sounds excellent.
We recommend sweat and water resistant wireless earbuds – look for at least an IPX4 rating whenever possible.
We hope these options help to make your workout better.
This website is not affiliated or associated with CrossFit, Inc. CrossFit is a registered trademark of CrossFit, Inc.
Tim is the founder of FitAtMidlife.com – an avid gym rat for 30+ years, he's a reviewer of many, many shoes – and founder of the Speed Bag Gathering – the world's only gathering of speed bag punching enthusiasts.  See more gym reviews at Tim's YouTube channel.