Rogue has the red-hot
Echo Bike
. Grab one while they last!
Let's take a look at Adjustable Dumbbells and Kettlebells.
If you want a single piece of equipment that gives you the ability to use various weight settings, then all you need is an adjustable handheld weight. It is versatile and convenient with advantages more profitable than a fixed weight.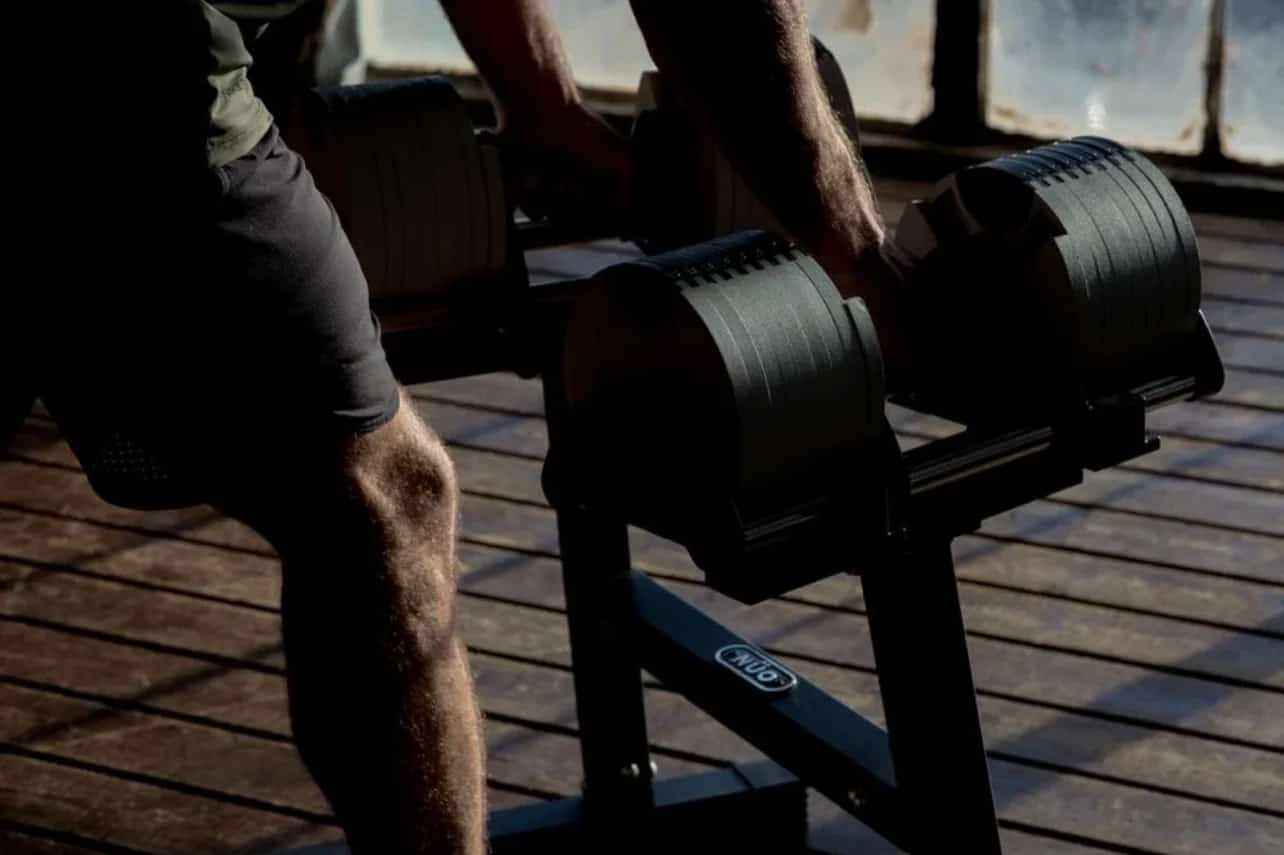 Get Adjustable Dumbbells and Kettlebells from Rogue Fitness:
Adjustable Handheld Weight Roundup – Overview
By changing the dial, pin, or lever, adjustable handheld weights are very convenient, and you can easily change multiple weight plates. This makes them space-efficient and perfect for small apartments and packed gyms. Compared to massive and expensive machines and equipment, adjustable handheld weights are more economical while still giving you a full-body workout and the same health benefits. An adjustable dumbbell, for instance, lets you train all critical muscle groups by stimulating faster metabolism.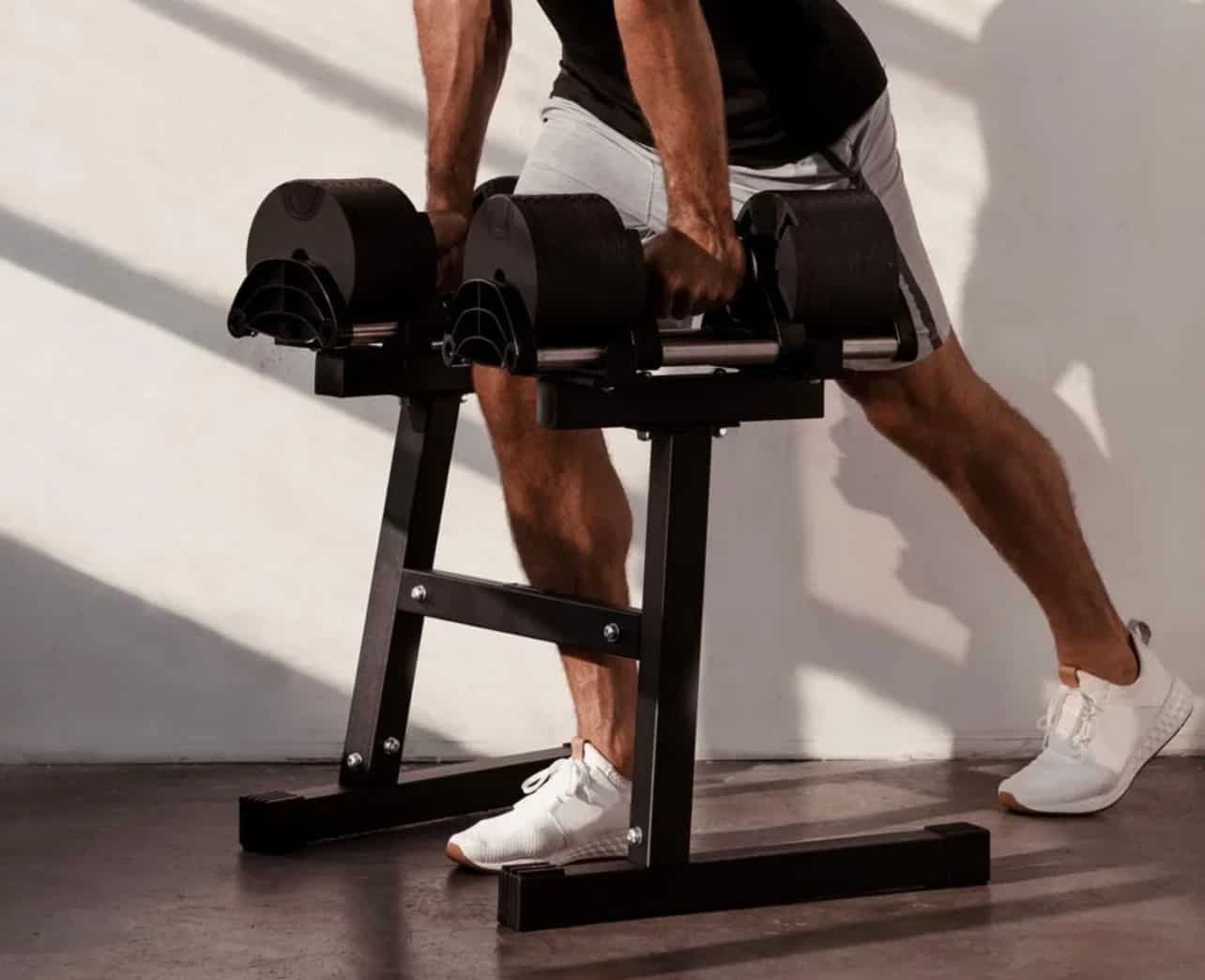 Adjustable handheld weights are versatile and allow you to perform different aerobic and cardio exercises. They also offer an ultimate level of movement and resistance and help improve your resistance, speed, and movement for a stronger you. Adjustable handheld weights come in different forms and here are some of them.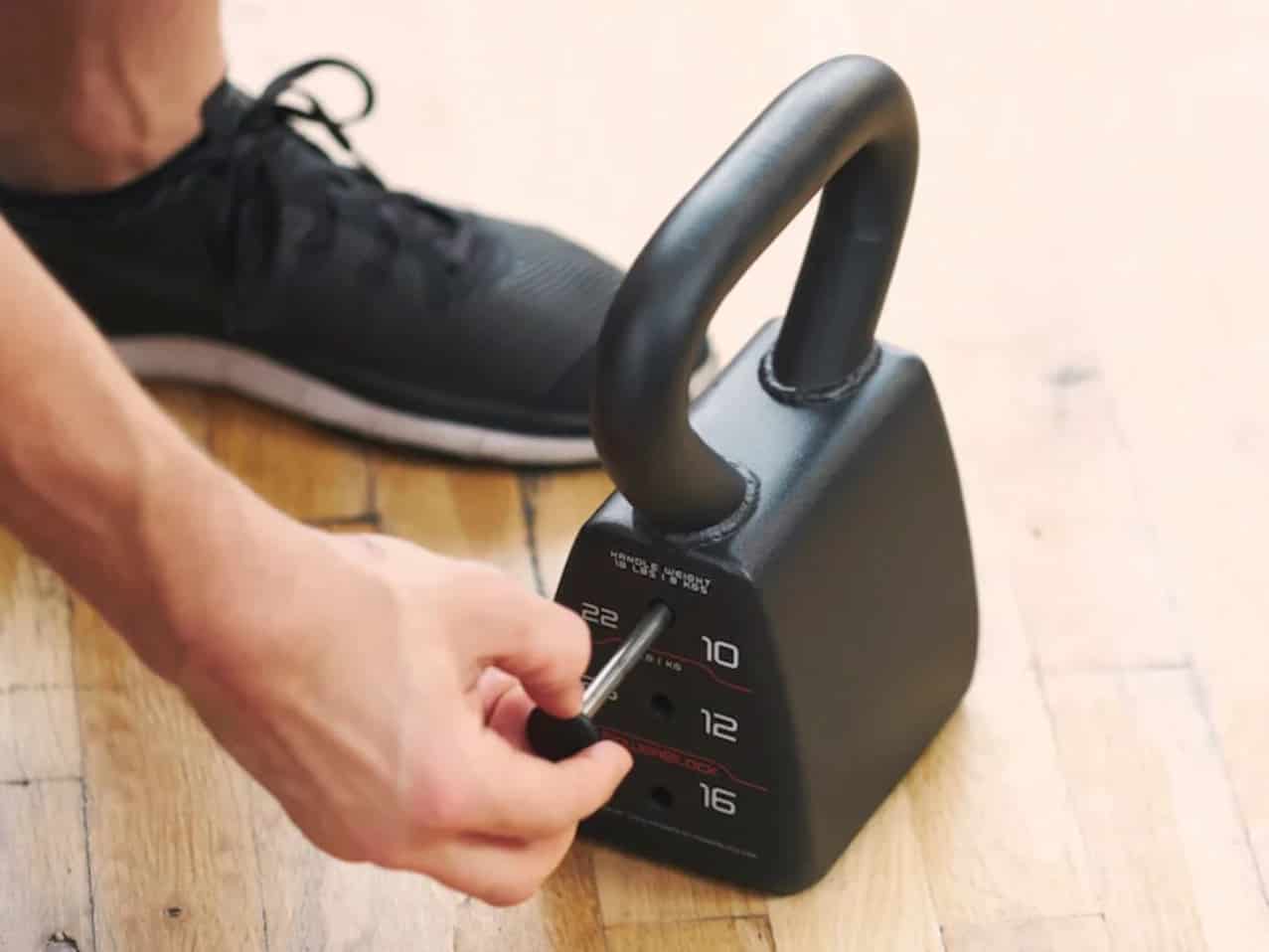 PowerBlock Sport Series – 24 Set
With the PowerBlock Sport Series – 24 Set, you can adjust the weight in 3 LB increments to a max of 24 LBS on each hand by replacing eight pairs of traditional dumbbells. This innovation can save commercial and garage gyms on acquisition costs and storage space. Each PowerBlock Sport 24 highlights a welded steel structure with color-coded side rails for fast weight increment identification.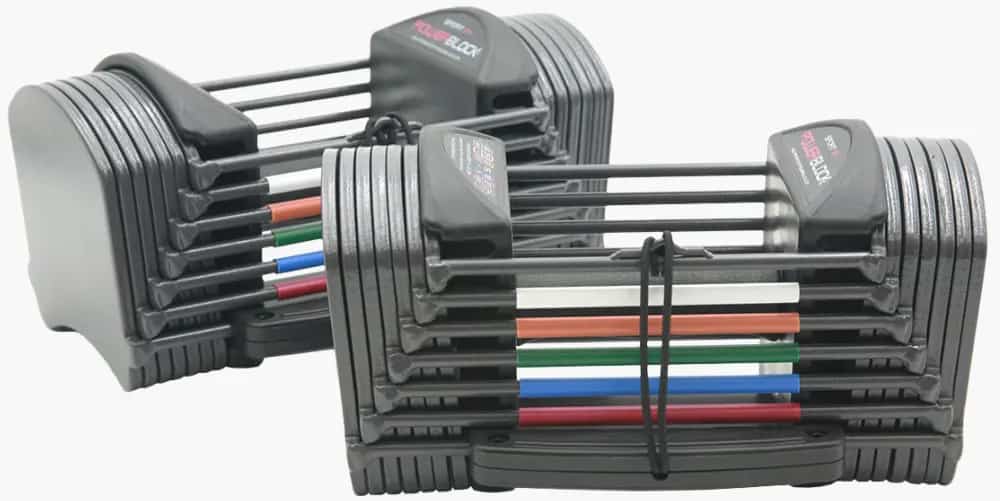 The PowerBlock Sport 24 Series measures 10″ L x 5.5″ W x 5.5″ H with weight increments of 3, 6, 9, 12, 15, 18, 21, and 24 LBS. You can change the weight in just seconds by gliding the provided selector pin into the rails at the weight you want. The durable polypropylene pin is magnetized to guarantee it remains locked in.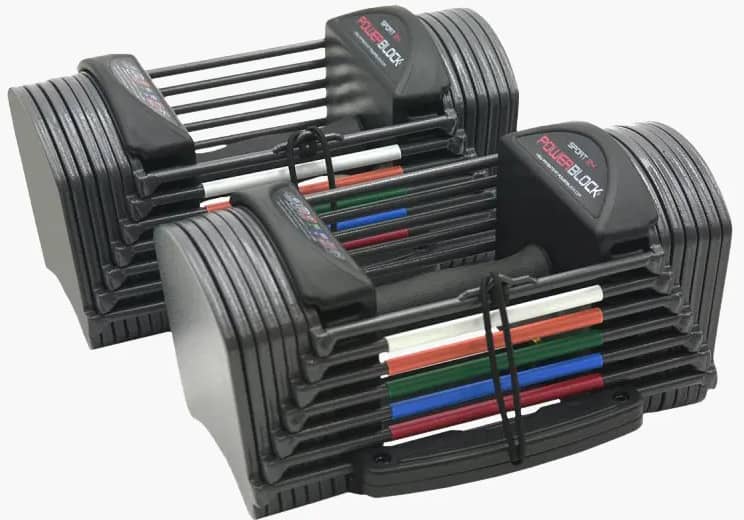 PowerBlock Pro Dumbbells
PowerBlock Pro Dumbbells feature urethane-coated steel weight plates and color-coded side rails that coordinate to a clear weight reference chart on the handle. They have an 'Auto-Lock' lever on the handle that enables the removal of two chrome ballast weights within the lower tubes of the block.
To release the inner weights, tilt the handle back, so the weights don't spill out, then pull the lever down. Then drop the handle back in the weight stack to close the lever, or do it manually. Reverse the process to add the weights back into the handle. Remove the inner weights deliberately and put them aside or in your PowerBlock Stand or PowerBlock Cart.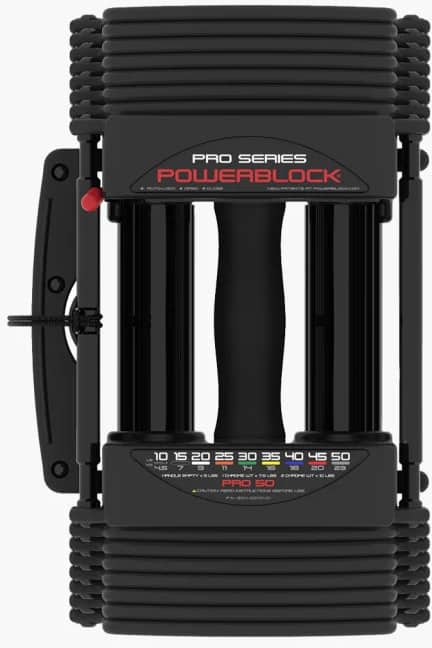 NÜOBELL
NÜOBELL is known as the "World's Smartest Dumbbell" and is an all-in-one adjustable dumbbell that utilizes real, machined steel weight plates instead of a selector dial to create a realistic feel with superior durability. NÜOBELL is adjustable by 5 LB increments, with a simple twist of the handle setting your desired custom weight.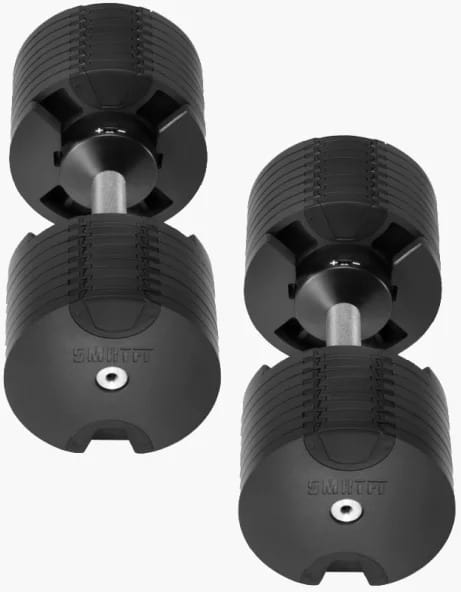 Instead of needing an entire rack of traditional dumbbells for different workouts or multiple athletes, one set of these innovative new training devices does the job on its own. The set has a Swedish design and has steel and plastic construction with knurled handle and two portable cradles.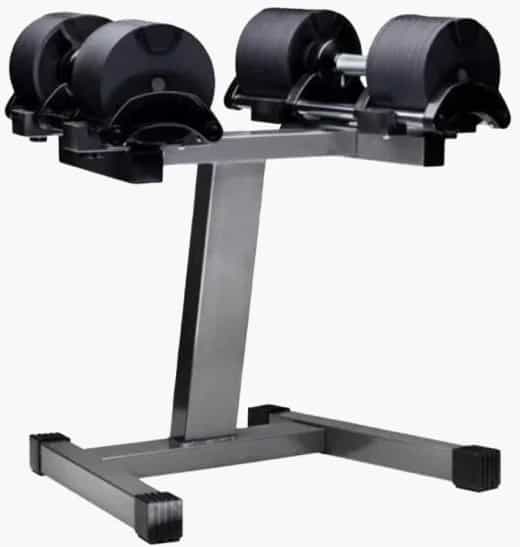 PowerBlock Adjustable Kettlebell
The PowerBlock Adjustable Kettlebell has an ergonomic and compact design available in two variations (18-35LB and 35-62LB). It features a steel weight selection pin + magnetic lock and a uniquely contoured shell for reliable comfort during your kettlebell circuit.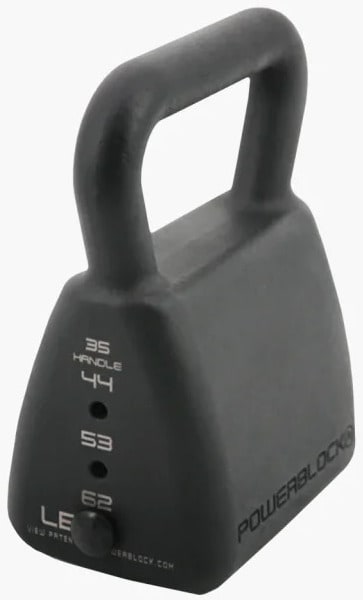 Aside from being cost-effective, PowerBlock Adjustable Kettlebell also provides more storage space and allows numerous athletes of all sizes and skill levels to train with the same tool. It is designed for home and commercial use with a five-year warranty.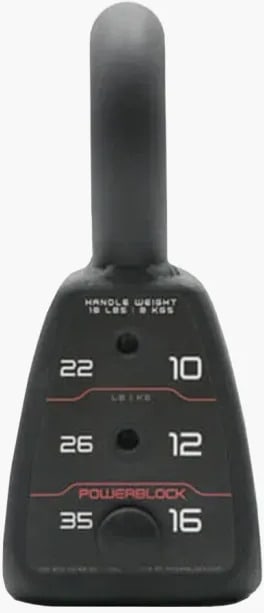 Adjustable Handheld Weight Roundup – In Summary
That's our close-up look at Adjustable Handheld Weight Roundup.
If you want to save on money and space, consider purchasing adjustable handheld weights instead of fixed weights. They are easy to use and provide a full-body workout with excellent health benefits. They are also portable, convenient, safe, and enable more variety of training.
Looking for more options? Check out these other great products:
For a humid garage gym you might want the Rogue DB25-10 Loadable Dumbbell now available in Stainless Steel. This will be your best bet for corrosion resistance.
Look at the fixed Best Dumbbells For Your Home Gym.
More dumbbells.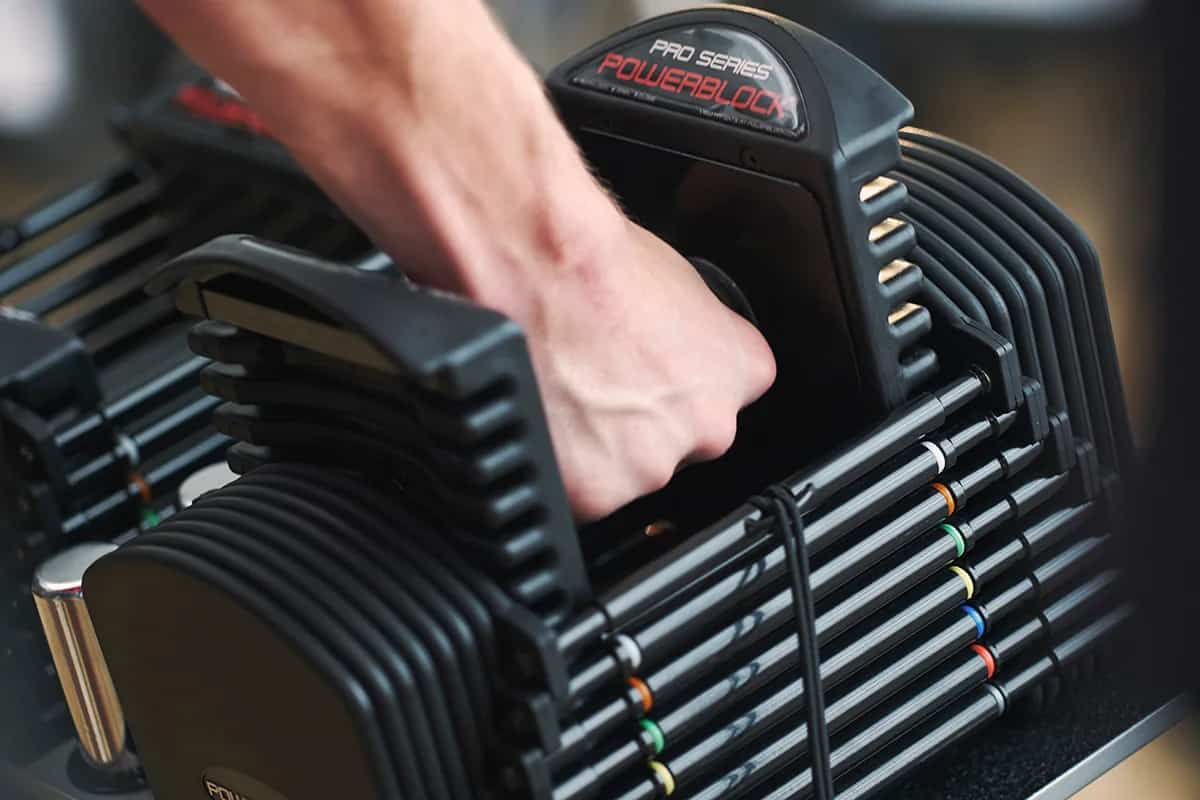 Photo Credits
Product photos on this page are property of Rogue.
This website is not affiliated or associated with CrossFit, Inc. CrossFit is a registered trademark of CrossFit, Inc.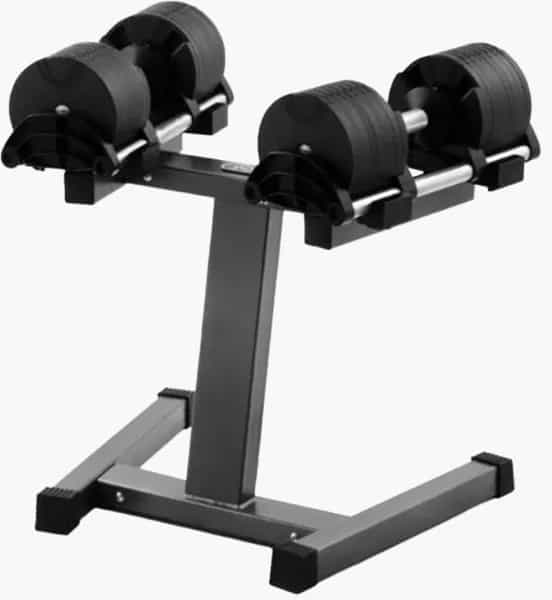 Affiliate Disclaimer
We are an affiliate of Rogue and others that sell this training gear. If you buy clothing or other training gear after clicking the links in this article, we receive a small commission at no extra cost to you. This helps us to bring you in-depth information and content on these great training products.
Tim is the founder of FitAtMidlife.com – an avid gym rat for 30+ years, he's a reviewer of many, many shoes – and founder of the Speed Bag Gathering – the world's only gathering of speed bag punching enthusiasts.  See more gym reviews at Tim's YouTube channel.