Let's look at the best dumbbell choices for your home gym or garage gym.
Dumbbells are a staple of every gym and fitness center worldwide.
Because they work.
These affordable and versatile fitness tools have been used in strength training since the beginning of time.
But, before you splurge on purchasing a full set of dumbbells for your home gym, take a few moments to figure out what the best option will be for you.
We'll present a variety of options here to meet any budget (and available space.)
Where to buy dumbbells online? We're an affiliate of Rogue Fitness and Amazon. Affiliate sales help us to bring great information about health and fitness to you. We've reviewed all the attributes of quality dumbbells, performed field testing, and have produced these recommendations for you.
Why Dumbbells For Your Home Gym?
Dumbbells are a great general purpose strength training and fitness tool.
You can use them standing or seated.
They are relatively light-weight – so ideal of a beginner.
They are relatively compact (except when you have lots of them!)
They allow you to train uni-laterally – meaning you can ensure your weak arm or limb is doing its fair share of the work. Dumbbells are great for improving symmetry or strength imbalances.
And they are a ubiquitous piece of gym equipment – buy them anywhere – including your local big box stores.
What sort of exercise can you do with dumbbells?
Bench press, overhead press, biceps curls, goblet squats, dumbbell rows (as shown here), there are endless options.
Here's one more thing to consider.
A weight bench goes great with dumbbells.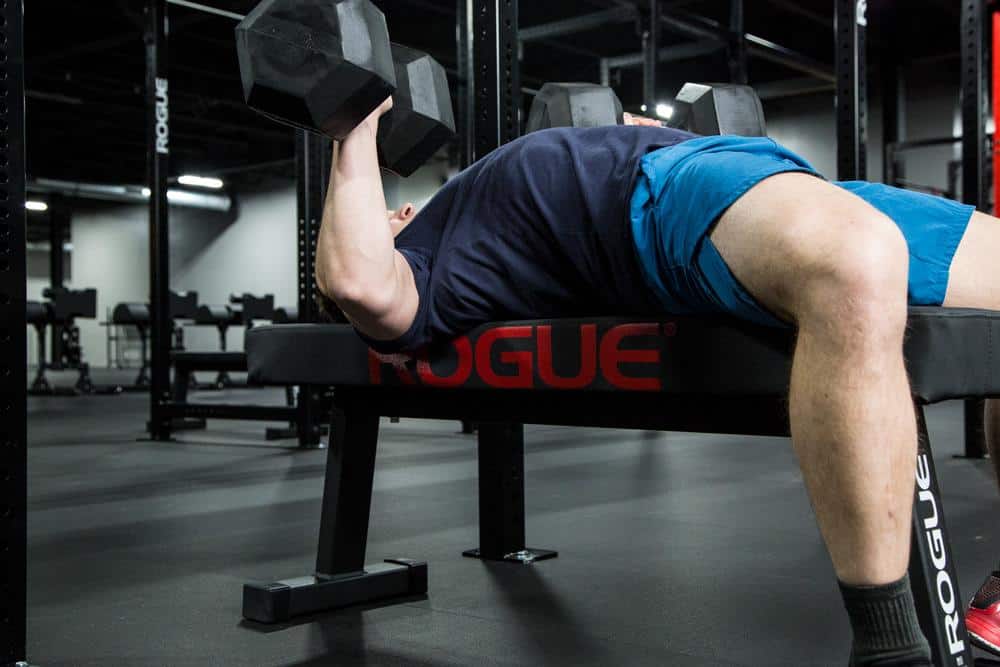 With that, you can do all the flat bench exercises and dumbbell rows.
And, an incline bench (or what is called a FID – Flat, Incline, Decline Bench) is even better.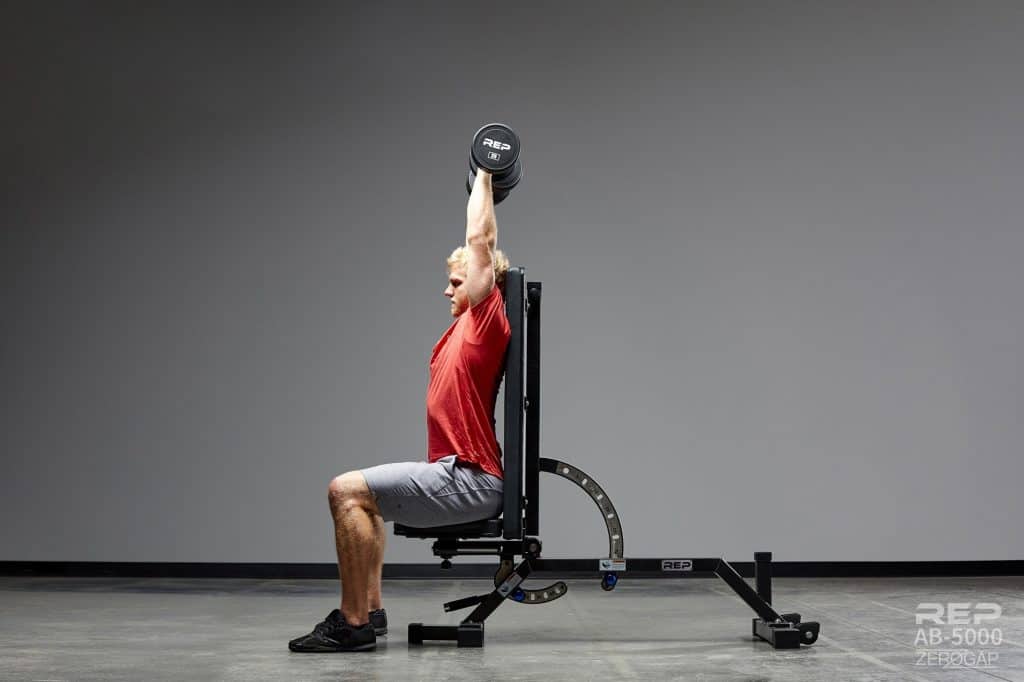 Cheapest Home Gym Dumbbell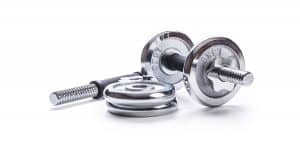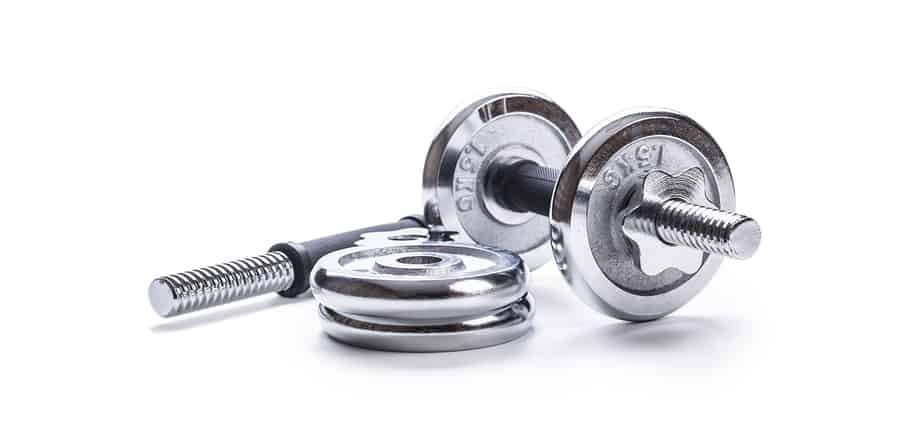 If budget is your primary constraint, a simple set of dumbbell handles with spin locks (or spring locks) are going to be your go to choice.
These can be bought cheaply in your local big box store (or online), and can probably be found at a local yard sale or Craigslist, etc.
With these sort of dumbbell handles you'll need standard weight plates to use with them.
Standard weight plates are those that have the small diameter 1″ hole in the center (as opposed to Olympic plates, which have a 2″ hole for use on an Olympic bar).
The beauty of spin lock dumbbell handles and standard weight plates – this is absolutely your cheapest option for as much dumbbell weight as you desire.
This is also a space efficient option. The space to store these is limited to that of the handles and the stack of standard plates you'll use.
What are the downsides?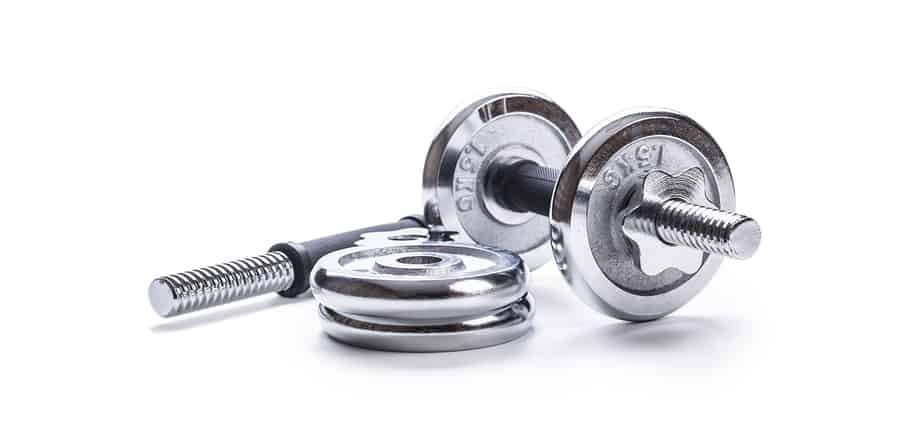 Primarily that adding or removing weight is a pain. You've got to take off the spin lock or spring lock, and add a plate.
And repeat – 3 more times, for a total of 4 plates across two handles.
By no means is this a show-stopper, but it adds up over time and adds a good amount of aggravation in your workout.
Especially if you are performing drop sets or super sets and need to change weight a lot.
Also, the handles and the weight plates themselves usually end up pretty dinged up and rusty over time.
Certainly not in all cases, but they are often constructed of the cheapest iron available – with questionable chrome plating. This means they don't fair well in high humidity – which of course can be off the charts if you have a garage gym.
Lastly, it's more challenging to balance these on your knees for lying exercises like bench press. That threaded handle and star lock put too much concentrated pressure on your leg – all that weight in a tiny area – it's not comfortable.
If you've ever tried to maneuver a pair of heavy dumbbells into place on a flat bench, you'll know what I'm talking about.
So, a set of plate loading dumbbell handles (Buy on Amazon) are the starting point for just about everyone – because they are cheap and ubiquitous.
But, there are better options – which we'll look at next.
Used dumbbells for sale? Buying used dumbbells off craigslist or fb marketplace is a great way to save a lot of money. Let's face it – big iron dumbbells or standard weight plates are tough, and if you can find used ones locally you will save money on shipping.
Best Rubber Coated Hex Dumbbells
Hex dumbbells with a rubber coating are a big step up from plate loaded dumbbells.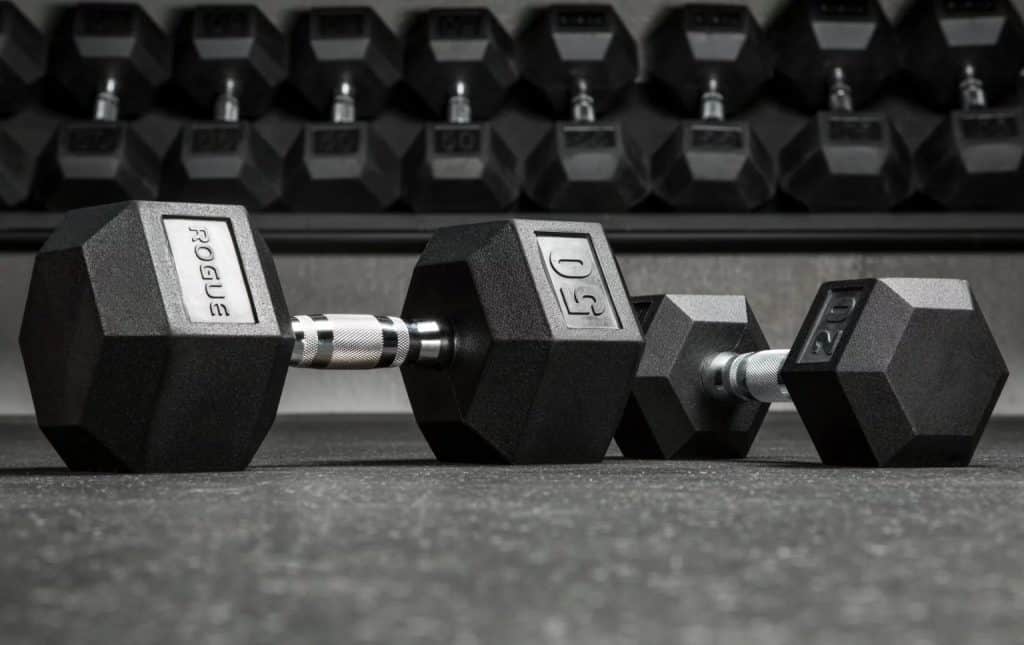 First of all, they are non-adjustable – meaning you grab them and go. This is just what we need for "running the rack" with drop sets or super sets.
(Of course that also means you'll need two of every size you want to use – and somewhere to keep them.)
The hexagonal shape ensures they don't roll around, which is a big deal with plate loading dumbbells.
The best dumbbells have a chrome plated handle – chrome is highly resistant to oxidation and corrosion (aka rust).
These particular dumbbells from Rogue Fitness have a chrome plated handle (to resist oxidation/rust) and knurling – to help ensure you keep your grip.
And the "bell" part is rubber coated around an iron core – this means less surface area exposed to humidity and perhaps more importantly – less noise.
If you have a home or garage gym keeping the noise down might be important.
The rubber coating also helps keep wear and tear on your flooring to a minimum.
We've already discussed the biggest downside to these – you'll need a lot of them – and somewhere to keep them – like a dumbbell rack.
A full set of rubber coated hex dumbbells is a big commitment in money, but also in space for storing them – even if you just leave them on the floor of the garage.
On the upside, you'll likely find these available locally at stores, garage sales, or on Craigslist.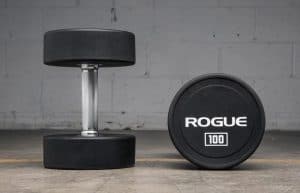 Rogue also sells Urethane coated dumbbells.
Urethane coating provides all the benefits of a rubber coating – but it is super durable. Urethane dumbbells will look brand new for a long time.
These are more expensive than rubber encased dumbbells.
To be honest, these are probably a good option for a commercial gym with high levels of usage – and not necessary for your average home or garage gym.
What About Shipping?
You might be wondering – isn't it expensive to order weights online? Shipping costs for heavy items are indeed pretty steep, but considering there is little chance you will find premium quality dumbbells like these locally, you should look for free shipping or shipping deals. Just be aware that dumbbells that include "free shipping" usually already have the shipping cost factored into the price. So, do some comparison shopping, or look for a limited time "free shipping" deal.
Also be on the lookout for Black Friday deals like those from Rogue Fitness.
Best Adjustable Dumbbells For Your Home Gym
Here's another option that combines the best of both worlds – you can "grab and go" with a variety of weights, and not have to dedicate a wing of your house to a dumbbell rack.
The adjustable dumbbell use a selectorized mechanism to allow you to quickly adjust the weight of the dumbbell.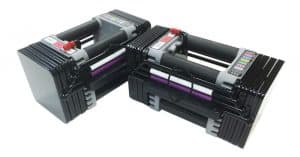 The Powerblock Classic Series is one example of an adjustable dumbbell.
They look somewhat complicated, but are actually pretty simple.
The weight plates are nested within each other. You move the selector pin to the desired weight setting, then lift the dumbbell by the handle in the "core".
This brilliant mechanism allows a pair of dumbbells to replace dozens of fixed weight dumbbells.
And that means drop sets, super sets, and more are easily possible – and best of all the aggravation factor of adding or removing weight plates is eliminated.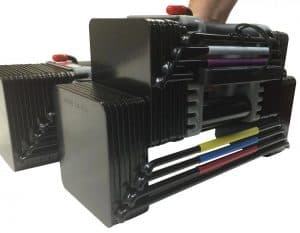 These are sold in pairs (2 dumbbells), and are available with maximum weights of 50 lbs, 70 lbs, or 90lbs.
The downside?
These are not bargain basement priced, for the most part.
But, on the upside, the models that are available are well made, look nice, and last a long time – they have a 10 year warranty. They'd be right at home indoors or in the garage.
A special stand is available as well, but you don't need it.
Another similar option is the Bowflex SelectTech line of adjustable dumbbells (Buy on Amazon).
These work in a similar way – but look more like traditional dumbbells.
These are also available in different maximum weights.
The Bowflex SelectTech 552 Adjustable Dumbbells (Buy on Amazon) adjust from 2.5 lbs to 52.5 lbs.
The SelectTech 1090 Dumbbell (Buy on Amazon) adjusts from 10 lbs to 90 lbs. Please note the 1090 is sold as a single dumbbell, so you'll have to buy two.
How to decide between the two? The Powerblocks are a proven – even if unorthodox – design, but the SelectTechs work well also.
Honestly either would be a great choice for a home or garage gym.
Dumbbells vs Kettlebells
Dumbbells or Kettlebells? What's the best choice for your home gym? Honestly, both have their strengths and weaknesses. The kettlebell is going to be your choice for dynamic movements – the fact that you can grasp it with 2 hands is a big factor. The offset mass makes some unique moves possible that can't be done with a dumbbell. They are also easier to keep in the "rack" position (because of their round shape) if you are using them for additional resistance on squats. For classic strength training dumbbells have their advantages – they are available in smaller weight increments and finding plate loaded dumbbells are easy. Dumbbells can be used for some dynamic, power exercises, such as the Turkish Get Up (TGU) and dumbbell clean. Steer clear of "dumbbell swings" though – there's not really a safe way to swing a dumbbell, especially when you are fatigued and your hands are sweaty. Check our
Buyer's Guide To Kettlebells
to find out more.
Change Plates for Dumbbells?
Here's a challenge with dumbbells (and kettlebells) – it's hard to make small jumps in weight.
The concept of "micro-loading" a barbell is well known – if you can't add 10 lbs, add 5 – or 2.5 , or even 1 pound.
Very small "change plates" are used for this purpose.
But what can we do for a dumbbell?
Rogue Fitness now sells Add On Change Plates.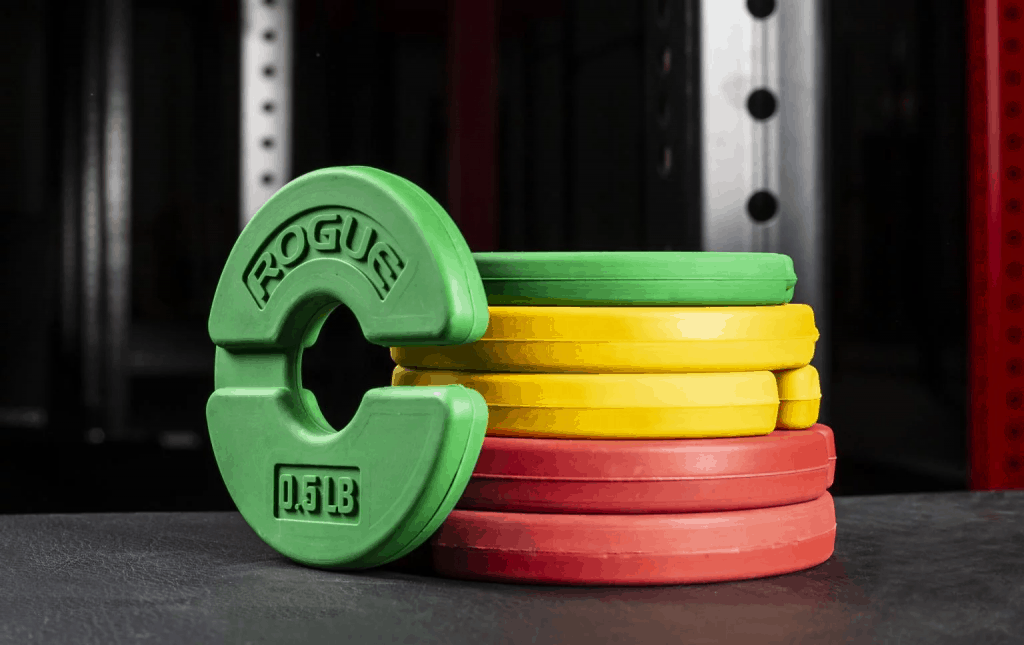 How would you use these? Simply micro-load your way to the next size up of dumbbell.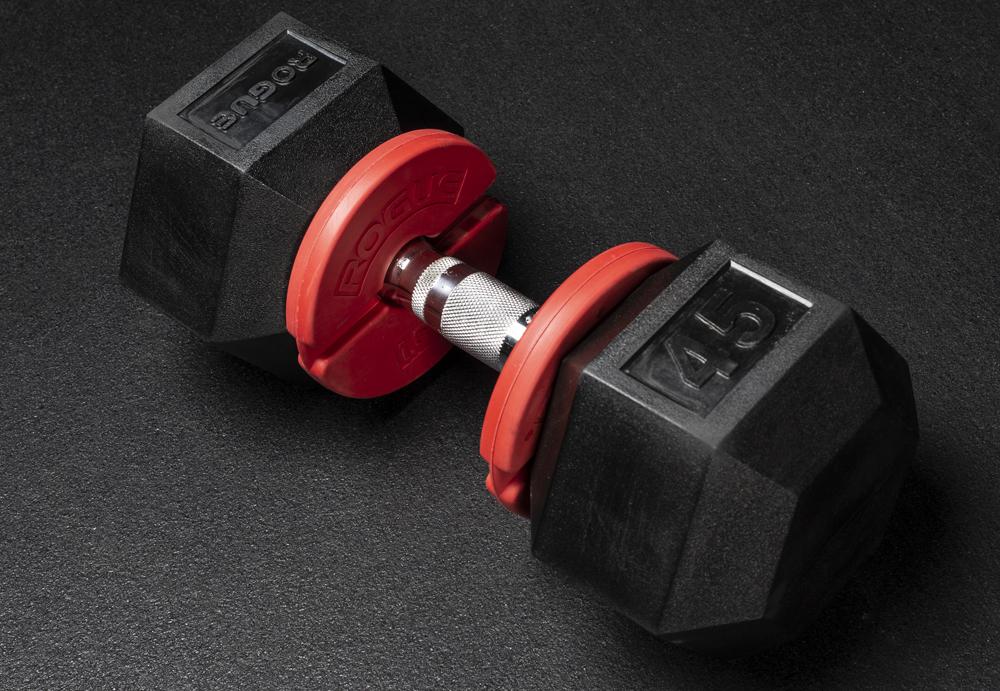 They are made with a dense inner slug of steel and a tough (but flexible) outer coating of TPE plastic.
These change plates are sold in pairs.
They also work with kettlebells, but will not fit on a barbell.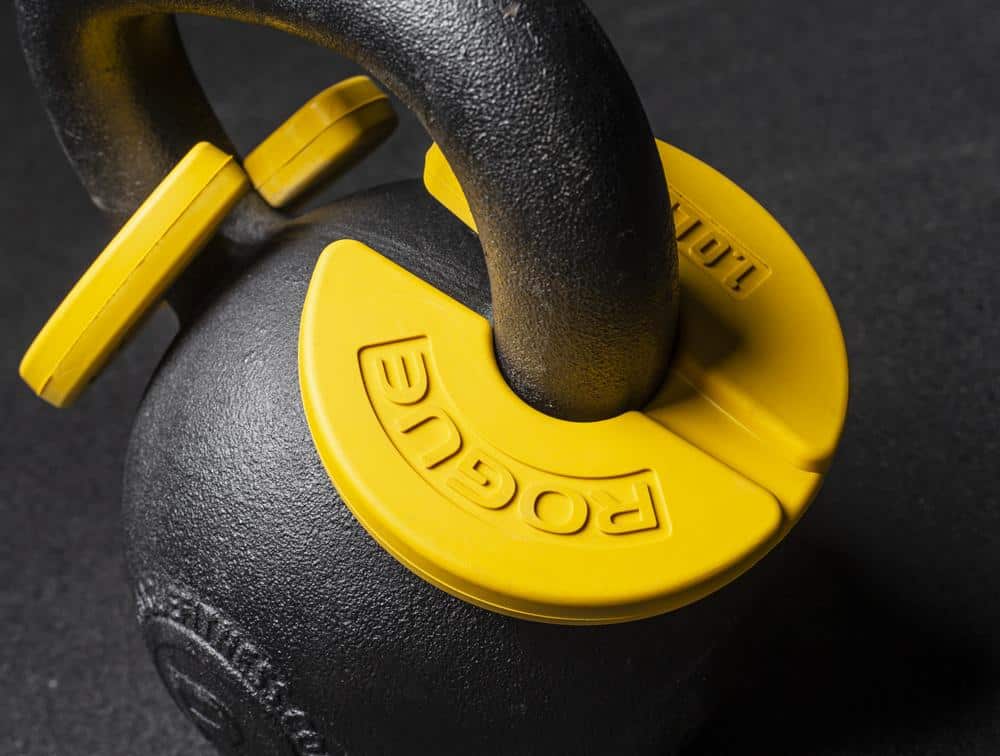 Dumbbells – In Summary
Dumbbells are one of the most well known pieces of strength training equipment for a reason – they work.
Because they come in a variety of sizes, it's easy for a beginner to get started.
There are many options for your home gym or garage gym.
The right choice for you will depend on how much weight you need, and how much space you want to dedicate to storage.
Ready to pull the trigger? The Rogue Loadable Dumbbells are a super-flexible way to get your workout in. These plate loaded dumbbells don't cost a fortune – or take a ton of storage space like a full dumbbell rack would!
Are dumbbells an effective workout? People often ask this – and the answer is yes – but you have to use them. Dumbbells can be used to train strength, power, and metabolic conditioning (as we call cardio now-a-days.) And they can be used for a full body workout – snatches, cleans, goblet squats, Turkish Get Ups – every muscle group in the body can be worked with a dumbbell. But you get out of it what you put in to it. A dumbbell that sits in the garage does nothing for you.
Photo & Image Credits
All Rogue Fitness product imagery is property of Rogue Fitness, and provided by Rogue Fitness.
Some other photos are provided by the manufacturers.

---
Tim is the founder of FitAtMidlife.com – an avid gym rat for 30+ years, he's a reviewer of many, many shoes – and founder of the Speed Bag Gathering – the world's only gathering of speed bag punching enthusiasts.  See more gym reviews at Tim's YouTube channel.