NEW FOR 2022! Check out Black Friday Sales for 2022 – Rogue, Rep, and more!.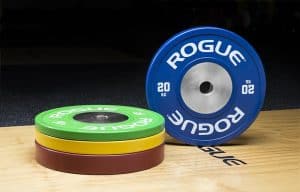 The Olympic bumper plates used in competition weightlifting are colorful – and this is no accident.
This isn't just so they look nice – these colors serve a useful purpose.
The colors allow someone to quickly and easily visually identify the amount of weight loaded on the bar.
Who sets the standards for these colors? The International Weightlifting Federation (IWF) sets the specifications and rules for the equipment used in all Olympic weightlifting competition. The International Powerlifting Federation (IPF) requires a similar color code.
And this is where we get the weight plate color coding required by the IWF: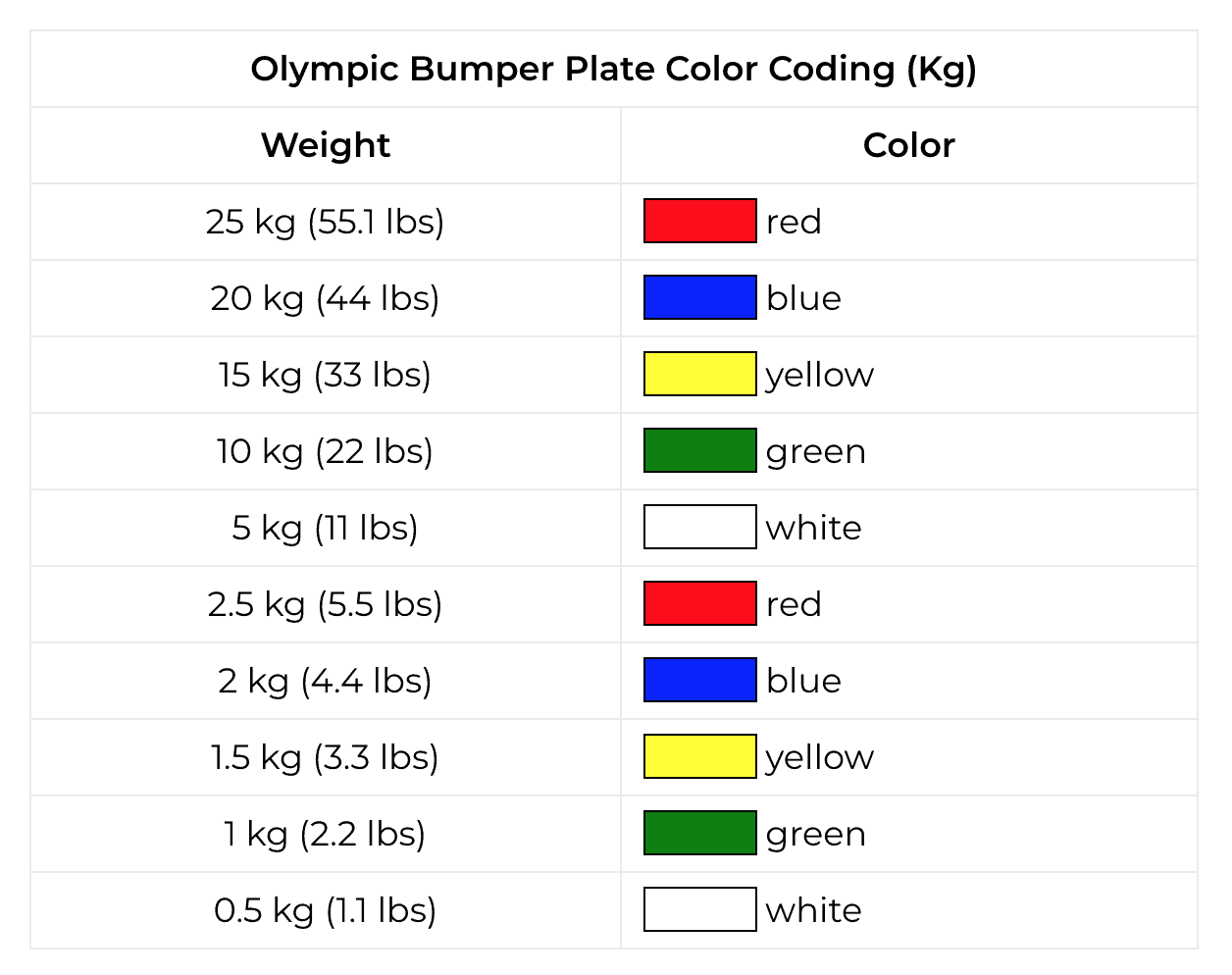 Red = 25 kg (55.1 lbs)
Blue = 20 kg (44 lbs)
Yellow = 15 kg (33 lbs)
Green = 10 kg (22 lbs)
White = 5 kg (11 lbs)
Red = 2.5 kg (5.5 lbs)
Blue = 2 kg (4.4 lbs)
Yellow = 1.5 kg (3.3 lbs)
Green = 1 kg (2.2 lbs)
White = 0.5 kg (1.1 lbs)
How accurate are these weights? The plates used in competition are expensive – because they are high quality – but also because they are calibrated. It's not uncommon for a competition bumper plate to be +/- 15 grams (0.5 oz) of the claimed weight.
Training plates and economy bumper plates could be significantly off from the rating.
In addition to the colors required, the IWF specifies the competition Olympic plates 10 kilograms and heavier must be 450 mm (18 inches) in diameter.
Do you need the proper color coding for gym use?
No, not really. But it does look nice, and it helps ensure you are loading the bar accurately.
Many manufacturers including Rogue Fitness, Fringe Sport, Eleiko, and Uesaka make these products.
Rogue Fitness sells competition bumper plates that are IWF approved for use in competition.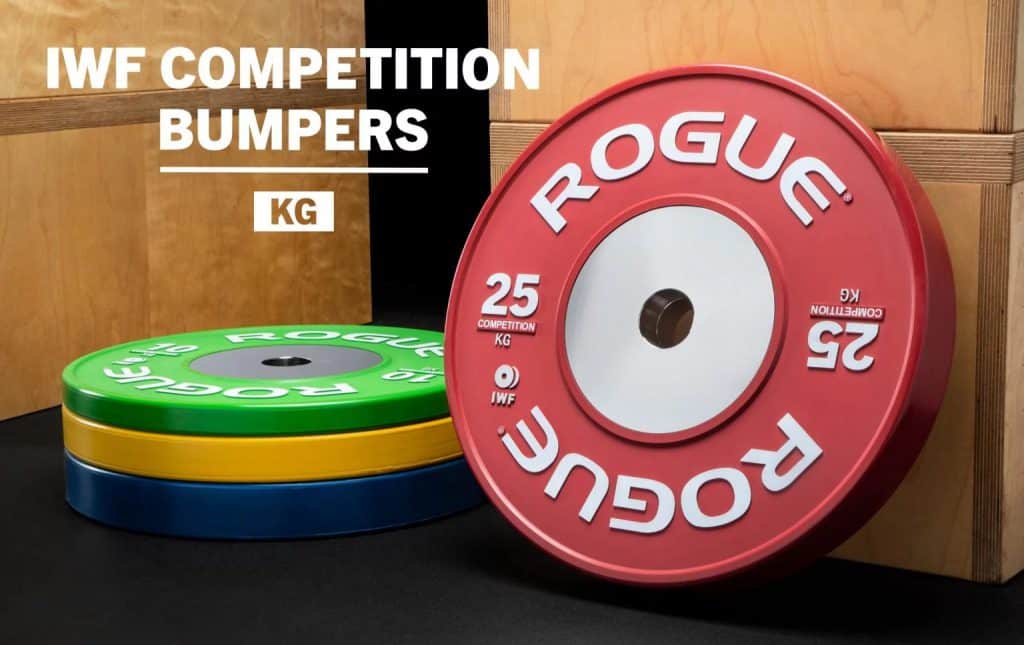 What are Olympic Bumper Plates Made Out Of?
How are these plates colored? Is it paint?
No – that would wear off quickly.
Most Olympic Bumper Plates are made from very dense rubber.
The color is part of the rubber itself.
Some are also made from urethane – which is a polymer substance that provides similar performance – but is far more durable (and expensive).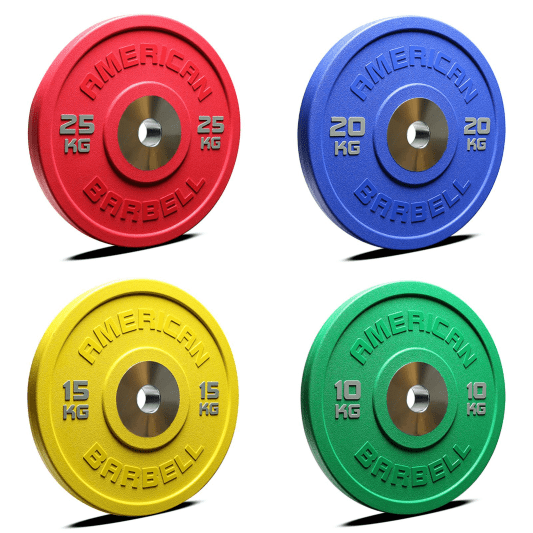 Black Friday – the best time of the year to buy fitness equipment
Need fitness equipment?
Black Friday
is the day to buy. Sign up for our newsletter to get notified of all the best deals.
How to calculate the weight of a fully loaded barbell?
When calculating the fully loaded weight of a barbell – don't forget that an Olympic bar typically weighs 20 Kg (15 kg for a women's bar) and the collars (which ensure the plates don't come off – and are required in competition) weigh 2.5 kg each.
A women's Olympic bar weighs less than a men's bar because the shaft is smaller in diameter (typically 25 mm vs 28-29mm) and it is shorter, with less loadable sleeve length.
Find out more about Olympic Barbell specs and options in our Olympic Barbell guide.
What about pounds?
The IWF and IPF require the use of plates in kilogram denominations. But you can buy Olympic plates in pounds as well. For those the color coding is typically as follows: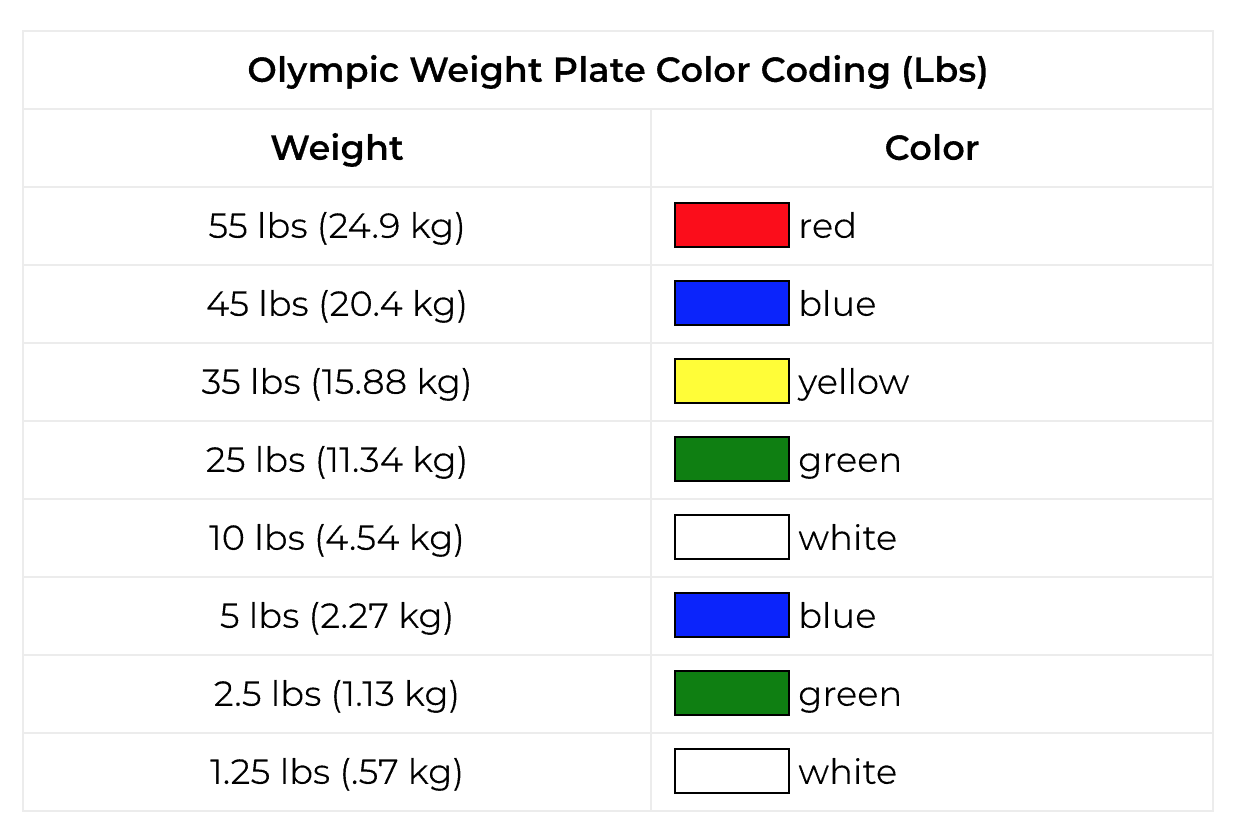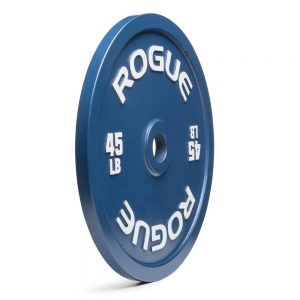 Red = 55 Lbs (24.9 kg)
Blue = 45 lbs (20.4 kg)
Yellow = 35 lbs (15.88 kg)
Green = 25 lbs (11.34 kg)
White = 10 lbs (4.54 kg)
Blue = 5 lbs (2.27 kg)
Green = 2.5 lbs (1.13 kg)
White = 1.25 lb (.57 kg)
References
Photo & Image Credits
All Rogue Fitness product imagery is property of Rogue Fitness, and provided by Rogue Fitness.
American Barbell bumper plate photos are property of American Barbell. We are an American Barbell affiliate, so if you order those, we'll receive a small commission, at no extra cost to you.
Other imagery is provided by the product manufacturers.
---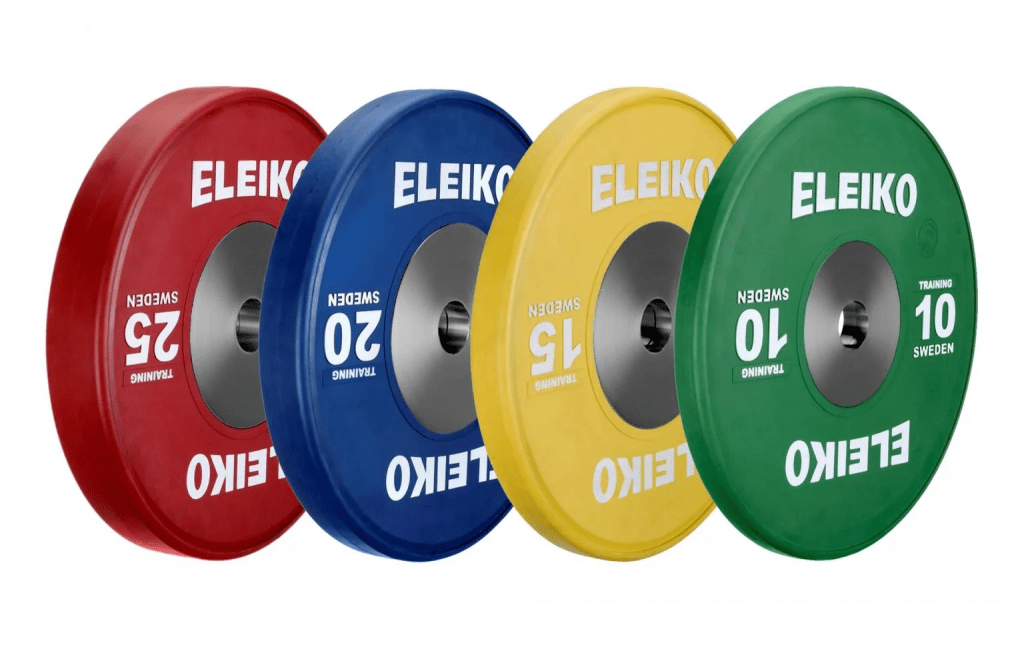 Tim is the founder of FitAtMidlife.com – an avid gym rat for 30+ years, he's a reviewer of many, many shoes – and founder of the Speed Bag Gathering – the world's only gathering of speed bag punching enthusiasts.  See more gym reviews at Tim's YouTube channel.