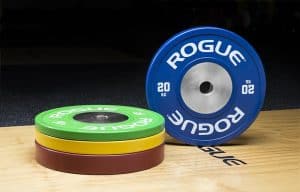 The Olympic bumper plates used in competition weightlifting are colorful – and this is no accident.
This isn't just so they look nice – these colors serve a useful purpose.
The colors allow someone to quickly and easily visually identify the amount of weight loaded on the bar.
Who sets the standards for these colors? The International Weightlifting Federation (IWF) sets the specifications and rules for the equipment used in all Olympic weightlifting competition. The International Powerlifting Federation (IPF) requires a similar color code.
And this is where we get the weight plate color coding required by the IWF: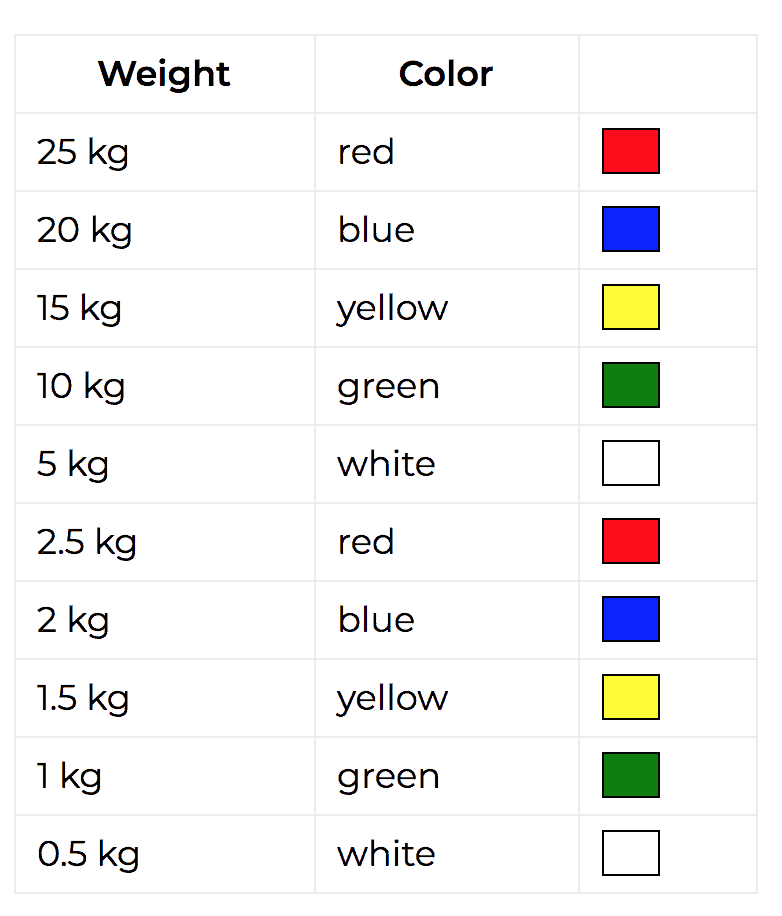 In addition to the colors required, the IWF specifies the competition Olympic plates 10 kilograms and heavier must be 450 mm (18 inches) in diameter.
Do you need the proper color coding for gym use? No, not really. But it does look nice, and it helps ensure you are loading the bar accurately.
Many manufacturers including Rogue Fitness, Eleiko, and Uesaka make these products.
What about pounds?
The IWF and IPF require the use of plates in kilogram denominations. But you can buy Olympic plates in pounds as well. For those the color coding is typically as follows:
Red = 55 Lbs
Blue = 45 lbs
Yellow = 35 lbs
Green = 25 lbs
White = 10 lbs
Blue = 5 lbs
Green = 2.5 lbs
White = 1.25 lb
References
Photo & Image Credits
All Rogue Fitness product imagery is property of Rogue Fitness, and provided by Rogue Fitness.
Other imagery is provided by the product manufacturers.
---