Let's talk about weight benches, also sometimes called workout benches.
We are also going to look at adjustable weight benches – because they are the most versatile.
Having a stable, comfortable weight bench is an essential for a variety of exercises including the mighty bench press.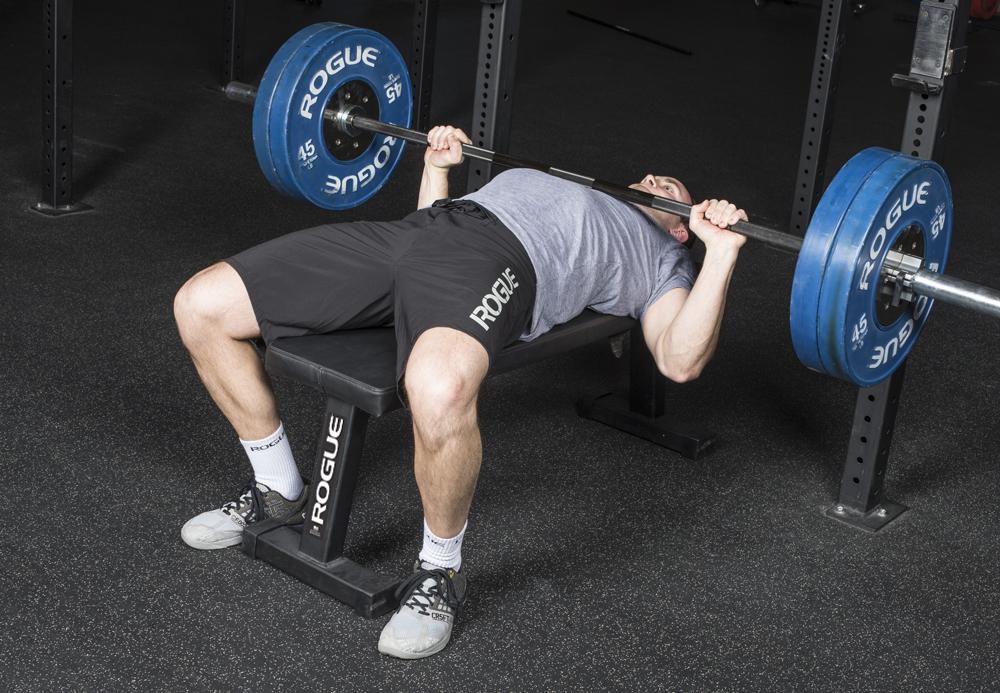 And while it's true that the bench press has fallen out of favor in recent years because it's not a "functional exercise", it's still a huge mass and strength builder without equal.
Take that, CrossFit.
(Actually, recently the bench press made a rare appearance in a CrossFit WOD – so maybe they've come to their senses.)
Let's look at what makes the best weight bench – whether for your home gym, garage gym, or commercial facility.
In doing so, we'll present some of the best workout benches (both flat benches, incline benches, and adjustable benches) available from Rogue Fitness and Rep Fitness.
We'll also look at the ultimate weight bench option – the FID bench (Flat, Incline, or Decline.)
Here's the weight benches we'll review in this article.
What To Look For In a Good Weight Bench
First of all, a few things.
A weight bench has to be the right height – not too high and not too low.
The defacto standard is somewhere around 17″ and 18″ in height.
Secondly benches can come in a variety of widths. 10″ to 12″ width benches are most popular.
In general, you really don't want a bench wider than 12″. Why? Because it's not a bed. You've got to be able to move your limbs with a degree of freedom that a too wide bench can't provide.
But, there options up to 14″ in width, if you think you need that.
A weight bench needs to be strong. Besides your body weight it needs to safely support the amount of weight you are lifting too – and it's pretty easy to load up a heavy bench press with only a moderate amount of training.
2″ x 3″ or 3″ x 3″ 11 gauge steel is commonly used to make workout benches, but other options exist too.
What's most important is that the bench is rated in excess of the amount of weight you are likely to use (along with your bodyweight.)
When benching big weight, you need to have your feet on the floor with the proper foot positioning (despite what you may see in your local gym benching with your feet up on the bench isn't really correct.)
Three post (or tripod) bench designs are common – because they ensure you can put your feet where it suits you best – with no support legs in the way.
The pad supporting the bench should be firm and dense, and not too luxurious.
Again, this is a workout bench, not a bed.
But it should give you a comfortable place to check your texts between sets.
That was a joke.
But you know you do it.
Do you need a flat bench or an incline bench?
Or do you need both (an adjustable bench)?
A flat bench is versatile for many lifts, including not just the mighty bench press but also makes a convenient rest for doing dumbbell rows, bulgarian split squats, and of course many seated press variations (with your back unsupported.)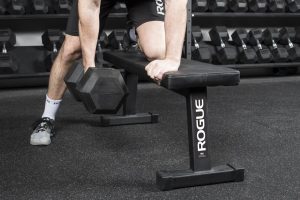 The french press or tricep extension is an excellent exercise to do on a flat bench.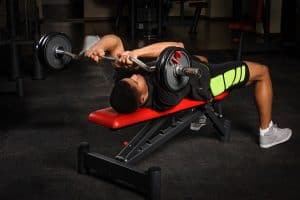 But for an improvement in versatility and variety you might want an incline bench. These benches usually serve as a flat bench when needed but are adjustable to various degrees of inclination.
Look for a range of motion from flat to 90 degrees.
These incline benches allow you do to bench press variations such as the incline press, but also various chest supported rows, dumbbell flyes, and much more.
An incline bench that can adjust to 80 or 90 degrees can also be used for a wide variety of back supported seated presses.
And lastly, the decline bench is a thing too.
These have really fallen out of favor (for pressing) in recent years, but they provide some interesting variations on exercises.
They are certainly useful for various decline abdominal exercises.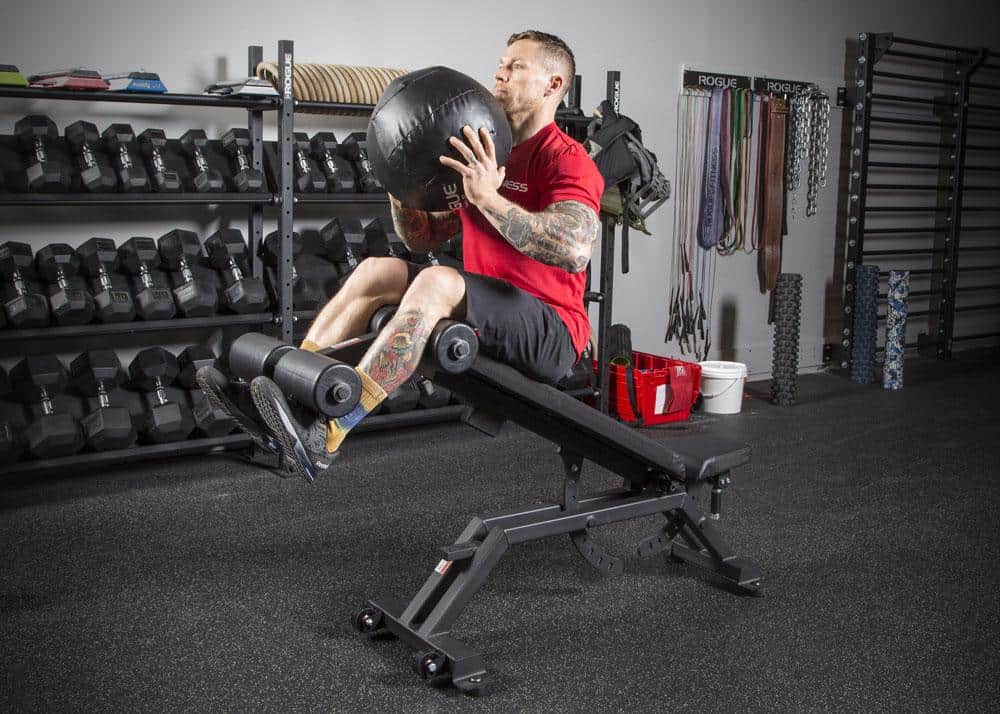 And, we should mention some of these benches can do it all – flat, incline, or decline.
So, really the ultimate bench is what is known as an FID bench – Flat, Incline, or Decline Bench – at your choice.
Used weight bench for sale? Used weight benches are easy to find on craigslist, facebook marketplace, or even your local second hand sports equipment store. You'll save a lot on shipping and can probably find one for less than $50. Having said that – don't expect to find a really good adjustable bench in the used marketplace – those go fast.
The Best Flat Benches For Your Workout
Let's start out simple and look at some robust flat bench options.
Flat benches, lacking any adjustable parts, are robust, simple, and usually significantly cheaper than incline benches.
The Rogue Flat Utility Bench is a simple, robust flat bench.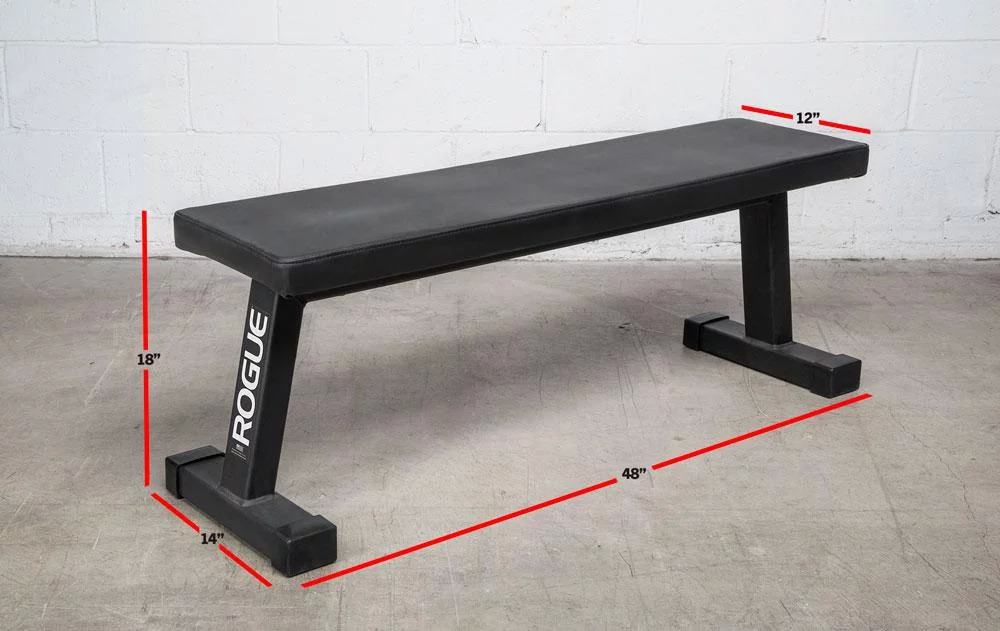 | | |
| --- | --- |
| Model | Rogue Flat Utility Bench |
| Length | 48″ |
| Width | 12″ |
| Height | 18″. Pad Width – 12″, Pad Thickness – 2-1/4″ |
Not a bolt-together design – it ships assembled and the frame is one piece. This is a tough bench that will never require maintenance or tightening of bolts.
It's 18″ tall and 12″ wide.
Made with 2″ x 3″ 11 gauge steel – this item will support any average trainee's workout endeavors.
Being a simple flat bench, it's also quite economical.
If you want a simple flat bench, the Rogue Utility Bench will get the job done.
If you want a few more bells and whistles – here's an option for you.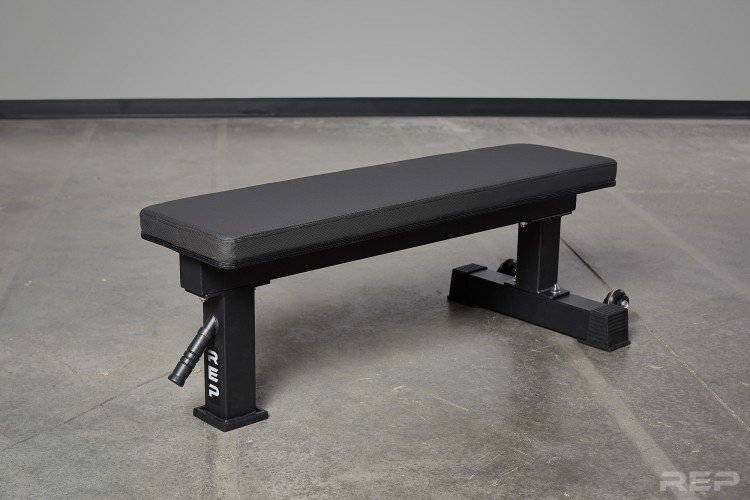 | | |
| --- | --- |
| Model | Rep FB-4000 Comp Lite Bench |
| Weight | 48 lbs |
| Length | 45″ |
| Width | 12″ |
| Height | 17″ |
The Rep FB-4000 Comp Lite Bench is 17″ tall and 12″ wide. It's not made from 11 gauge steel (it uses 14 gauge) but it's still rated at 700 lbs.
And that's probably enough for most trainees.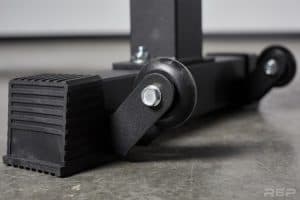 For special features, it's got wheels and a handle on the front – for easy re-positioning.
And it's a tripod design. This three post design means there's nothing to get in the way of your feet on one end of the bench.
And that is a nice feature, because you can bench with your feet wide or narrow – your choice.
| | |
| --- | --- |
| Model | Rep FB-5000 competition bench |
| Weight | 48 lbs |
| Length | 48″ |
| Width | 12″ |
| Height | 17″ (4″ thick pad) |
If you are hell bent on 11 gauge steel they also have the FB-5000 competition bench that is rated for 1,000 lbs and meets IPF specs for a powerlifting competition bench.
This bench has a wide pad option as well – this helps with upper back positioning and will be helpful for heavy benching, in most cases.
If you want a "monster" rated Rogue Bench, the Monster Utility Bench 2.0 should work.
This is a major re-design of the original Rogue Monster Utility Bench.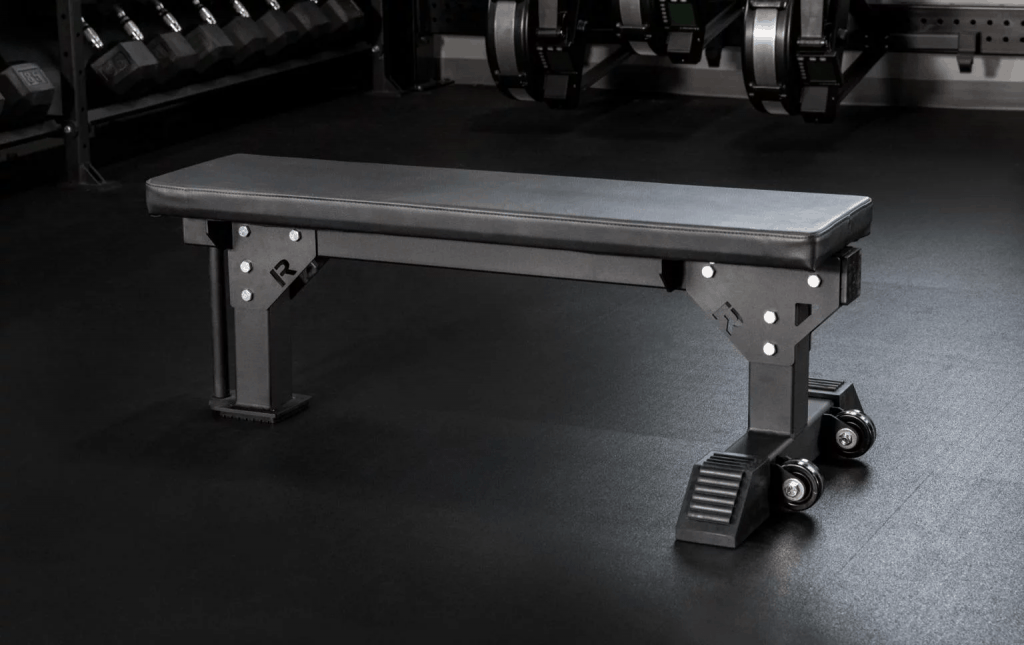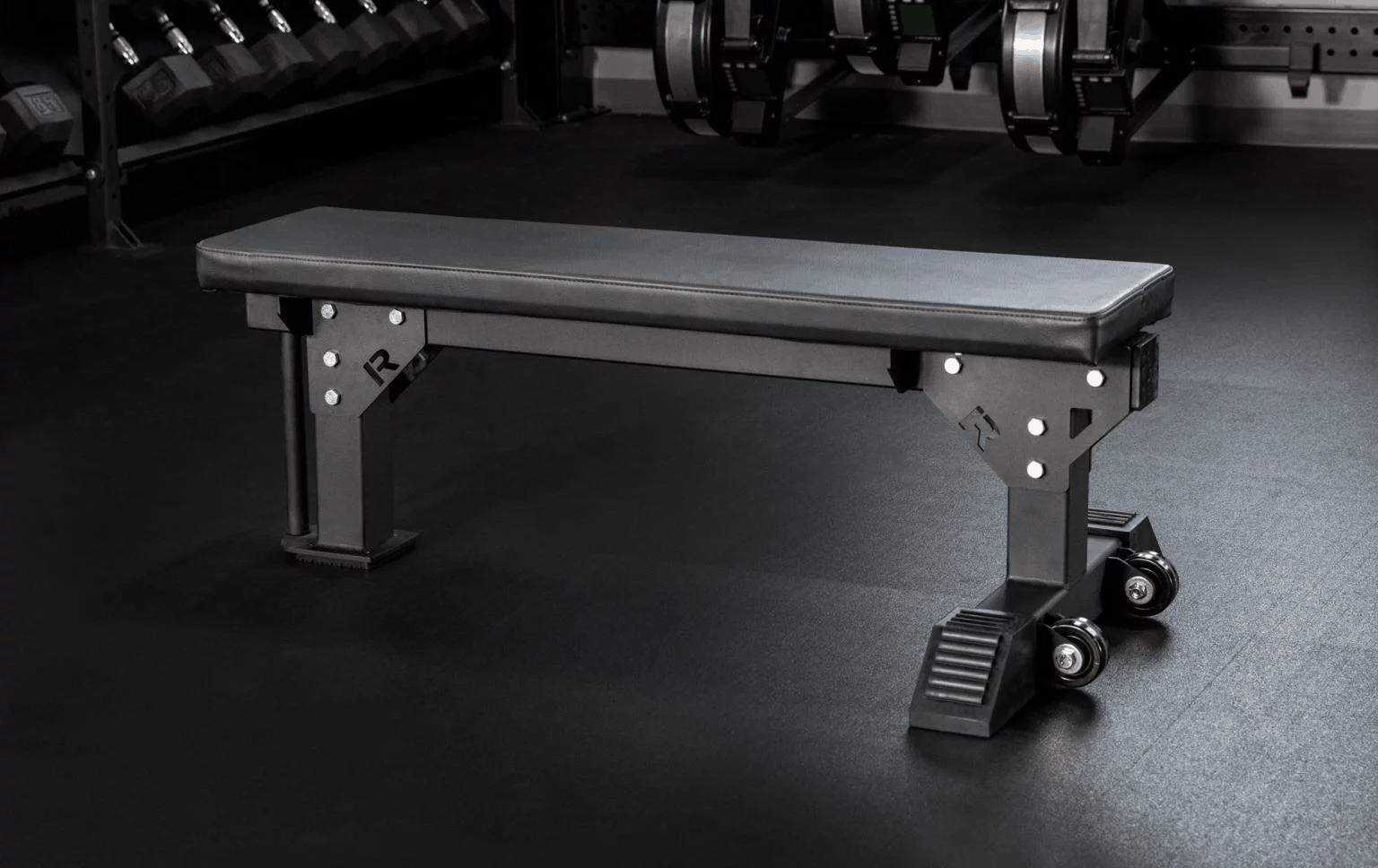 | | |
| --- | --- |
| Model | Rogue Monster Utility Bench 2.0 |
| Pad Length | 47″ with standard pad, 50″ with fat pad |
| Width | 12″ with standard pad – other options available |
| Height | 15.25″ (Short option) or 17.5 (Standard option)" |
This bench is made from 3″ x 3″ 11 gauge steel and is available in a variety of configurations, including standard height 17.5″ or "shorty" option that is only 15.25″ high. We don't recommend the shorty option unless you know you want that specific height for some reason.
It also provides some other back pad options.
This is a tri-post design – so there are no supports to get in the way of your bench stance.
It also has wheels (and a handle) so you can move it around easily.
But, this is the only bench that can be stored upright (vertically).
This is a great option for a home or garage gym where space is scarce.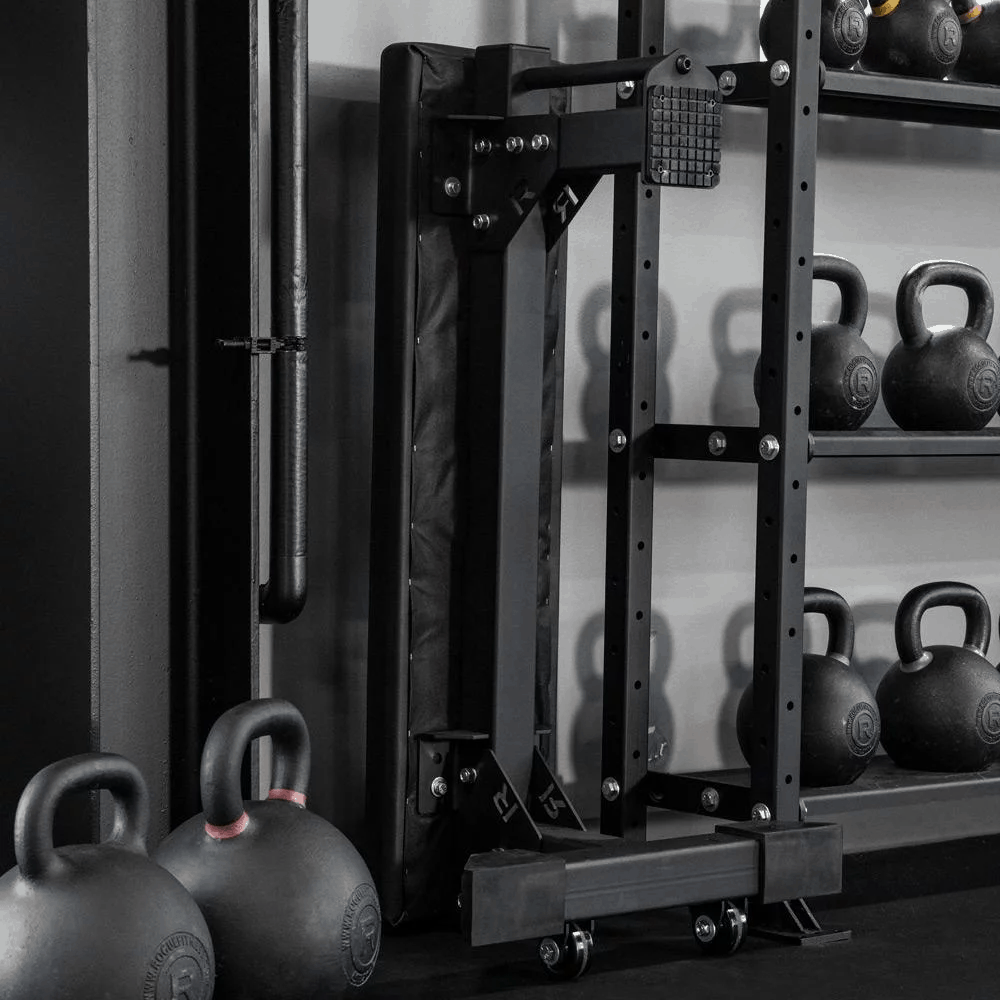 Narrow Pad vs Fat Pad vs Wide Pad For Bench Press
You may have noticed many of those flat benches (like the FB-5000 and Monster Utility Bench 2.0) have a fat pad or wide pad option.
Why would you want this?
In short – it helps for heavy bench pressing. The idea was first created by Donnie Thompson, a world record holding powerlifter.
The Thompson Fat Pad is wider and thicker than your average bench pad.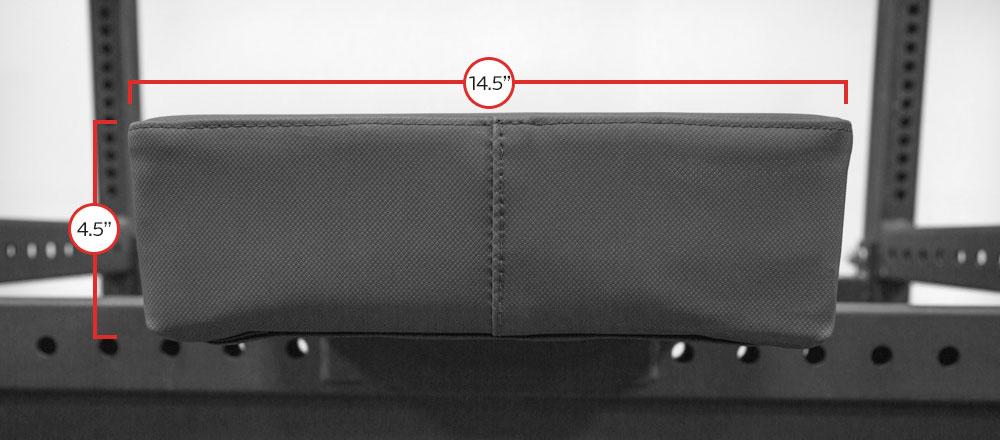 Having a wider, thicker pad ensures:
Promote Scapular movement
Eliminate Shoulder Hangover
Optimizes Back and Upper body Positioning
Increases mechanic leverages
May eliminate common benching injuries
That pad will work with any Rogue flat bench.
So, the fact that it is thicker and wider helps.
Rogue's Competition Fat Pad is a hybrid of a sort – it has the 4.5″ thickness, but is narrower than the Thompson Fat Pad.
This is the option if you want the pad thickness, but want a narrow width like a normal bench pad.
It will work with any Rogue bench.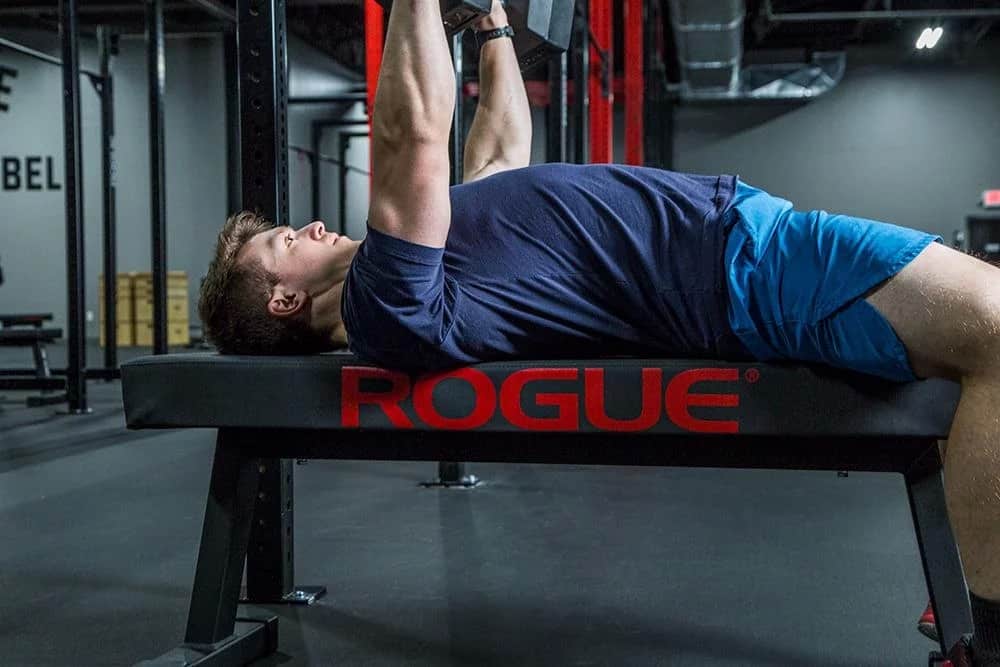 Lastly, the Rep benches like the FB-5000 have a wide pad option as well.
Both options are 4″ thick, but vary in width.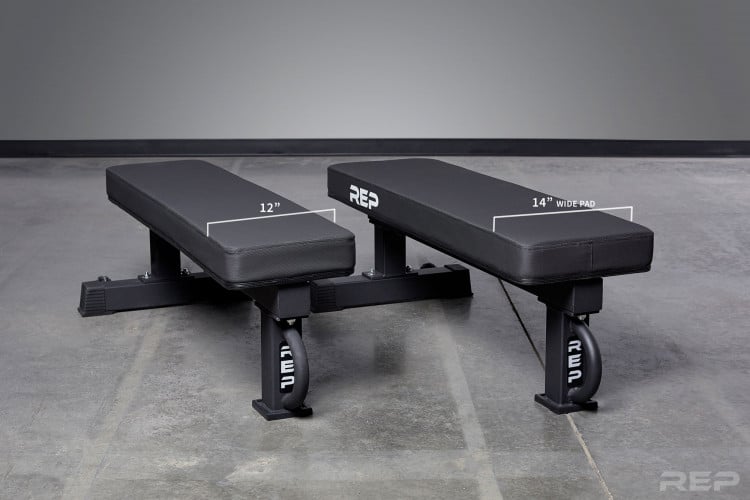 If you are looking for a bench for your home gym or garage gym, a flat bench can be OK.
But you'll get more out of your workout space with an incline bench.
The Best Incline Benches
If you want the ultimate in versatility and variety for your home or garage gym, and don't to take up too much space we recommend an adjustable incline bench.
We're going to skip non-adjustable incline benches. Those are great for a commercial facility – but don't make much sense for a home gym or garage gym.
We're going to start with a brand new model from Rep Fitness – the industry leaders in weight benches.
The Rep AB-5200 Adjustable Bench is a great incline and flat bench (it does not do decline.)
Built form 11 gauge steel, it supports 1,000 lbs. The bench itself weighs 125 lbs – so you know it is built solid.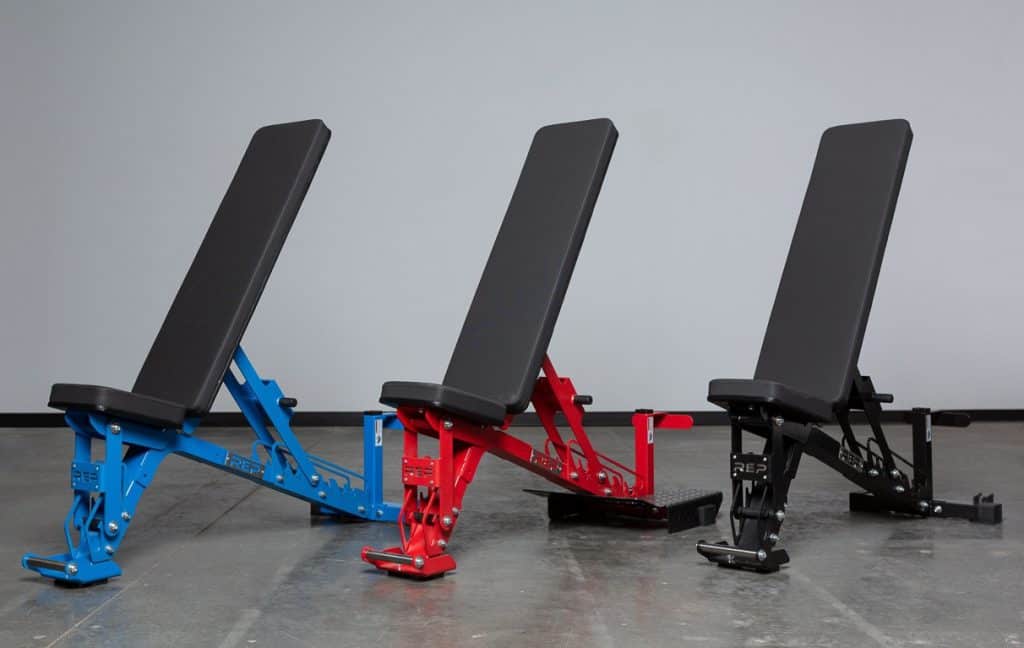 | | |
| --- | --- |
| Model | Rep AB-5200 Adjustable Bench – Incline |
| Weight | 125 lbs |
| Length | 55″ (Pad Length) |
| Width | 12″ |
| Height | 17.5″ |
As you can see above, the AB-5200 is available in your choice of 3 colors.
Here's the essential stats:
Maximum inclination is 85 degrees – which is perfect for overhead exercises.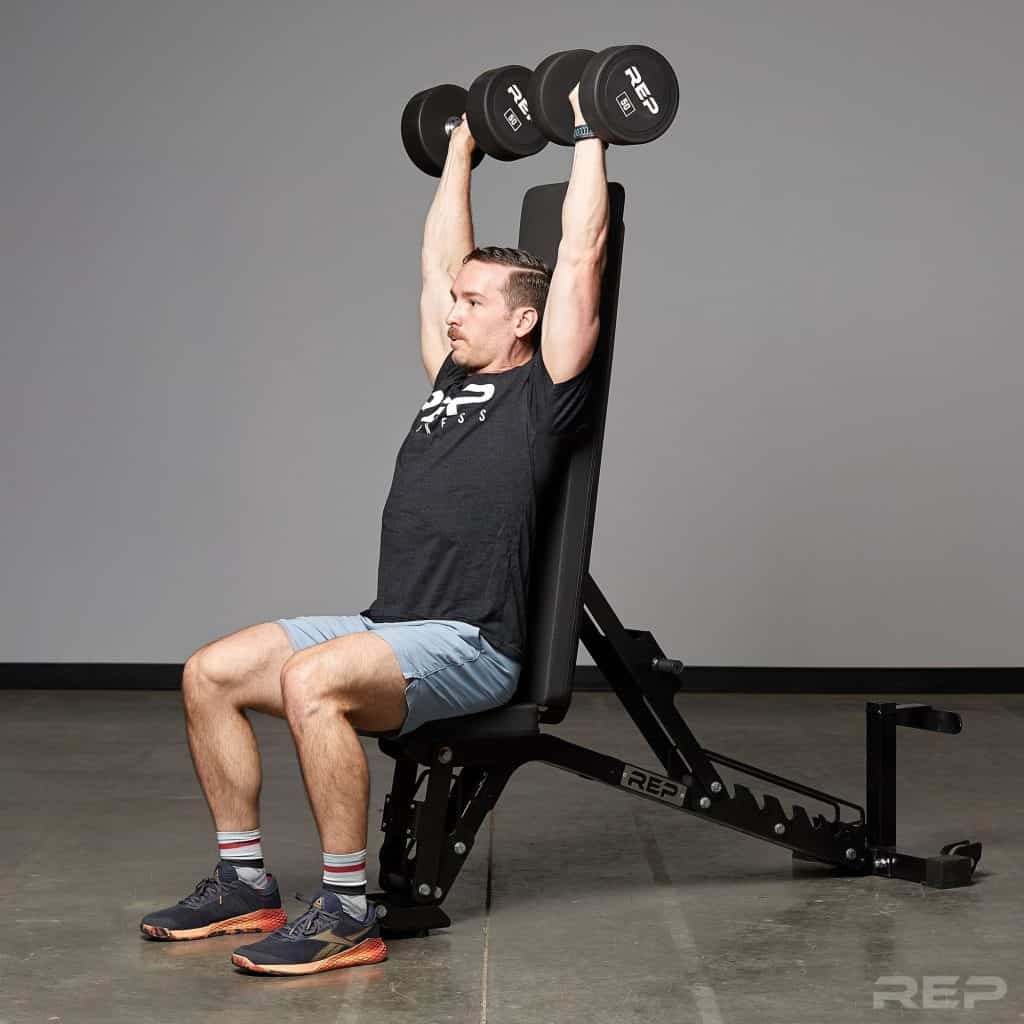 There are a total of 7 back adjustments: 0, 15, 30, 45, 60, 75, and 85 degrees.
The seat is adjustable to 3 different positions.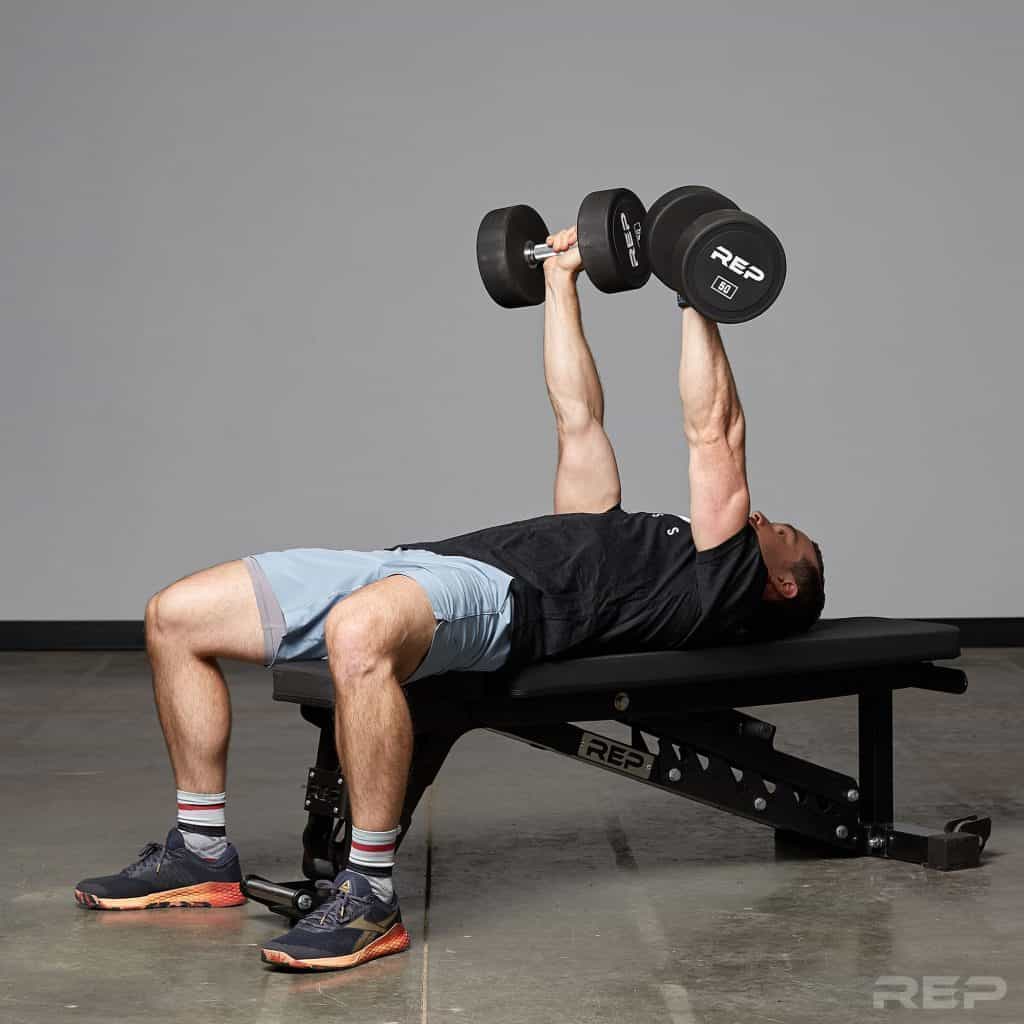 And this bench is super-mobile. It has a set of wheels, and a handle. But what is best – you can safely store this bench standing upright. In this vertical orientation it takes an absolute minimum of your precious floor space, but is still not going to tip over.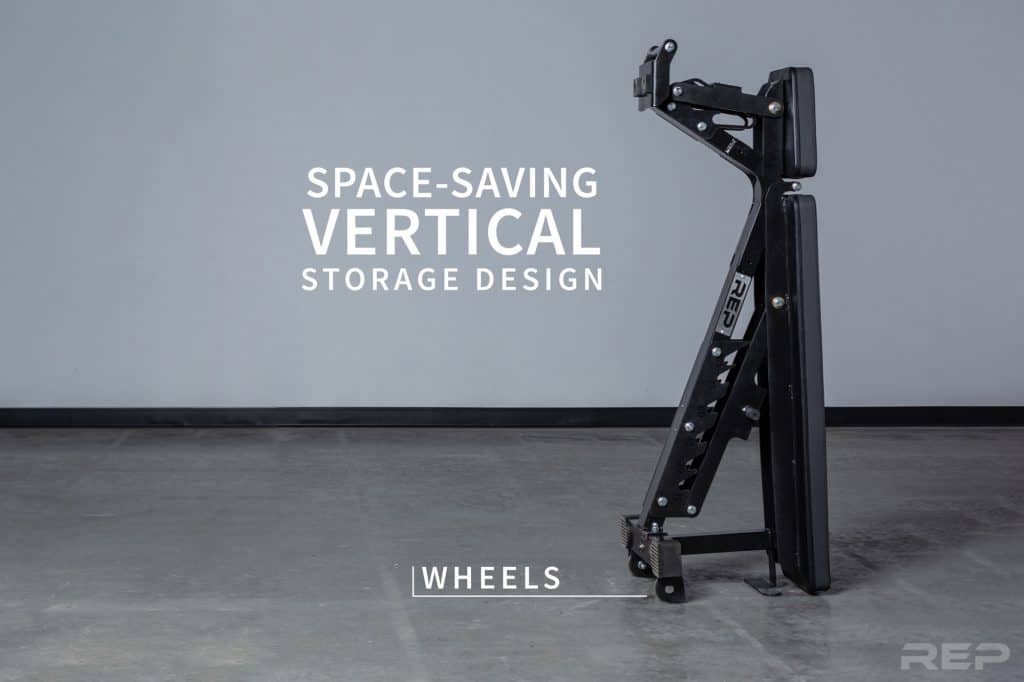 Let's move on and look at Rogue's incline bench offerings.
The Rogue Adjustable Bench 2.0 is the basic adjustable incline bench offered by Rogue Fitness.
| | |
| --- | --- |
| Model | Rogue Adjustable Bench 2.0 |
| Weight | 128 lbs |
| Length | 52″ (Pad Length) |
| Width | 11.25″ |
| Height | 17.5″ |
Made from 2″ x 3″ 11 gauge steel, it weighs in at 128 lbs. So you know it's tough. It's also made in the USA.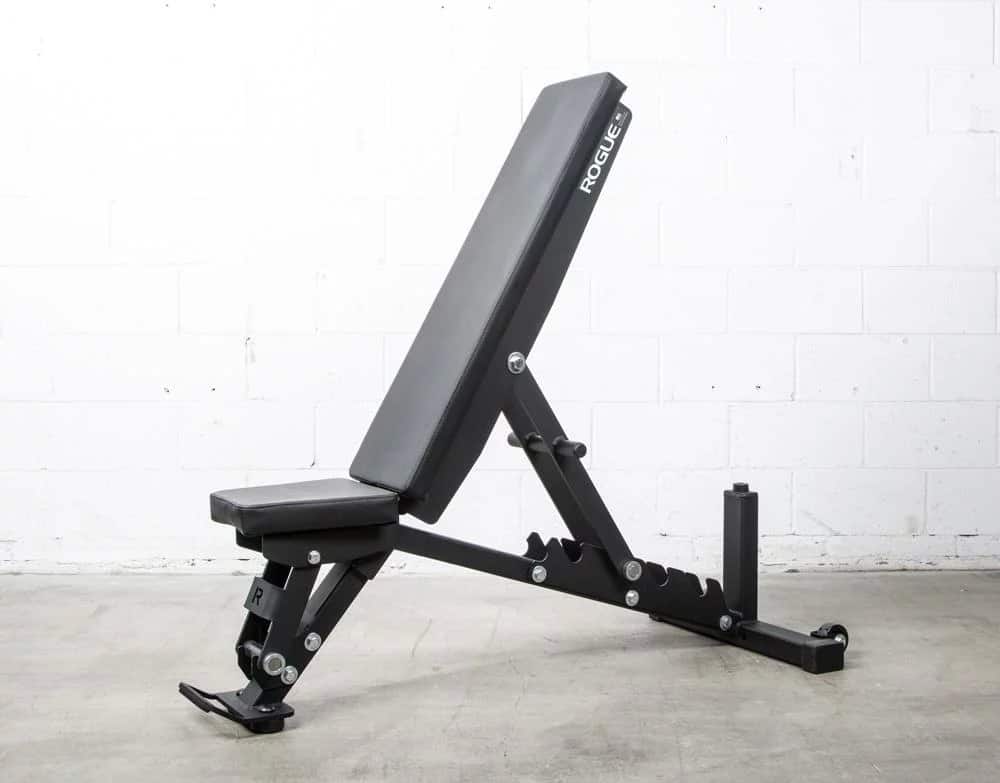 But, the most important aspect of an adjustable bench is just how many options it gives you. This model can be inclined from 0 degrees (flat) to 85 degrees (nearly, but not quite, fully upright). This gives you just enough "layback" for back supported presses with a barbell or dumbbell.
As with many adjustable benches, there is a gap between the seat and the upper part of the bench. But, in this model it's minimized for the most comfort on incline presses.
And, it has wheels so you can easily re-position this bench when needed.
This is Rogue's "no frills" adjustable bench option, but let's look at another.
If you want to step up to a fully adjustable bench that let's you also do decline, take a look at the Rogue AB-3 Adjustable Bench.
First of all, it's got the specs you are looking for.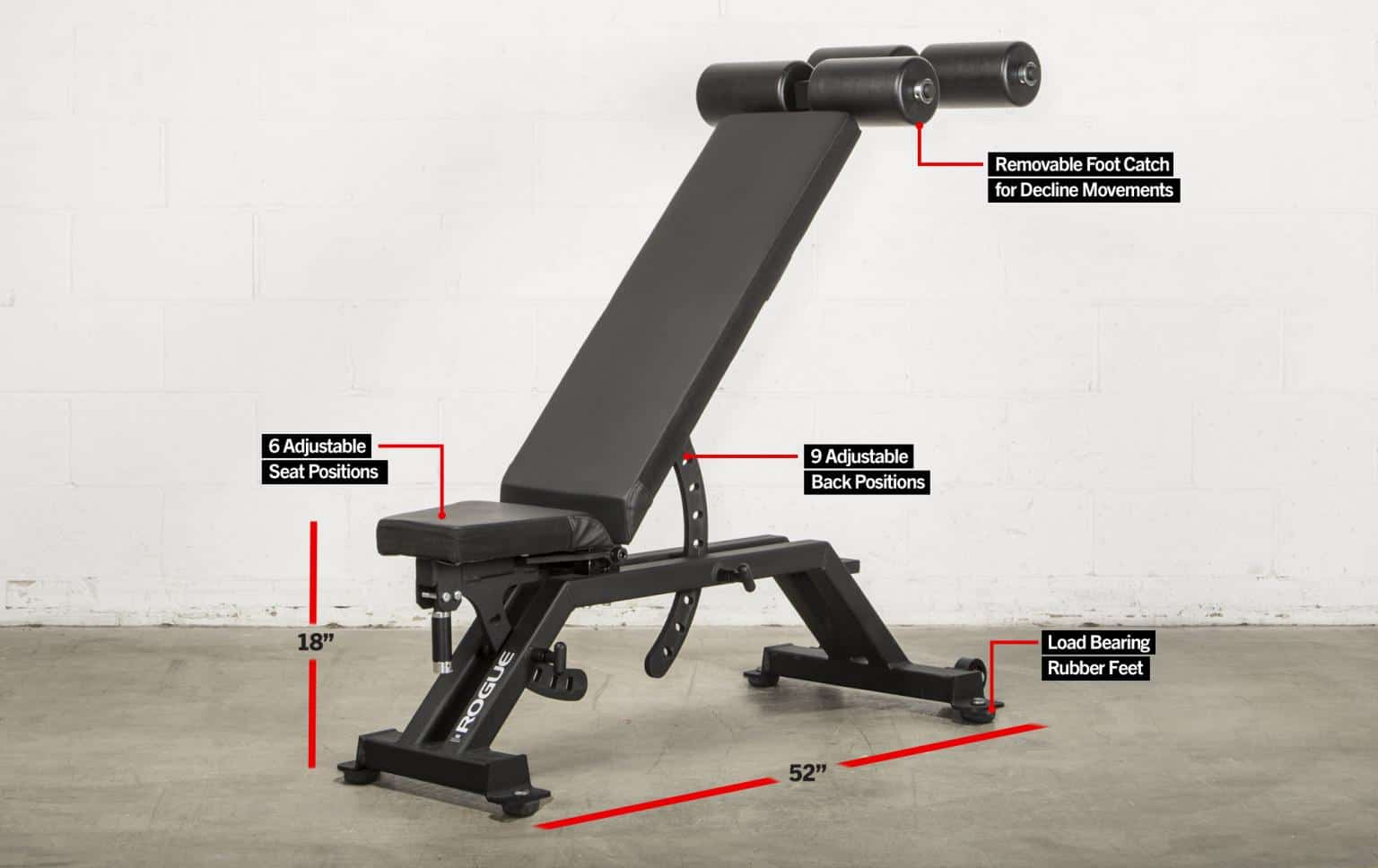 | | |
| --- | --- |
| Model | Rogue AB-3 Adjustable Bench |
| Length | 68″ |
| Width | 12″ |
| Height | 18″ |
Made with 11 gauge steel, it has 6 seat positions and 9 back pad settings.
It's 18″ in height, and the pad is 12″ in width.
It is also very easy to adjust the seat and back pad angles.
But, the real standout feature of this design is the decline bench option.
That's right – this is what is known as an FID bench – it does Flat, Incline, or Decline options.
A telescoping foot catch assembly locks firmly into place using a pop pin, and sets the user up for movements including the decline bench, decline dumbbell press, and decline sit-ups, and more.
Rogue brought this design to market after purchasing Nebula fitness gear – it's based off the Nebula 1080 "Awesome" Utility Bench.
And, like a lot of Rogue's high quality gear it is made in the USA.
The Rogue AB-3 bench is indeed "awesome" – and competitors have taken notice.
Rep Fitness AB-5000 ZERO GAP Adjustable Bench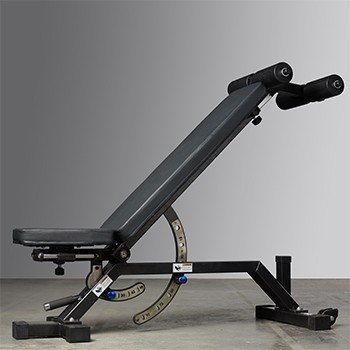 As of January 2019 Rep Fitness has launched the REP AB-5000 Zero Gap Adjustable Bench.
| | |
| --- | --- |
| Model | Rep AB-5000 ZERO GAP Adjustable Bench |
| Height | 17.75″ (To top of back pad) |
| Width | 12″ |
| Weight | 99 lbs |
Using 11 gauge steel frame with a 1,000 lb capacity, it's the only bench you'll ever need.
For adjustability there are 7 back pad settings (0 degrees to 90 degrees) and 4 seat pad (including -15 degrees) settings all using laser cut degree markings on a stainless steel wear guard.
Here's a look at the great features:
Let's review what makes the Rep AB-5000 such a great FID bench option.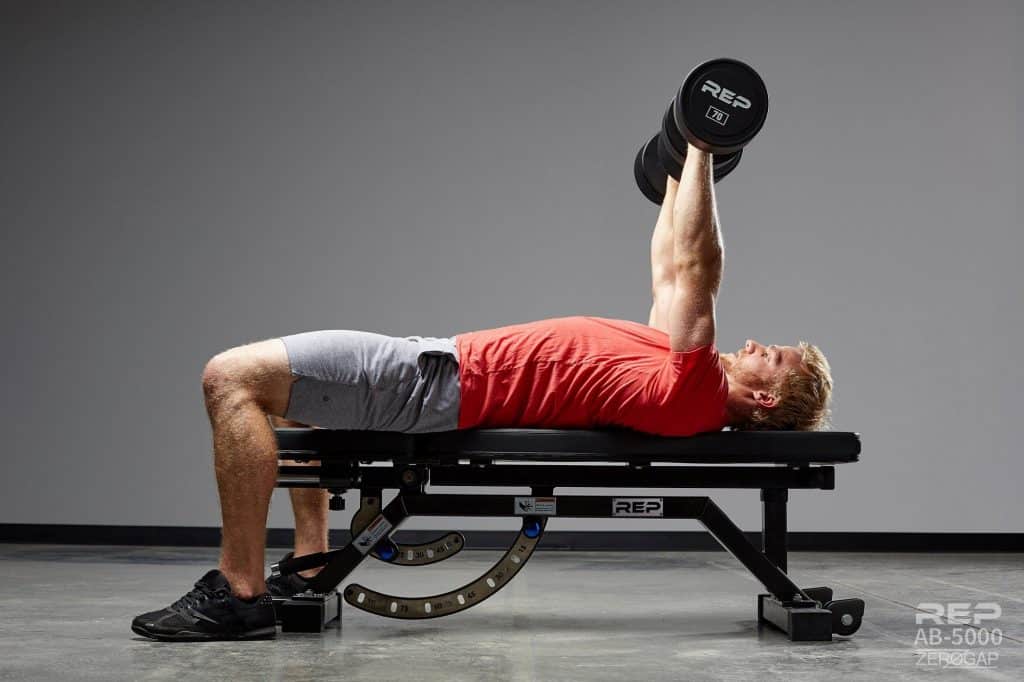 It can adjust a full 90 degrees for upright back support.
And what's even better – use the pop-pin and bearing system adjustment for zero gap between seat and back pad. Everything can be adjusted in a few seconds.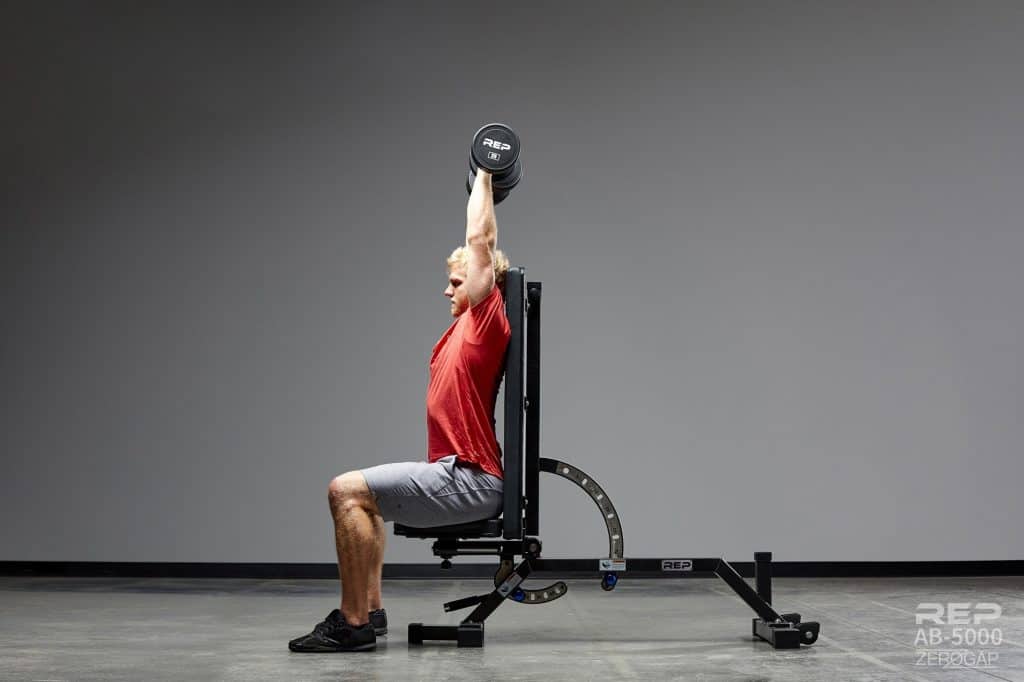 The other stand out feature of this bench is the ZERO GAP pad. The seat portion of the bench is mounted on quick-adjust sliding rails, and you can close the gap when needed.
Shown here is the bench (with red color, which looks great) showing the ZERO GAP, in action.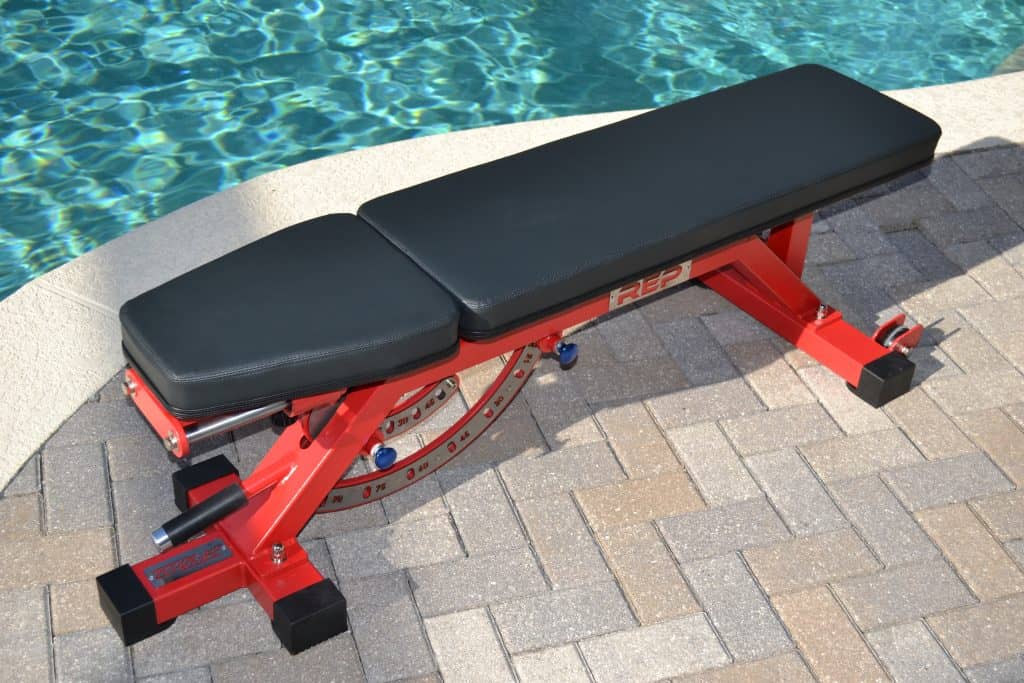 This is a patent-pending feature that you won't find on another bench.
And, you can even add the Leg Attachment to get the same full decline capability as the AB-3 bench.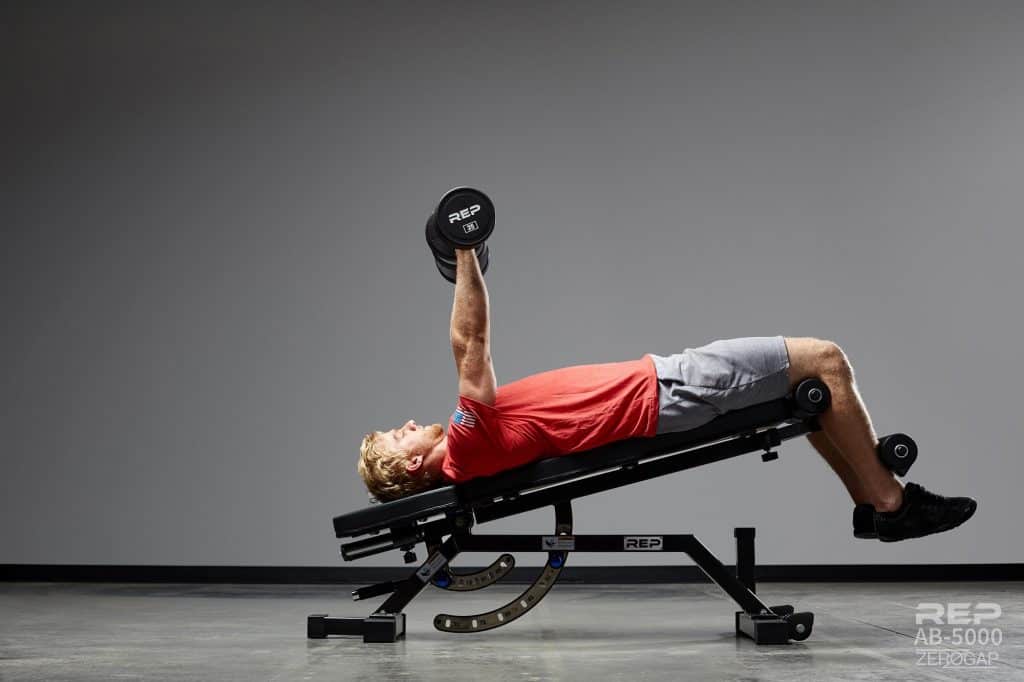 One more thing we love about the REP AB-5000 – there is a choice of colors: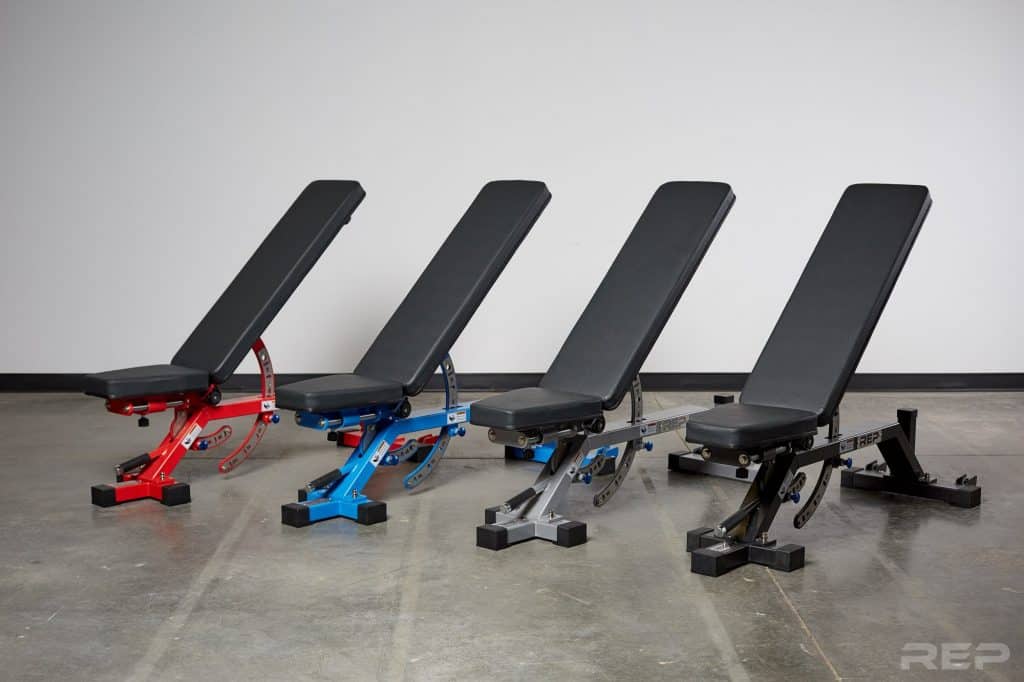 For more details about this great piece of equipment, you can also check out our full review of the REP AB-5000 Adjustable Bench.
Lastly, if you really like the idea of a FID bench and don't want the zero gap back pad, you can save about $100 by getting the Rep AB-5100 Adjustable Bench.
This model lacks the patented ZERO GAP feature, but as you can see from this picture it has a minimal gap – less than many competitors products.
But otherwise, you can add the optional Leg Attachment to make this a full FID bench, just like the Rep AB-5000.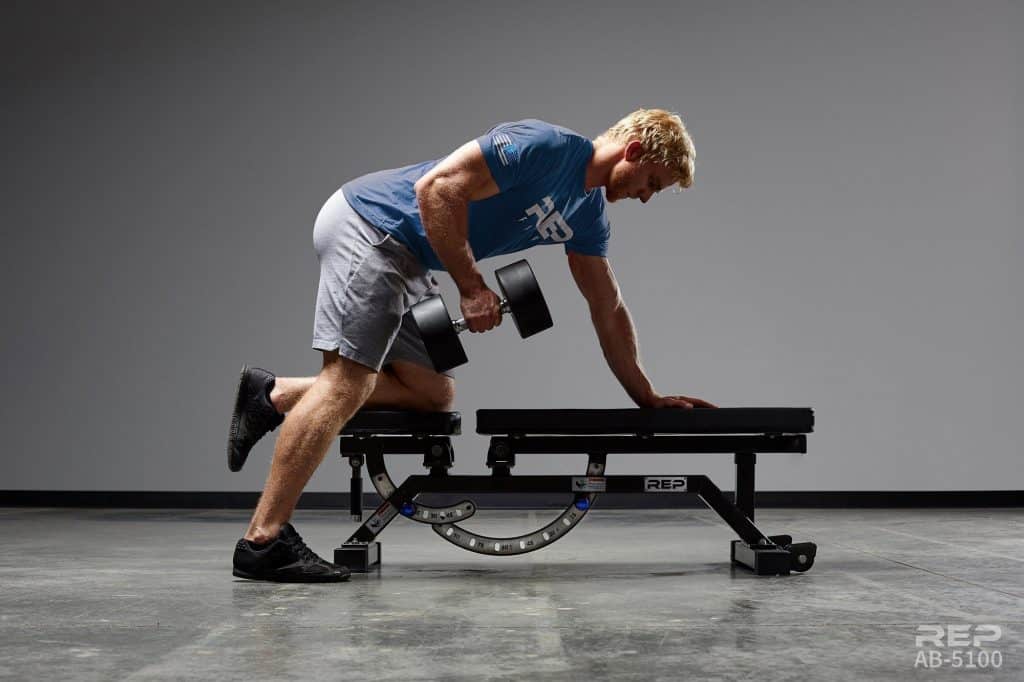 Best Weight Bench – In Summary
A good weight bench is a necessity for any home gym or garage gym.
There are many important exercises you can do with a bench – the bench press, dumbbell row, and a variety of seated presses – along with countless others.
For simplicity a flat bench will provide the minimum you need.
But an adjustable incline bench will really shine with it's versatility and variety it provides for your workout.
And the ultimate in a home or garage gym bench is a full FID bench – Flat, Incline, or Decline.
Photo Credits
Some of the photos used in this article are property of the manufacturer.
We're an affiliate of Rep Fitness and Rogue Fitness. If you click the links in this article and purchase we receive a small fee at no additional cost to you. This helps us to bring you great information to make the right choices for your health and fitness.
---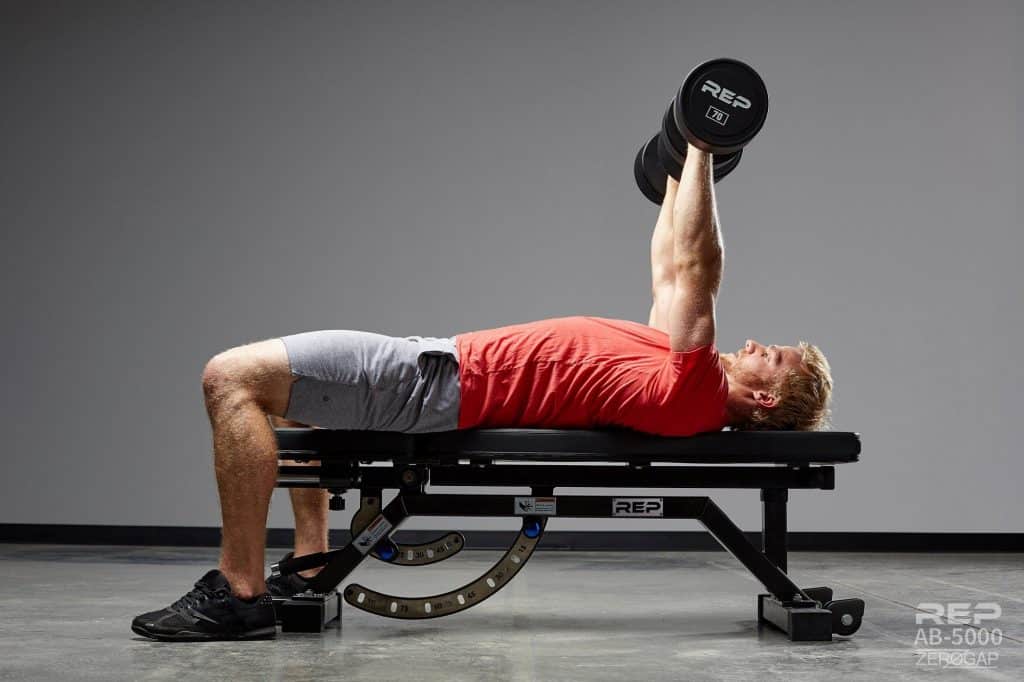 Tim is the founder of FitAtMidlife.com – an avid gym rat for 30+ years, he's a reviewer of many, many shoes – and founder of the Speed Bag Gathering – the world's only gathering of speed bag punching enthusiasts.  See more gym reviews at Tim's YouTube channel.