Rogue has the red-hot
Echo Bike
. Grab one while they last!
Get a specialty barbell unlike any other with the Kabuki Transformer Bar – It's now available from Rogue Fitness.
The original Transformer Bar became the industry's superior squat specialty bar and is used in thousands of home gyms, commercial facilities, clinics, and professional/collegiate weight rooms. It is a kind of safety squat bar that utilizes a rotating sleeve to let the load be placed at different cambers and distances from the bar's shaft to change how the bar feels during use. Now on its latest and fourth iteration, the Transformer Bar is made even better in usability and manufacturability.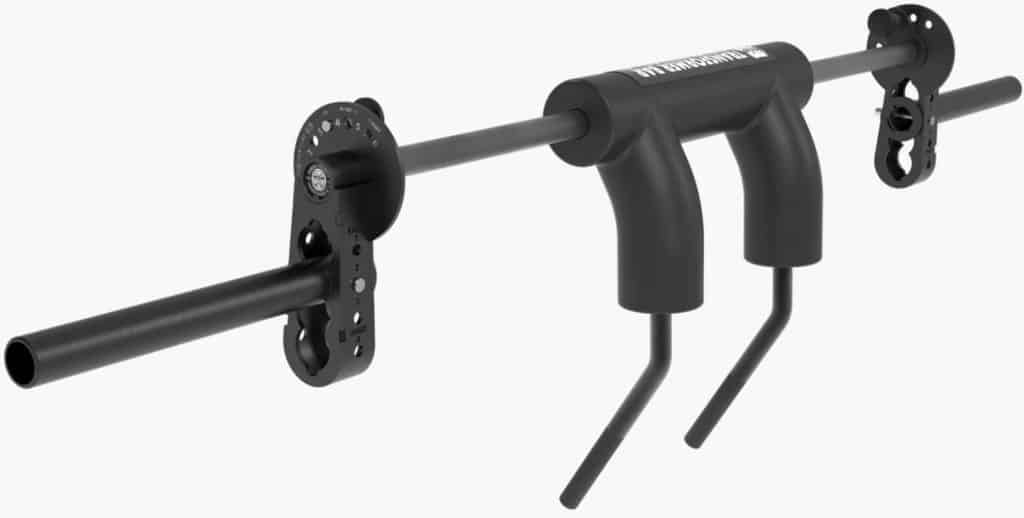 Get it from Rogue:

Kabuki Transformer Bar (Black)
The Kabuki Transformer Bar is a patent pending multi-function squat bar made in the USA. It has zinc with black oxide sleeves finish using high-density foam and durable, synthetic leather pad cover.
Kabuki Transformer Bar – Overview
The Transformer Bar has an innovative design that allows for standard squat position variations utilizing a straightforward pin mechanism, so even novice lifters can learn the squat movement pattern in a more accessible, more comfortable manner. Athletes of numerous specializations developed this bar in-house at the Kabuki Strength Lab. It is an unquestionably exquisite piece of training equipment with longer handles and proprietary bend to provide a balanced "center" to make you feel comfortable under the bar as you focus on the lift. The Transformer Bar 4.0 is a newly re-engineered, patent-pending specialty bar that is purpose-built with multi-function for easy use in professional (athletic, clinical), commercial, and home gym settings. No other training bar can match the versatility of use and application of the Transformer Bar. The Transformer Bar has two simple adjustment mechanisms for modifying the camber angle and distance from the center, giving a total of 24 unique angle/difficulty combinations. The first mechanism is the spring-pin mechanism which allows for six positions with 30 degrees of variance between them. The second adjustment mechanism allows for modifying the position of the weighted sleeve or the distance between the center of mass of the weight and the bar on your back.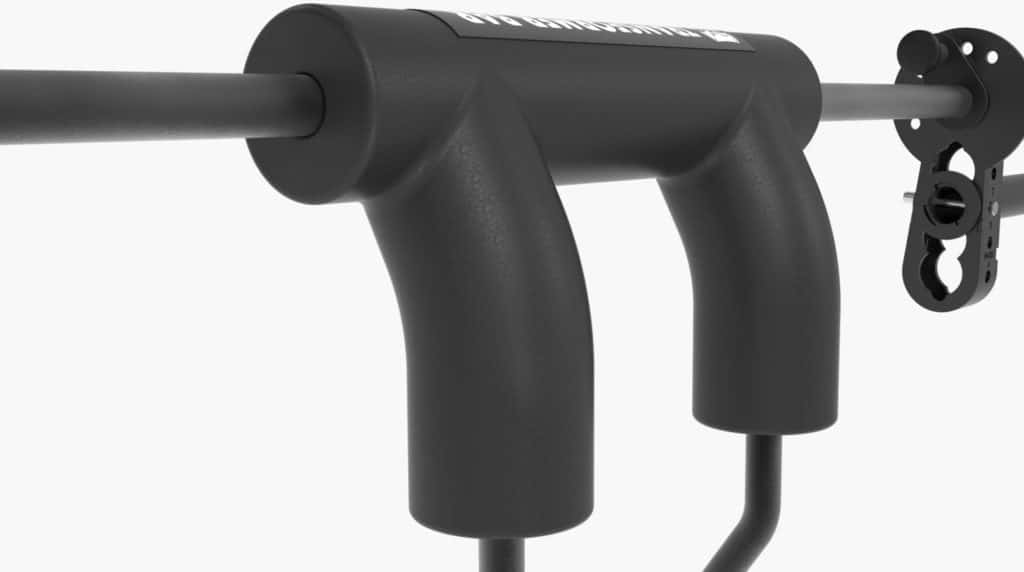 This latest iteration addressed the issues with the original design and significantly modified both usability and manufacturability. This process of constant improvement, or kaizen, is paramount to Kabuki's product and engineering principles. The significant improvements made on the new Transformer Bar include the following: – New Spring-Pin Adjustment Mechanism that allows quick angle changes without removing the weight bracket as in previous iterations of the bar – Enhanced sleeve design allows quicker difficulty adjustment – Black powder-coated center bar and handles for high corrosion resistance – Color-coded labels for quick positional adjustments – Wider 54″ center bar for fitment with all racks – Branded pad cover features the "Transformer Bar" name and the iconic Kabuki squat face branding along with a Made in the USA stamp.
The handles are machine-knurled and bent to deliver supreme comfort and performance. They are knurled as deep as the best deadlift bars and have a natural curve for maximum lat engagement and core stiffness. The Transformer Bar has a multi-angle bend in the handle for a comfortable, stable, and powerful position on your back and shoulders. Kabuki designed the bends of the bar handles to conform to your body to deliver the ultimate stability of the bar on the shoulders. They have a 12″ handle spacing to accommodate as many athletes as comfortably as possible.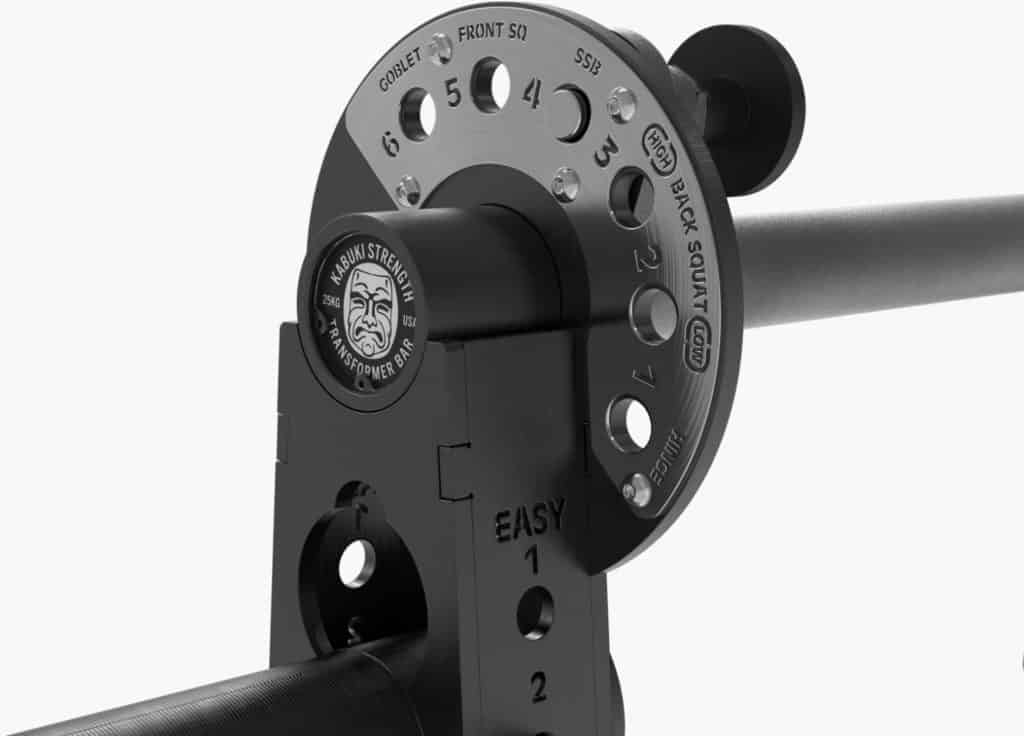 The Transformer Bar has a custom injection-molded, high-density foam core to give you a comfortable position on the back and improved durability than the earlier iterations. The pad cover features the best combination of reliability, aesthetics, comfort, and price that Kabuki can offer on this bar. The Transformer Bar has noticeably longer handles than standard safety bars, improving spinal stability and intra-abdominal pressure due to better lat engagement and a more neutral spine position. This bar is commonly found and used in team sports settings because of the different variations in movement patterns it provides while delivering the safety and decreased risk of injury only this kind of specialty bar offers. It is manufactured using American steel in Portland, Oregon, by Kabuki's skilled metalworkers and machinists. Each bar is hand-assembled, shipped securely and compactly in a sturdy, custom box, and comes with a card hand-signed by the Kabuki Strength employee who assembled your bar. The Transformer Bar's official load capacity is 1500 lbs, but it has been load tested far beyond this number. The weight sleeves are machined to spec, while the proprietary bracket is laser cut and fabricated in-house. This bar features locking sleeves which allow horizontal and upright storage of the bar in its ready-to-lift form. The Transformer Bar smoothly transforms into a compact, 60″ x 23″ x 8″ rectangle for easy transport when you insert the sleeves backward into the bracket.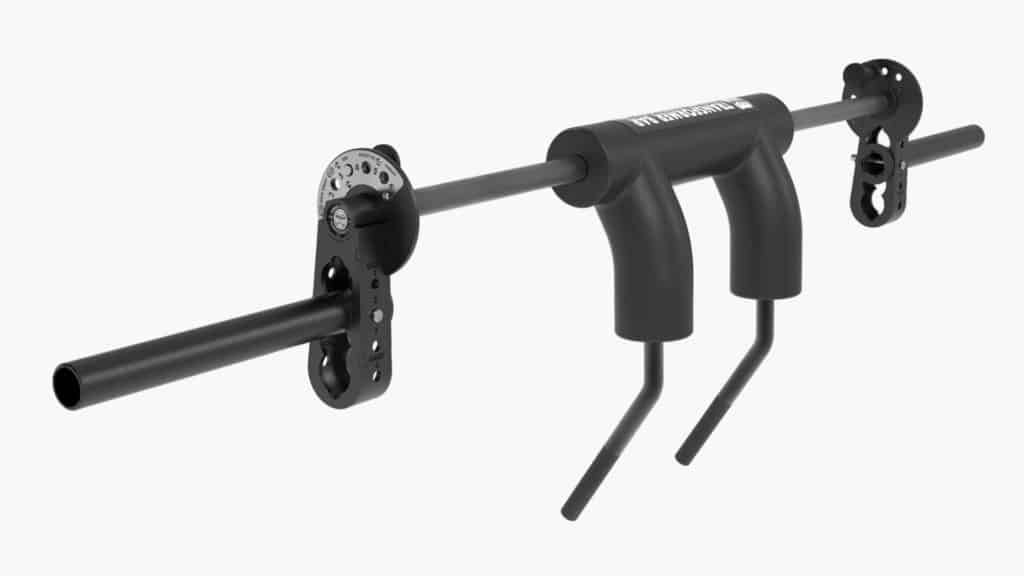 Why is it considered a "transformer" bar?
The Transformer Bar is a kind of specialty bar created by Chris Duffin and his team in Kabuki, and this bar is the fourth iteration. The earlier iterations are the Duffalo Bar, HD Trap Bar, and Kadillac Bar. It is called the "transformer" bar because it differs from the traditional safety bar. The Transformer Bar replicates typical squat movement patterns while being kept in the same position on the back. These squat patterns include: Hip Hinge – Ideal for good mornings and teaching hinge patterning Back Squat – Low Bar Back Squat – High Bar SSB – For use like a traditional safety squat bar Front Squat – Load counterbalancing similar to a front squat Goblet Squat – Similar to a kettlebell goblet squat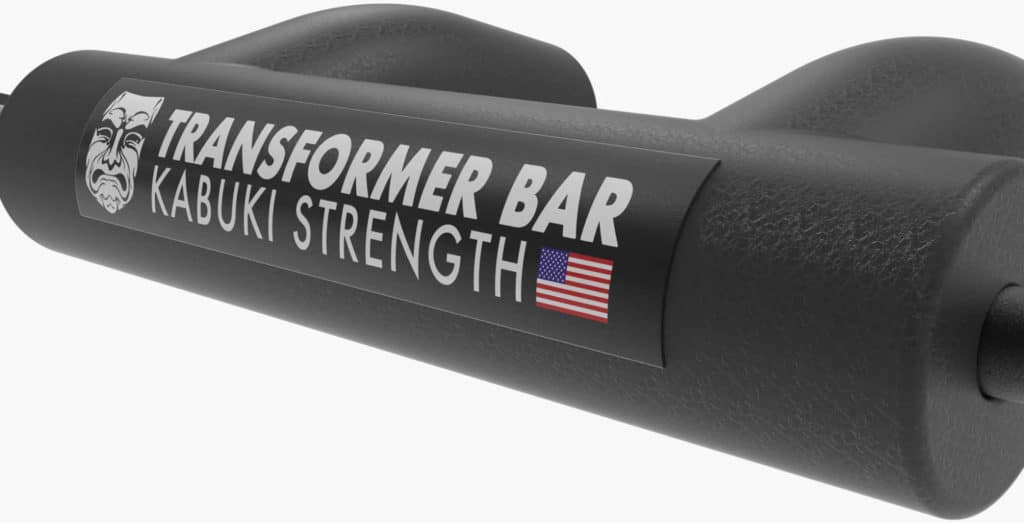 Kabuki Transformer Bar – In Summary
That's our close-up look at the Kabuki Transformer Bar.
The Transformer Bar from Kabuki is the first adjustable, multi-functional barbell allowing 24 different squat variations with a simple spring-pin mechanism. It is athlete-engineered in the USA and is used by many professional and collegiate sports organizations for strength training in clinical/rehab settings and thousands of home gyms worldwide.
Looking for more options? Check out these other great products:
There's also the Kabuki Kadillac Bar and check out our Buyer's Guide to Barbells – Barbell Types.
More products from Kabuki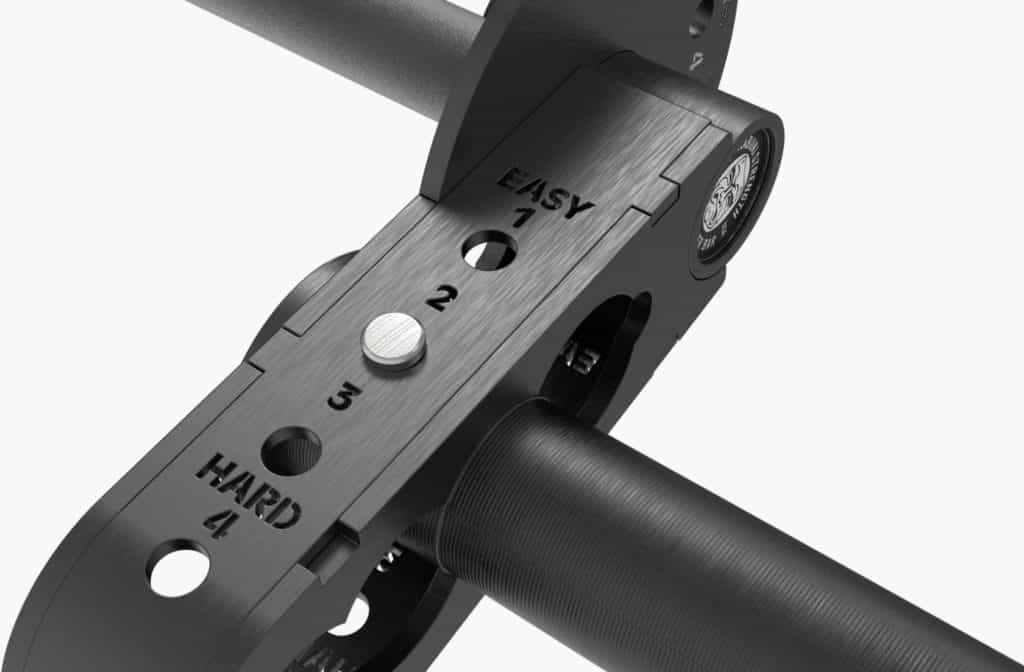 Photo Credits
Product photos on this page are property of Kabuki.
This website is not affiliated or associated with CrossFit, Inc. CrossFit is a registered trademark of CrossFit, Inc.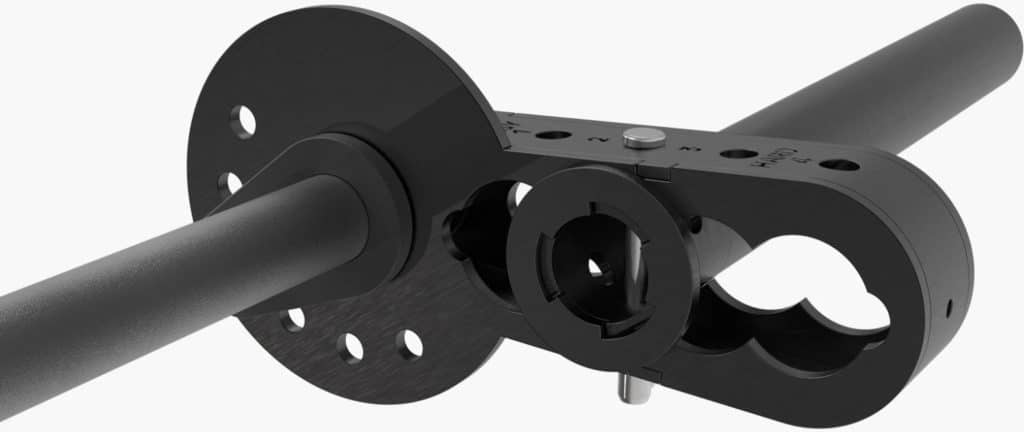 Affiliate Disclaimer
We are an affiliate of Rogue Fitness and others that sell this training gear. If you buy clothing or other training gear after clicking the links in this article, we receive a small commission at no extra cost to you. This helps us to bring you in-depth information and content on these great training products.
Tim is the founder of FitAtMidlife.com – an avid gym rat for 30+ years, he's a reviewer of many, many shoes – and founder of the Speed Bag Gathering – the world's only gathering of speed bag punching enthusiasts.  See more gym reviews at Tim's YouTube channel.