Nike has released the Nike React Metcon Training Shoe.
This training shoe will be ideal for running and many impact-heavy CrossFit WODs and other functional training.
Why?
Because it incorporates Nike's React foam cushioning system – along with the other great features of the Nike Metcon shoe line.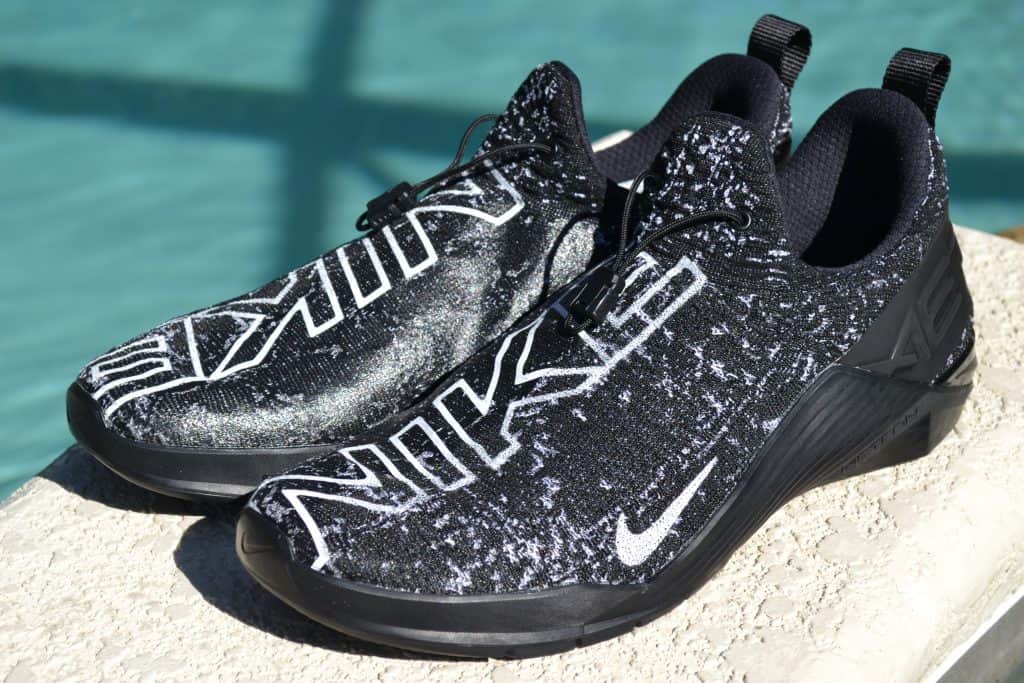 This includes a stable heel (for heavy weightlifting), a rope wrap, and a low-friction heel counter for HSPUs.
Our review pair is on order, and we'll have full details when it arrives, but in the meanwhile – here's what you can look forward to: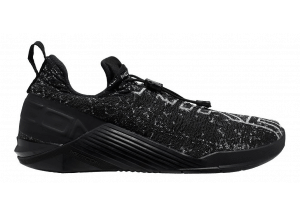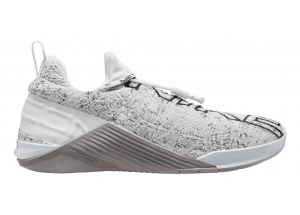 Let's take a closer look at the Nike React Metcon – by first understanding what the React foam system is.
Nike React Metcon – React Foam Cushioning
First of all, the big draw with this shoe is the use of the React foam system.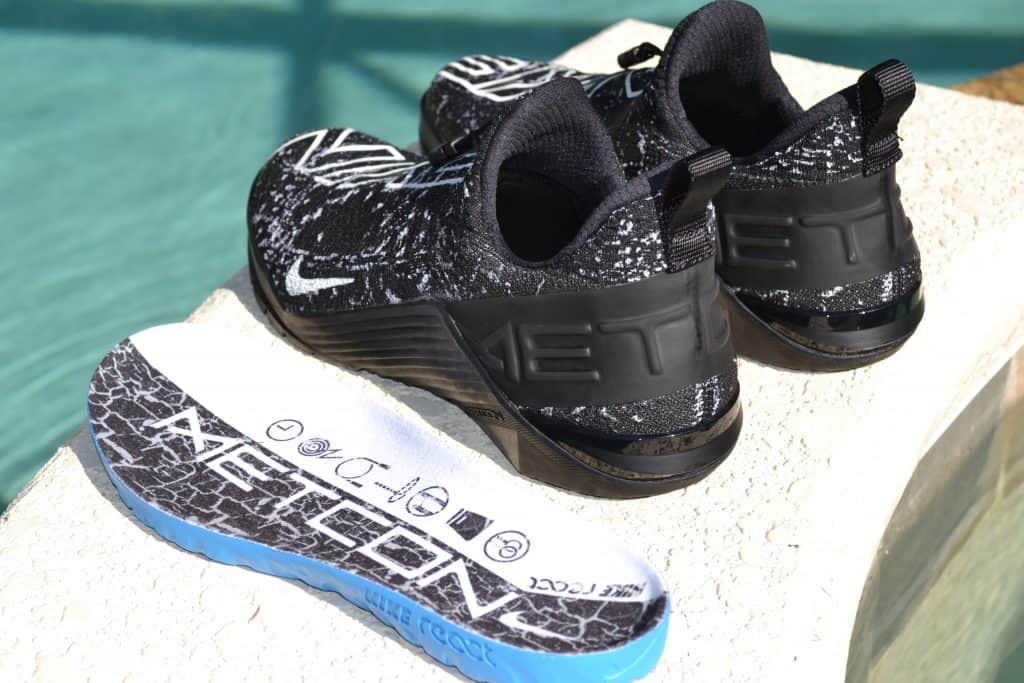 What is that?
Nike explains it best:
"Nike React is an unprecedented foam cushioning innovation and our most responsive foam yet. In fact, Nike React is 11% softer and offers 13% more energy return than our previous softest and bounciest cushioning. It's also more durable and more lightweight. Basically, Nike React is instant go—a contagious sensation that makes you want to run."
So, it's a soft and bouncy foam – that sounds great for running, jumping, sprinting, and skipping rope.
How will it fare for heavy weightlifting and stability?
That's what we'll be testing shortly – as soon as our review pair arrives.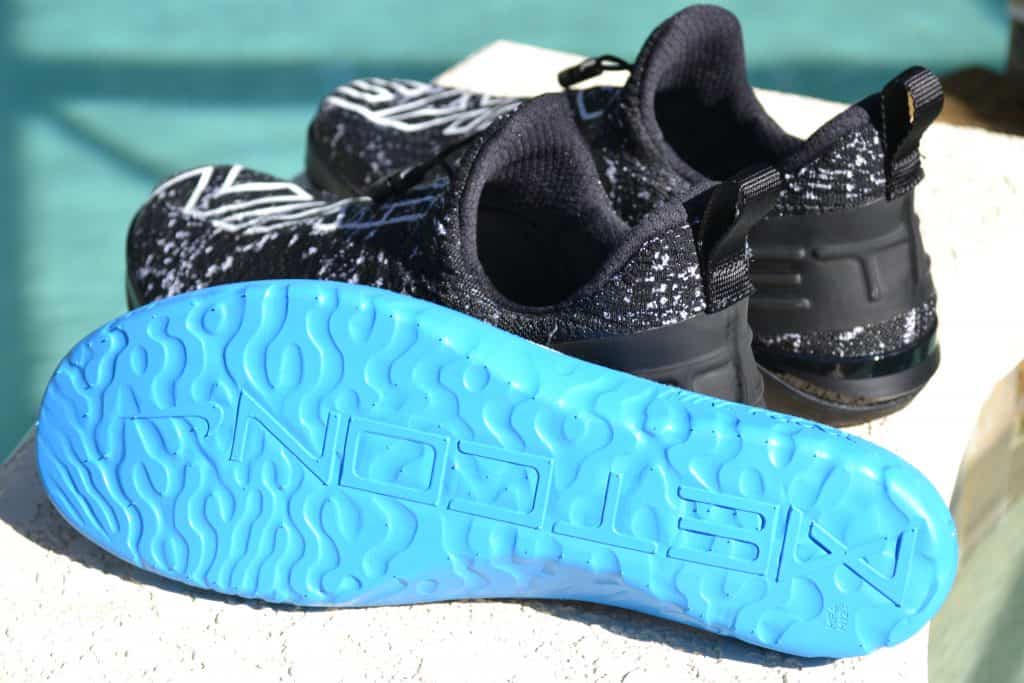 Nike React Metcon – FlyKnit Upper
The upper is made with Nike's FlyKnit.
FlyKnit is a lightweight, breathable material that Nike first developed back in 2012.
FlyKnit is a material that Nike can use to create shoes with a very light-weight, formfitting feel. The material is really "knit" from polyester yarn and as such there are hardly any seams.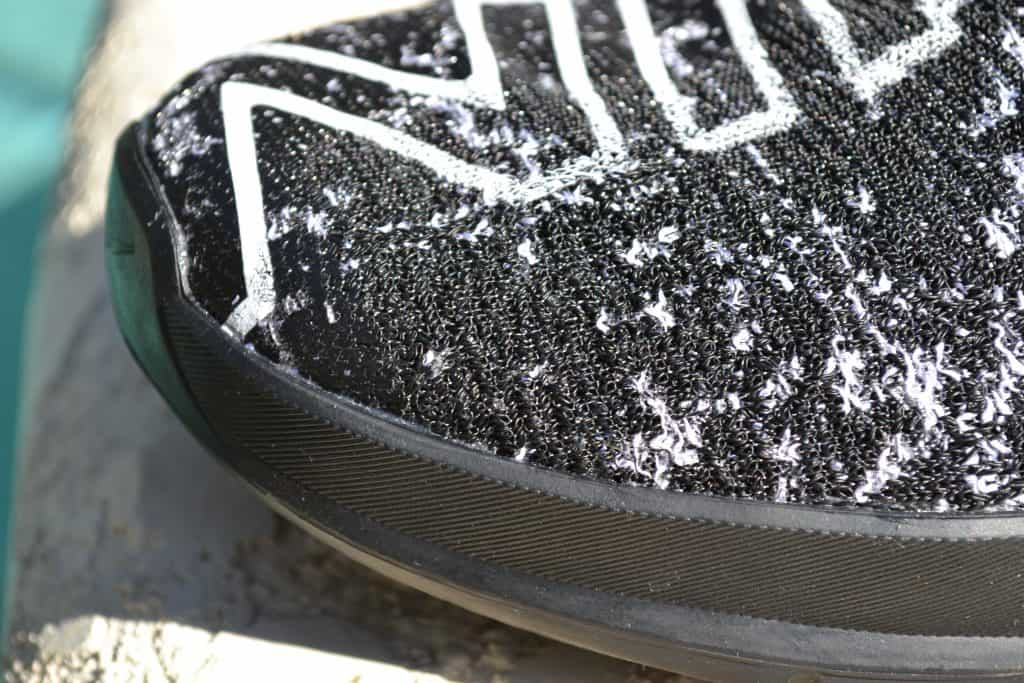 The whole "upper" part of the shoe is therefore better fitting and lightweight.
Overall, it's a very precise, sock-like fit.
And it's super-comfortable.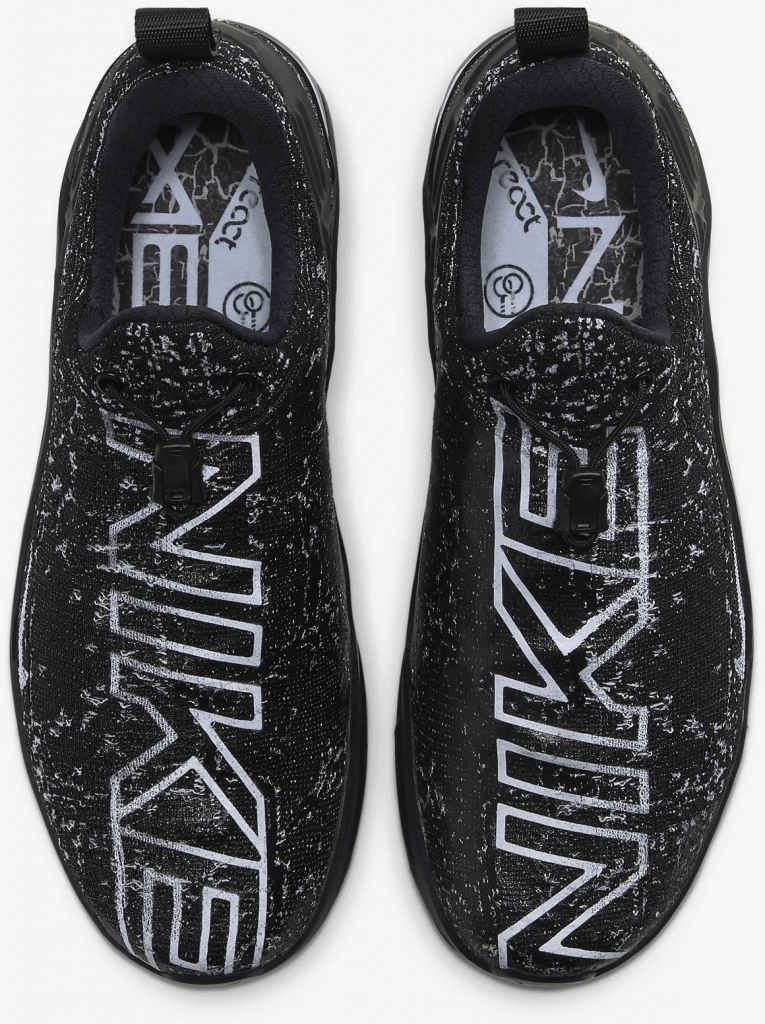 Nike React Metcon – Speed Lacing
The React Metcon uses Nike's Speed Lacing system.
Speed Lacing is convenient – that's for sure.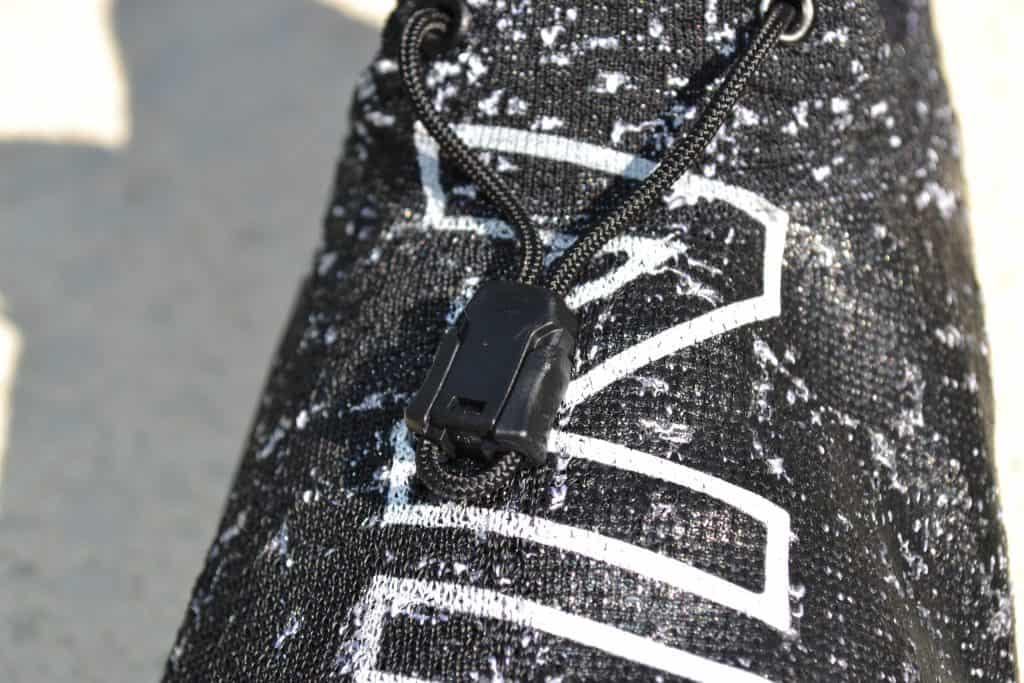 But will it provide a secure enough fit for a versatile cross training shoe?
We won't know until we do our hands on evaluation – so check back soon.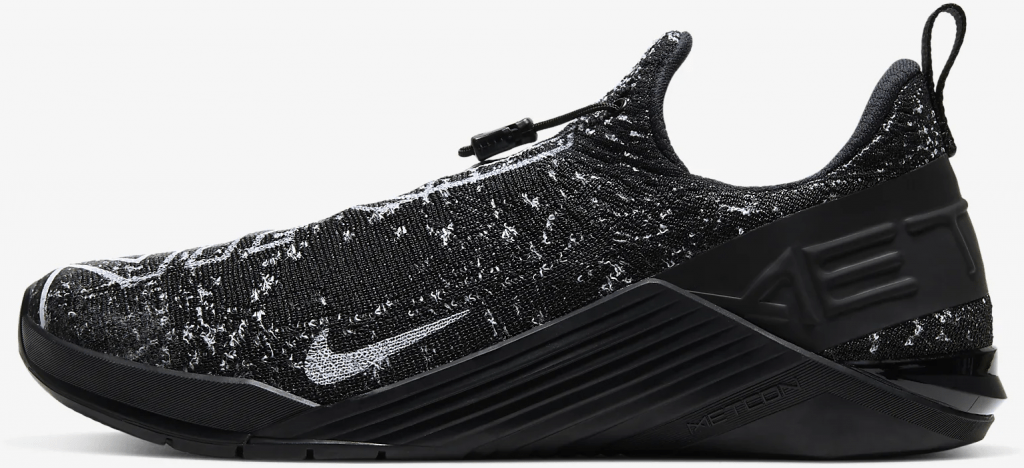 Nike React Metcon vs Nike Metcon 5
Nike's flagship of the Metcon line is the Nike Metcon 5.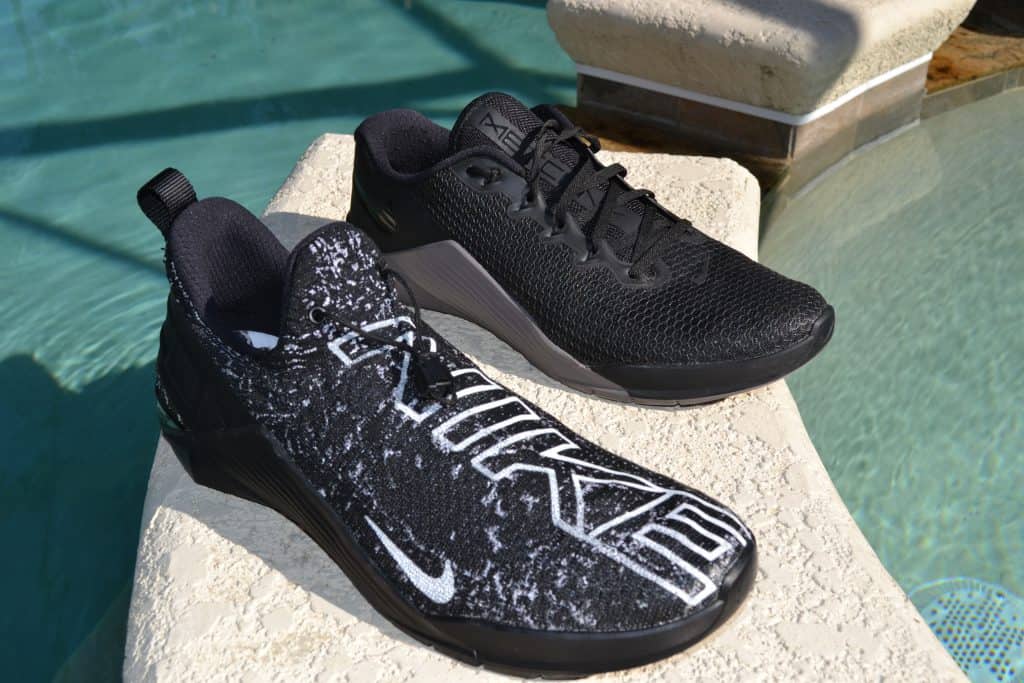 This Metcon shoe is meant to be an "general purpose" shoe for the CrossFit WOD or functional training.
It's got a stable heel for lifting heavy weight.
It has a monster sized rope wrap (wraparound outsole) for rope climb traction (and durability).
And it has a dual density drop-in midsole.
This clever innovation from Nike let's them put very firm foam in the heel – so your foot doesn't sink into the foam when lifting heavy weights.
But, the forefoot has a different foam – that has a lot of cushioning.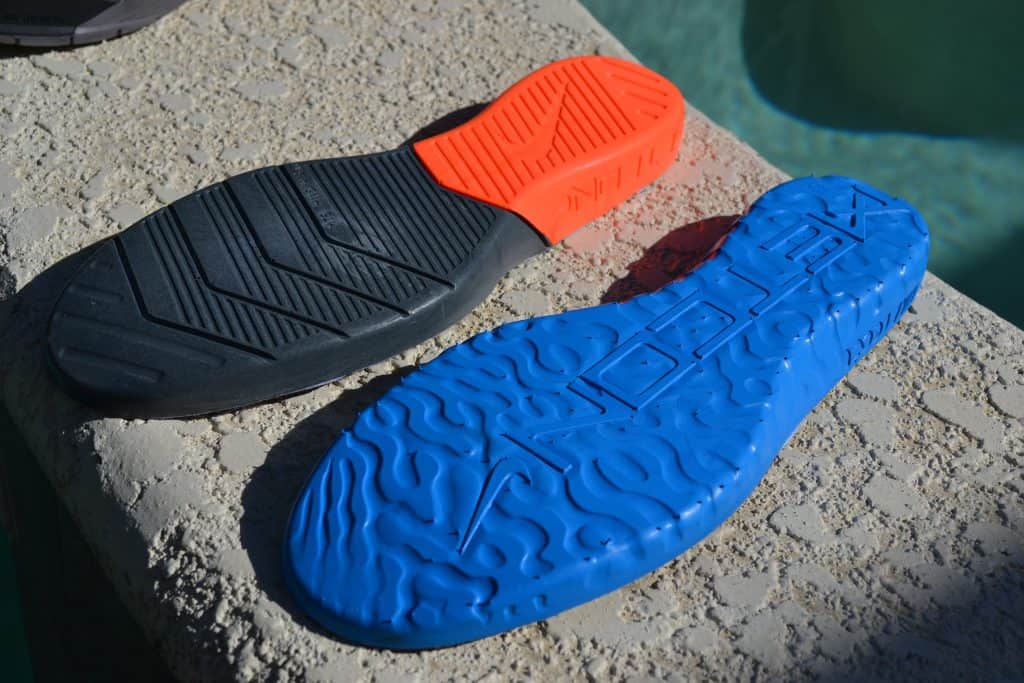 And this makes it great for running, box jumps, skipping rope, and more.
The Nike React Metcon borrows heavily from this shoe – so we'll find out what the real differentiators are.
Check back around December 6th or thereabouts.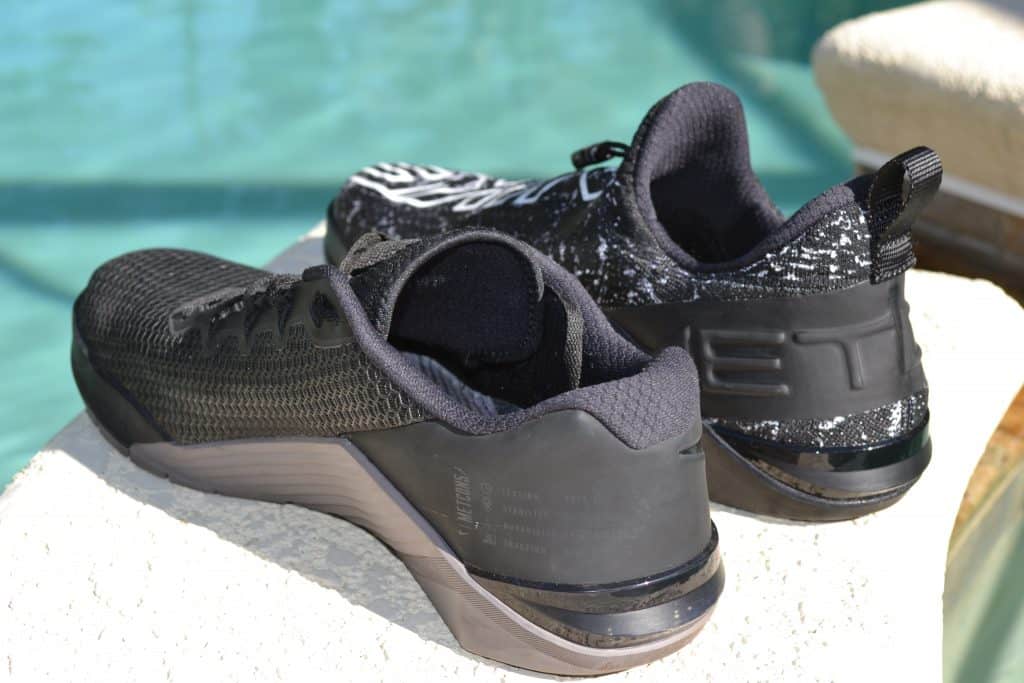 Meanwhile, you can see there is a LOT of carry over from the Nike Metcon 5.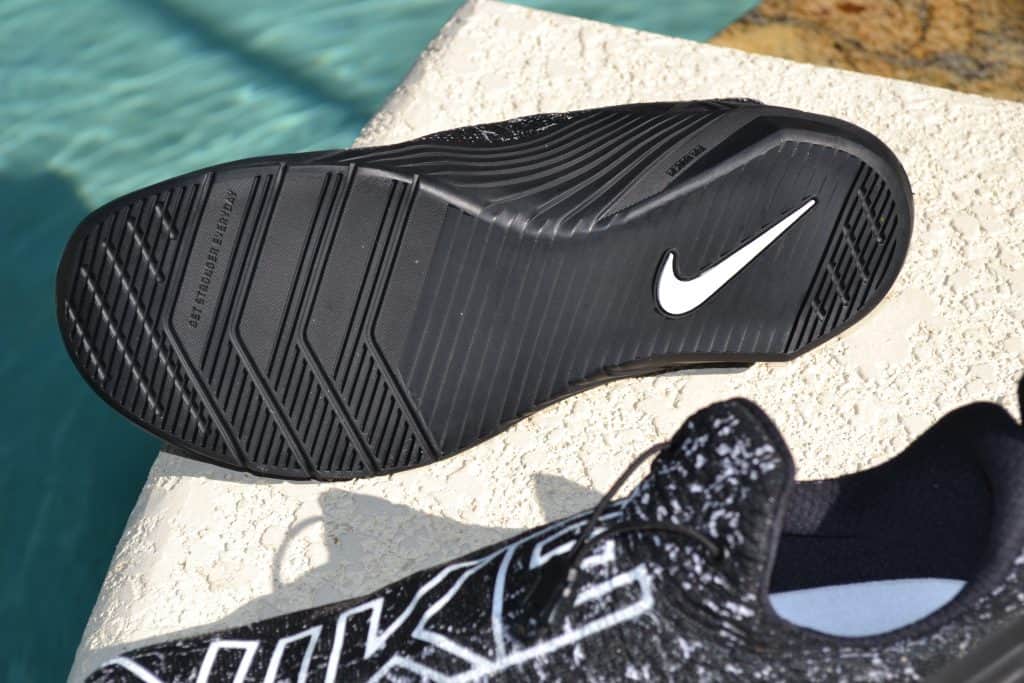 Things like the sole with pre-formed flex grooves looks identical to the Nike Metcon 5.

That mega rope wrap is there too.
That's the wrap around outsole that protects the sides of the shoe from friction during rope climbs.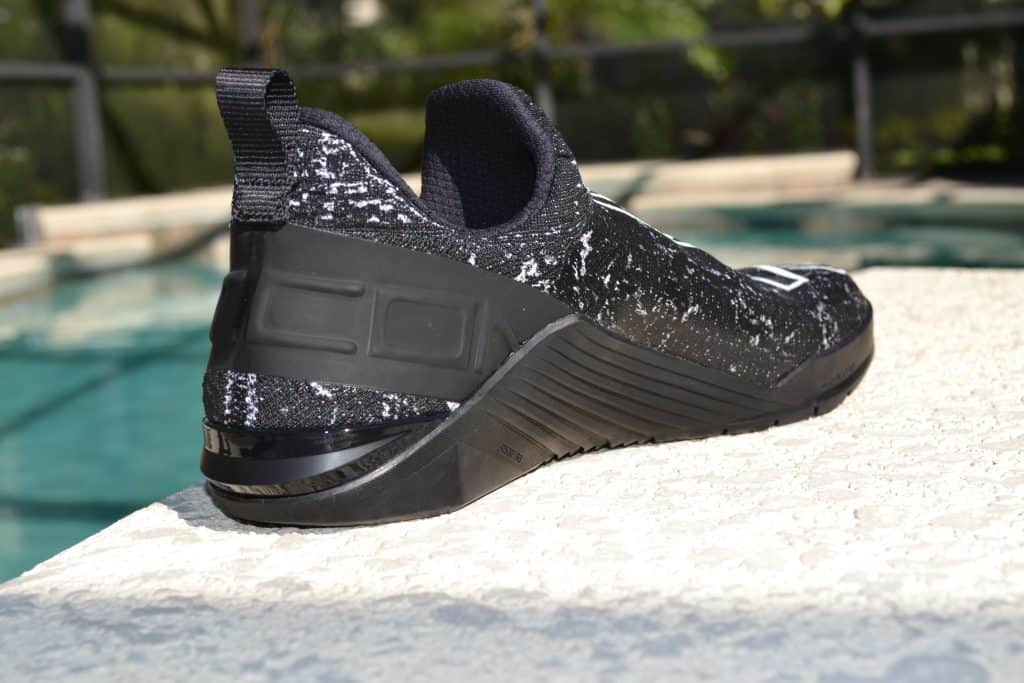 But, you can also see the high-traction tread pattern is there too.
And lastly, the heel has that "knife edge" of slick TPU (plastic) material – for a bare minimum of wall drag when doing Handstand Push Ups (HSPUs).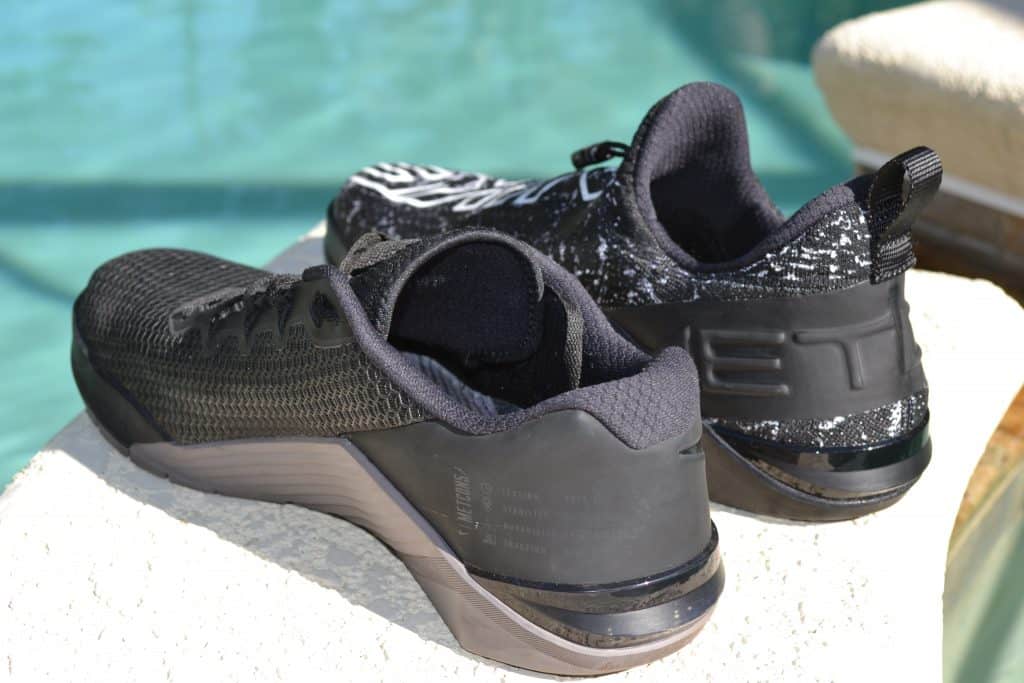 Nike React Metcon vs Nike Metcon Sport
At first glance, the Nike React Metcon looks a lot like a shoe released earlier this year – the Nike Metcon Sport.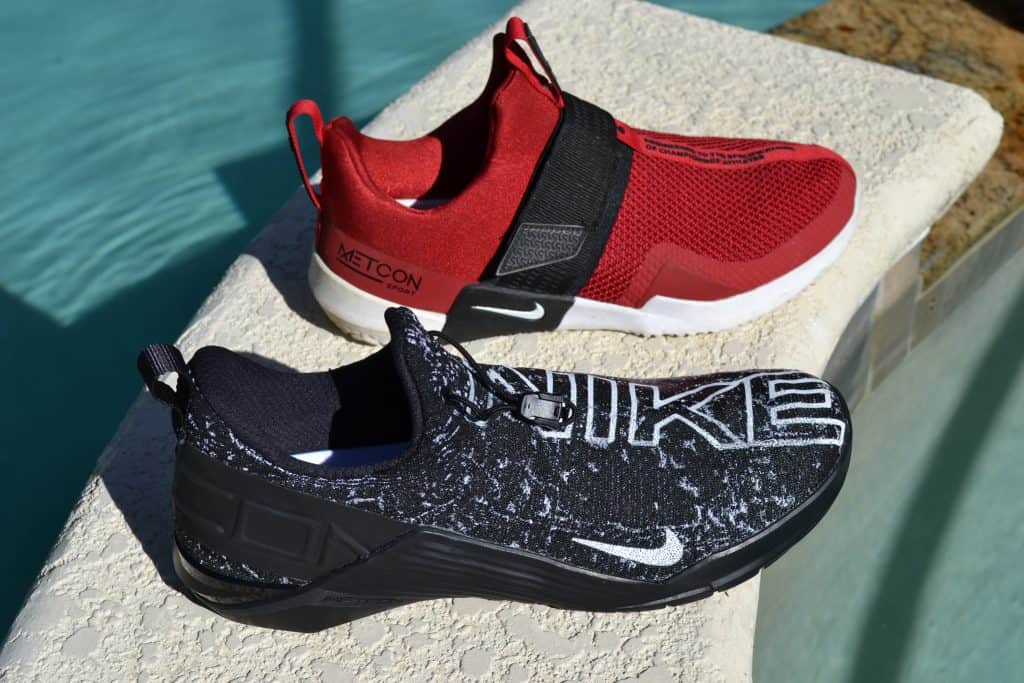 The Nike Metcon Sport is a training shoe meant for agility – it has the most aggressive tread pattern of any Metcon shoe (save the SFB – which is more like a boot).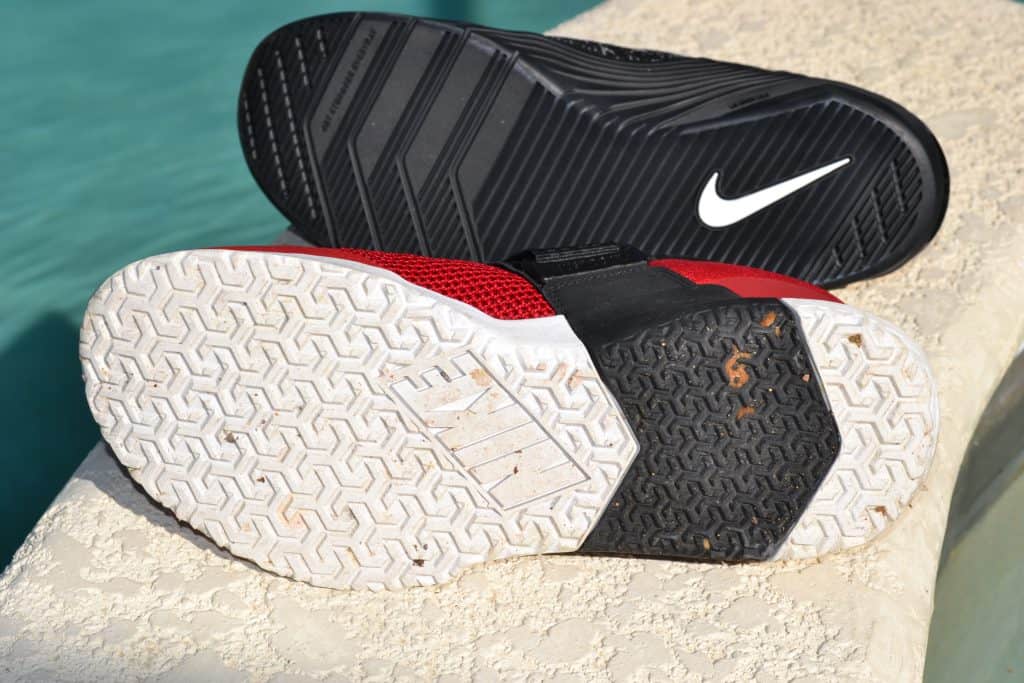 It's also laceless – but uses a heavy duty velcro strap to secure your foot.
How will it compare to the Nike React Metcon? That's what we'll find out shortly.
I will say that the Nike Metcon Sport is the most comfortable of the Nike Metcon shoes – at least for me.
And, like the Metcon 5 – the midsole/insole is removable.
Nike React Metcon vs Nike Free x Metcon 2
Nike combined Metcon features with the Free running shoe line to create the Nike Free x Metcon 2.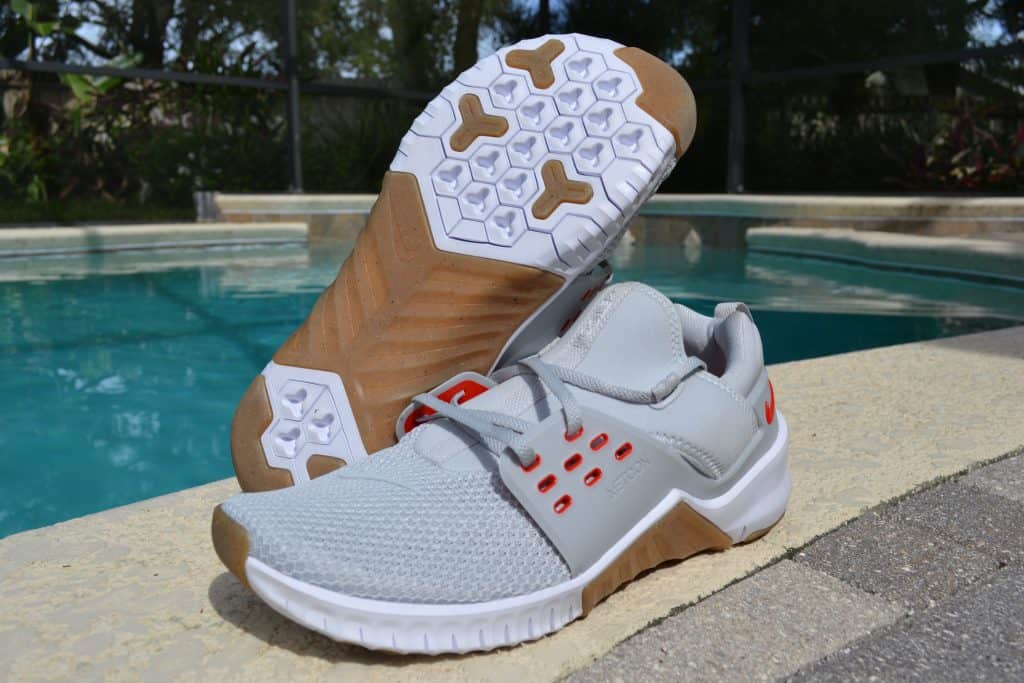 The Free line is meant to better replicate the barefoot running experience.
And it does that via a combination of a very flexible outsole – and a minimum of cushioning – just like your bare foot.
As such, we expect it'll be a much different experience as compared to the Nike React Metcon.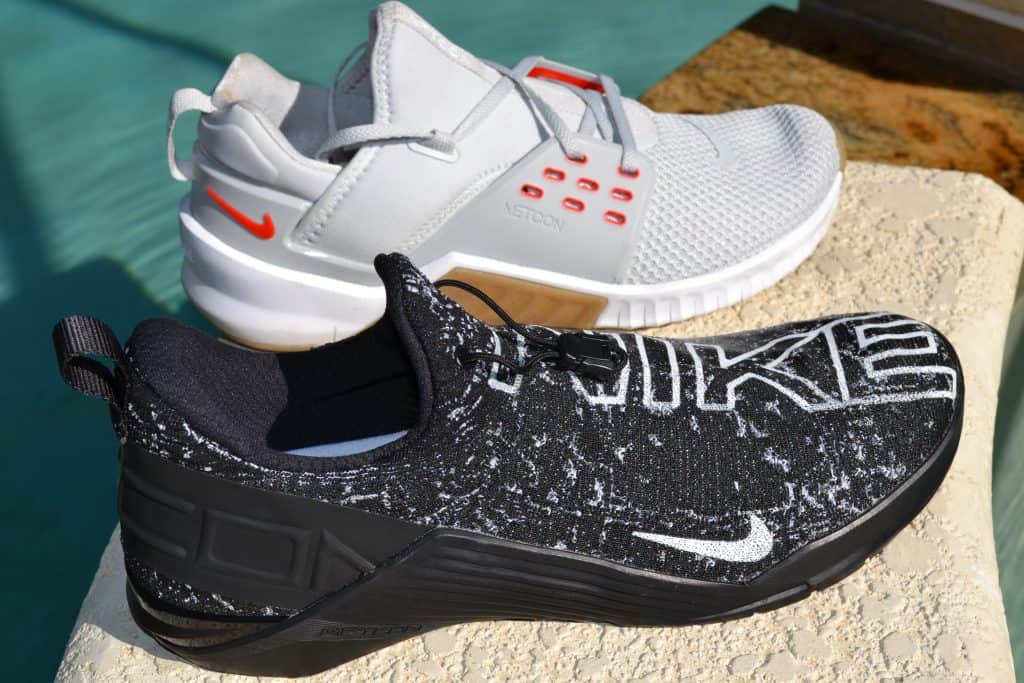 One key difference with these shoes – the Free x Metcon 2 has a "Free" running style outsole.
This is meant to maximize flexibility along the both planes of the foot.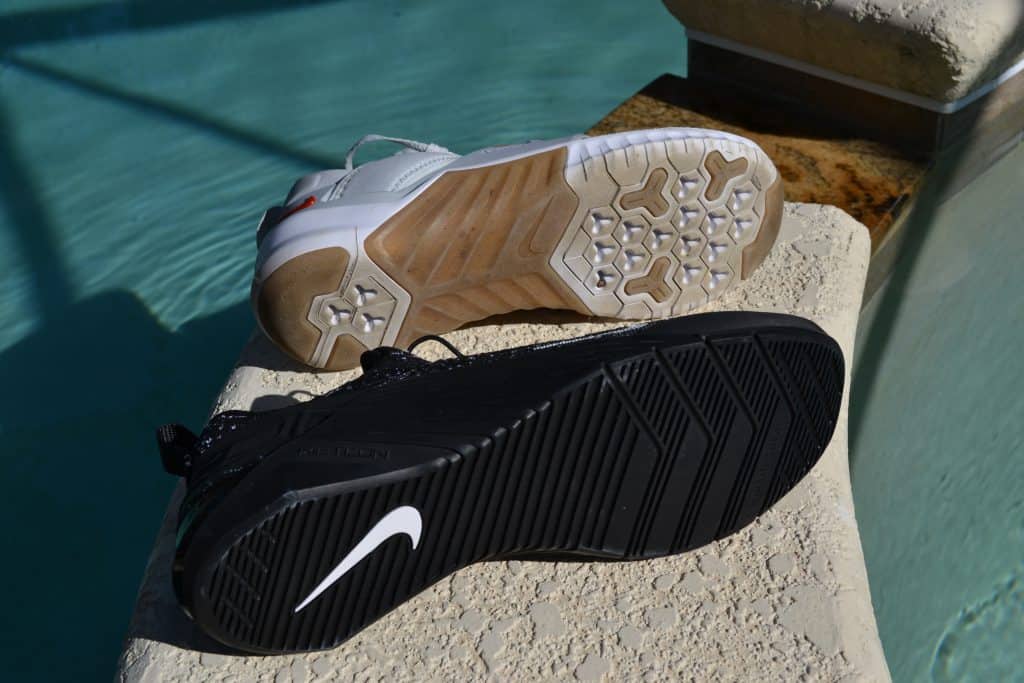 Nike React Metcon vs Reebok Nano 9
We'll compare and contrast the Nike React Metcon with the Reebok Nano 9.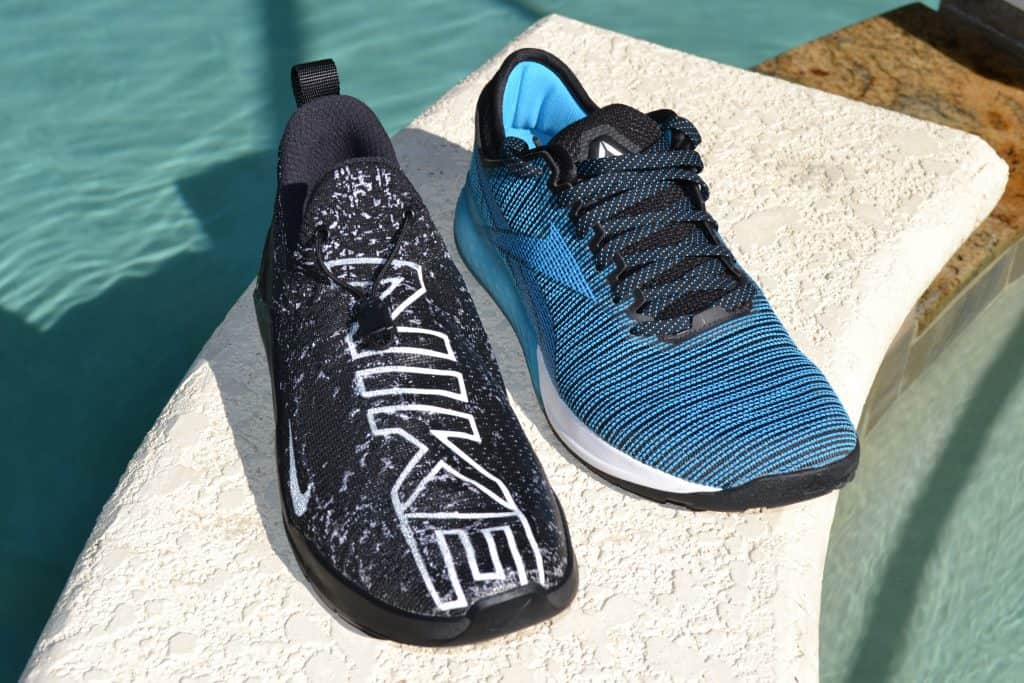 The Nano 9 claims improved cushioning (as compared to the Reebok Nano 8) – but how does it stack up when compared to Nike's React system?
One thing we can confirm – the Reebok Nano 9 is still the wide toebox champ: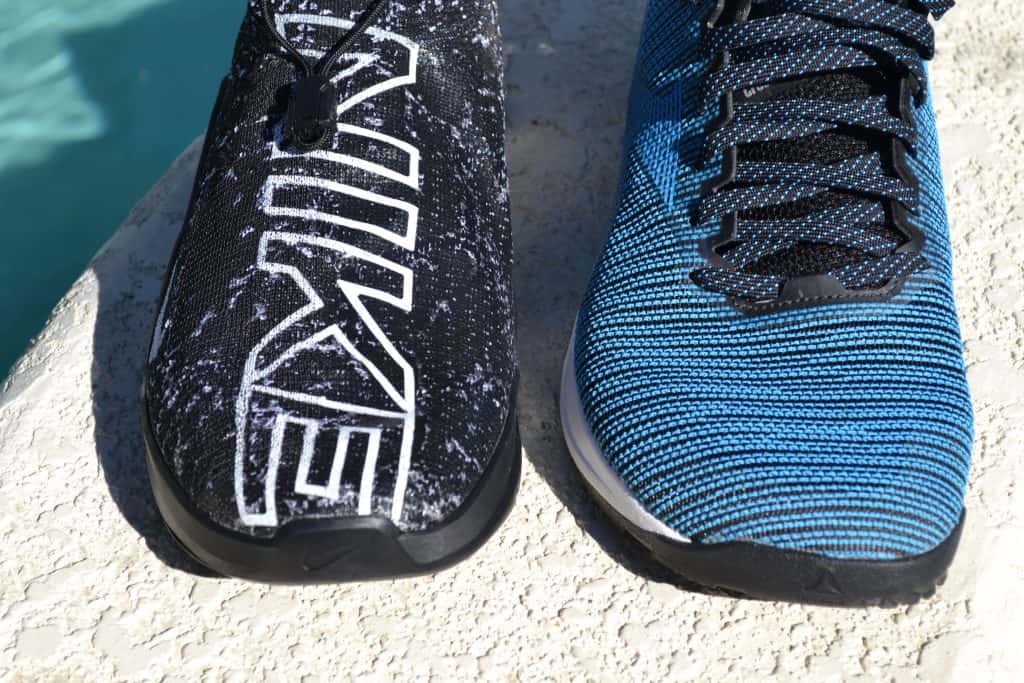 We'll find out here.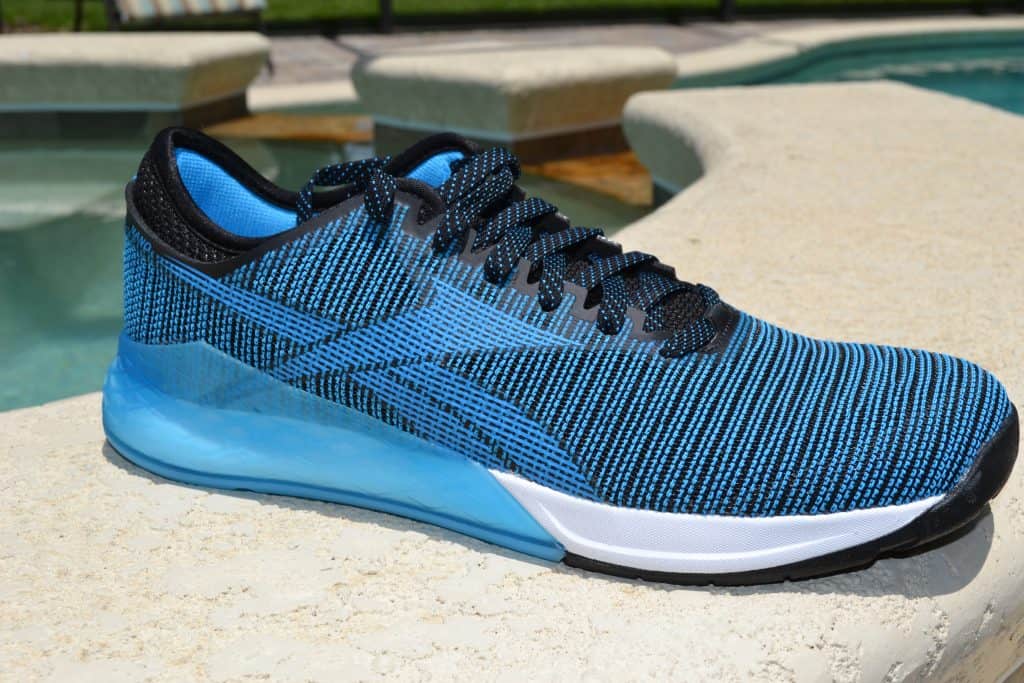 Nike React Metcon vs Nike Metcon Flyknit 3
Word on the street is that the Nike React Metcon replaces the Nike Metcon Flyknit series of shoes.
So, don't expect to see a Nike Metcon Flyknit 4 … it's probably not happening.
Having said that, this shoe looks to be a competent successor – it's got a running focused sole with Flyknit – just like the Flyknit 3.
Nike React Metcon – In Summary
When it was launched earlier this year, the Nike Metcon 5 had greatly improved on previous versions in regards to the cushioning.
The dual density foam in the Nike Metcon 5 is significantly better than that of the previous versions (like the Nike Metcon 4).
The Nike React Metcon incorporates the features you love from the Metcon 5 with a speed lacing system, FlyKnit, and perhaps most importantly Nike's react foam.
Why Rogue Fitness Products?
We're a
Rogue Fitness
affiliate – so if you order equipment after clicking the links in this article we receive monetary compensation. But that's not why we recommend Rogue. It's because their equipment is tough, durable, well-made, and offers the "best of the best". Their innovative designs and diversity of options make your training better – allowing you to reach your personal goals faster. And that's why we love them.
Nike React Metcon – Photo Credits
Some Nike React Metcon product photos are courtesy of Nike.
We are a Roadrunner Sports affiliate – if you buy shoes after clicking links in this article we receive a small fee – at no additional cost to you. This helps support our work in bringing you great product reviews and information.
Some product imagery on this page is property of Rogue Fitness and provided by Rogue Fitness.
This website is not affiliated or associated with CrossFit, Inc. CrossFit is a registered trademark of CrossFit, Inc.