New for 2019, Rep Fitness has launched their latest product – the REP AB-5000 Zero Gap Adjustable Bench (Rep Fitness).
This adjustable bench is our top pick for a full FID (Flat, Incline, Decline) bench for home and garage gyms.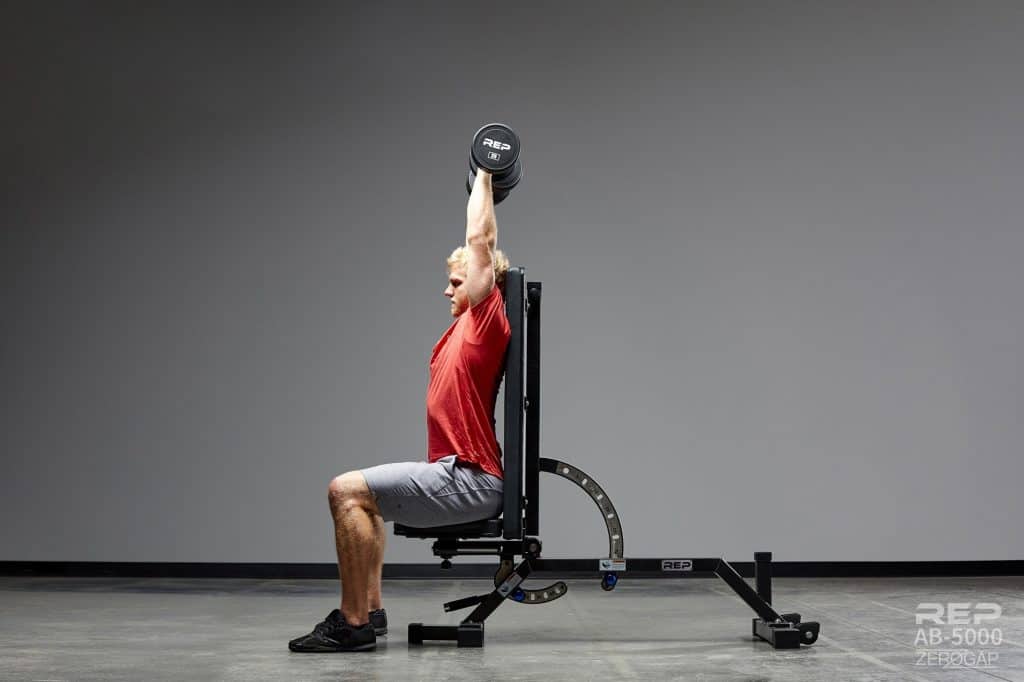 This article will serve as our comprehensive review of this versatile piece of strength equipment.
Long term review update: This is a great bench – tough, versatile, incline adjustments are a breeze, and while it is a tad on the heavy side (because it is so beefy) it's easy enough to move when you need to.
It has worked out as well as I'd hoped – and I highly recommend this bench as the most robust, versatile heavy duty bench for a home gym or garage gym.
And, because you get a choice of colors it makes a really nice visual addition for your home or garage gym.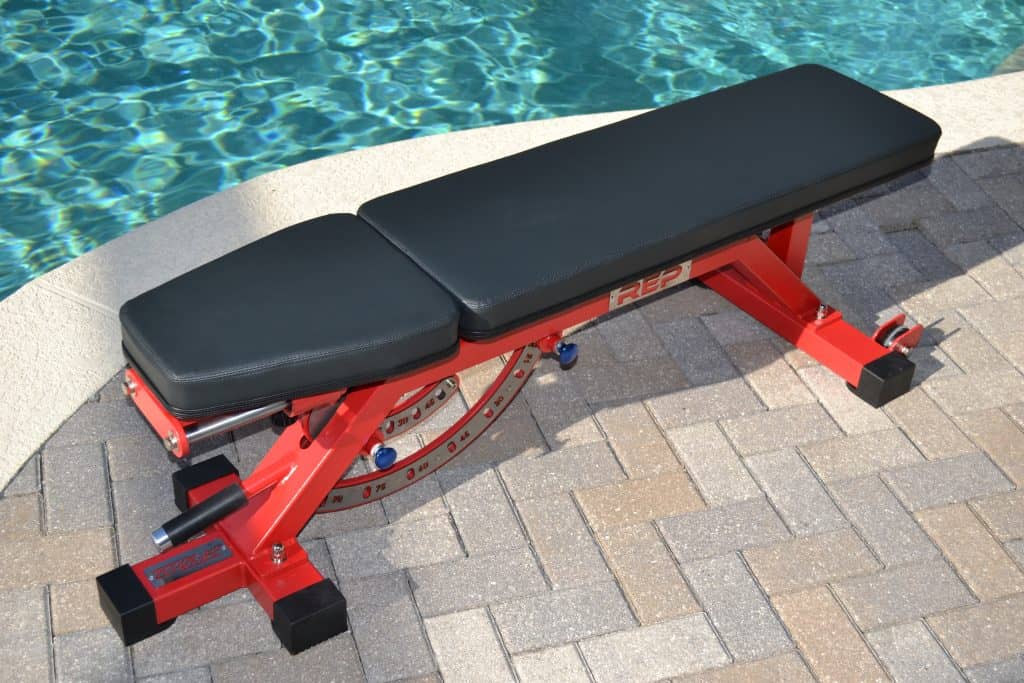 But first, a quick recap of why we chose this bench for our garage gym:
1,000 lb weight capacity – made from 11 gauge steel – this will be all the bench I'll ever need.
A full FID bench – You can do Flat, Incline, and Decline with the optional decline leg accessory.
ZERO GAP – the patented ZERO GAP feature means you can adjust away all the pad gaps in any configuration (flat, incline, or decline).
Mobility – With wheels and a robust handle, it's easy to move in the garage gym. I'm not blessed with garage space – things have to move frequently.
Fully adjustable – This bench goes from 0 degrees (flat) to a full 90 degrees – which is what I prefer for back-supported seated exercise. Some benches only go to 85 degrees in the upright position.
Easy adjustments – The back pad and seat pad adjustments are done via quick and easy pop pins. The ZERO GAP feature is similarly easy, but you can further tighten it down to eliminate any movement.
In short, I wanted one versatile, robust, but easy-to-use adjustable bench that can do it all – for now and the future.
This bench is also really affordable – currently costing Click to see price for the bench itself.
The REP AB-5000 with the decline leg accessory (Click to see price) is the best choice for most home and garage gyms.
And, if you aren't sold on the decline feature – skip that optional accessory – you'll still have an awesome flat and incline bench.
And, as an added bonus, it's available in a variety of attractive colors.
Make mine red.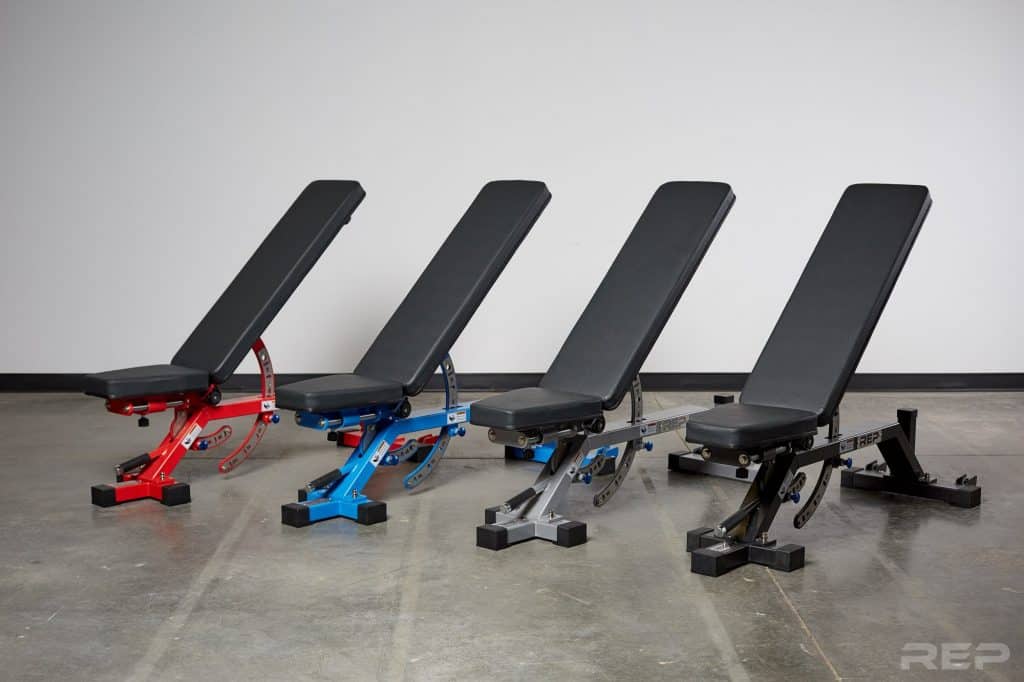 REP AB-5000 Shipping and Assembly
Here's the REP AB-5000 as it arrived via UPS. Also shown is the package for the optional leg decline accessory.
The box claims a 45 kgs shipping weight – or about 99 lbs.
One person can move it, but it's awkward.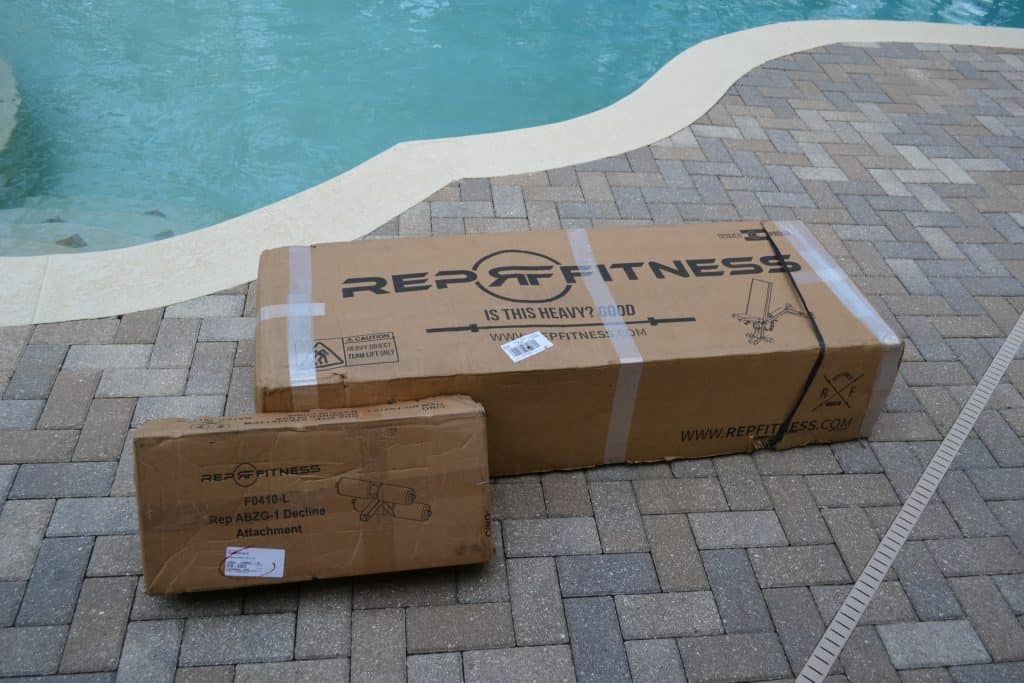 Inside the box, you can see that the frame and legs are wrapped in bubble wrap, and the seat and back pads are boxed separately.
There was no damage to any of the gear due to shipping.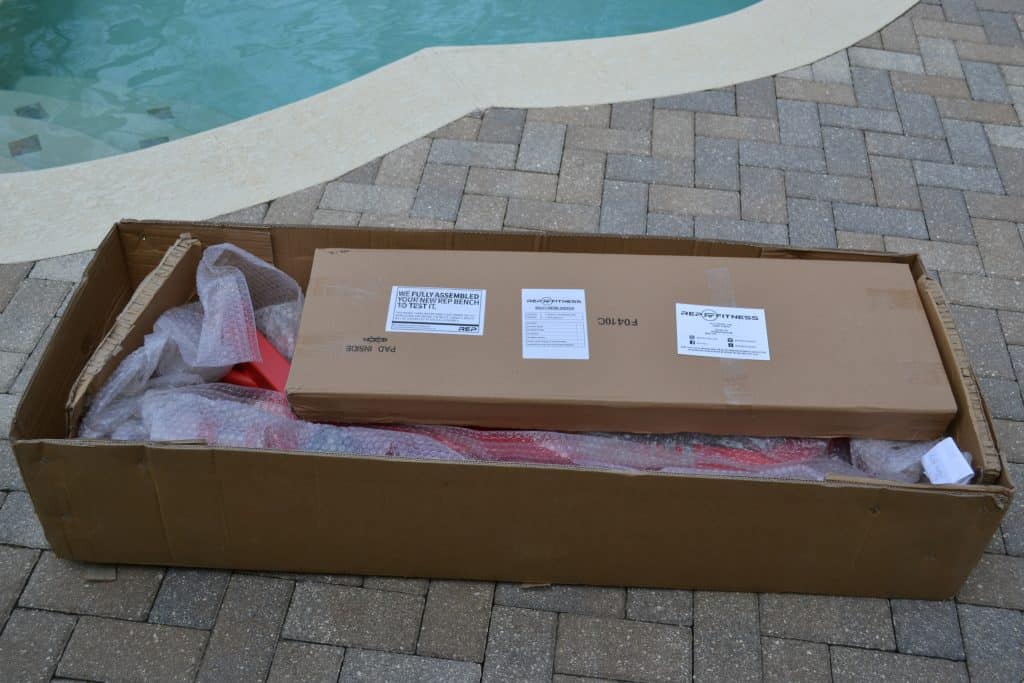 The back and seat pad are packed tightly in their individual boxes. There is a warning to not cut with a razor – and we agree you should use caution when opening – there is little room for error.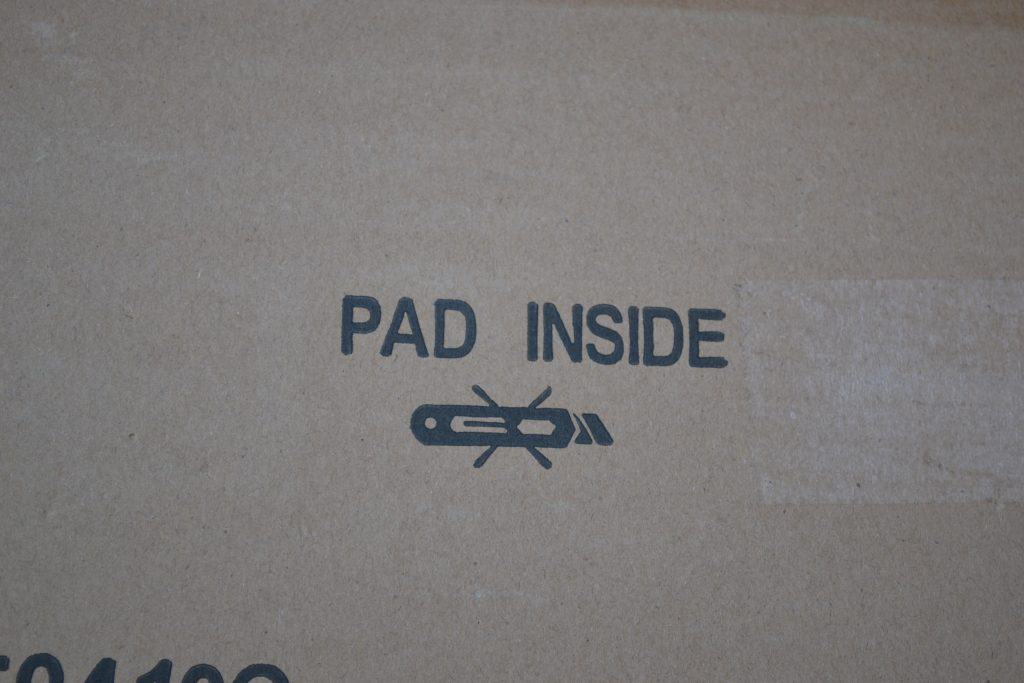 These benches are designed in the US, but made in China. Overall, the quality of the bench is great and you can see from the included paperwork that Rep does their best to ensure a smooth experience for the customer.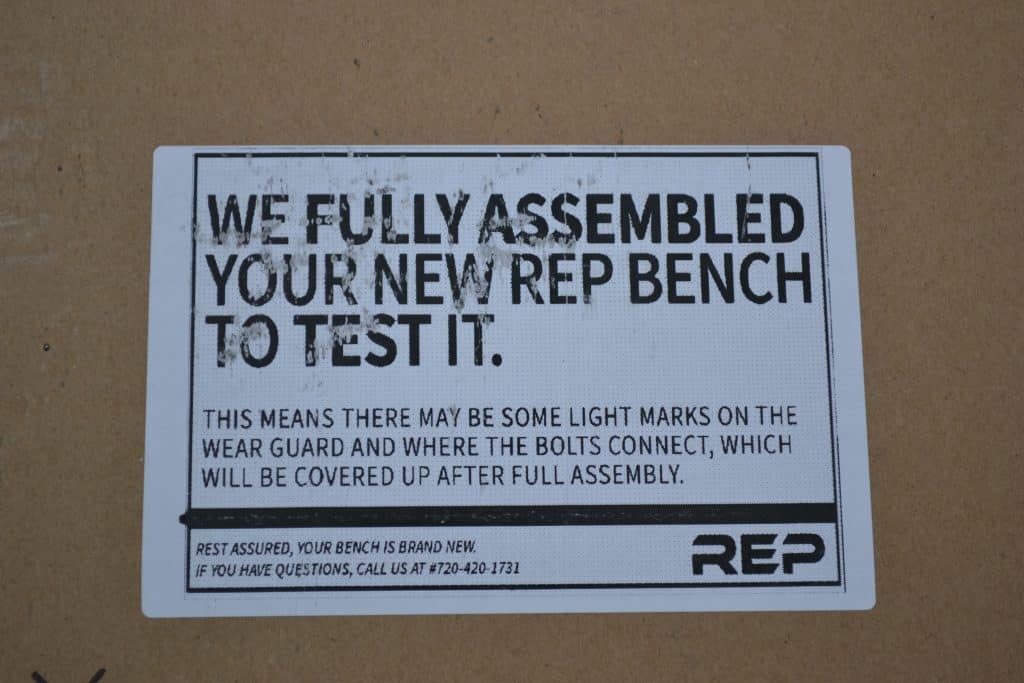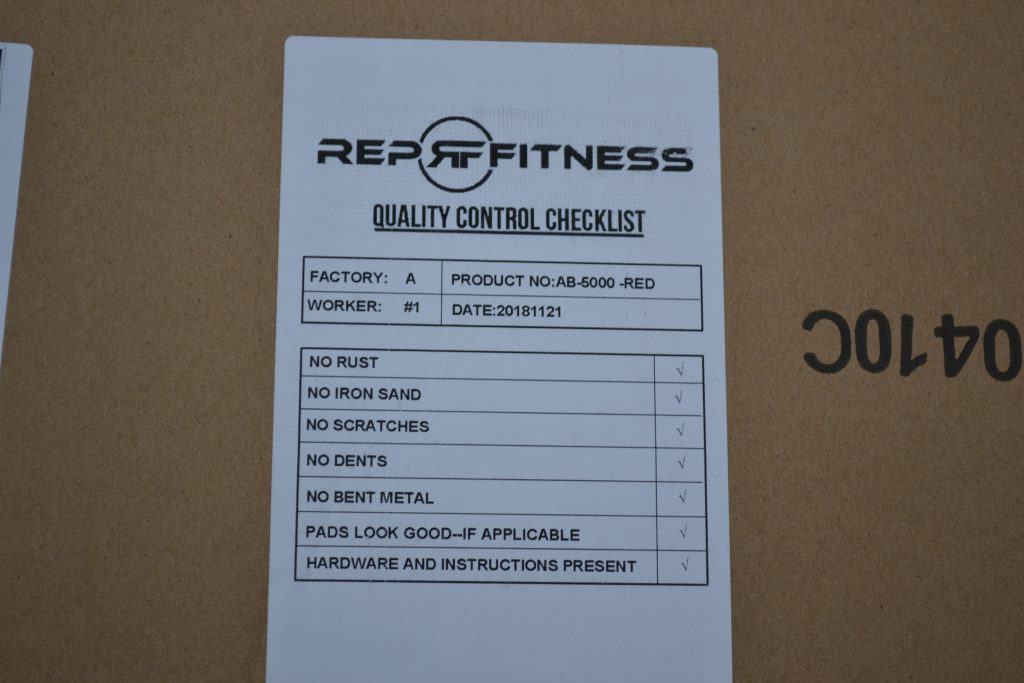 Assembly instructions consist of a simple single page , and only 14 bolts total are required. An allen key is included (this is used for the bolts connecting the back and seat pads to the frame), as is a multipurpose wrench.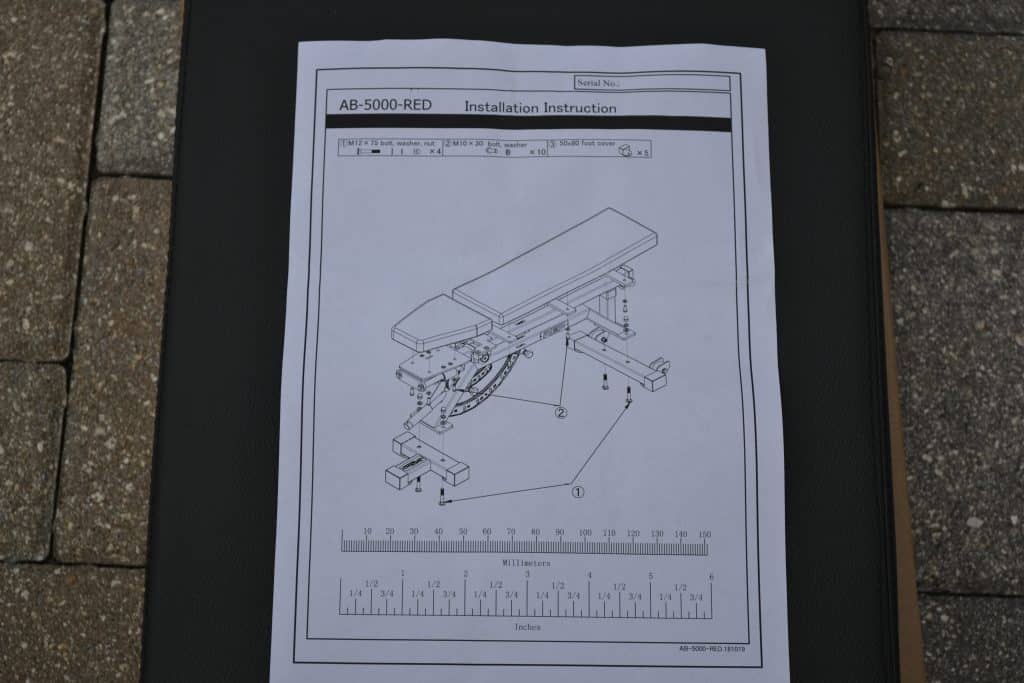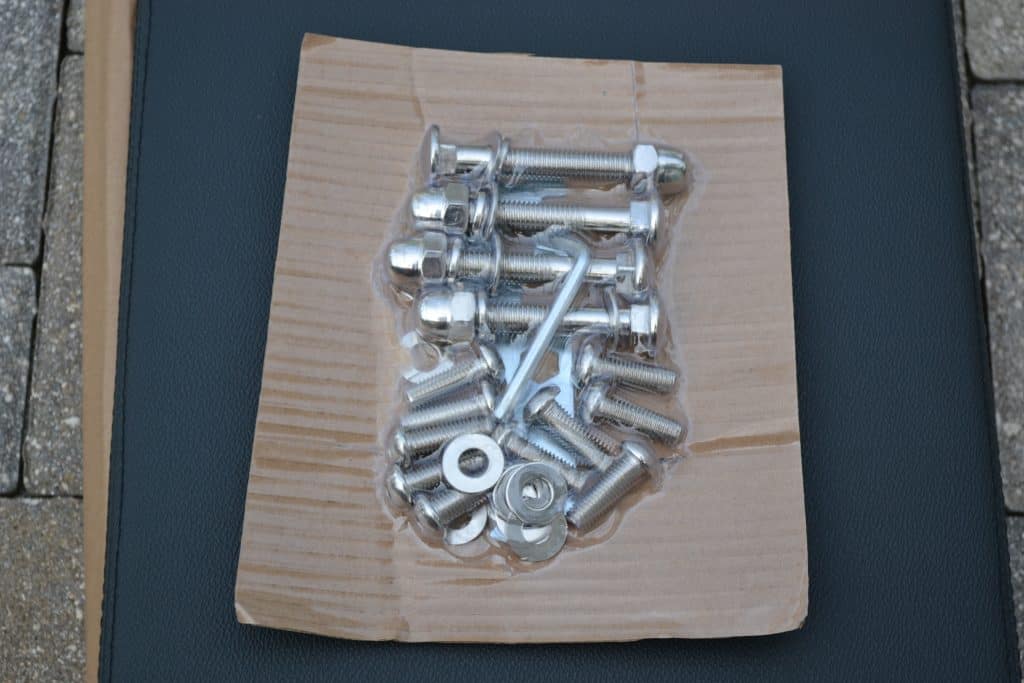 Honestly though, it's better to use a 3/4″ socket ratchet on the other bolts – which are used to connect the support feet to the frame.
Assembly time is about 20 minutes.
The biggest challenge is that the frame and support feet are beefy, heavy parts. Might be easier to have two people to put it together, but one person can get the job done.
Here's the back and seat pads, after un-packaging.
The pad material is flawless, no cuts, nicks, or marks.
The back and seat pad have a very firm feel – which is what I prefer.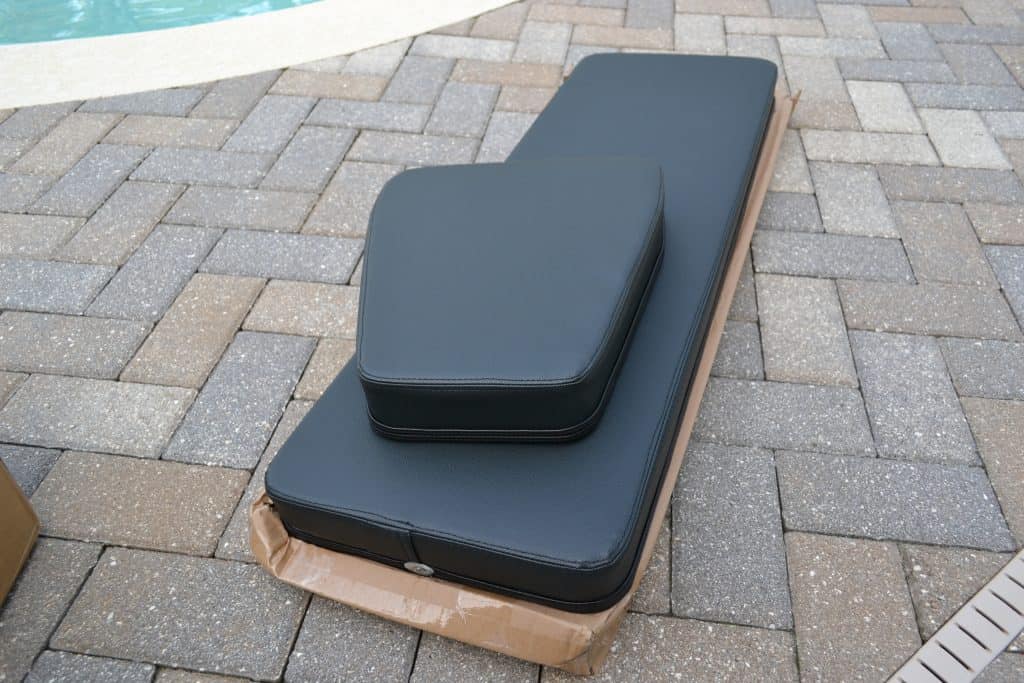 The material covering the pads has a very nice textured feel to it – feels like it is the right amount of "grip" you want in a bench. Here's a close-up.
Previously I was using an old Bodymaster commercial bench – and it's much more slick.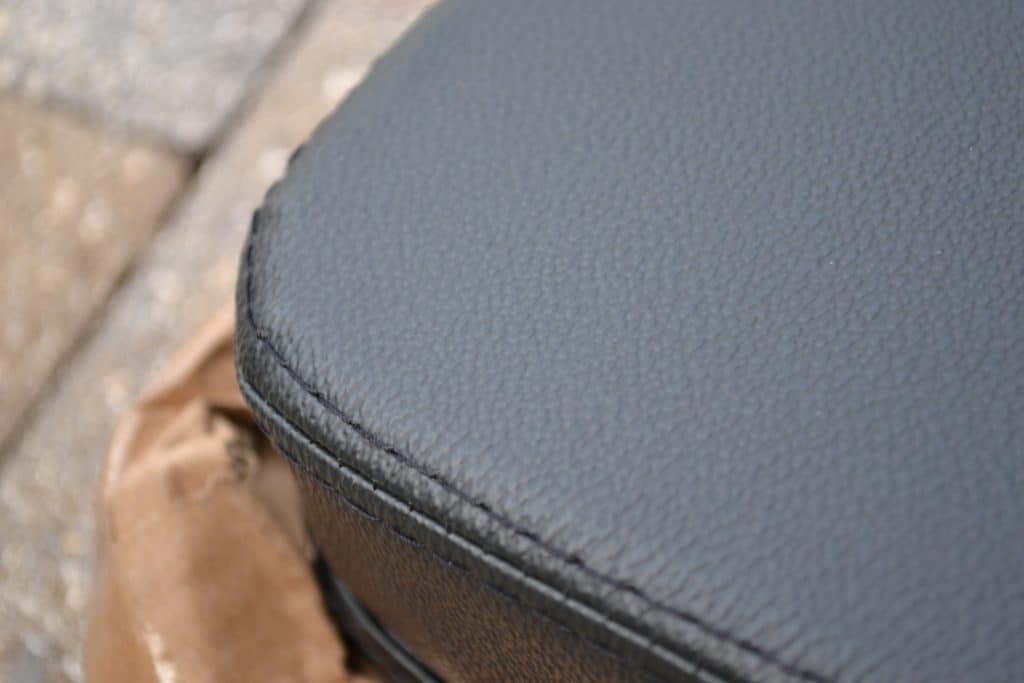 Rep has done most of the hard work for us. You can see that the frame of the bench is mostly complete.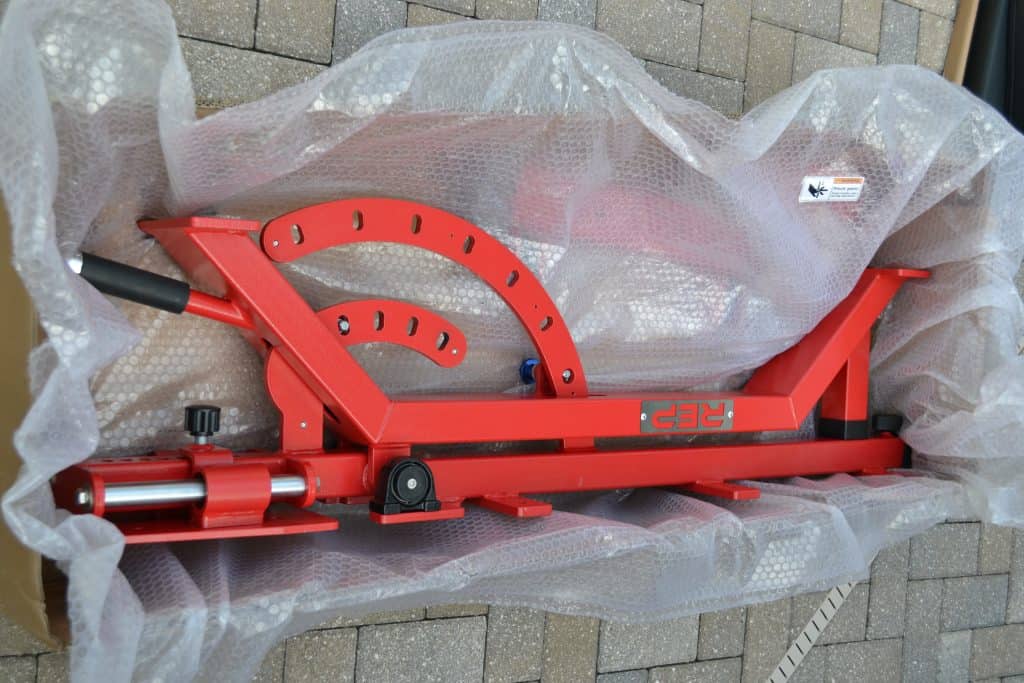 Here's that 3/4″ socket and ratchet used to attach the support feet.
There are two nicks in the red power coat that you can see on the left hand "cage" around the wheel.
That was the only flaw in an otherwise well done powder coat job.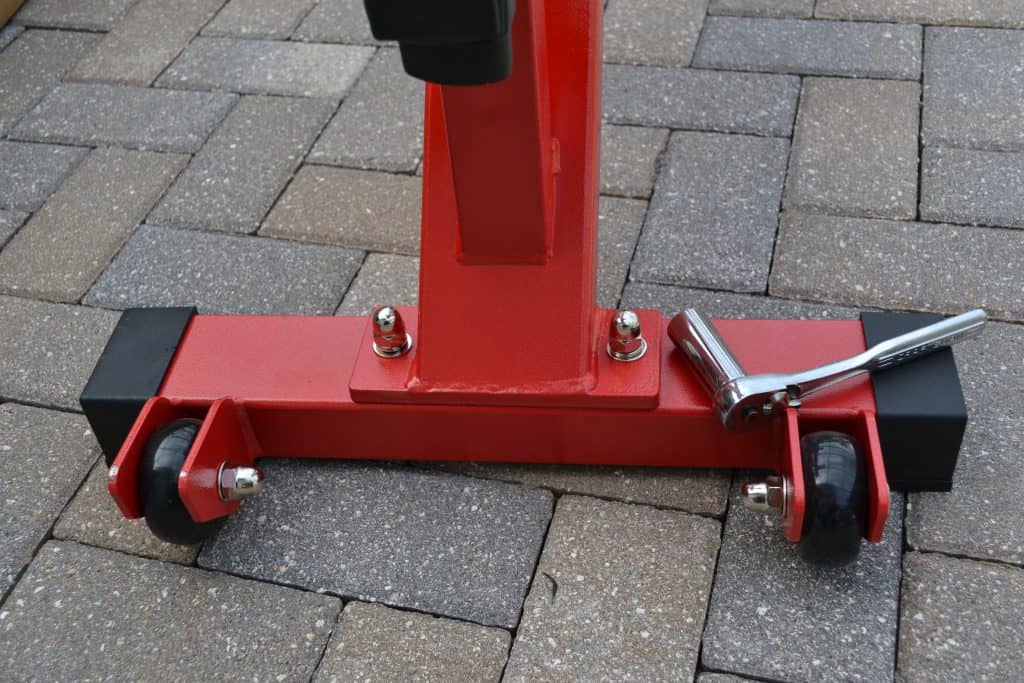 Once the support feet are installed (2 nuts and bolts each for a total of 4), we just need to attach the back and seat pad.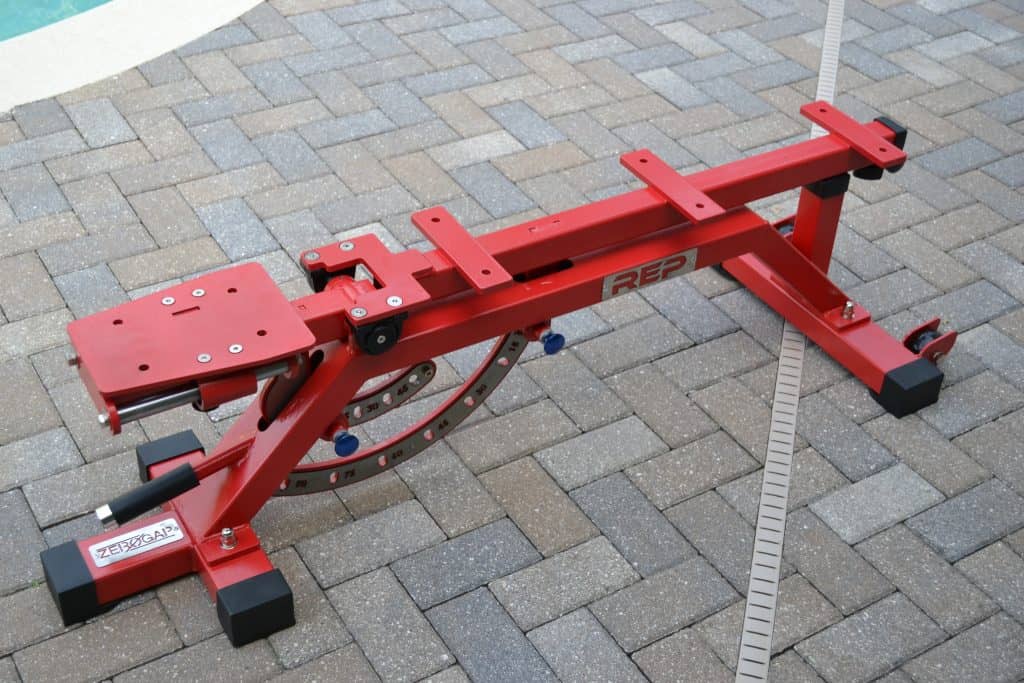 The seat pad is attached using 4 bolts and washers, tighted via allen key (included).
You will need to use the ZERO GAP adjustment mechanism to move the seat pad back and forth to fully tighten both sets of bolts.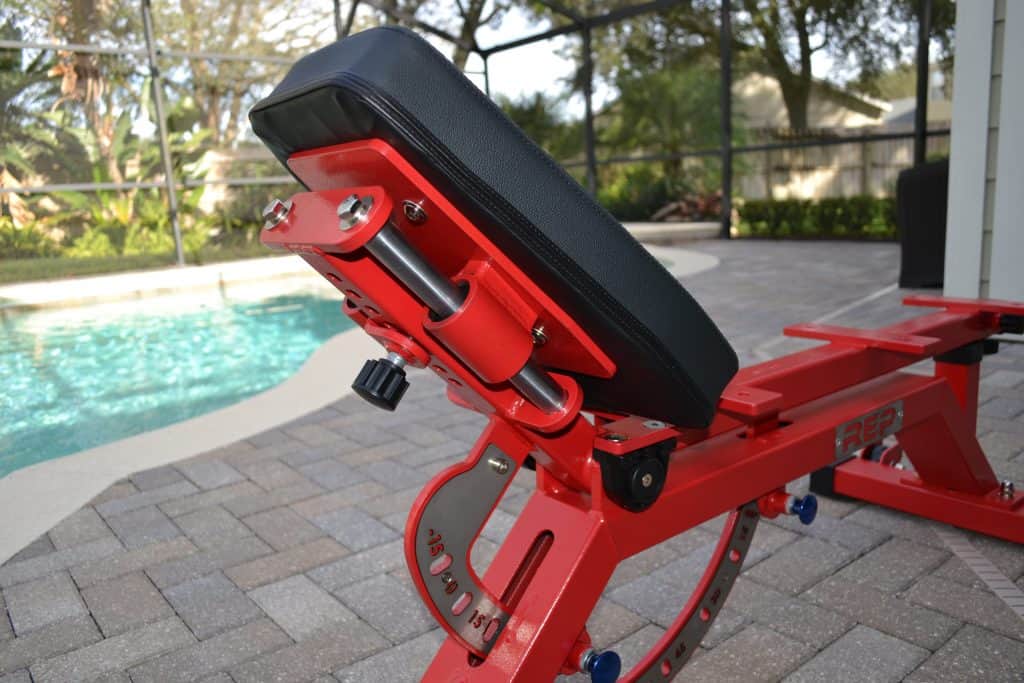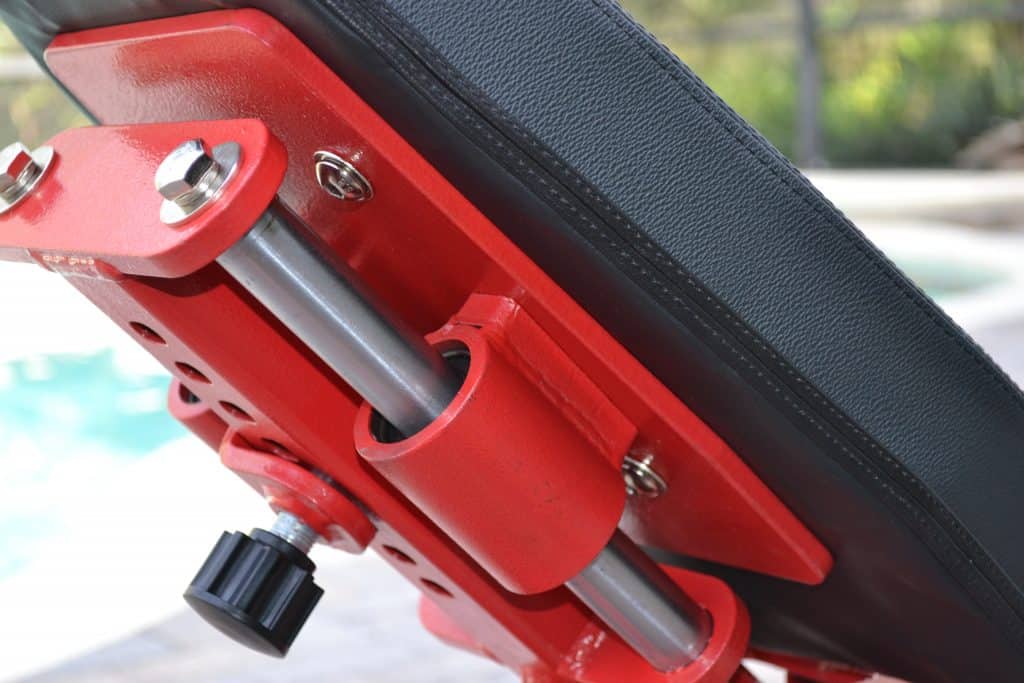 Next step is to raise the incline in order to attach the back pad.
There are 6 bolts and washers used for the back pad – tighten with the included allen key.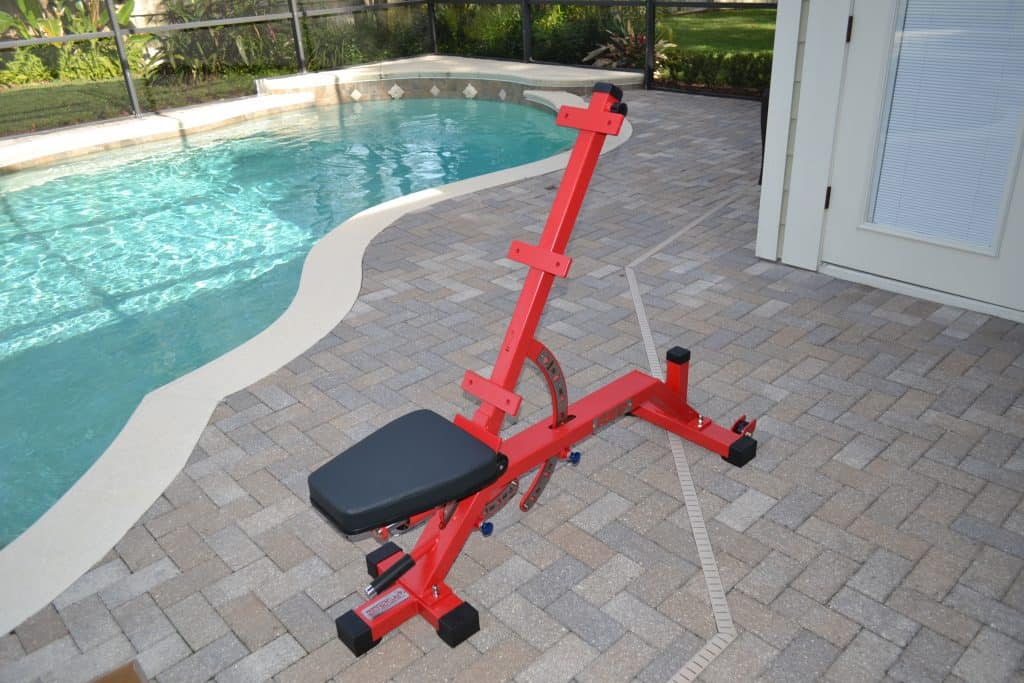 And here's the finished product, showing Flat, 45 degree, and 90 degree (fully upright) configurations.
All with ZERO GAP.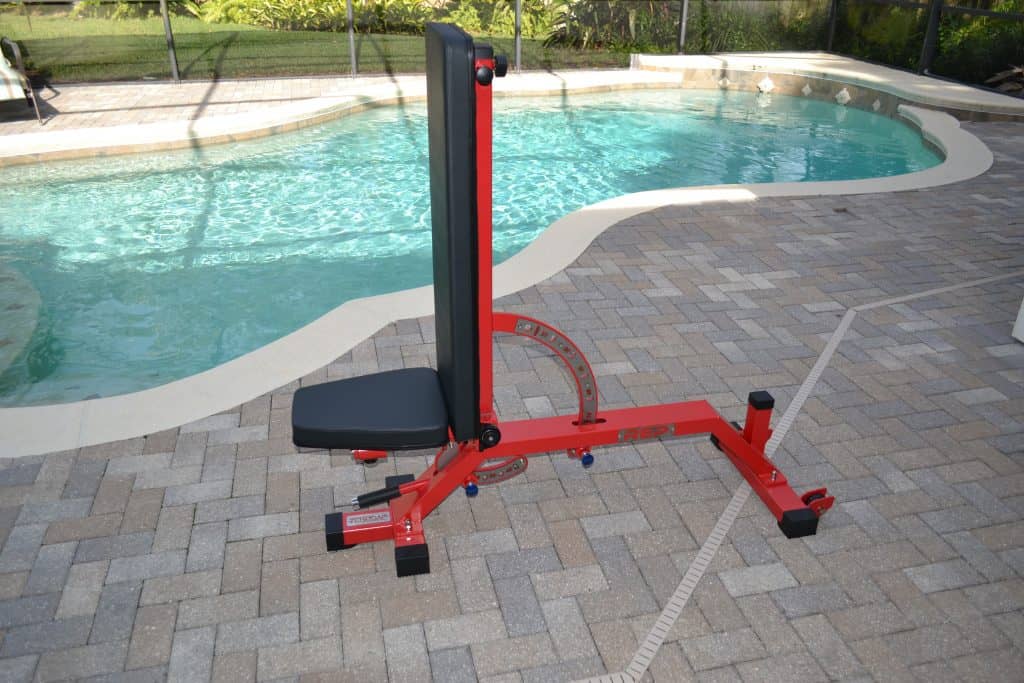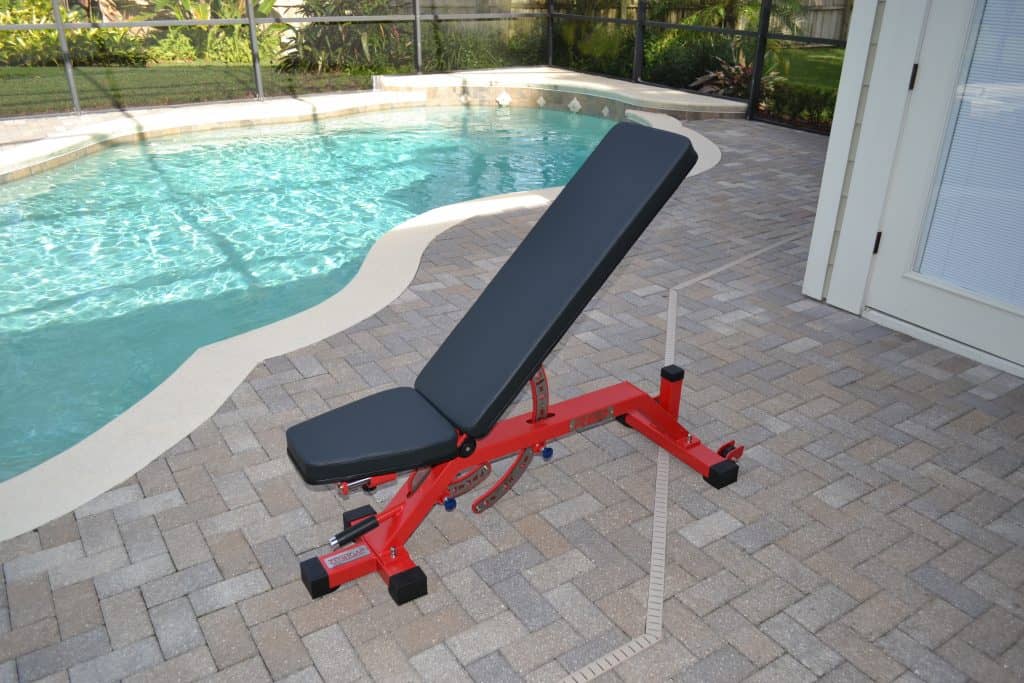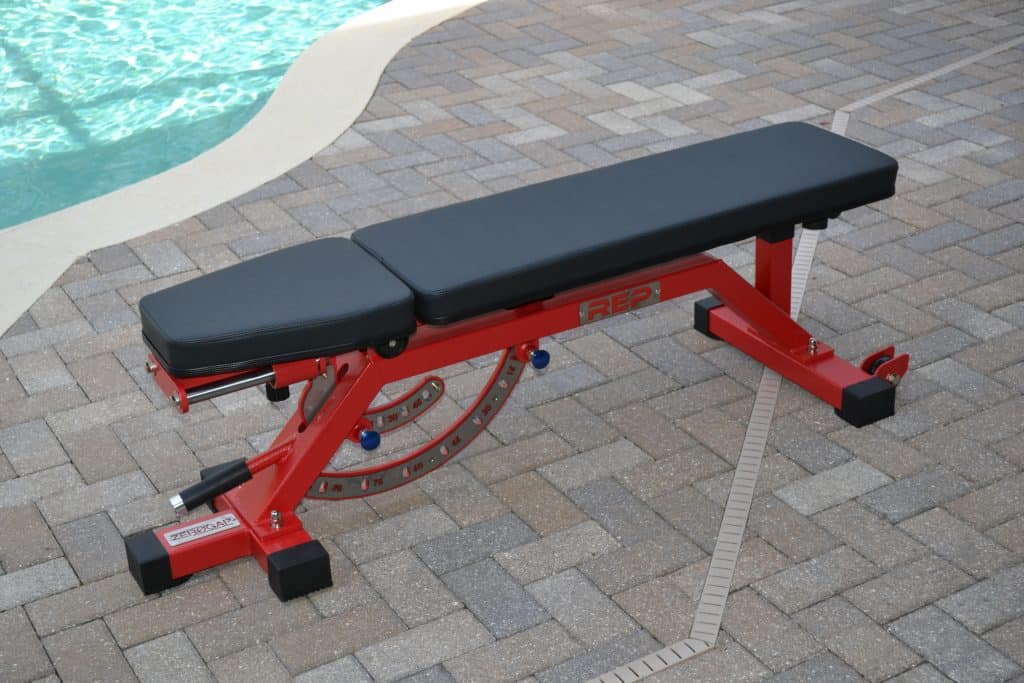 Now, let's attach the leg decline accessory so we can get full FID capability.
Here's the parts that are included.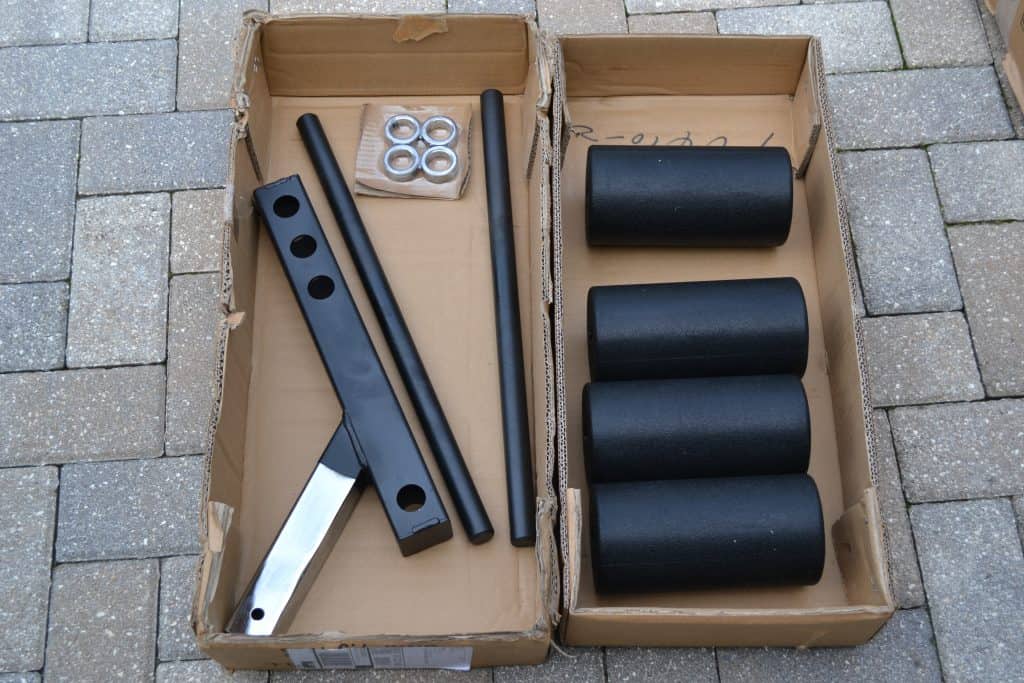 Here's where they attach.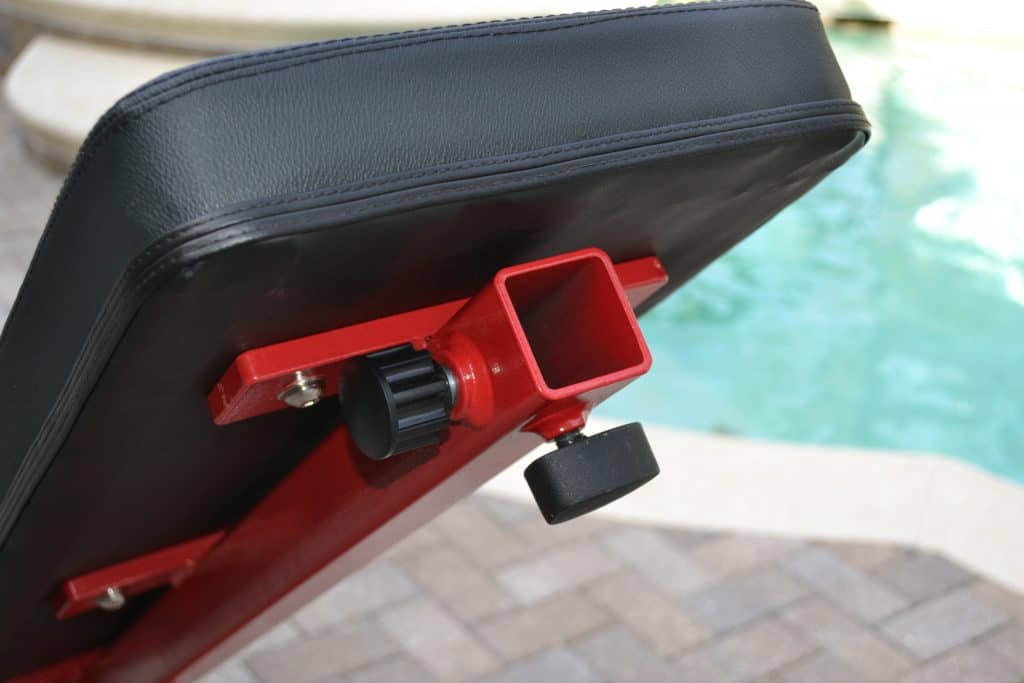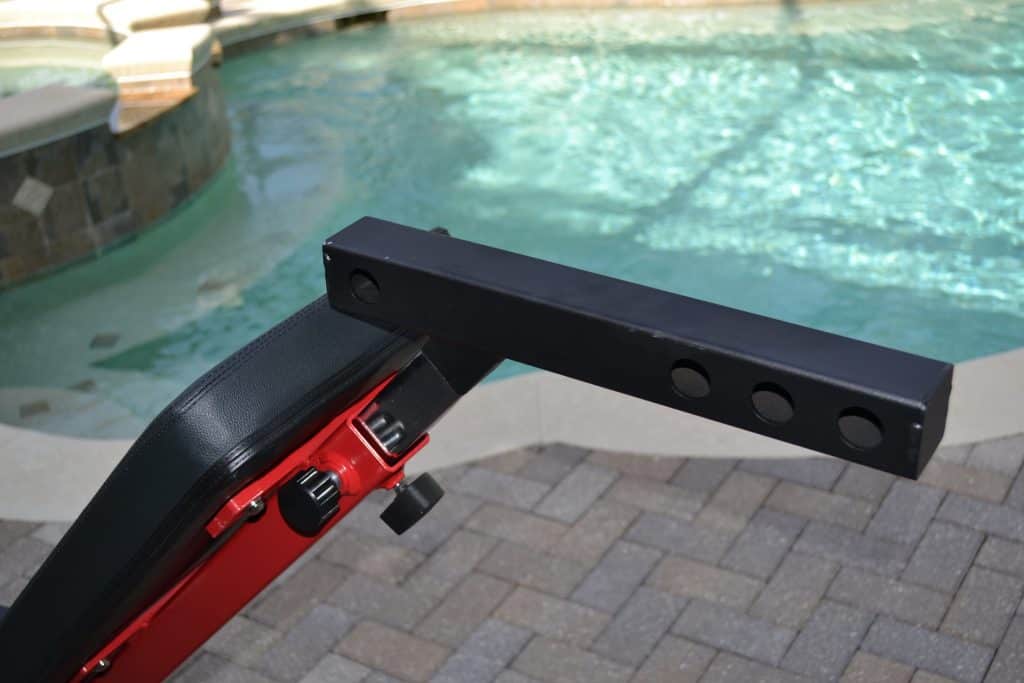 The firm foam leg rollers are easily attached and secured using collars with set screws. A small allen key is needed to tighten these.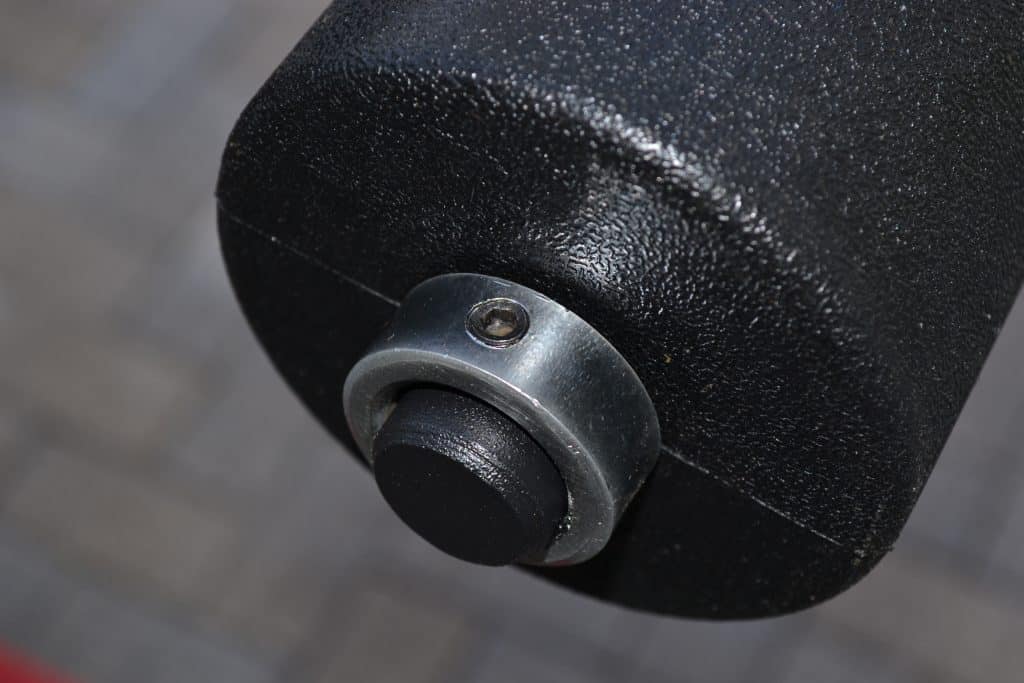 Here's the bench with the leg attachment fully assembled.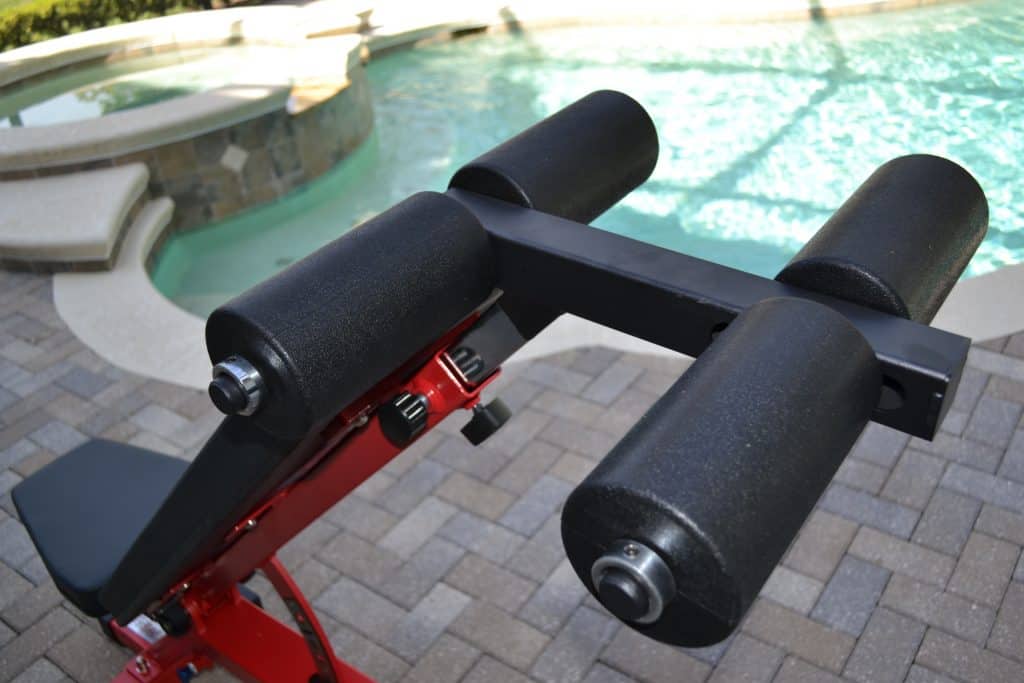 And here it is in decline mode – with ZERO GAP.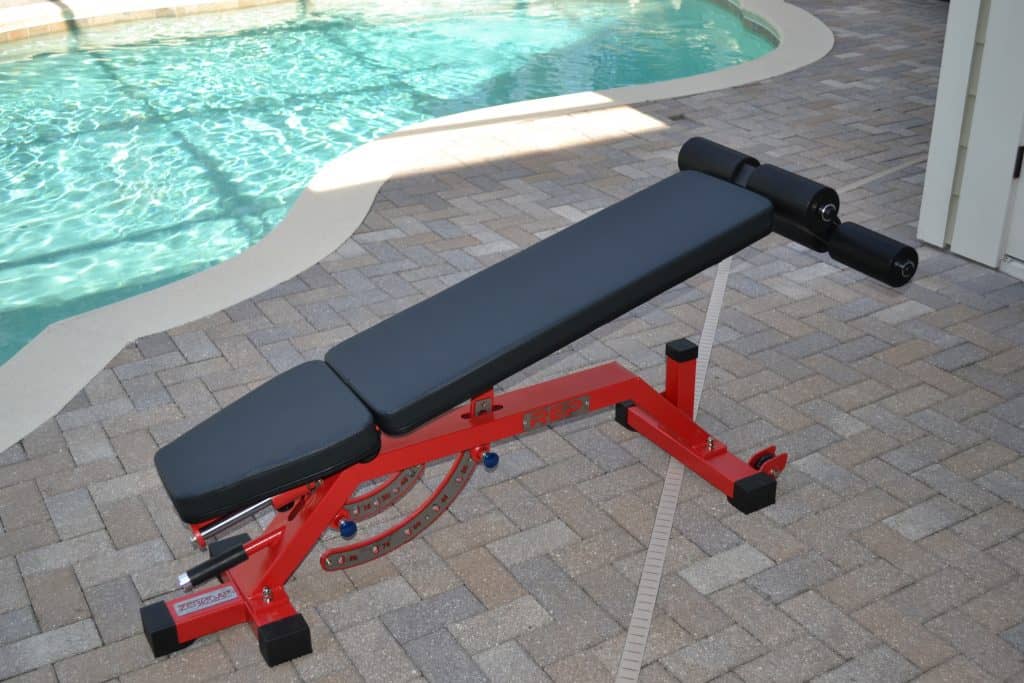 For more assembly tips, here's some pointers straight from the source – Rep Fitness:
Rep Fitness AB-5000 Bench – Performance
Ok, so that's how it is put together and what it looks like.
But, how well does it work?
I'm happy to say it works great. It is a very stable bench, in all positions.
So far, I've used it for bench press, decline sit-ups, and chest supported DB rows.
Having the handle and wheels is perfect for what I need, and the pop-pin adjustment of the incline is quick and easy.
After several weeks of using this bench – I conclude that it is an excellent piece of equipment. It let's me do multiple things with one piece of equipment – and that is exactly what I wanted.
Is the Rep AB-5000 Bench too heavy?
I will say this is a heavy bench – the handle and wheels are absolutely required when it comes time to move the bench.
You tilt it up using the handle, and if you lift it nearly vertical, it's a breeze to move.
I will typically roll it out of the way when using my power rack for squats, OHP, etc.
Still think it's too heavy?
Pretend you are doing some sort of landmine exercise…
I also wish there was less of a spread between the 90 degree and 75 degree incline settings. Given how the bench is setup, it seems like they could easily split the difference and make a 82 degree notch – or something like that.
Rep AB-5000 Bench Wobble?
Some buyers of the AB-5000 bench have complained about bench wobble.
Mine doesn't do this – nor should yours.
But, if it does, check this video from Rep Fitness:
Rep AB-5000 FID Bench – In Summary
Rep Fitness has brought a versatile, robust, and affordable FID bench option to the market with the REP AB-5000.
It is our recommended choice for home gyms and garage gyms that need the maximum in flexibility from their equipment, and don't want to make compromises.
Photo Credits
Some of the photos used in this article are property of the manufacturer.
We're an affiliate of Rep Fitness. If you click the links in this article and purchase equipment we receive a small fee at no additional cost to you. This helps us to bring you great information to make the right choices for your health and fitness.
---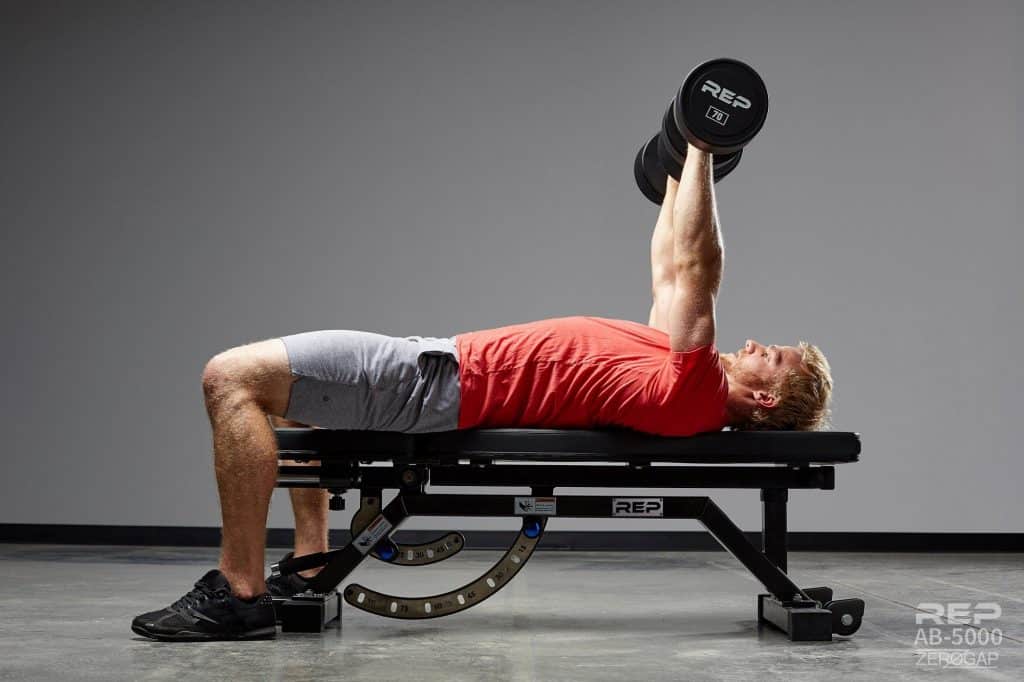 Tim is the founder of FitAtMidlife.com – an avid gym rat for 30+ years, he's a reviewer of many, many shoes – and founder of the Speed Bag Gathering – the world's only gathering of speed bag punching enthusiasts.  See more gym reviews at Tim's YouTube channel.