Need boots that are made to get wet – and let you keep going afterward?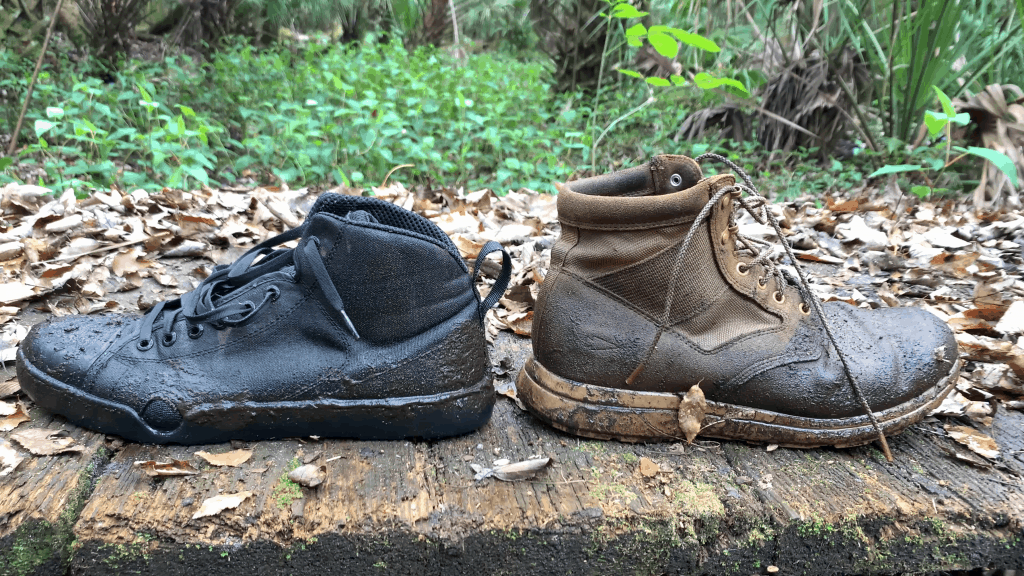 Let's put these two top contenders to the test – the GORUCK MACV-1 and the Altama OTB Maritime Assault Boot (Buy on Amazon).
Here's some of the products we used during this test:
Let's compare and contrast. This is GORUCK MACV-1 versus Altama OTB.
First, let's take an in-depth look at each.
GORUCK MACV-1 Jungle Ruck Boot Overview
We'll start with the GORUCK MACV-1.
I've had these for quite some time now, and these aren't just one of my favorite pairs of boots – they are one of my favorite pair of shoes – period.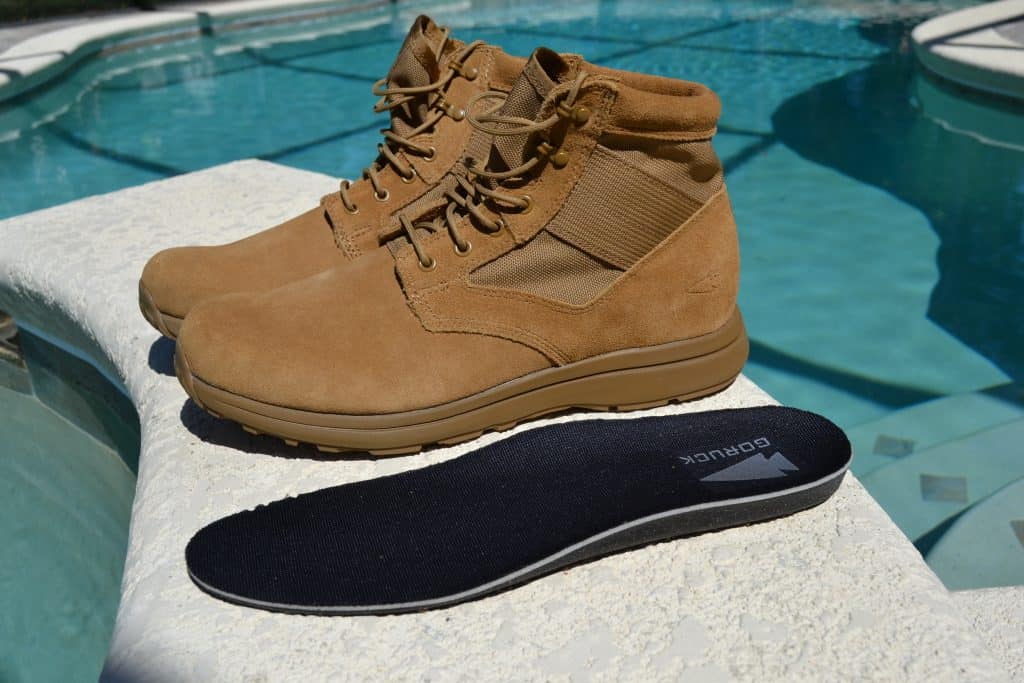 There's two heights of boot – 6″ and 8″.
I use the 6″ extensively, but if you need an AR 670-1 compliant boot you might want to look into the 8″ high version (and in Coyote Suede, of course.)
What do I like about these? They are made with leather and 1000D Cordura. They are tough, good looking and offer reasonable traction via the all-rubber outsole.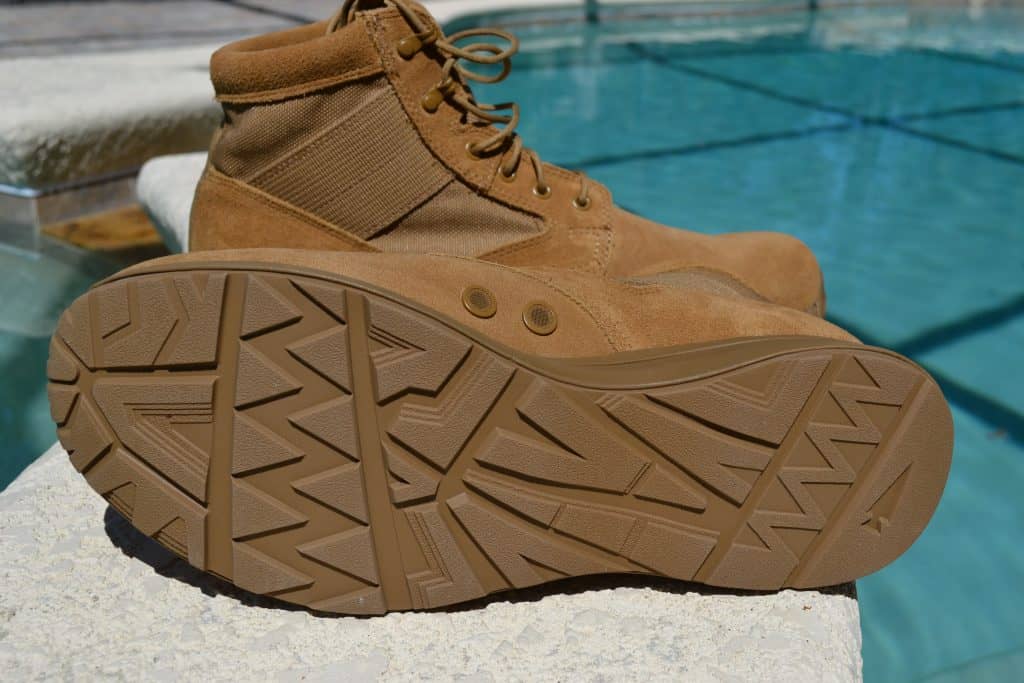 The outsole tread is mild for a boot. But that's ok, I like that. It means this boot doesn't look out of place anywhere – not just on the ruck march.
It's also lightweight (again, by boot standards). My pair (US Men's Size 11.5) weighs in at just over 22 ounces per boot.
Last but not least, this boot has magnificent cushion and a 13 mm heel to toe drop.
I've gone 18 miles with 40+ pounds on my back in these boots. I can't say my feet didn't hurt, but these boots definitely helped me go the distance.
This video focuses more on the GORUCK Rucker, but it'll give you an idea of how I test this gear:
Altama OTB Maritime Assault Boot Overview
At first glance, you may not recognize this shoe as a boot.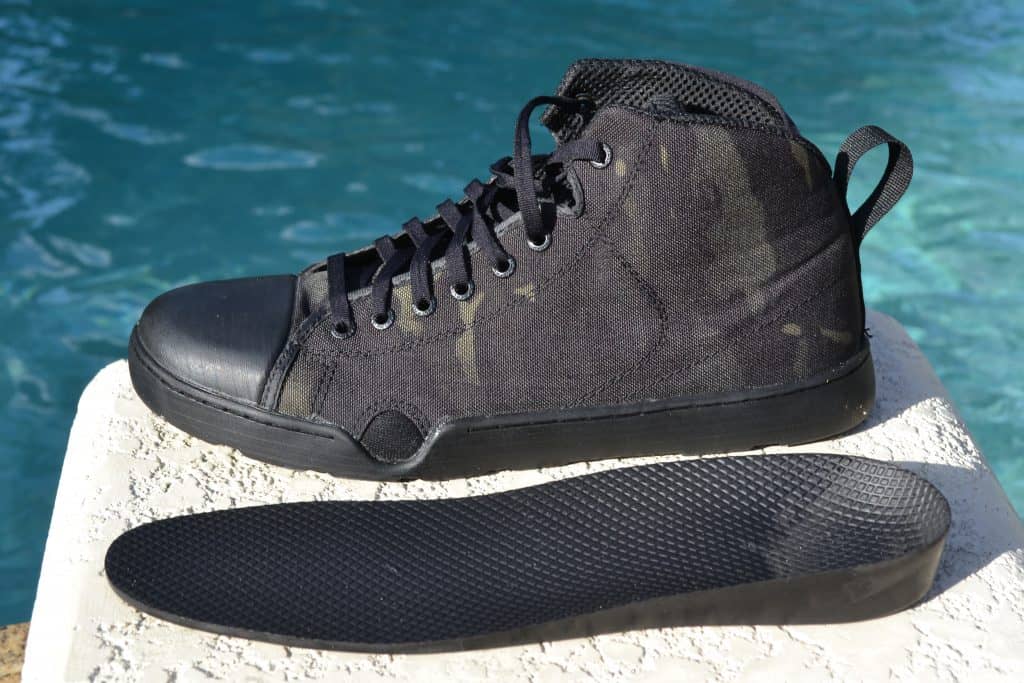 It looks like a Chuck Taylor converse sneaker – and in fact, the design was inspired by that shoe.
These boots were designed specifically for water-borne or maritime operations by the US military.
They offer a mild outsole tread pattern – but the rubber compound used is optimized for wet traction.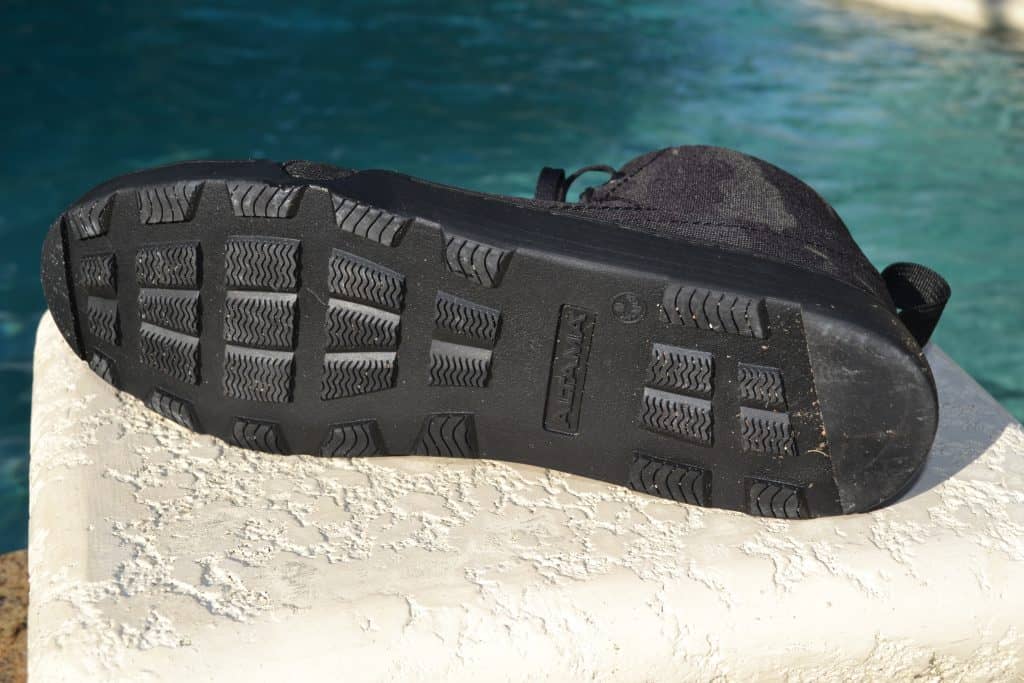 The minimal tread means you can get maximum surface contact area with wet, slippery obstacles – or on a caving ladder.
Being mil-spec in nature, there's an interesting array of color options. This one in particular is using Crye Precision's MultiCam Black camo pattern.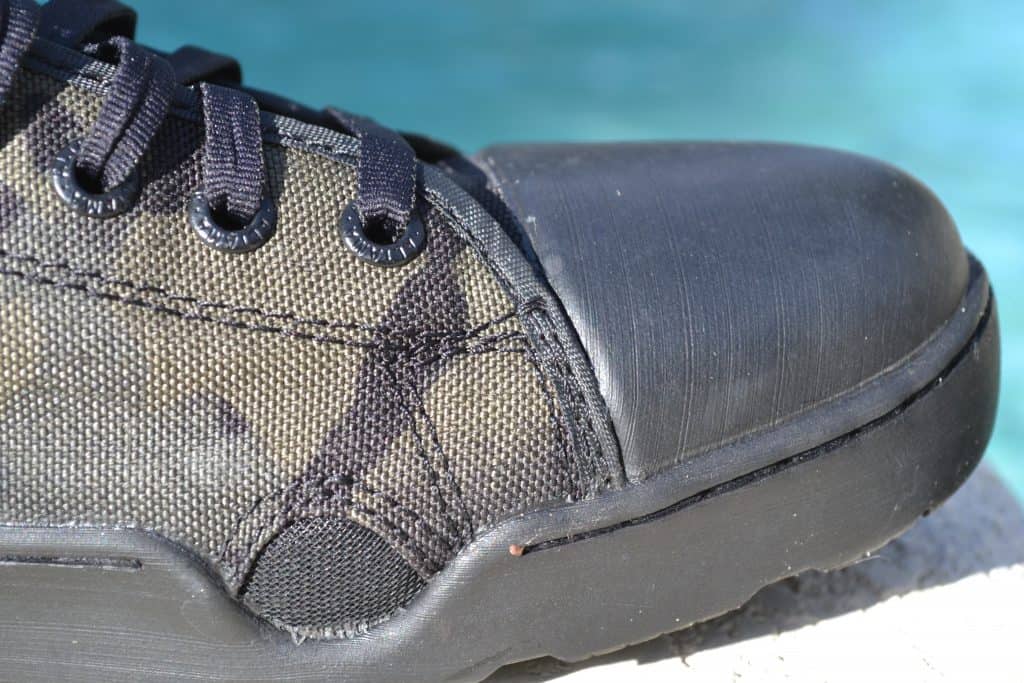 Being almost sneaker-like – these weight in at about 15 ounces.
Being boot-like means they offer a mid-cut height, nice padding (and support) around the ankle, and the rubber toe guard is very thick and dense – great for protecting your toes and forefoot.
With a very mild drop (if any) and minimal cushion you get a low to the ground stable feel. There's less material keeping you from the ground.
You feel like you can sneak around like a ninja in these boots.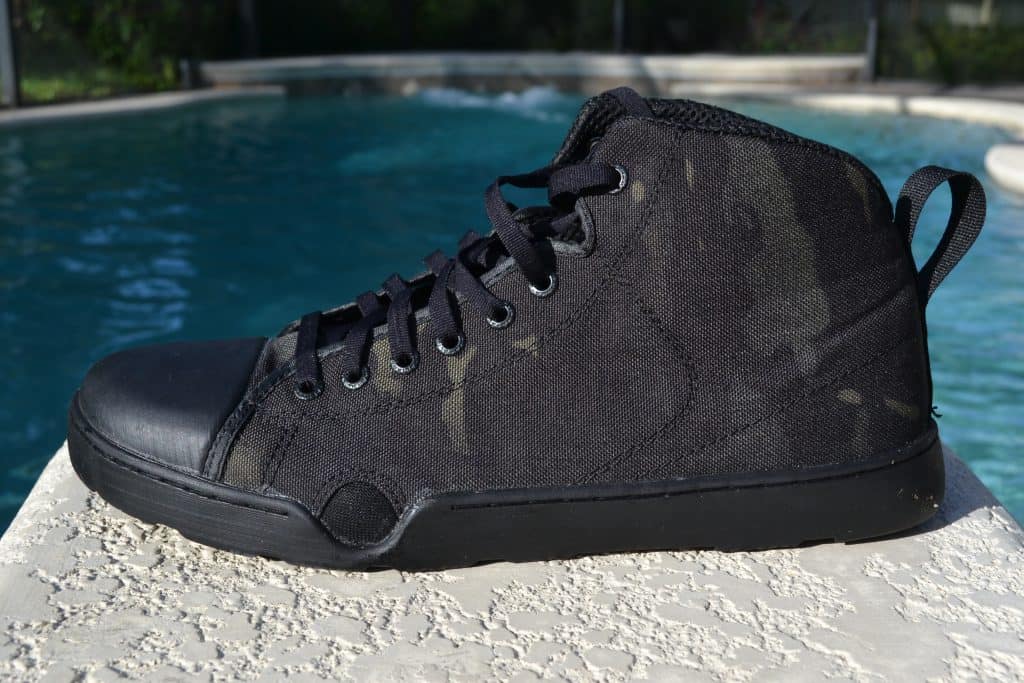 Now, let's compare them head to head.
GORUCK Versus Altama
To show you what they look like side by side:
I took these to the local state park – the swampy state park.
10 miles with 40+ lbs – and a whole lot of mud, muck, and water.
What was the outcome?
The Altama's use of non-absorbent materials, low drain ports, and midsole made it the champ as far as draining water quickly.
Not only that, they gave great grip on all those cypress knobs, tree roots, and mud.
The mid-cut and foam around the ankle provided good ankle support.
But as I've experienced with these on dry land – they just don't have the cushion for carrying weight for long-distance.
In contrast, the MACV-1 was less effective at draining water.
The drain ports are higher up (but that also means your socks stay dry in shallow puddles), but the insole absorbs water.
When it came time to hike back out (approx. 5 miles) I switched back to the MACV-1 – so that I'd have all that glorious cushion (and drop) to help me go the distance.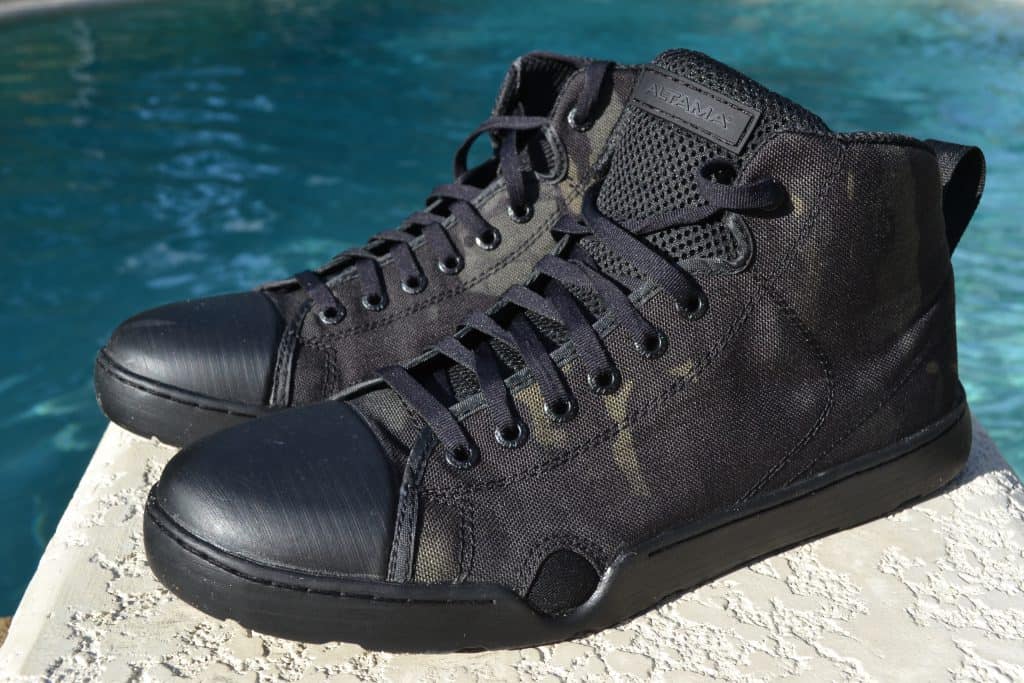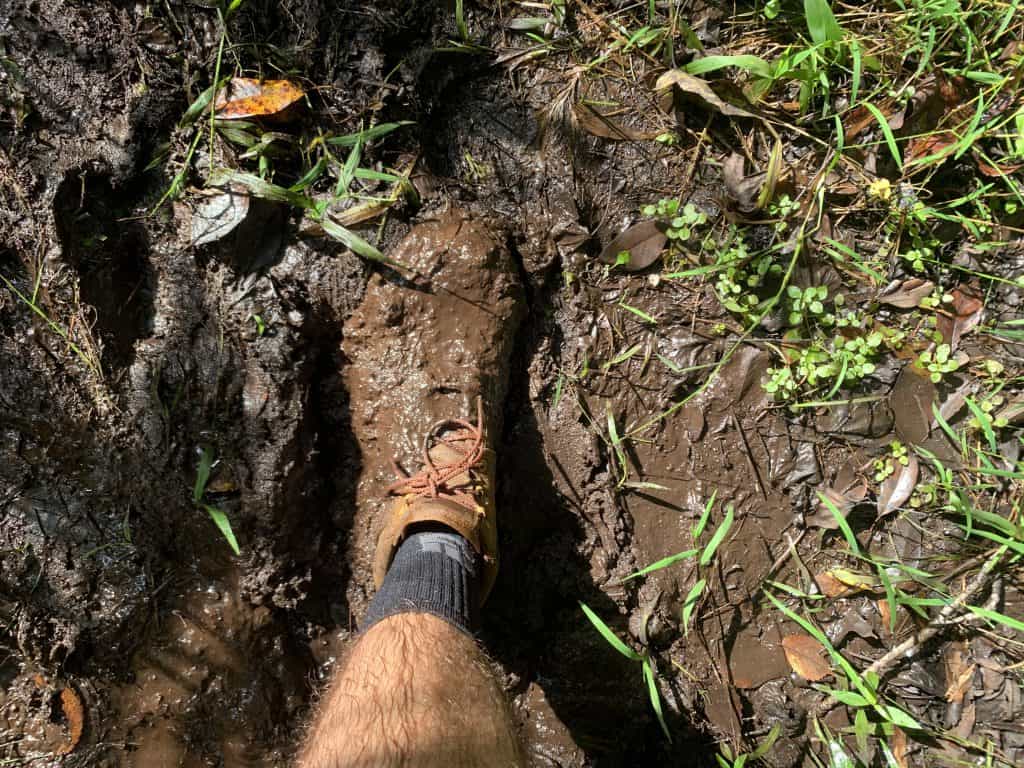 GORUCK MACV-1 Boot Versus Altama OTB Maritime Assault Boot Review – In Summary
And that's our review of the GORUCK MACV-1 versus the Altama OTB Maritime Assault Boot (Buy on Amazon).
Going long distance? The GORUCK MACV-1 is tough to beat. It compromises some of its water-draining features but works better in the dry.
If you are doing something truly aquatic (or amphibious) the Altamas are going to be your best bet.
They do indeed drain water quickly, and there just isn't much material to absorb any water that does get in.
Low and stable, it lacks the cushion for comfort over long distances (especially with weight.)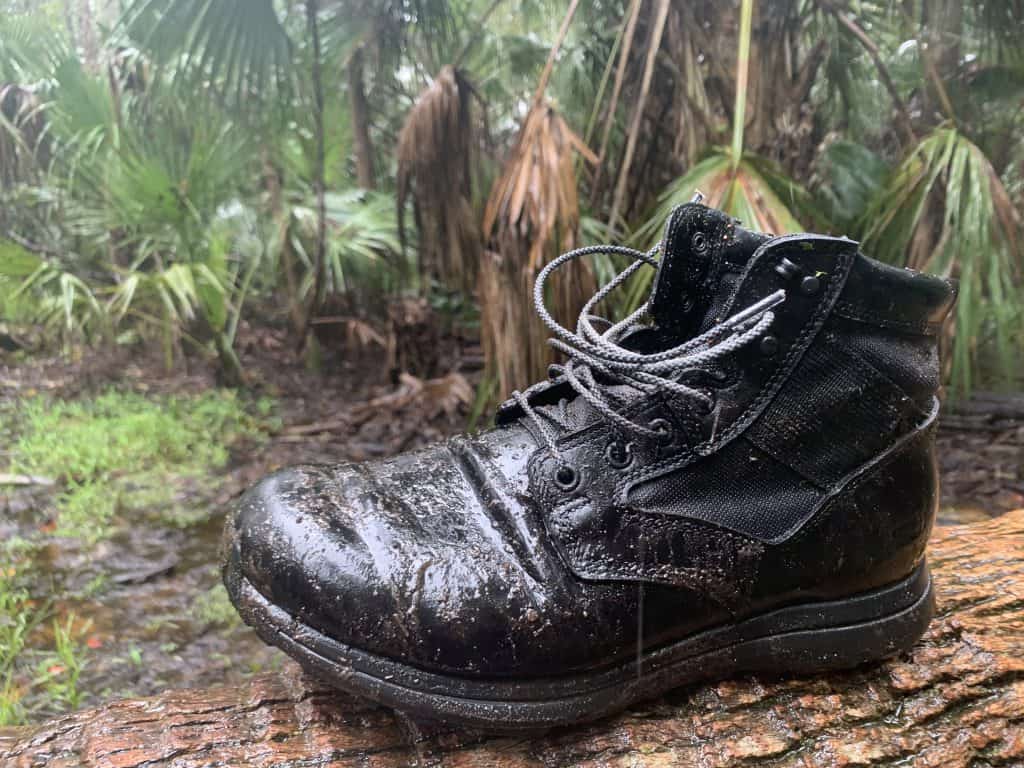 Not only was this testing fun, it was great exercise. I burned over 1,700 calories in that 5 hour test. Find out more about rucking calorie burn.
Lastly, If you are going to get into rucking do it right with the GORUCK Rucker 3 and some ruck plates.
Photo Credits
Some product photos (but not many) on this page are property of GORUCK or Altama.
Affiliate Disclaimer
We are an affiliate of GORUCK, Amazon and others that sell this training gear. If you buy boots or other training gear after clicking the links in this article, we receive a small commission at no extra cost to you. This helps us to bring you in-depth information and content on these great training products.
Tim is the founder of FitAtMidlife.com – an avid gym rat for 30+ years, he's a reviewer of many, many shoes – and founder of the Speed Bag Gathering – the world's only gathering of speed bag punching enthusiasts.  See more gym reviews at Tim's YouTube channel.