Let's review the new PR-4100 Folding Squat Rack from Rep Fitness.
Folding squat racks are great – you can lift heavy and still keep the car in the garage!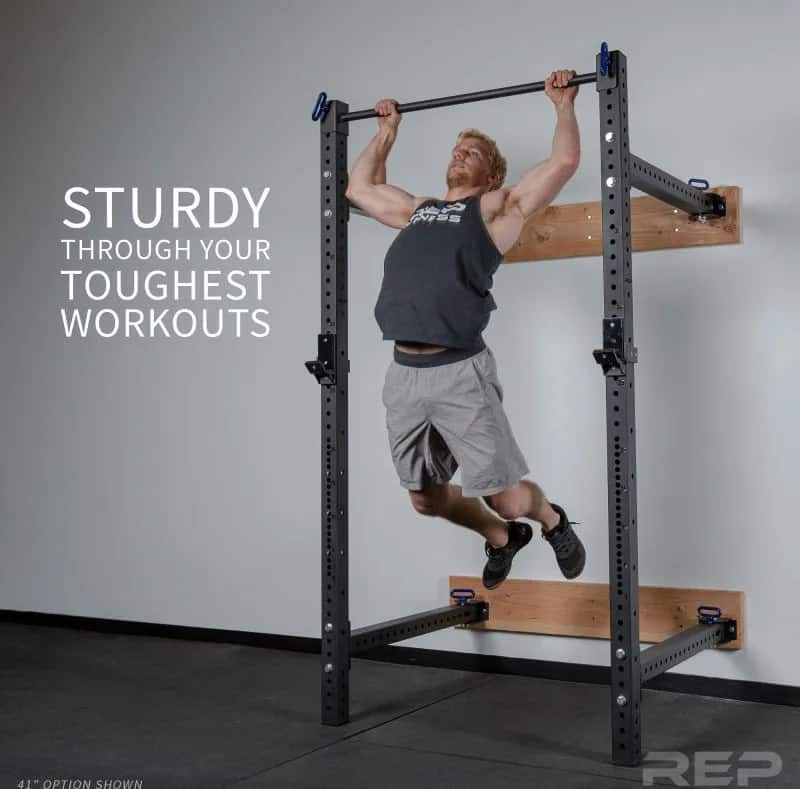 Want to get strong? You have to lift heavy – and that means heavy barbells.
But getting a heavy barbell up onto your shoulders requires a rack to be done right.
(Sure, you can clean the weight up – but that's going to seriously limit how much you can lift.)
So don't let a lack of floorspace be an excuse – get a folding rack like the PR-4100.
Here are some of the options we are going to look at: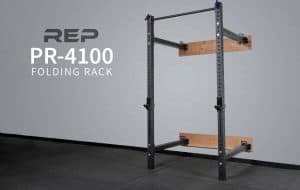 PR-4100 Folding Squat Rack
PR-4100 Folding Squat Rack - sturdy and tough - it's stable like a four-post power rack because it's attached to the wall.
PR-4100 Folding Squat Rack
PR-4100 Folding Squat Rack - How flat does it fold? Pretty flat - as you can see here. You'll have enough room for the car, the lawn mower, and whatever else you are hoarding in your garage.
Let's take a look.
PR-4100 Folding Squat Rack – Overview
Squat Racks used to be massive and take up an outrageously huge amount of space. Thanks to the discovery of the wall-mounted squat rack! Now you are capable of getting the benefits you'd expect from a traditional squat rack plus allowing you to take advantage of the wall as added storage space for barbells and plates, and even a parking space for your car.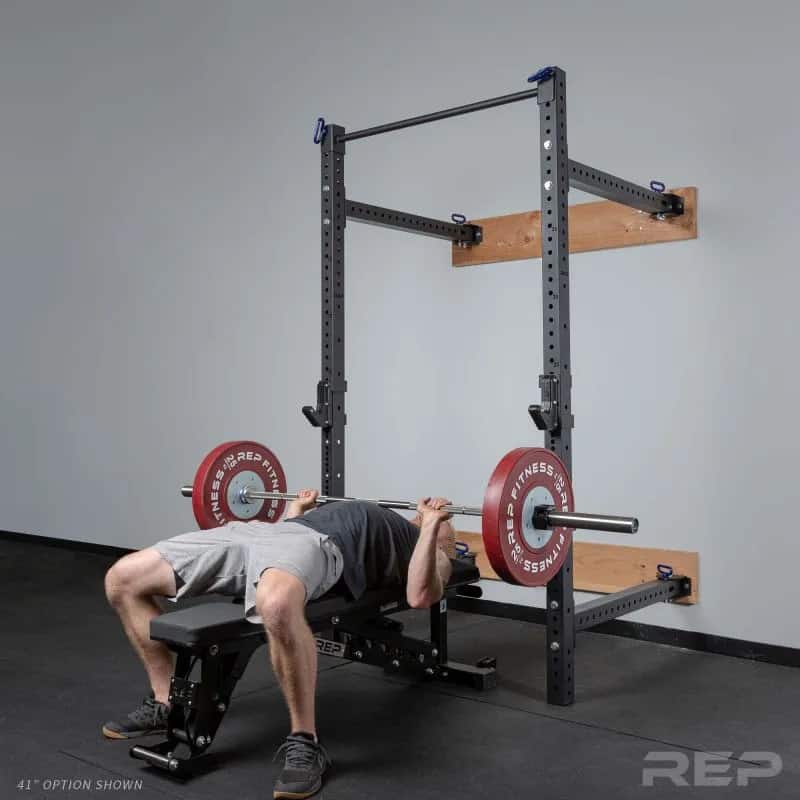 PR-4100 Folding Squat Rack boasts its enhanced feature that consists of the protective caps on the bottom of the uprights to guarantee a polished setup and protection for your floors. Rep also added 1″ hole spacing through the bench press and pull area to assure you can obtain the ideal lift-off height. With its four heavy-duty pull pins, you can easily set up or fold your space-saving power rack away.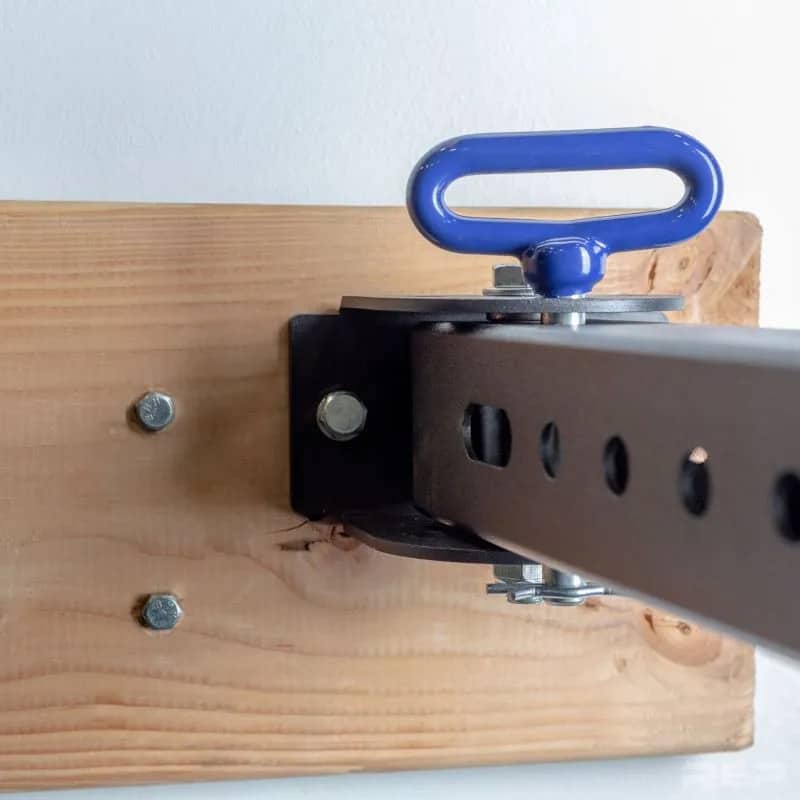 The 41″ option can fold left/right to take up 24″ from the wall. It can also partially fold on its own and take up 24″ from the wall. The 41″ option is recommended for people doing kipping pull-ups or muscle-ups because of the out/back body movement. The 21.5″ option can fold in on itself and take up 6.5″ from the wall.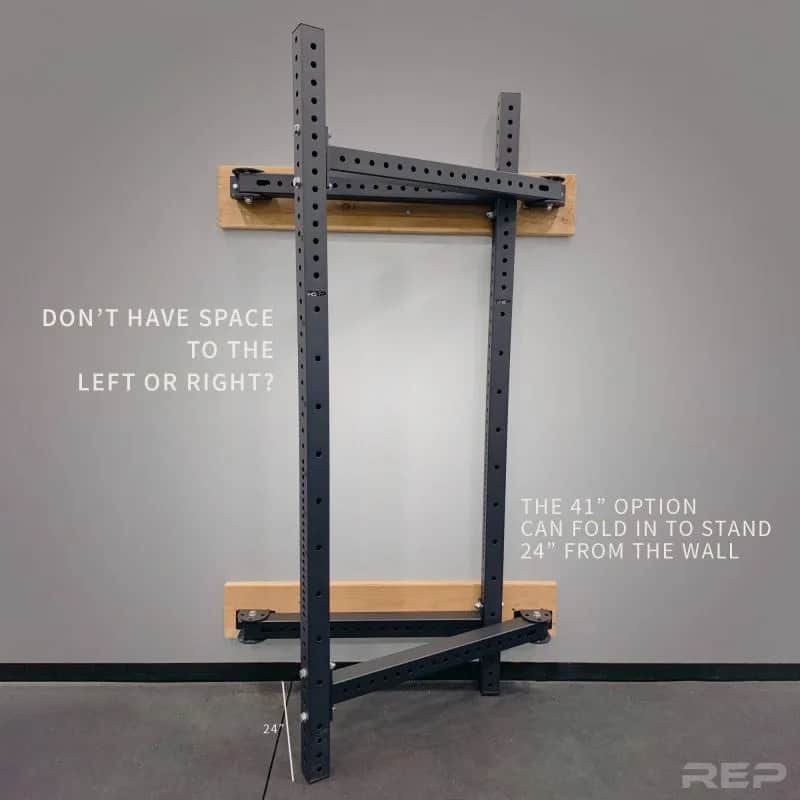 PR-4100 Folding Squat Rack Review – In Summary
That's our review of the PR-4100 Folding Squat Rack from Rep Fitness.
Wall-mounted folding squat racks are the answer for garage gyms that are tight in space and Rep PR-4100 Folding Wall Mount Squat & Power Rack helps you achieve it. While using it, you get all of the benefits of a fully functioning rack and, when done, you get to store it out of your way. You don't have to worry about wall damage as this equipment has high-quality attachments so you can carefully secure the racks to the wall.
Here's some other folding power rack options.
Got more space? If you go with a full four-post power rack you can use more accessories and have more workout options.
Check out our Rep Fitness Power Racks Review.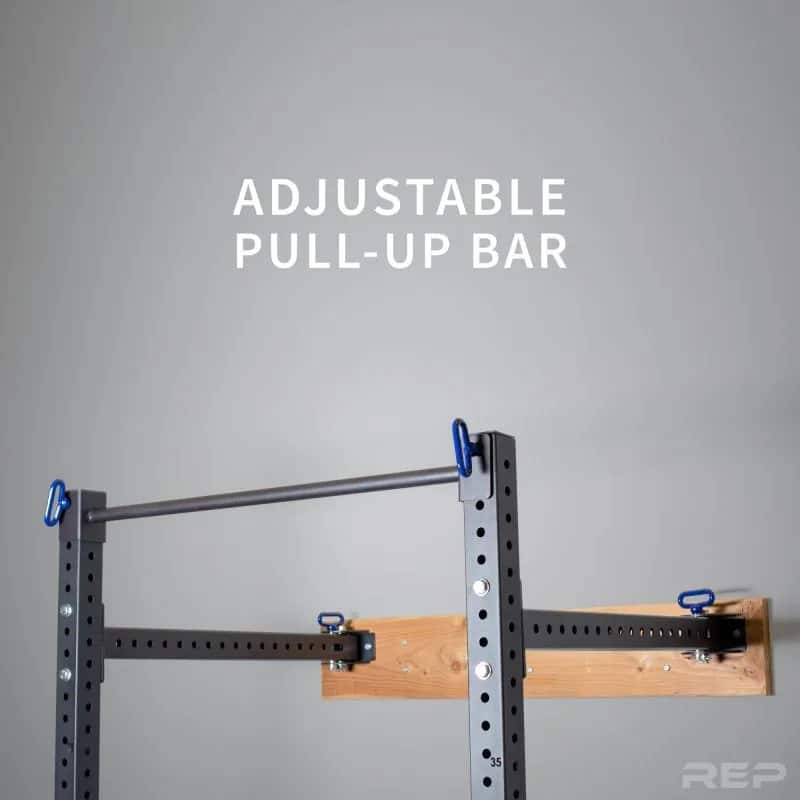 Photo Credits
Some product photos on this page are property of Rep Fitness.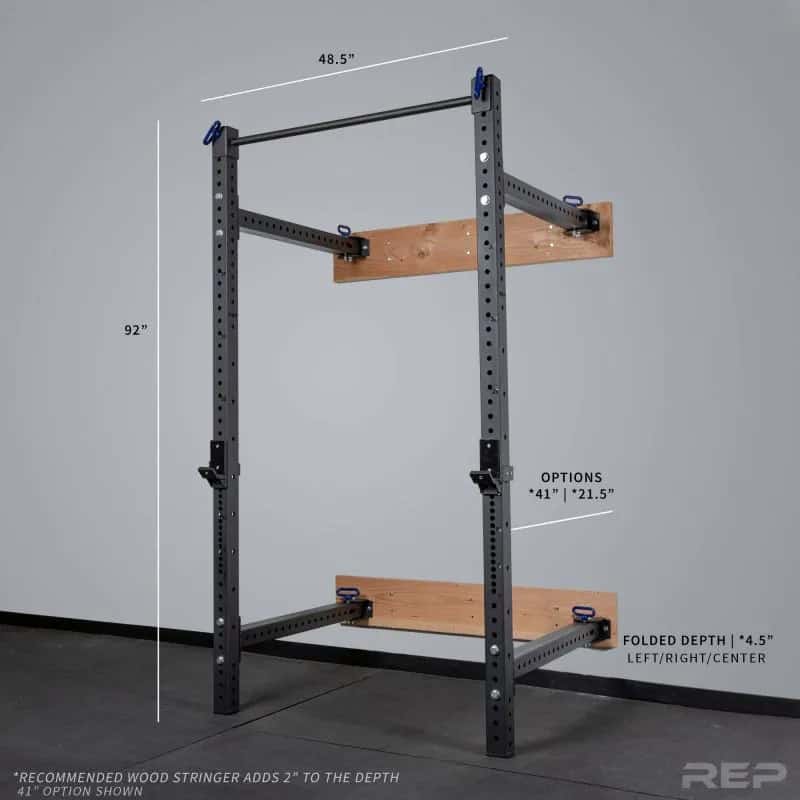 Affiliate Disclaimer
We are an affiliate of Rep Fitness and others that sell this training gear. If you buy gym equipment or other training gear after clicking the links in this article, we receive a small commission at no extra cost to you. This helps us to bring you in-depth information and content on these great training products.