Rogue has the red-hot
Echo Bike
. Grab one while they last!
Rogue has finally announced the registration opening of the Cliffhanger Challenge! Are you ready for the second Challenge of the year? Do you have what it takes to compete in the Cliffhanger Challenge?
You can find out more about the Rogue Cliffhanger Challenge.
Can you hang from a pullup bar? Then you might be a contender! We'll look at some of Rogue's pullup bars and other equipment in this article.
Here are some of the equipment we are going to look at:
Rogue Cliffhanger Challenge – Overview
The Cliffhanger Challenge will run from the 5th of March until the 8th of March 2021. The goal of this challenge is to test your grip and be the athlete with the longest dead hang from a pull-up bar.
How does it work?
All participants 14 years old and above should first register at roguefitness.com/challenges. A $10 entry fee gets you into the competition and $30 gets you entry + an official Rogue Challenge t-shirt. The next thing to do is to submit your time and video evidence using the instructions in the Beyond the White Board app. During the course of participation in the competition, all participants, judges, and spectators must follow all social distancing and other local guidelines related to COVID-19.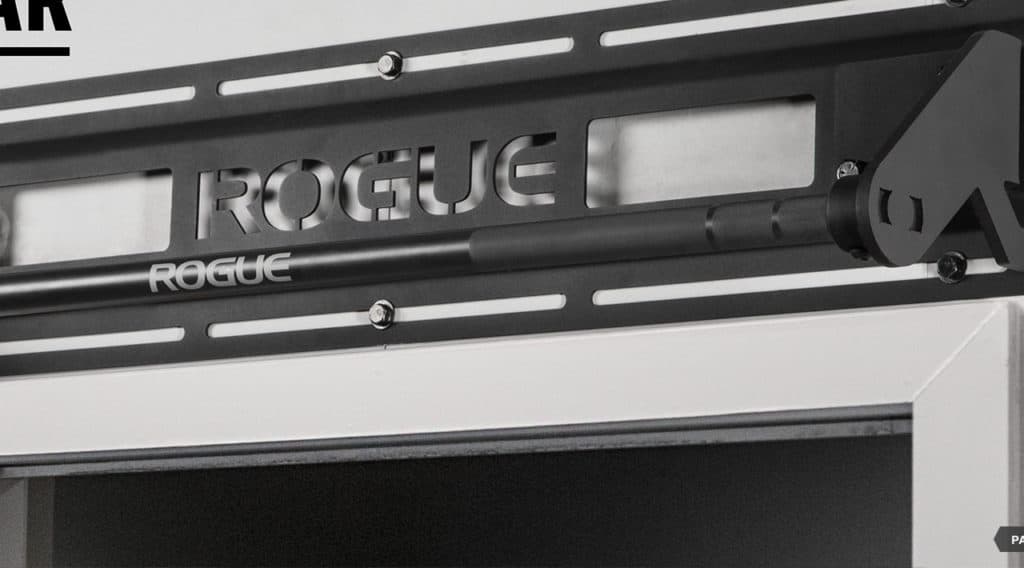 How will it be scored?
The athletes with the longest hang will win the contest. Bodyweight will be the tie-breaker although it will only be requested following the competition in the event of a tie between two competitors. Heavier body weight would win the tie.
What equipment is needed to qualify?
1. Tape Measure
2. Visible Timer – this can be a gym timer in the frame, a phone with the timer feature up in the frame, or a stopwatch in the frame
3. Standard Pull-Up Bar with the following specs:
– Metal construction
– Standard straight shaft, NOT angled
– Standard powder coat, Cerakote, or bare steel finish is acceptable. The bar cannot be knurled or have any other type of artificial texturing added, including tape of any kind.
– Minimum diameter of the pull-up bar must be 1.125″ or 3.53″ circumference. There is no maximum measure for the same spec.
– There is no height requirement for the bar
To give you an idea of pull-up bars that have the specs needed, we have listed some Rogue Pull-up Bars that will qualify you for the competition.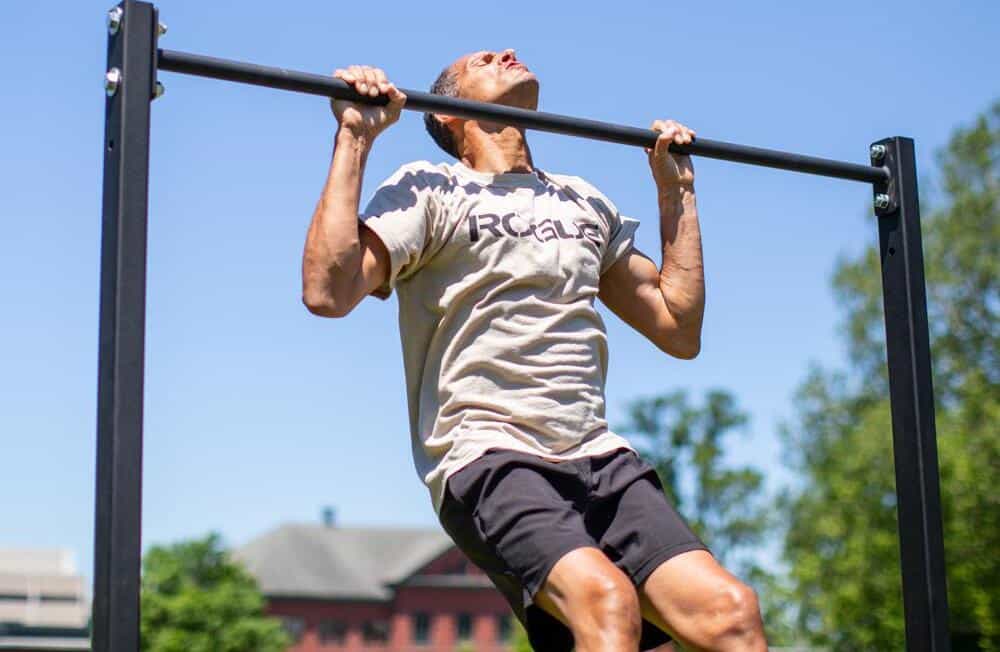 Now, let's look at some pullup bar options. Rogue has many.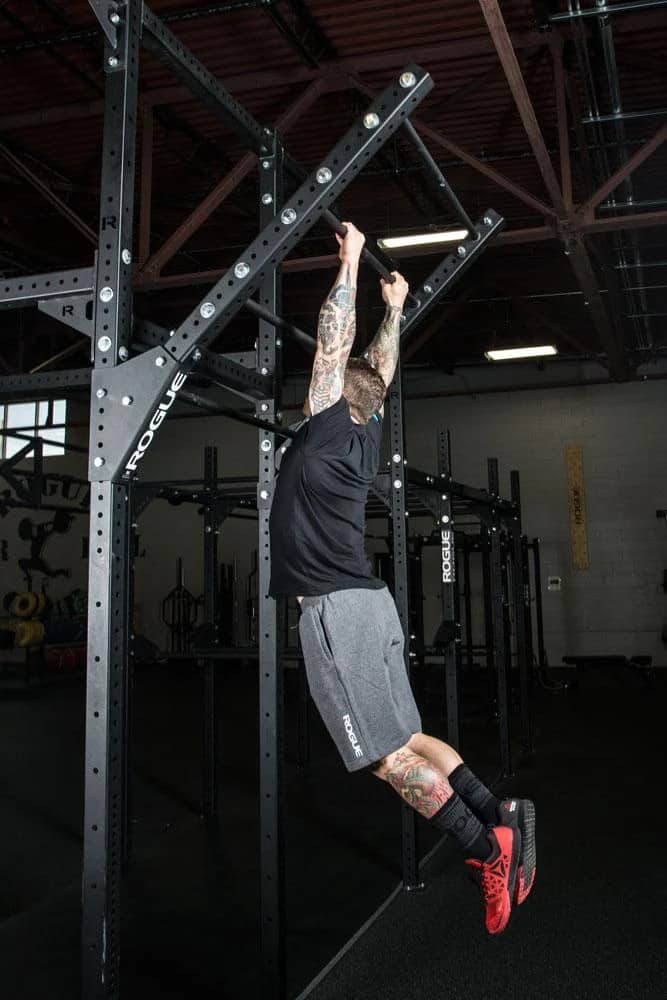 Rogue Monster Lite Adjustable Pull-up Bar
Monster Lite Adjustable Pull-up Bar is a 1.25" diameter bar that can be set up at any height inside a 43" space of the rack/rig. It highlights the same pin and hinge system as the ML J-Cups and forms a pull-up option for shorter athletes without the difficulty of having a permanent second bar bolted to the uprights.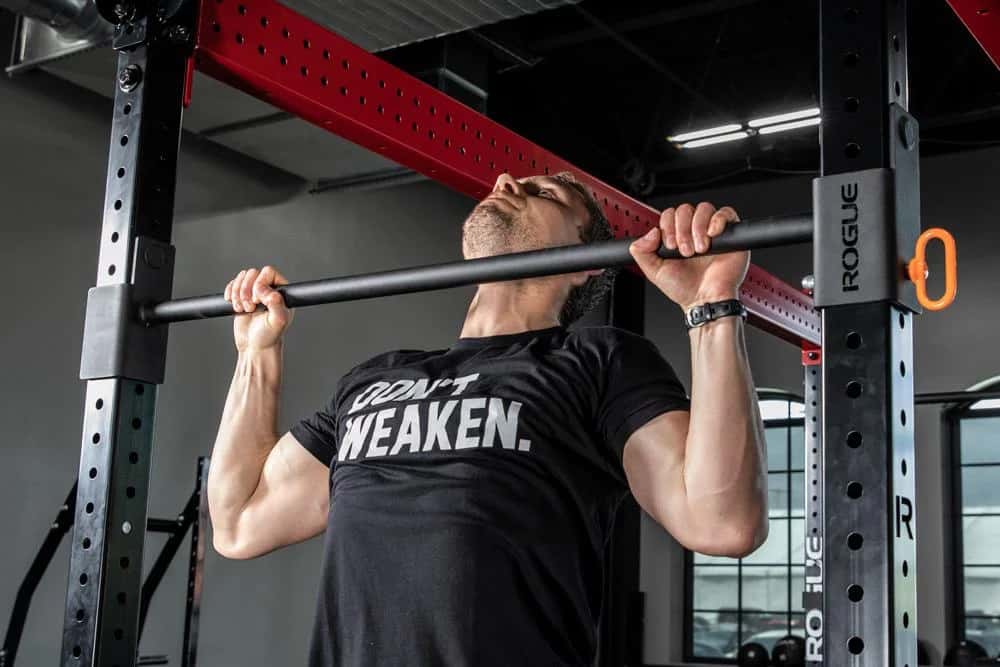 It is a simple, quick-attach pull-up bar created solely for Rogue's Monster Lite line of rigs and racks. It holds 1/4" laser-cut and bent steel channels (with laser-cut Rogue branding in one of them) and a black texture powder-coat finish. The channels are 8.5″ tall, and the height of the pull-up bar is 3.5″ below the mounting position of the included 5/8″ pin.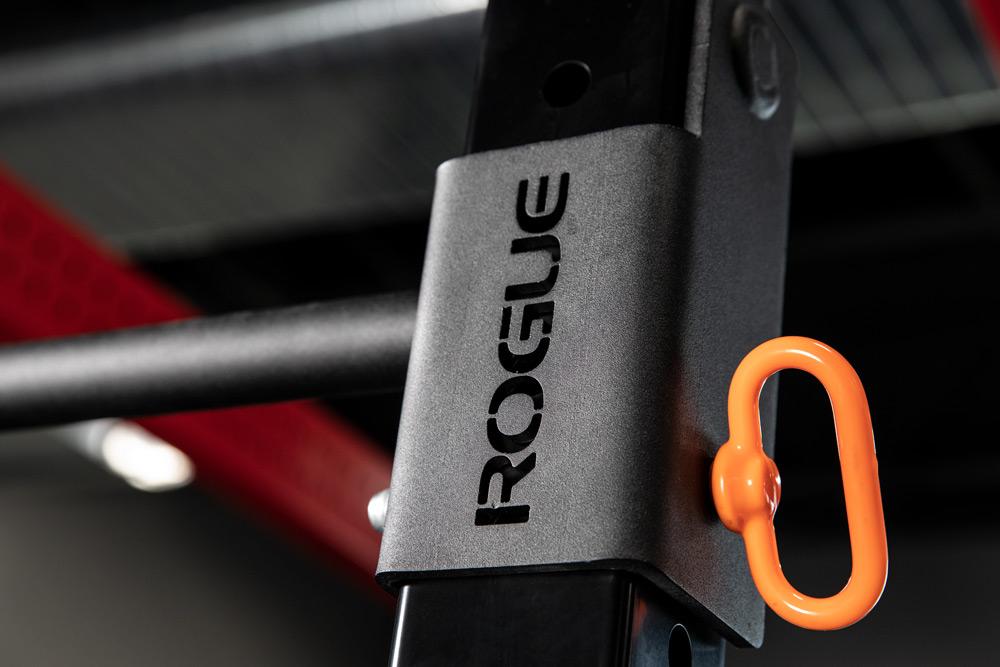 Rogue Monster Lite Socket Pull-up Bar
Rogue's first pull-up bar is available in exclusive Cerakote color finishes, which are used broadly in the gun industry for its exceptional durability in thin applications, and it gives excellent abrasion/wear/corrosion resistance over time. It is a single, solid round bar that is precision machined in the USA with US steel or the US and CAN steel using 7-gauge steel.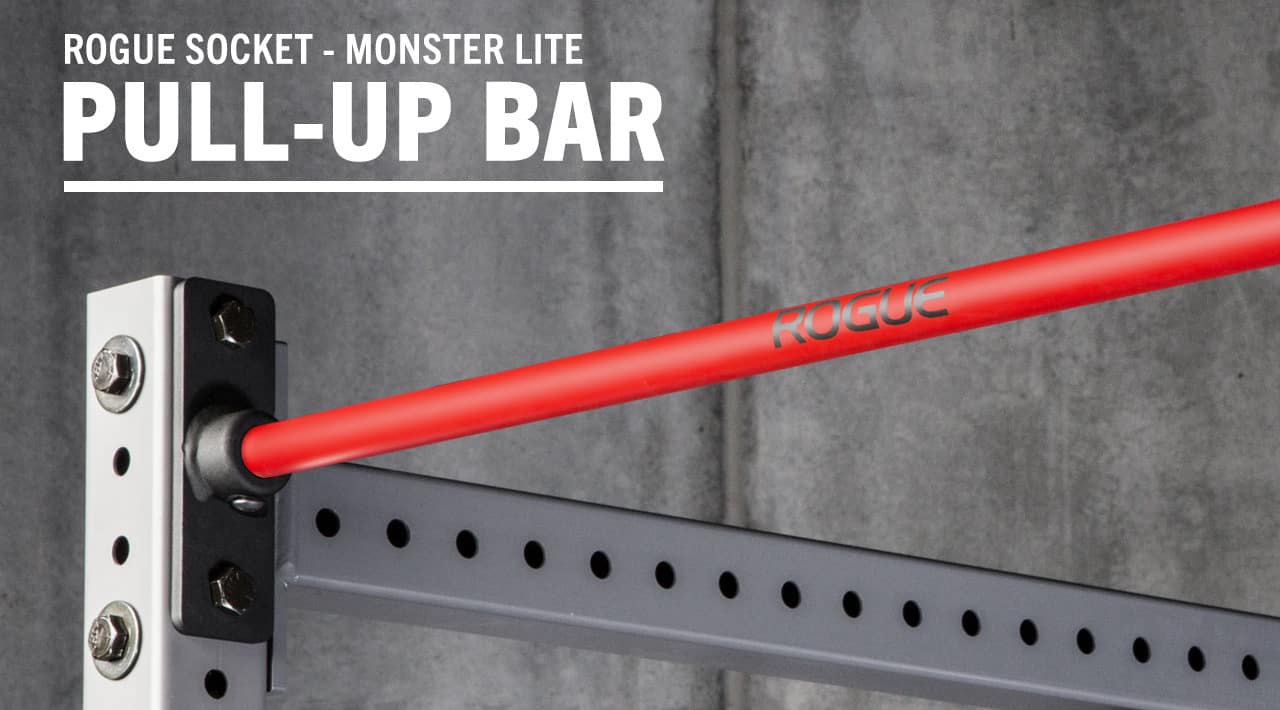 It fits with any 43" space on a Monster Lite Series rack or rig and is furnished with a pair of tough mounting sockets to guarantee its endurance after installation. The two button-head screws secure the bar into the sockets to stop spinning (a 7/32" Allen wrench is required to tighten).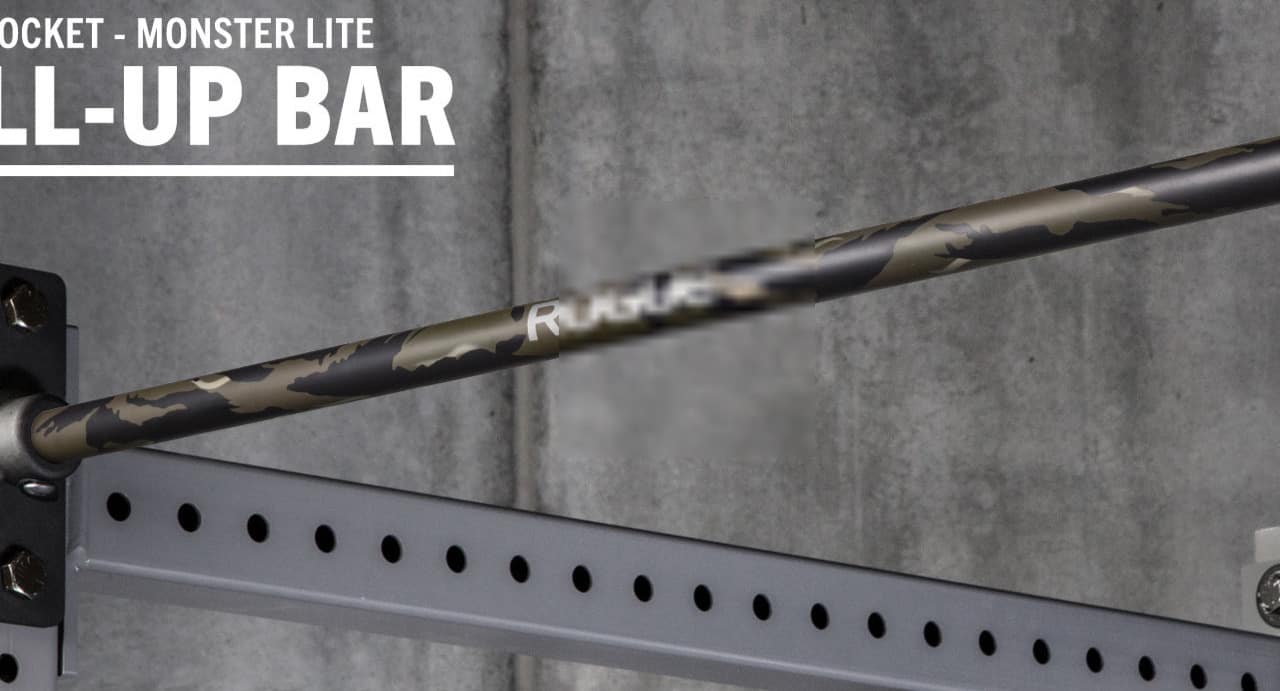 MIL Pull-up Station
The Rogue MIL Pull-Up Station is made to the needed specs of the Army Combat Fitness Test's "Leg Tuck" event, having an elongated width of 62" between the two uprights to produce enough operating space for any size athlete. It includes the same 2×3" 11-gauge steel tubing and a standard single pull-up bar (1.25" diameter) as Rogue's R-Series squat racks.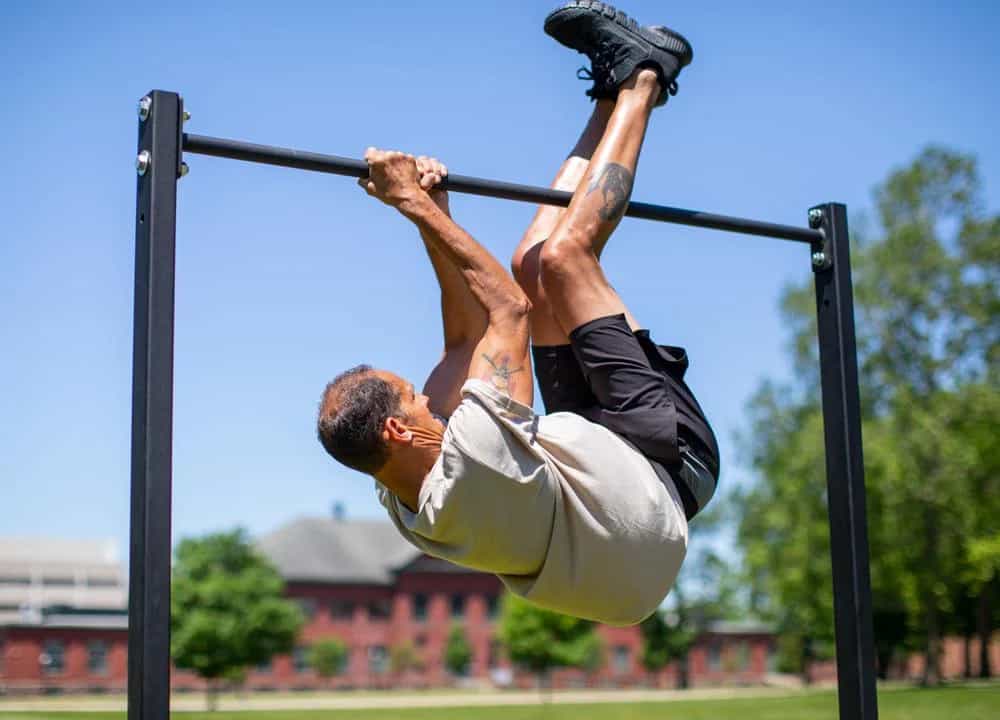 The MIL Pull-Up Station has a total footprint of 48" x 67" and an upright height of 93", with the pull-up bar position adjustable from 90" down to 86". All required 5/8" hardware is included, as is an attachable step (connected via detent pin) that can be set at either 18" or 24" from the ground—matching the step heights on the Army's Climbing Pods. This step also consists of a large rubber insert that coats all metal corners for added protection.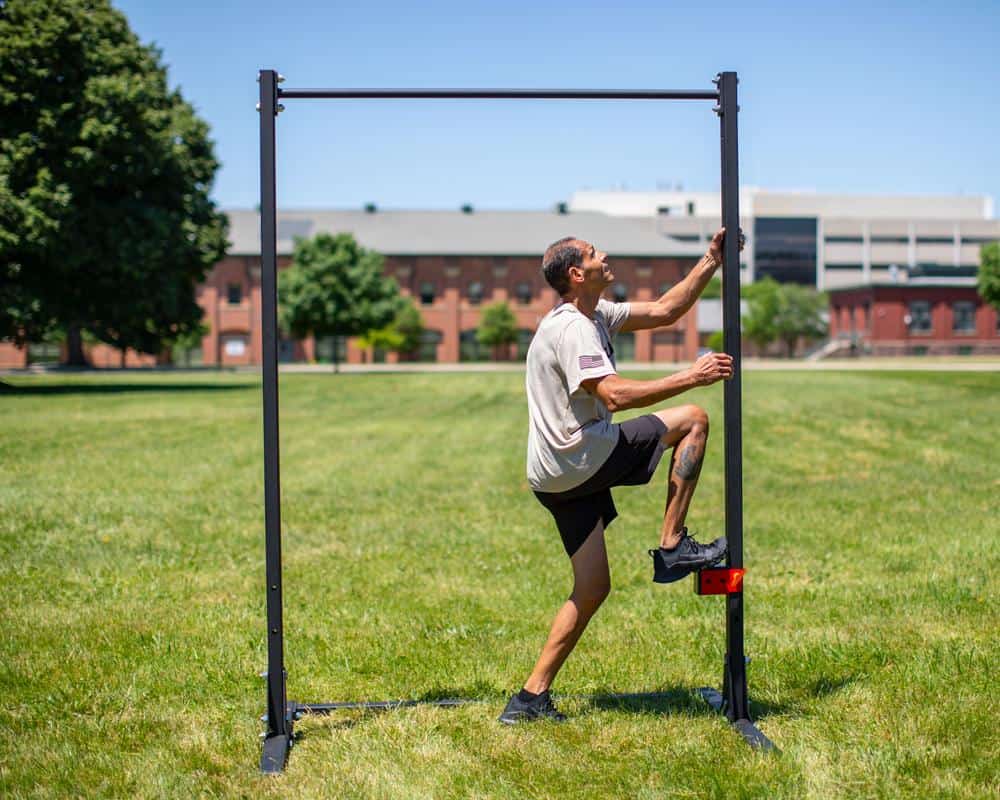 Rogue Jammer Pull-up Bar
The Rogue Jammer Pull-Up Bar allows athletes to transport their fitness lifestyle, without compromise, into any room of their home or workplace. It includes a 43″ (Stringer) long stringer, 0.375″ thick laser-cut steel brackets, and a custom-finished 1.125″ diameter bar.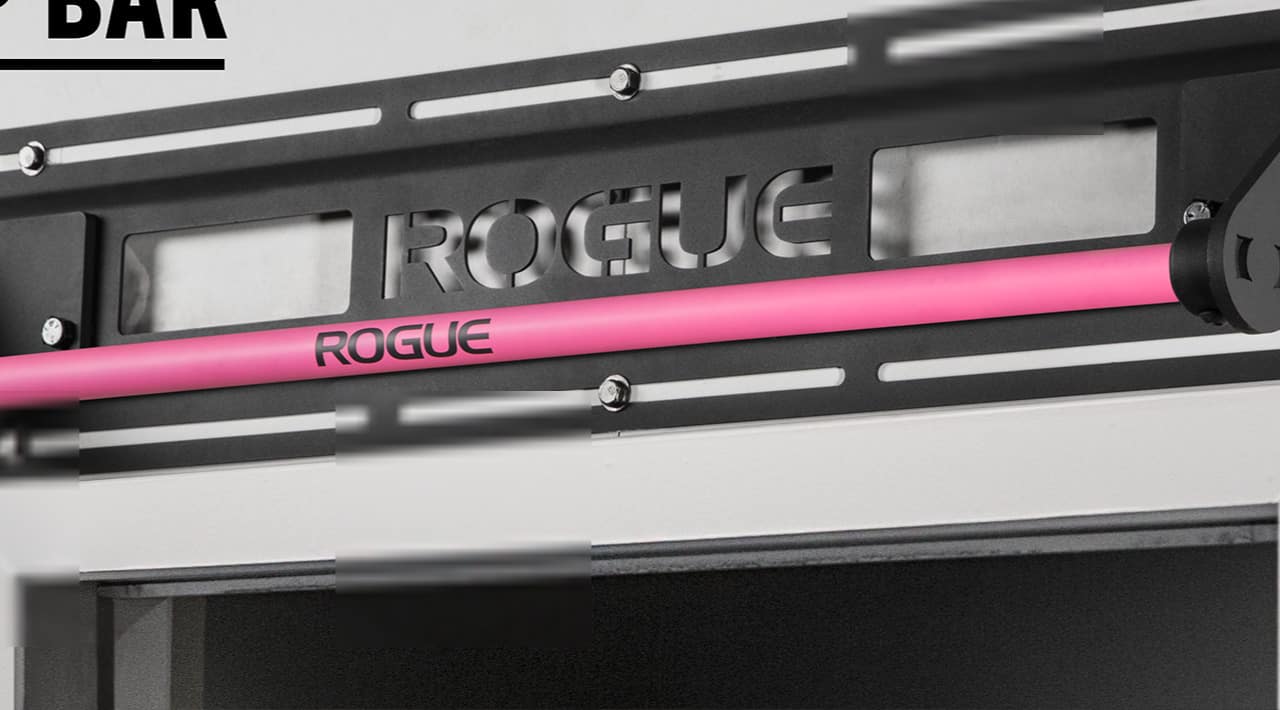 You can choose between the knurled or smooth finish, and it can be further custom selected in Rogue textured black powder coat, stainless steel, or any one of ten exclusive Cerakote color finishes. The stringer and brackets are available in two powder coat finishes, so you can easily customize the whole system to suit your preferences.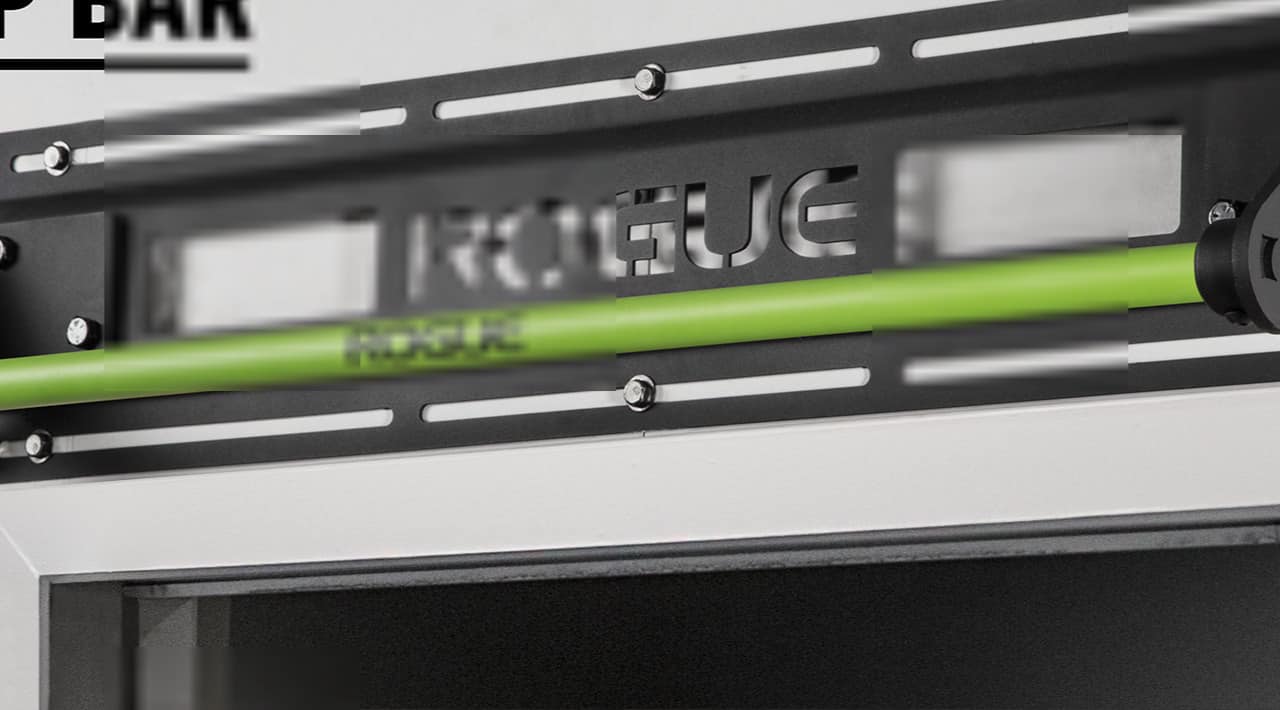 Rogue Monster Lite Flying Pull-up Bar
The Monster Lite Flying Pull-Up Bar attaches firmly to any existing ML Series rig or rack uprights. It is placed at about a 45-degree angle and operates like a heavy-duty pull-up ladder, requiring greater muscle recruitment and explosiveness from an athlete as they progress from bar to bar. The Flying Pull-Up Bar can also be used with gymnastic rings, adding the greater height required for better muscle-ups and other movements.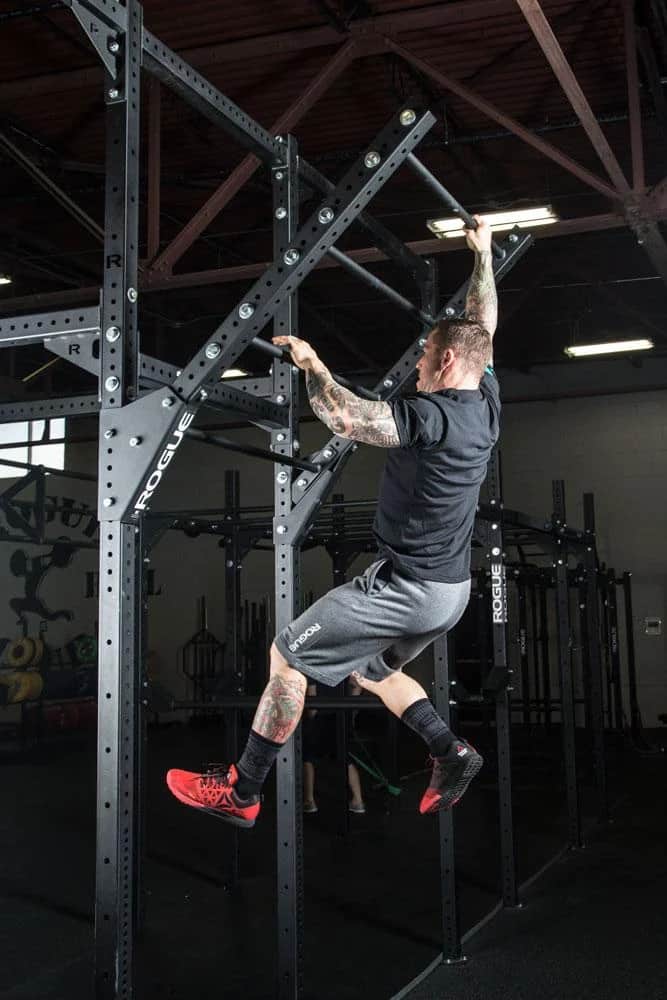 It highlights the same 1.25" diameter, 43" pull-up bars that come standard with the Monster Lite rigs and racks. The four pull-up bars are attached via a set of two 3×3″ 11-Gauge Laser Cut Steel, which is fastened to the rig using laser-cut and bent 0.3125″ plates.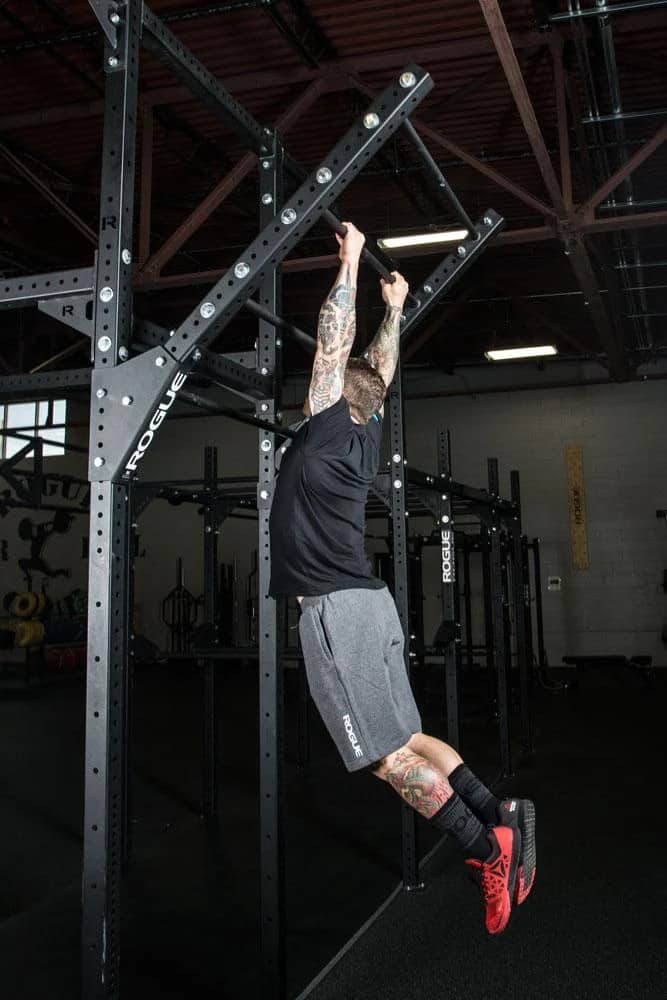 Rogue P-5V Garage Pull-Up System
Rogue P-5V Garage Pull-Up System is particularly created for a firm ceiling mount or wall mount. It has 1×2" 11-Gauge Steel brackets that can be customized to practically any training space. The P-5V brackets measure 24×23" inches with pull-up bar slots at both 14" and 22" from the mounting point.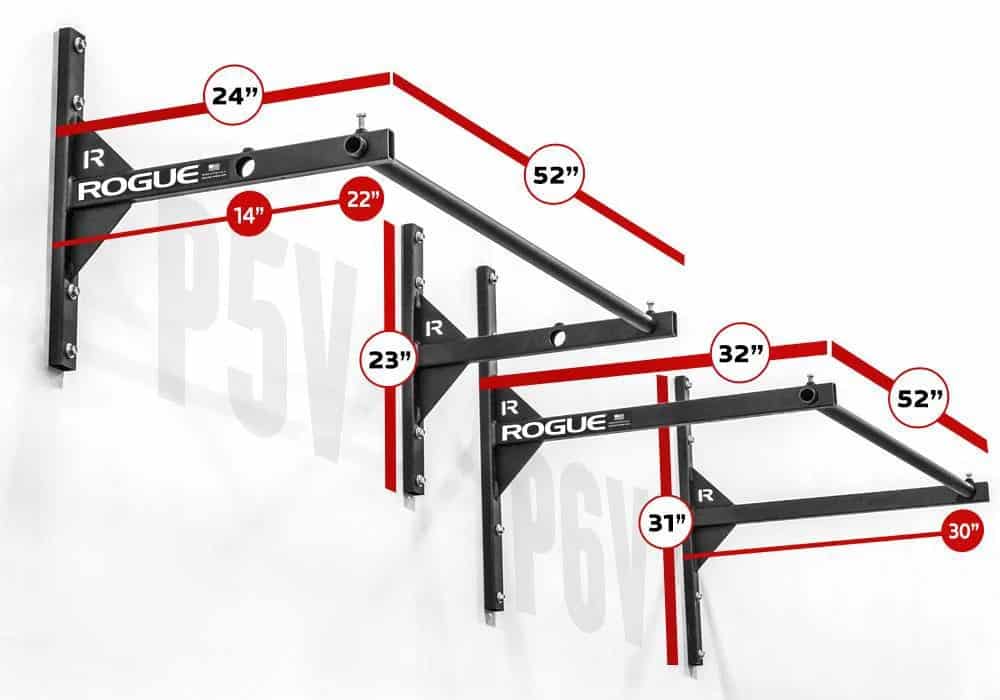 The P-5V Garage Pull-Up System can be attached to any solid wood stud/ceiling post or concrete wall at the height of your choice. It helps increase and improve strength without tearing up your hands. It is a long-lasting, efficient, and expandable alternative for a garage gym or full-scale weight training facility.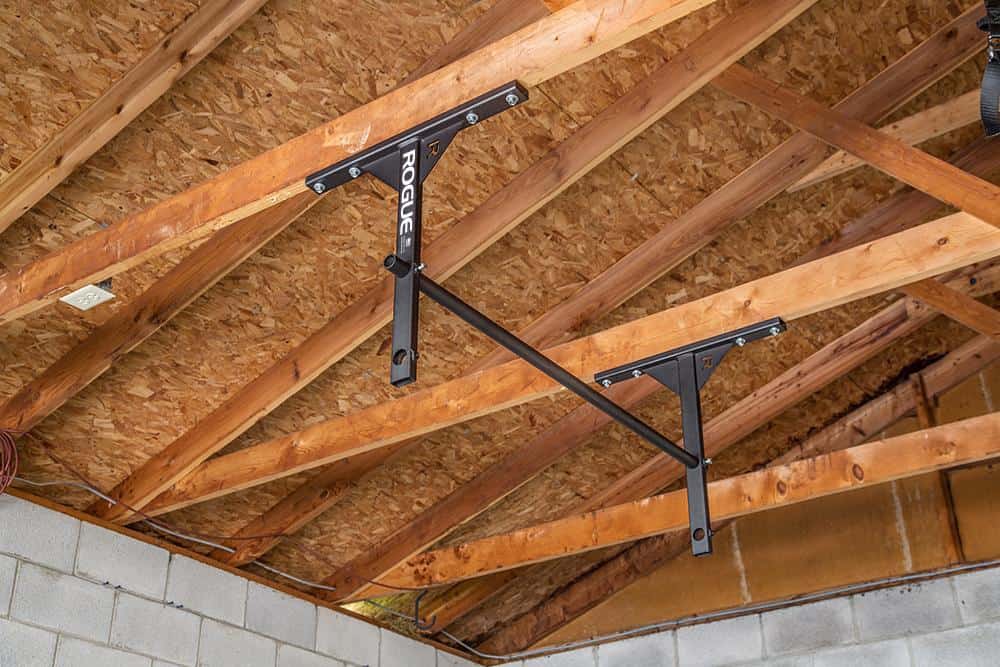 Pullup Bars Review – In Summary
That's our review of Pullup Bars.
It is not yet late to get yourself a pull-up bar and start practicing. Rogue has exciting prize packages for the winners of the Cliffhanger Challenge, and you can be one of them.

Male
1st Place – $2500 & Rogue Anvil Grip
2nd Place – $1000 & Dinnie Ring Set
3rd Place – $500 & Rogue Cannonball Grips
Female
1st Place – $2500 & Rogue Anvil Grip
2nd Place – $1000 & Dinnie Ring Set
3rd Place – $500 & Rogue Cannonball Grips
Top 3 Gyms with Sign-ups
1st Place – Rogue Anvil Grip
2nd Place – Dinnie Ring Set
3rd Place – Rogue Cannonball Grips
Don't forget to use #ryourogue and tag @roguefitness to share your experience.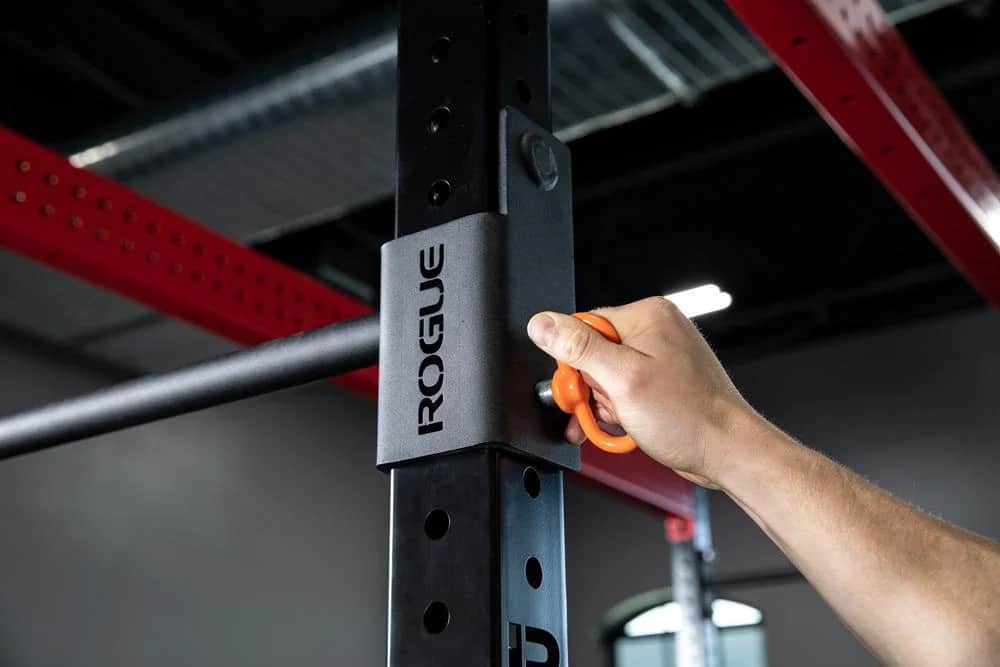 Photo Credits
Product photos on this page are property of Rogue.
This website is not affiliated or associated with CrossFit, Inc. CrossFit is a registered trademark of CrossFit, Inc.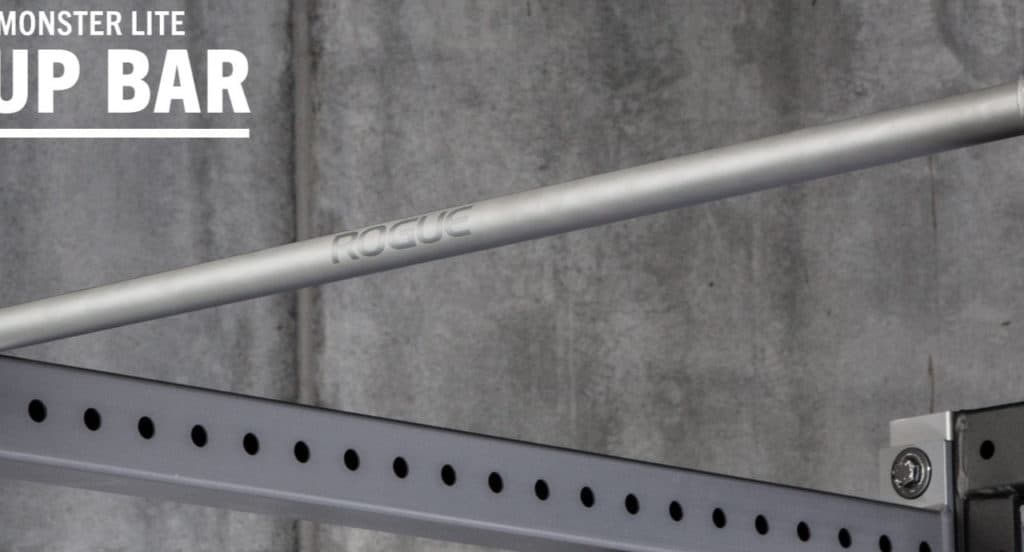 Affiliate Disclaimer
We are an affiliate of Rogue and others that sell this training gear. If you buy clothing or other training gear after clicking the links in this article, we receive a small commission at no extra cost to you. This helps us to bring you in-depth information and content on these great training products.
Tim is the founder of FitAtMidlife.com – an avid gym rat for 30+ years, he's a reviewer of many, many shoes – and founder of the Speed Bag Gathering – the world's only gathering of speed bag punching enthusiasts.  See more gym reviews at Tim's YouTube channel.