Rogue has the red-hot
Echo Bike
. Grab one while they last!
Check the time with one of these Rugged Sport Watches from Rogue.
A smartwatch is a touch-screen-enabled wristwatch that can be connected to a phone through Bluetooth or WiFi and gives you endless possibilities. It tells you the time, but more than that, it also functions like a tiny smartphone and offers practical uses and benefits.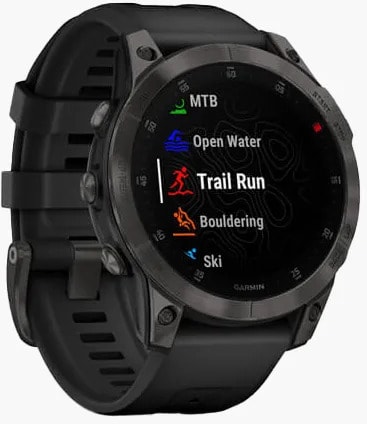 Here are some of the styles we are going to look at:
Rugged Fitness Watches from Rogue – Overview
A smartwatch is a useful tool to track your fitness and is packed with features to monitor your SP02, heart rate, stress level, sleep, etc. Another feature is "Find your Phone" which is very convenient when you are in a hurry, and you cannot locate your phone right away. When running or cycling, a smartwatch is also a good companion as it can play your favorite music with or without your phone.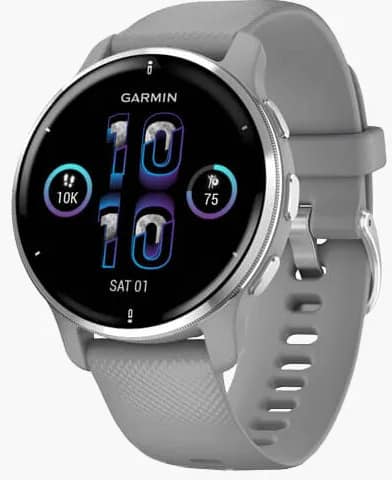 With a smartwatch, you can also make and receive calls when connected to your mobile phone, and some smartwatches can do it even without connecting to a smartphone. You can also check social media notifications from your wrist while wearing the smartwatch and stay connected to the world wherever you are. In short, a smartwatch is loaded with useful features that can help improve your life and make your fitness traceable, so you can always improve.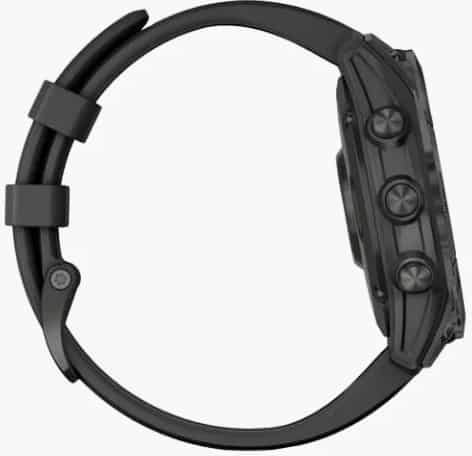 Garmin Fenix 7 Smartwatch
The Garmin Fenix 7 Smartwatch is tested to U.S. military standards for thermal, shock, and water resistance and highlights a comfy Quickfit band and an always-on display with a clear, dynamic picture. It is GPS-enabled and is uniquely advanced for runners, skiers, cyclers, surfers, swimmers, and adventure seekers.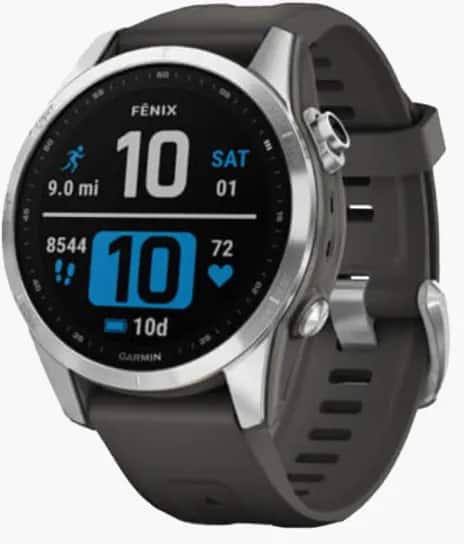 It has diverse technical training programs and attributes, including sport-specific performance metrics, ClimbPro, grade-adjusted pacing guidance, Topo Maps, and ABC Sensors. The Fēnix® 7 handles all your everyday on-the-go needs, from emails, texts, and alerts to music apps, contactless payments with Garmin Pay, safety, and tracking features.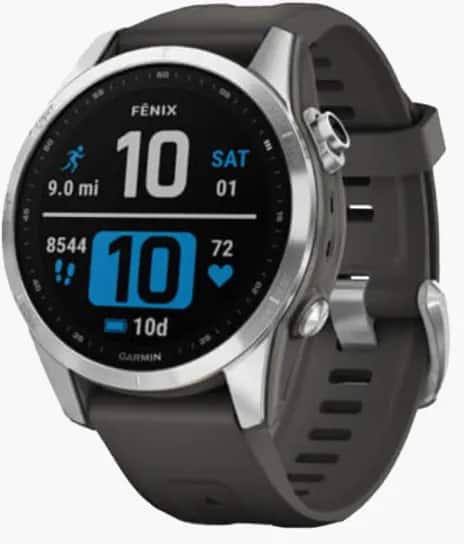 G-Shock GBD200RD-4
The G-Shock GBD200RD-4 is the new and thinner addition to the G-Shock MOVE series that enables you to connect always with your smartphone via Bluetooth, supporting auto time adjustments, phone notifications, step tracking, and more. You also get a faster and more precise calibration of distance measurements through the direct connection to your smartphone's GPS.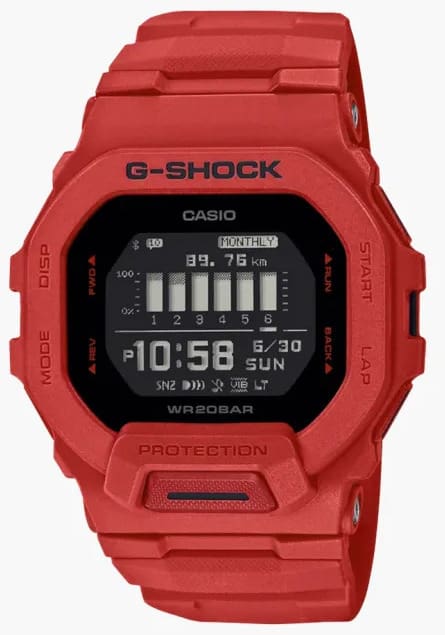 You can track your running pace and use the Auto Lap attribute to automatically track your times over a specific distance when you combine it with the stopwatch. The watch is shock and water-resistant and highlights a high-definition MIP LCD with Super Illuminator face illumination for comfortable reading in the dark. The soft urethane band material provides enhanced comfort, while many band holes allow you to adjust the fit to your particular wrist.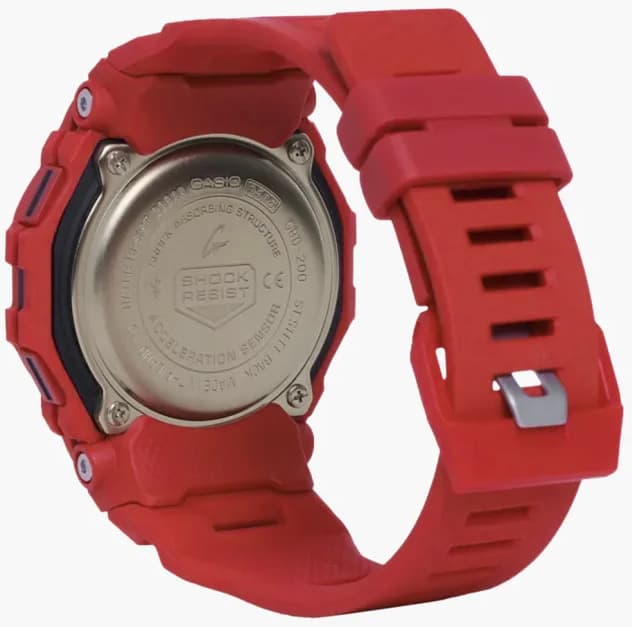 Garmin Venu 2 Plus Smartwatch
The Venu 2 Plus comes with a complete, customizable toolbox of health-tracking programs, including women's health, stress, hydration, respiration, sleep monitoring, heart rate, blood oxygen saturation (Pulse Ox Sensor), and energy levels (Body Battery Energy Monitoring). The Venu 2 Plus includes a stainless steel bezel, fiber-reinforced polymer case, a Gorilla Glass 3 lens, and a comfortable silicone strap.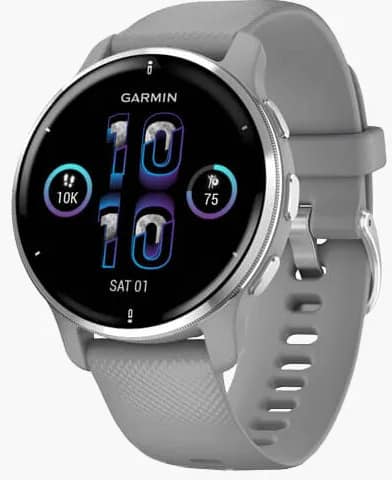 It has all the state-of-the-art health monitoring and fitness characteristics of the classic Venu 2 with the addition of voice functionality, including phone calls from the wrist and voice assistant capability (when connected through a compatible smartphone). You can track along with animated, on-screen workouts, make an evolving strength training activity profile, and use more than 25 preloaded GPS and sports apps, including running, walking, cycling, pool swimming, golf, and more.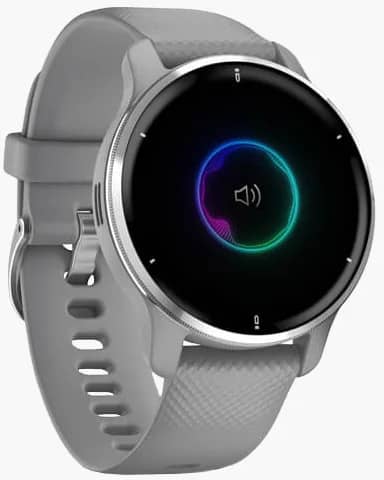 G-Shock GBA900SM-7A9
The G-Shock GBA900SM-7A9 is a translucent white bezel with dashes of brilliant lime green around the dual analog/digital dial. Its built-in accelerometer can calculate distance when connected with the GPS function of a smartphone through Bluetooth (the watch can make these exact measurements on its own on succeeding runs). Distance and running time measurements are used to calculate your speed, and an auto lap feature automatically records the time it takes to cover a distinctive distance.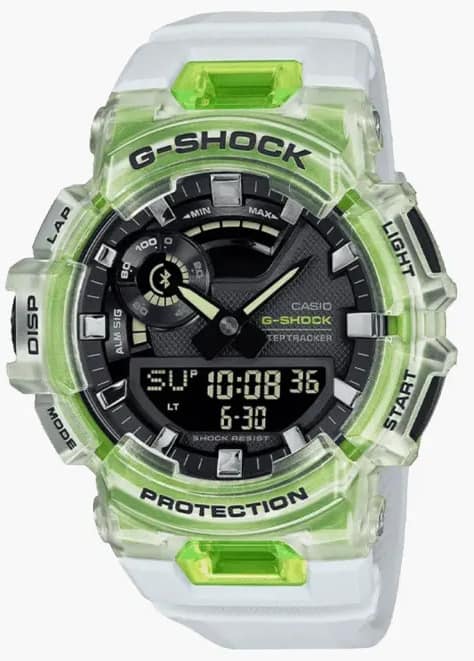 The GBA900SM-7A9 comes standard with a Super Illuminator face for max visibility, a soft urethane band for a relaxed fit, and vent holes for breathability. Its structure is up to usual G-Shock standards: shock-resistant and 200m water-resistant with a battery life of approx. two years between replacements.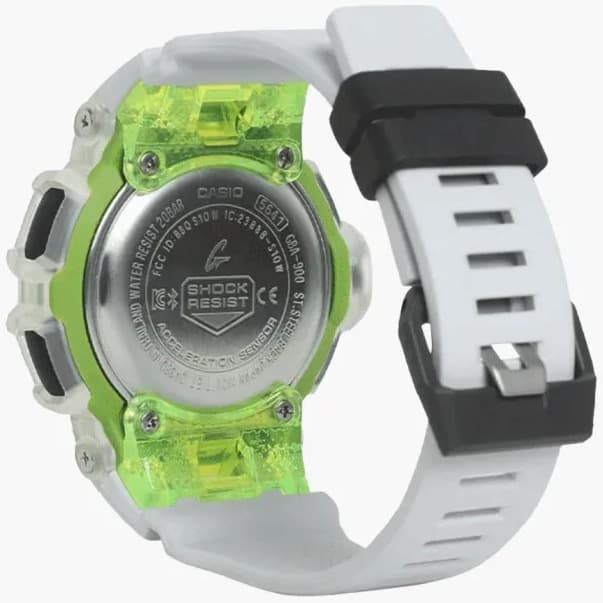 Garmin Epix (Gen 2) – Sapphire Smartwatch
Sleek with a modern look, the Garmin Epix (Gen 2) – Sapphire Smartwatch has a responsive new touchscreen interface (as well as button controls), and premium materials, including a titanium bezel and an AMOLED 1.3" display with 416×416 pixel picture. The Sapphire edition also has an extended 32GB memory with a lightweight 47g case, 2,000 song storage, and 16 days of battery life on regular smartwatch mode.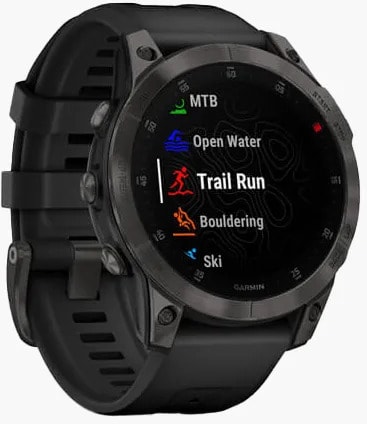 It has various functional training programs and features, including sport-specific performance metrics, grade-adjusted pacing guidance, and 2,000 ski resort maps. There's also wrist-based heart rate monitoring, sleep/altitude monitoring, stress, hydration tracking, calorie/step counts, etc.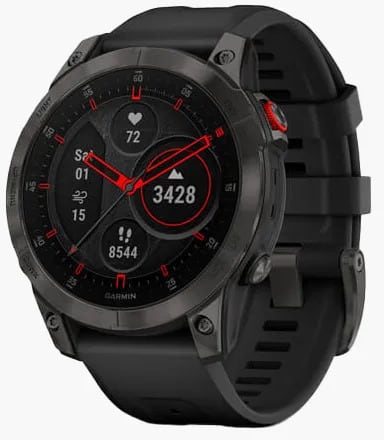 G-Shock GBA900RD-4A
The GBA900RD-4A watch highlights a deep red bezel with a black dual analog/digital dial and includes a new smartphone link and Step Tracker feature. The built-in accelerometer can calculate distance when connected with the GPS function of a smartphone via Bluetooth (the watch can make these same measurements on its own on subsequent runs). Distance and running time measurements are utilized to measure your pace, while the auto lap feature automatically registers the time it takes to cover a detailed distance.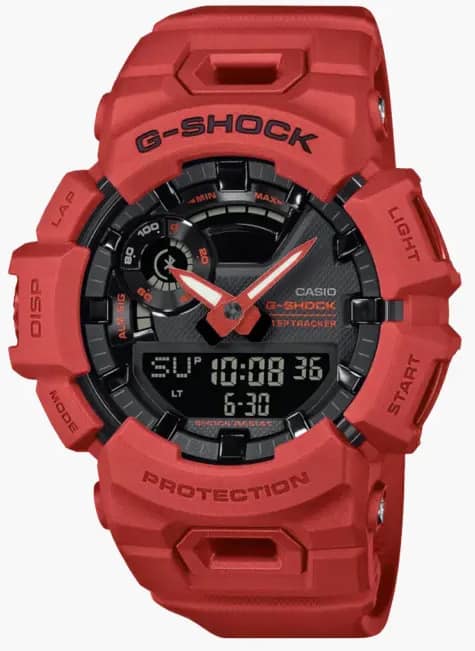 When linked with an app running on your smartphone, it shows you your training history and helps simplify the configuration of the watch's settings and training management. A five-level exercise intensity graph and a daily goal achievement rate are also there to keep you motivated.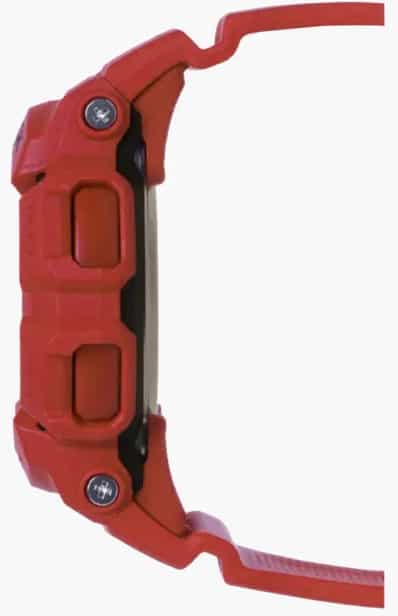 Rugged Fitness Watches from Rogue – In Summary
That's our close-up look at Rugged Fitness Watches from Rogue.
Runners, skiers, swimmers, cyclers, surfers, and adventure seekers, will benefit from smartwatches. These rugged watches from Rogue monitor your activities and show your workout records so you can always do better next time. They are also packed with features to make your life faster and more convenient.
Looking for more options? Check out these other great products:
Rogue has a great selection of dumbbells – check out the Rogue DB25-10 Loadable Dumbbell now available in Stainless Steel.
Need a barbell ? Here's the Rogue War Bar – Stainless Steel.
Find more gym and CrossFit products from Rogue.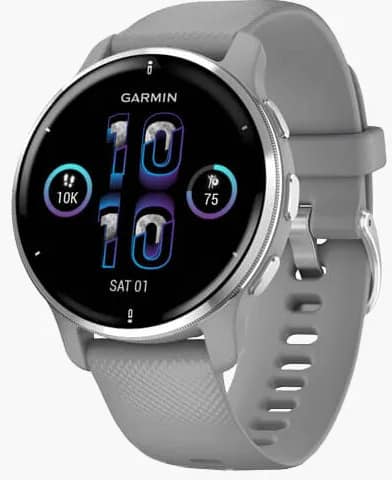 Photo Credits
Product photos on this page are property of Rogue.
This website is not affiliated or associated with CrossFit, Inc. CrossFit is a registered trademark of CrossFit, Inc.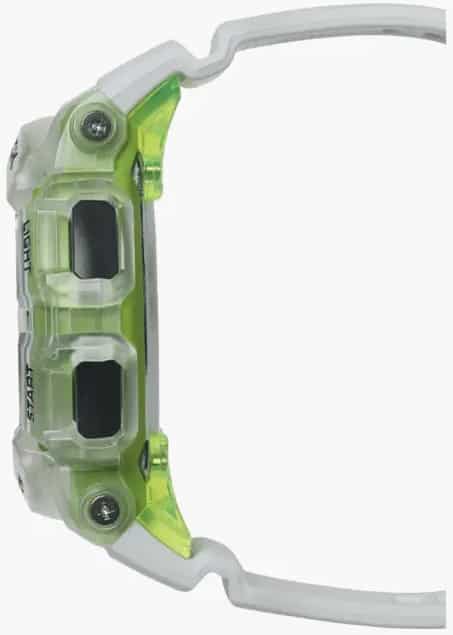 Affiliate Disclaimer
We are an affiliate of Rogue and others that sell this training gear. If you buy clothing or other training gear after clicking the links in this article, we receive a small commission at no extra cost to you. This helps us to bring you in-depth information and content on these great training products.
Tim is the founder of FitAtMidlife.com – an avid gym rat for 30+ years, he's a reviewer of many, many shoes – and founder of the Speed Bag Gathering – the world's only gathering of speed bag punching enthusiasts.  See more gym reviews at Tim's YouTube channel.