The Rogue Echo Bike is the best air bike you can buy in 2020.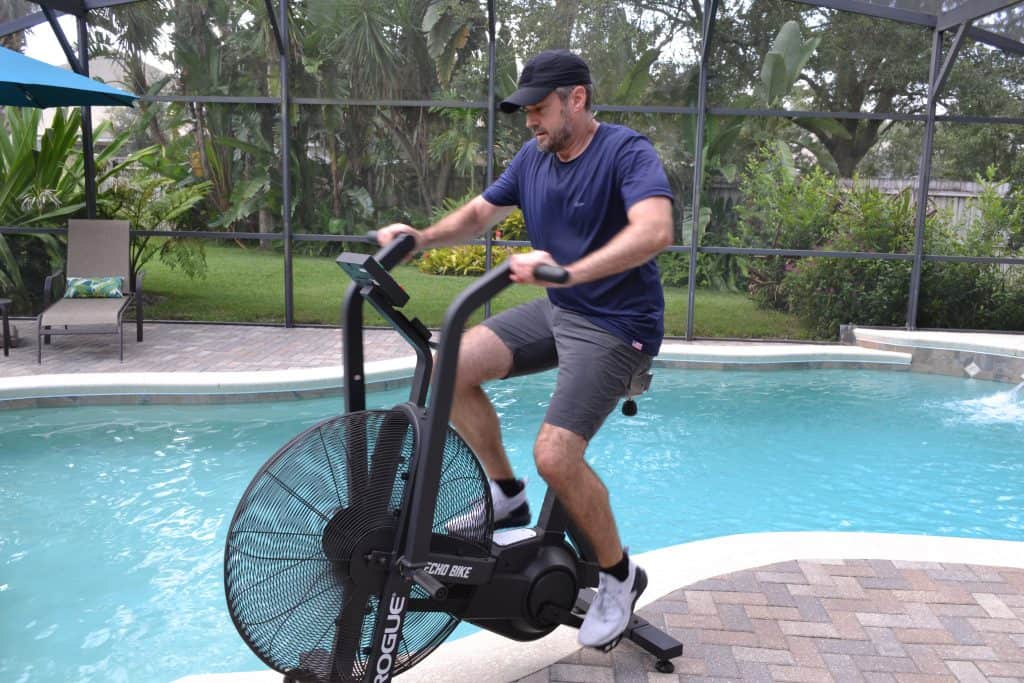 Well, if you can find it in stock here in the year 2020 – they tend to sell out in 2 hours or less whenever Rogue gets some inventory in.
We reviewed this bike originally way back in 2019.
We liked nearly everything about it right from the get go – but after well over a year of extended use, I've come up with some improvements.
(At least in my own mind.)
Let's review how Rogue Fitness can make the already excellent Echo Bike even more excellent.
In case you haven't seen it – here it is:
Rogue Echo Bike
Rogue took the air bike concept and made the best air bike you can buy - this unit is smooth, solid, and quiet (for an air bike) thanks to the
belt drive
. Built like a tank - with outstanding Rogue build quality. It requires a minimum of maintenance. This is our top pick for an air bike.
This article is full of opinions, my opinions – but read on and maybe you'll agree – or maybe you won't
More Wind
Did you know you can buy a wind guard for the Echo Bike?
Rogue claims this simple add-on will prevent some of the wind from the fan from blowing back in your face.
Say what?
Who needs this?
I'm dying 30 seconds in on the Echo Bike – I find the wind to be refreshing.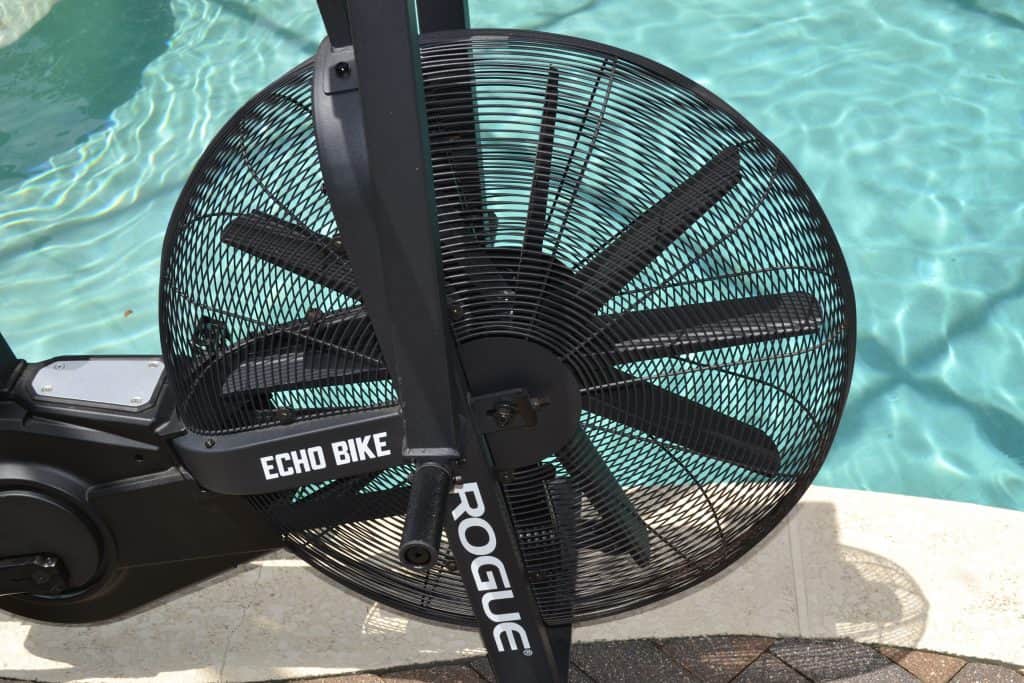 The cool breeze on my face almost makes it worthwhile to go faster and faster – if it weren't for the tingling sensation in the extremities and extreme fatigue that brings on.
By the way, if you haven't tried it – you can blast your quads on the Echo Bike in a way that just about beats anything else – save high rep squats.
And quite frankly, the Echo Bike is a lot more accessible for people – because many can't do high rep barbell squats.
Back to the wind.
Did you know some people cover up the fan cage with tape to keep the wind off them?
How are these people using the bike? If you aren't dying 30 seconds in, you may not be using it right.
Therefore, I propose – the fan should make MORE wind. More breeze in my face, MORE not Less.
But, don't make this damn thing harder to pedal.
Backlit Electronic Monitor
Here in the year 2020, we expect an whole new level of refinement to our electronics.
I have mixed feelings about the electronic monitor on the Echo Bike.
At first glance, it seems too crowded – too complicated.
But once you figure out that it's like a fighter pilot's heads up display – it all makes sense.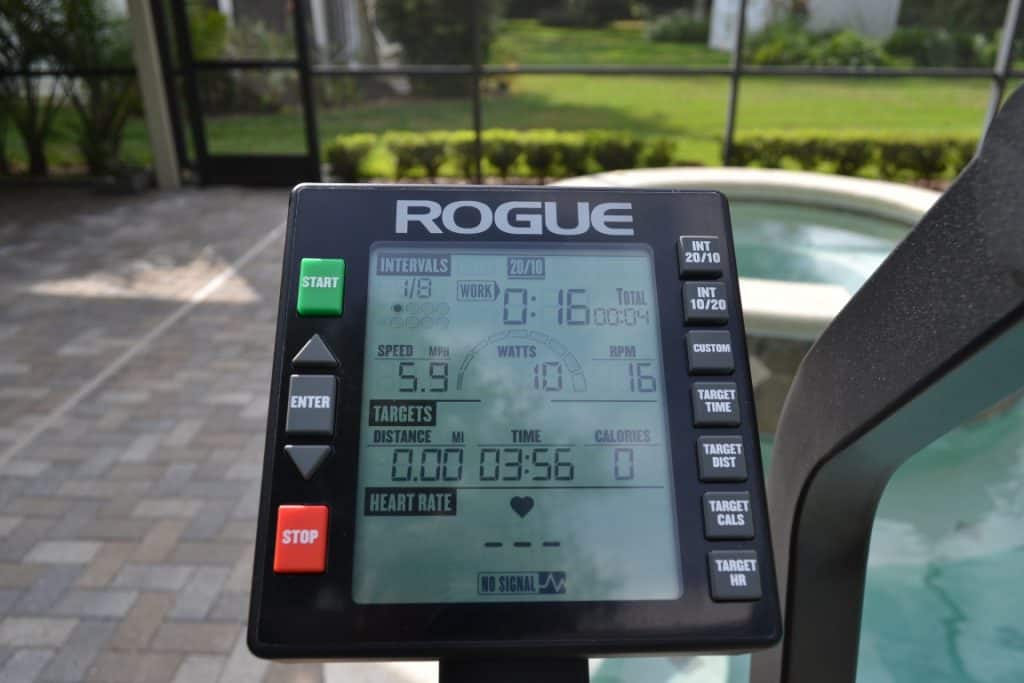 Everything you need – at a glance – at all times – no fumbling around with buttons as your legs and arms are going numb.
It's genius really.
And those big chunky buttons are easy to hit, and seem like they'll last forever.
But, here's my beef with the monitor – I can't see the damn thing in the dark.
The Rogue Echo Bike is used in a lot of dimly lit locations – garages, back yard, poorly lit warehouse style boxes.
Can we get a back light on this thing?
I'll gladly pay an extra $5 or whatever a backlight will cost.
Grips on the Handles Too Thick
As you know, and Air Bike is a full body exercise – you pedal, push, and pull.
Those big, robust handles are all part of the stability and over-built mystique of the Echo.
But the grips themselves are too big.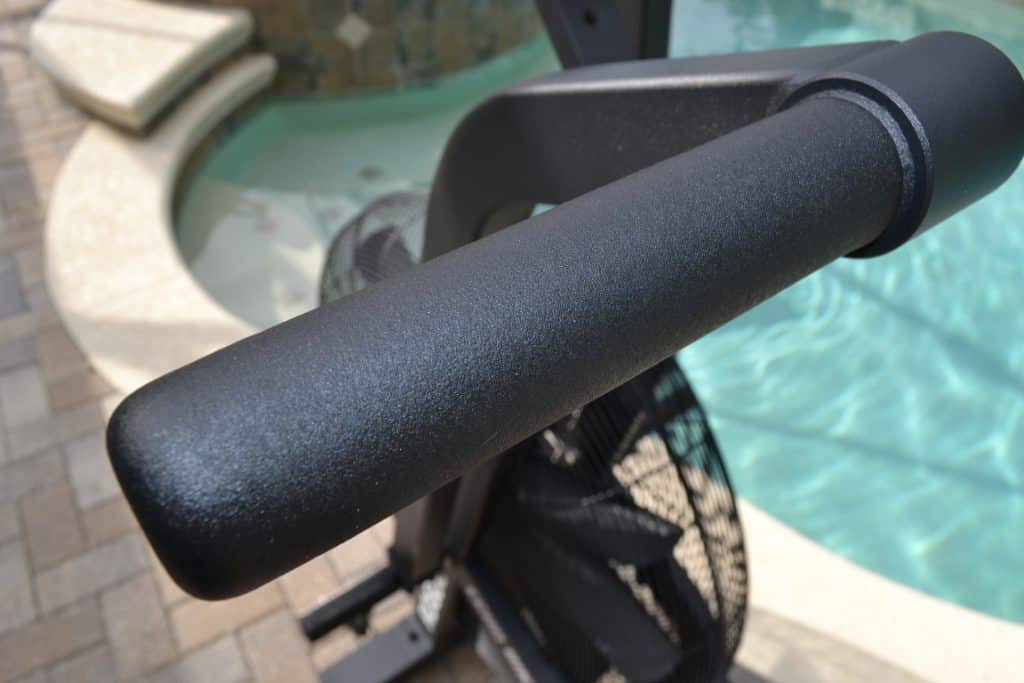 I'm not a big guy – 6'2″ with normal size hands, I think.
Can Rogue please make the grips barbell diameter? (28mm or so would be perfect.)
I'm not saying put knurl on the things – that would be silly, but just make the actual grip part smaller.
Multi-Grip Handles
On a related note, it would be cool if there were any other way to grip those overly thick grips.
Can we get some kind of revised handle design that let's us have two choices of horizontal grip and maybe a vertical option too.
After all, they say "variety is the spice of life".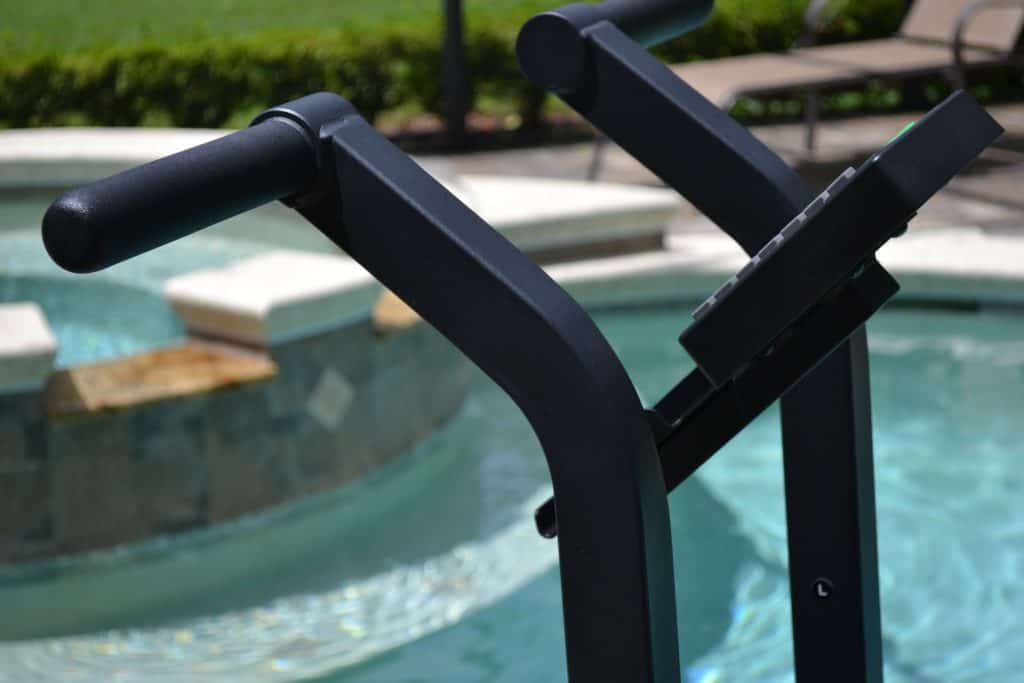 Some variation in grip would go a long way to make the bike usable by more people and give the rest of us a little bit of respite from the misery that is an air bike workout.
Bluetooth, Please
I'm counting this one as a separate feature for the monitor.
I understand the monitor is ANT+ compatible – whatever that is.
But 99.9% of your target users have a Bluetooth device in their pocket or otherwise on them at all times.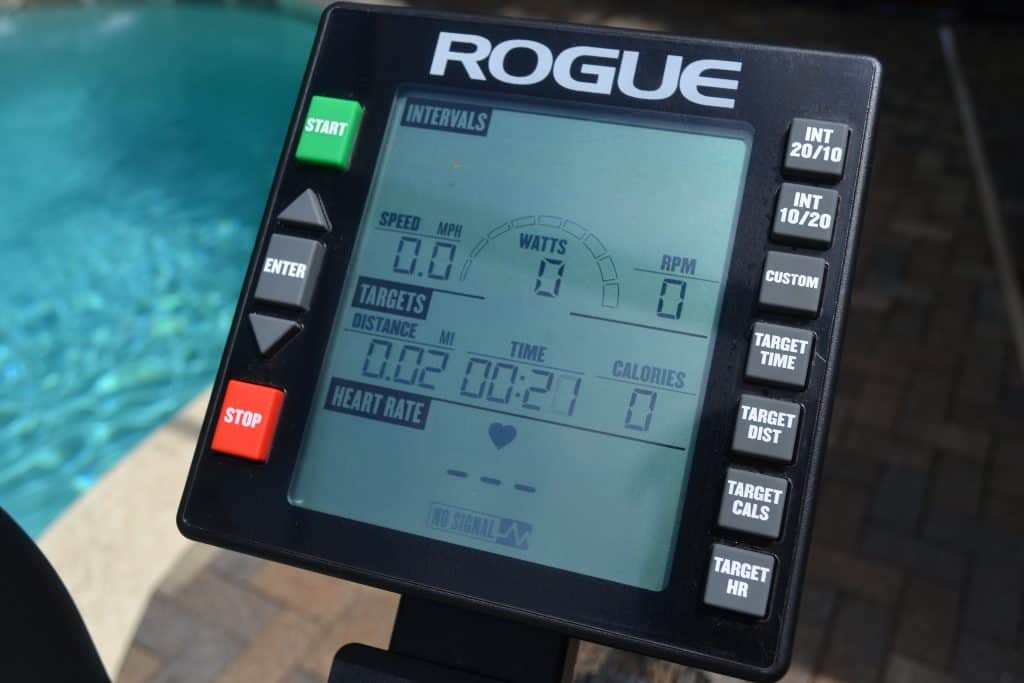 Can we get a Bluetooth capability built in?
I'm certain this could be done with a minimum of electronics. I guess the real hard part would be whatever firmware is running.
A Bluetooth capability would be great.
How To Make the Rogue Echo Bike Even Better – In Summary
The Rogue Echo Bike is the best air bike you can buy in 2020.
But, nobody is perfect, nor is any one piece of exercise equipment.
With a few simple tweaks, this air bike could be even better.
If you want to deep-dive on the Rogue Echo Bike as-is, check out our Rogue Echo Bike review.
Agree? Disagree? Tell me what YOU want to see in the next version of the Echo Bike in the comments below.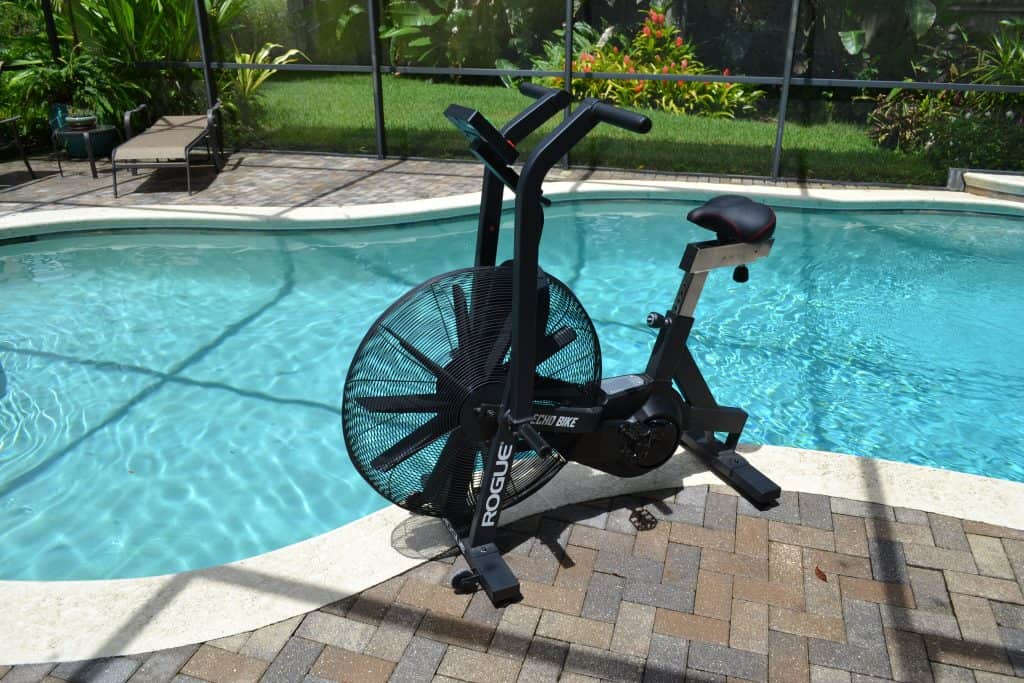 Photo Credits
Some product photos on this page are property of the Rogue.
This website is not affiliated or associated with CrossFit, Inc. CrossFit is a registered trademark of CrossFit, Inc.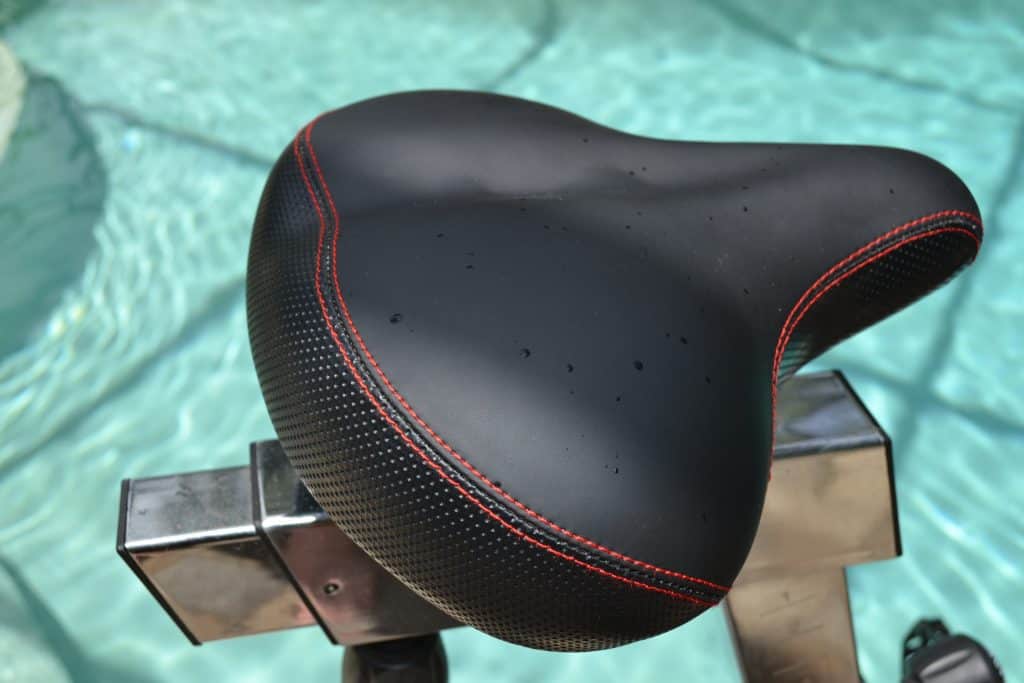 Affiliate Disclaimer
We are an affiliate of Rogue Fitness. If you buy equipment after clicking the links in this article, we receive a small commission at no extra cost to you. This helps us to bring you in-depth information and content on this great training equipment.