In this article we're going to review the VersaClimber – the original cardio climber equipment for your home or garage gym.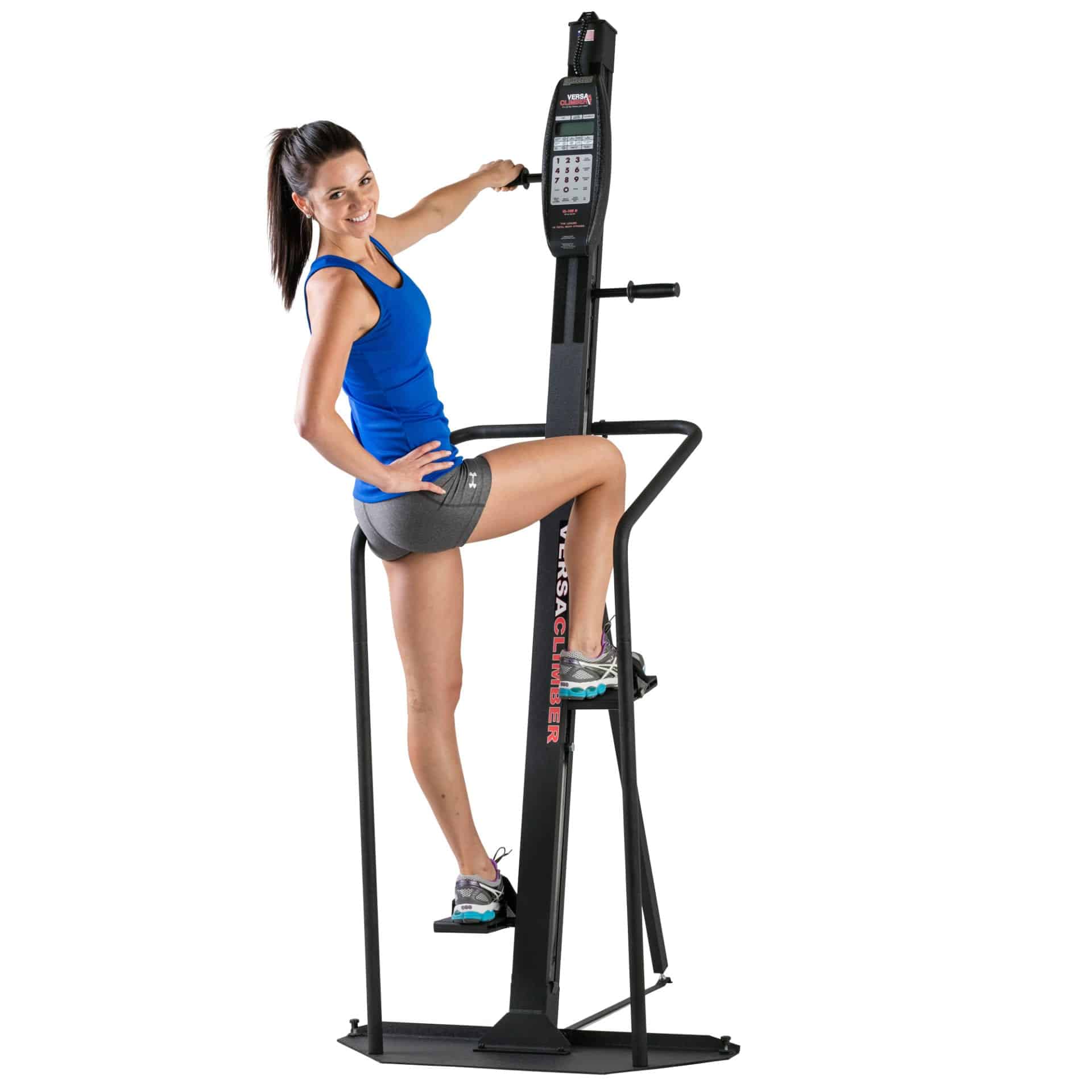 The VersaClimber acts like two cardio machines in one: a lower body stepper and upper body climber. Think of it as a whole body treadmill.
As such, it provides a full-body workout – with no loading on the spine, and with no impact.
These machines are space efficient – and all of them fit under an 8′ ceiling, with minimal floor space footprint.
There are a number of models of VersaClimber you can buy. Here's the key differences:
VersaClimber – Overview
Let's focus on the main attributes of this fitness machine.
First of all, the more muscle mass you use in exercise the better. The total-body loading ensures the maximum in calorie burn – but also provides endurance benefits, and of course, strength increases.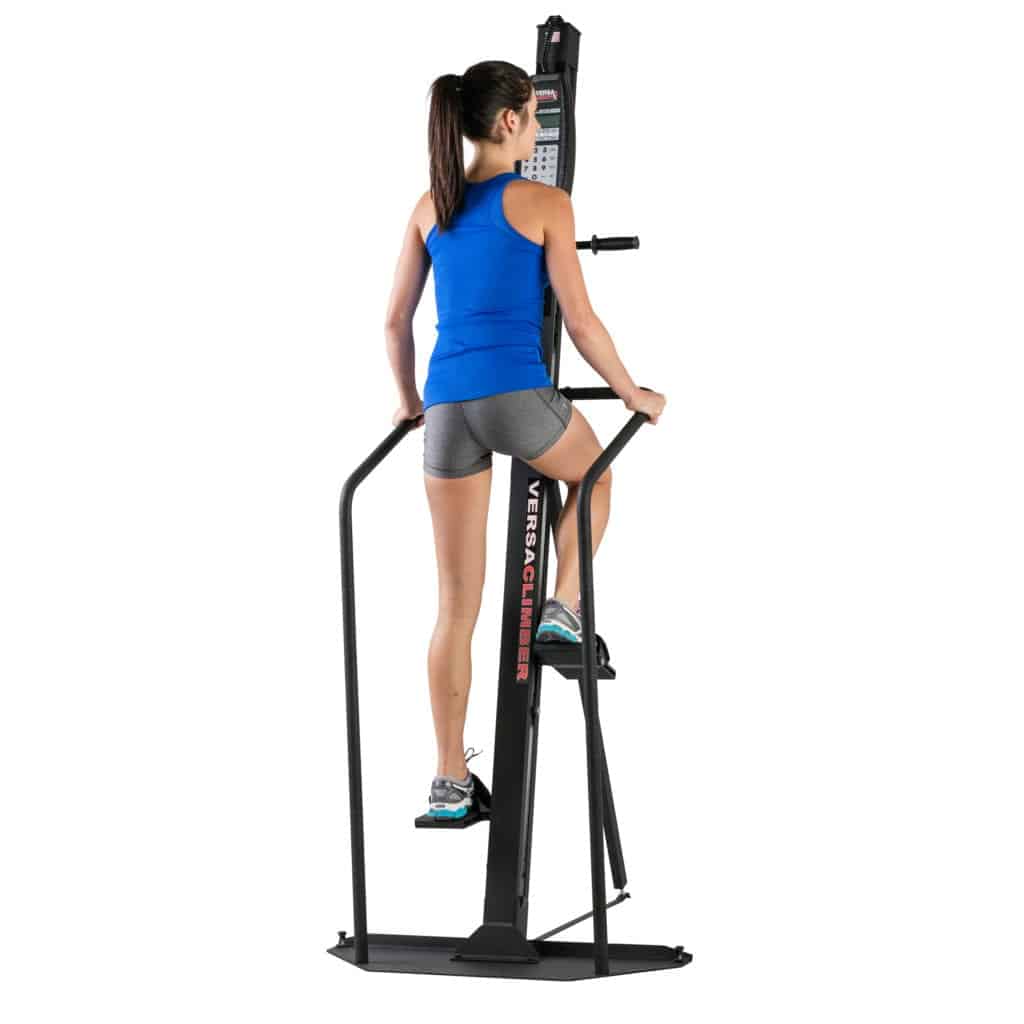 With the VersaClimber models all the major muscle of the body are engaged in a single natural motion. That includes the arms, chest, shoulders, back, butt, hips and legs.
Need to be efficient? Spend 1/2 the time on the VersaClimber as compared to an elliptical or treadmill – and get the same results.
Ellipticals, Treadmills, Steppers and Spin bikes (like Peloton) can't compare to the VersaClimber – all of those are exclusively a lower-body workout.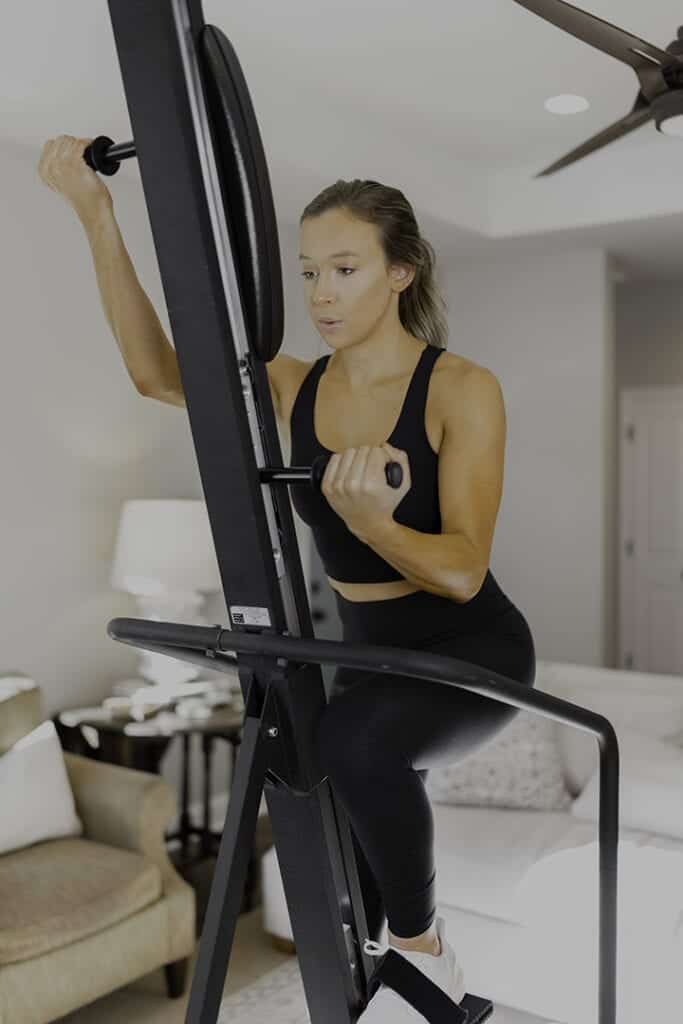 It's not just efficient with your time – it doesn't take up too much space.
The VersaClimber H/HP fits easily under any standard 8 foot ceiling, and fits in a 36″ x 44″ footprint.
It's also quiet – someone else in the same room watching TV won't be unduly disturbed.
Who can use a VersaClimber?
The step height is variable from 1″ to 20″ – this means it will accommodate just about anyone's abilities.
By the way, a 20″ step height is HUGE – this machine will keep you challenged!
And by the way, you can use the fixed handrails to use this machine like a stepper – no arm movement needed. This is helpful for those of us that have cranky shoulders.
Perhaps best of all – there's zero impact. This isn't like jogging or running. The repeated, jarring shocks of running mean it is not a practical or wise way to train over the long term.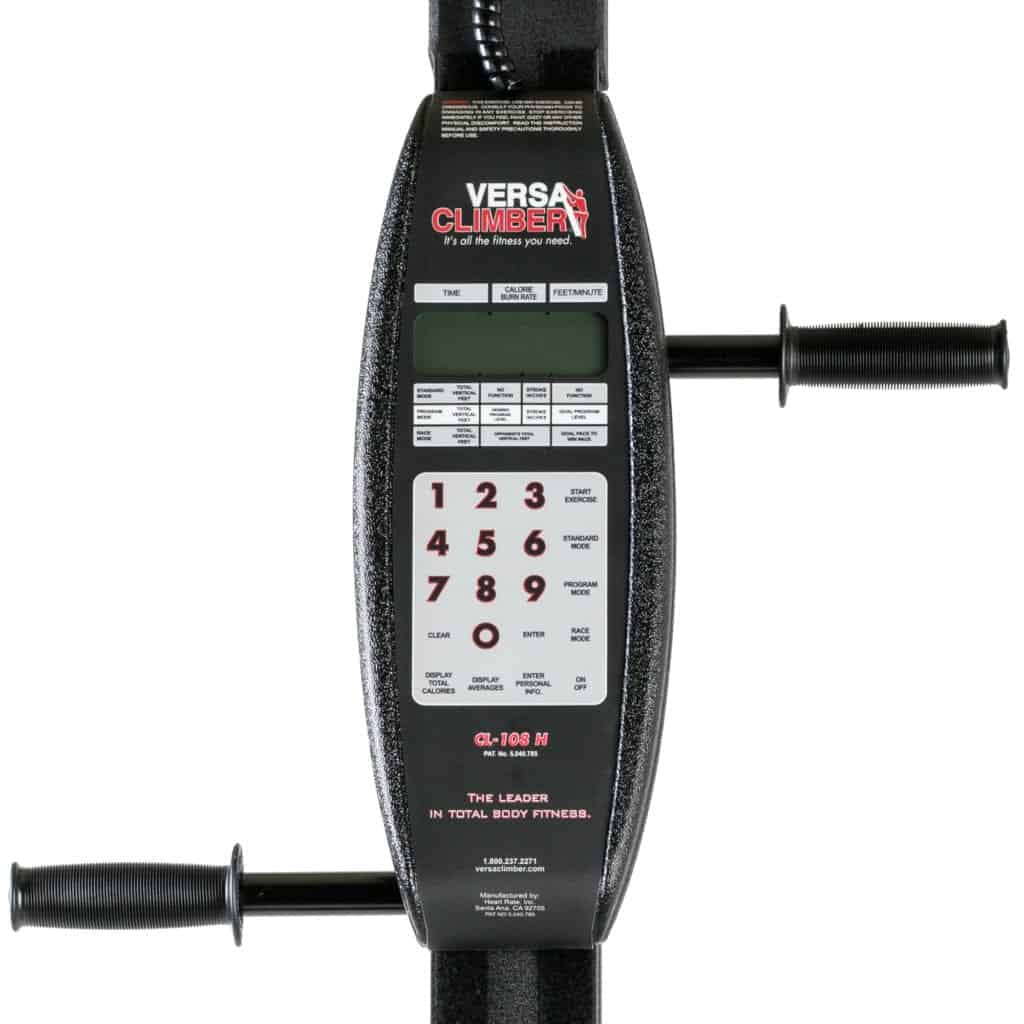 How do you workout with the VersaClimber? The Display Module has 3 modes: Standard, Program, and Race mode.
It will show you time, distance, calorie burn rate, and much more.
Before we compare all the differences between each VersaClimber model, there's one more important thing to understand.
Contra-Lateral Movement Pattern
Here's one important point you'll want to understand before you buy.
Some of these machines support two different climbing patterns.
The standard way to climb is like how you climb a ladder. You reach up with one arm, and step up with the foot on the same side of the body.
The hand that moves up a rung is followed by the foot on the same side of the body.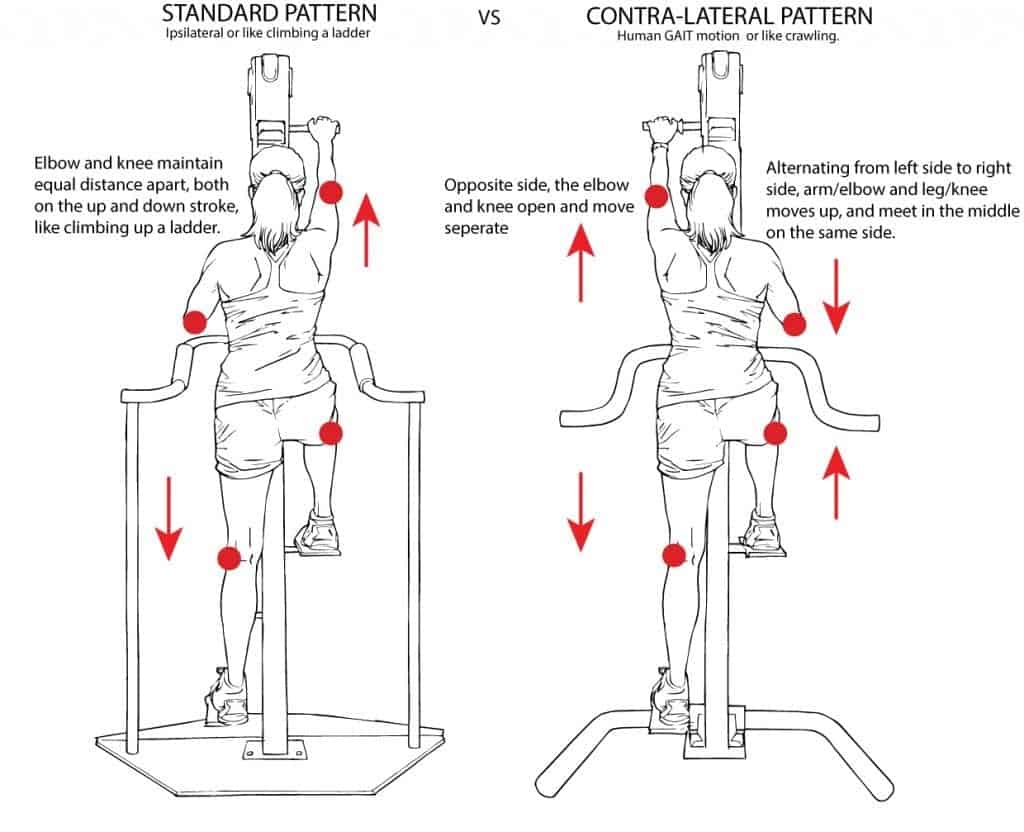 This is what is called the Standard Climb Pattern. To put it in a more technical terms – your elbow and knee maintain equal distance apart both on the up stroke and down stroke.
This isn't how you crawl though. The Contra-Lateral Movement Pattern (or GAIT) is like "crawling" vertically.
Using the Contra-Lateral Pattern when you train may yield improved benefits for your nervous system.
This pattern replicates the human body's natural primitive movement, which is intuitive as you crawl, walk or run. It is also known as the natural GAIT pattern.
Do you need this option?
It might be nice to have – for variety if nothing else – and it is provided in several of the machines, including the H/HP.
By the way, if you've ever had to crawl any distance as an adult (I did when playing paintball) – you'll know it's a mighty workout. My abs were sore afterward.
VersaClimber H/HP
The H or HP model is the entry-level machine – meant exclusively for home or residential usage.
(By the way, the HP includes heart rate monitoring – that's the difference between the H and HP models of the VersaClimber.)
It provides fixed-resistance only, but it supports the standard climb pattern and the contralateral pattern.
This is not a heavy machine – it weighs 65 lbs. Given that it will fit under an 8′ ceiling, you can definitely use this in the comfort of your living room.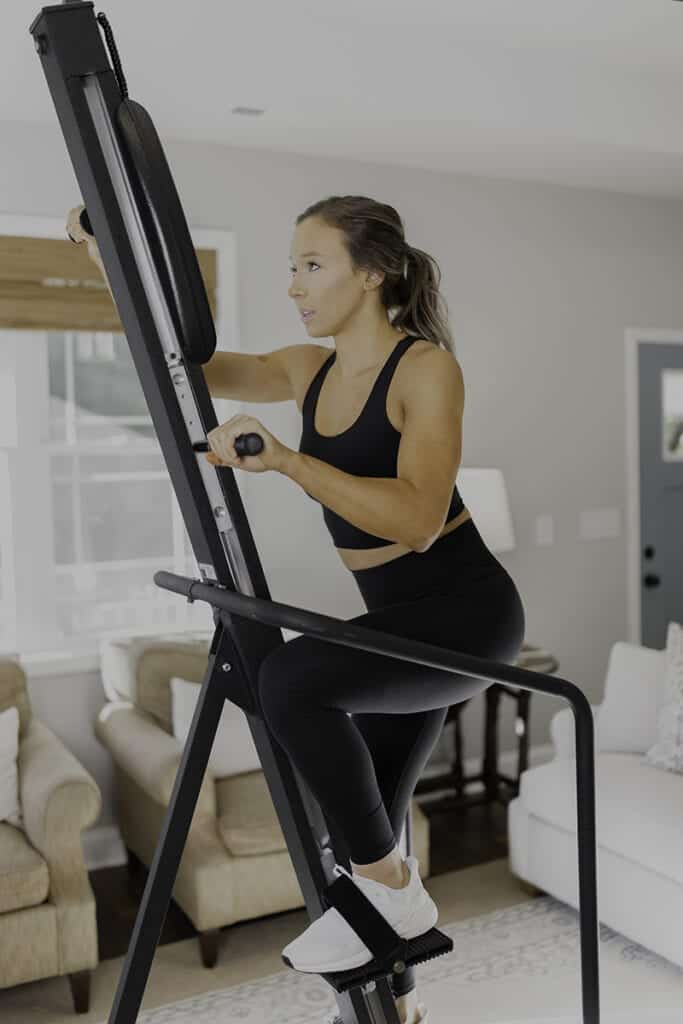 Shoulder issues? That may be a problem – but notice that with the rails attached you can use the VersaClimber like a stepper – no arm movement needed.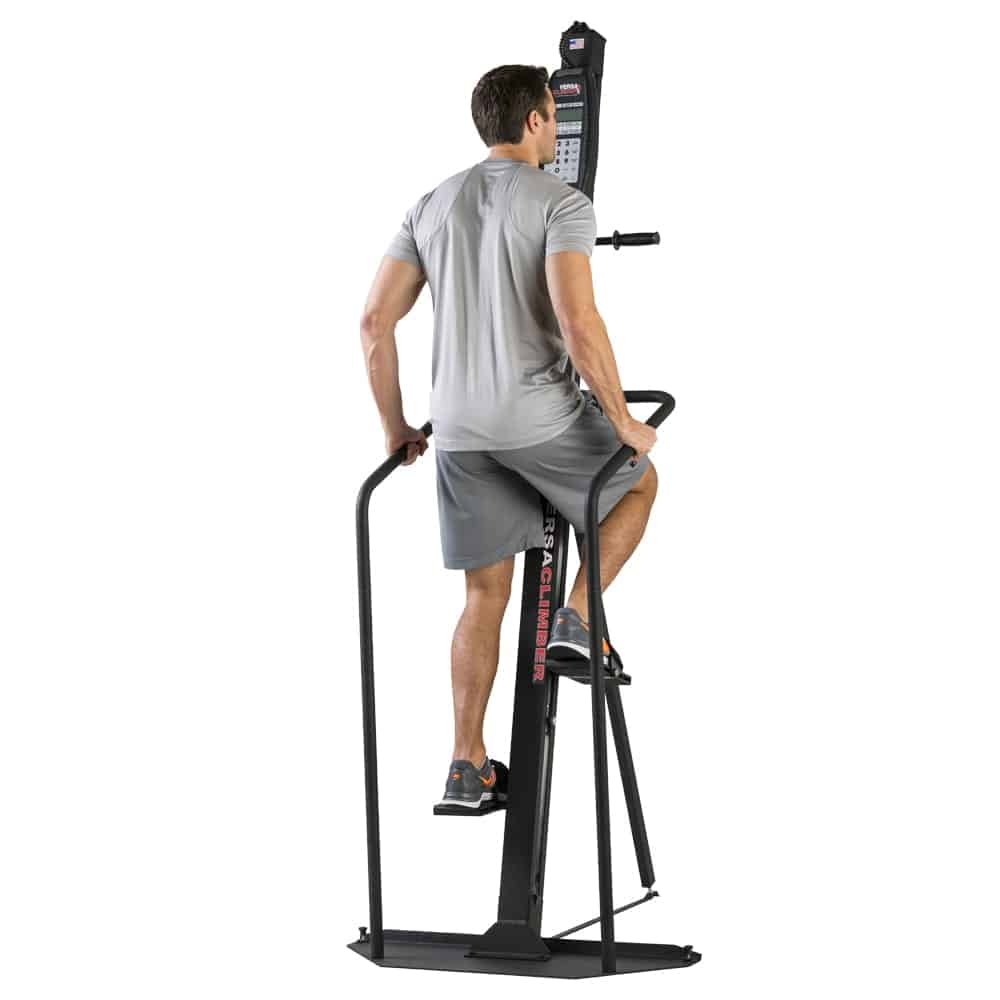 The HP model includes heart rate monitoring and display (that's the only real difference between the H and HP models.
The H/HP stands 7′ 6″, takes up a 36″ x 44″ floor space, and weighs about 65 lbs.
The H/HP cannot be mounted to a wall, they are stand-alone only.
VersaClimber LX
Are you a gym or CrossFit box owner?
You'll want to get the VersaClimber LX. It's commercial quality and using it in a gym won't void the warranty.
Also you can mount this to a wall or power rack – for the ultimate in space savings.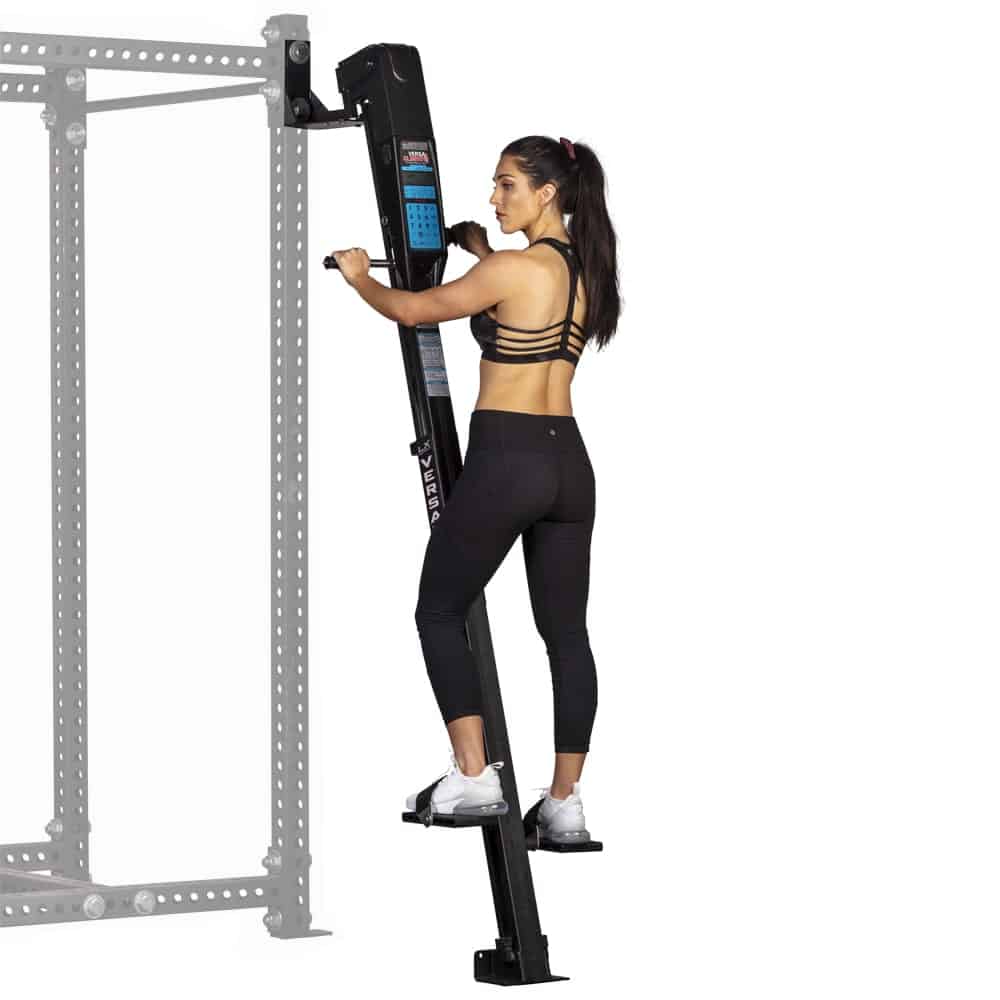 The LX series VersaClimber is available in 4 different versions: LX (No Heart Rate w/Adjustable resistance) LXP (w/Heart Rate w/Adjustable resistance) ALX (No Resistance/No Adjusting resistance) ALXP (w/Heart Rate and No Adjusting resistance).
The contralateral pattern is an optional $300 upgrade. We recommend you get it.
All models of the LX (except the ALX) have variable resistance.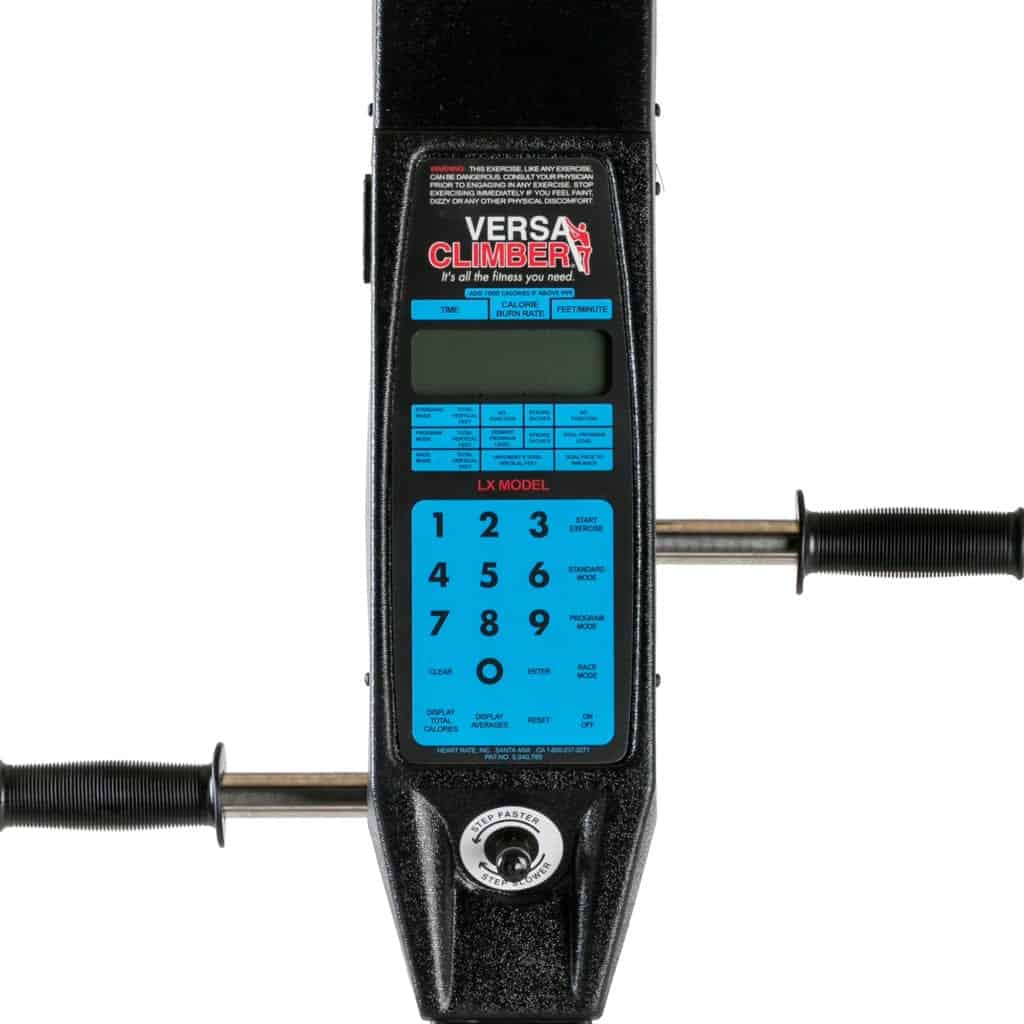 VersaClimber SM
The SM Model of the VersaClimber is also commercial quality – so it's OK to use in your gym or box.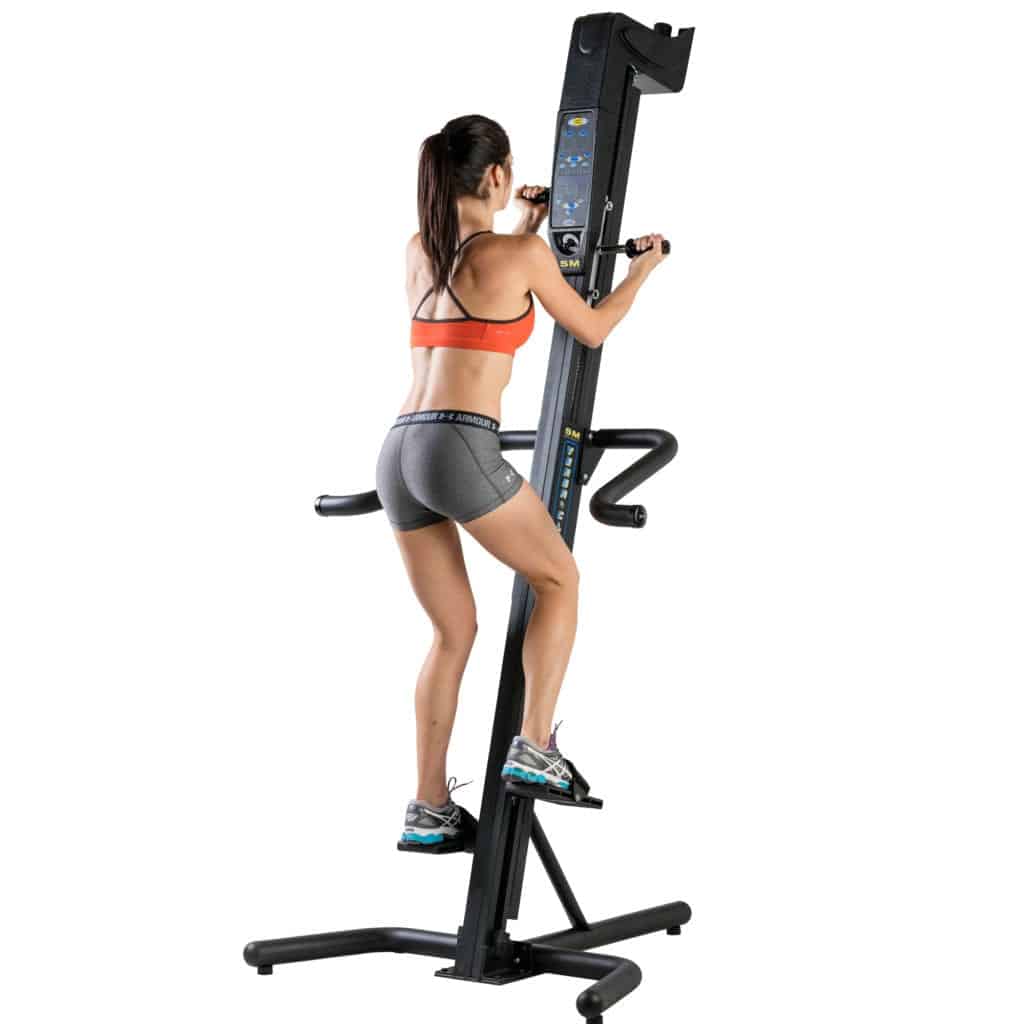 The SM, being newer, has BlueTooth support.
Available as a floor mount or wall mount – you can choose to get variable resistance as well.
Like the LX, this commercial-quality unit is much heavier (and robust) as compared to the H/HP models.
VersaClimber TS
The ultimate model is the TM – but it's also the most expensive.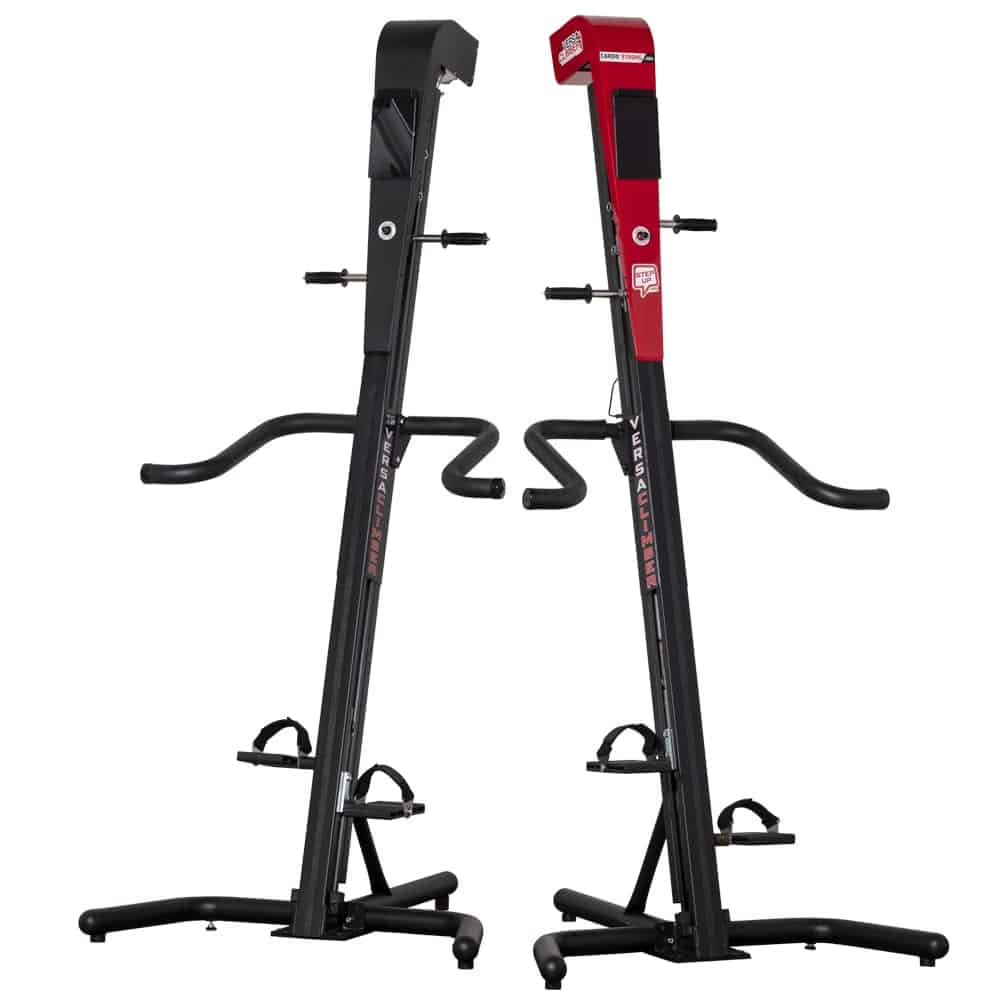 It includes a great-looking touch display that is BlueTooth and Wifi compatible.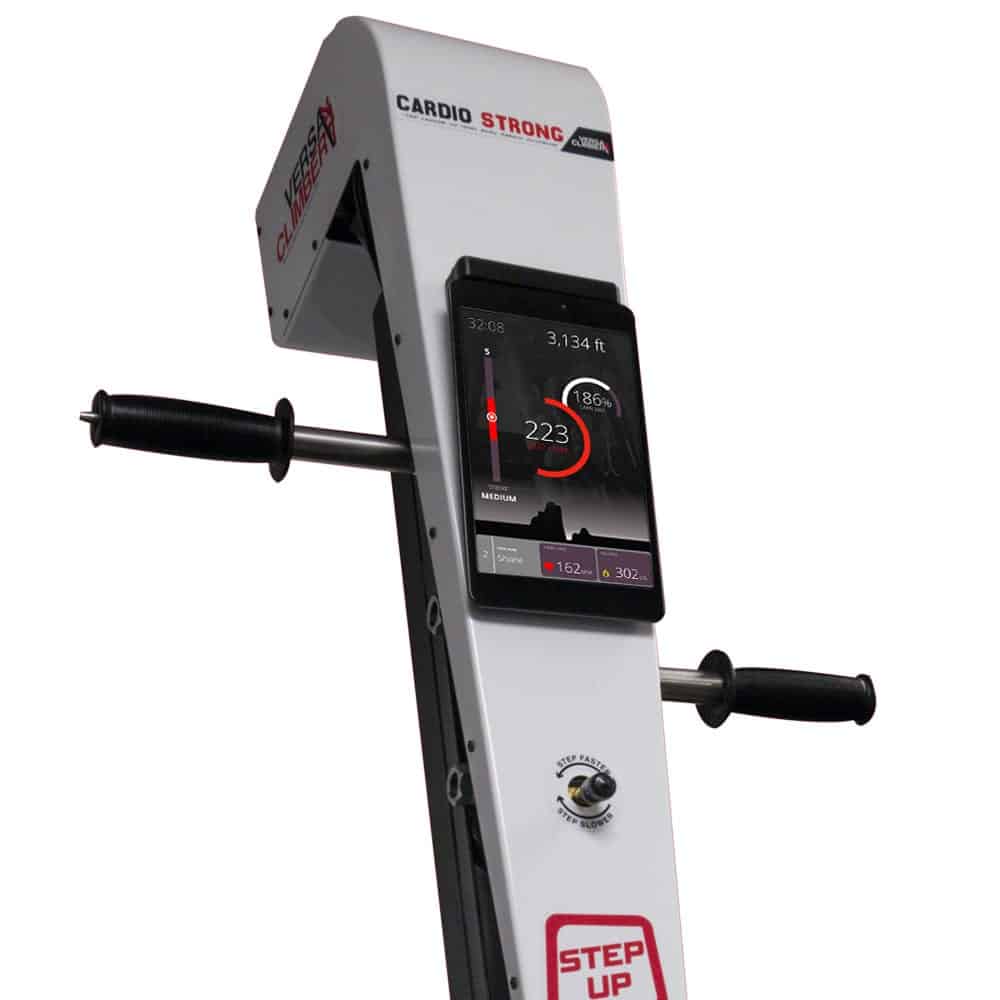 This would be the best choice for a high-end commercial facility.
Sole CC81 Cardio Climber
Sole is a prominent name in fitness and has been the fastest expanding brand in the US and Canada in the last five years and counting. Sole is always looking for ways to make their equipment better, more efficient, and of higher quality while still keeping a decent price. They make treadmills, ellipticals, bikes, rowers, and climbers. If you are searching for a total body cardio machine, a vertical climber will be a great choice. It activates your core and major muscle groups to give you a full-body workout.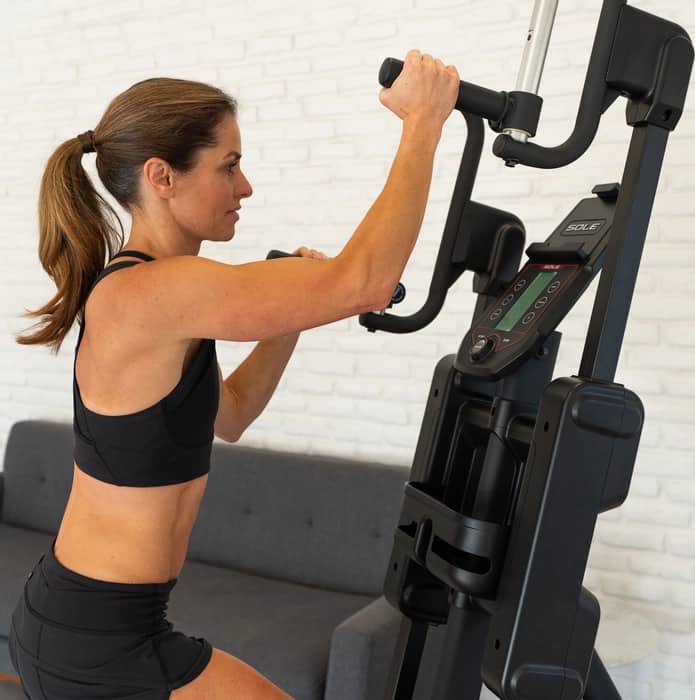 The Sole CC81 Cardio Climber is a full-body workout machine that blends the elements of both elliptical and climber products. It is an all-in-one effective workout easier on the joints and very efficient at toning the whole body. It offers 20 levels of resistance and rated for users up to 400 lbs with a lifetime warranty. The handlebars are adjustable into four different height settings, and you can change them depending on the muscle group you want to focus on.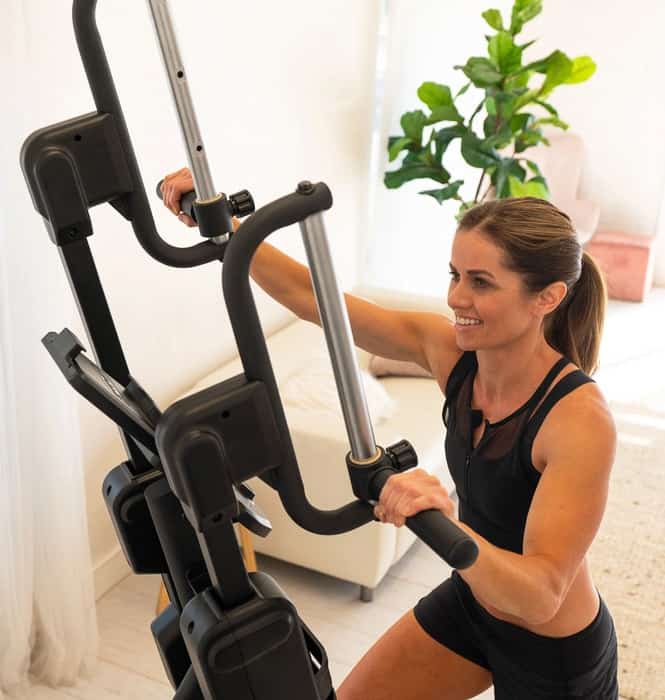 It has an integrated tablet holder that gives you the ability to use your smart devices to follow your workout routines or watch shows. You can transfer your workout data through Bluetooth from the CC81 to your smart device through Bluetooth connectivity. The Sole CC18 has an array of built-in programming, wireless-heart rate monitoring capability, compact space-saving design, integrated technology that allows real-time progress monitoring, and conveniently placed water bottle holders.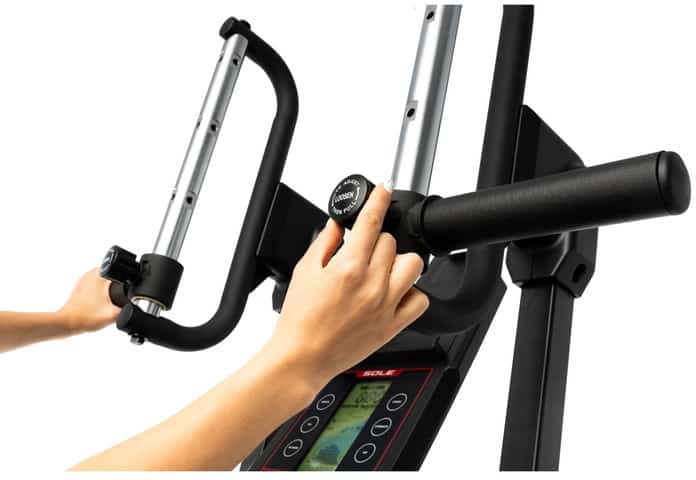 VersaClimber – In Summary
Full-body exercise is the best exercise.
The VersaClimber cardio climber machines offer fun and efficient fitness.
No matter whether you are working out at home, in your garage, or in the CrossFit Box – there's a VersaClimber option for you.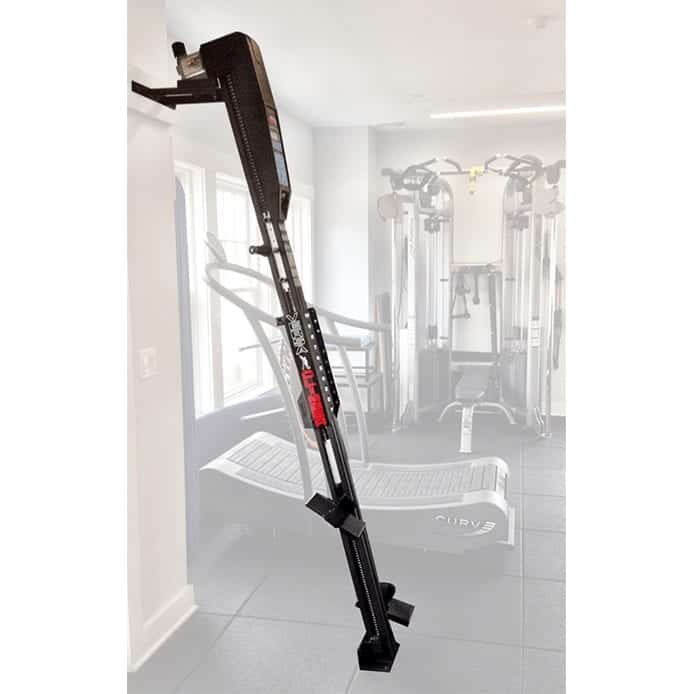 Photo Credits
Some product photos on this page are property of the manufacturer.
This website is not affiliated or associated with CrossFit, Inc. CrossFit is a registered trademark of CrossFit, Inc.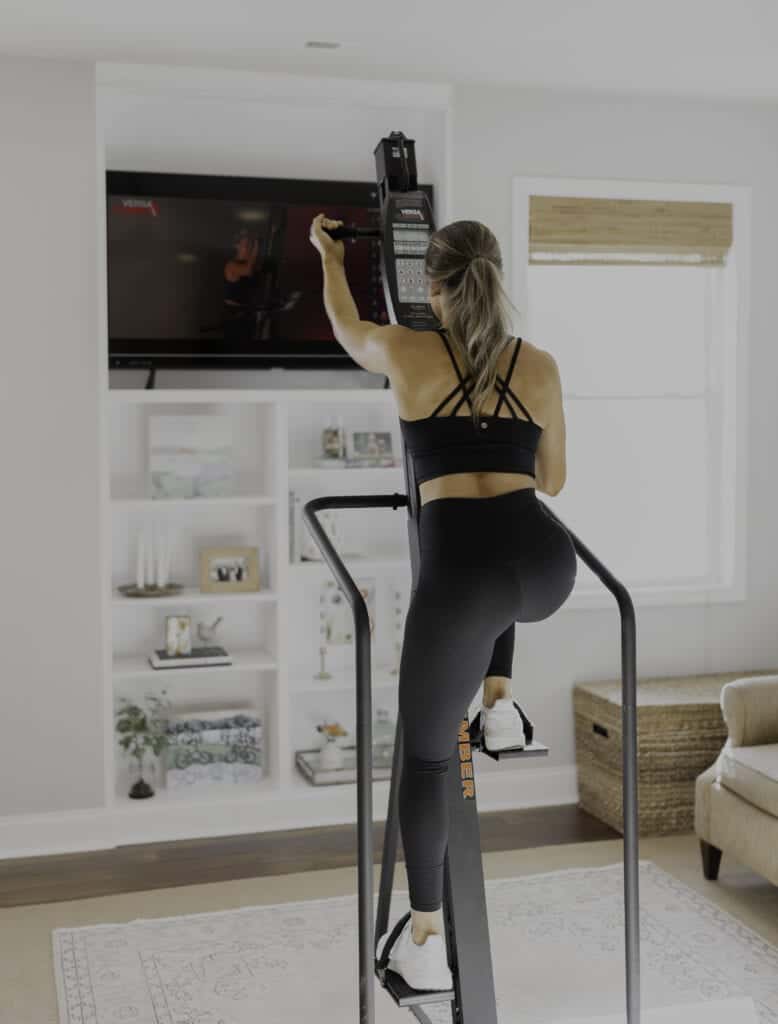 Affiliate Disclaimer
We are an affiliate of Rogue Fitness. If you buy equipment after clicking the links in this article, we receive a small commission at no extra cost to you. This helps us to bring you in-depth information and content on this great home gym equipment.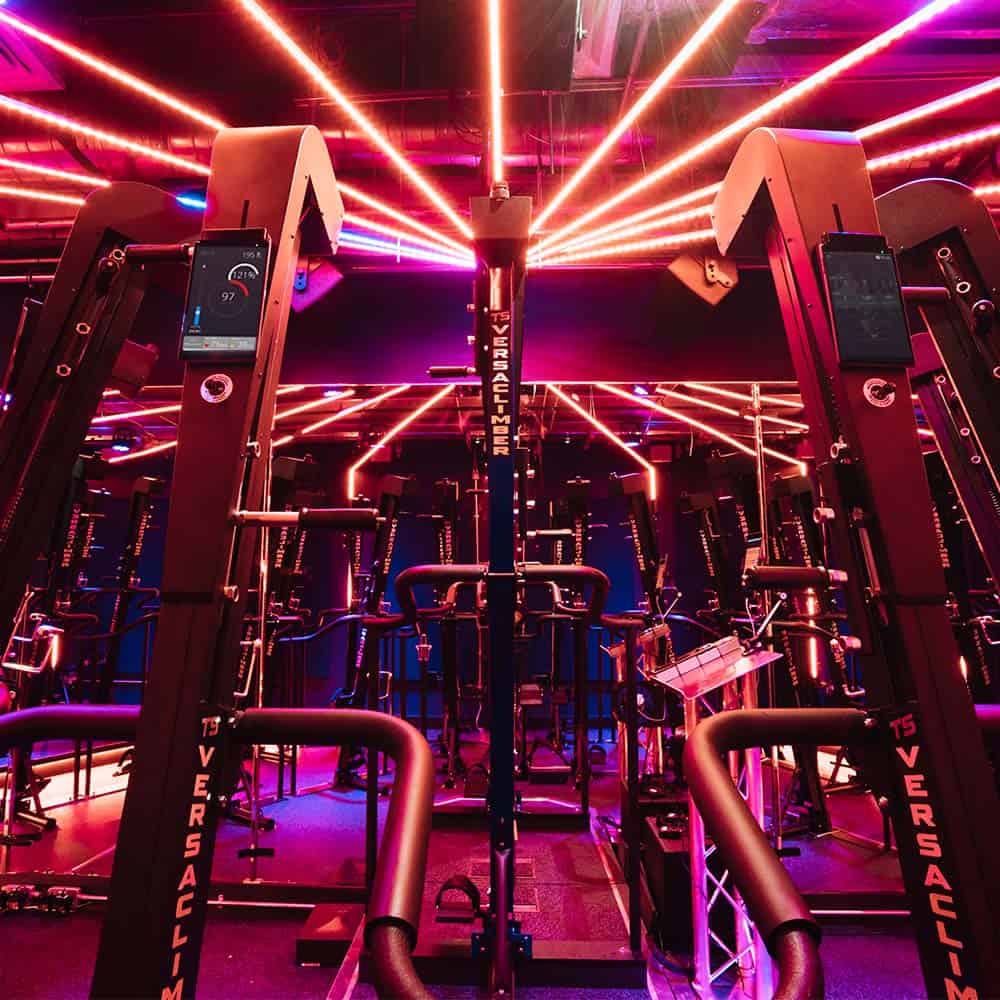 Tim is the founder of FitAtMidlife.com – an avid gym rat for 30+ years, he's a reviewer of many, many shoes – and founder of the Speed Bag Gathering – the world's only gathering of speed bag punching enthusiasts.  See more gym reviews at Tim's YouTube channel.