What are the best shoes, boots, and trail running shoes for rucking?
We'll take a look at some options for rucking footwear in this article.
We love rucking because it is so simple. It is easy to pick up and there is not a lot of equipment necessary.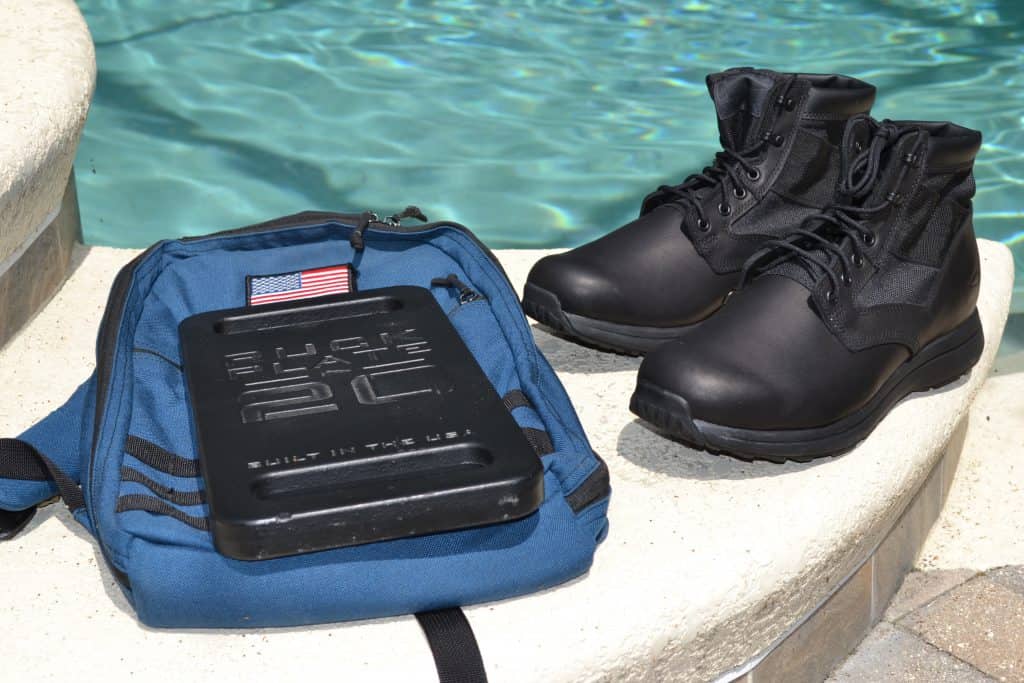 But it can be hard on your feet. Especially if you aren't conditioned to walking long distances at a fast pace.
In this article, we'll give you some important tips and tricks to protect your feet as well.
We'll talk about the best socks for rucking too, because that's also important.
What is Rucking?
Rucking
is walking with a loaded backpack. It's a cheap, simple exercise that burns calories and builds aerobic endurance due to the added weight on your back. Burn more calories than walking and with less impact than jogging. And you can do this anywhere you can walk – in an urban or rural setting.
Proper Footwear for Rucking – Boots
First of all, the most important gear for rucking is your footwear.
Boots or running shoes? Well, that depends.
What sort of terrain are you covering? Will it be wet, rocky, sandy, muddy, or any of the other conditions that make boots essential? Or are you required to wear combat boots to simulate real world conditions? For military training purposes rucking in boots is recommended – to accurately prepare for the real world.
The next important question: Are your feet going to get wet? Will your feet be submerged in water? If you are participating in an official GORUCK challenge event there's a good chance that may happen, by the way.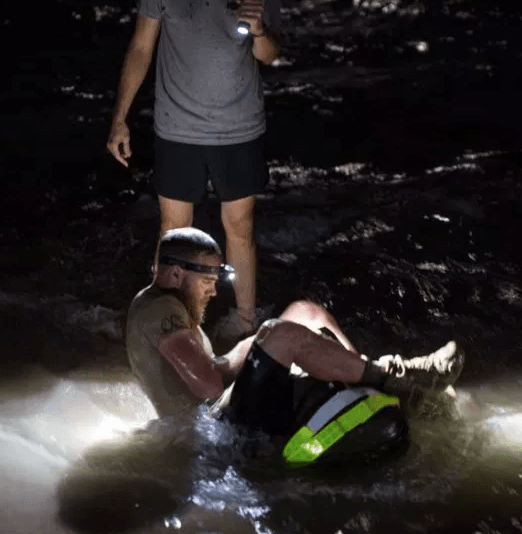 Generally speaking you don't want waterproof boots.
Waterproof boots are not going to be very breathable – so your feet will get wet from sweating – and that means blisters, and that's not very comfortable.
Additionally, if you have waterproof boots and your feet get wet (like hiking through surf, a creek, etc.) the water will not drain.
What you really want are boots that drain well. If you do have to hike through a stream or creek, it's better for the water to drain away quickly.
And for these same reasons, boots with Gore-Tex are less than desirable as well. Gore-Tex is a waterproof, breathable fabric membrane. Gore-Tex is able to repel liquid water while allowing water vapor to pass through, and is designed to be a lightweight, waterproof fabric for all-weather use.
But, that same ability to repel water means water stays in if your feet get submerged.
Most people don't think boots with Gore-Tex drain well enough.
So the key question becomes: Just how wet are your feet going to get? If you know your feet will be submerged, you don't want waterproof and you don't want Gore-Tex.
And by the way – heavy rain can be the same as being submerged. Is it going to rain all day? Then wear shoes or boots that drain.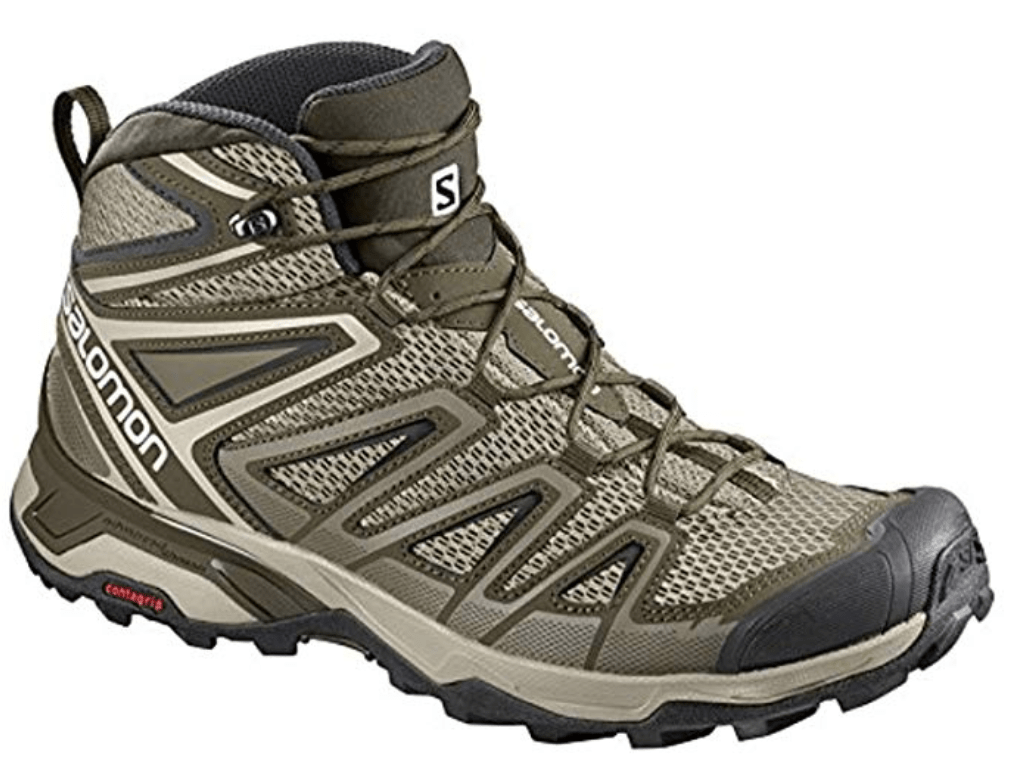 If you want a great hiking boot without GORE-TEX, check out the Salomon Men's X Ultra Mid 3 Aero Hiking Boots (Buy on Amazon). It's made for warm weather, no GORE-TEX – so it's lighter and has the best breathability. These are light-weight, maximum traction, and all around great boots. Salomon has been designing and making hiking boots for over 50 years.
These boots are very comfortable and have fatigue reducing features – just what you want to go the distance.
By the way, these Salomon model of boots have a 2 year warranty.
We also don't recommend steel toe boots or any other boot that is excessively heavy, such as a jump boot. Lighter is better – especially when you are racking up the miles.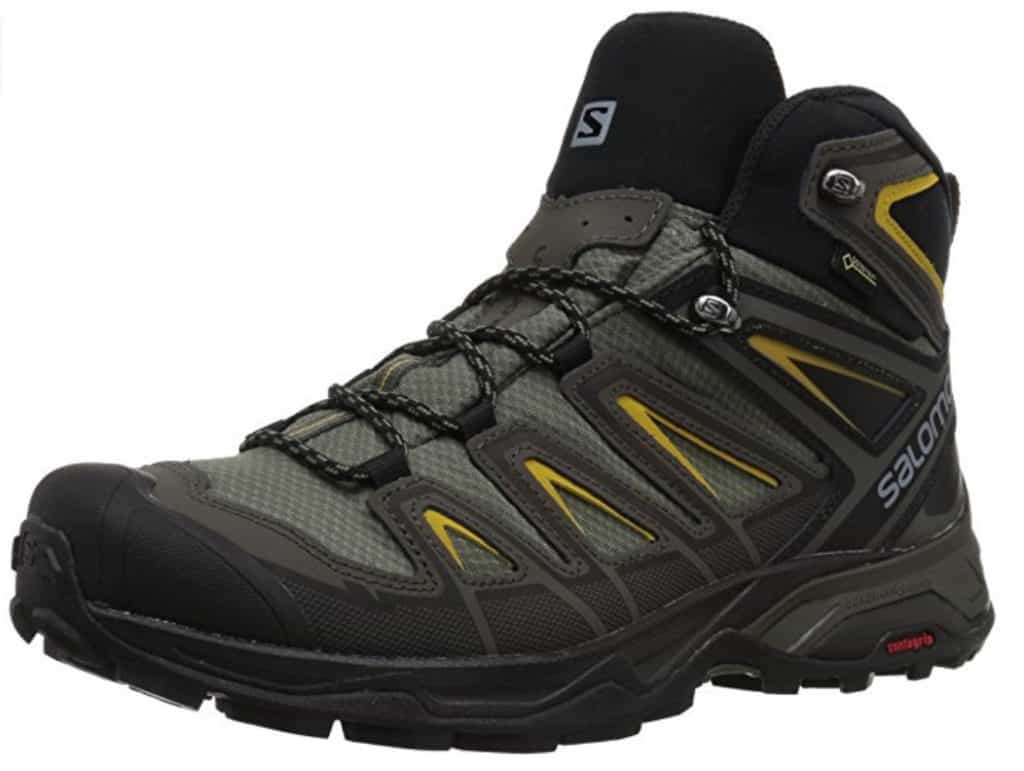 If you are certain your feet won't submerge, and you do want a GORE-TEX product to keep your feet away from light moisture, a product such as Salomon X Ultra 3 Mid GTX Hiking Boot (Buy on Amazon) is fine. The "GTX" in the name means it has Gore-Tex.
Please note this is heavier and less breathable than the Aero model. And it's not going to drain well. But again, what do you need the most?
Also, any discussion of rucking boots is incomplete if you don't mention the Salomon Forces Quest 4D GTX (Buy on Amazon).
These are the boots worn by US Navy Seals. Yes, really.
They are a bit on the expensive side, but they are an excellent foot wear choice.
If the Navy Seals determined these were good boots – what more can I add to that?
This particular model does have Gore-Tex.
Just remember our discussion about draining above…
But, the Salomon's Quest 4D boot (Buy on Amazon) is also available in a non-GTX version.
This is what I'd go for in a rucking boot.
Remember the Salomon terminology – if it has GTX in the name it has Gore-Tex. Otherwise it does not.
Expensive? Yes. But think of all the fun you'll have telling people about your Navy Seals boots.
GORUCK MACV-1 Boots
Given these specialized requirements in footwear, it shouldn't be surprising to hear that GORUCK has created their own rucking boot.
Available now is the GORUCK MACV-1 Jungle Rucking Boot.
GORUCK is taking one of the most beloved boots in Special Forces history and has updated it for the modern era.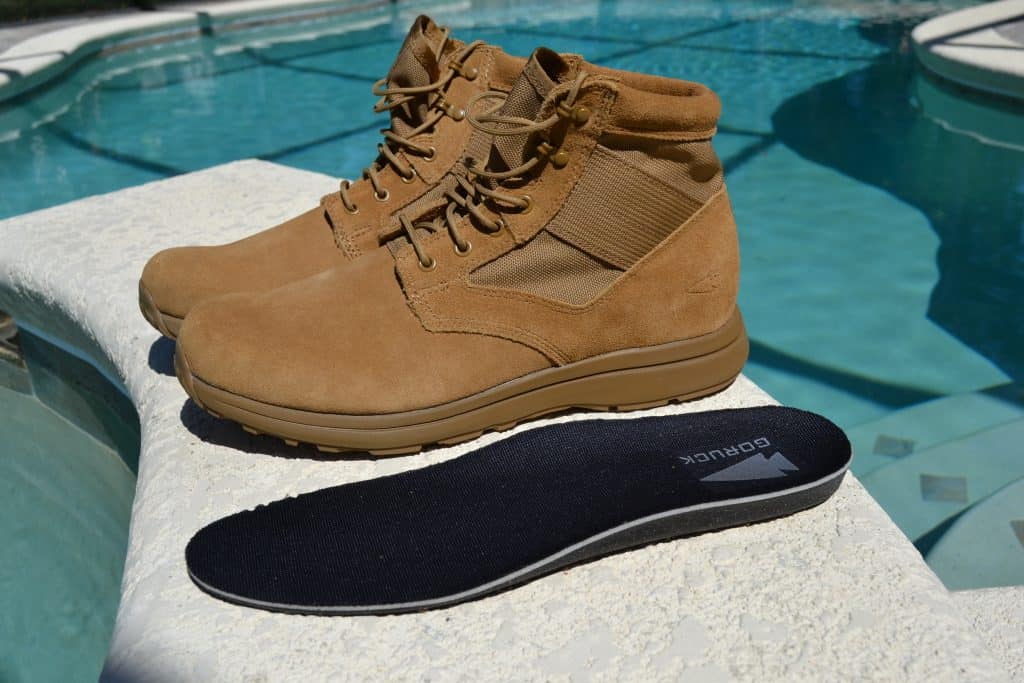 It is very lightweight at only 20 ounces (Men's size 11.5), yet tough.
This is the 2nd generation of the MACV-1 boot. What's new in the latest version? They've made a better all-terrain outsole and updated the leather.
Here's a summary of MACV-1 reviews.
Some call this the "ultimate every day black boot".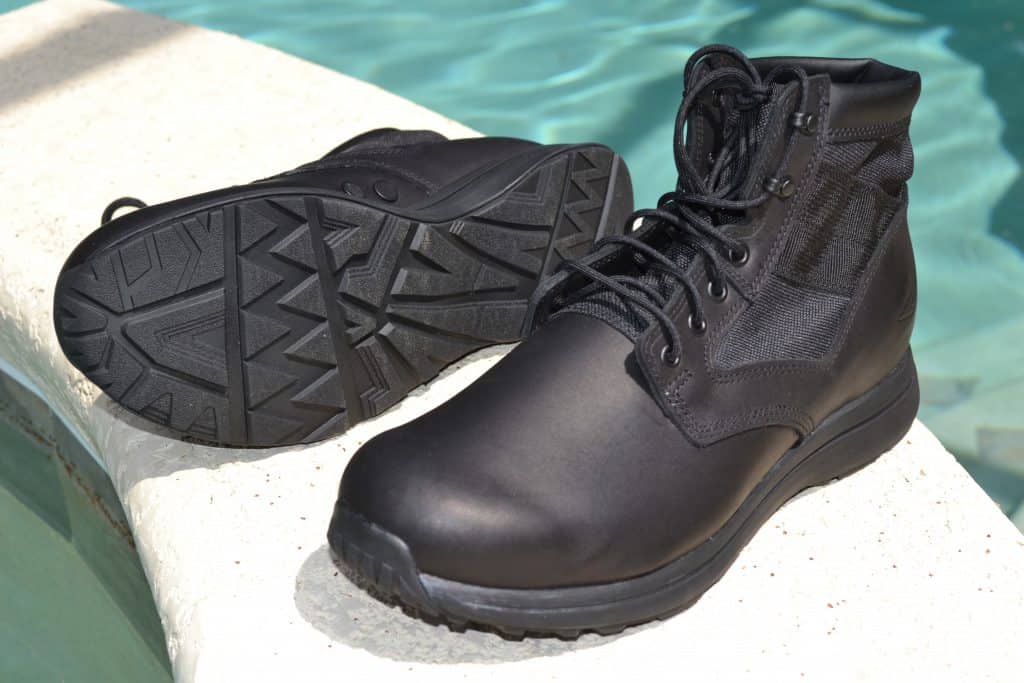 It is available in Coyote Suede or Black (both are shown in this review.)
The MACV-1 GORUCK boots are comfortable and versatile – these work great as "every day" multi-purpose boots – weekend, outdoor, hiking, in the city, or in the field.
The MACV-1 is also easy to pack for travel. The ankle part is highly flexible and is easy to compress. These really won't take up any more room in your luggage than a pair of regular shoes.
The MACV-1 does not have a deep tread for ultimate grip in mud – but these are made more for general purpose usage. The traction is excellent otherwise – especially with the new Generation 2 all-terrain outsole.
The black leather will take a shine and look good.
GORUCK claims zero break in time for the MACV-1. This is primarily due to the suede heel counter – where otherwise a lot of abrasion could occur.
Ruck marchers experiences with blisters and hot spots vary.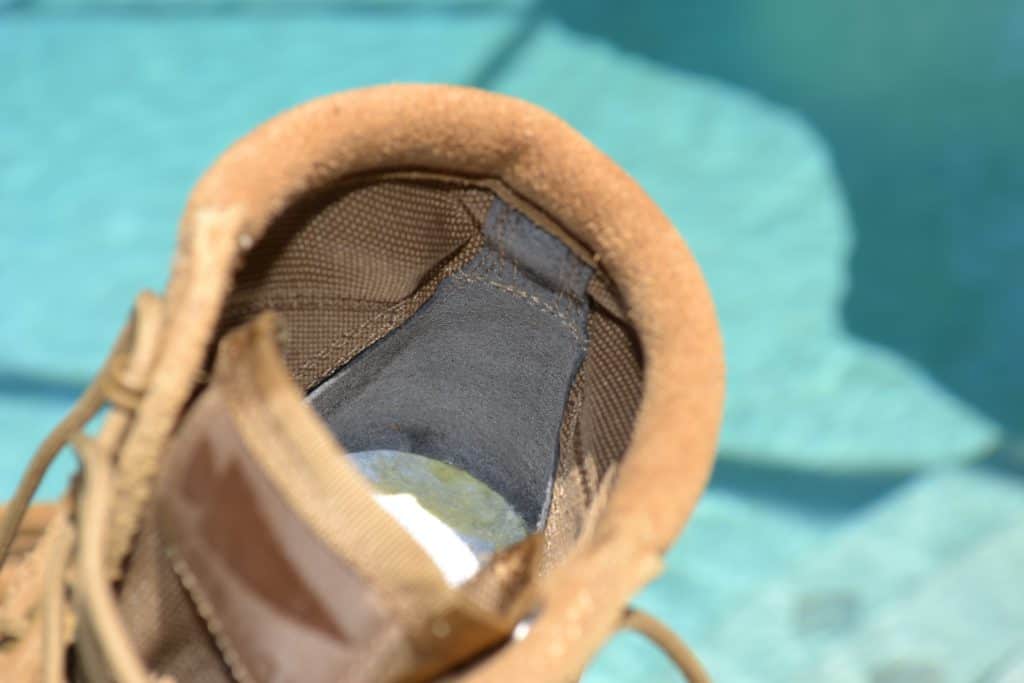 People's experience with these indicate they do indeed break in quickly – but as with any equipment – don't attempt to use these for the first time on a long ruck march.
How did our own test fare? Basically GORUCK is true to their word. I've taken these boots right out of the box and put 6+ miles on them – with no issues I couldn't have solved.
Just remember this – make sure you understand the fit for each individual foot (my left is ever so slightly smaller than my right, for example) and take steps to address any issues.
GORUCK MACV-1 in size 11 or 11.5 work great for me. I'm normally a Men's 11 – so these run true to size.
The 11.5 have more room, which means my foot moves around a bit more.
But, in either case that suede lined heel counter ensures the stress is minimal.
A 10 mile march is a 10 mile march. Figure out what other anti-blister remedies you need to employ before attempting that distance in any boot – including the MACV-1.
They technically call this a "jungle rucking boot".
And want to see some real water drainage? Check this out:
The MACV-1 is "proudly not waterproof" – in GORUCK's words.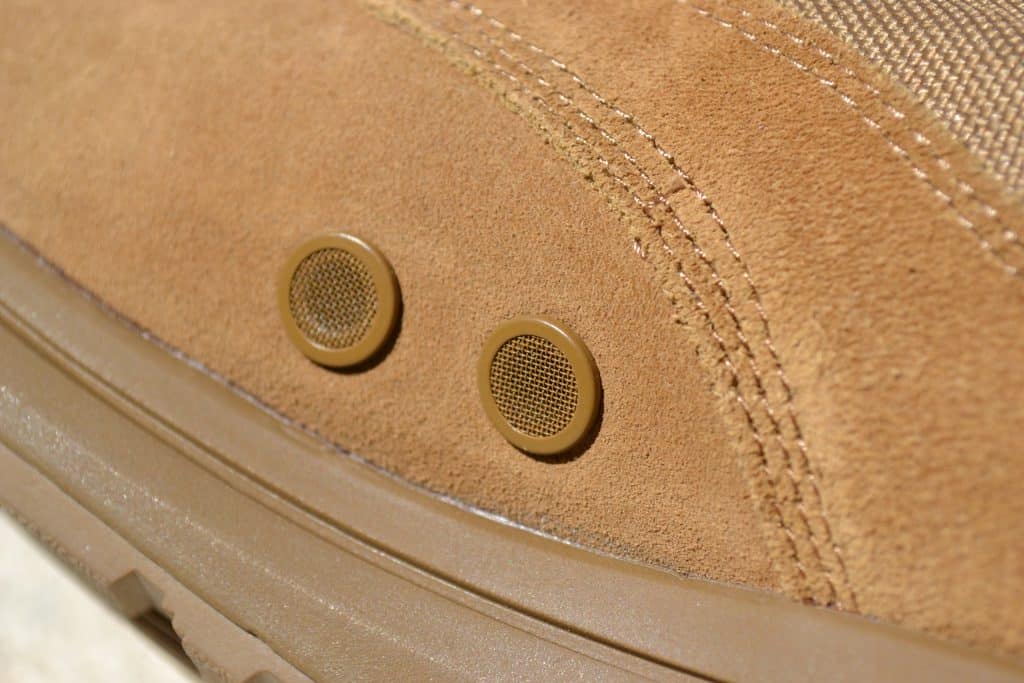 The only real weakness in the MACV-1 is that the stock boot laces are weak. They break relatively easily.
Upgrade to Iron Laces (Buy on Amazon) and that problem goes away.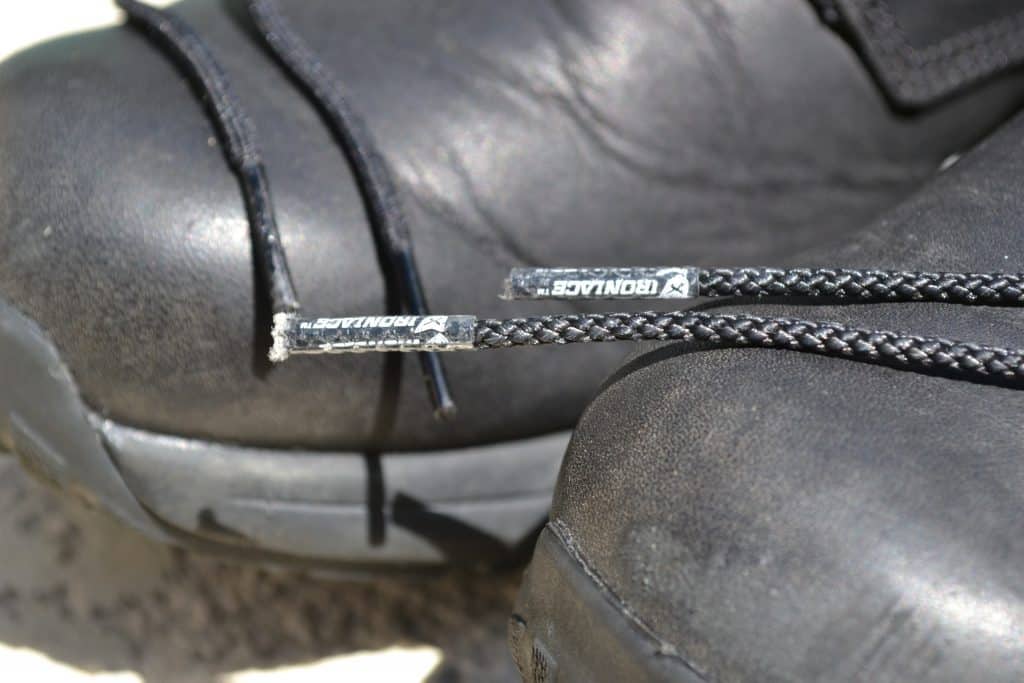 These are freezeproof, fireproof, unbreakable, and available in different colors and lengths.
The 54″ boot lace works great with the 6″ high MACV-1.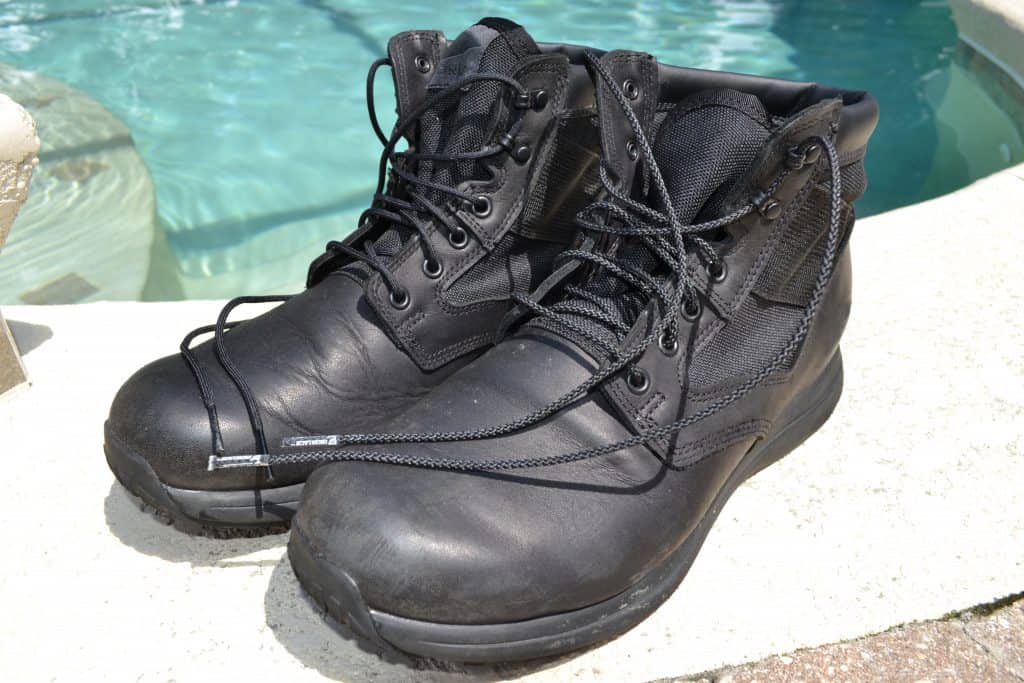 GORUCK MACV-1 Fit and Break-in
How do the MACV-1 fit?
The hype seems to be true – most people are very pleased with the fit out of the box, and minimal break-in is needed.
That said – everyone's feet are different. Some people with a high instep have found that the MACV-1 boots can be a bit tight. Sizing up might help with this, or look at a different insole/insert, such as the Superfeet Trailblazer (Buy on Amazon).
These inserts are a tad thinner than the "Workhorse insert" provided by GORUCK and may make the boots fit better.
They are built for comfort, and made specifically for boots and trail running shoes.
MACV-1 8-inch AR 670-1 Complieant
The 6″ version of the MACV-1 boots are not AR 670-1 compliant – which means they aren't an "optional wear" item for those in the military.
Why not? Coyote brown is the right color, and we've got the right materials – like a regular (non-safety) toe, flesh out leather, rubber outsole.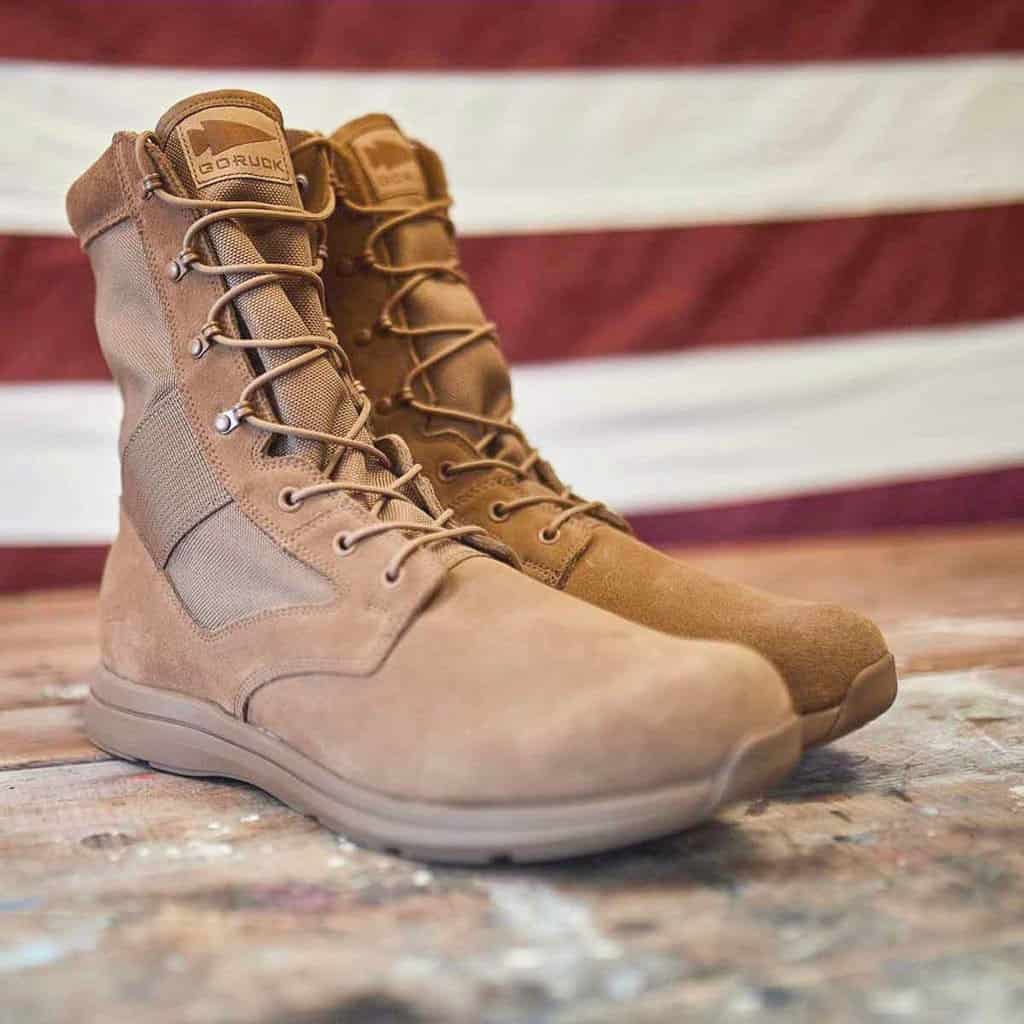 The problem is the ankle height- they've got to be 8″ to be AR 670-1 compliant.
But good news – you can now buy the MACV-1 8″ in Coyote Brown..
These are AR 670-1 compliant, and they are available now.
Here's a nice overview of what makes these boots AR 670-1 compliant.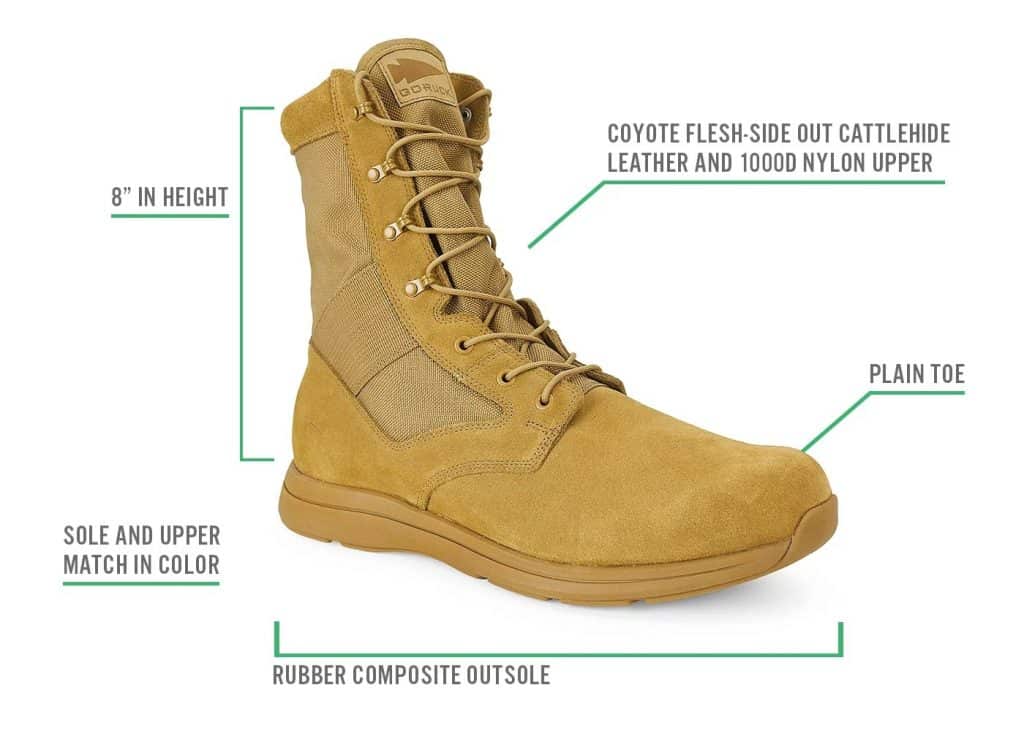 GORUCK I/O Cross Trainer
Hey – GORUCK has a new training shoe coming.
It's not a boot – it's not a sneaker – it's something in between.
And they are meant to be used Indoors or Outdoors – so GORUCK is calling them the I/O Cross Trainers.
They are available in Black or Black + Gum.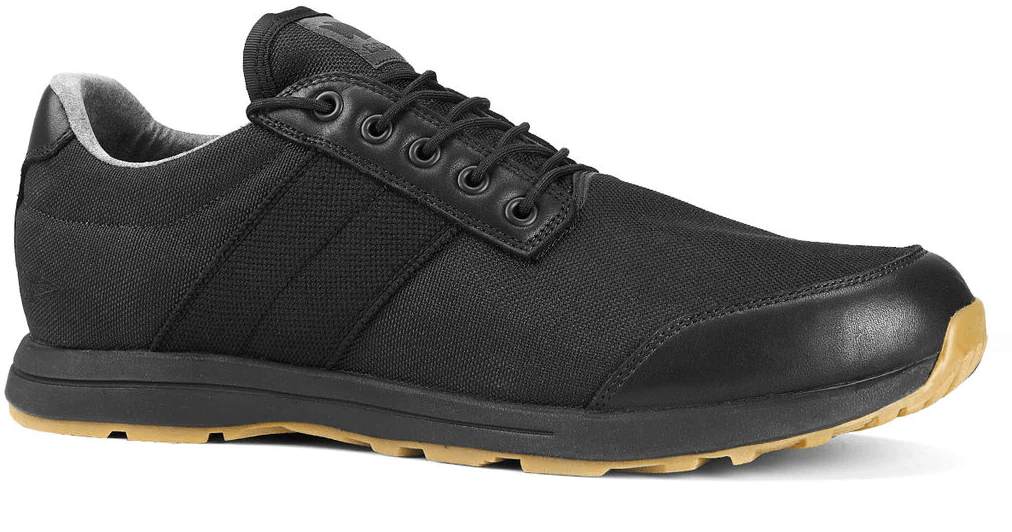 Shown here is the color combo that includes the GUM colored sole – because I think it looks the best.
Heel to toe drop on these is 10mm – just like their boots.
These aren't running shoes – they are rucking shoes.
Indoor or outdoor – take a look at that sole – looks like a boot sole, doesn't it?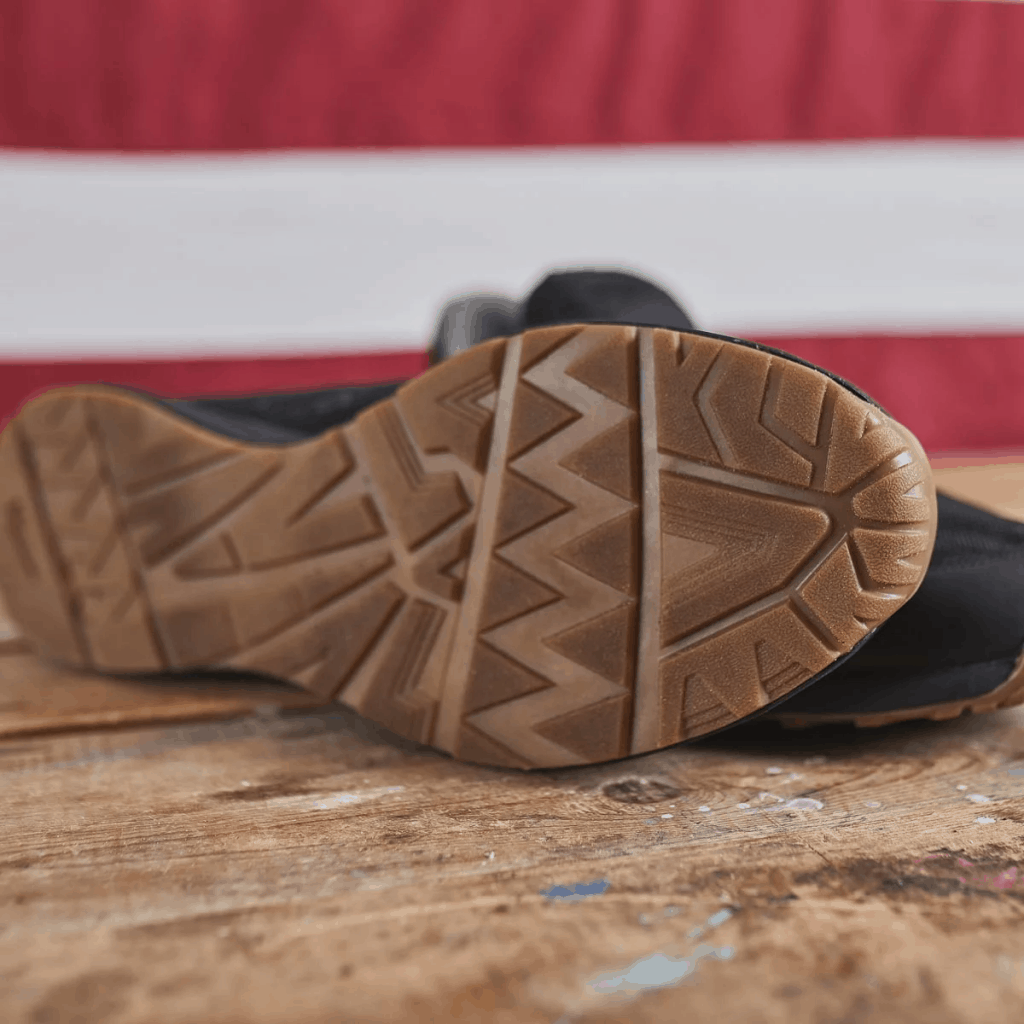 Altama OTB Maritime Boot – Best Water Borne Boot?
Here's another option when you need the ultimate in water drainage.
The Altama OTB Maritime Assault Boot (Buy on Amazon) is made for water-borne operations.
The side panels are made from 1000D Cordura – just like the GR1.
What makes these special is that these are intended for tactical water operations – they are swim fin friendly, in fact.
And while that isn't really needed for rucking, what is more important is that these boots are made to shed water (and sand) quickly.
This happens thanks to the drain ports that are built in to the shoe. Every step will eject more water. The insole is also waterproof – so it won't absorb water.
These would be our top choice for boots for beach rucking, or otherwise rucking in the sand.
The outsole material provides excellent grip and traction, even when wet.
These are also awesome shoes for kayaking and creeking. When kayaking in small creeks where you are often climbing in and out of the kayaks, into soft sand and mud the stiff sole and higher ankle will keep your foot from sinking in too far, and from debris getting into the shoe.
The lace hardware is also non-shine, and rust proof. Remember, these are Altama OTB boots are meant to get wet.
They are styled similarly to Converse Chuck Taylors – and some people call them tactical chucks.
They work just as well on dry land as well.
Shown above is the "mid" cut , but there is also a low cut version of the Altama Maritime Assault Boot (Buy on Amazon).
NIKE SFB – Special Field Boot
The No products found. receive a lot of rave reviews – for comfort, looks, and durability.
These are made for first responders, but they would also make a great rucking boot.
They are available in a variety of styles and colors.
They are flexible and excel in comfort.
The downside is the cost – they are pretty expensive.
Also there is a version of these that is AR 670-1 compliant – read on to find out more about that.
AR 670-1 Compliant Boots For Ruck Marching
If you are in the military, most of the above options are not AR 670-1 compliant.
AR 670-1 is the US Army Regulation for Wear and Appearance of Army Uniforms and Insignia, and it dictates what non-government issue equipment (such as boots) are allowed.
AR 670-1 requires combat boots to be 8″ – 10″ high, made from cowhide leather (flesh out – like suede), regular toe (not steel toe), with a leather or non-mesh upper in a tan color with matching sole made from rubber or polyurethane.
As a consequence, most of the AR 670-1 boots look alike.
But there are things to consider.
The Garmont T8 NFS Tactical Boot (Buy on Amazon) is AR 670-1 compliant. This is a light-weight, ventilated, AR 670-1 compliant boot. Great for the ruck march.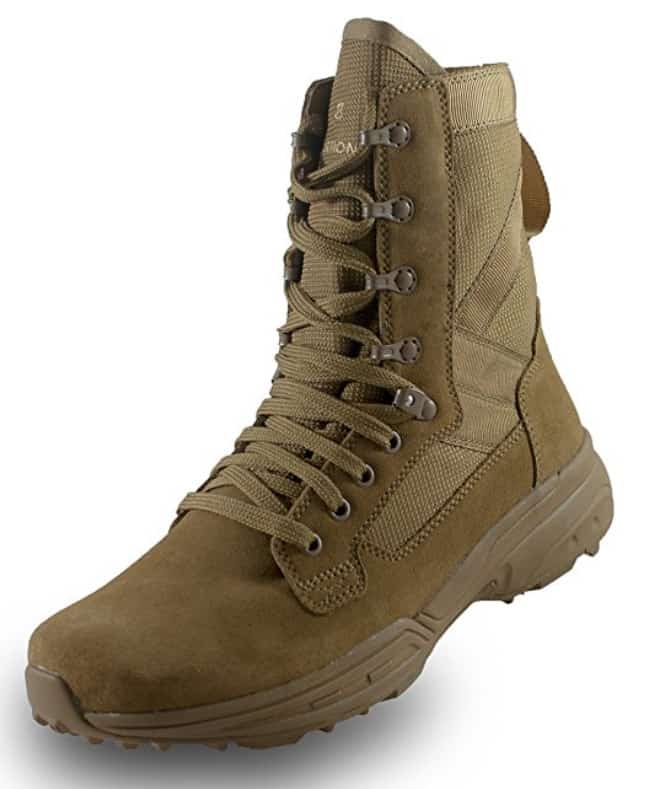 They use a suede leather upper with nylon mesh for breathability. Additionally, there are Texon and canvas reinforcements for durability. The boot has excellent ventilation and quick-dry materials. It is viable for wet climates.
This boot does use Gore-Tex, so remember our comments on waterproof vs waterlogged above.
The Danner Men's Tanicus Coyote Military and Tactical Boot (Buy on Amazon) is another solid choice for a AR 670-1 compliant boot.
Danner is a popular brand.
They make boots, that's what they do.
Not sneakers, not dress shoes, etc. – just boots.
Need another option for military use?
The Thorogood 813-8800 Men's 8" War Fighter Military Non-Safety Toe Boot, Coyote - 5.5 B(M) US is another tough boot that is AR 670-1 compliant.
This model does not incorporate Gore-Tex.
Tips from the Pros Rucking is the basis of physical training in the Special Forces. Here's some tips: Wear two pairs of socks, with the inner pair being some sort of moisture wicking sock. Secondly, your boots or shoes should fit snugly, but not too tight. Your feet will expand over the course of the march and too tight of a fit means blisters.
Running shoes for rucking?
For civilians, wear a shoe that is comfortable and matches the territory you'll cover.
Of course you can wear boots, if you so choose.
But if you are doing your rucking in urban terrain – running shoes are fine – and will be lighter weight and very comfortable, in most cases.
With great cushioning, flexibility, and being lightweight – they'll make it easier to go farther in comfort.
There's a wide variety of running shoes available. If they work for running, they'll work for urban rucking.
Trail Running Shoes for Rucking
Trail running shoes are also a popular option – but keep in mind the same arguments against Gore-Tex as we reviewed in the boot section. Products with Gore-Tex will hold in too much water if your feet get submerged.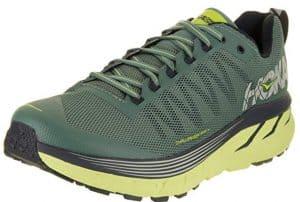 What are the advantages of using trail running shoes for rucking?
Trail running shoes typically have tough outsoles, great traction, and good cushioning.
And they are lighter than boots!
All these things are helpful when you've got a lot of weight on your back.
They are usually pretty light too – because they are meant for running. But when rucking, that means less fatigue as you rack up the miles.
The HOKA ONE ONE Men's Challenger ATR 4 Running Shoe (Buy on Amazon) are great light-weight trail running shoes.
These provide all the things we'd look for in trailing running shoes for rucking.
Another great option would be the Salomon Men's Xa Pro 3D M+ Trail Runner (Buy on Amazon).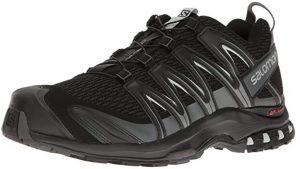 These are NOT a GTX model – and that's just what we want – a quick drying breathable mesh upper.
They have the legendary Salomon grip and stability. Salomon has been making shoes and boots for mountain hiking for over 60 years.
Please note the M+ are for wider feet – look for a non-M+ model if you need to.
Salomon also makes some awesome trail running shoes – the No products found. come highly recommended.
These have a lot of grip – as you can see.
This would be a great all-terrain choice.
But, they are probably too aggressive for an urban ruck.
A more conservative option is the Merrell Moab 2 Tactical Shoe (Buy on Amazon).
This is a light-weight, durable trailing running shoe that is meant for action.
With a more subdued appearance, you could probably wear it in a lot more situations.
Flat Feet or Low Arches – You Need Insoles
Do you have flat feet or low arches? If so, SuperFeet Premium Insoles (Buy on Amazon) can be a game changer. These are specially made to stop common foot pain, arch pain, heel pain & plantar fasciitis, and more.
An "insole" is a removable sole worn in a shoe for warmth, as a deodorizer, or to improve the fit.
Or to do all three!
Don't Break In Gear On A Long Ruck March Beginner mistake #1 is trying to break in brand new boots or shoes (or any gear, really) on a long ruck march. This is a disaster waiting to happen. When you get new shoes for rucking, break them in well before your ruck. Wear them for short distances, or for lighter duty.
Quality Socks Make A Big Difference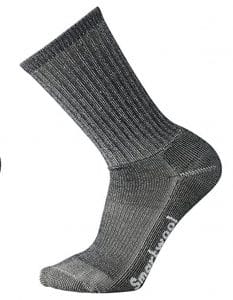 Next up in importance: quality socks.
By the way, we're running a long term Best Rucking Socks test over on our sister site – check out that link for details.
A good sock will increase your comfort levels significantly. They will help keep your feet drier, prevent blisters, and can provide a bit of cushion as well. Things to look for include: moisture-wicking so your feet are dry and comfortable, and a sure fit so there's no annoying slippage and bunching.
And, don't forget to pack an extra pair – or two. Having dry socks to change into can make a big difference in comfort level, especially on a long ruck march.
These SmartWool Hiking Light Crew Sock (Buy on Amazon) are a great option. Made from a 69% Merino Wool, 30% Nylon, and 1% Elastane mix, they have an elasticized arch brace and just the right amount of cushion for trail walking or aggressive walking paces.
Here's another hiking sock that is held in high regard in the military: the No products found..
These are Merino wool, made in the USA, and have a warranty for life.
If you are wearing running shoes and prefer a low-cut sock, the SmartWool Run Ultra Light Micro Socks (Buy on Amazon) are great.
These are super light-weight. Mesh ventilation zones provide additional breathability and moisture management. Like the other SmartWool products, they use two elastic materials to provide greater stretch and recovery – and that means these socks stay in place.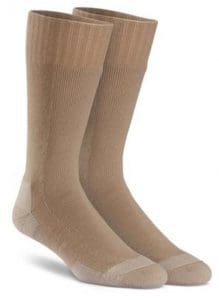 If you are hiking in cold weather you may want to go with a heavyweight sock, such as the Fox River Stryker Wick Dry Mid-Calf Boot Socks (Buy on Amazon).
But in any case remember that you'll be out in the real world – and it can be hot or rainy or both. And keeping your feet dry is important for the most comfort. But don't forget about blisters as well. Long distances and extreme conditions put you at greater risk for these.
Blisters – Stop Friction Before It Starts
What's the cause of blisters? Friction. And remember on the ruck march you're going to be going at a faster than normal pace – and that means even more friction.
What can we do to minimize it?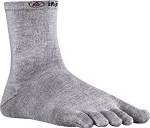 We recommend the Injinji Liner Crew Toesocks (Buy on Amazon). What's the benefit of these? They provide superior moisture management and eliminate skin-on-skin friction which is one of the primary causes of blisters. The secret is the individuals sleeves for each toe. And these make a big difference.
Here's another hot tip for protecting your feet – wear two pairs of socks.
Many experienced ruckers wear those Injinji Toesocks as a sort of inner liner and put Darn Tough Hiking Socks (Buy on Amazon) on top of that.
Made from real wool – these also have extra cushion along the bottom of the foot.
Their "True Seamless" construction provides a smooth performance fit; no slipping, no bunching, and no blisters.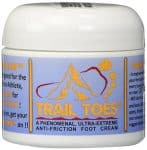 Secondly, many people swear by Trail Toes Anti-Friction Cream (Buy on Amazon).
What is it? It's an anti-friction and anti-chaffing cream. It's meant for anyone who is tough on their toes – runners, bikers, hikers, hunters, endurance athletes, and of course – ruckers.
It works on your feet and toes wet, dry, or hot. It is applied directly to the skin and will aid in reducing skin irritation, hot spots, and blisters no matter how far you are going.
And if Trail Toes interests you, Body Glide (Buy on Amazon) is anti-chaffing cream you can use anywhere – neck, thighs, arms, and more.
Just like Trail Toes, Body Glide can minimize rubbing and friction that causes irritation, rash, chafing and raw skin.
Body Glide is the original formula that started it all, and it is made from all natural ingredients.
And lastly, for additional foot protection consider taping your blister-prone areas with Leukotape (Buy on Amazon).
Leukotape is medical grade rehabilitation tape. It is a rayon-backed tape with high tensile strength. But most importantly – the zinc oxide adhesive ensures that once wrapped it will remain in place for hours. Even when you are walking, running or otherwise active and in motion.
Leukotape can be used for blister prevention – for best results tape any blister-prone areas such as the ball of the foot or heel.
Clean the foot with soap and warm water, then apply Leukotape directly to the skin. It can also be used to help protect existing blisters – simply use in the same fashion but first cover the blister with a bandage or gauze.
Boots and Shoes for Rucking – In Summary
In rucking, the most important gear is that which goes on your feet.
With the right footwear and socks, you'll be off to a great start.
Boots, running shoes, or trail running shoes? It all depends on exactly what sort of ruck marching you'll be doing.
You may also be interested in our rucksack guide and ruck plates.
Need ideas on add-ons and accessories for your ruck? Check out our article on rucking accessories and gear.
Photo Credits
Some product photos on this page are provided by, and property of GORUCK.
Other product photos are property of the manufacturer, and provided by the manufacturer.
---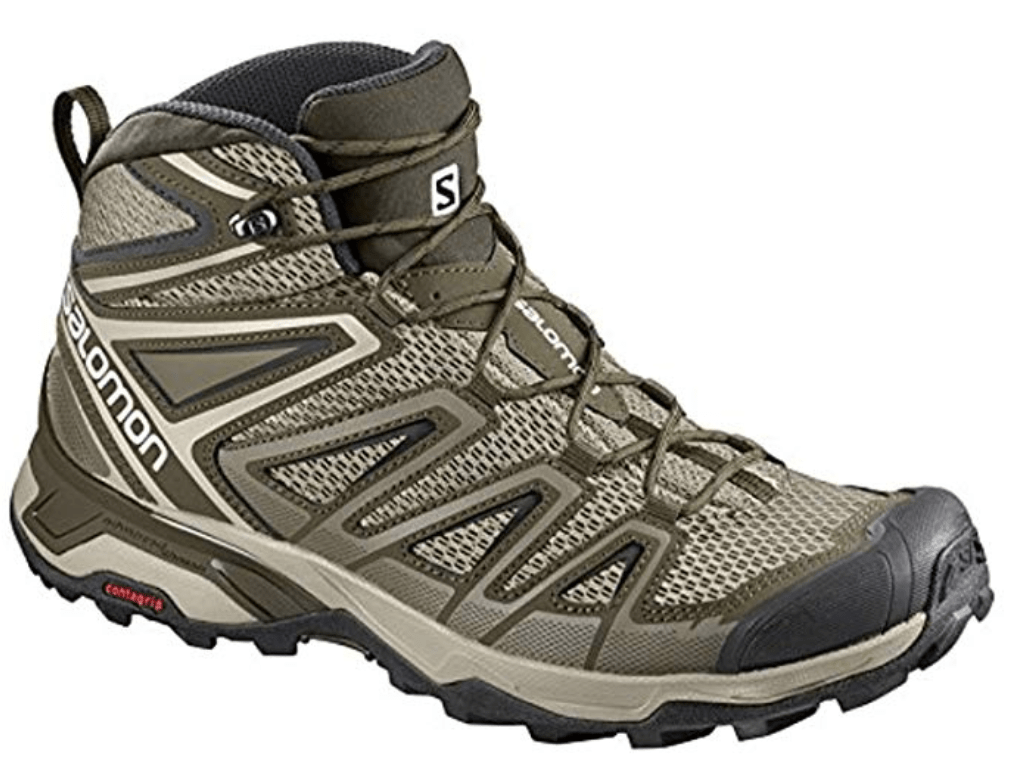 Tim is the founder of FitAtMidlife.com – an avid gym rat for 30+ years, he's a reviewer of many, many shoes – and founder of the Speed Bag Gathering – the world's only gathering of speed bag punching enthusiasts.  See more gym reviews at Tim's YouTube channel.