Here's the new Rogue Hybrid Power Bar – it's meant for powerlifting and good old fashioned strength building.
Combining tighter tolerances with current innovations from the renowned AGGRO Power Bar, the Rogue Hybrid Power Bar came to life to create a superior lifting experience, while symbolizing another step forward in precision machining. The Rogue Hybrid Power Bar is optimized for powerlifting and strength programs. It has excellent sleeves with controlled spin, tight manufacturing tolerances, and many more features, making it a powerful bar for serious lifters.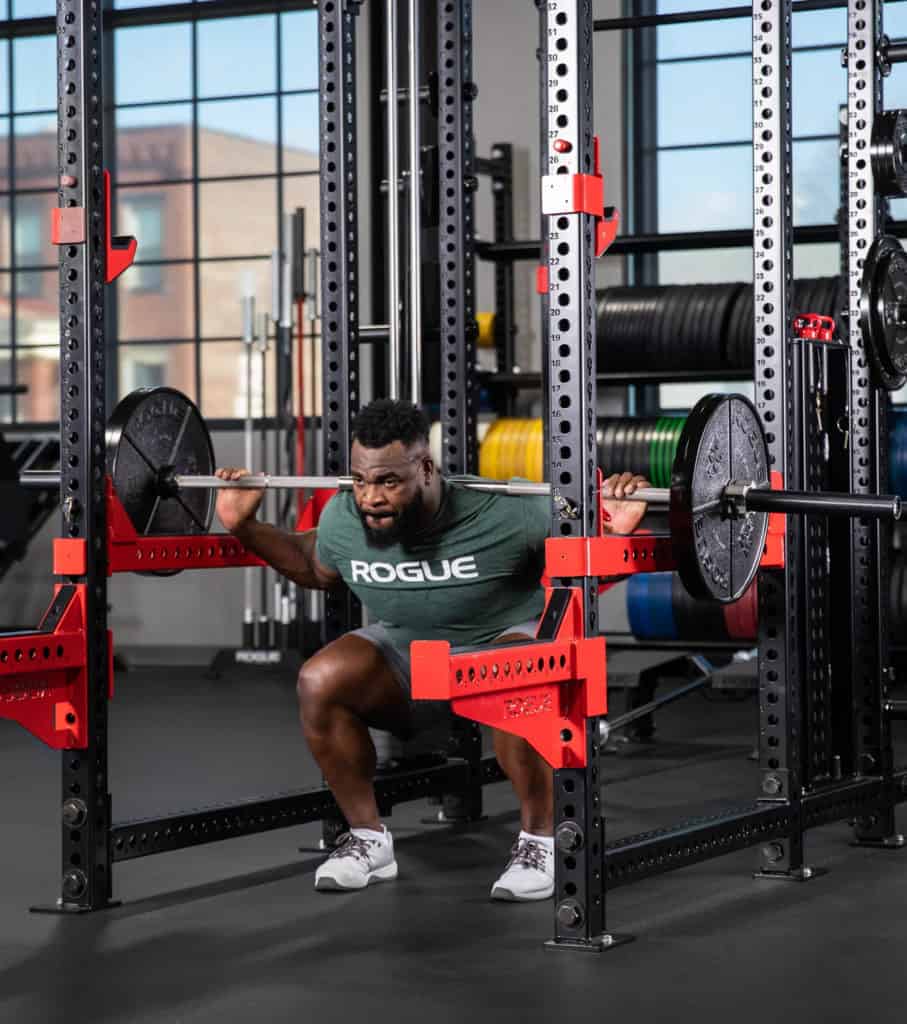 The Rogue Hybrid Power Barbell: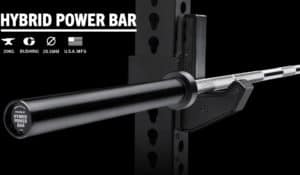 Rogue Hybrid Power Bar (Stainless)
The Rogue Hybrid Power Bar is a multipurpose bar with a center knurl and proprietary matte black finish. It is made in the USA and weighs 20kg with aggressive knurl and 200,000 PSI tensile strength.
Rogue Hybrid Power Bar – Overview
An aggressive knurl, center knurl, reduced whip, and controlled spin are the traditional "core four" features of a standard power bar. Rogue worked on these features and explored ways to better advance them to the needs of today's serious powerlifter. They took in years of feedback from clients, athletes, and gym owners and fine-tuned it with their own wealth of experience, equipping gyms and competitions at the highest levels of the iron game.
In addition to this, Rogue also recognized extensive research and used it to enhance every part of the barbell's design and manufacturing. To make changes, Rogue meticulously tested some elements of the Hybrid Power Bar, including the 2XAGGRO knurl. For other areas, they refined their methods to create a new blueprint for a truly upgraded Powerlifting barbell that is also uniquely versatile compared to its competitors.
The grip of the Hybrid Power Bar is perfect for powerlifting because it is created with uncoated stainless steel and Rogue's extra-aggressive 2XAGGRO knurl. Uncoated bars have a very firm and less reliant grip on chalk but are not excessively sharp or painful on the hands, back, and neck.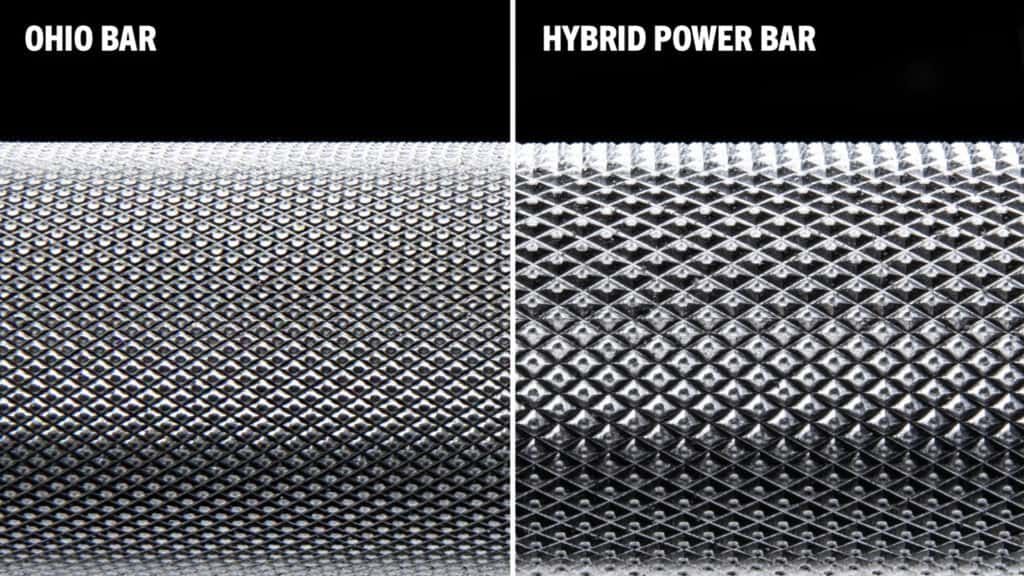 Rogue used their proprietary matte black finish on the sleeves to make them maintenance-free like the shafts. This finish stays so much longer than other black finishes. One of the most significant distinctions between the Rogue Hybrid Power Bar and the rest of Rogue's power bar line is their selection of a 28.5 MM shaft rather than a 29 MM shaft.
With this, the knurl feels more evident than it would on a thicker shaft. This also helps athletes who include power cleans or other Olympic lifts into their powerlifting routine, as the hook grip is easier. It is also beneficial for deadlifts, where a slightly smaller shaft leads to a more dependable grip.
New precision-machined bronze bushings are added, holding tighter around the shaft for less radial end-float. The sleeve attachment has also tightened tolerance for less axial end-float. The result is a reliable, controlled spin that is not so free-spinning as to induce instability when benching or squatting and will not keep spinning at the top of the clean.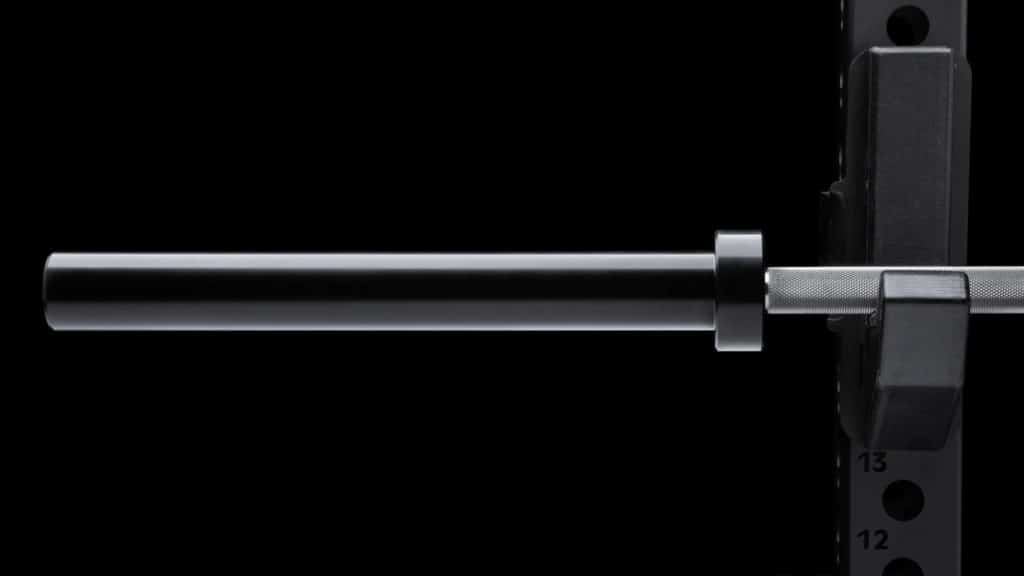 The sleeve surface profile was decided by Pyrros Dimas and the athletes competing in the World Championships after choosing from Rogue's different sleeve finishes ranging from entirely smooth to different sizes and depths of grooves. Using advanced optical profilometry to gauge the sleeve finish, Rogue ensures the sleeve profile is always precise as planned. Stainless steel was chosen specifically with a tensile strength of 200,000 pounds per square inch and yield strength of 170,000 pounds per square inch.
Upon testing, Rogue learned that the maximum stress that a barbell shaft experienced was 144,000 pounds per square inch. Therefore, the yield strength of 170,000 pounds per square inch is well above what a bar would undergo in regular use while not needing the tensile strength to be heightened above what is required. Stainless steel has a greater resistance on bending than other steels with the same tensile and yield strength.
With a tested score of F-10R, the Rogue Hybrid Power Bar has the highest F-Scale durability rating of any Rogue barbell with standard-length sleeves. It is specifically well suited to having its fatigue life increased by Rogue Work Hardening (RWH) process. The areas of the shaft that receive the greatest stress are treated with Rogue's patented RWH.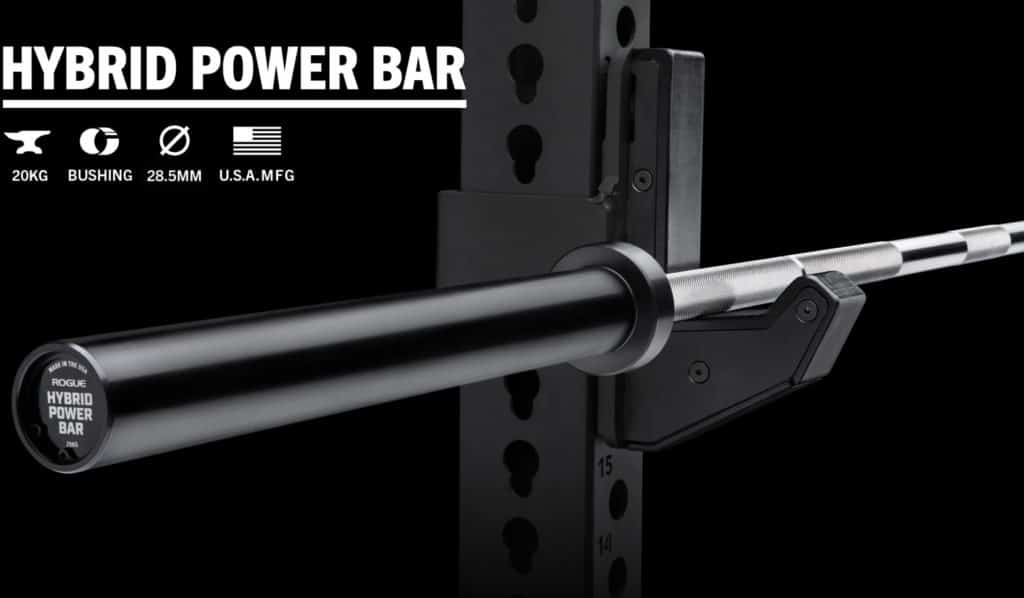 Rogue Hybrid Power Bar – In Summary
That's our close-up look at Rogue Hybrid Power Bar.
The Rogue Hybrid Power Bar results from years of expertise in barbell manufacturing and making no compromises concerning materials or manufacturing practices. This barbell is created to become the go-to bar for athletes at all levels. It is manufactured in Columbus, Ohio, with tightened tolerances measuring in the thousandths of an inch for a solid feeling bar that is without comparison in the powerlifting space.
Looking for more options? Check out these other great products:
The Rogue Ohio Power Bar Aggro is also excellent – and made in the USA.
Take a look at the Best Powerlifting Barbell to get even more ideas.
More products from Rogue Fitness.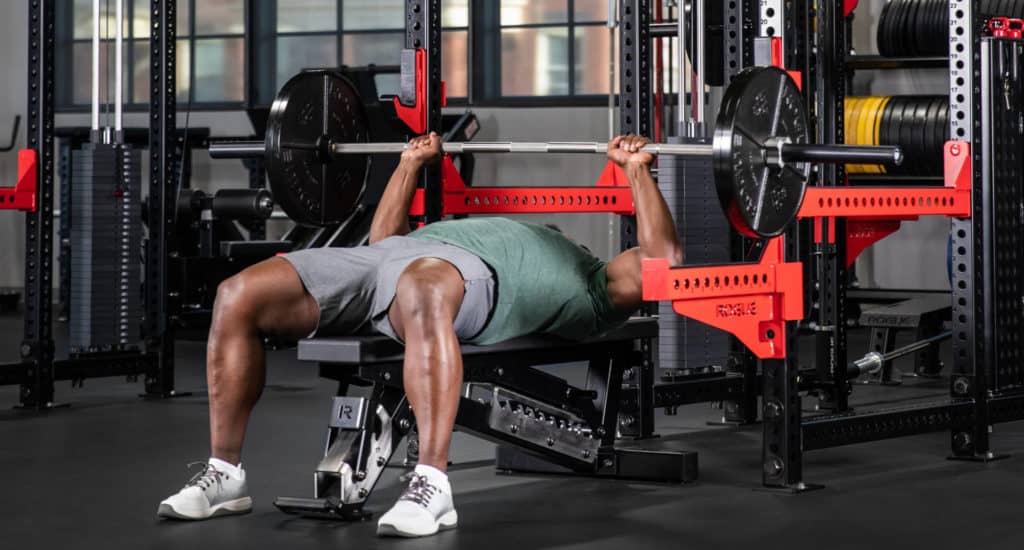 Photo Credits
Product photos on this page are property of Rogue Fitness.
This website is not affiliated or associated with CrossFit, Inc. CrossFit is a registered trademark of CrossFit, Inc.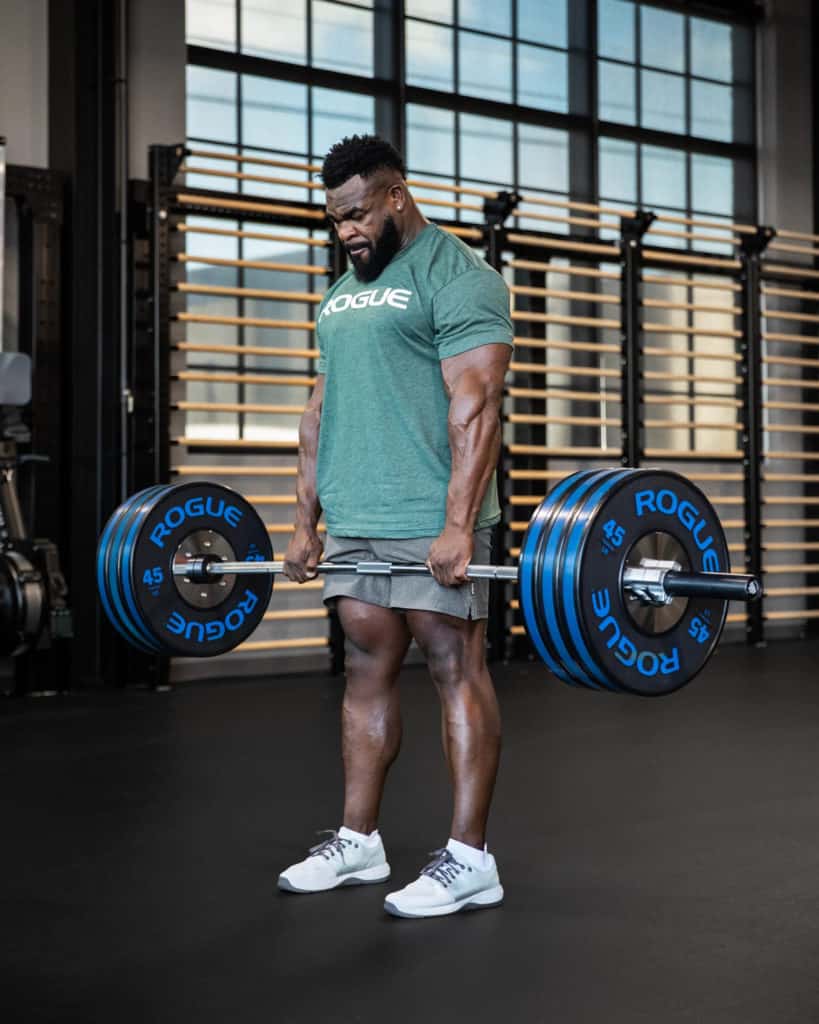 Affiliate Disclaimer
We are an affiliate of Rogue Fitness and others that sell this training gear. If you buy clothing or other training gear after clicking the links in this article, we receive a small commission at no extra cost to you. This helps us to bring you in-depth information and content on these great training products.
Tim is the founder of FitAtMidlife.com – an avid gym rat for 30+ years, he's a reviewer of many, many shoes – and founder of the Speed Bag Gathering – the world's only gathering of speed bag punching enthusiasts.  See more gym reviews at Tim's YouTube channel.