We're going to look at gear you might need for the CrossFit Open 2020.
These items are minimal gear – nothing fancy – and just the bare minimum that you might need.
The open is on now – and we're just about 1/2 way through – grab a few essentials now so you are ready to improve your performance for workout 20.3.
Here's the gear we'll be reviewing:
Let's take a closer look.
Why Rogue Fitness?
We're going to recommend a lot of Rogue Fitness products in this guide.
Why?
Because Rogue is the coolest name in CrossFit – they supply the equipment used in the CrossFit Games and their stylish, high performance gear is revered for both its form and function. And a lot of it is made in the USA. Rogue brand equipment will be recognized immediately by anyone familiar with CrossFit – and it's a premium product that makes a great gift.
Rogue Wrist Bands
CrossFit workouts are a sweaty affair – and the open workouts especially.
These Metcon (Metabolic Conditioning) workouts are a great challenge and the exhausting work is all part of the fun.
But a sweaty grip can be dangerous and at the very least inconvenient.
Having to stop to repeatedly apply chalk to your hands slows you down – and that's not going to be good for your open score.
That's why the pros use sweat absorbing wrist bands.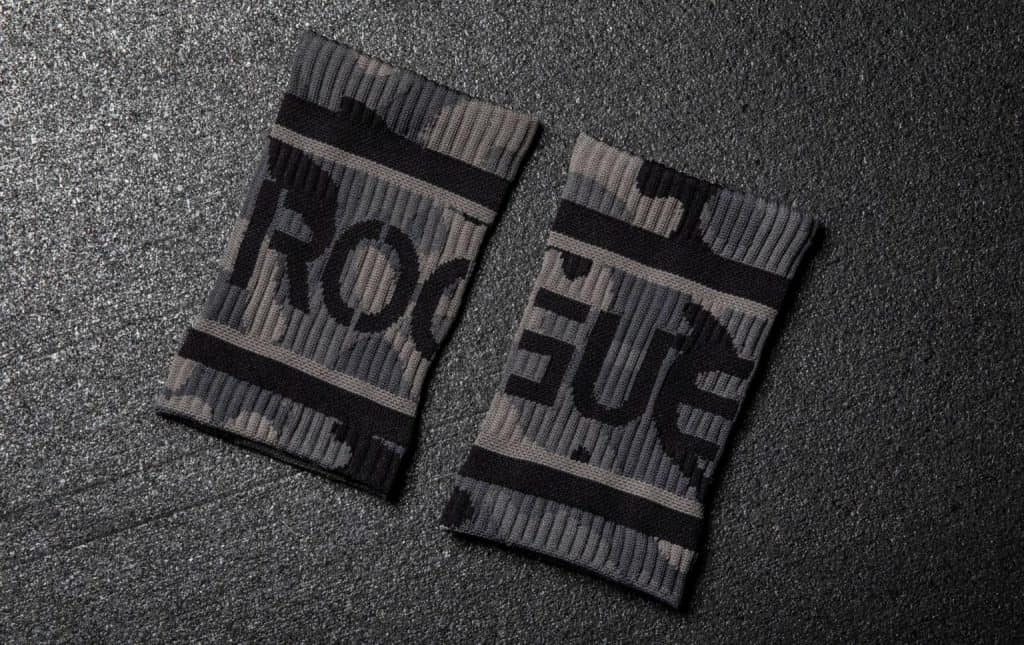 Pro athletes like Rich Froning use sweat wicking and absorbent wrist bands such as these to great effect in their competitions.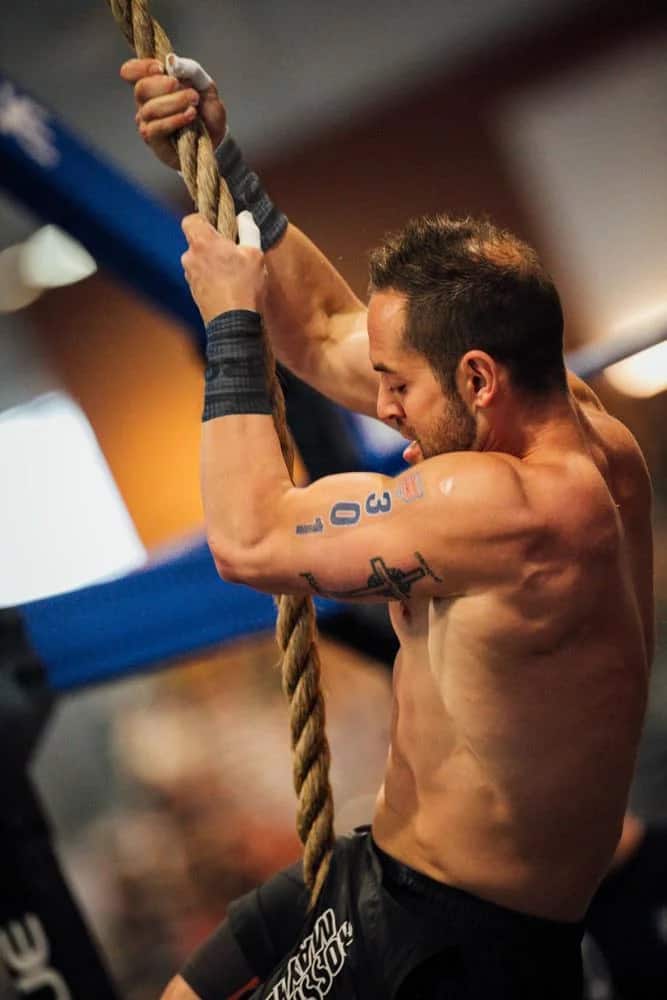 These wrist bands look good, they are cheap, and most importantly they look cool.
Nobody wants to look un-cool in the gym.
Bear KompleX 3-Hole Hand Grips
Here's another grip related item.
Open workouts can involve a lot of pull-ups (kipping and strict), toes-to-bar, deadlifts, and much more.
All of this is very hard on your hands and palms – you can develop callouses so big they rip off at inopportune times – and wreck your competition or workout.
Grips like the Bear KompleX 3-Hole Hand Grips can provide better grip and protect your hands.
NOTE: There are strict rules around what gear you can use in the CrossFit Open workouts. "Gymnastic style grips" and gloves that provide "hand protection" are allowed for pull-up bar exercises – but not in conjunction with a taped bar. You can NOT wear these for deadlifts and other exercises.
(We recommend you use these in your training to keep your hands in good shape – but as with any equipment, don't be come overly reliant on it.)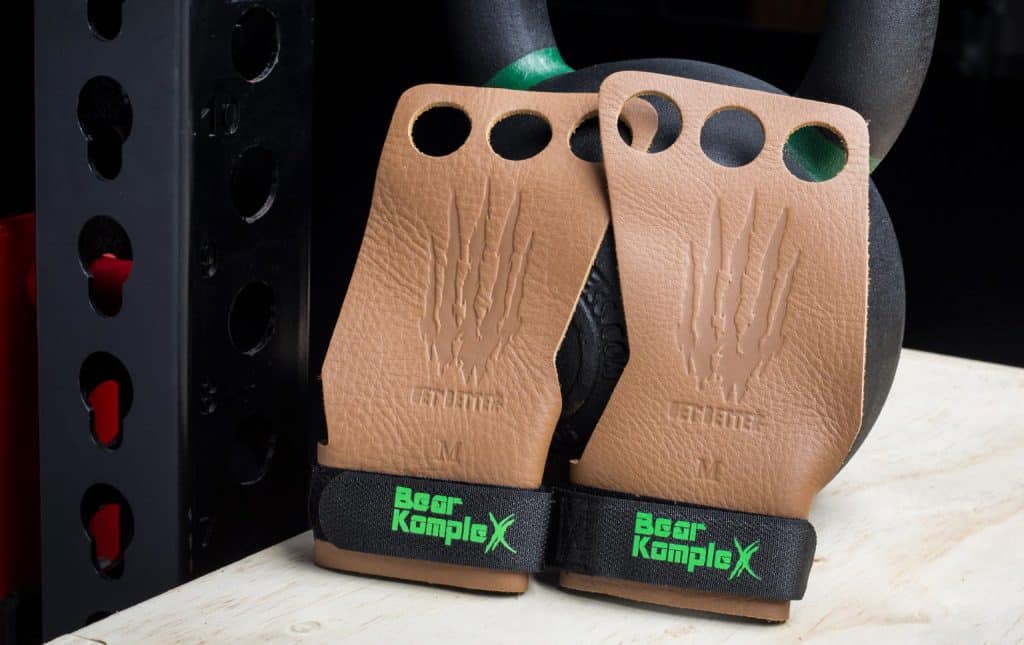 How do these work?
It's pretty simple – there's a wrist strap, 3 finger holes – and the flexible leather conforms to the pull-up bar or barbell with ease.
You can use these with chalk as well – for the ultimate grip.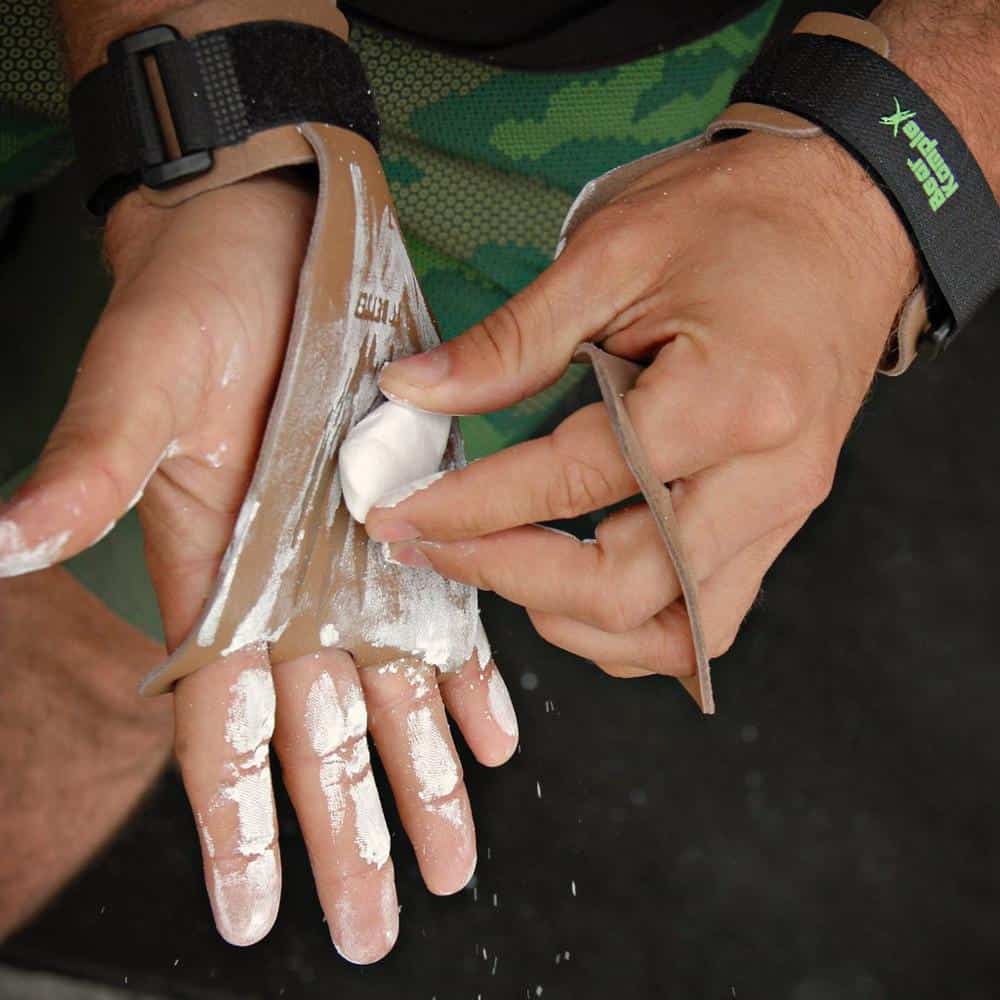 Speaking of ripped calluses and sore hands – if you've already torn up your hands you may be interested in the w.o.d. welder Hand Care Kit (Buy on Amazon).
This kit includes:
Solid Salve Stick
Hands as Rx Cream
Pumice Stone
Callus Shaver
Basically, it's everything you need to repair your hands – and then to keep those calluses from becoming a problem again.
Athletic Tape
Athletic Tape (Buy on Amazon) can be used for lots of things.
First and foremost – you can wrap your hands.
How would you do this? You'd wrap with tape in a pattern that is similar to that of the handgrip we showed you earlier.
The benefit will be better grip, and less wear and tear on your hands.
You can also wrap hot-spots and trouble areas – like your feet, toes, or wrists as well.
Best of all? It's cheap and multi-purpose.
Speed Rope
Double-Unders make a frequent appearance in the open workouts- such as in the open 20.2 workout.
Double-unders (DUs) take skill – and lots of practice.
There's no miracle solution to being able to perform a DU successfully.
But, a speed rope will even up the odds a bit.
One example is the Rogue SR-2 Speed Rope.
These ropes are actually light-weight cables – so they cut through the air fast – and they have significant weight to them.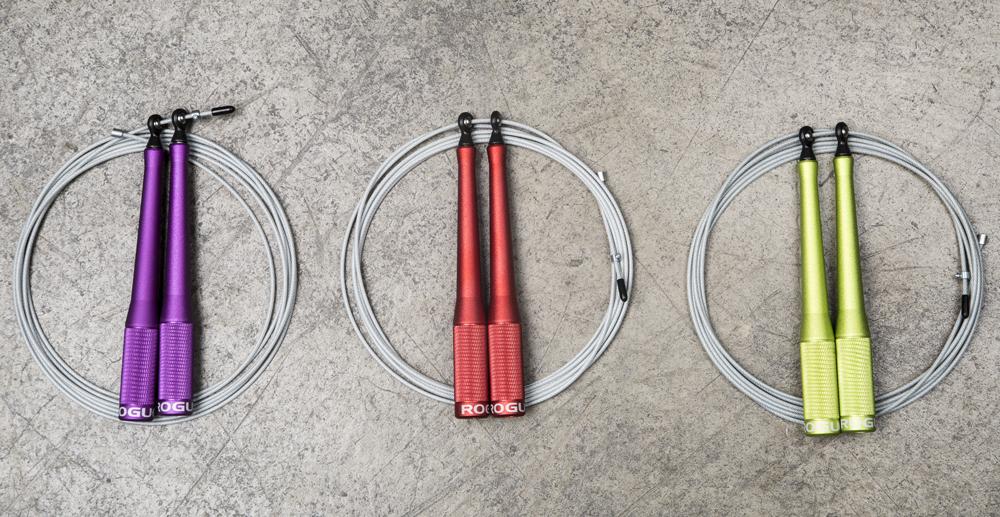 Combine that with ball bearing in the handles – and you can whip the "rope" around you much, much faster than a traditional rope.
So, if you think DUs will be in your open workout – it's best if you have a speed rope (and know how to use it.)
Lifting Belts
The weightlifter's belt is a controversial item in CrossFit.
It's considered a crutch – a poor excuse for not developing a bullet-proof core and lower back.
But the fact is that for high repetition deadlifts, and other lower-back roasting exercises – they can provide benefit.
For example, the 20.3 open workout required A LOT of deadlifts.
Having a belt for that workout would've been a good idea – and weight belts are allowed as per the CrossFit open rules.
We'd recommend a belt like the Schiek 2004 Nylon Lifting Belt.
This is a cost effective nylon belt – with exact adjustments.
Being low-profile, there's no bulk buckle or other hardware to get in the way of a clean or snatch.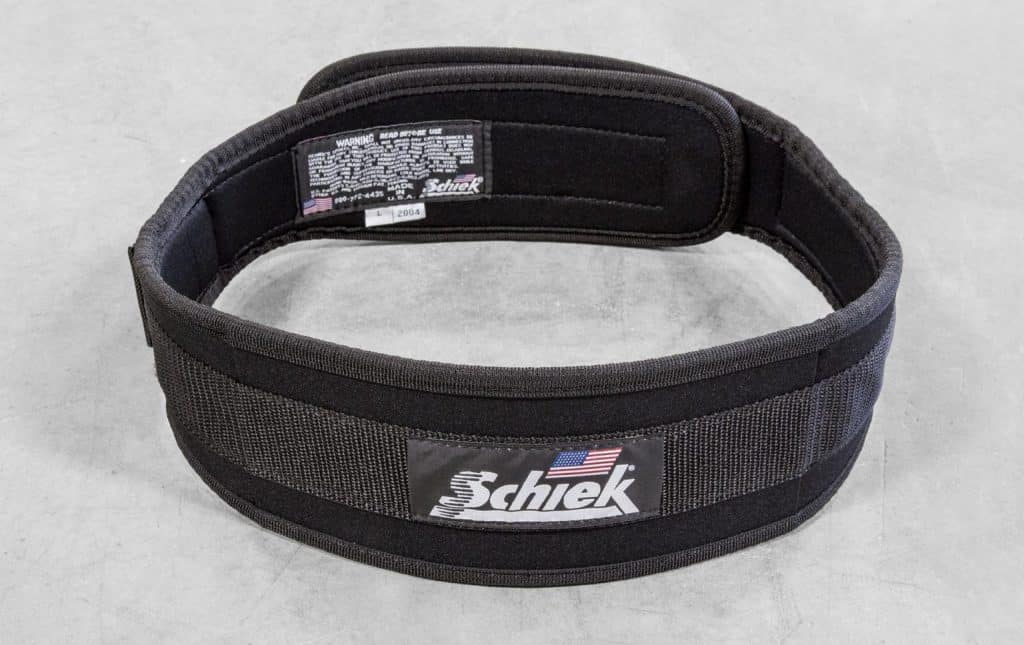 It is contoured to provide a better fit.

Hell bent on an old-school leather lifting belt?
Check out the Ohio Oly Weightlifting Belt from Rogue Fitness.
It is skinny up front – so it's easy to use for deadlifts (and everything else.)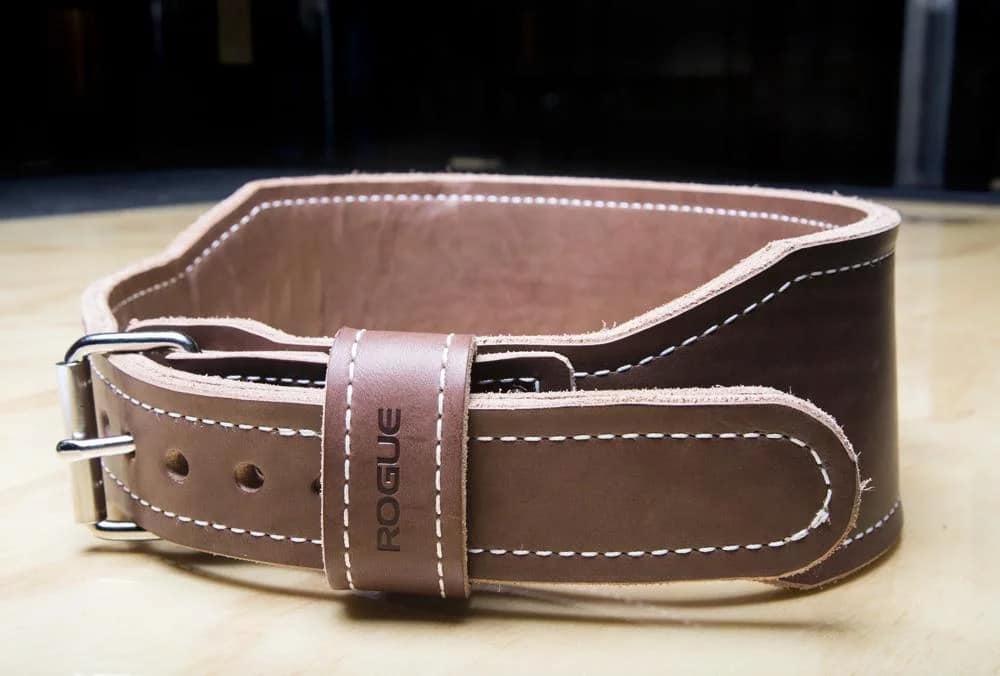 That belt looks real good.
Just be aware that it is more likely to get in your way…
Wrist Wraps
Earlier, we talked about wrist bands that helped absorb excess sweat and keep it off the palms of your hands.
But now we're going to look at Wrist Wraps, like the Rogue Wrist Wraps White Series.
Wrist wraps like these will help keep excess perspiration off your hands – but they are not as absorbent as wrist bands.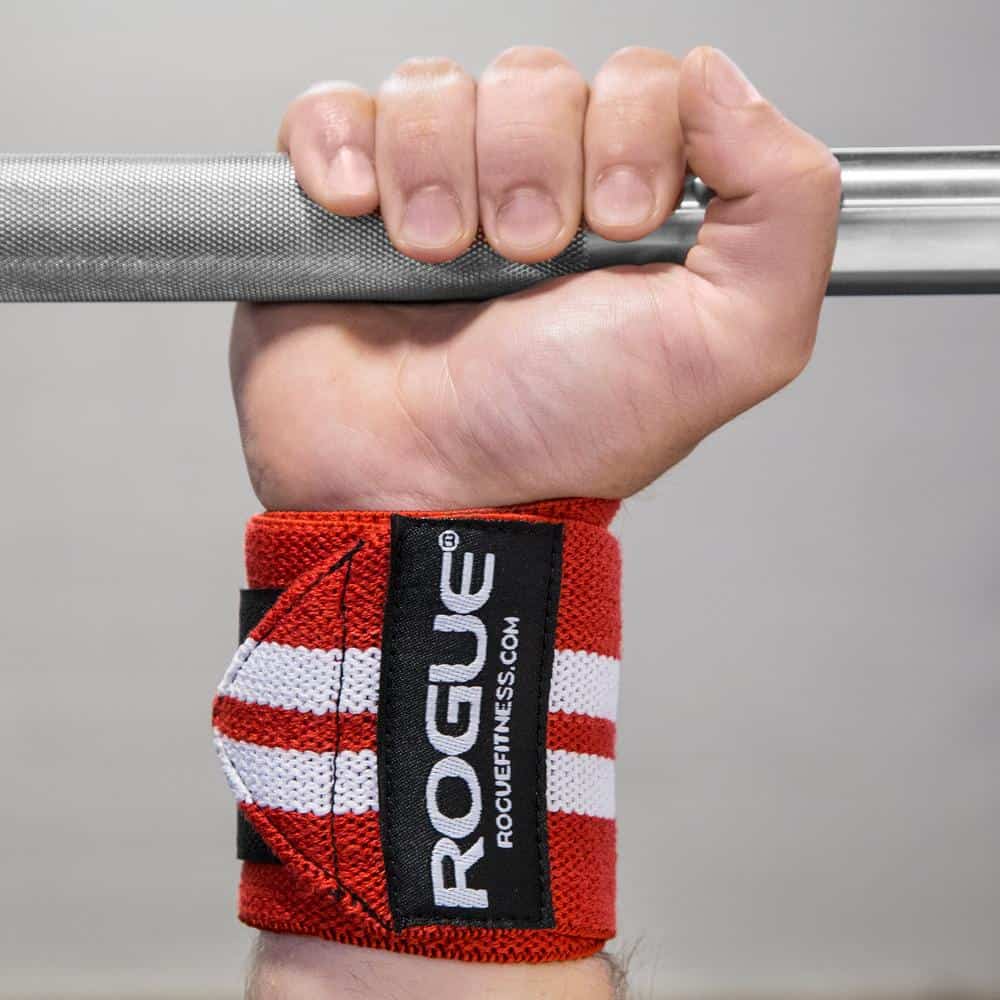 What they are really for is to provide support and stability to your wrist joints.
This can be a blessing for any sort of overhead pressing, hand stand pushups, and more.
Knee Sleeves
Got knee problems?
Welcome to the club.
The knees bear a lot of weight in open workouts.
Knee sleeves like the Rehband Knee Sleeves may help.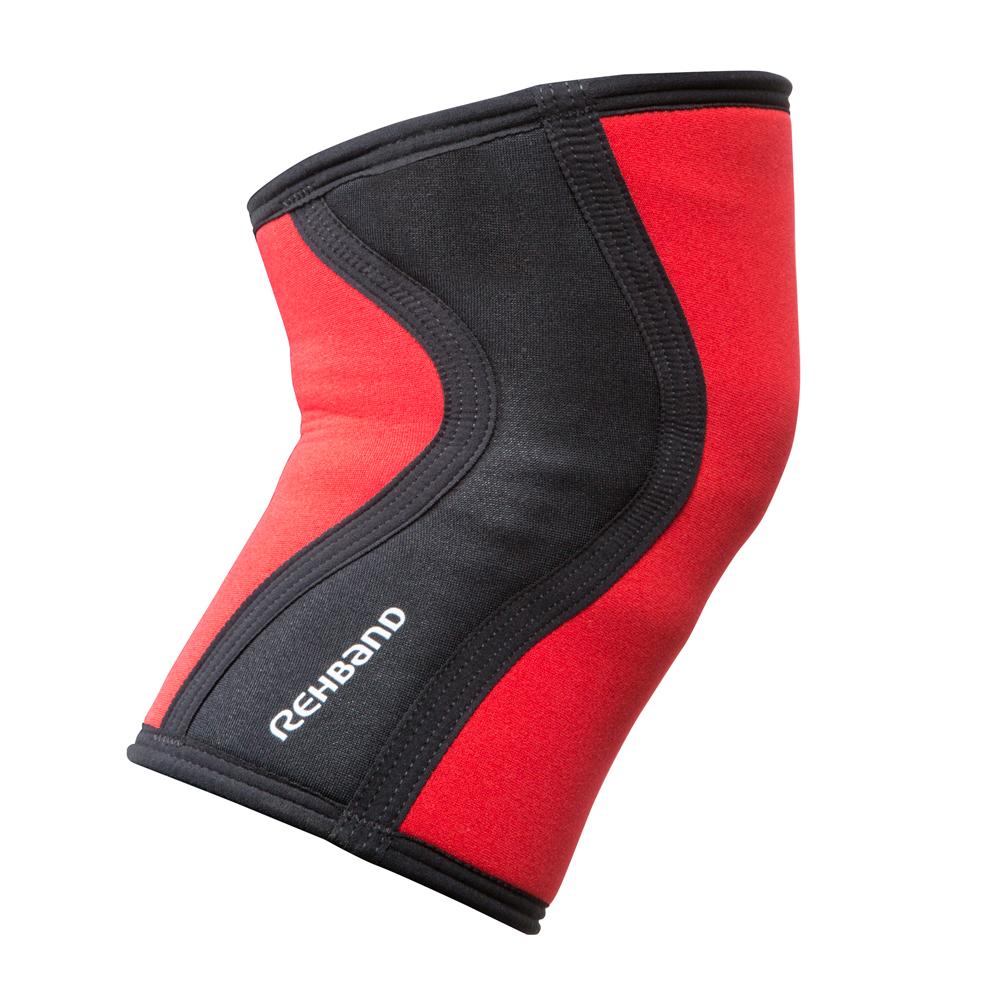 These are a tight-fitting neoprene sleeve that provides both a compression effect and helps bring warmth to the joint.
These can help keep your knees warm – and provide extra support around the joint.
Lastly, they are also good for enhanced proprioceptive feedback – it's easier to tell what's going on in the movement with these on (to feel if you are going deep enough, etc.)
As with any support gear – don't use these as a crutch. They also don't magically heal injuries.
But with those caveats out of the way – you can probably determine if you think these will help your open score.
Gym Chalk
Here's a basic accessor – gym chalk.
What does it do?
It absorbs moisture and keeps your hands dry.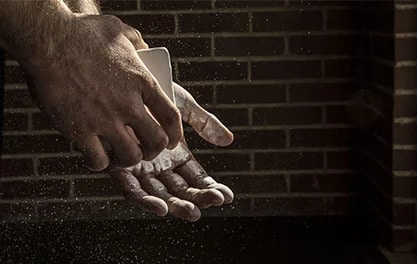 It also reduces friction – so your hands will fare better throughout the workout.
Is it messy? Yes – a little belt.
Just learn how to use the right amount – and don't waste it.
Phone Tripod
For the open, you've got to video your performance and submit it.
Now a days – smartphones have excellent quality video, so you can use that.
But it's hard to prop up your phone – and it's risky to have someone else stand and video your workout.
Just get a tripod like the UBeeSize Extendable Tripod Stand with Bluetooth Remote for iPhone & Android Phone(Buy on Amazon).
Works with any size iPhone or Android (the vise grip is adjustable), and it has a great bluetooth remote.
It's robust, multi-angle adjustable, and height adjustable.
This will ensure you get the right angle for your entire workout.
CrossFit Open Gear – In Summary
There's a few pieces of gear that help a lot in the CrossFit Open.
Grab it beforehand – and have it when you need it.
We hope you found this useful – and good luck on your 20.3 open workout!
Why Rogue Fitness Products?
We're a
Rogue Fitness
affiliate – so if you order equipment after clicking the links in this article we receive monetary compensation. But that's not why we recommend Rogue. It's because their equipment is tough, durable, well-made, and stylish. Their equipment looks good, and works even better. Their innovative designs and diversity of options make your training better – allowing you to reach your personal goals faster. And that's why we love them.
Image and Photo Credits
The Rogue Fitness logo and product imagery on this page is property of Rogue Fitness and provided by Rogue Fitness.
This website is not affiliated or associated with CrossFit, Inc. CrossFit is a registered trademark of CrossFit, Inc.
Tim is the founder of FitAtMidlife.com – an avid gym rat for 30+ years, he's a reviewer of many, many shoes – and founder of the Speed Bag Gathering – the world's only gathering of speed bag punching enthusiasts.  See more gym reviews at Tim's YouTube channel.