Here's the new TANK M1 Push Sled – from Torque Fitness. This innovative push sled (you can pull it too!) uses magnetic resistance. That means no loading / unloading weights – and it is usable on nearly any surface!
Weight sleds are great for big spaces, but it wouldn't be practical if you will use them in your home gym. Not with Torque Fitness' TANK M1. It is developed specifically for home gyms providing a quieter sled workout, space efficiency, and an excellent conditioning workout. The TANK is well-designed and utilizes magnetic resistance instead of weight plates and friction.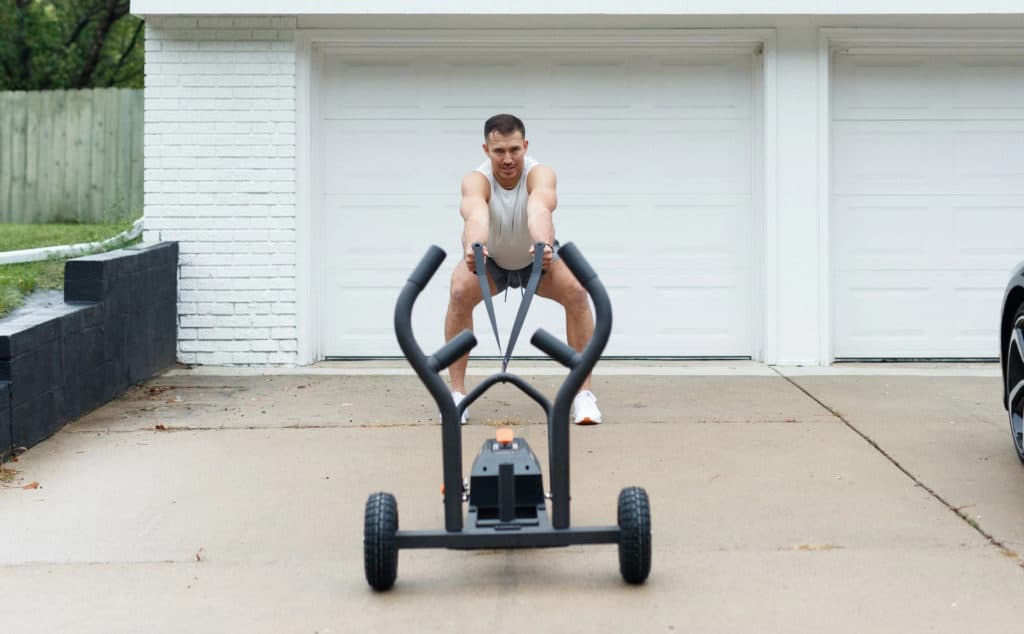 New from Torque Fitness: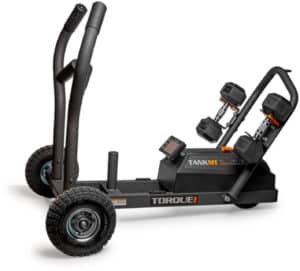 TANK™ M1 Push Sled (Gray)
Because the TANK is more than just a traditional resistance sled, it can be pushed, pulled, towed, or used as a stationary implement. You can also use different attachments and accessories to make your workout fun and exciting.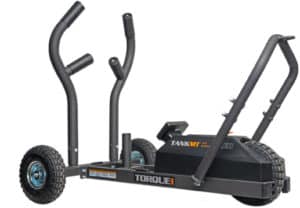 TANK™ M1 Push Sled (Gray)
Also - available from Rogue Fitness. The TANK has a Console option that offers data for up to four different users at a time for a whole new workout experience.
TANK M1 Push Sled – Overview
The Torque Fitness TANK M1 Push Sled is a versatile and solid home gym sled with a high-quality build. It uses magnetic resistance instead of weight plates, making it quieter and applicable in a neighborhood setting. The TANK can be pushed, pulled, towed, or used as a stationary implement, and including it in your workout gives you endless versatility.
The TANK is improved with the new optional Console that gives real-time training data. The Console measures and enhances your individual or group TANK training sessions with the optional custom display that shows data on time, calories, watts, distance, and Push Force Energy™.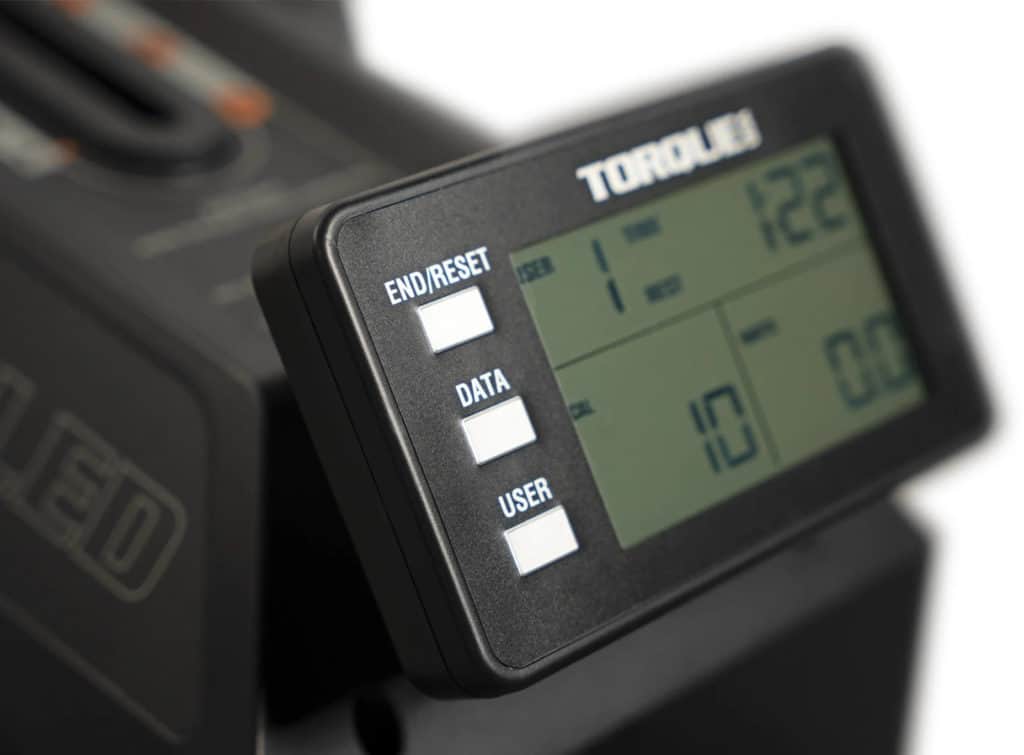 Another new feature of the TANK is its added traction for towing movements and taking your dumbbell workouts on the go with the optional dumbbell cradle kit. This attachment carries one pair of dumbbells up to 20 lbs. The improved three-position tow loop bar enables more traction to reduce pressure on the front wheel and create more training options.
You can use the loop to attach V-Straps, battle and tow ropes, and more. The TANK comes with easily removable handles, a compact design, and adjustable resistance levels—the same features as the original TANK. It has three training levels: Speed Power, Acceleration Power, and Explosive Power—the faster you push, the more difficult it gets.
With the Wheelbarrow Handle attachments, you can increase your training versatility by smoothly swapping your standard TANK handles out mid-workout for new movement possibilities.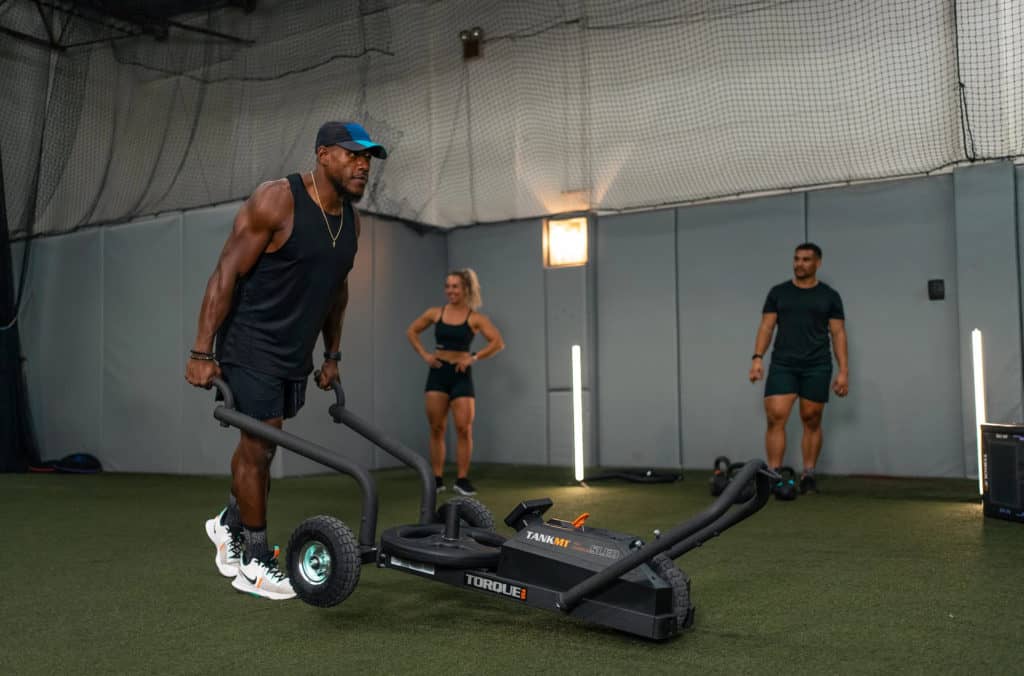 Because it uses wheels, your training becomes silent, so you can use it around without disturbing neighbors and strangers. The Wall-Mounted Storage System allows you to store the TANK easily, saves you space, and serves as an anchor point for battle rope and resistance band training.
Whether young or old, an athlete, or rehabilitating an injury, TANK training will benefit all in many ways. TANK training protects you against turf toe, plantar fasciitis, heel pain, shin splints, Achilles tears, knee ligament tears, and jumpers knee.
The TANK offers a ten-year warranty on frame and welds, one year on parts and finish, and 90 days on grips and optional accessories.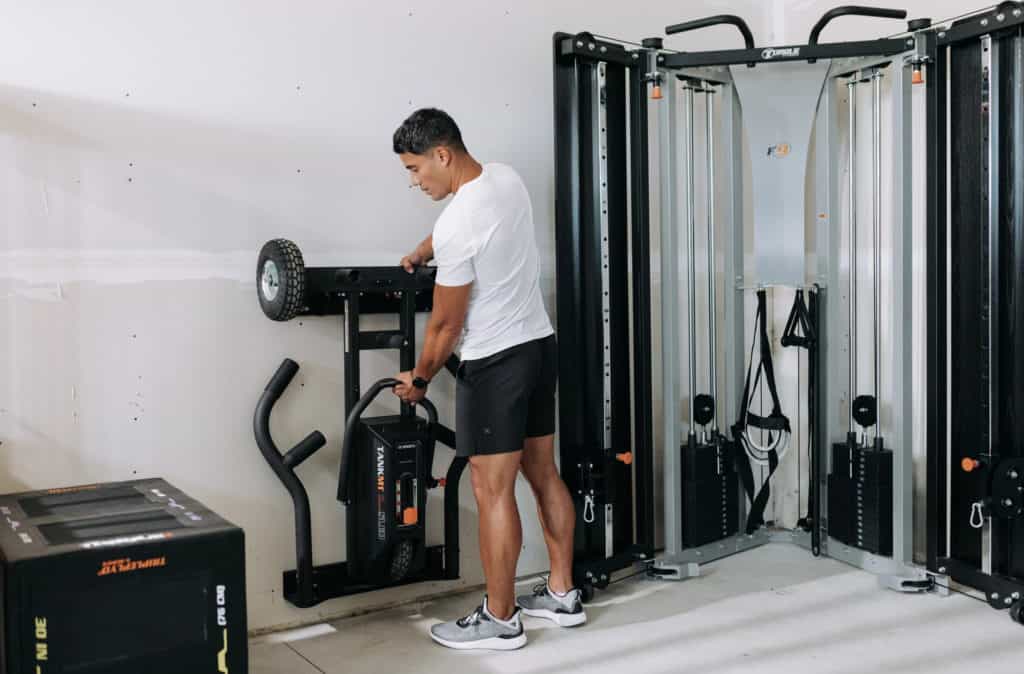 TANK M1 Push Sled – In Summary
That's our close-up look at the TANK M1 Push Sled.
The TANK is a versatile piece of equipment that uses magnetic resistance rather than weight plates and friction. It is remarkably well-made, quieter than other sleds, provides an extraordinary conditioning workout, and is very space-efficient. The all-new TANK M1 has both a Console option, a dumbbell cradle option, and an upgraded three-position tow loop bar.
Looking for more options? Check out these other great products:
Looking for more? Here's the entire lineup of TANK Push Sleds from Torque.
Torque also can cover all your Power Racks and Squat Stands needs.
More products from Torque Fitness.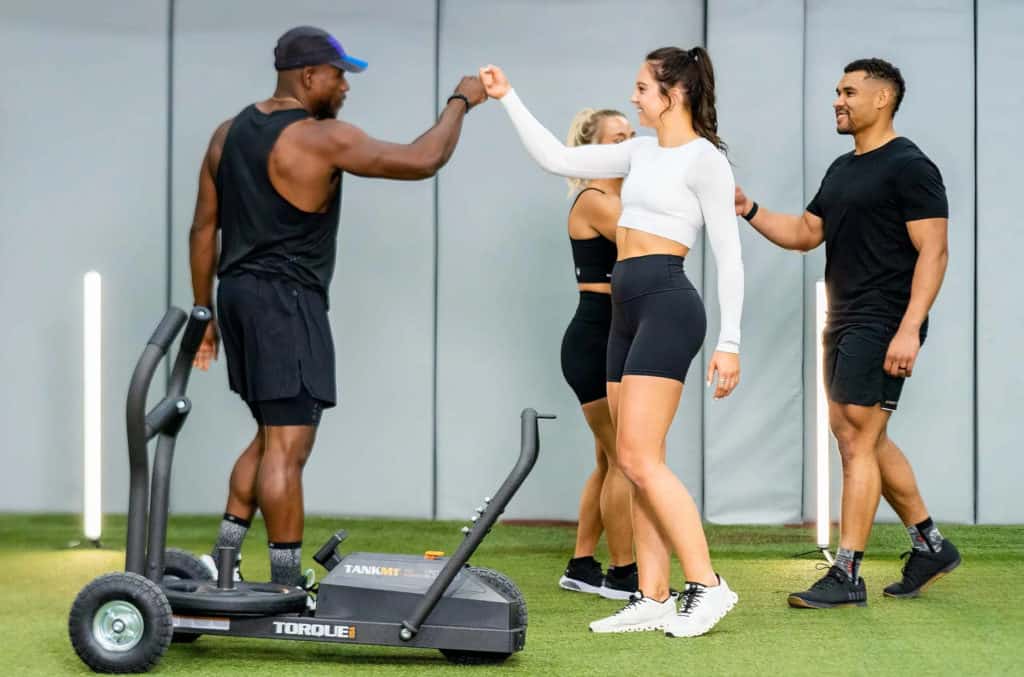 Photo Credits
Product photos on this page are property of Torque Fitness.
This website is not affiliated or associated with CrossFit, Inc. CrossFit is a registered trademark of CrossFit, Inc.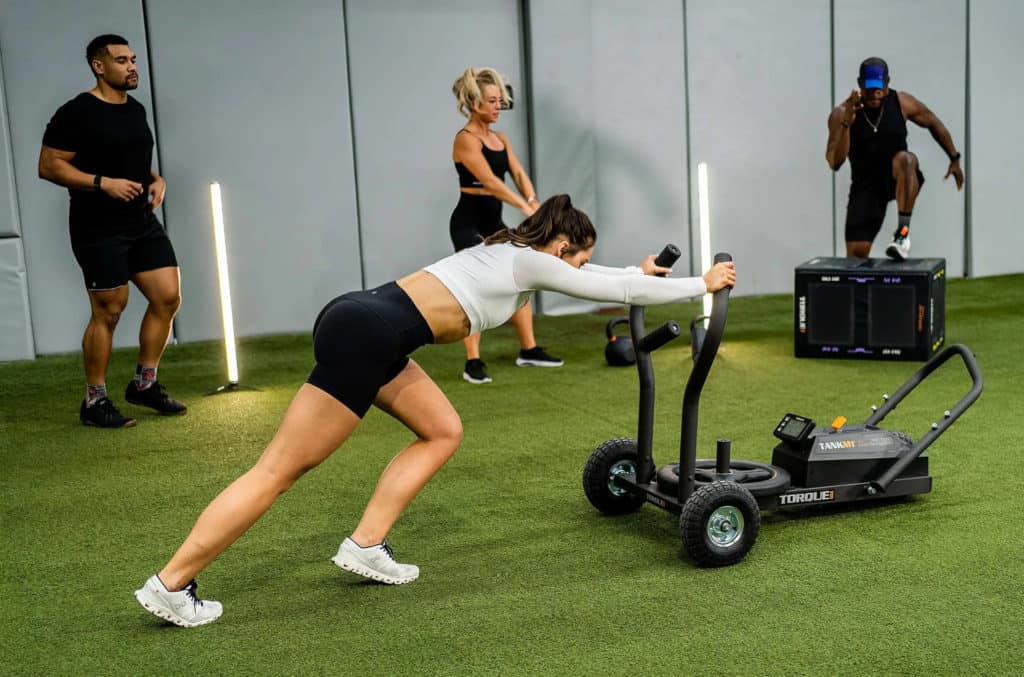 Affiliate Disclaimer
We are an affiliate of Torque Fitness and others that sell this training gear. If you buy clothing or other training gear after clicking the links in this article, we receive a small commission at no extra cost to you. This helps us to bring you in-depth information and content on these great training products.
Tim is the founder of FitAtMidlife.com – an avid gym rat for 30+ years, he's a reviewer of many, many shoes – and founder of the Speed Bag Gathering – the world's only gathering of speed bag punching enthusiasts.  See more gym reviews at Tim's YouTube channel.