Let's take a look at Rogue HG 2.0 Collars – Magnetic.
Barbell collars are an essential tool in loading any weight onto your bar. Their main purpose is to provide safety when training by keeping the weight plates from slipping off the barbell sleeve. They also guarantee the weight load stays evenly divided and prevent the plates from sliding.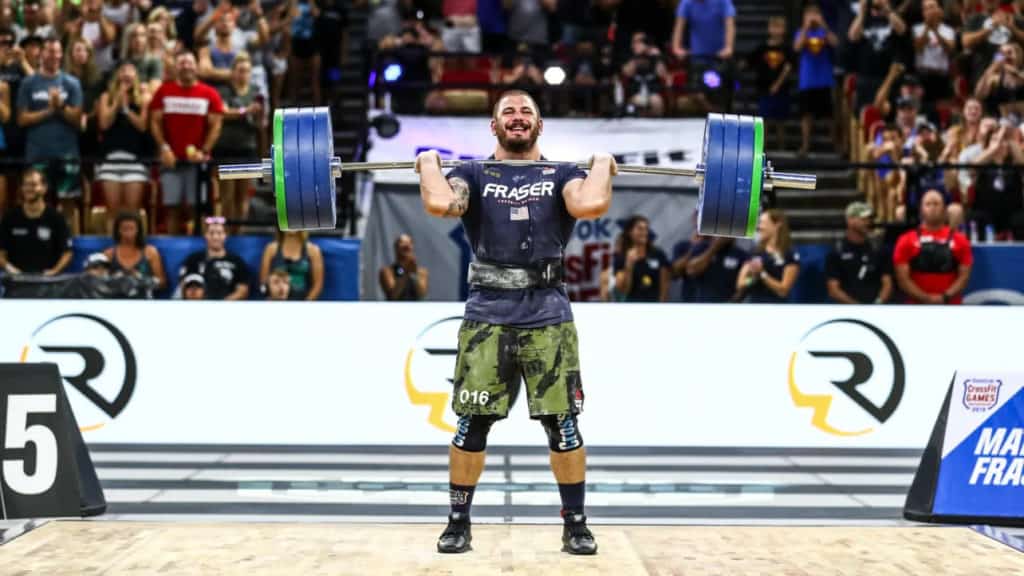 Here are some of the styles we are going to look at:
Rogue HG 2.0 Collars – Magnetic – Overview
Without barbell collars, your plates will slide outward on your barbell sleeve. When this happens, the weight in your bar will be unbalanced, resulting in instability while lifting. The weight should be as close to you as possible, and the collars' role is to make sure they stay in place. When choosing the right collars for your barbell, checking the diameter of your barbell sleeves is necessary.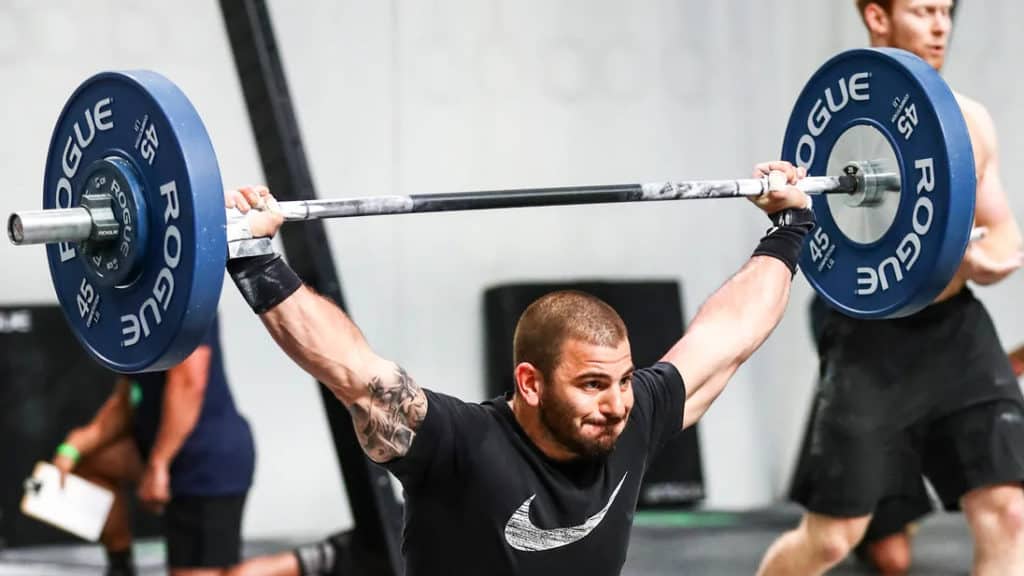 Olympic barbells highlight rotating sleeves that are 50mm in diameter, while standard barbells have non-rotating sleeves that are 25mm in diameter. The right collar that will fit your bar is the next step that should be considered. There are different types of barbell collars (OSO collars, spring, lockjaw, spinlock, snap clip, and many more), but choosing the right one can also make a huge difference.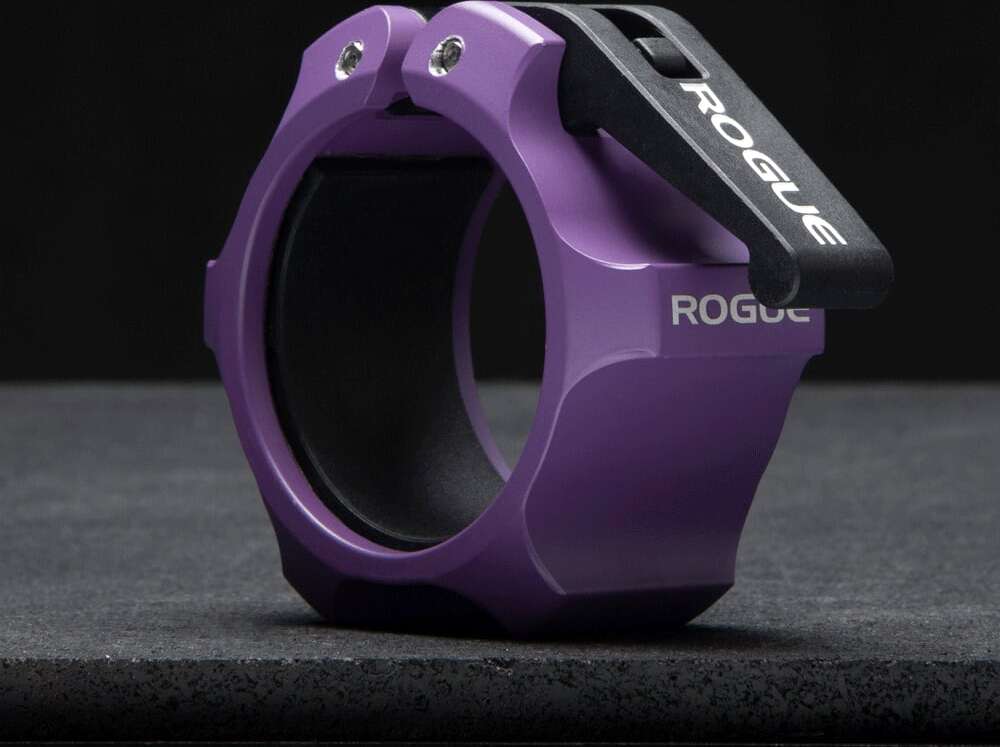 Rogue HG 2.0 Collars – Magnetic
With Rogue HG 2.0 Collars – Magnetic, you can expect consistent, dependable performance regardless of movement or how much weight is on the bar. These collars introduce a single powerful N52 magnet created into each collar, so you can attach the collar against the surface of an upright or cross member when not in use.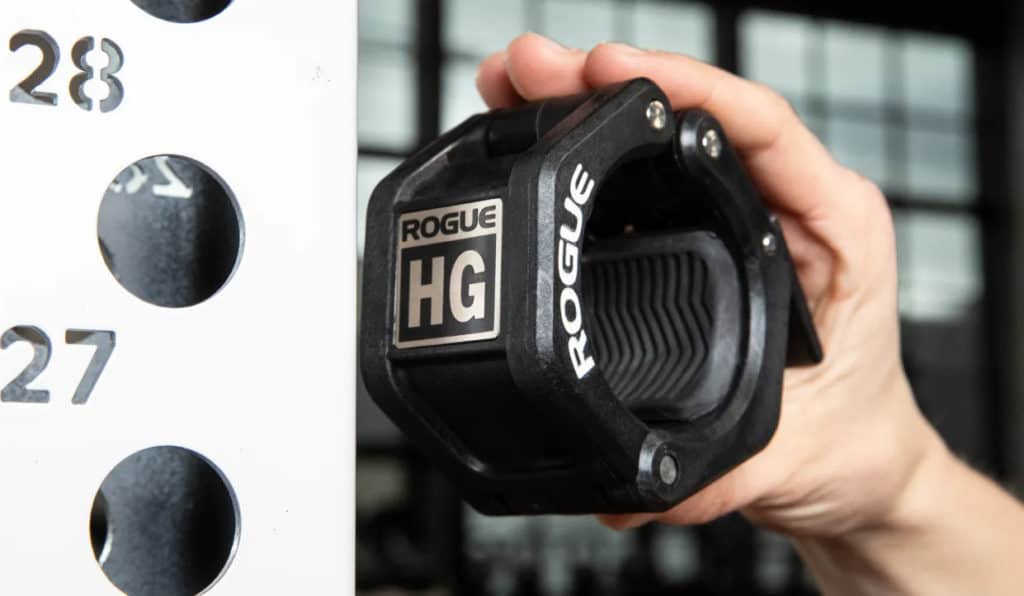 HG Collars are created from a lightweight but incredibly durable nylon resin with a soft contact surface that won't damage your plates or bars. They also have an innovative clamp mechanism patented for its fast-locking action and distinct red tab. The design also incorporates top-quality stainless steel hardware, embossed Rogue HG logos, and rubber padding to better grip the bar sleeve.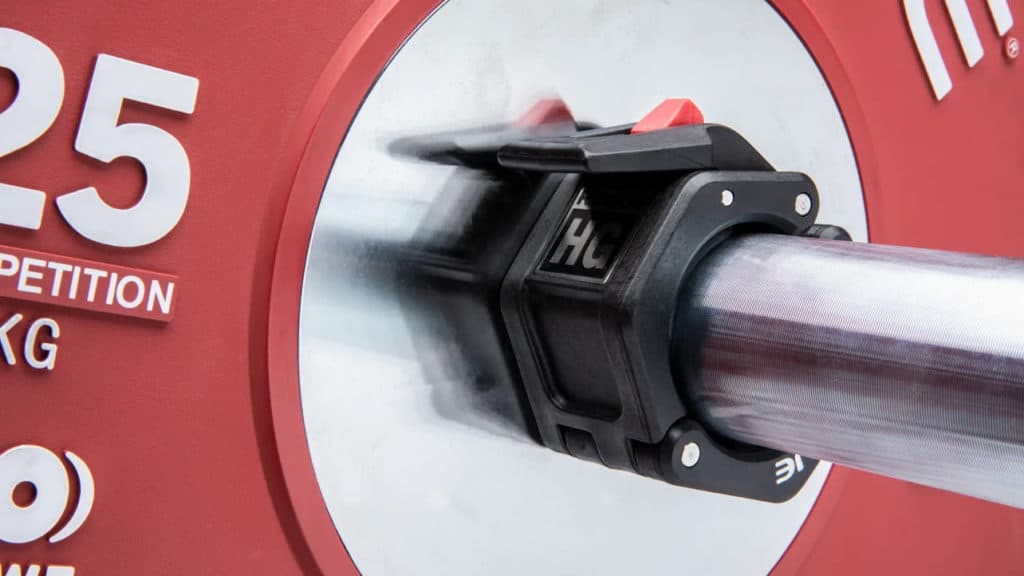 Rogue OSO Barbell Collars
Made in the USA, the Rogue OSO Barbell Collars are the exclusive, Rogue-branded version of the OSO Barbell Collar — an innovative, aircraft-grade aluminum clamp design. They have a black rubberized interior lining to protect the bar and come with a two-year warranty.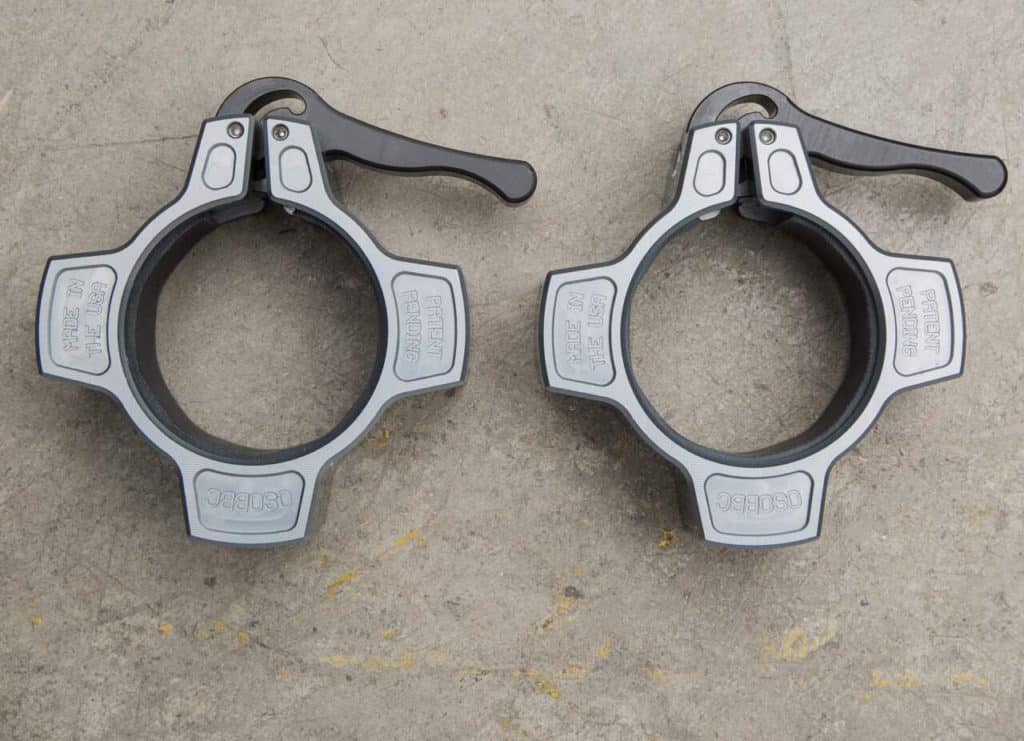 They are furnished with a rubberized interior lining to save the bar, produce a secure, stable hold through repeated, high-impact drops, and enable easy adjustments or removal with a straightforward lever and lock/unlock mechanism. They are sold in pairs made from 6061 Billet Aircraft Grade Aluminum with a design used on 50MM Olympic bar sleeves.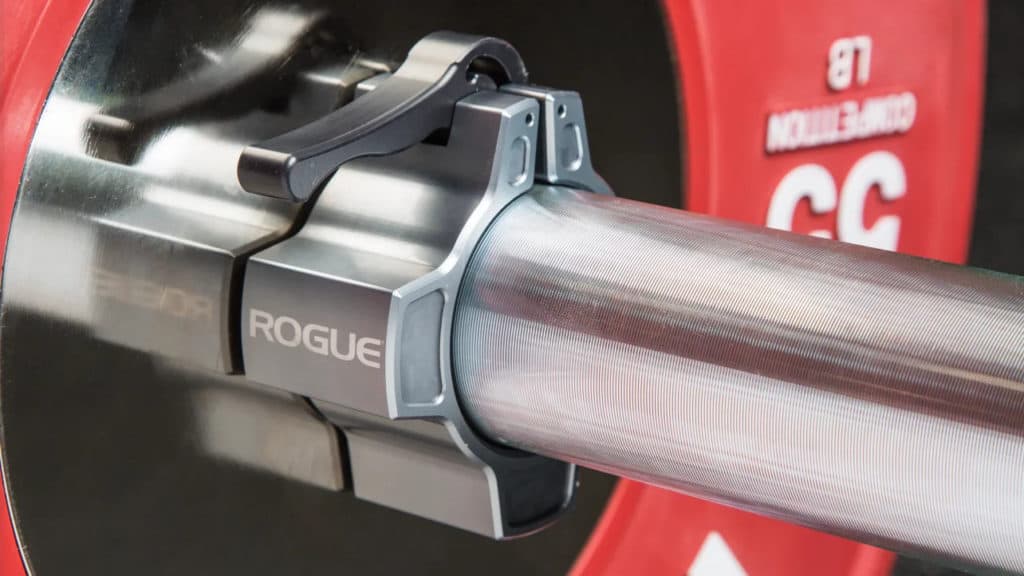 Rogue USA Aluminum Collars – Cerakote
The Rogue USA Aluminum Collars – Cerakote are constructed from the same advanced, aircraft-grade 6061 Billet Aluminum as the original anodized silver USA Collars (sold separately), and are compatible with any standard Olympic barbell sleeve. The collars include nylon, lock-open lever with a snap flexure, allowing you to completely open the collar for more straightforward installation on the bar.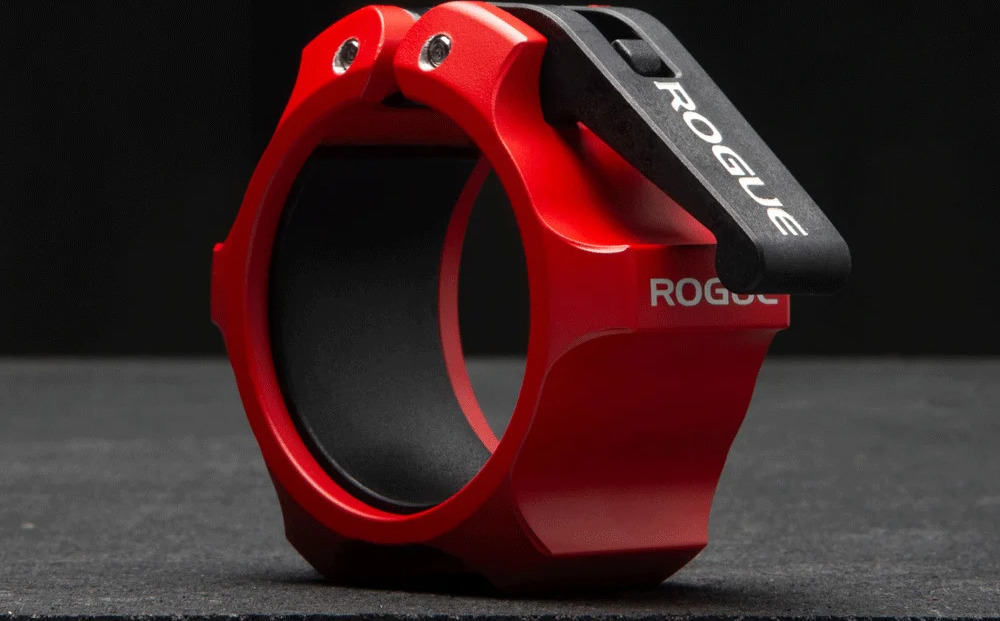 These are the first Rogue USA Collars to utilize the advanced Cerakote color coatings. This distinctive finish offers exquisite abrasion/wear/corrosion resistance over time — 100X that of standard black zinc and it's available in a range of color options, including Black, Purple, Blue, and Red. The interior rubber lining helps avoid any scuffs or friction as you train.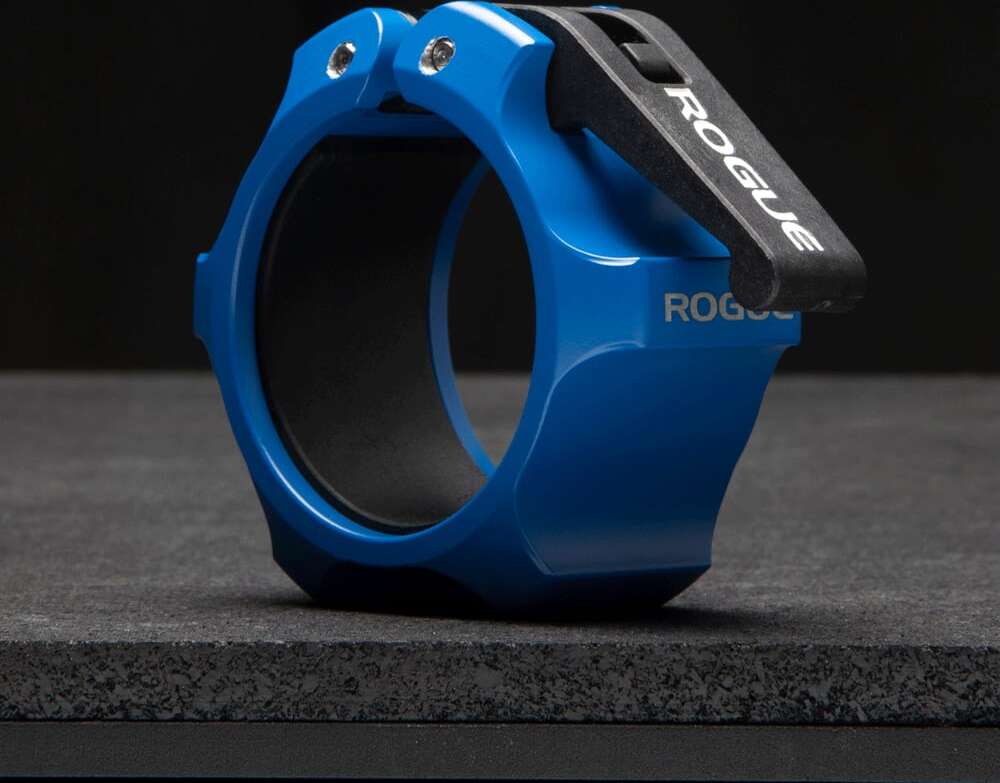 Rogue USA Aluminum Collars – Magnetic
Rogue's Magnetic USA Aluminum Collars are CNC assembled in the USA and possess a matte black hard coat finish with engraved Rogue branding in white. Each collar measures 1.5″ in width and has a lock-open lever with a remarkable snap flexure, which ultimately opens for easier installation on the bar. Once attached, the first-rate lockdown hold makes sure the collar won't loosen even during high-rep workouts.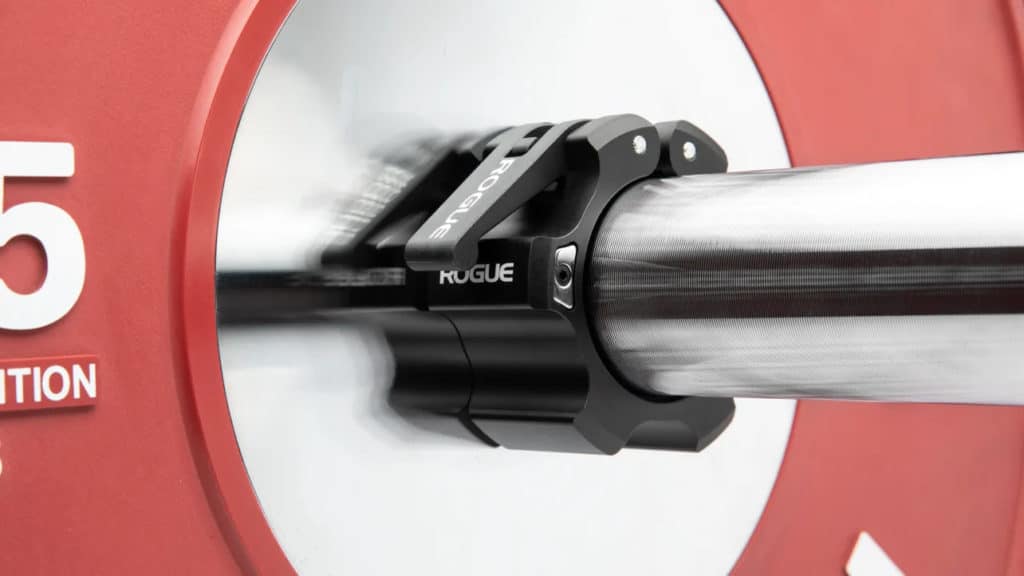 They are compatible with any standard Olympic barbell sleeve and come with an interior rubber lining to preserve the bar, a set screw that captures each rolling dowel pin for slicker lever action and longer usable life. Because of the built-in magnets, the weight of these collars (0.46 LB each) is slightly heavier than that of the original model (0.25 LB).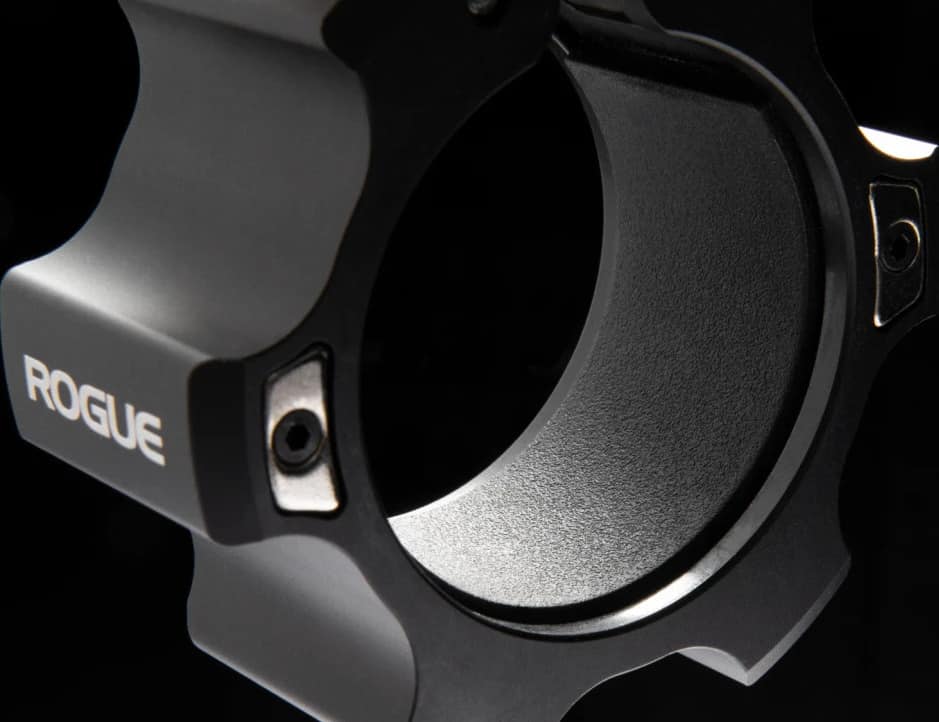 Rogue HG 2.0 Collars – Magnetic – In Summary
That's our close-up look at Rogue HG 2.0 Collars – Magnetic.
No matter the movement or how much weight is on the bar, you can expect a stable, dependable performance from these collars from Rogue. Their magnetic feature allows them to be stored anywhere on a power rack, and you can also make sure they stay there when you come back. Stability and durability are essential for the high-intensity weightlifter, and American manufacturing makes all the difference in providing that consistency.
Looking for more options? Check out these other great products:
Get a good deal from the selection of Boneyard Collars for Olympic Weightlifting Barbells. What's the BONEYARD? It's seconds quality merchandise from Rogue – it might have cosmetic issues or blemishes – but is fully functional and carries a discount.
Now that you've got the collars – might as well grab an Olympic Barbell to go with it.
More products from Rogue.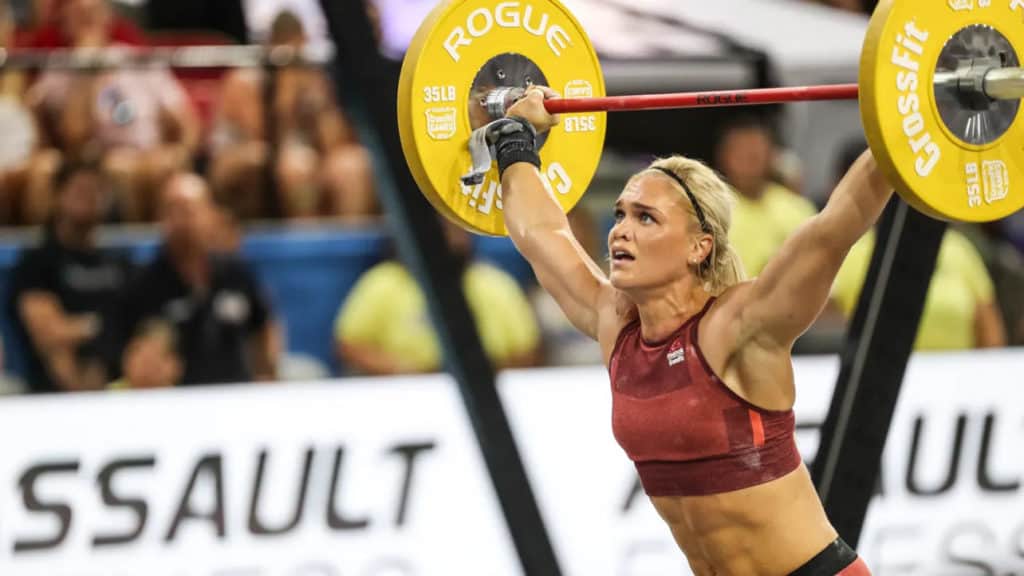 Photo Credits
Product photos on this page are property of Rogue.
This website is not affiliated or associated with CrossFit, Inc. CrossFit is a registered trademark of CrossFit, Inc.
Affiliate Disclaimer
We are an affiliate of Rogue and others that sell this training gear. If you buy clothing or other training gear after clicking the links in this article, we receive a small commission at no extra cost to you. This helps us to bring you in-depth information and content on these great training products.
Tim is the founder of FitAtMidlife.com – an avid gym rat for 30+ years, he's a reviewer of many, many shoes – and founder of the Speed Bag Gathering – the world's only gathering of speed bag punching enthusiasts.  See more gym reviews at Tim's YouTube channel.