Got air bike?
Stop flailing around with random workouts and pick an air bike training program.
We'll provide a round-up and overview of several of the best air bike training programs.
Have one to contribute? Give us a shout in the comments.
Here's some your options: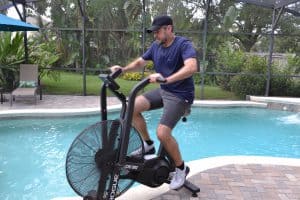 Year of the Engine (The Gains Lab)
The Gains Lab has a full year program called Year of the Engine. What is it? A 4 phase training program that will improve your work capacity across all time domains. It's not an air bike specific program - but every workout CAN be done on an air bike.
Air Bike Training Programs – Overview
Looking for more variety in your workout? Check out our 28 awesome assault bike workouts.
Otherwise, maybe you need a more structured training program.
After all, incremental progression is the foundation of physical training.
Check out these programs below.
Year of the Engine – The Gains Lab
I've been running "Year of the Engine" for 3 months now.
And I like the results I'm getting.
After many months of "random" workouts on the Echo bike, I decided it was time to step up to a real training program.
Year of the Engine is just that.
First of all, it's a 12 month program – split up into 4 phases.
The workouts span different energy systems – from pure anaerobic all the way to endurance – with others in between.
This well rounded program has good variety too – there's a pattern, a progression to the workouts.
But you are not stuck doing the same boring thing over, and over, and over.
This program costs money. But it's worth the small monthly price for sure.
Enter Valhalla by Kenneth Jay
Kenneth Jay wrote a book called "The Cardio Code." He also developed an innovative workout for the rower that combines aerobic power with anaerobic tolerance.
This can be applied to the Air Bike as well. (Although there's no progression in this particular workout – as such it's not really what we'd consider a full-fledged training program).
Overall, it combines all of the different energy turnover pathways (aerobic, aerobic capacity, and anaerobic.)
It is designed to build the capacity to increase power – even when in a fatigued state.
It's recommended to do this workout 2-3 times per week – and you'll be burning 630 calories or so each time.
Enter Valhalla for Air Bike:
Calculate your VO2 Max by biking for 240 calories. The Average Watts you achieve is your VO2Max. You will be biking at a percentage of your VO2 Max:
90 cals @ 85% (of VO2 Max)
(3 minute pause)
60 cals @ 100%
(2 minute pause)
30 cals @ 115%
(1 min pause)
6 cals @ max
(20 sec pause)
6 cals @ max
(20 sec pause)
6 cals @ max
(20 sec pause)
6 cals @ max
(20 sec pause)
Repeat for 3 rounds total.
Please note, there's no progression to this program. You just keep doing the workout – and try to do better each time.
Proper Air Bike Form?
People underestimate the benefit of making sure you are using the air bike correctly.
There are ways to maximize your power output and endurance.
Check out the Training on the Assault Bike (Video Series) from Zoar Fitness for some excellent analysis on how you can optimize.
Air Bike Training Programs – In Summary
The Air Bike can be a fun workout – there's all sorts of ways to keep yourself entertained.
But eventually, you're going to want an actual training program – so you can achieve concrete results.
Programs like the Year of the Engine from Gains Lab will give you just that.
So, put that expensive air bike to good use – and get on a real training program.
Photo Credits
Some product photos on this page are property of the manufacturer.
This website is not affiliated or associated with CrossFit, Inc. CrossFit is a registered trademark of CrossFit, Inc.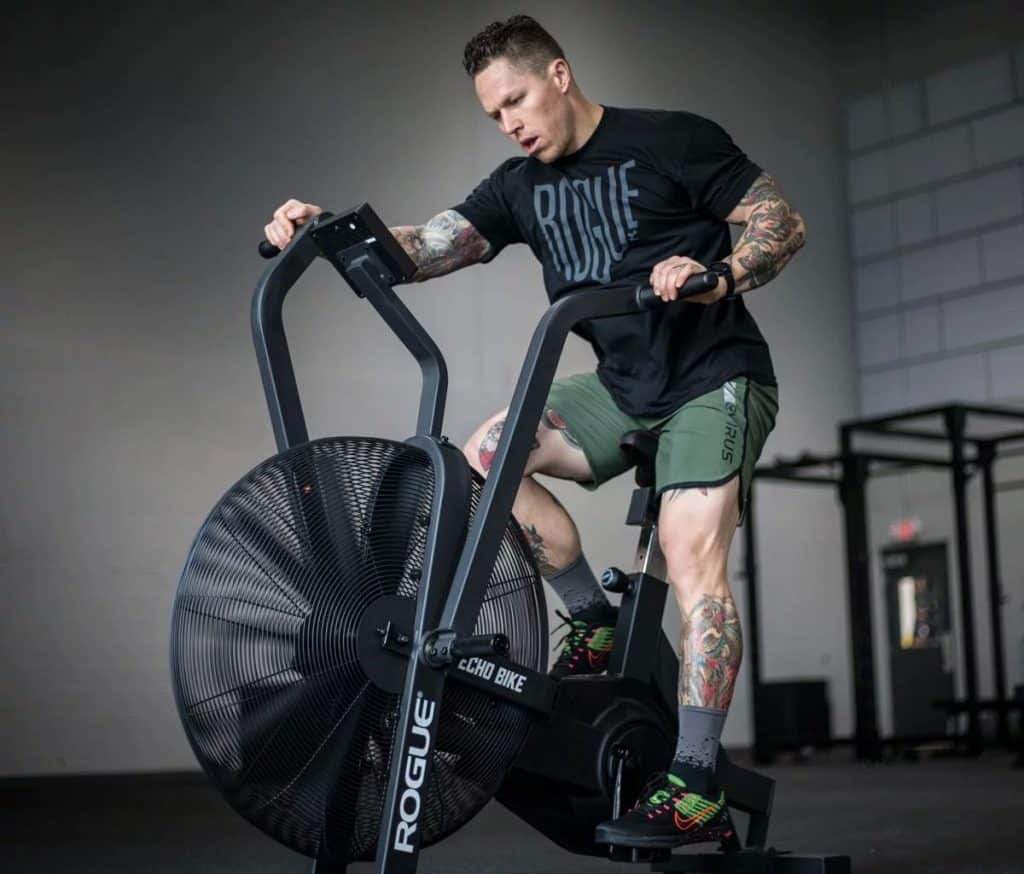 Affiliate Disclaimer
We are an affiliate of Rogue Fitness, and other companies that sell air bikes. If you buy equipment after clicking the links in this article, we receive a small commission at no extra cost to you. This helps us to bring you in-depth information and content on these great training programs.
Tim is the founder of FitAtMidlife.com – an avid gym rat for 30+ years, he's a reviewer of many, many shoes – and founder of the Speed Bag Gathering – the world's only gathering of speed bag punching enthusiasts.  See more gym reviews at Tim's YouTube channel.