NEW FOR 2022! Check out Black Friday 2022 – For Rogue, Rep, GORUCK, Force, Torque USA – and more!.
Black Friday Deals on Gym and Exercise Equipment have already begun.
We're tracking all of the best sales right here (the star rating is judged based on the number of items on sale, the discount amounts, and other perks like shipping deals):
Black Friday is the best time to buy gym equipment – not just because of the discounts and sales, but the shipping deals are often as good as they will get all year.
Let's dive right in.
Rogue Fitness Black Friday Sale (Matte Black November)
First of all, the most anticipated black friday sale for 2019 is Rogue Fitness' Black Friday annual sale.
Why? Because they don't really have sales throughout the year (just "hot deals" on individual items).
It's a BIG sale – and their "5 ships for $5" and "Hundo Pricing" are the two best ways to really maximize your savings.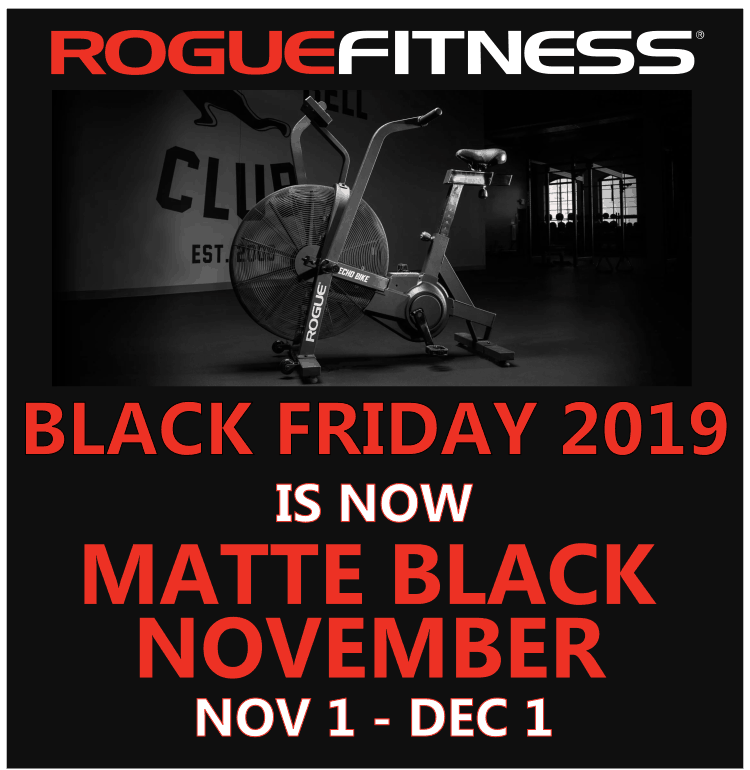 This year Rogue Fitness went all in – their Black Friday sale ("Matte Black November") started on November 1st, and continues through Dec 1st.
Quantities are limited – and many sale items have already disappeared.
What does Rogue Fitness have? (Don't act like you don't know – they are the most desirable brand name in gear for strength training, Olympic lifting, and CrossFit).
They have Hot Deals, MBF exclusives, Hundo pricing (buy more weight – save more), and of course their "5 ships for $5" deals on many items.
Most importantly, take advantage of their 5 for $5 shipping if you can. That's a big part of the savings.
Here's a few of the items you can get through 5 for $5 shipping: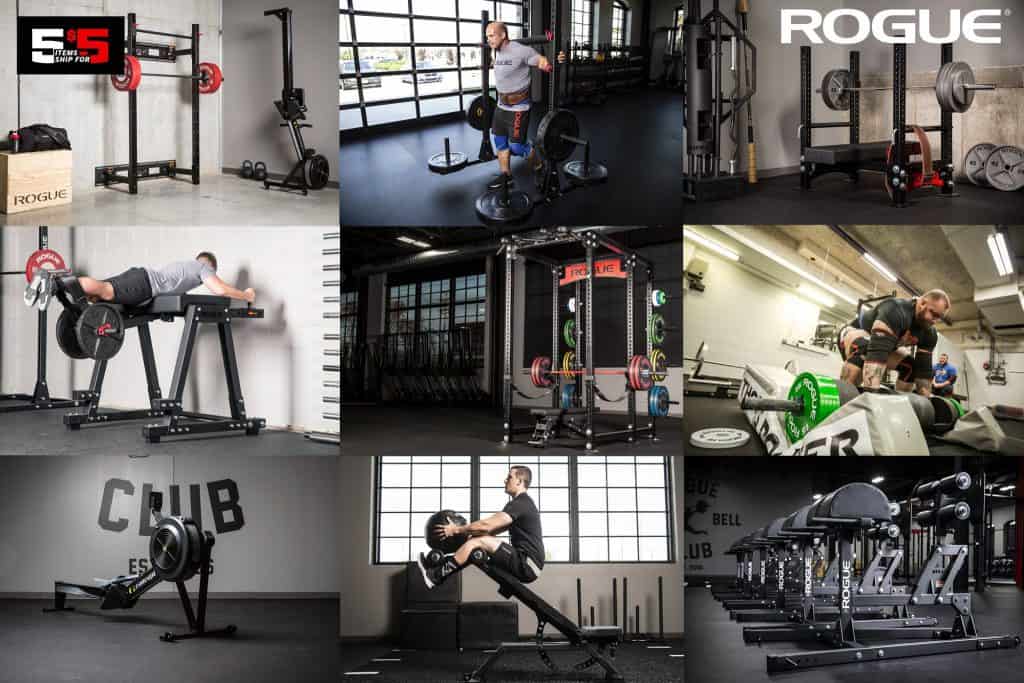 Not sure if you should pull the trigger? The "matte black friday" pricing is always the best pricing of the year from Rogue – It's not going to get any better.
Will Rogue have a Cyber Monday 2019 sale?
We don't know. In the past they have usually extended the Black Friday Sale to cover Cyber Monday (but they don't announce that until Cyber Monday).
Will they do the same this year?
I don't know – but I can tell you that since the sale has been going since Nov 1st – they sold out on a lot of items.
Therefore my advice is buy what you want (or need) now.
Rep Fitness Black Friday
Rep Fitness is an up and comer in the gym equipment market.
They make quality stuff – at bargain prices (just check the reviews on reddit.)
Their line of weight benches (flat, adjustable, and FID) are the best in the business. And their power racks are exceptional as well.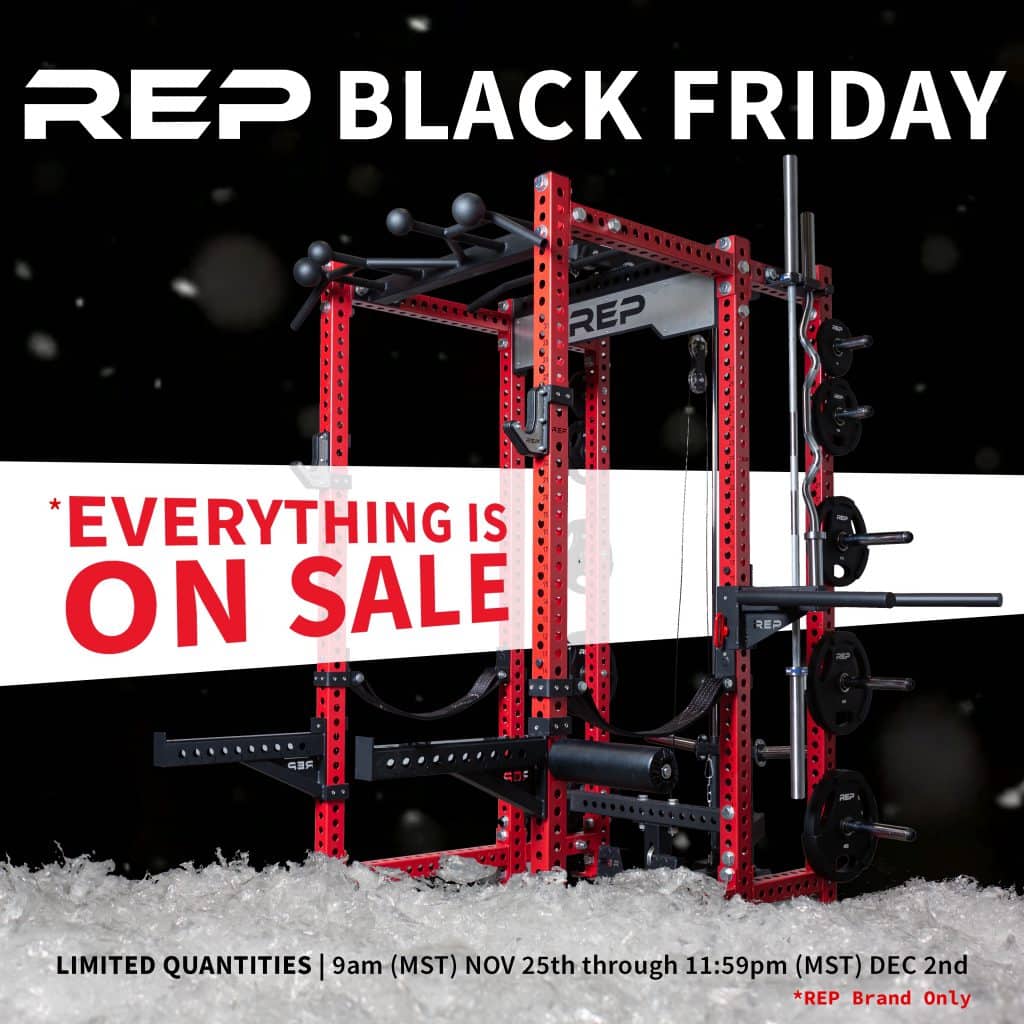 They have innovative designs that are competitive with the bigger companies – and a lot of great color options too.
Here's just one example, the AB-5000 adjustable FID bench: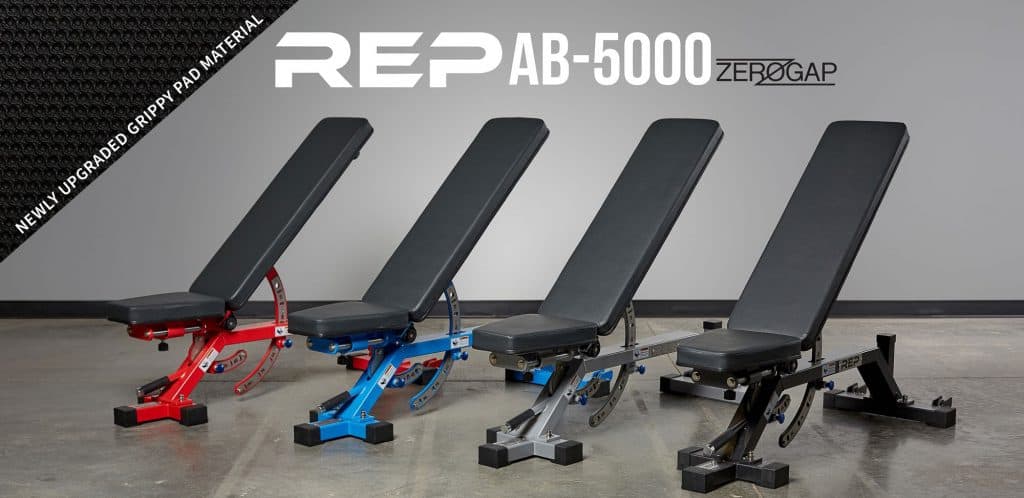 It's got a great design, high quality build – and you can customize it to match your garage gym theme (mine is RED.)
The Rep Fitness Black Friday sale will start on Monday November 25th, and run through December 1st.
Rep is our "go to" for high quality equipment on the cheap.
And they have all REP branded products on sale.
This includes their best products – like the AB-5000 FID bench, the new AB-5200 adjustable bench, and maybe even the PR4000 and PR5000 v2 power racks.
They've "pre-announced" that they'll have 5-15% off much of the website, plus "door busters".
Here's one tip for you : if you have your eye on any Rep Fitness equipment (like the excellent AB-5000 adjustable bench) – you better grab it right away.
Their most popular items are frequently out of stock on their popular items.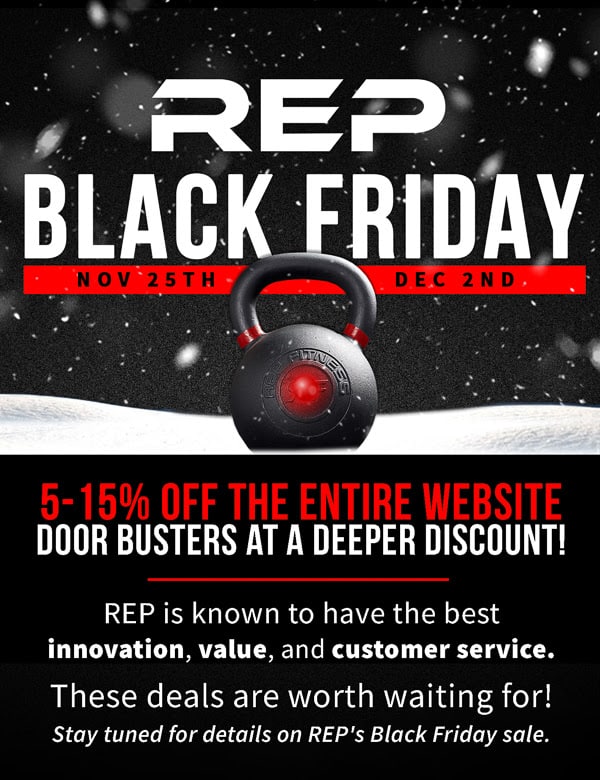 Want to know more about what they've got? Check out their website now and plan your purchases beforehand.
Vulcan Strength Black Friday Deals
Vulcan Strength's Black Friday Sale has already started.
They have a variety of "locked-in" discounts and tiered discounts – spend more, save more.
Here's a sampling of some of their best deals.
15% off Pro Ballistic Wall Balls
15% off Absolute Kettlebells
20% off Slam Balls
20% off Black Bumper Plates – This is a GREAT Deal
20% off Elite Bearing Barbell – A bearing barbell is a necessity for serious Olympic weight lifting.
They have some unique items too – like the Alpha bumper plates:
Spend over $4,999 and you'll get free shipping too.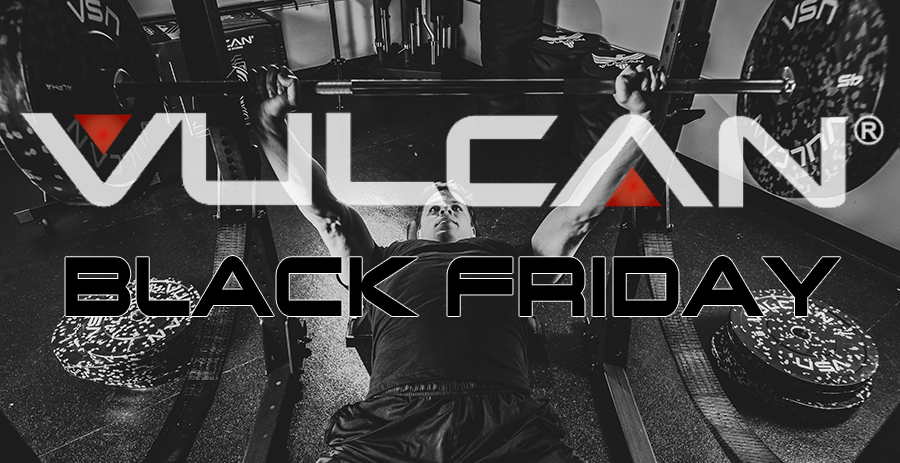 What do they have? Everything you need to outfit a garage gym or home gym.
Bumper plates, barbells, power racks, specialty bars, GHDs, kettlebells, conditioning equipment, and much more.
GetRX'd Black Friday CrossFit and Exercise Equipment Deals
GetRX'd Black Friday Sale has also begun.
They are "one stop shopping" for all your CrossFit and box outfitting needs.
Be sure to check out their line of "Xebex" branded air bikes and rowers.
It's a house brand, but of pretty good quality – and cheaper than the name brand rowers and air bikes you see elsewhere.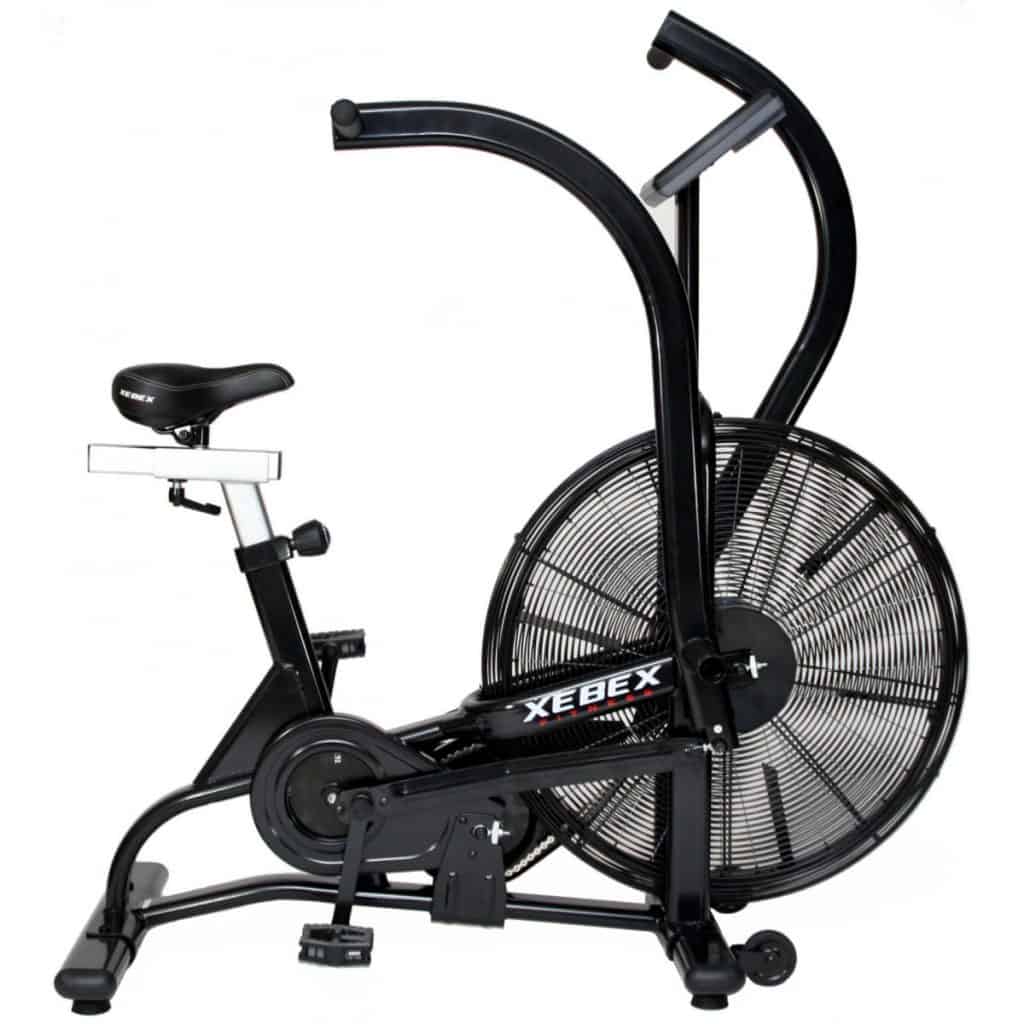 Xebex Runner – $3000 – This is a manual, curved treadmill – compare to the Assault Fitness AirRunner.
Xebex Air Rower 2.0 – $619 – A cost effective alternative to the Concept2. It's not equivalent, and it can't be used for CrossFit Open scores.
Xebex Air Bike – $580 – But – an Air Bike is an Air Bike – Compare to the Assault Fitness AirBike or Rogue Echo Bike
Foam Suppression Mats – $168 (when you buy two)
Wall Mount Folding Squat Rack – $270 – These are all the rage for 2019 – use your garage for your workout AND your car!
Power Cage (Power Rack) – $599
Stealth Bars – starting at $175 (these are needle bearing bars with a lifetime warranty!)
(Just remember that the CrossFit Open workouts doesn't accept rower scores unless they come from a Concept2 rower!)
They have more too, like galvanized power racks and rigs – these are great if you are putting equipment outside.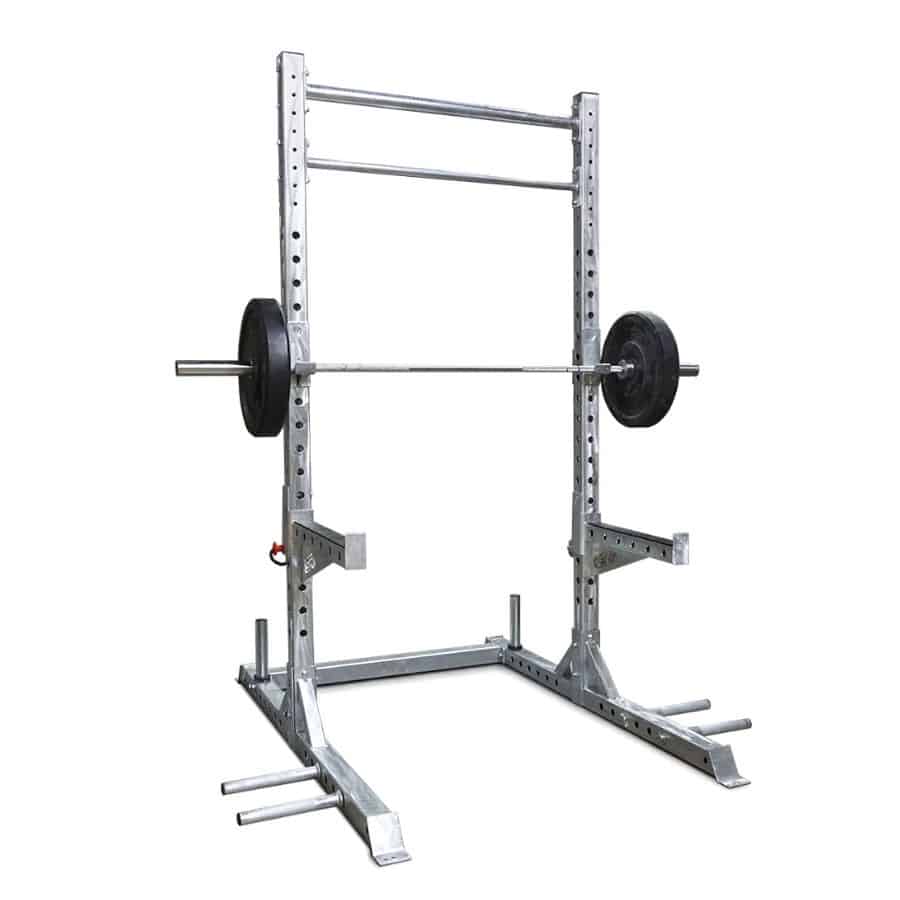 Force USA Black Friday Sale
In the market for some "all-in-one" strength equipment?
Be sure to check out Force USA Black Friday Sale.
One piece of their equipment can literally be your entire home or garage gym.
And for Black Friday, they are offering 0% financing.
But, what is even better : use our exclusive discount code FAM5 to get 5% off your entire Force USA order.
This is the highest level of discount that Force USA offers.
What kind of gear do they have? Here's the top of the line G12 All-In-One – it's a commercial quality power rack/cable machine/smith machine/functional trainer – but at home gym prices.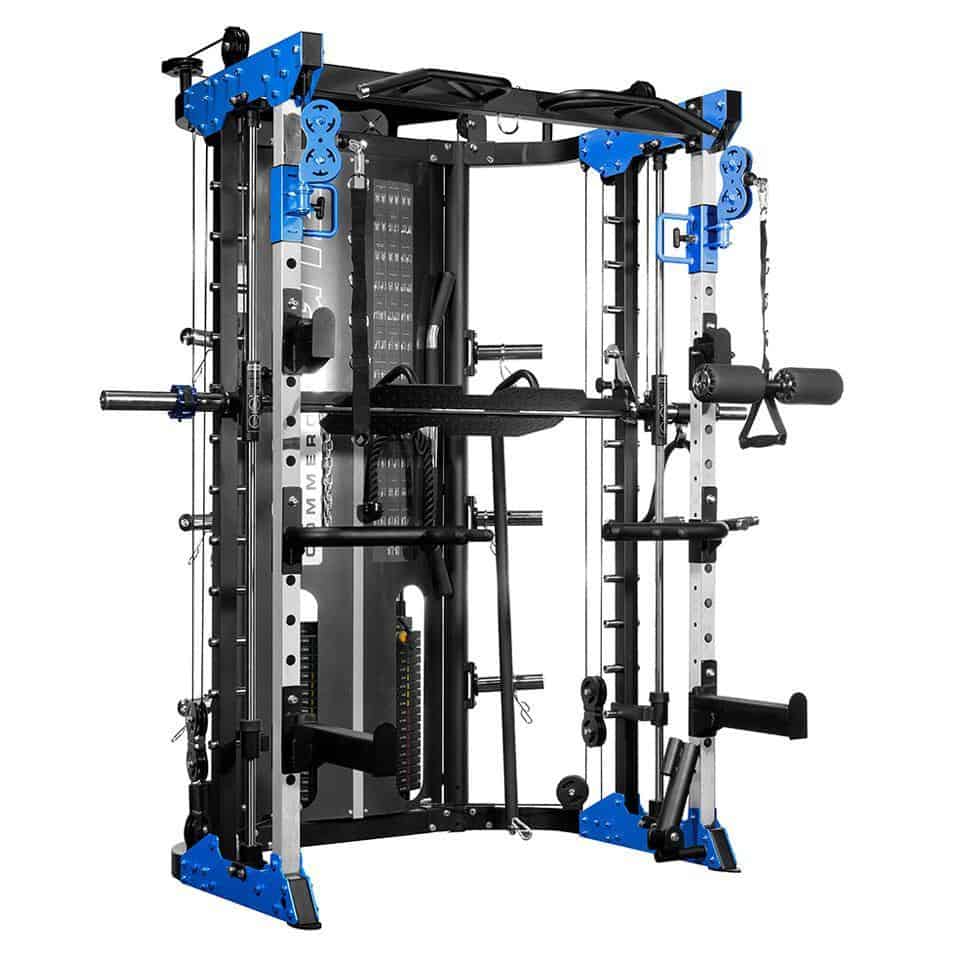 Seen anything else like that? No – you haven't – they have some great innovative designs.
Not looking to go that big?
They have other gear too – like Leg Press Machines (including a compact option) and weight benches, and more.
They also have a very affordable, yet expandable line of power racks called MyRack.
It's a great option for a home gym or garage gym.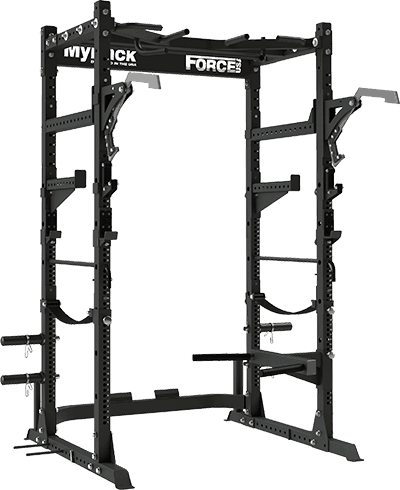 Let's wrap up and look at one more great place for deals and discounts.
Black Friday Concept2 Rower Deals?
What's the best way to get a Concept2 Model D rower on the cheap?
Combine Rogue's $900 price (which is always the lowest around) with "5 for $5" shipping, and the fact that you MIGHT not have to pay sales tax (I don't – I'm in Florida) – and you have the cheapest option for getting a brand new Concept2 rower.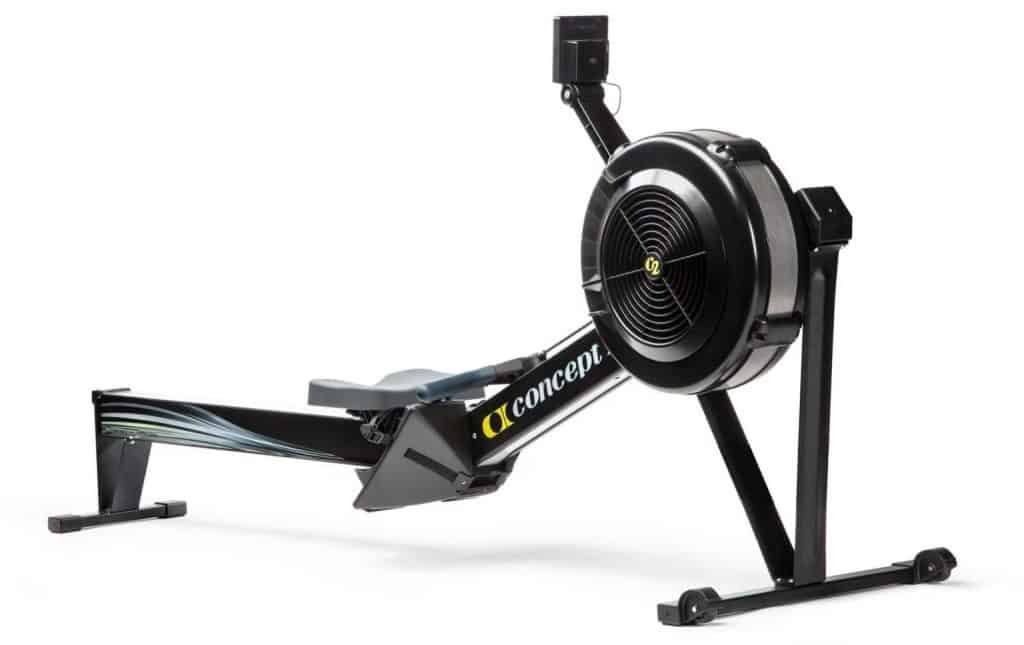 Even better – get all 3 Concept2 conditioning equipment (BikeErg, Rower, and SkiErg) for only $2,600 – but HURRY – they are nearly sold out!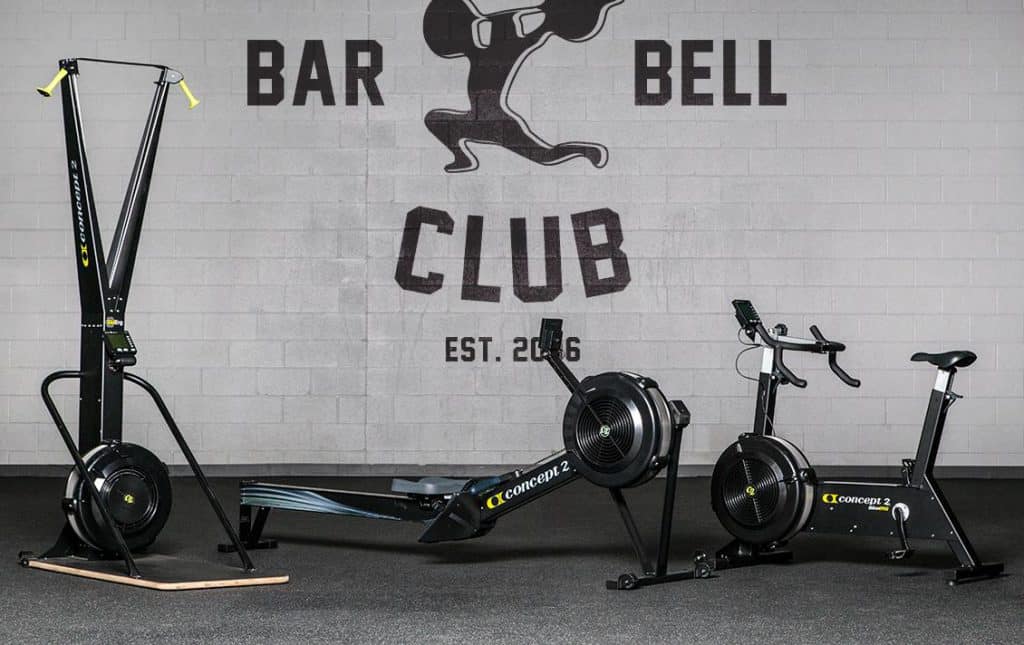 By the way, the Concept2 stuff never goes on sale. That's the best price you are going to get – at any time of the year.
Amazon Black Friday Gym Equipment Deals
Amazon can be a great source for gym equipment too. There is a lot of options ranging from brand name products to off-brand alternatives.
So, be sure to check out what they have for sale via their Amazon Exercise Equipment & Gym Equipment page.
American Barbell Black Friday Sale
American Barbell is a maker of fitness and gym gear.
Much of it is made in the USA.
They have not yet announced any details regarding a Black Friday Sale, but we expect they will.
We'll have more details when they do.
What do they sell?
Barbells are their speciality. They were one of the first companies to put cerakote (a thin-film ceramic polymer coating) on barbells. This makes them look good – and resist rust and corrosion.
But, they make more than that – they also were one of the first to bring urethane bumper plates to the market – these look great on day one – and keep looking great for years.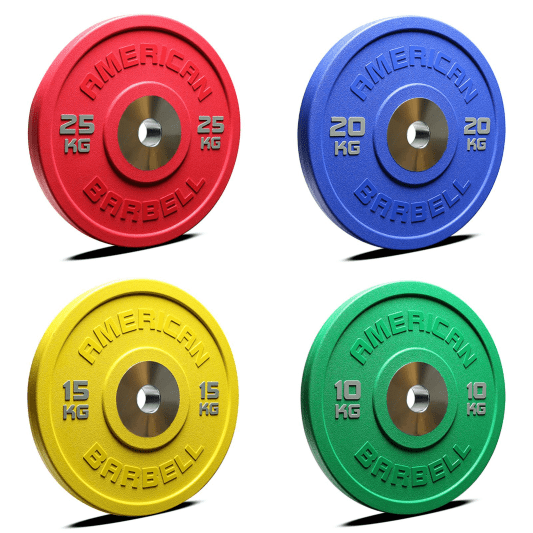 They also make power racks and rigs (as you'd see in a CrossFit box).
A lot of their gear is commercial quality, but they have great options for home gyms too.
Fringe Sport Black Friday Sale
Fringe Sport is a scrappy up-and-comer in the CrossFit/Box/WOD gear space.
They have a lot of decent products – and always free shipping.
The Fringe Sport Black Friday/Cyber Monday sale for 2019 is beginning with "lightning deals" all this week at 9am CT (Central Time) – that's time limited, limited quantity sales.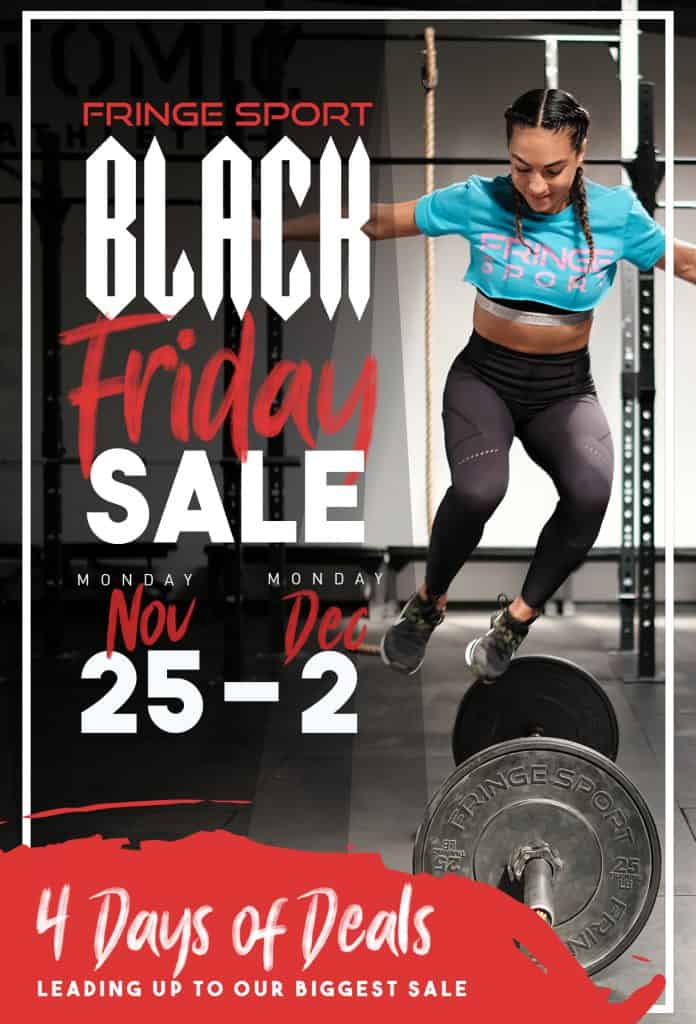 Their Black Friday Sale will commence on Thursday, November 28th at 11pm CT – In other words this is a proper Black Friday sale, somewhat.
A highlight of their black friday sale is always the LIGHTNING DEALS they have – fast sales announced on very short notice with limited quantities – but they usually represent a significant discount.
What gear do they have? It's a heavy tilt towards CrossFit-centric stuff – bushing and bearing bars, squat stands, wall balls, slam balls, kettlebells, etc.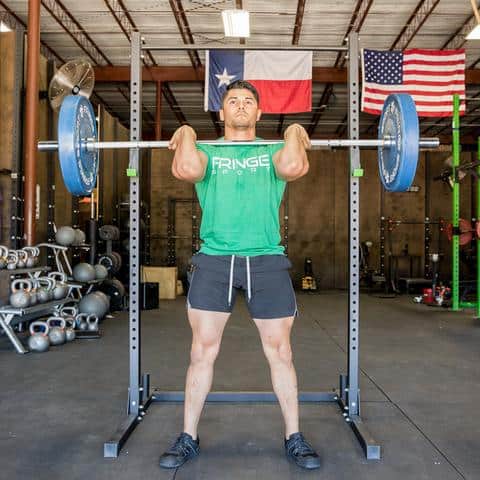 GORUCK Black Friday Sale
GORUCK makes ruck march gear – there "rucksacks" are mil-spec backpacks that can be used for fitness purposes too..
You saw the "Rucker" at the CrossFit Games 2019.
GORUCK's Black Friday Sale is on:
Rucksacks (GR1, Bullet, Rucker, and more), sandbags, field pockets, packing cubes, apparel and more
are on sale – while supplies last!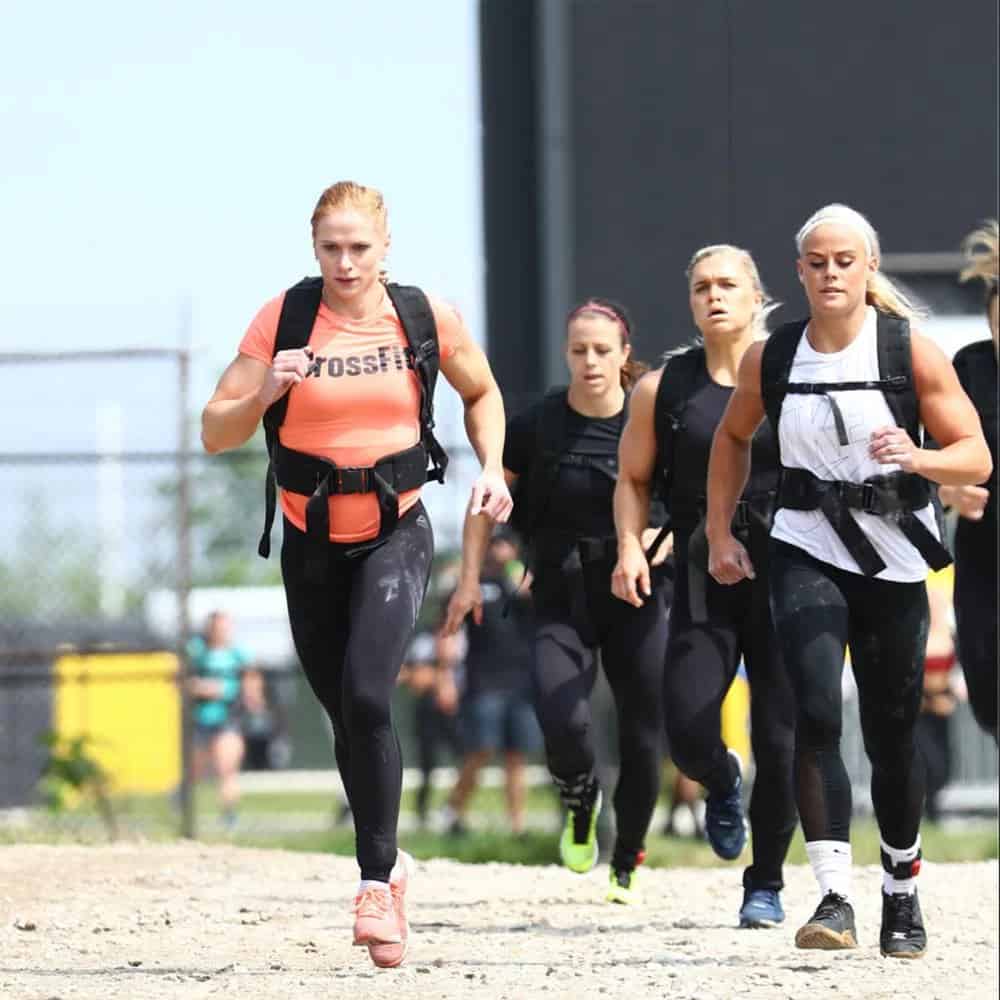 Black Friday Gym Equipment Sales – In Summary
Black Friday is the best time to buy gym equipment.
You can save a lot thanks to discounts on pricing, but there are usually some outrageously good deals on shipping too.
And shipping is a big factor in the cost of acquiring heavy gym equipment.
So, look for free shipping or shipping deals like Rogue's "5 for $5" shipping.
Image and Photo Credits
The Rogue Fitness logo and product imagery on this page is property of Rogue Fitness and provided by Rogue Fitness.
Other photos are property of the respective manufacturers.
We are an affiliate of most of the vendors on this page. If you purchase equipment after clicking the links we receive a small commission at no additional cost to you. This helps us to bring you great information on health and fitness.
This website is not affiliated or associated with CrossFit, Inc. CrossFit is a registered trademark of CrossFit, Inc.
Tim is the founder of FitAtMidlife.com – an avid gym rat for 30+ years, he's a reviewer of many, many shoes – and founder of the Speed Bag Gathering – the world's only gathering of speed bag punching enthusiasts.  See more gym reviews at Tim's YouTube channel.