We're back with the best CrossFit gift ideas for 2022.
We'll be looking at items that are both affordable and easy to ship – but things that would be immensely useful to your beloved CrossFit trainee, athlete, coach, or gym junkie.
Here's the gift ideas we'll be examining:
Let's take a closer look.
Why Rogue Fitness?
We're going to recommend a lot of Rogue Fitness products in this guide.
Why?
Because Rogue is the coolest name in CrossFit – they supply the equipment used in the CrossFit Games and their stylish, high performance gear is revered for both its form and function. And a lot of it is made in the USA. Rogue brand equipment will be recognized immediately by anyone familiar with CrossFit – and it's a premium product that makes a great gift.
UA SPORTSMASK – the best face mask for your CrossFit workouts
Seems like face masks will be a thing for a while, but how do you run, jump, or train with a mask?
UA has come up with an innovative 3-layer face mask design (patent pending).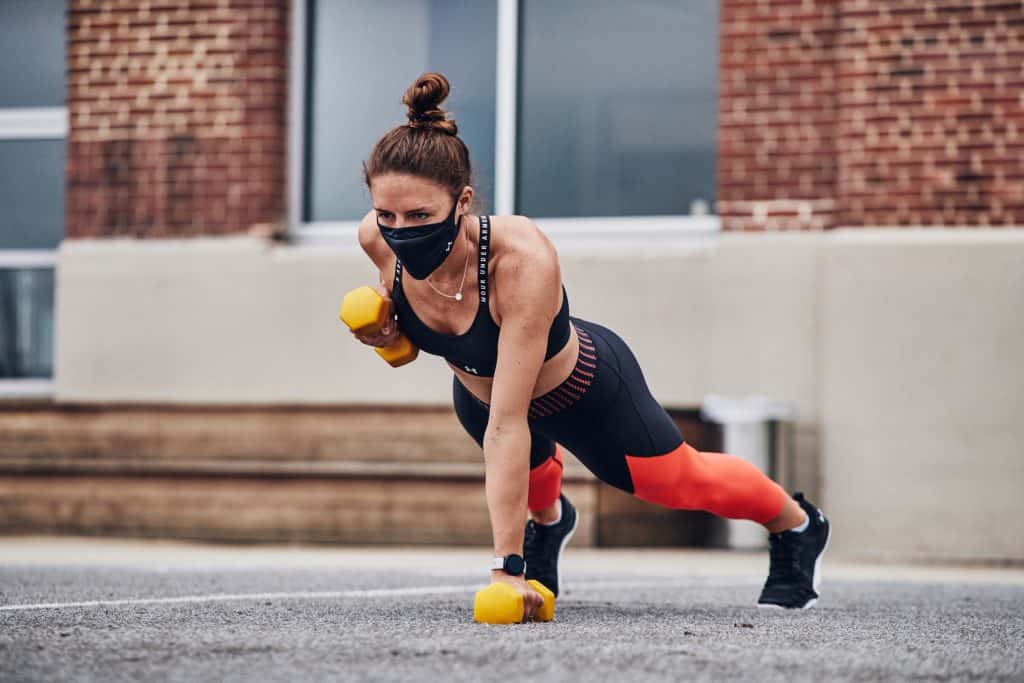 This mask is comfortable and uses special materials like UA's IsoChill for a cool to the touch feeling.
There's also a anti-microbial material to help keep things fresh.
This mask gives you the airflow you need – and the comfort for all day wear.
Please note there are several sizes available, but that means you can get a perfect fit. You should measure your nose to ear canal dimension before ordering.
This mask should NOT be used as PPE (Personal Protective Equipment), but it does meet the WHO's recommendations for an every-day fabric mask.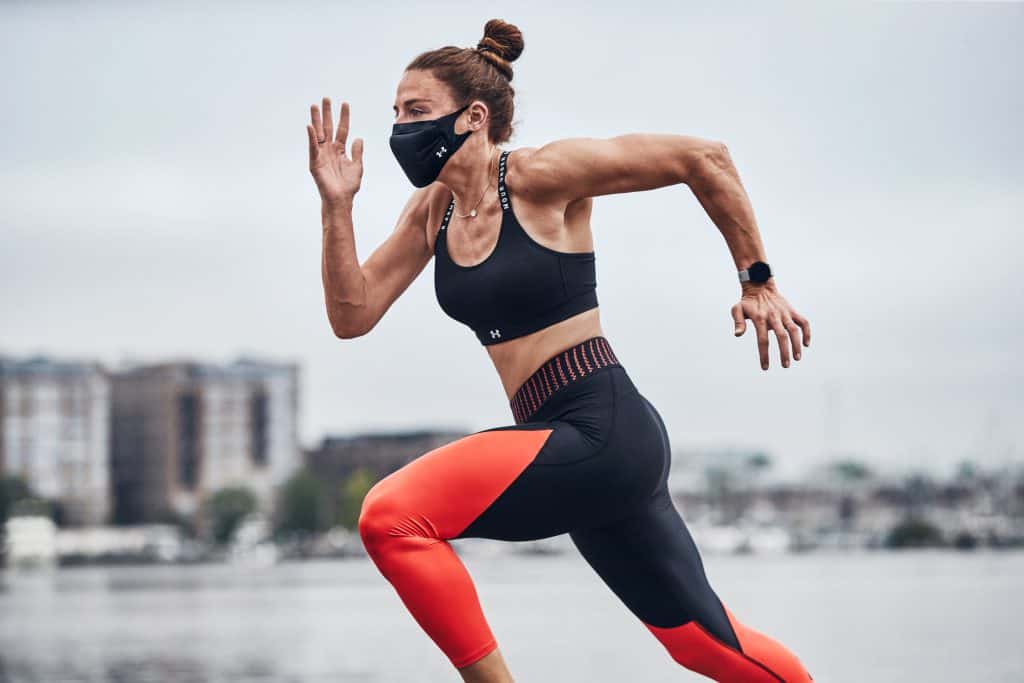 Rogue Wrist Bands
CrossFit workouts are a sweaty affair.
These Metcon (Metabolic Conditioning) workouts are a great challenge and the exhausting work is all part of the fun.
But a sweaty grip can be dangerous and at the very least inconvenient.
Having to stop to repeatedly apply chalk slows you down – and it makes a mess in the gym.
That's why the pros use sweat absorbing wrist bands.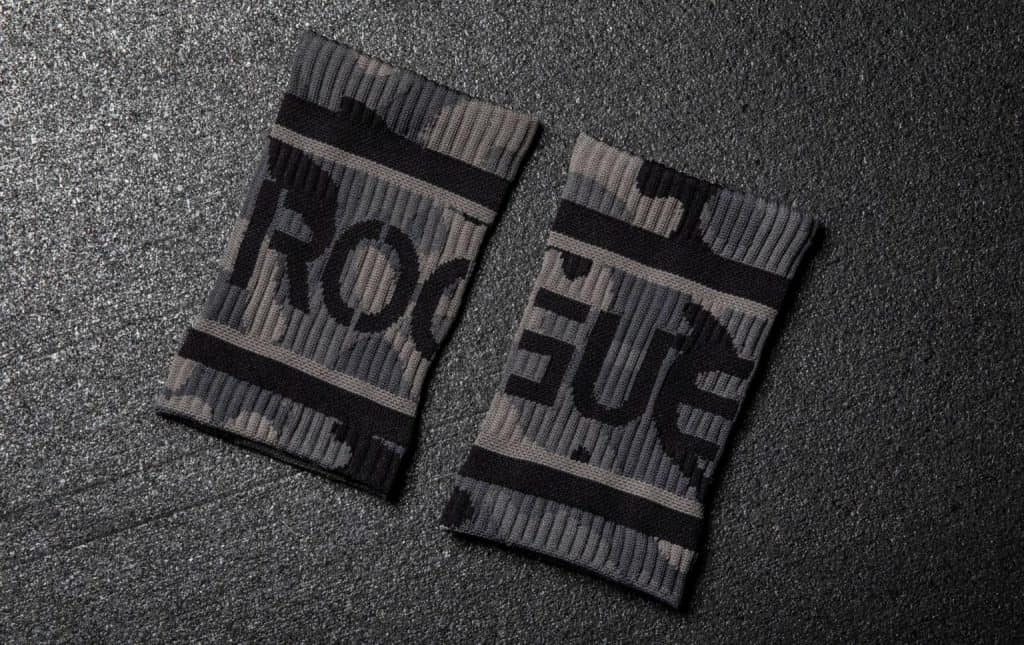 Pro athletes like Rich Froning use sweat wicking and absorbent wrist bands such as these to great effect in their competitions.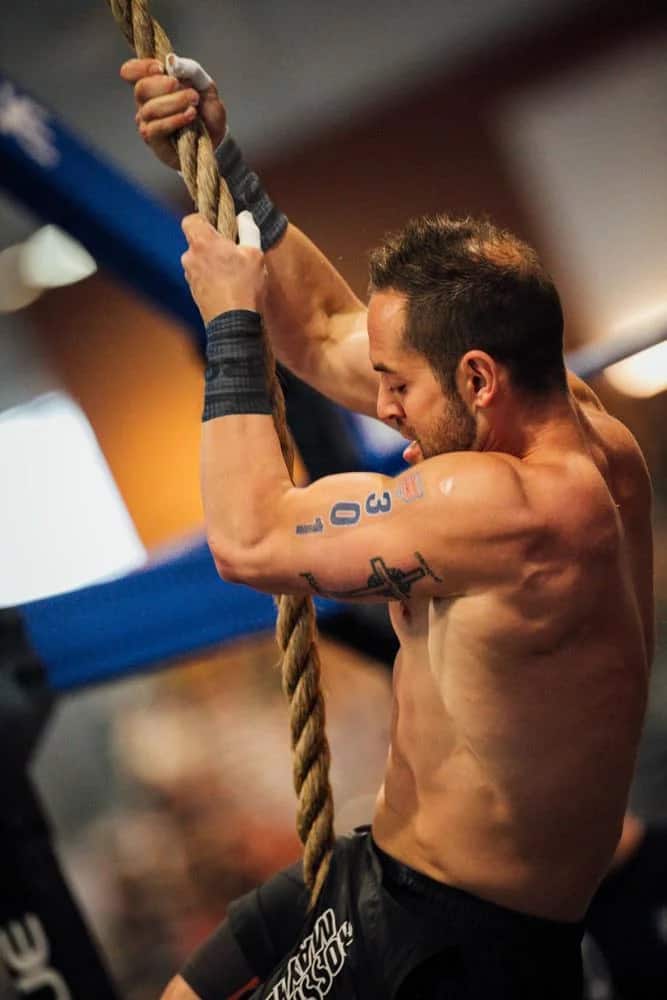 These wrist bands look good, they are cheap, and most importantly they look cool.
Nobody wants to look un-cool in the gym.
ALMI All-Day Performance Dress Sock
Is your giftee a road warrior and CrossFit junkie?
They would probably appreciate a high-quality pair of dress socks – that also work in the gym.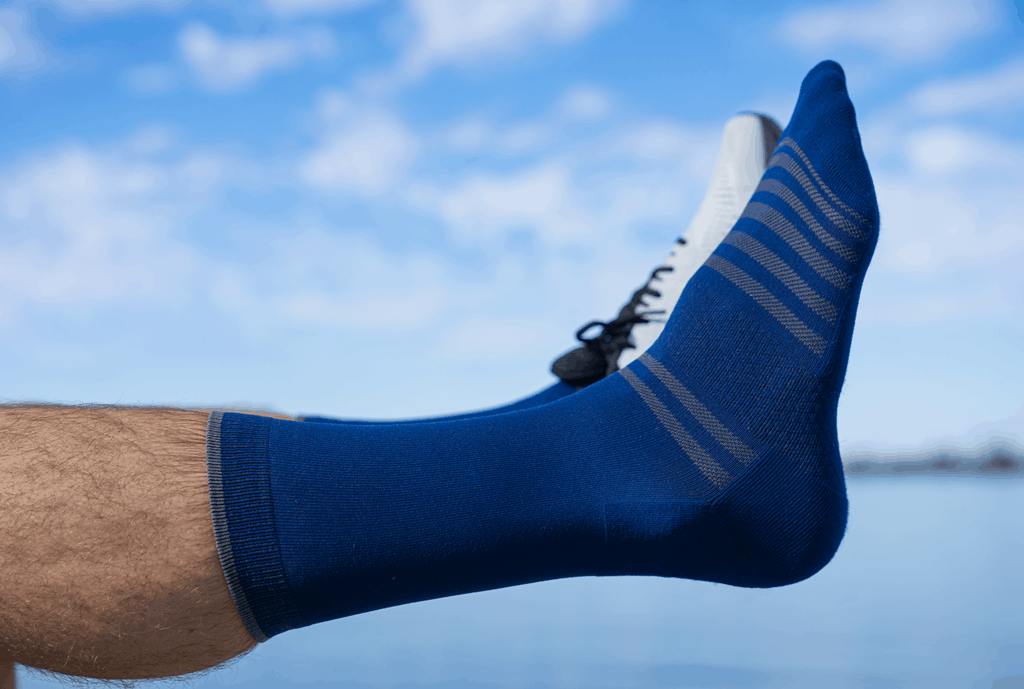 Why is this a good thing? Pack less and still get great performance.
The All-Day Performance Sock from ALMI is both a conservative, high-quality dress sock – and a great athletic sock for the CrossFit WOD.
They are made with quality materials and feature a 200 kneedle fine knit – just like regular dress socks.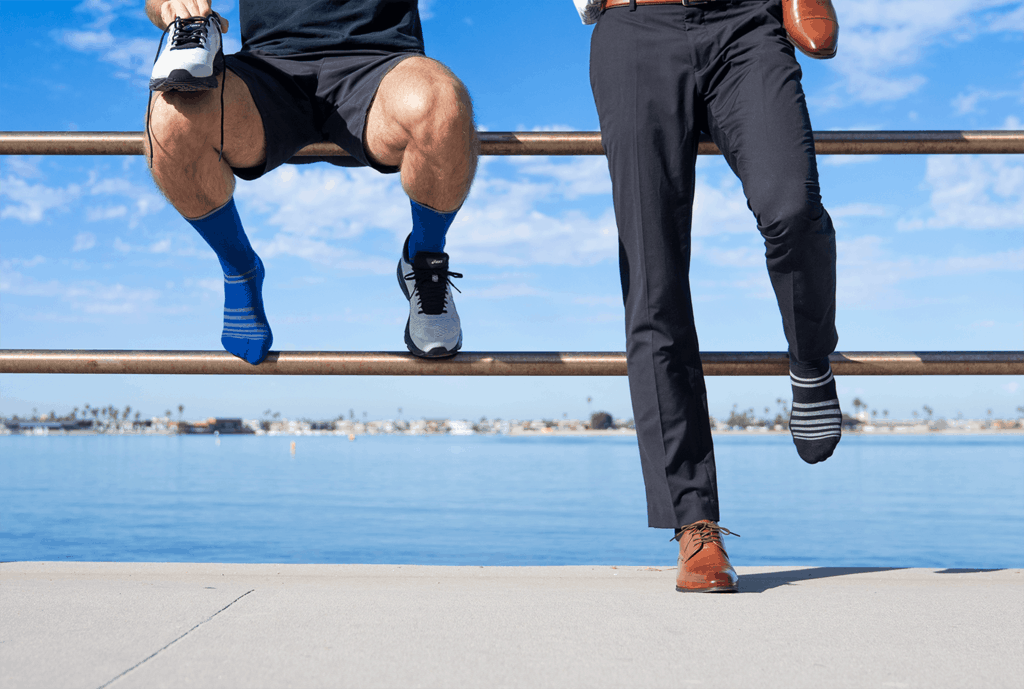 But after the meetings are done for the day – these work in the CrossFit box too.
These have a mild compression effect – for comfort and performance. Get a great, comfortable fit – and excellent padding in the heel and toe.
The arch support is a notch above your average sock too.
They are available in Blue, Grey, and Black – and they come with a 30 day, no questions asked return policy.
Bear KompleX 3-Hole Hand Grips
Here's another grip related item.
CrossFitters do a lot of pull-ups (kipping and strict), toes-to-bar, deadlifts, and much more.
All of this is very hard on your hands and palms – you can develop callouses so big they rip off at inopportune times – and wreck your competition or workout.
Grips like the Bear KompleX 3-Hole Hand Grips can provide better grip and protect your hands.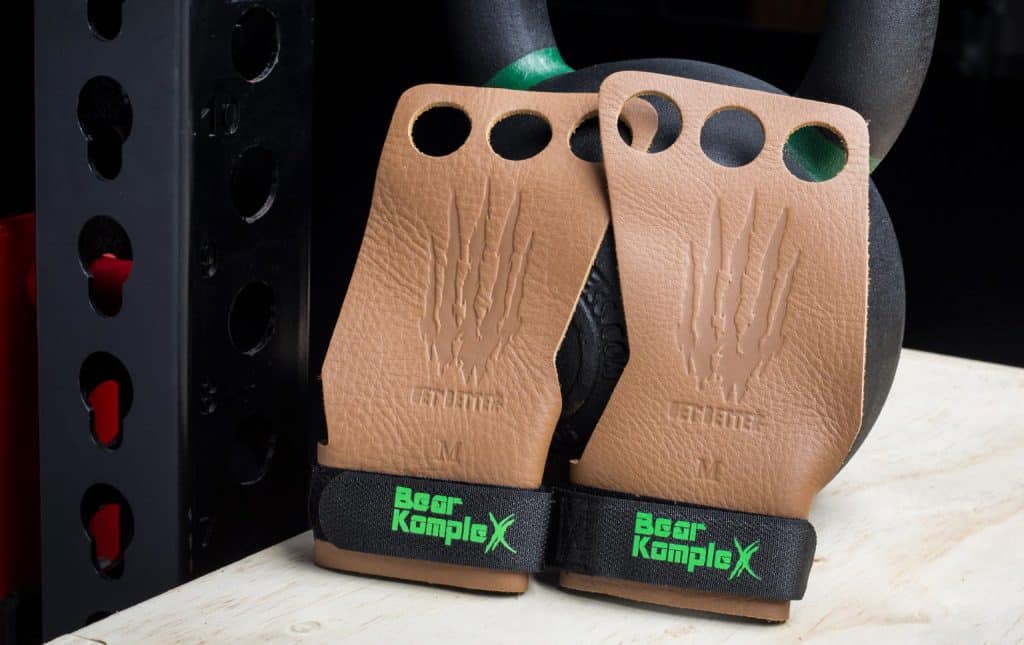 How do these work?
It's pretty simple – there's a wrist strap, 3 finger holes – and the flexible leather conforms to the pull-up bar or barbell with ease.
You can use these with chalk as well – for the ultimate grip.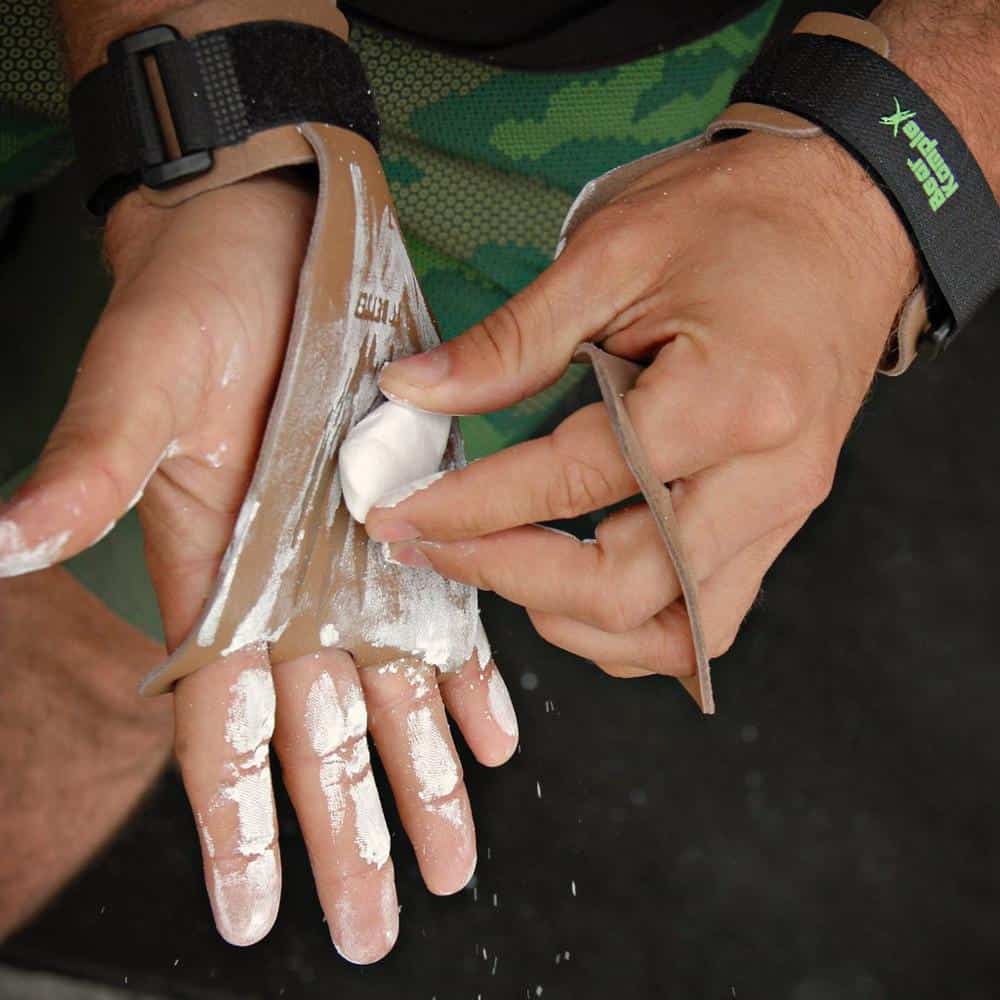 w.o.d. welder 3 Step Hand Care Kit
Speaking of ripped calluses and sore hands – the w.o.d. welder Hand Care Kit (Buy on Amazon) has what you need to make it right again.
This kit includes:
Solid Salve Stick
Hands as Rx Cream
Pumice Stone
Callus Shaver
Basically, it's everything you need to repair your hands – and then to keep those calluses from becoming a problem again.
Polar T10 Heart Rate Sensor
Heart Rate Training techniques are an important component of modern fitness theory.
There's no better way to make sure you are in the right zone for endurance training.
And sure, there's lots of smart watches with heart rate sensors in them now.
But they aren't going to be as accurate as something like the Polar T10 Heart Rate Sensor.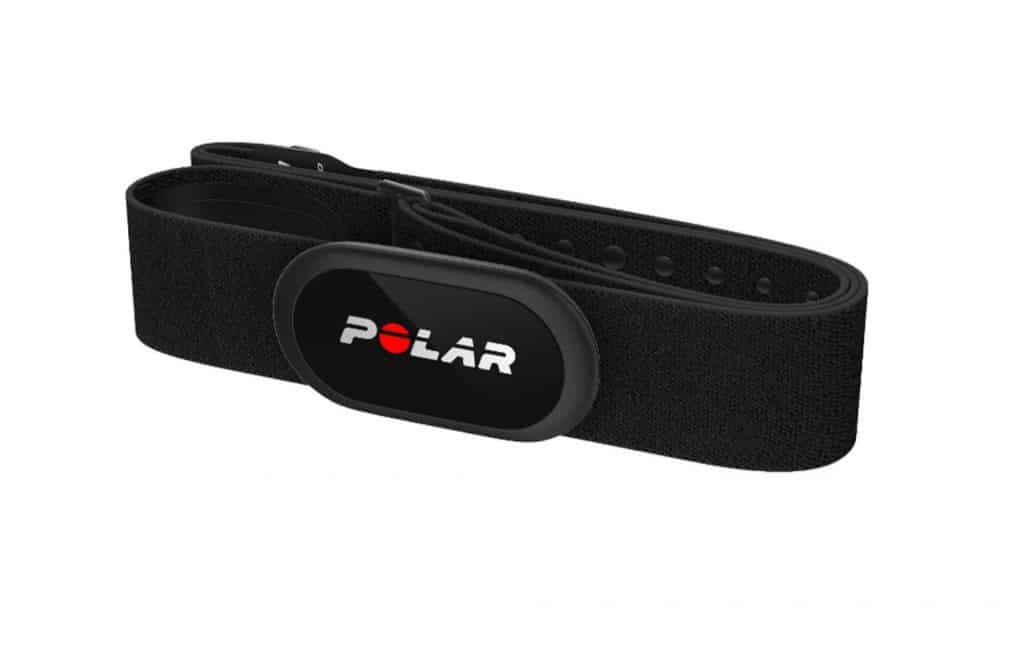 The chest strap mounting makes this a very accurate heart rate monitor.
It works with iPhone and Android, thanks to Bluetooth and can connect to any equipment using the ANT+ standard.
That includes common CrossFit gear like the Rogue Echo Bike and Concept2 Rower.
Nike Metcon 5
You know what is NOT a good idea?
Doing a CrossFit WOD in running shoes.
CrossFit involves a lot of different activities – and heavy weight lifting is usually part of the mix.
Running shoes have too much squish in the mushy heel. All that cushioning is great for long distance running but it is not ideal for weightlifting.
Nike's Metcon line of shoes are purpose made for the CrossFit WOD.
The newest shoe is the Nike Mecon 5. They have a "dual-density" foam midsole that let's you run, jump, lift, sprint, and more.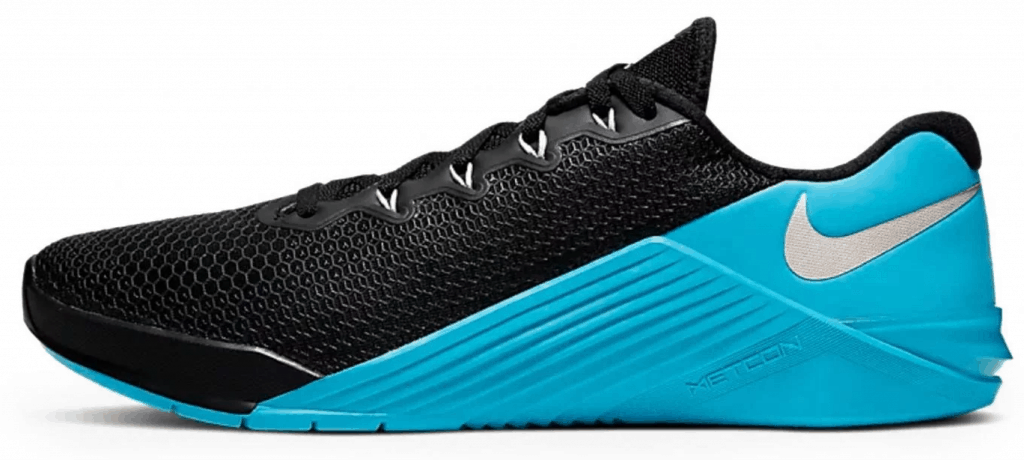 With great looking styles – these shoes are guaranteed compliment-getters.

And by the way, see that massive "rope wrap" in the middle? These are rope climbing shoes with no equal.
Reebok Nano 9
Here's the other monster shoe for CrossFit in 2020 – the Reebok Nano 9.
Like the Nike Metcon, this shoe was purpose-built for CrossFit WODs (Workout Of the Day).
You can run, jump, lift, climb – everything you do in the WOD.
The color combos with the "gum" colored sole are particularly desirable.
It's a great look.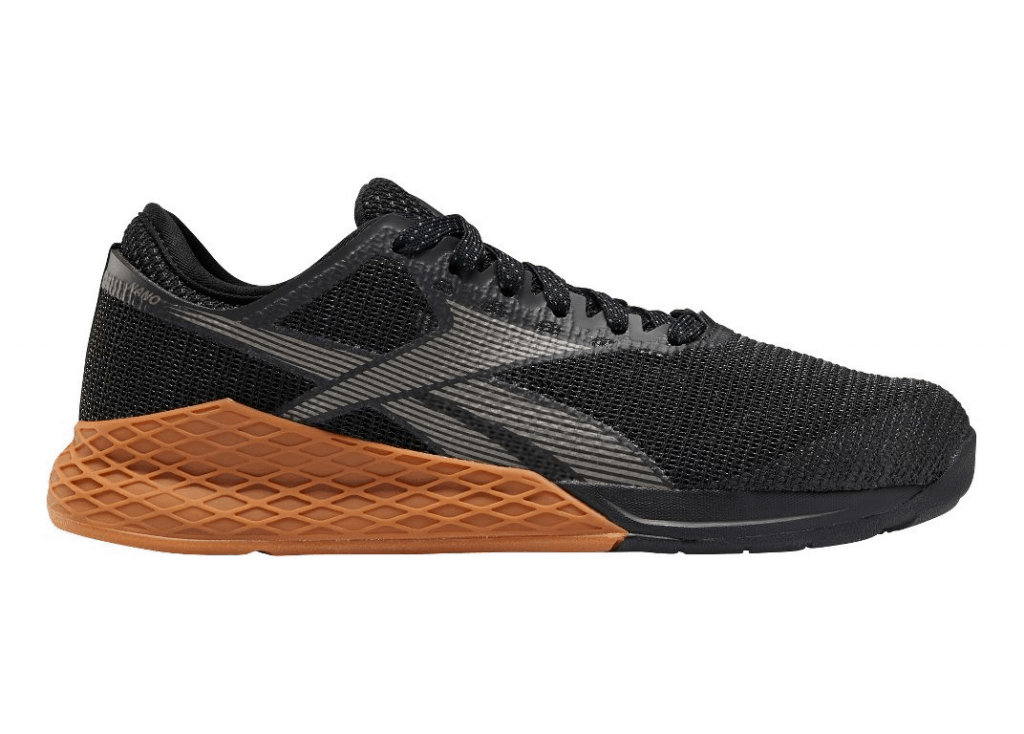 They are available in a variety of styles.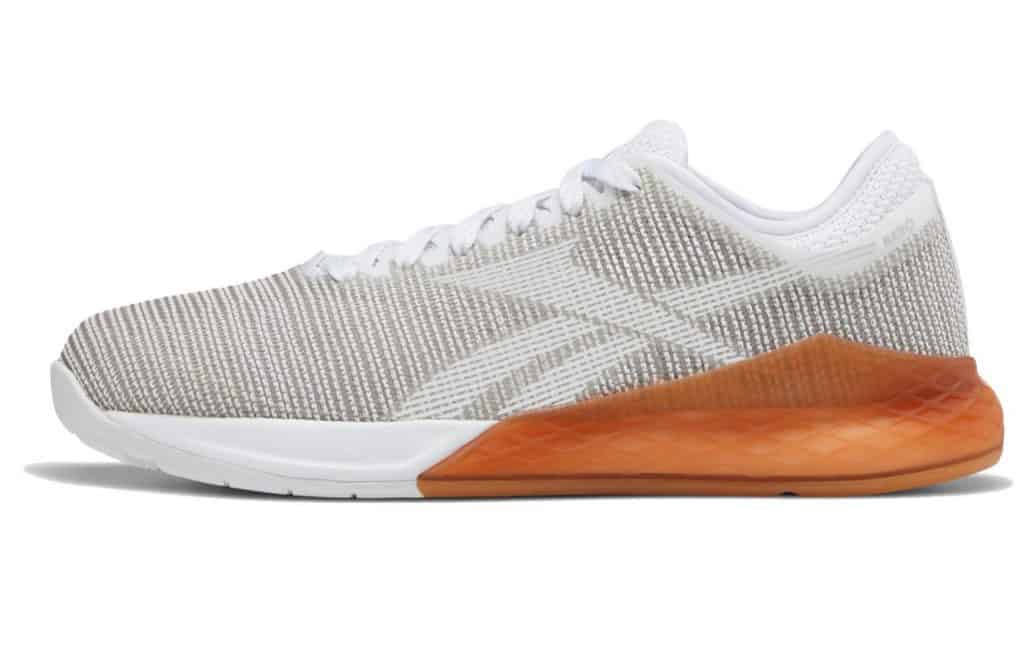 Which one is better – the Nike or the Reebok? Honestly it comes down to personal preference.
Both designs have been tweaked over the years and you can't go wrong with either.
GORUCK Rucker (Fitness Backpack)
Have you heard about "rucking"?
It's fitness endurance training inspired by the military's use of "ruck marches".
That's where you walk for 10 miles with a 30 lb rucksack, for example.
It's a great low-impact workout.
The Rucker from GORUCK is purpose-built for rucking.
It's a tough-as-nails backpack made from 1000D cordura.
Place weight inside – bricks, water bottles, sand bags, and barbell plates can all do the job.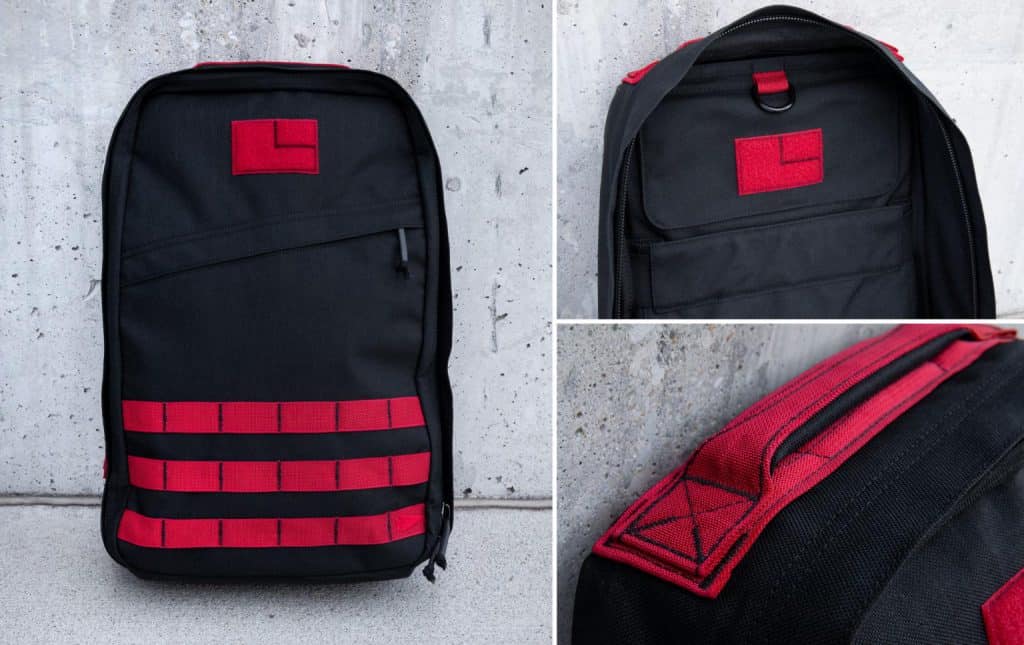 When not loaded with weight, this is a handy 20 liter volume backpack.
It makes a great carry-on for your next flight.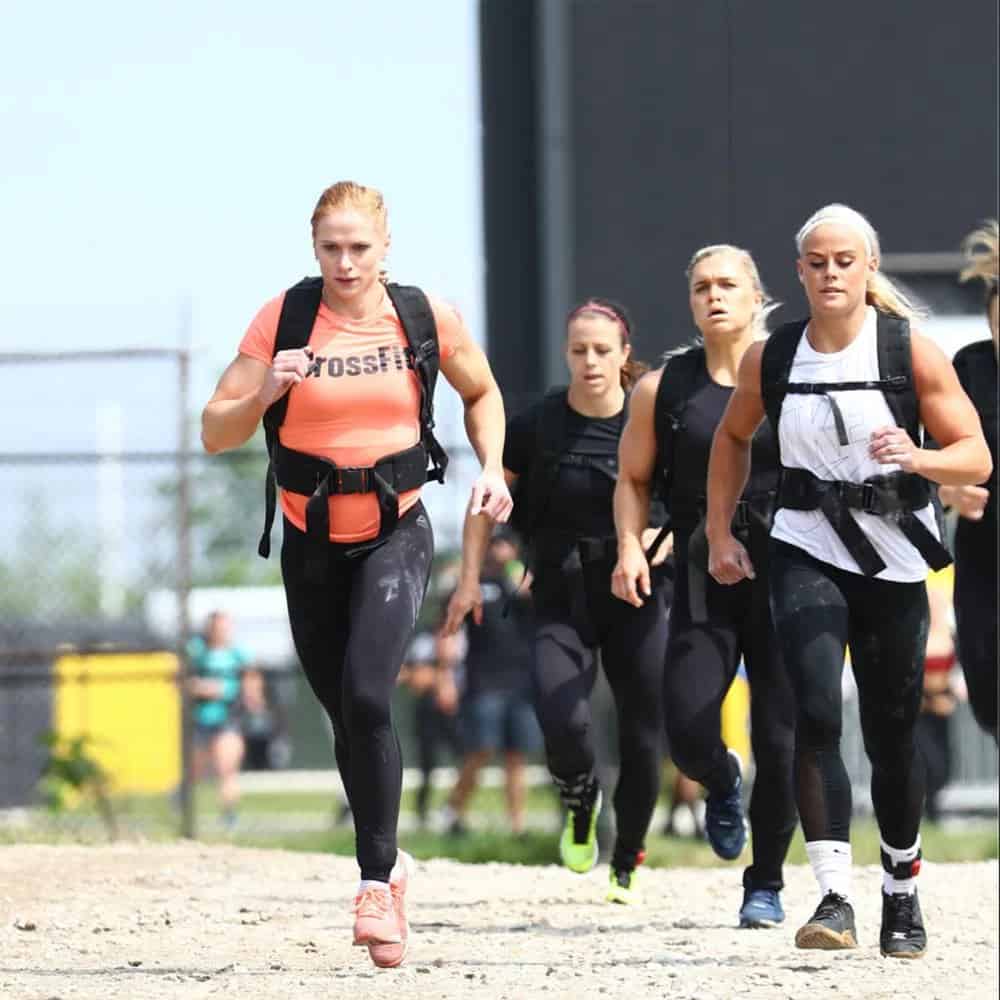 The GORUCK rucker makes regular appearance at CrossFit events too. Shown above it's being used with the optional chest strap and hip belt. We recommend both because they minimize movement of the bag when you are running or performing calisthenics.
GORUCK Ruck Plates
If you are gonna get serious about ruck march training, we recommend Ruck Plates.
These are the perfect weight (30 lbs for men, 20 lbs for women) and fit in the Rucksack and only take a minimum of space.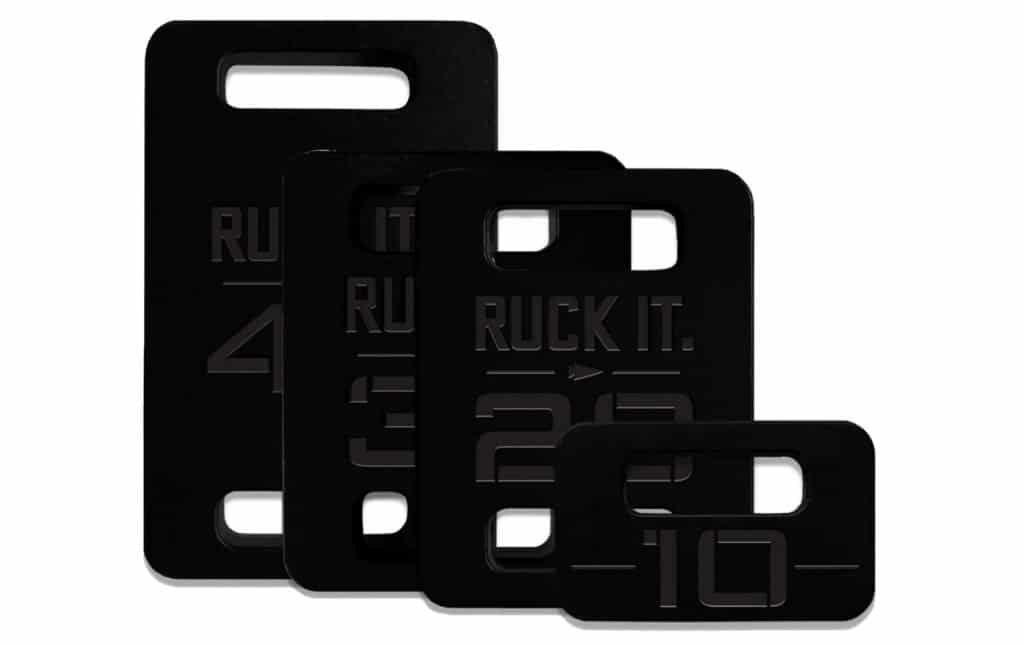 These are made in the USA and very high-quality.
These won't tear up the inside of the backpack – like a bunch of bricks would.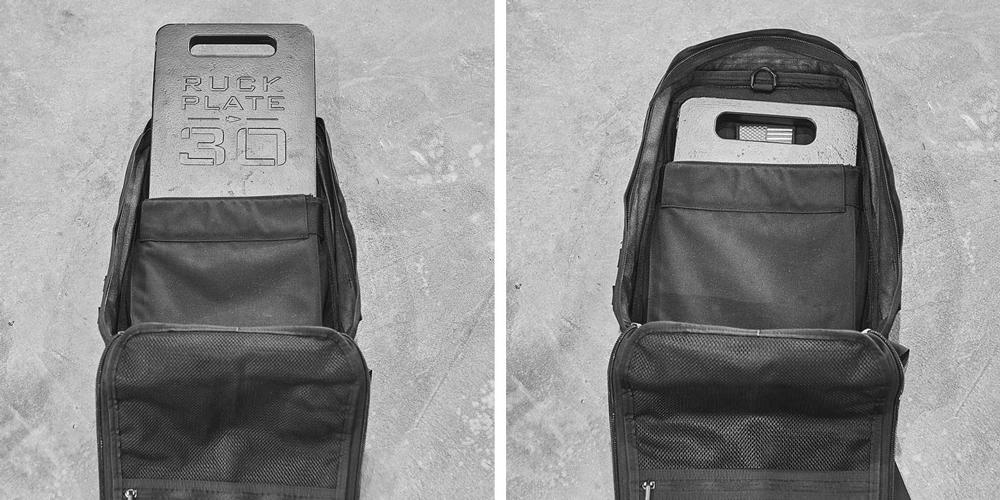 These will fit perfectly in the Rucker backpack, but also in other backpacks like the 5.11 Rush 12 backpack.
There's also a handle so you can use the weight for other exercises too – almost like a kettlebell.
Nike Metcon SF – Obstacle Course Race Shoe
Ok, we're giving you a lot of shoe options this time around.
But, that's because EVERYBODY WEARS SHOES.
Is your trainee into mud runs and obstacle course races?
Then they need light-weight but tough shoes that drain water and don't get water logged.
And Nike has now launched the Nike Metcon SF – their first Metcon shoe purpose-designed for mud runs and all-terrain usage.
This is not just a training shoe – it's boot like tread guarantees grip in the deepest mud.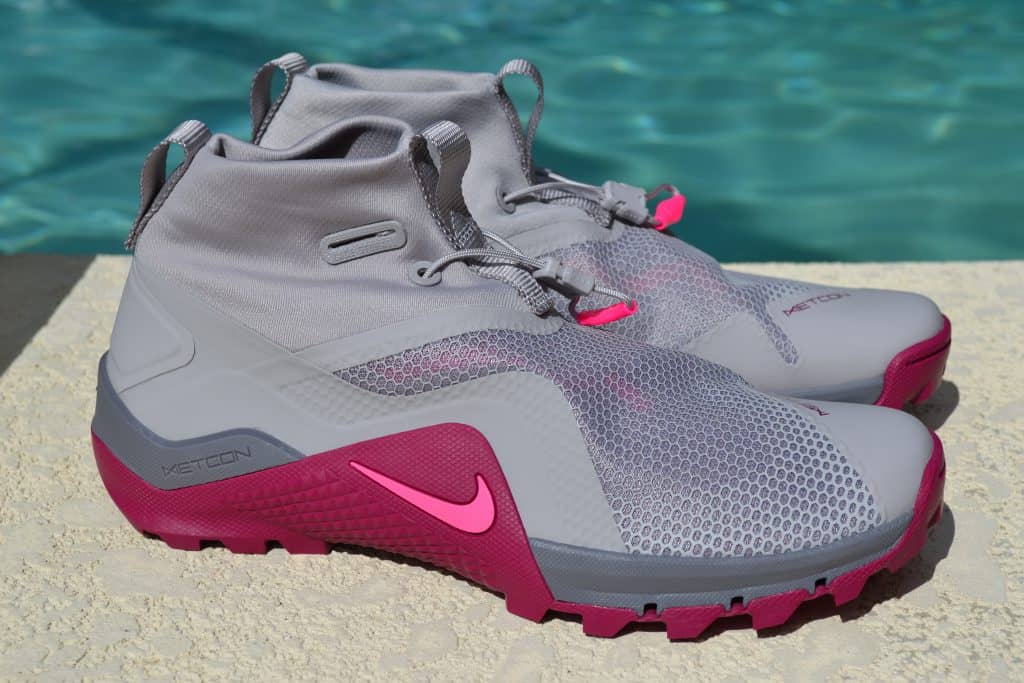 But it also has special water draining ports – this ensures that when your feet inevitably get immersed you aren't running with water logged feet for miles.
These shoes also feature a tall gaiter that tightly fits around your ankle – to ensure sticks, rocks, and other debris don't make it into the shoe.
Also – they look cool. If you trainee isn't interested in looking cool – why are they doing obstacle course races?
Rogue Operator Hat
Here's the coolest hat around – the Rogue Operator Hat.
What's an operator hat? It's a special ops inspired headwear that has a velcro panel front and center.
Show off your pride with a variety of patches, name tapes, or other insignia.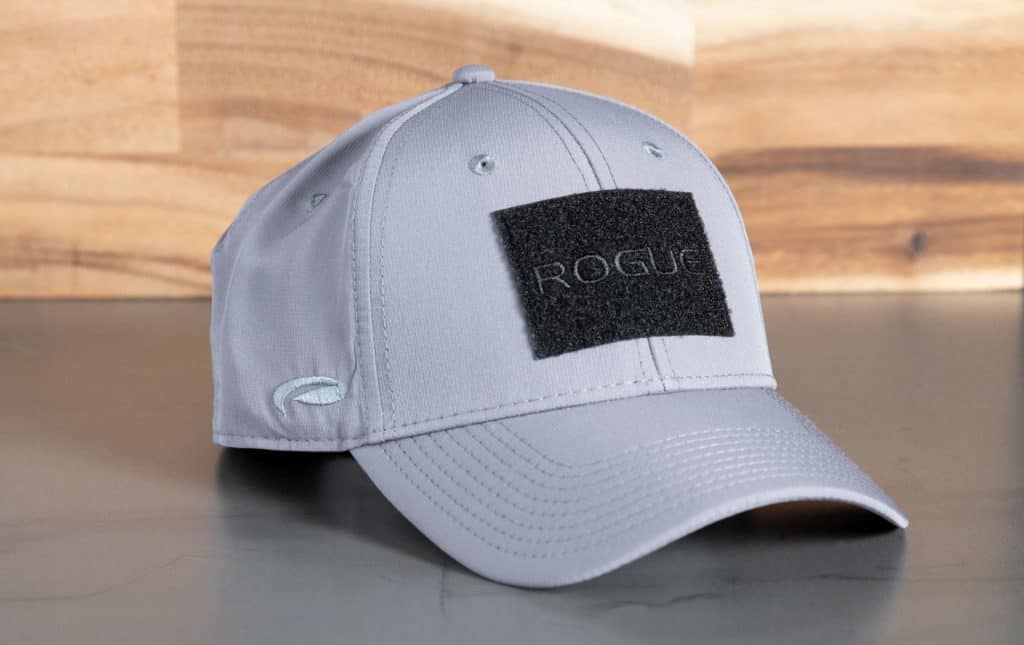 Or, use it with nothing. It has "Rogue" imprinted in the velcro.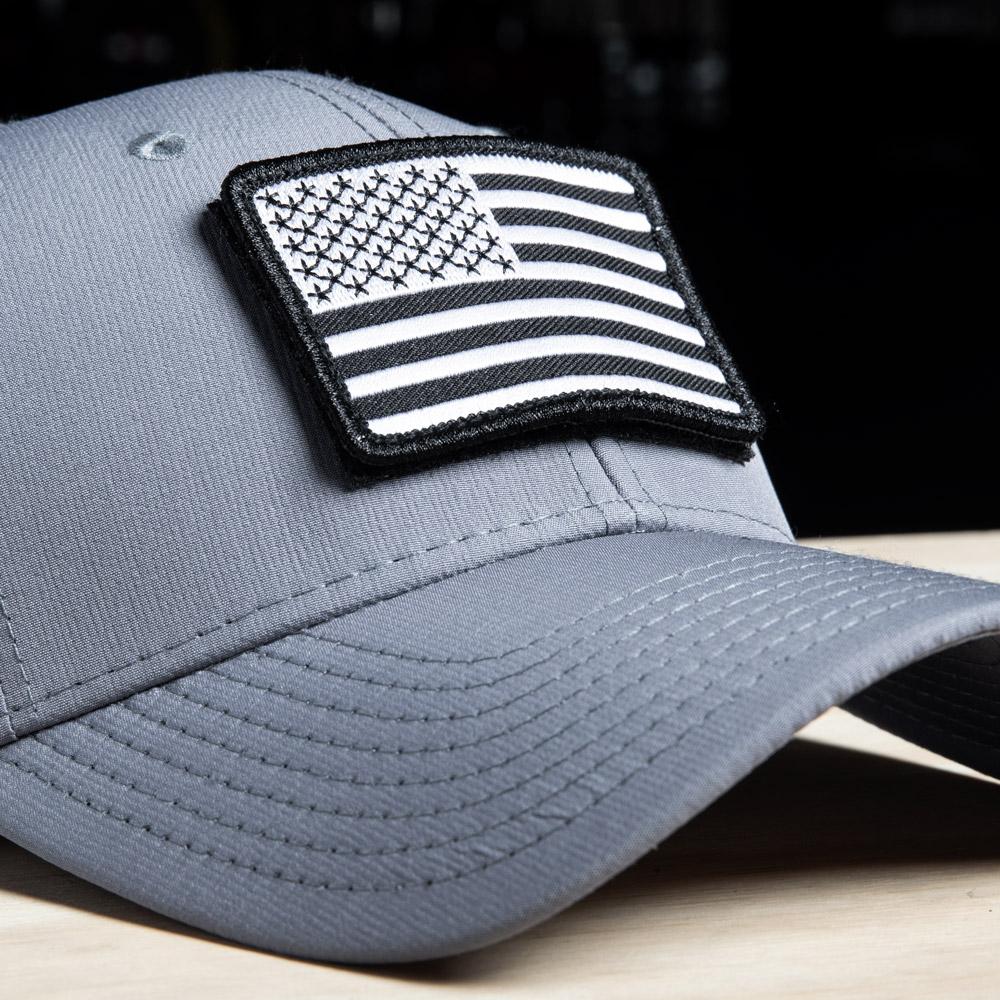 By the way, there is an endless variety of "morale patches" that you can customize this hat with.
Example? Here's the "suck meter" by Gadsen & Culpeper.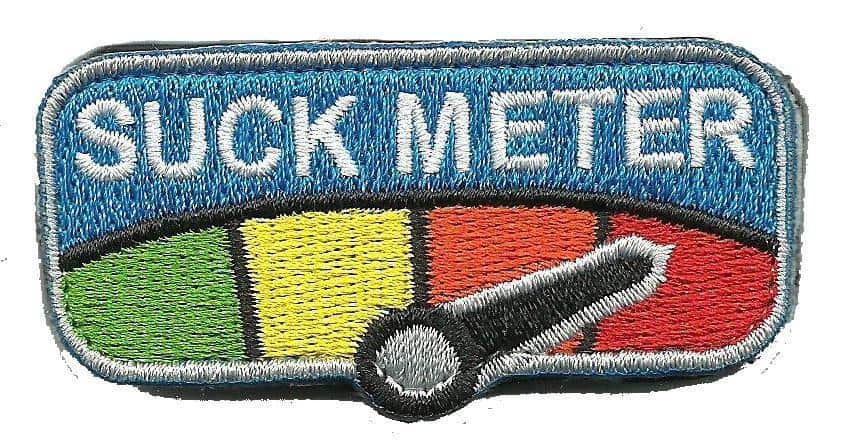 That's the perfect patch for most CrossFit WODs.
Velcro Patches
Can't find a patch? Check out Rogue's selection of velcro patches.
These will work anywhere you have velcro (hook and loop).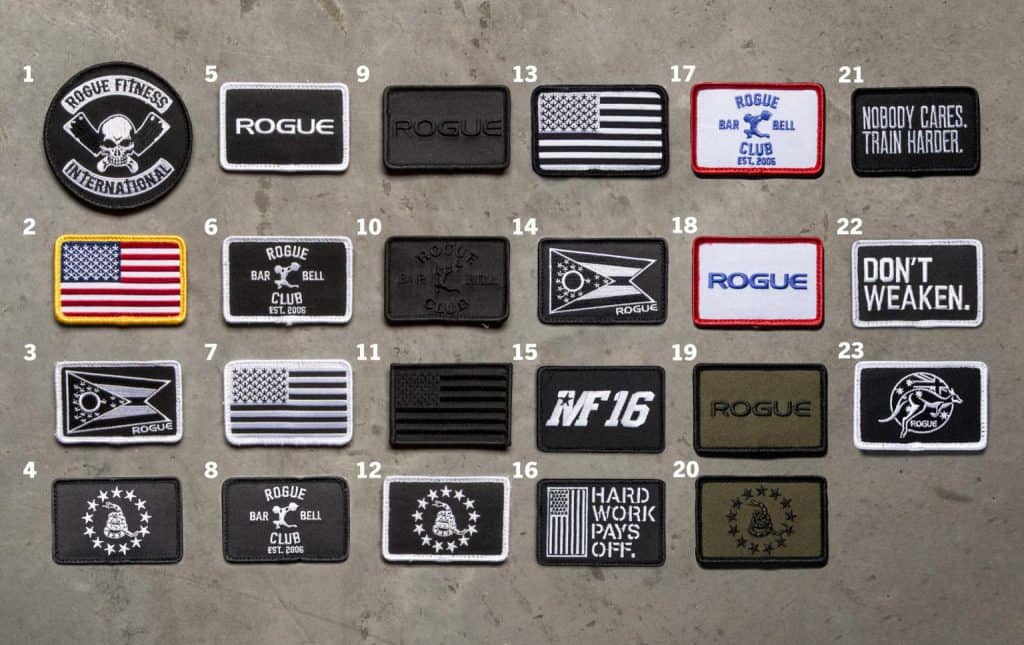 They'll work on the operator hat above, but also the 5.11 TacTec plate carrier (and any other mil-spec gear with hook and loop), and more.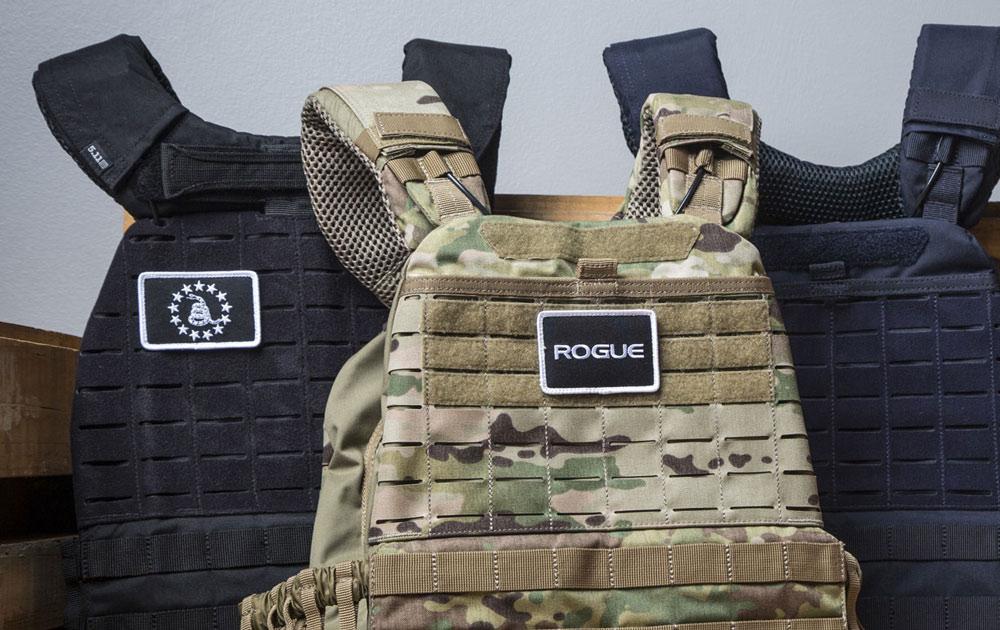 By the way, that Rucker bag we highlighted earlier has a patch panel too – so put it to good use.
RxBar Pumpkin Spice Peanut Butter
Tis the season for pumpkin spice.
So why not stock up on RxBar Pumpkin Spice Peanut Butter bars?.
This is a limited edition – so grab a case of 10.
People love these because of the taste and the simplicity.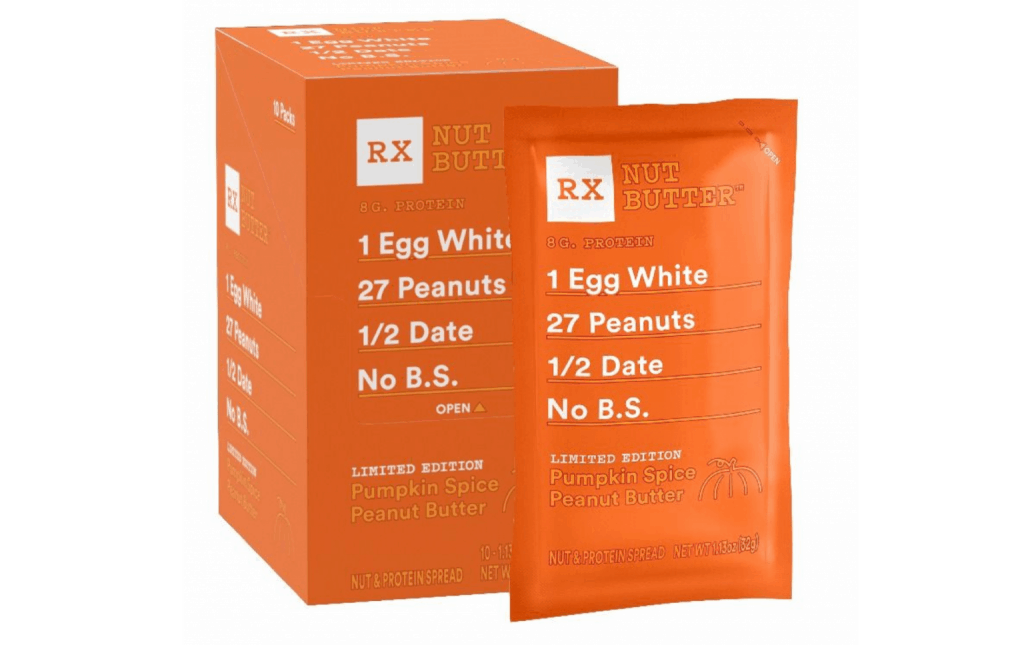 Minimal ingredients – no preservatives.
These are always a solid nutritional choice when on the go or in a rush.
King Kong Apparel Gym Bag
There's a lot of gear you might need in a CrossFit workout: hand grips, belts, chalk, and even special shoes known as "lifters".
By the way, if you aren't packing a lifting belt when you hit the gym – here's some good reasons to wear a weightlifting belt.
Carrying it all can be a challenge.
The Backpack II from King Kong apparel is the perfect solution.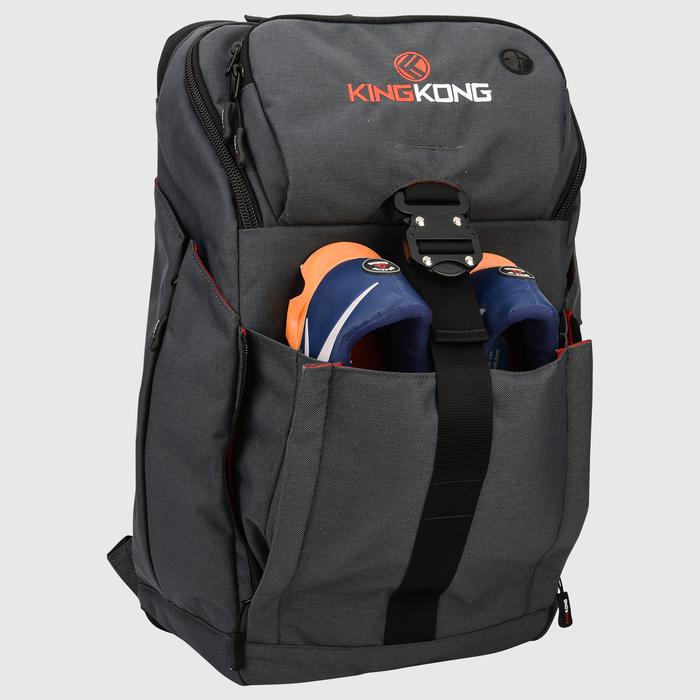 First, this is one tough backpack – made from Mil Spec 1000D Nylon.
But, what we like most are the dedicated shoe compartments.
These are intelligently designed to help preserve valuable internal space.
These external compartments also help ensure the shoes dry out after use.
Available in a variety of colors, this is a great gym backpack or gym bag solution.
This is the best way to transport your weightlifting shoes to and from the gym or box – and keep the "mileage" off these specialized shoes.
The other thing we LOVE about this bag – it's a lay flat packing bag.
Stop trying to jam your weightlifting gear into a laptop bag – a duffel style, flat packing bag is a better choice.
And by the way, you can still pack a laptop in it, if you need to.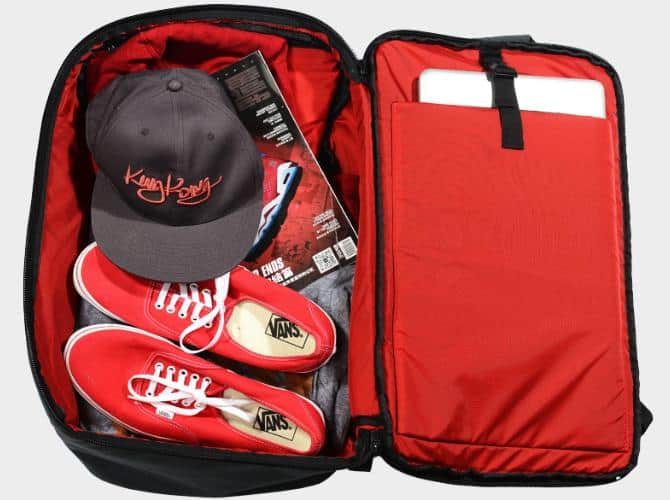 Best CrossFit Gifts – In Summary
We hope we've given you some great gift ideas. Any avid CrossFit trainee would be thrilled to receive any of these gifts.
These are the best gift ideas for CrossFit trainees.
Need more gift ideas? Check out our list from last year. These are all still great gift ideas for CrossFit.
Why Rogue Fitness Products?
We're a
Rogue Fitness
affiliate – so if you order equipment after clicking the links in this article we receive monetary compensation. But that's not why we recommend Rogue. It's because their equipment is tough, durable, well-made, and stylish. Their equipment looks good, and works even better. Their innovative designs and diversity of options make your training better – allowing you to reach your personal goals faster. And that's why we love them.
Image and Photo Credits
The Rogue Fitness logo and product imagery on this page is property of Rogue Fitness and provided by Rogue Fitness.
This website is not affiliated or associated with CrossFit, Inc. CrossFit is a registered trademark of CrossFit, Inc.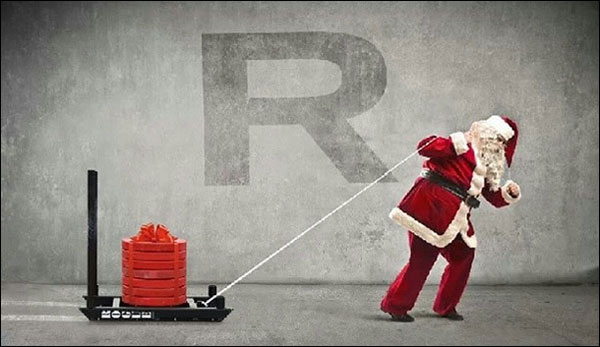 Tim is the founder of FitAtMidlife.com – an avid gym rat for 30+ years, he's a reviewer of many, many shoes – and founder of the Speed Bag Gathering – the world's only gathering of speed bag punching enthusiasts.  See more gym reviews at Tim's YouTube channel.