Ready to be seen in the gym? Get a load of Nike's "Volt" color (it's sort of a yellow-green – and it's hard to capture in photos) – and it is BRIGHT! Check out Nike Volt – Shockingly Good Looking Cross Trainers.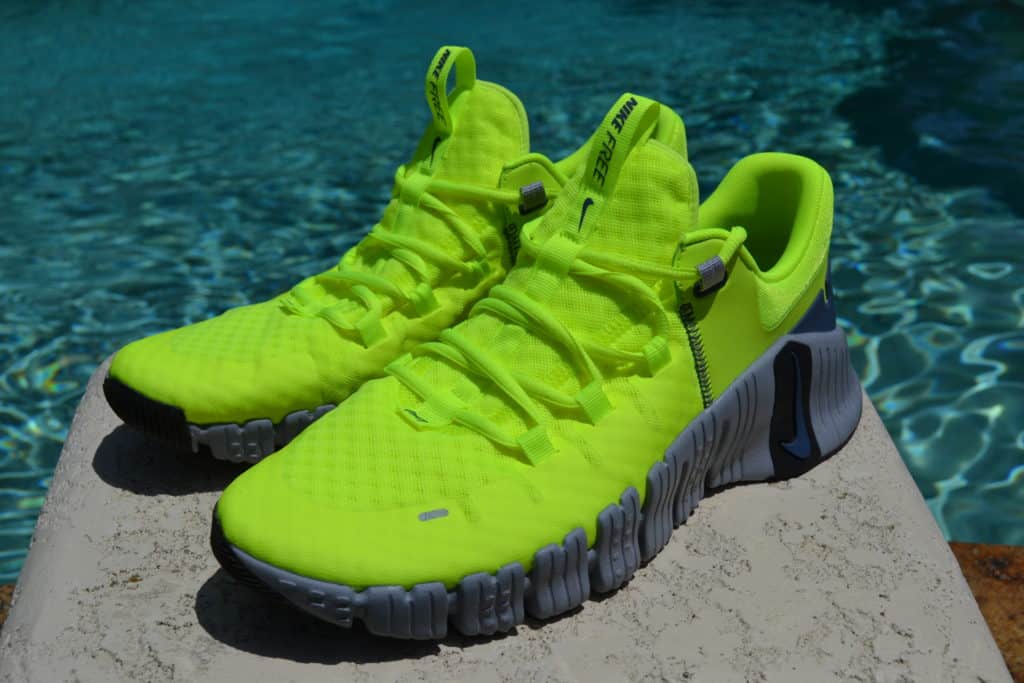 Cross-training is a fitness regimen that combines high-intensity interval training and targeted functional movements. It includes exercises like aerobic exercises, strength training, and flexibility exercises. Nike created cross trainers and shoes to help you confidently get through all these exercises while keeping you comfortable and stable. They also help you stay focused on reaching your goals and push past them. Check out these cross-trainers from Nike that come in a dazzling volt color.
Set retinas on fire (or be seen at a distance):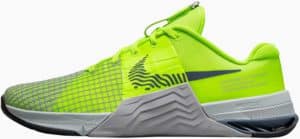 Nike Metcon 8 - Men's (Volt)
Float through your cardio, power through your lifts, and dominate your workouts with the Nike Metcon 8. It provides spring in your steps, grip from all angles, and stability for lifts.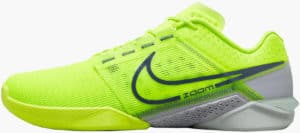 Nike Zoom Metcon Turbo 2 - Men's (Volt)
Combining stability and responsiveness in a lightweight package, the Nike Zoom Metcon Turbo 2 helps you move quickly during circuit training, high intensity intervals on the treadmill, and a cardio workout.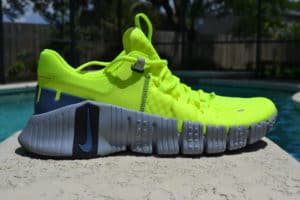 Nike Free Metcon 5 (Volt)
The Nike Free Metcon 5 combines style with substance, forefoot flexibility, and back-end stability for flying through a cardio day or enhancing your agility.
Nike Volt – Shockingly Good Looking Cross Trainers – Overview
Cross-training exercises are meant to push you hard and make you sweat. Nike training shoes have breathable uppers to allow your feet to breathe. The light mesh materials deliver ventilation and supportive yet flexible wear, letting you move, turn and pivot in every direction. There are also innovative elements like textured overlays in high-wear areas to help your new shoes go the distance and lockdown tabs that tighten your laces.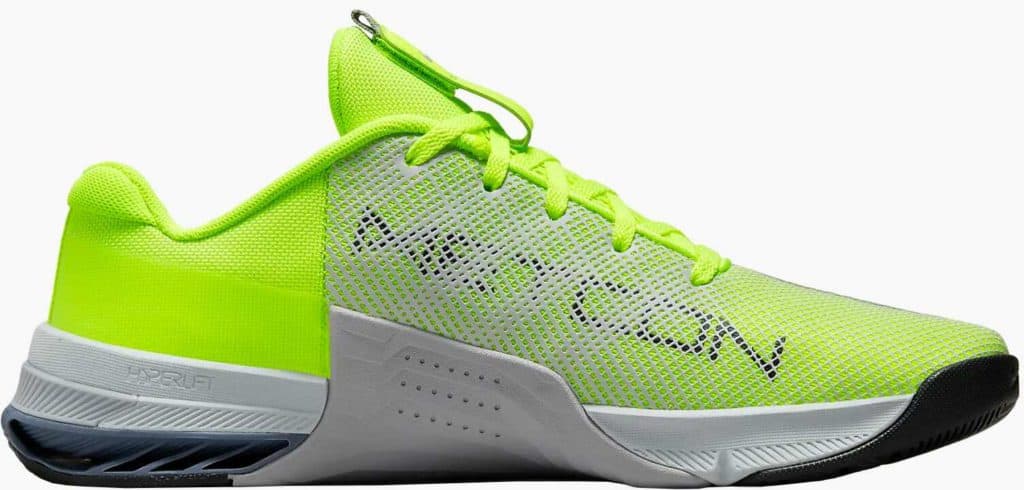 With responsive cushioning, these cross-training shoes will get you through your first deep squat to our last deadlift. Thanks to the Nike React foam. It integrates excellent shock absorption with superior energy return, providing a weightless, springy feeling that supports you as you power through. Aside from all these features, these cross-trainers areas are also unbelievably good-looking with their unique styles and striking color.

Nike Metcon 8
Specifically made to the specifications of the championship athletes, the Nike Metcon 8 features a more breathable upper than the earlier edition to complement Nike's standards of durability and comfort. It still carries the amazing features of the Metcon series, like the React foam for supreme comfort and cushioning, grooves in the sole to let your forefoot bend naturally, and lockdown lace tabs to avert untying during high-intensity training.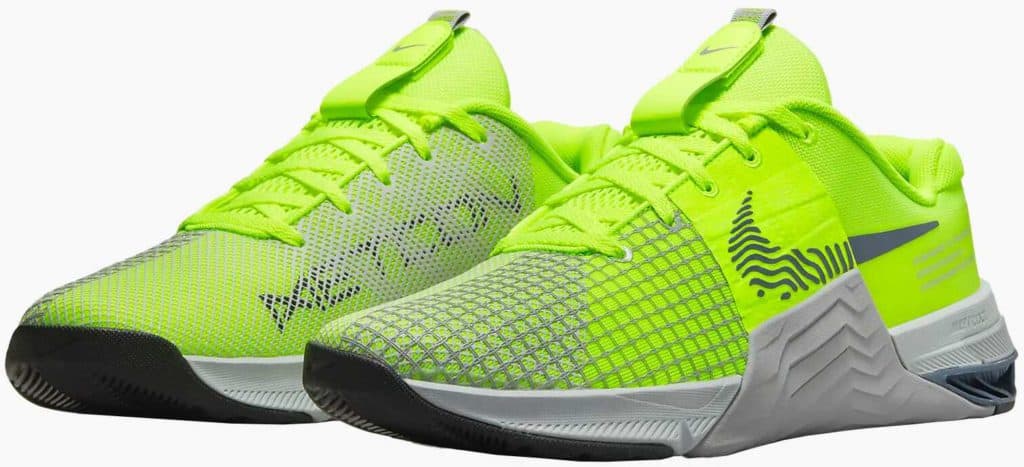 This shoe has a wide, flat, and flexible heel with an inner plate to distribute the weight from side to side for added stability and rubber wraps along the arch, offering improved traction on rope climbs. The rubber tread on the outsole and up the side of the shoe provides directional traction, while the flywire cables integrate with the laces to secure the midfoot. Keep your feet cool with the shoe's lightweight mesh and strategically textured overlays. It also has a handstand clip that lessens wall friction for quick HSPUs.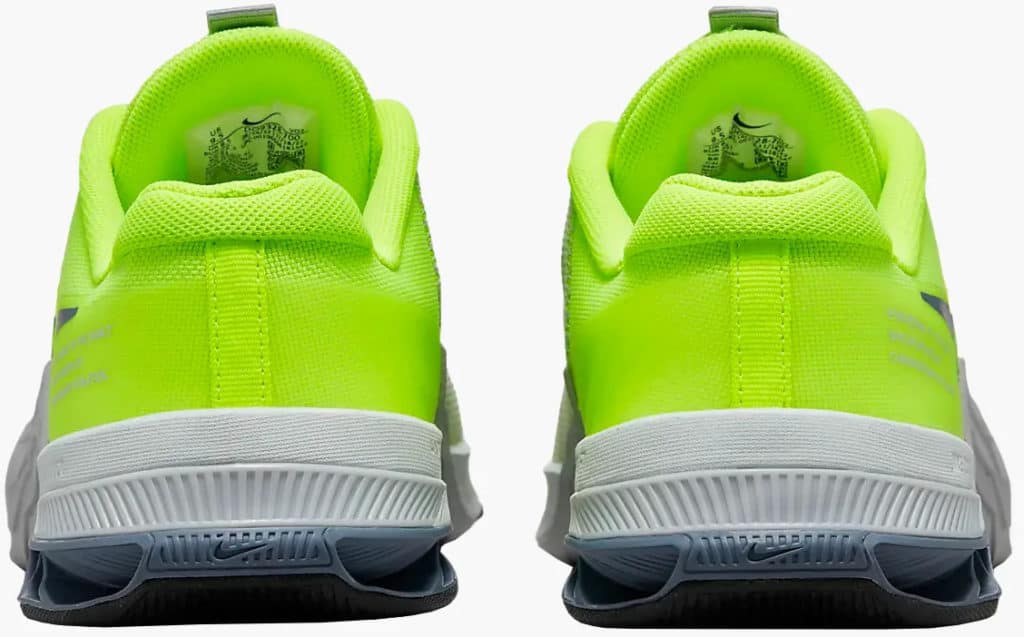 Get the whole scoop about how this shoe performs in our Nike Metcon 8 Review.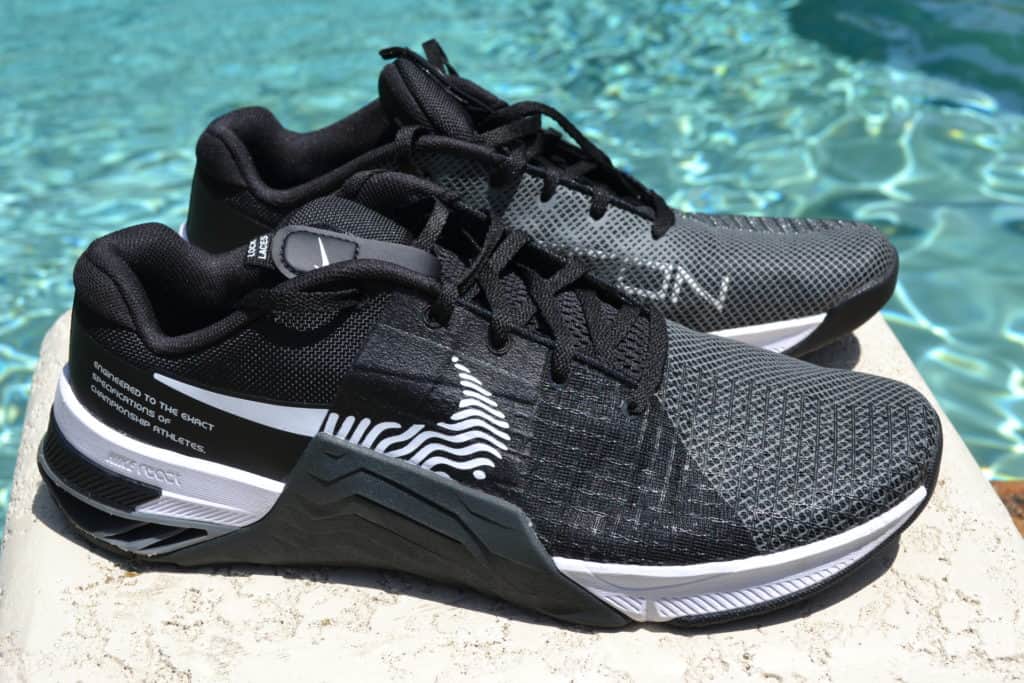 Nike Zoom Metcon Turbo 2
The lightning-quick and efficient Turbo design combined with the lightweight, responsive spring and cushioning of Zoom Air produces the Nike Zoom Metcon Turbo. The Nike React foam is lightweight and responsive for quick, repetitive movements like box jumps and double-unders. Because it has Metcon power, this shoe also has a cushioned underfoot, rope wrap, and handstand heel clip but is reduced to remove unnecessary ounces without decreasing functionality.
You get spring when you take off and cushioning when you land. The instep of the upper is thin and lightweight but still solid enough to tolerate abrasion, while the outer mesh keeps airflow during high-intensity sets. This shoe also includes a wide, flat heel for lift stability and a grippy rubber sole for flexible bends and turns. It is perfect for circuit training, box jumps, high-intensity treadmill intervals, double unders, or a casual walk.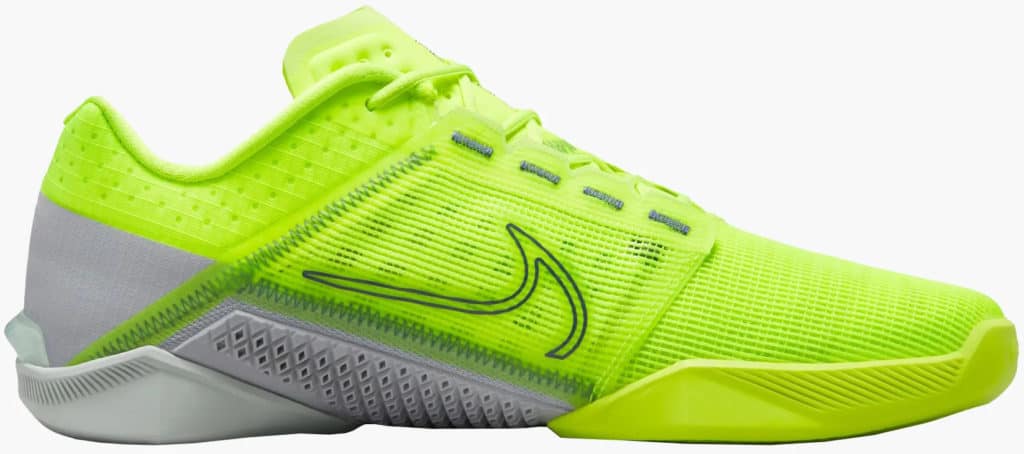 Guess what? We did a full hands-on review of the Nike Zoom Metcon Turbo 2.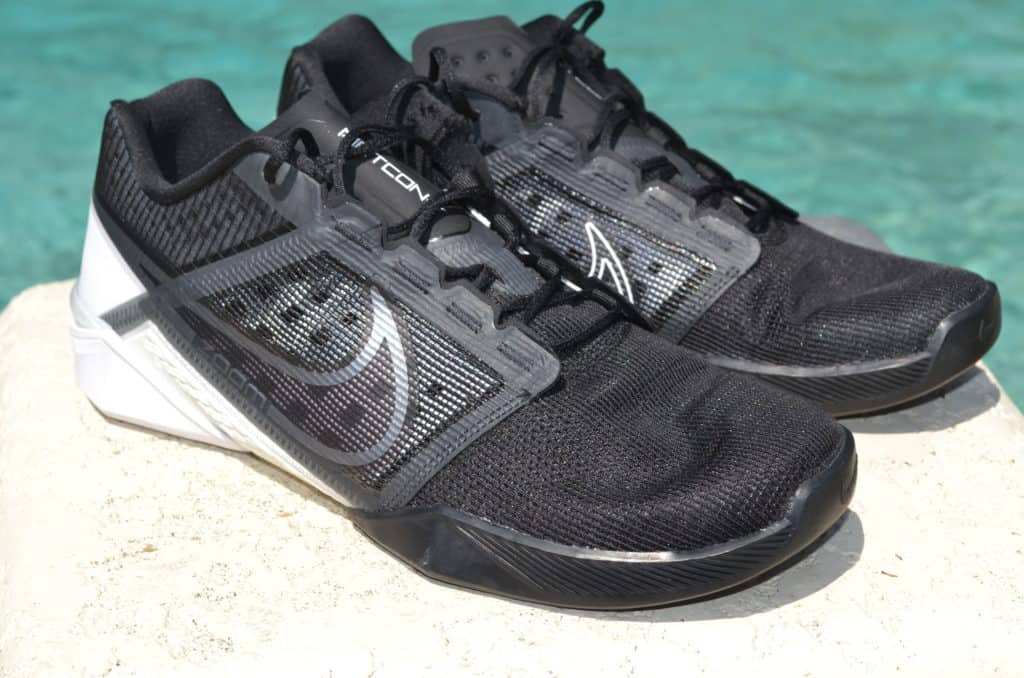 Nike Free Metcon 5
Dig deeper into your workout with the forefoot flexibility with back-end stability of the Nike Free Metcon 5. It has a breathable, lightweight upper that has a comfortable, sock-like feel with a 7/8-length inner sleeve and delivers easy entry. The plush foam around the collar provides comfort and support around your ankle, while the TPU heel clip offers added stability while running or working out.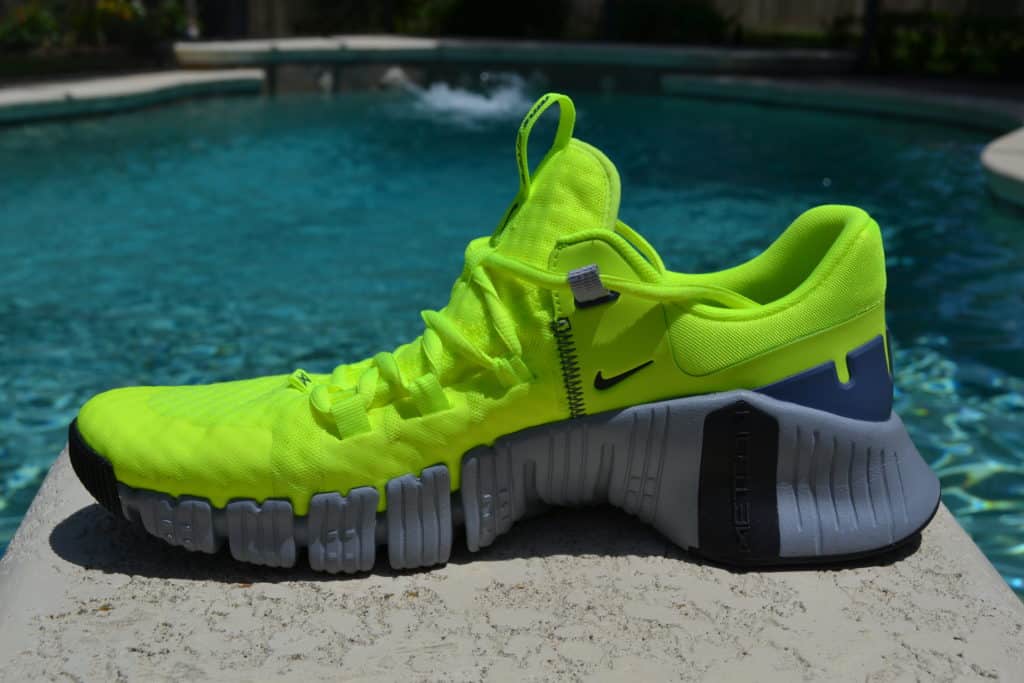 The Nike Free technology in the forefoot produces flexibility for agility moves like planks, burpees, and sprints. The wide internal webbing disperses pressure around your midfoot for a comfortable yet snug feel during sudden stops and quick cuts. The stretch around the collar allows your foot to move innately as you burst, cut, and brake, and the webbing eyelets make it easy to lace up and change the fit to your liking.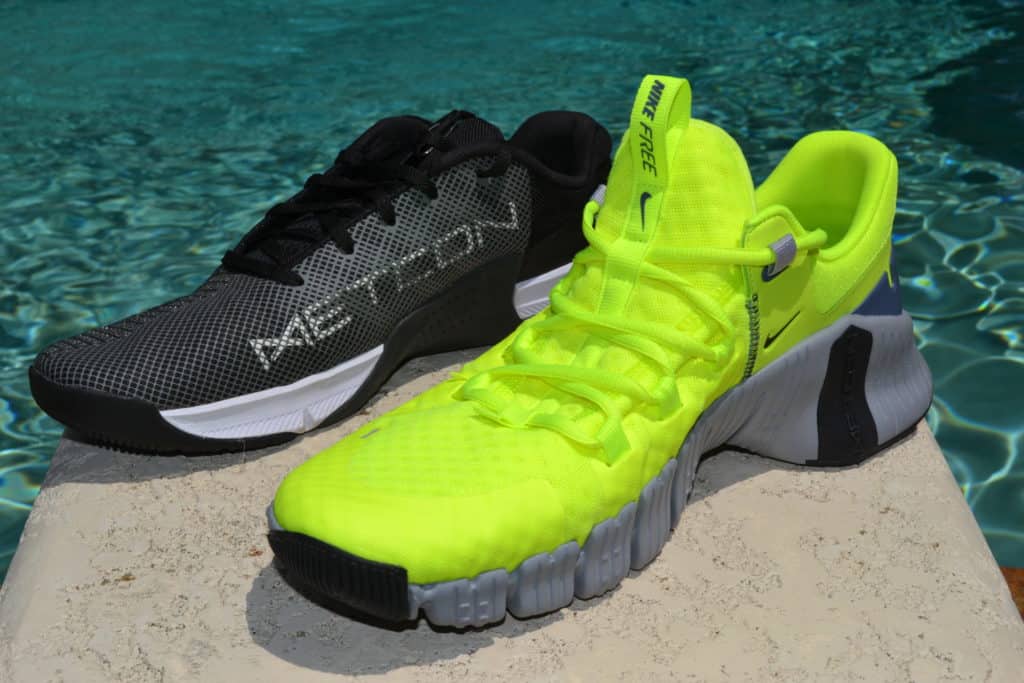 Check out our Nike Free Metcon 5 Review if you want to find out more about this great looking and performing shoe.
Nike Volt – Shockingly Good Looking Cross Trainers – In Summary
That's our close-up look at the Nike Volt – Shockingly Good Looking Cross Trainers.
Power up your fitness journey with these cross-trainers from Nike. They have lightweight uppers to keep you cool, cushioned inner soles to give you freedom of movement, performance outsoles for sure success from the ground up, and on-point styles. These shoes from Nike make sure you test your limits while looking good in them. They come in striking volt colors but are shockingly stunning and will add spice to your training.
Looking for more options? Check out these other great products:
More shoes for CrossFit.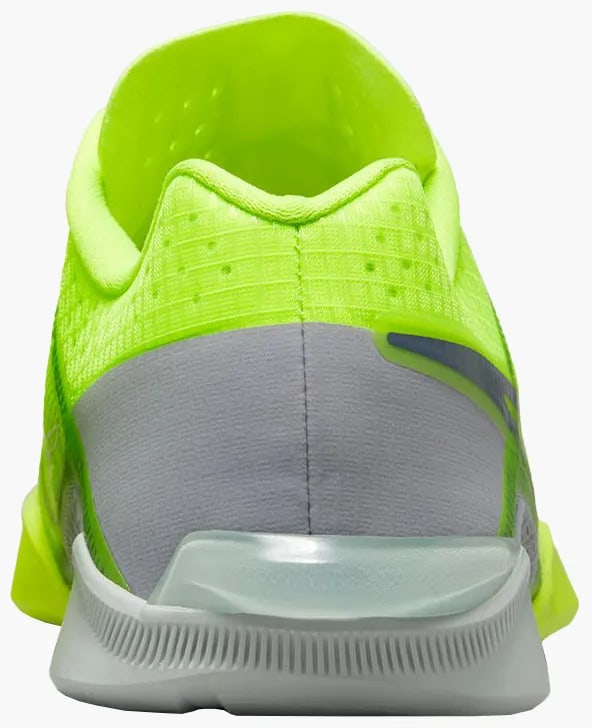 Photo Credits
Product photos on this page are property of Nike.
This website is not affiliated or associated with CrossFit, Inc. CrossFit is a registered trademark of CrossFit, Inc.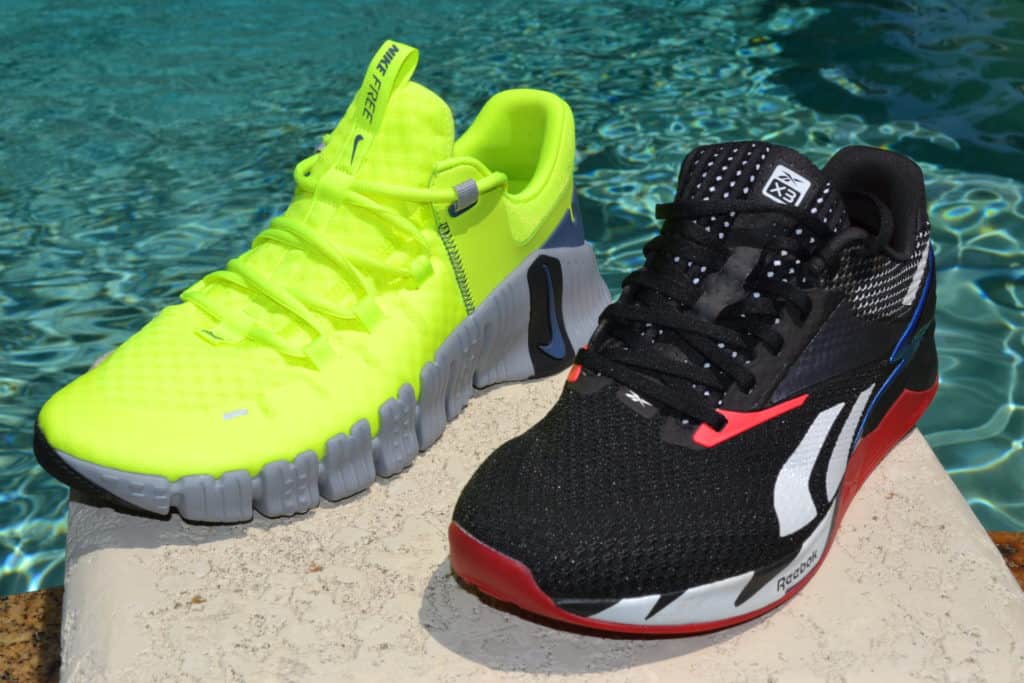 Affiliate Disclaimer
We are an affiliate of Rogue and others that sell this training gear. If you buy clothing or other training gear after clicking the links in this article, we receive a small commission at no extra cost to you. This helps us to bring you in-depth information and content on these great training products.
Tim is the founder of FitAtMidlife.com – an avid gym rat for 30+ years, he's a reviewer of many, many shoes – and founder of the Speed Bag Gathering – the world's only gathering of speed bag punching enthusiasts.  See more gym reviews at Tim's YouTube channel.