Did you catch the Rogue Alpaca Sled at the CrossFit Games? You can now get your own – from Rogue Fitness – of course.
The Rogue Alpaca Sled is a new adaption of the Echo Dog Sled that highlights a set of single-formed, bent steel handles and a unique, loadable pan attachment. You can add weight to the steel pan without them falling out while in use. It had its debut at the 2022 CrossFit Games and is versatile and efficient for any sled workout.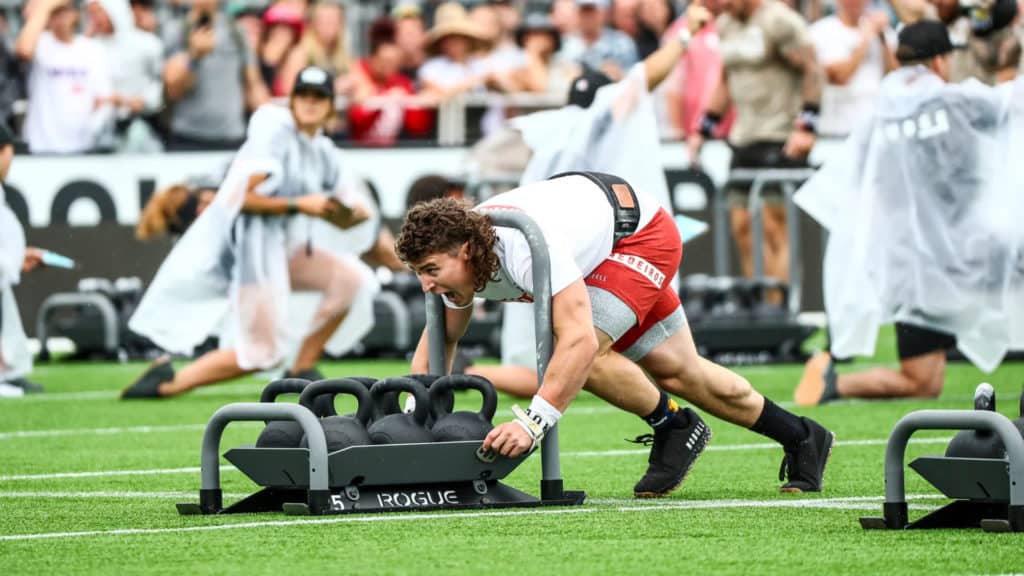 As seen at the CrossFit Games 2022 -the Alpaca Sled: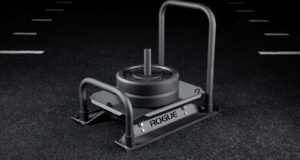 Rogue Alpaca Sled (Black)
Made in the USA. The fundamental components of the Alpaca Sled are manufactured in Columbus, Ohio, and are finished in Rogue's texture black powder coat. This is one versatile sled - notice how the handle lets you use a vertical or horizontal grip.
Rogue Alpaca Sled – Overview
The Alpaca Sled has the key benefits of the original Rogue Echo Dog Sled, including the 0.25" plate steel construction, compact footprint, laser-cut Rogue branding, and optional protective plastic skis and dragging straps. The steel pan measures 21.5" x 13.5", and you can add weight in the form of kettlebells, bumper plates, dumbbells, sandbags, etc. It provides total body strength and conditioning training that helps you lose body fat quickly, increase lateral speed, improve strength, and strengthen knees and joints.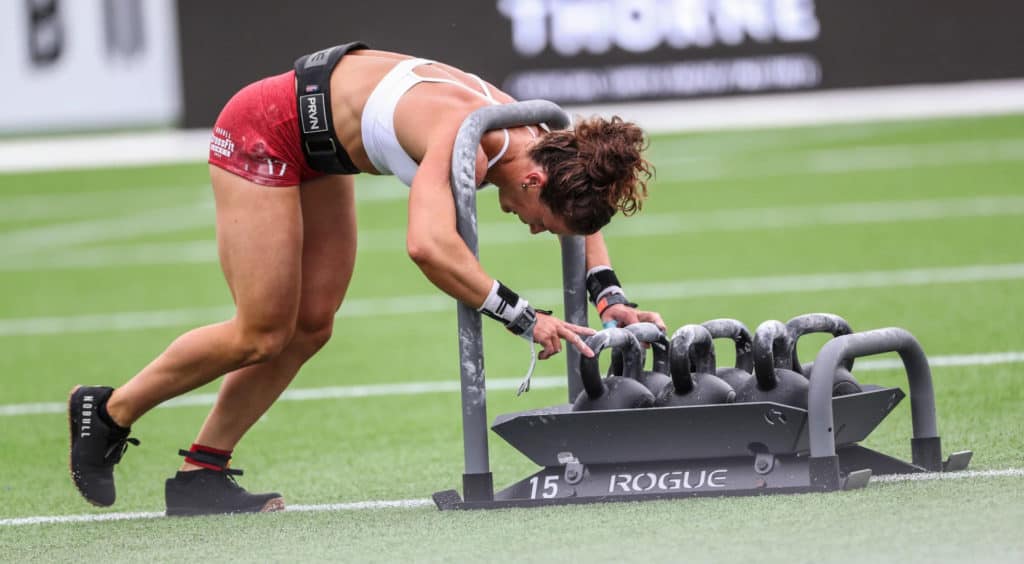 The Alpaca Sled is made from 3/16" welded steel with a pan attachment that conveniently bolts straight to the frame of the Echo Dog Sled. It allows regular use of the sled's weight post and pulling anchor points through the 2" diameter center hole and two carabiner holes. You can remove the plate post at any time to use more of the full loadable footprint of the pan. The pair of single-formed bent steel handles come standard with the complete Alpaca Kit or are available separately as an upgrade for existing Echo Dog Sled owners. They measure 1.9" in diameter and can be set on either end of the sled at heights of 31.75" and 12", respectively.
Because they have more surface area than traditional sled handles, they allow both vertical (neutral grip) and horizontal (pronated grip) hand placement, as well as upright and low-angle body positioning. The Alpaca Sled also comes with a stack spacer that can be placed over the weight post and positioned in the Alpaca pan. It helps protect the pan and any added-weight plates from metal-on-metal damage and prohibits pinch points when loading plates.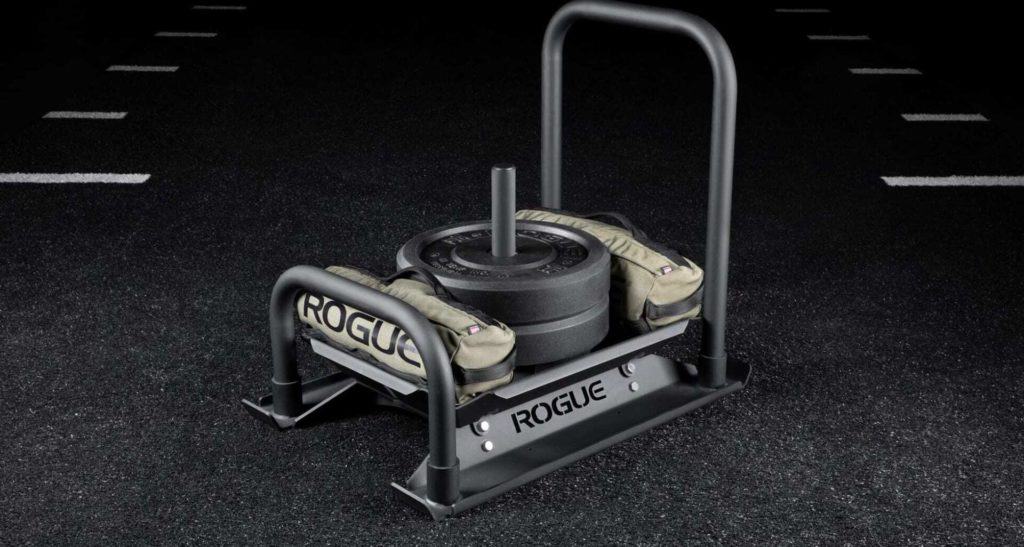 Rogue Alpaca Sled – In Summary
That's the new Rogue Alpaca Sled.
The Rogue Alpaca Sled is made in the USA and was designed specifically for the 2022 CrossFit Games – and now it is available to you. The Alpaca Sled uses an Echo Dog Sled as its base, so those who already have an Echo Dog Sled can order an Alpaca Handle Kit or Alpaca Pan Kit a la carte, which can be attached to the existing sled using ½" x 1-½" Hex Bolts.
Looking for more options? Check out these other great products:
The Xebex XT3 Sled from Get Rx'd is more of a budget option.
The Torque Fitness Tanks Push Sleds are also worth checking out – these can be used on surfaces that don't normally accommodate a push sled.
More push sleds for CrossFit.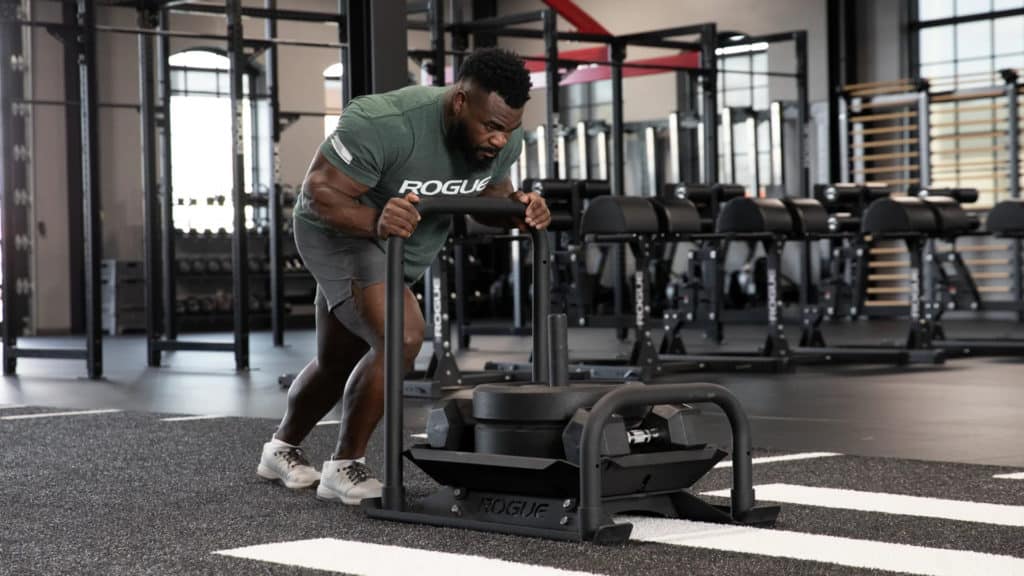 Photo Credits
Product photos on this page are property of Rogue Fitness.
This website is not affiliated or associated with CrossFit, Inc. CrossFit is a registered trademark of CrossFit, Inc.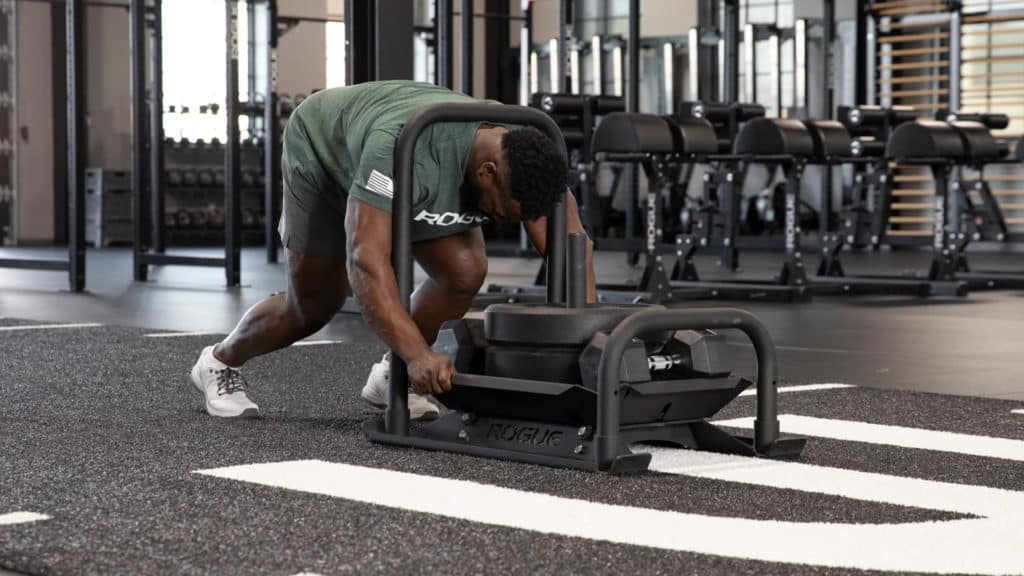 Affiliate Disclaimer
We are an affiliate of Rogue Fitness and others that sell this training gear. If you buy clothing or other training gear after clicking the links in this article, we receive a small commission at no extra cost to you. This helps us to bring you in-depth information and content on these great training products.
Tim is the founder of FitAtMidlife.com – an avid gym rat for 30+ years, he's a reviewer of many, many shoes – and founder of the Speed Bag Gathering – the world's only gathering of speed bag punching enthusiasts.  See more gym reviews at Tim's YouTube channel.