Your Complete Guide to Buying CrossFit Hand Grips
CrossFit training is a rigorous and challenging workout. But, it can be hard on your hands – callouses and even "ripped" palms can be a side effect of too many pull-ups and bar exercises.
In addition, many of the CrossFit exercises benefit from a safe and secure grip.
Normal workout gloves can help, but they do not offer the level of control that you gain from CrossFit hand grips.
Here will discuss why you need hand grips, what type of exercises they're used for, and some features to help you get the right pair of grips for your needs.
We'll finish by comparing these nine CrossFit hand grips with some advantages and disadvantages of each.
Why Do You Need CrossFit Hand Grips?
Gymnasts will immediately understand the vital benefit of hand grips. For the same reason, intense power lifters appreciate the need for a secure grip. CrossFit hand grips apply both principles.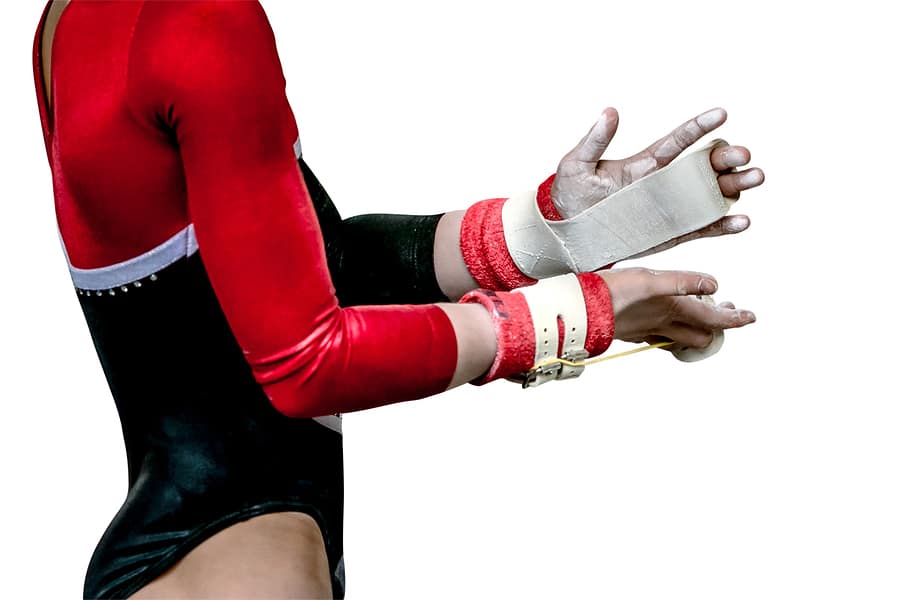 Protection – This is the most common benefit associated with hand grips and weight lifting gloves collectively. Putting something between you and the item you're grasping will protect your hands.
This is especially true when lifting using bars and dumbbells with diamond cut designs in the bar for helping insure a secure grip. Building up unsightly calluses on your palms isn't going to do anything for your strength or endurance. Hands grips allow you to build muscle without shredding your hands.
Safety – The second reason why you should use CrossFit hand grips every time you train is the most logical. Securing a safe grip on the bar, ring, or dumbbell will help prevent unnecessary injuries. Using CrossFit hand grips allows you to lift heavier weight with risk of losing control.
Technique – The third reason for why you need hand grips is often overlooked. However, it might be as important as the safety factor. When your grip is compromised, good form and technique can be altered as well.
This adds a second element to the safety factor. Having a secure grip during any of the hundreds of challenging CrossFit exercises will help reduce the risk of injury. CrossFit hand grips are important for helping you train using good form and technique.
Also consider this – CrossFit workouts tend to be really sweaty affairs.
It is dangerous to hang from a pull-up bar with a sweaty grip – especially for the kipping movements.
Don't underestimate the additional safety that a good set of hand grips can give you.
What Exercises Are CrossFit Hand Grips Used?
As we mentioned, those who have experience in gymnastics will understand the importance of hand grips. This knowledge also applies to what types of CrossFit exercises you may perform where hand grips are beneficial.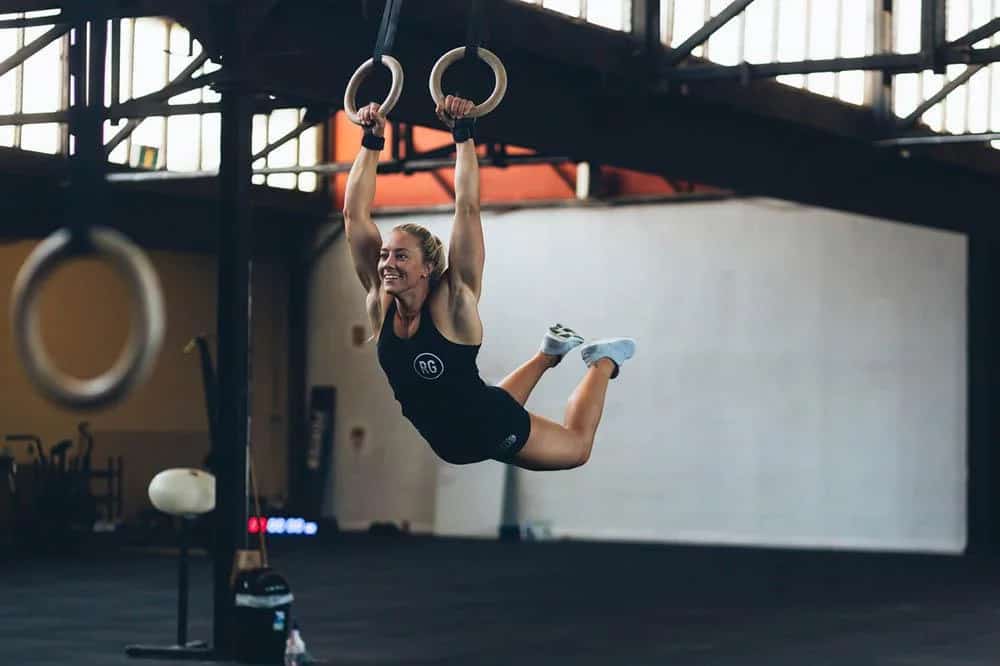 Based on the three reasons we gave you for why you need CrossFit hand grips, here are some exercise examples where you'll use them.
Kipping pull-ups
Pull-ups / Chin-ups
Toes to Bar
Kettlebell swings (High repetition)
Olympic Rings
How about barbell lifts?
Grips artificially increase the amount of weight you can hold in your hands for lifts like the deadlift.
As such, it's usually considered an artificial performance increase – and therefore frowned upon.
Having said that, if you are recovering from a palm rip or severe callous – and don't want to detrain too much – you should consider using grips while your hands recover.
But once your hands are healed, return to barbell lifts without grips to keep working on your grip strength.
Hand grips also help when your palms are simply too sweaty to maintain a grip on a heavy dumbbell, kettlebell, or barbell.
As such, they can be a great help for heavy farmer's walks.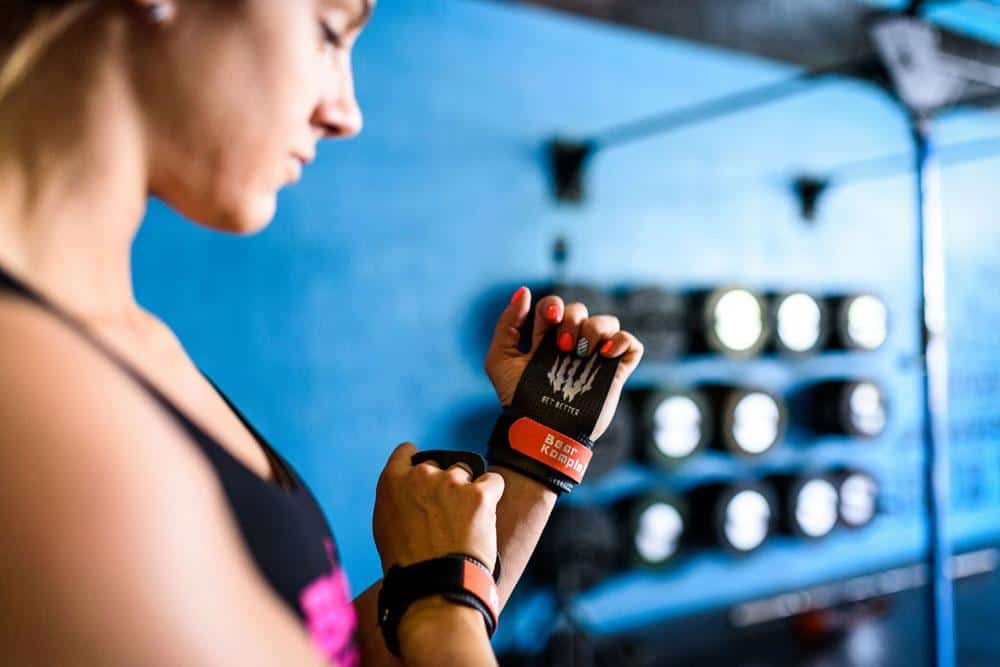 What Features Are Important When Buying Hand Grips?
You will notice that CrossFit hand grips are designed with either 2-holes or 3-holes. This is the first feature to consider. The difference mainly involves different types of lifts and personal preference. You may want to try both to see which is more comfortable.
Material is another important feature. Many CrossFit enthusiasts swear by leather. There are others who feel the leather becomes brittle over time, reducing the firmness of the grip. Kangaroo leather is popular because it offers both grip security and durability.
How your CrossFit hand grips secure around wrist is an important feature as well. Larger straps may take time to get accustomed to, but they also offer an extra degree of wrist support. Wider straps stay tight better.
When looking for the best features for CrossFit hand grips, it is important to mention one thing you should avoid. Hand grips used for gymnastics often have a dowel. This dowel helps maintain a grip for gymnastics moves.
However, it limits the wrist and hand movement for many CrossFit exercises. In addition, the dowel is illegal in most CrossFit competitions. Make sure you're buying hand grips designed for CrossFit training, not gymnastics.
How Do These CrossFit Hand Grips Compare?
Here are several CrossFit hand grips that you may find suitable for your purposes. Each has a few pros and cons that we've mentioned.
Rogue V2 Gymnastics Grips
The Rogue V2 Gymnastic Hand Grips are gymnastic-style two-hole hand grips, which work well for CrossFit training.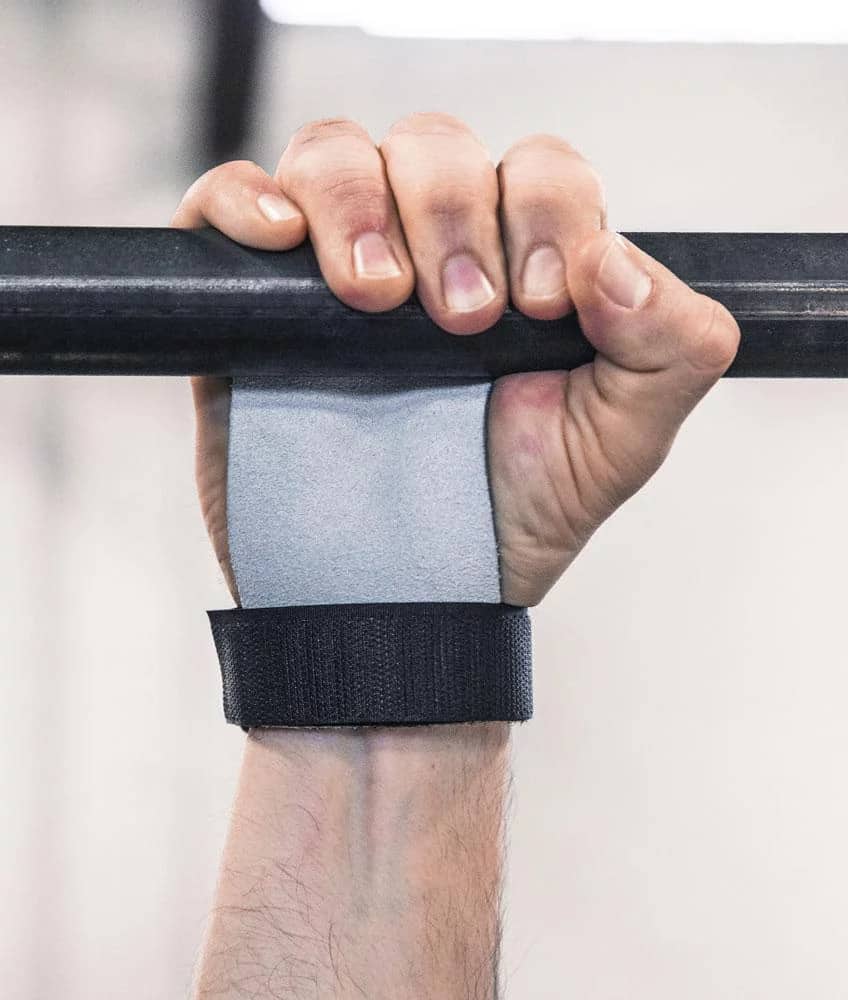 Pros
This design has an excellent grip surface (made with leather) to help reduce slipping.
The Rogue V2 is easy to slip on and off for fast changes during competition.
This is one of the more comfortable CrossFit hand grips to wear for long workout sessions.
Made in the USA – with legendary Rogue Fitness quality.
Cons
These are gymnastic style hand grips, so the outside coverage of your palm is reduced.
Two-hole design may mean less of a secure fit as compared to three-hole.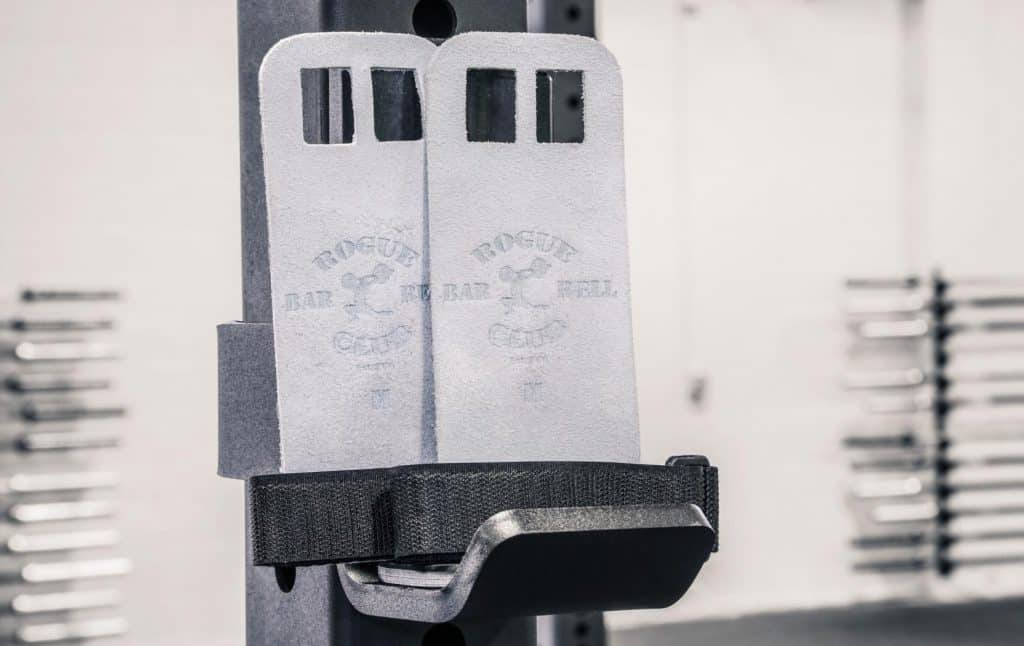 RooGrips 3-Hole Hand Grips
The RooGrips 3-Hole design has an extra wide wrist strap for intense CrossFit training.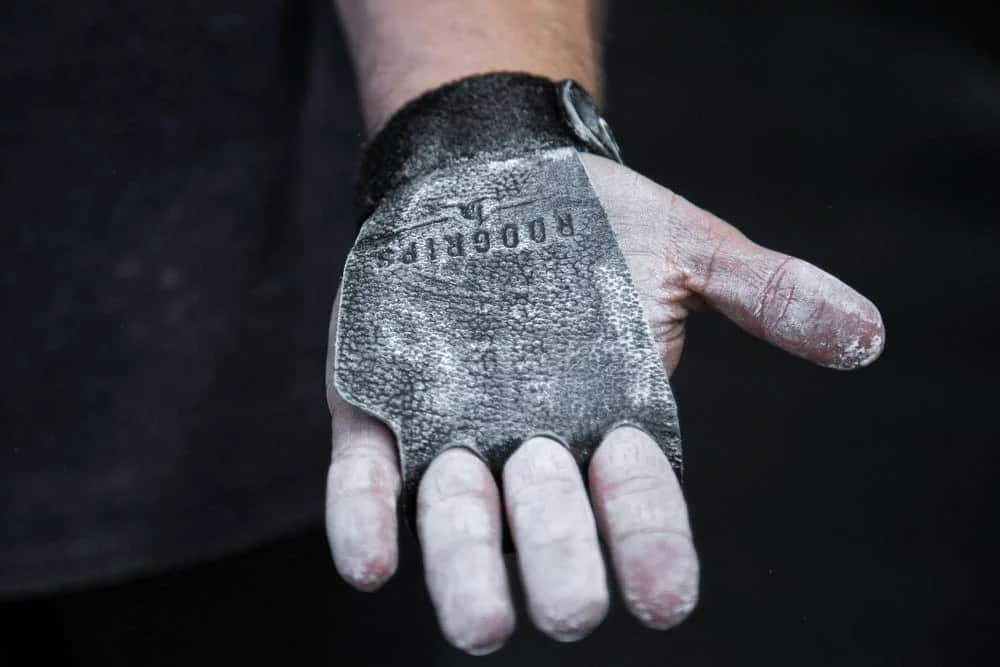 Pros
The three-hole design allows for more flexibility.
RooGrips 3-hole hand grips use Kangaroo leather to improve durability.
There is a hook-and-look strap that allows you to adjust the tightness for different needs.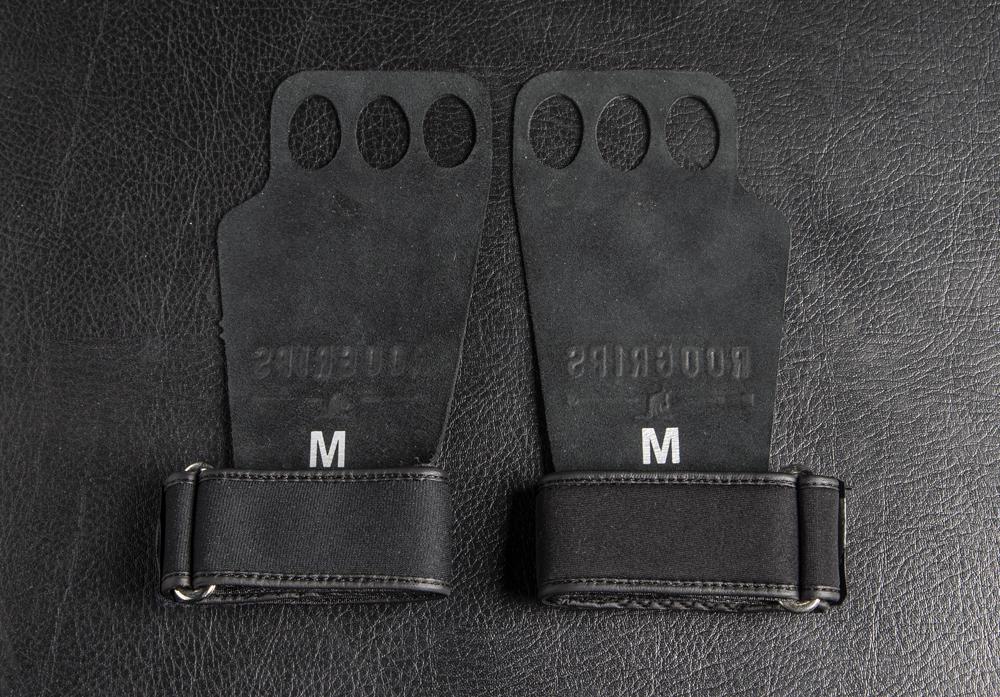 Cons
The price for the RooGrips 3-hole hand grips is a higher than comparable choices.
RooGrips 2-Hole Hand Grips
The 2-hole RooGrips offer the same wide strap and excellent wrist stability.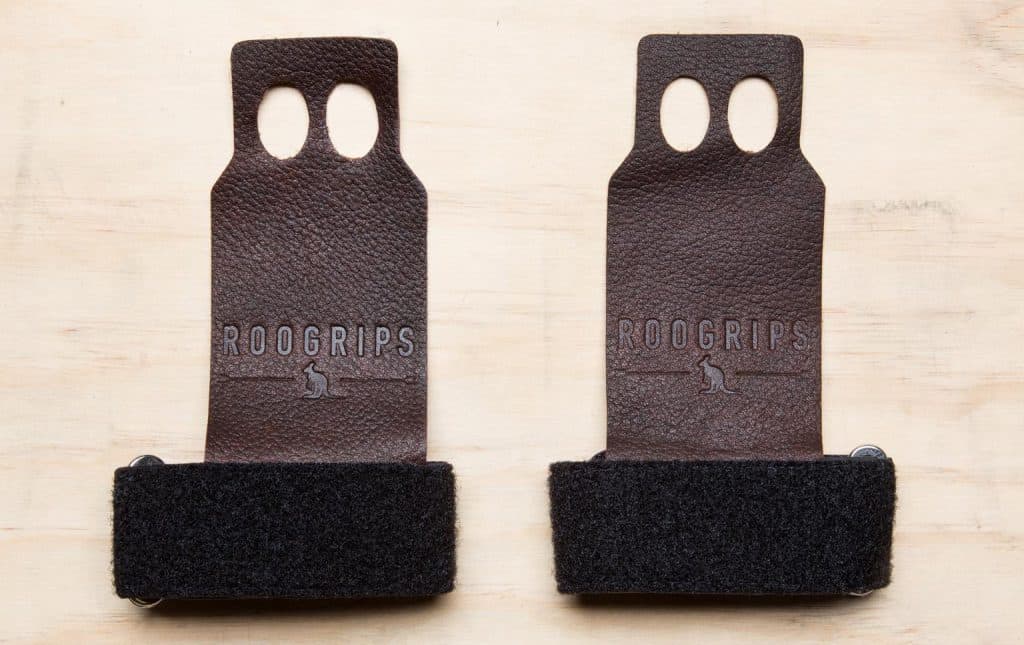 Pros
Available in three different sizes to help insure a secure fit.
Manufactured using a blend of oils to keep the Kangaroo leather pliable and durable.
A slim design to prevent them from bunching up on the edges.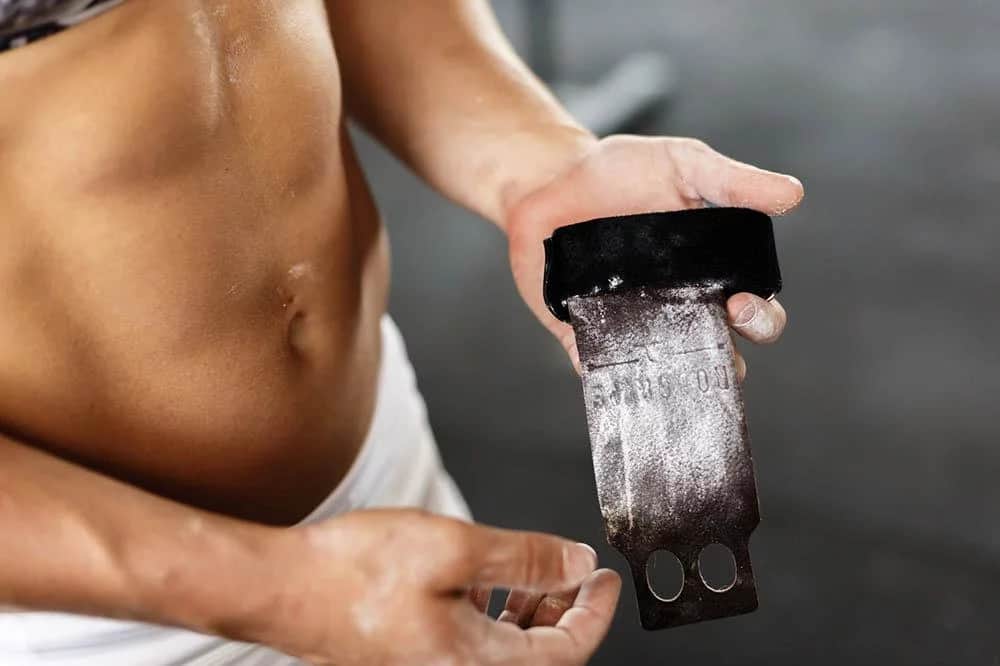 Cons
The RooGrips 2-hole design is just as expensive as the 3-hole product.
Let's look at another stylish option.
RooGrips 2-Hole Hand Grips – Pebble Grain
RooGrips offers a different type of pebble grain genuine leather to help improve your grip during a number of exercises.
What's the benefit? Better grip, and better looks.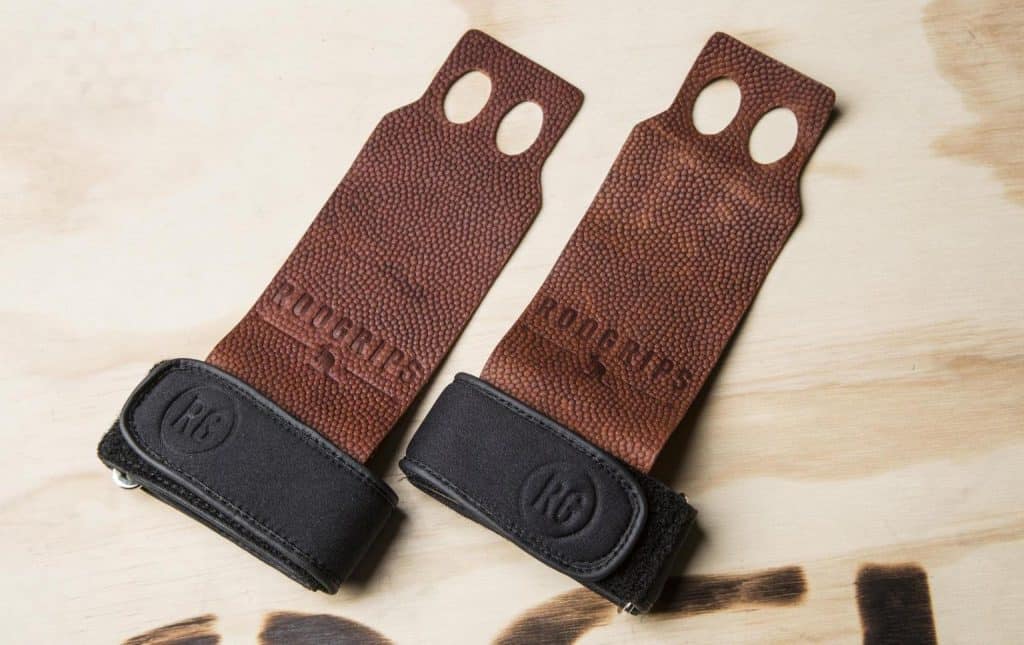 Pros
The new pebble grain design helps offset the tendency for genuine leather to slip slightly when you sweat heavily.
RooGrips 2-Hole Hand Grips with Pebble Grain are an excellent choice for smooth bar exercises such as rings and pull ups.
These hand grips are durable when added as a second set of hand grips for smooth bar exercises.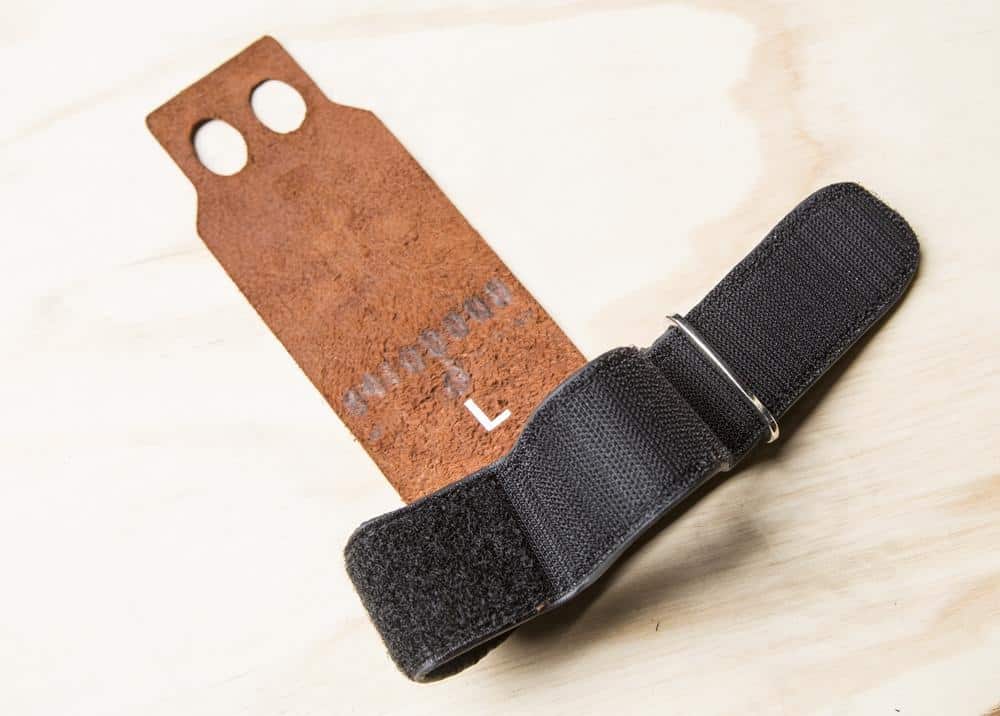 Cons
Based on user feedback, it seems that over time the pebble grain does wear down and the grips can actually be more slippery than standard leather hand grips.
We've looked at several great leather gymnastic style hand grip options.
Now we'll look at some high tech options.
Bear Komplex 3-Hole R*Edition Carbon Fiber
Are you a fan of Rich Froning?
You might want to check out the Bear Komplex 3-Hole Hand Grips Froning Edition might be the best hand grip for you.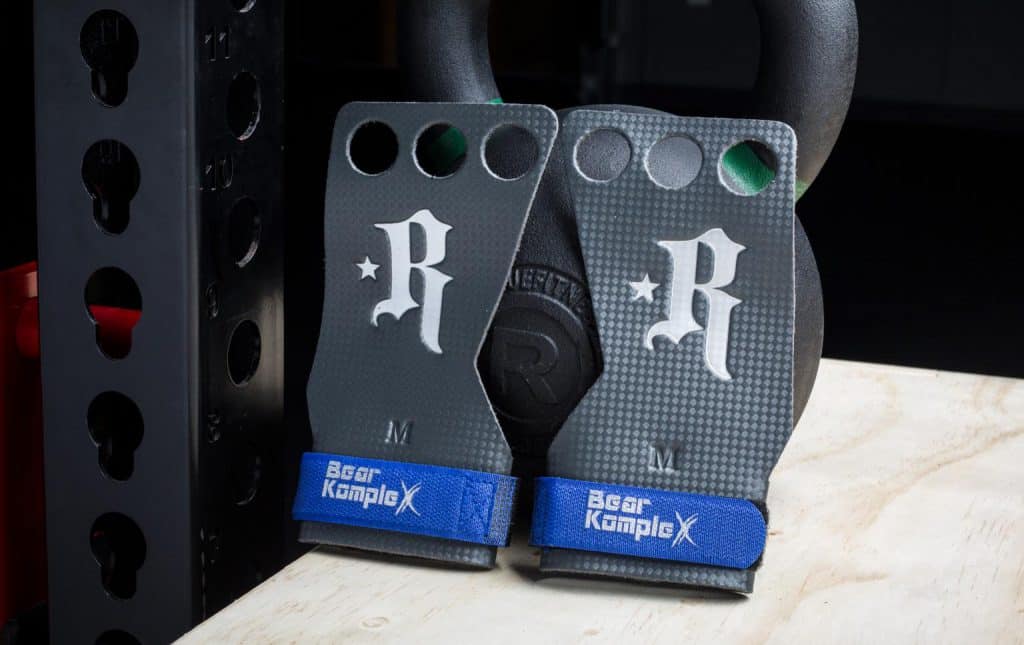 These are made with "Carbon Comp" – this is a unique material that employs a patented carbon fiber material.
Pros
The Bear Komplex 3-Hole R*Edition Carbon Fiber Hand Grips are the CrossFit competitor's choice for heavy events that use chalked bars.
This is a sturdy design that provides outstanding wrist stability.
The carbon fiber materials improves the durability of these hand grips.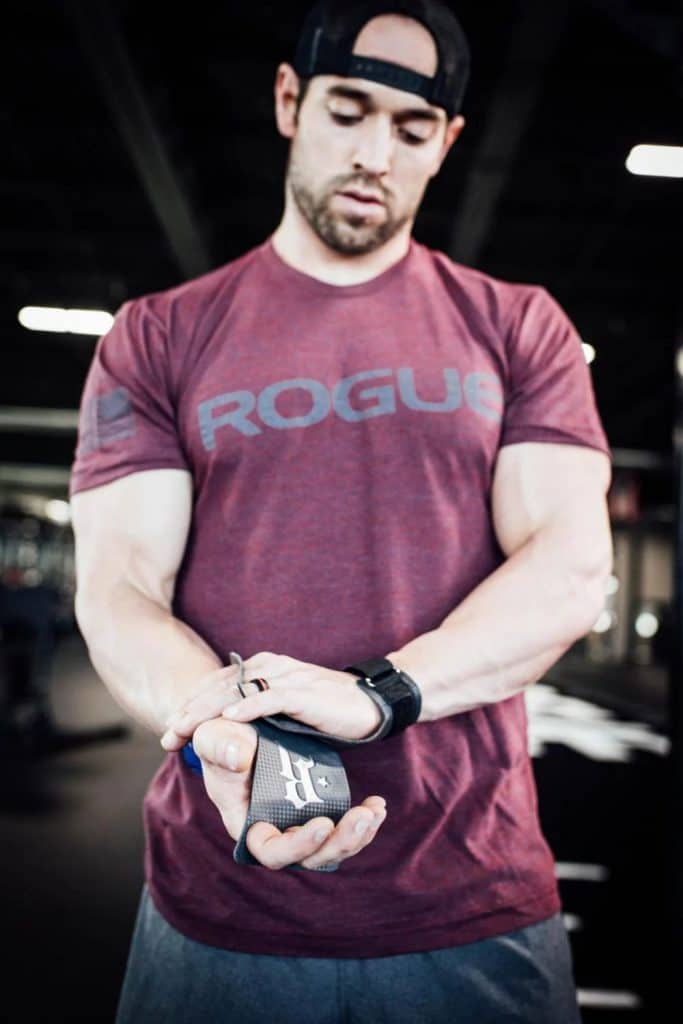 Cons
Carbon fiber hand grips do not allow quite as much slide for exercises that benefit from spinning the bar in the palm of your hand.
The Carbon fiber material won't stretch with use – so be sure to get the right size before you chalk these up, in case you need to return them.
Bear Komplex 3-Hole Diamond
If you're looking for an excellent hand grip for gripping smooth surfaces like pull up bars and dip stations, the diamond-cut synthentic material on the Bear Komplex 3-Hole Hand Grip is an excellent choice.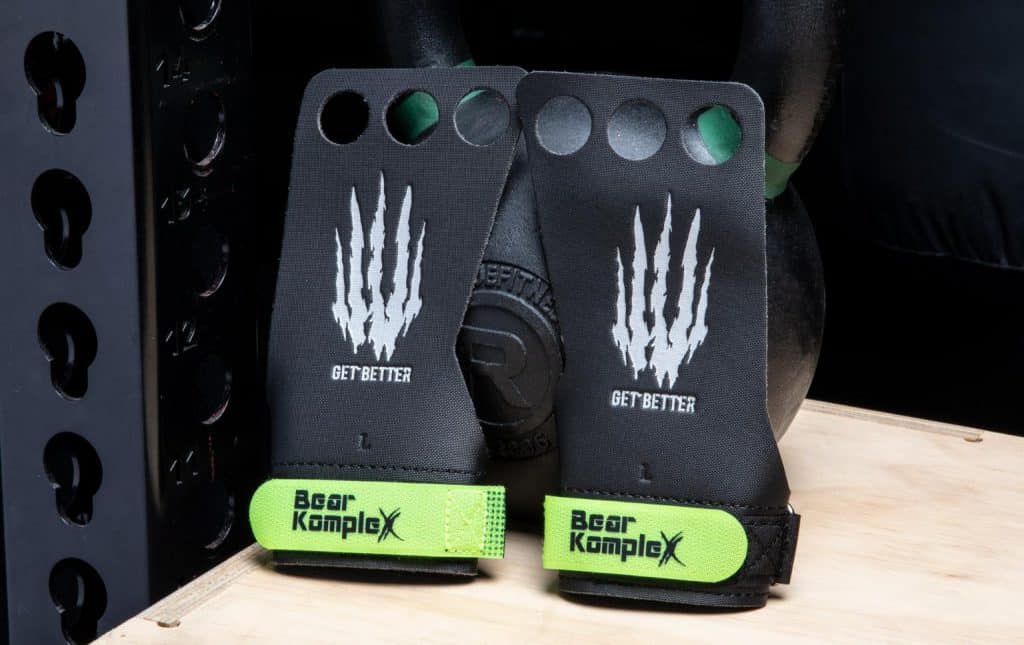 Pros
The diamond cut design offers one of most secure grips for CrossFit training exercises.
Bear Komplex 3-Hole Diamond Hand Grips offer excellent versatility so they're perfect for competitions.
A full wrist strap allows you to tighten these hand grips down for excellent wrist support.
Cons
Some CrossFit competitors mention that the diamond cut design doesn't allow the same palm sensation as smoother hand grips.
CrossFit Hand Grips – In Summary
Each of these CrossFit hand grips will allow you to grip a variety of bars more securely.
They are also designed to protect your hands from the excessive wear-and-tear of intense training.
Use our guide to help you select which pair or pairs of hand grips will help you raise your CrossFit training to the ultimate level.
Photo Credits
We are an affiliate of Rogue Fitness, American Barbell, and Rep Fitness. If you purchase equipment after clicking links in this article we receive a small commission at no additional cost to you. This helps us bring you great info about these products.
All Rogue Fitness product imagery is property of Rogue Fitness, and provided by Rogue Fitness.
Disclaimers
This website is not affiliated or associated with CrossFit, Inc. CrossFit is a registered trademark of CrossFit, Inc.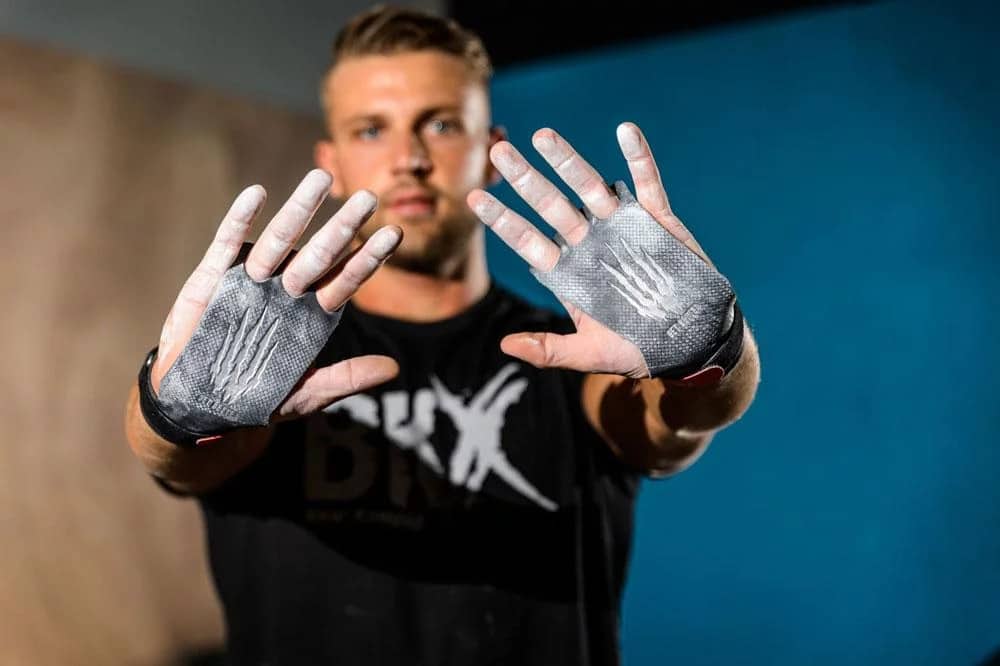 Tim is the founder of FitAtMidlife.com – an avid gym rat for 30+ years, he's a reviewer of many, many shoes – and founder of the Speed Bag Gathering – the world's only gathering of speed bag punching enthusiasts.  See more gym reviews at Tim's YouTube channel.