Rogue has the red-hot
Echo Bike
. Grab one while they last!
Get a better grip on the barbell with these innovative new Rogue Multi-Grip Bars.
Also known as Swiss bars, multi-grip bars come in different styles and weights and have numerous neutral grip options. With them, you can modify your hands to take a close grip, medium-grip, or wide grip—all are neutral, with your palms facing each other.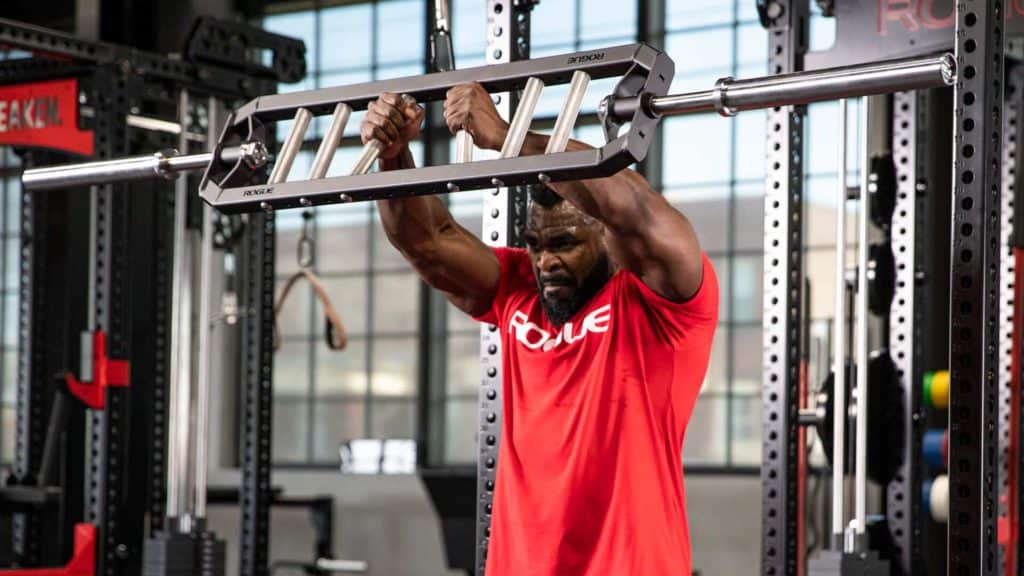 Get it brand-new from Rogue: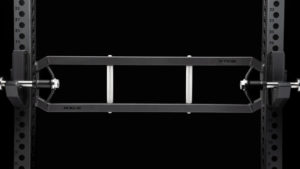 New Rogue Multi-Grip Bars – Overview
Multi-grip bars challenge your muscles with multiple options to hold them, relieving some undesirable discomfort and strain that can hurt your workouts and restrict daily ventures. Multi-grip bars are easy on your shoulders and save them from unpleasant pain experienced repeatedly with a conventional barbell. They are versatile and are ideal for completing various exercises.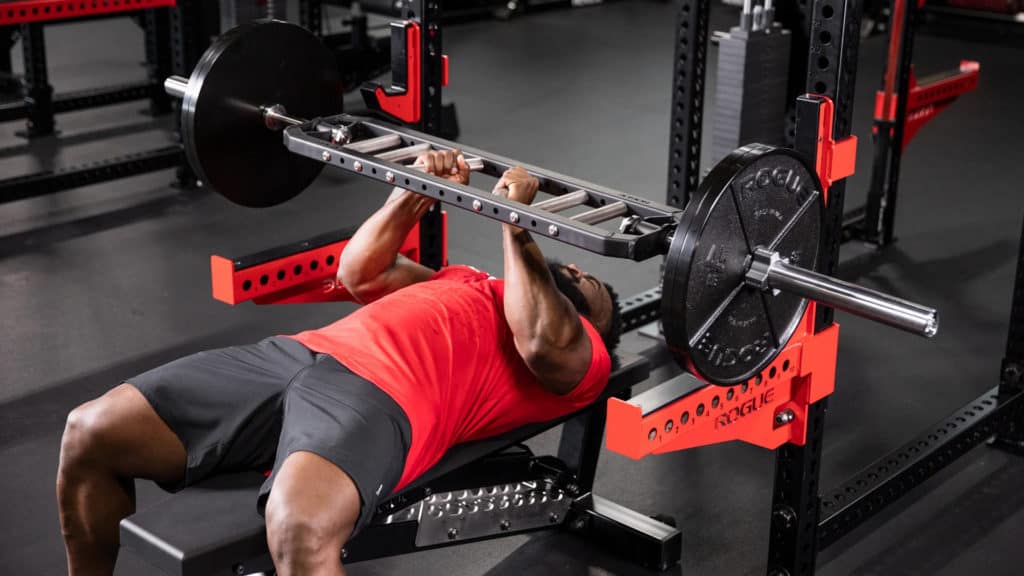 Multi-grip bars are more comfortable, promote a more natural position, and align your muscle and joints. They also make you stronger in different ways and are very helpful in forming the triceps via the neutral grip pressing exercises. Multi-grip bars also improve balance and work your upper and lower body with limitless workouts. You can do pull-ups, pus-ups, overhead presses, and more with them.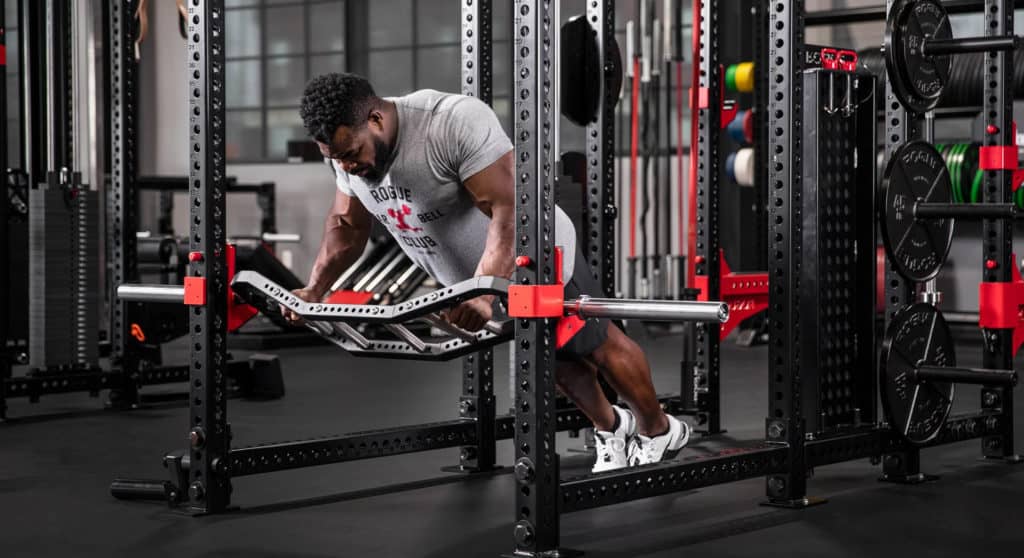 Rogue MG-4F Multi-Grip Bar
The MG-4F Multi-Grip Bar's friction welded sleeves are available with a 9" loadable length or 15.5" of loadable length and employ the same internal parts as the standard barbells. They rotate on shafts assembled from the same stainless steel as the power bars. The standard 51.5" distance between the sleeves makes the bar rackable on any Rogue power rack, rig, squat stand, or bench. You can also order extra pairs of straight, 16-degree, or 20-degree handles in addition to the pair of straight handles included with the MG-4F. The handles can be spaced anywhere from a minimum of 6" to a maximum of 26" apart, allowing you to customize your bar for various movements from close-grip presses and triceps work to biomechanically optimized grips at shoulder-width and beyond.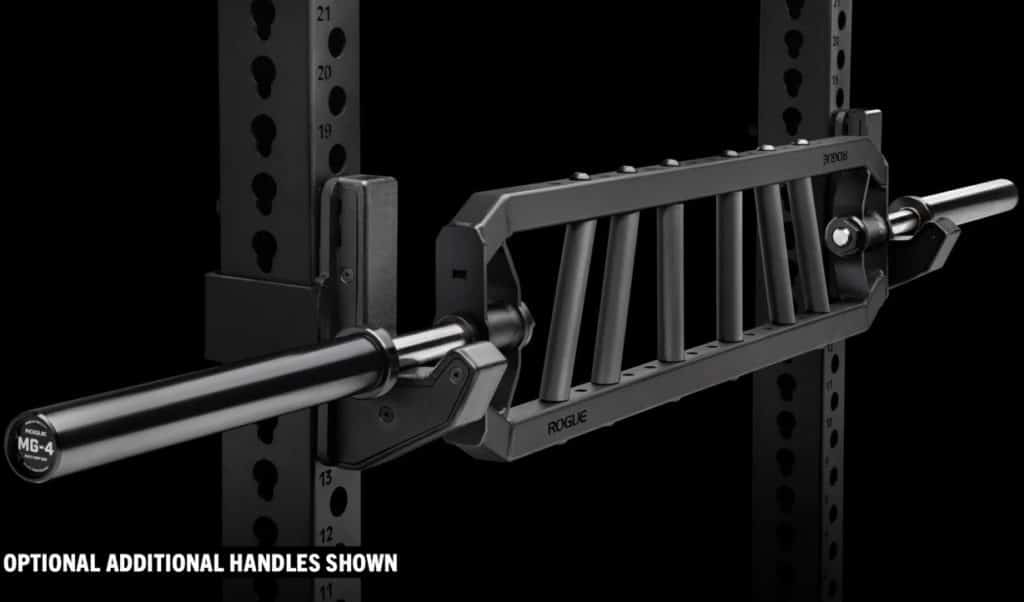 The sleeves, handles, and hardware of the MG-4F are all finished in stainless steel or Rogue's proprietary matte black finish. They are remarkably durable, corrosion-resistant options that will retain the look and performance of the sleeves. When applied, the proprietary matte black finish doesn't add any thickness, so the stainless and black handle options will feel just as they would coming straight out of the lathe.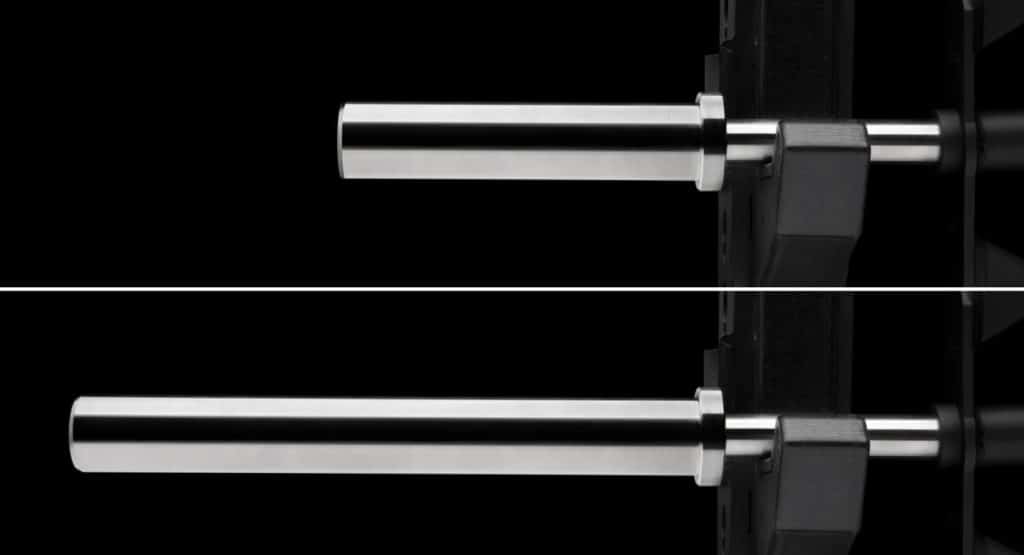 Rogue MG-4C Multi-Grip Camber Bar
The MG-4C Multi-Grip Camber Bar is the latest development of the Rogue specialty multi-grip barbell with a patent-pending design that offers two significant advantages over other multi-grip bars on the market: First is, its sleeves rotate in the style of a standard barbell, and come in your choice of two practically indestructible finishes. The second advantage is that you can choose both the width and angle of the handles, creating a bar that is optimized for your size and training preferences. The 41" frame part of the bar is constructed from 1.5" x 1.5" 11-gauge steel tubing with 1/4" plates, a machined socket, and a matte black powder coat finish.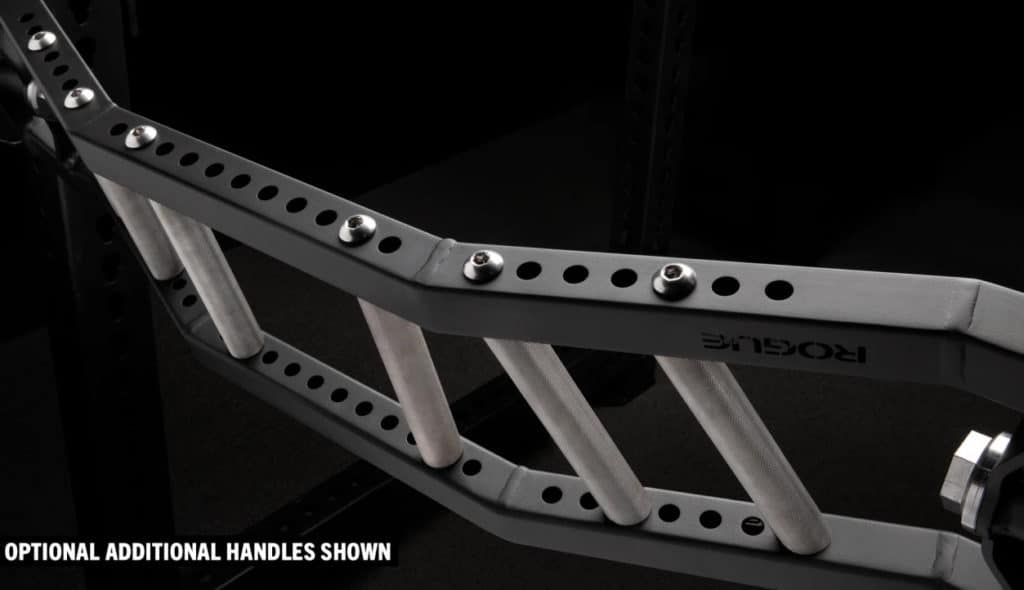 The cambered shape with 3.5" of drop enables a greater range of motion when using the outer handles on specific movements (such as bench or rows). It helps better stability, as the bar's center of mass is close to hand placement lower. The sleeves are assembled to the shafts but with a unique interlocking taper design that enables easy assembly with a single nut using the included wrench. The joint assembled by this interlocking taper is as strong as a weld and will hold up to whatever you throw at it.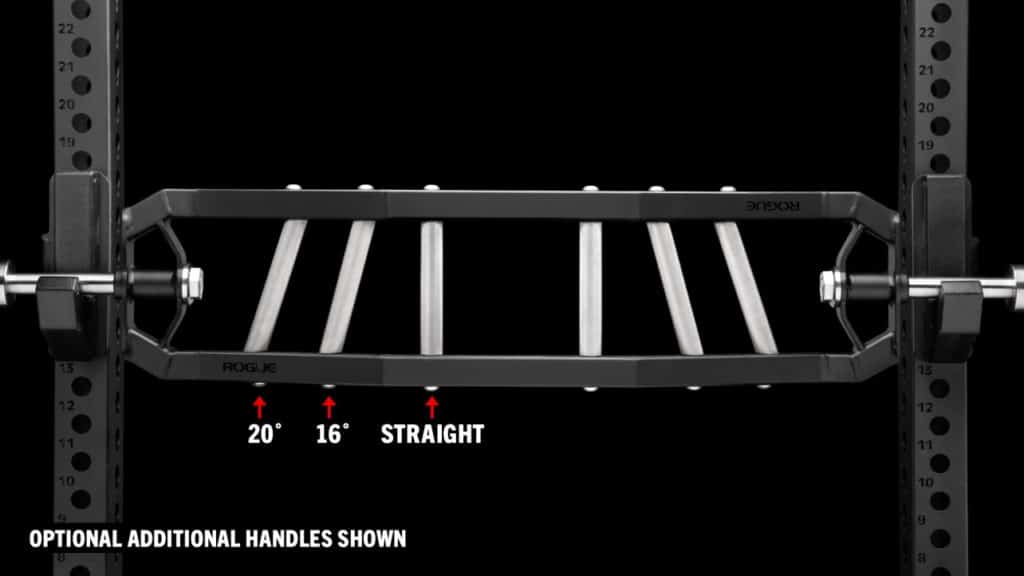 New Rogue Multi-Grip Bars – In Summary
That's our close-up look at New Rogue Multi Grip Bars.
Multi-grip bars from Rogue have adjustable knurled handles, barbell style sleeves in two length options, an interlocking taper design, and a machined nut. All handles, regardless of angle, have the same diameter (28.5mm) and knurl pattern as the Ohio Bars.
Looking for more options? Check out these other great products:
Here's some more options – Multi-Grip Swiss Bars for Bench Press.
Rep Fitness also has the New Cambered Swiss Bar.
More products from Rogue.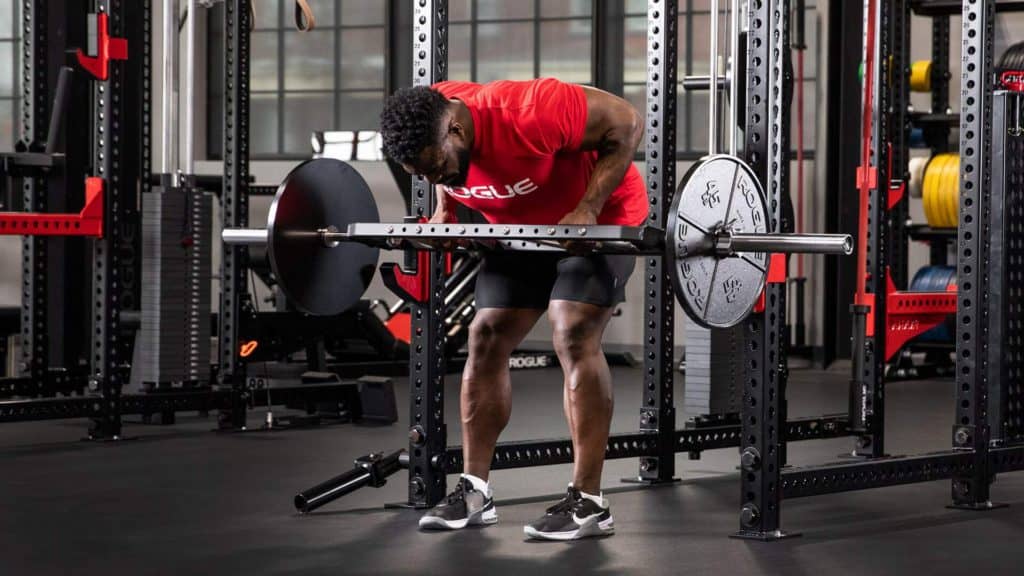 Photo Credits
Product photos on this page are property of Rogue.
This website is not affiliated or associated with CrossFit, Inc. CrossFit is a registered trademark of CrossFit, Inc.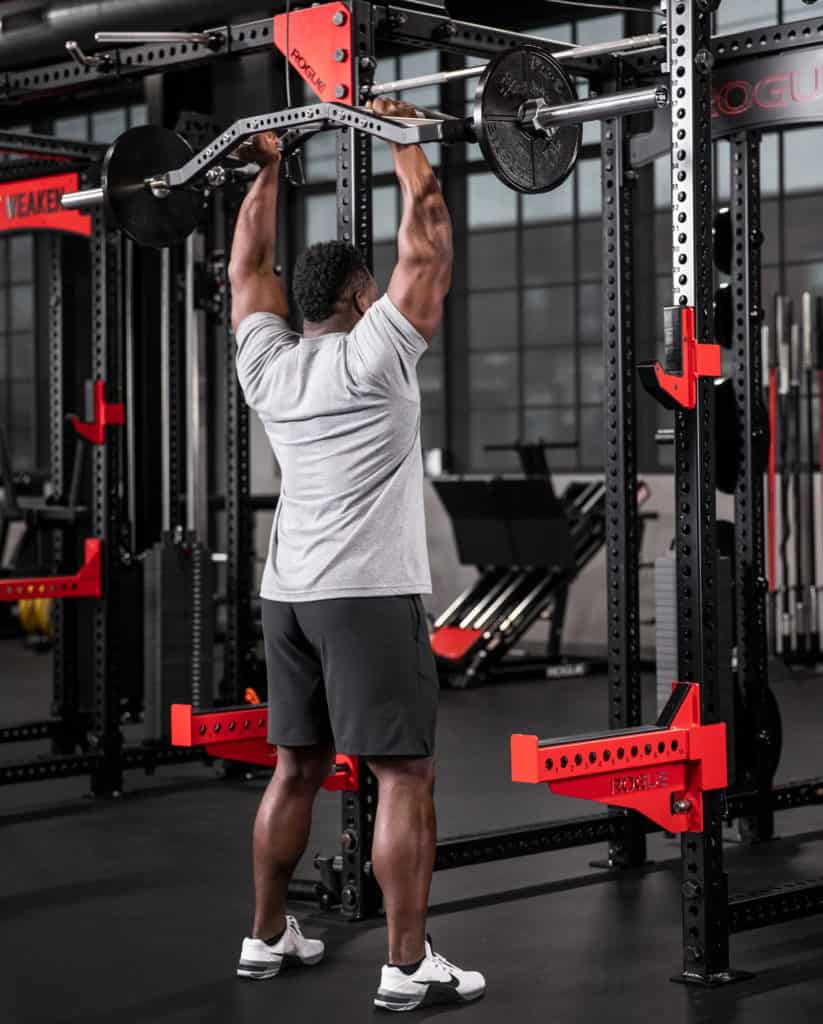 Affiliate Disclaimer
We are an affiliate of Rogue and others that sell this training gear. If you buy clothing or other training gear after clicking the links in this article, we receive a small commission at no extra cost to you. This helps us to bring you in-depth information and content on these great training products.
Tim is the founder of FitAtMidlife.com – an avid gym rat for 30+ years, he's a reviewer of many, many shoes – and founder of the Speed Bag Gathering – the world's only gathering of speed bag punching enthusiasts.  See more gym reviews at Tim's YouTube channel.