Build a big squat with the Mammoth Belt Squat from Fringe Sport.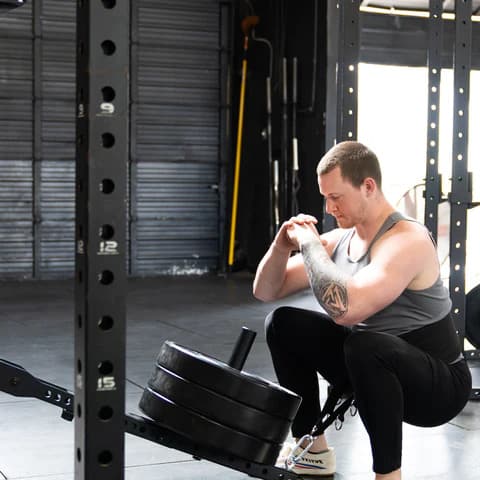 Optimize your leg and glute gains while reducing strain on your back and shoulders with the Sport Mammoth Belt Squat—the ultimate lower-body workout equipment. With it, you can avoid potential injury because it lets you maintain proper form, focus on the muscle groups you want to target, and achieve the desired glute and leg engagement.
The Mammoth Belt Squat – from Fringe Sport: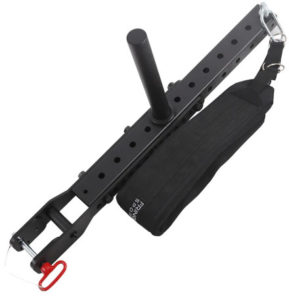 Mammoth Belt Squat (Black)
The Mammoth Belt Squat weighs 32LBS and has a weight capacity of over 450lbs. It has a black powder coat finish on the steel and a black zinc finish on the hardware. It also has heavy-duty M16 bolts for weight-bearing bolts and heavy-duty eye bolt for belt attachment.
Mammoth Belt Squat from Fringe Sport – Overview
Redefine your lower-body workouts with the Fringe Sport Mammoth Belt Squat. This machine allows you to hit your squat PRs and build solid and big legs without back pain and other restrictions. Whether it's bodybuilding, strength training, or general fitness, the Mammoth Squat Belt is an excellent piece of equipment to add to your routine. This revolutionary piece of equipment is perfect for bad knees and if you don't have space for a Standing Belt Squat. It is durable and made to last, and its solid and compact design is ideal for home and garage gyms. Because of its versatility, you can perform squats, deadlifts, lunges, and many more lower-body exercises. Comfort is certain with its padded and adjustable belt that allows you to achieve your squat goals without pain. Loading and unloading weight plates is easier. Thanks to its adjustable lever arm. It makes your workout more efficient, so you can save your energy for intense exercises.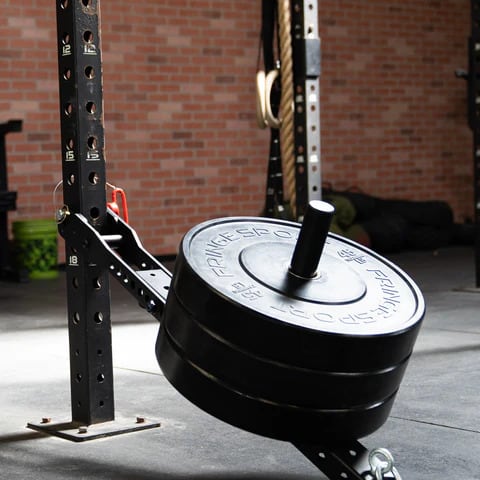 Because the weight is loaded lower on your body, your center of gravity stays low, delivering more stability and balance during your workout. The belt squat accommodates users of different heights and is perfect for those recovering from an injury or with mobility limitations. If leg press or hack squat machines are uncomfortable, the Mammoth Belt Squat is an excellent option as it helps strengthen your quads and glutes while taking pressure off your back and hips. The machine lets you load your legs without taking any added load on your upper body. This means it can stop shoulder and lower back pressure when squatting. Even if the belt squat mainly focuses on the lower body muscles, it also works your core strength and stability, making it an efficient and effective exercise for total strength and conditioning.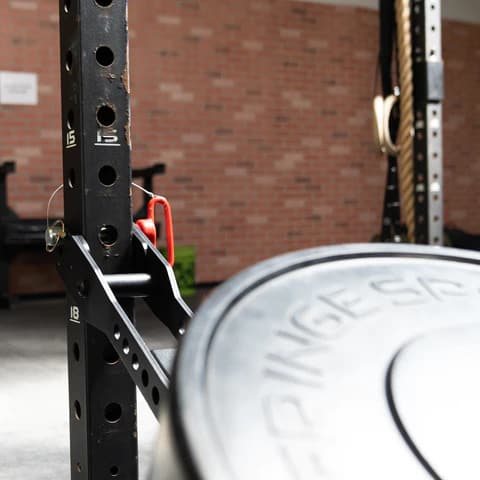 The belt squat primarily targets the lower body muscle groups, including: 1. Quadriceps – Responsible for knee extension, the muscles on the front of the thighs are the primary target in the belt squat. 2. Gluteus Maximus – The glutes are involved during hip extension, particularly while rising from the squat position. 3. Hamstrings – The hamstrings work as synergist muscles during the squat movement. 4. Hip Adductors – The inner thigh muscles help stabilize the legs during squats. 5. Calves (Gastrocnemius and Soleus) – The calves work as secondary muscles to stabilize the ankle joint during the squat movement. 6. Core Muscles (Abdominals and Lower Back) – The core is engaged during the squat to maintain stability and good posture.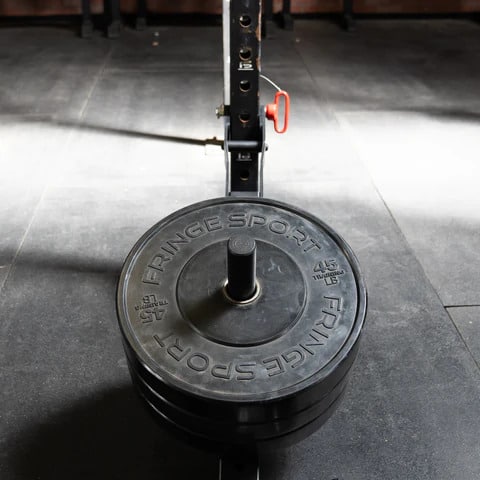 Mammoth Belt Squat from Fringe Sport – In Summary
That's our close-up look at the Mammoth Belt Squat from Fringe Sport.
Say goodbye to unnecessary back and shoulder strain and say hello to the new way of revolutionizing your leg and glute workouts. The Mammoth Belt Squat is the ultimate lower-body workout equipment to fire up your legs and glutes minus the strain. Invest in the Fringe Sport Mammoth Belt Squat. Fringe Sport is the official supplier of the garage gym functional fitness movement. They offer world-class service and solutions, so you can be confident you've invested in equipment worth your hard-earned dollars.
Looking for more options? Check out these other great products:
A Half Racks for Home Gym is a good option if you have a minimum of space.
Got shoulder (or elbow) issues? Try squatting with Safety Squat Bars instead of a traditional barbell – it's easier on your joints.
More products from Fringe Sport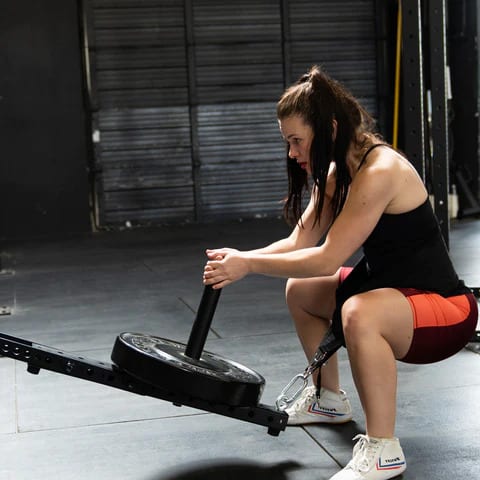 Photo Credits
Product photos on this page are property of Fringe Sport.
This website is not affiliated or associated with CrossFit, Inc. CrossFit is a registered trademark of CrossFit, Inc.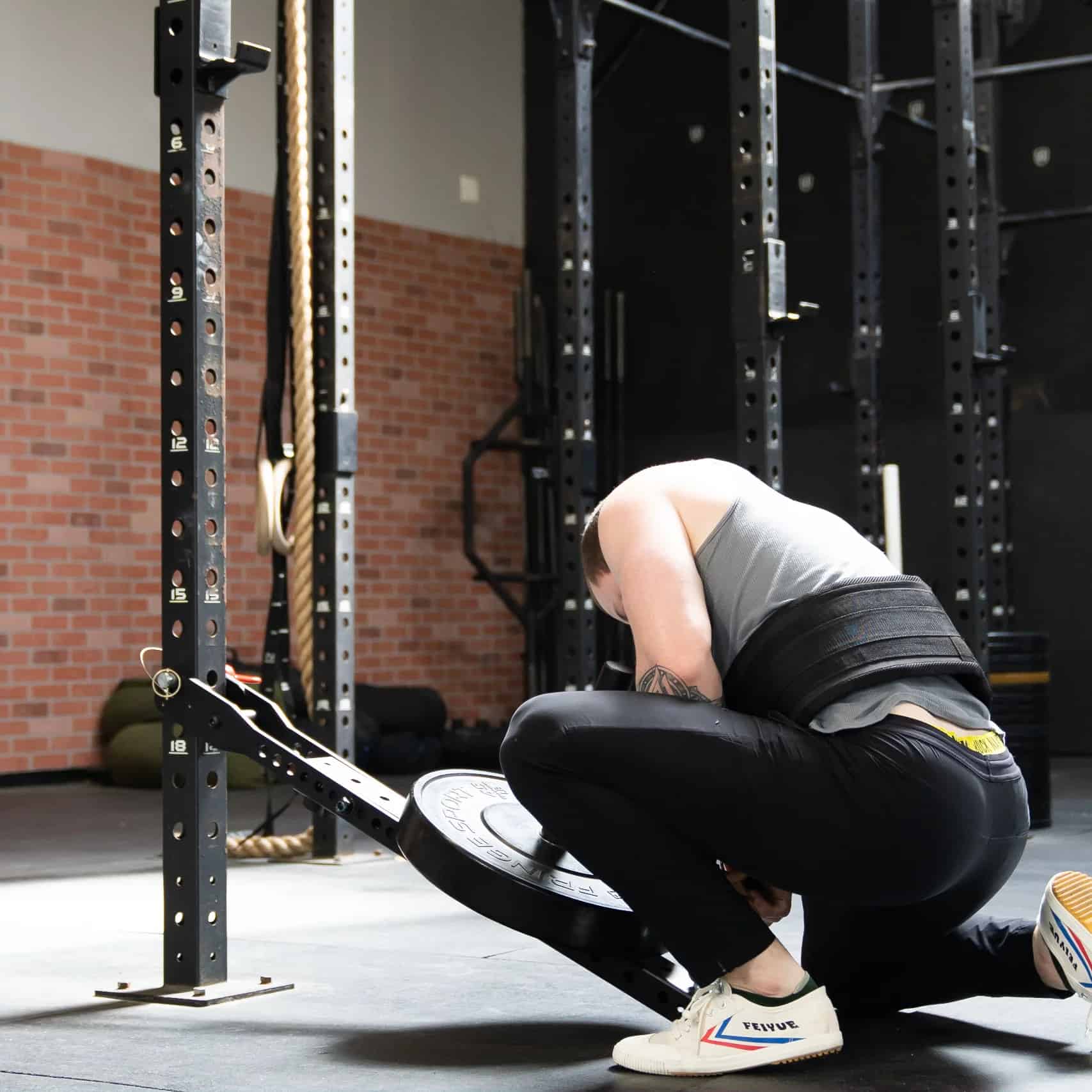 Affiliate Disclaimer
We are an affiliate of Fringe Sport and others that sell this training gear. If you buy clothing or other training gear after clicking the links in this article, we receive a small commission at no extra cost to you. This helps us to bring you in-depth information and content on these great training products.
Tim is the founder of FitAtMidlife.com – an avid gym rat for 30+ years, he's a reviewer of many, many shoes – and founder of the Speed Bag Gathering – the world's only gathering of speed bag punching enthusiasts.  See more gym reviews at Tim's YouTube channel.