The Reebok Legacy Lifter II Men's Weightlifting Shoe is now available – and here's our hands on review.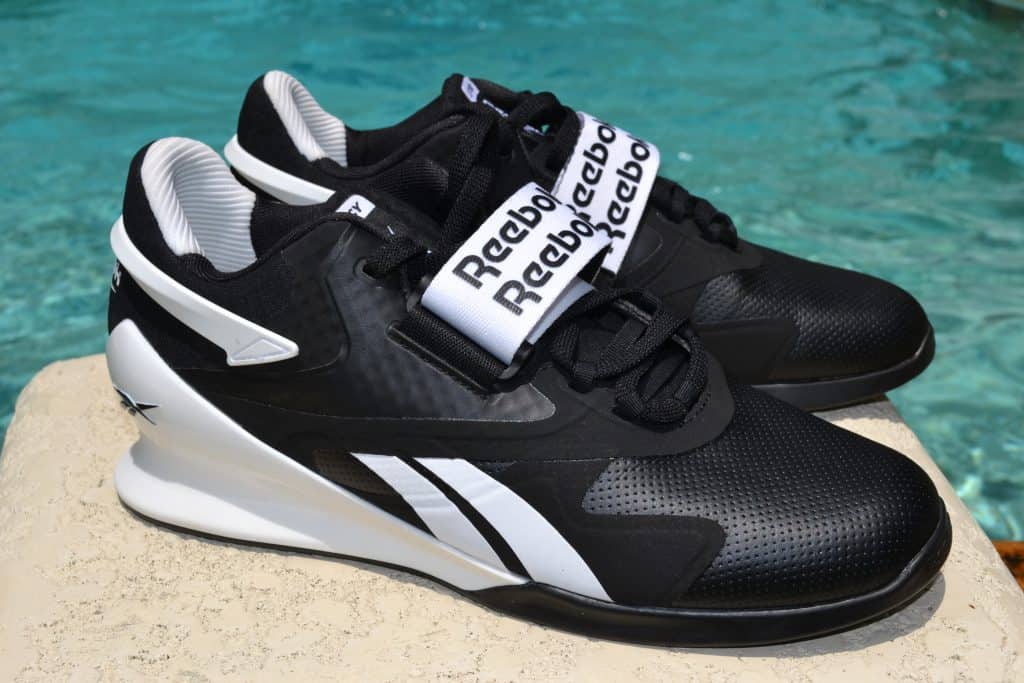 This is the 2nd version of Reebok's premium Oly weightlifting shoe – the Legacy Lifter.
How does this shoe compare to the original Reebok Legacy Lifter?
Or perhaps more importantly, how does it compare to the newly released Nike Romaleos 4 shoe?
That's what we'll cover in this hands on review.
Here's some of the styles available now from Reebok.com:
Let's take a look at this new Oly lifter for CrossFit.
Reebok Legacy Lifter II Weightlifting Shoe Video Review
Here's a first look at the new shoe, from our YouTube channel:
As you can see, the Legacy Lifter II is an excellent weightlifting shoe – in fact, it was the runner-up in our test of the best weightlifting shoes for 2020.
Reebok Legacy Lifter II Weightlifting Shoe – Overview of Features
This is an Olympic weightlifting shoe – sometimes called a "lifter" or Oly lifting shoe.
There is a raised heel – to help you get deep with ease when lifting from the floor – or for squats.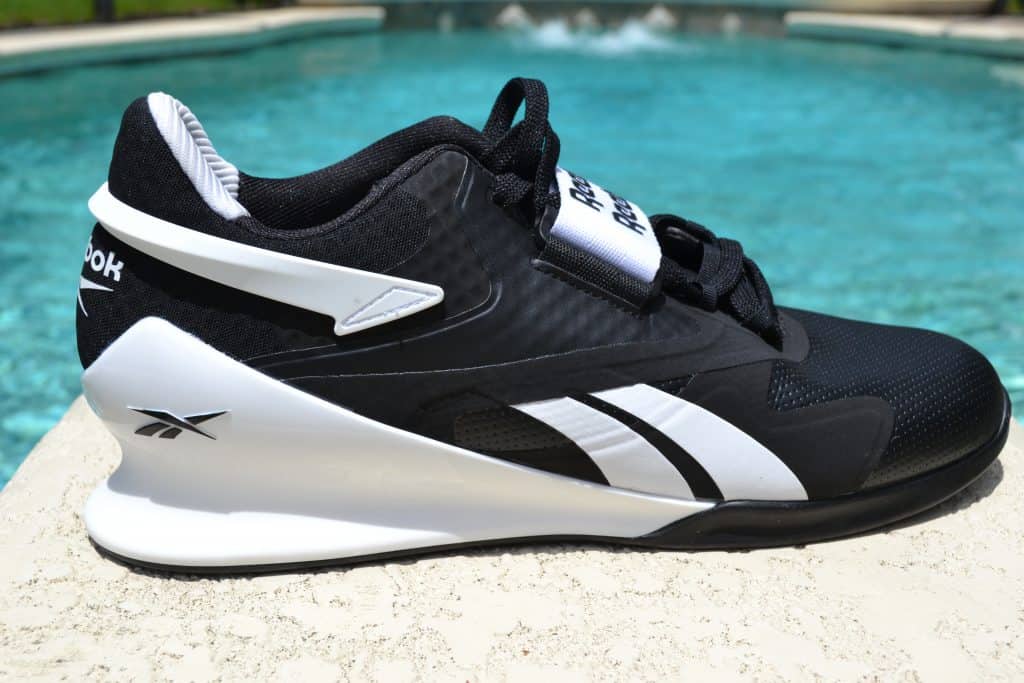 You could also describe this as having a "tall profile" – meaning there is a lot of heel to toe drop.
That's shoe talk for the difference in height between your heel and your toes.
How much drop is there?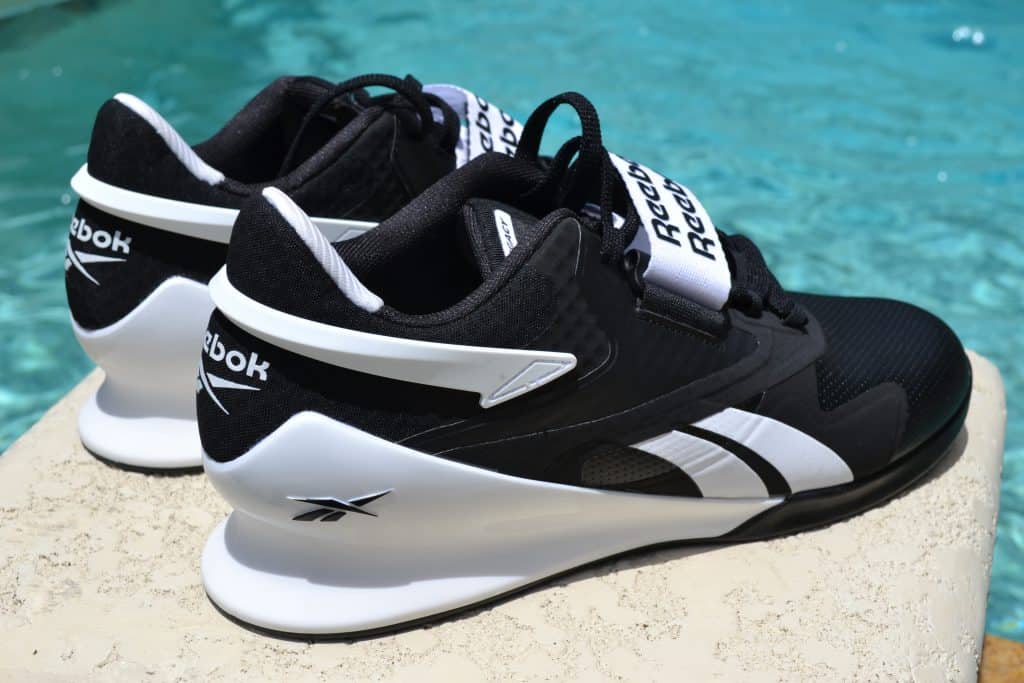 We don't know yet – because Reebok hasn't published the number.
The original Legacy Lifter has a 22 millimeter heel to toe drop.
I can measure the heel height (using a ruler and a level) – and it's the same. It's harder to measure the toe height (because the upper is in the way).
But, it feels to me that it is likely the same – a 22 mm heel to toe drop.
This is solid, minimal cushion shoe – as you would expect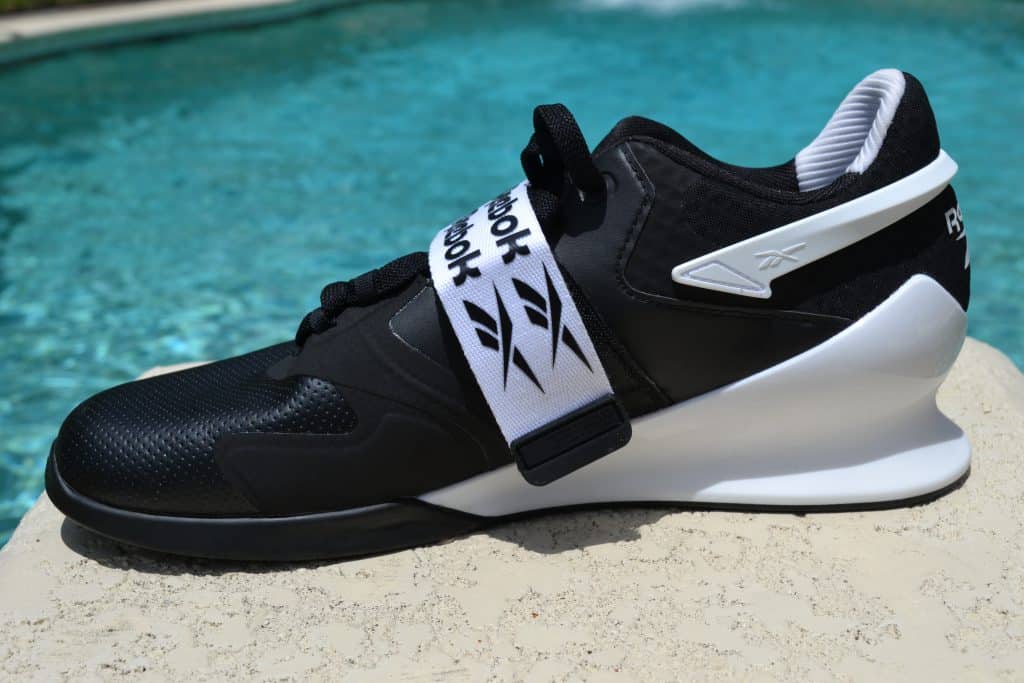 The outsole, midsole, and insole all have minimal cushion.
That's OK – we do not want cushioning.
Instead we want a rock solid lifting foundation for our heavy lifts – squats, deadlifts, cleans, snatches, etc.
In comparison a running shoe has too much squishy rubber and foam – and that means the force we can apply to the floor bleeds away.
It's just not efficient – so less cushioning is the way to go.
(The downside to this approach is that these shoes will be significantly heavier than your average pair of running shoes – but also heavier than your cross trainers too.
A men's Size 11 (US) shoe weighs 23.3 ounces.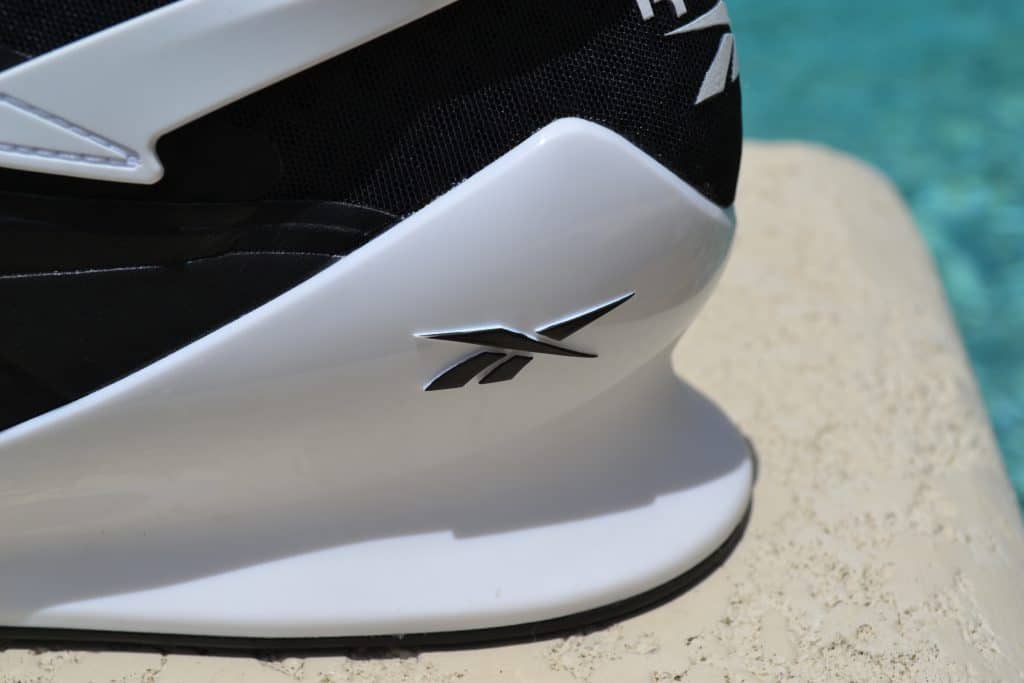 What's that heel made of? It's TPU.
TPU is a very firm plastic material – it adds density and stiffness.
Let's look at the outsole (or sole).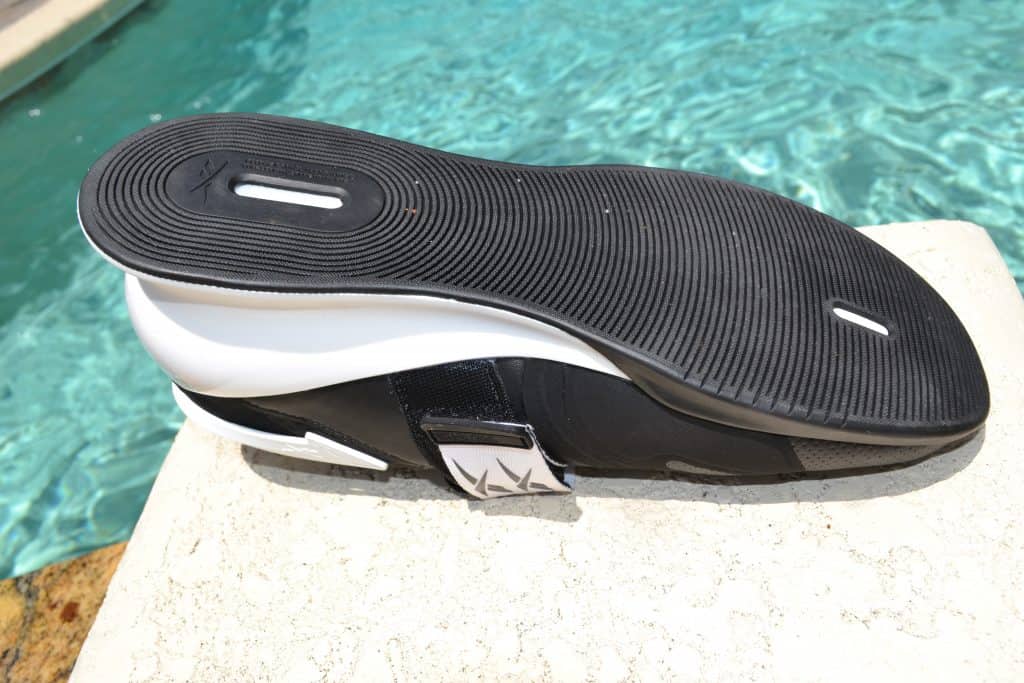 It's all rubber, flat, and grippy.
The inside of the midsole contains a stability plate too – at least that's what the label says on the bottom.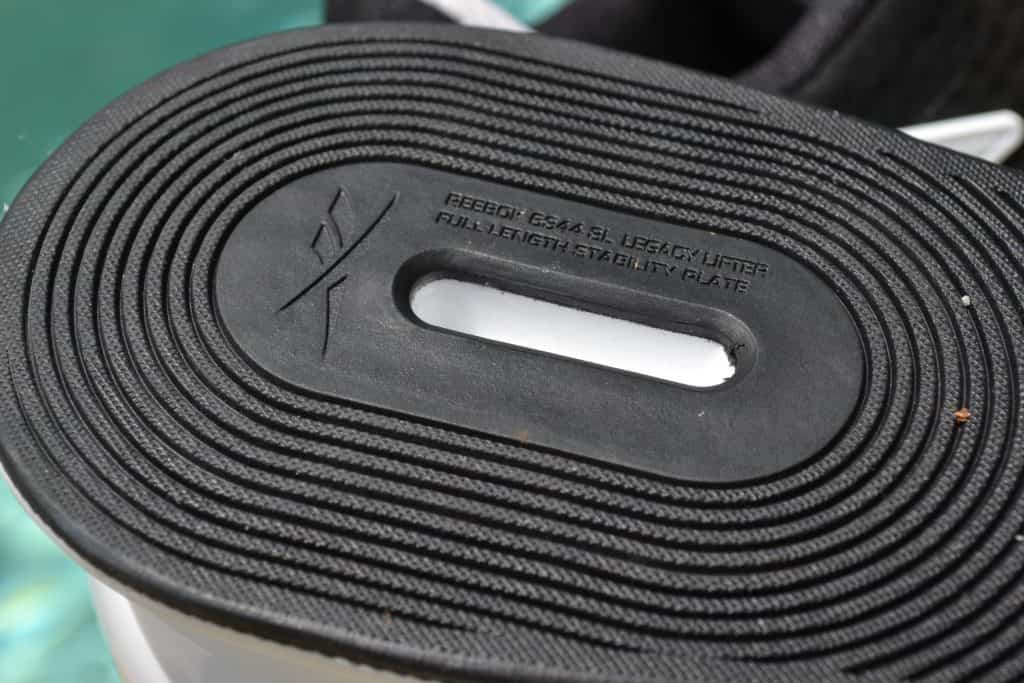 Reebok has gone big on the mid-foot strap.
There's a single strap – and it's quite wide, as you can see.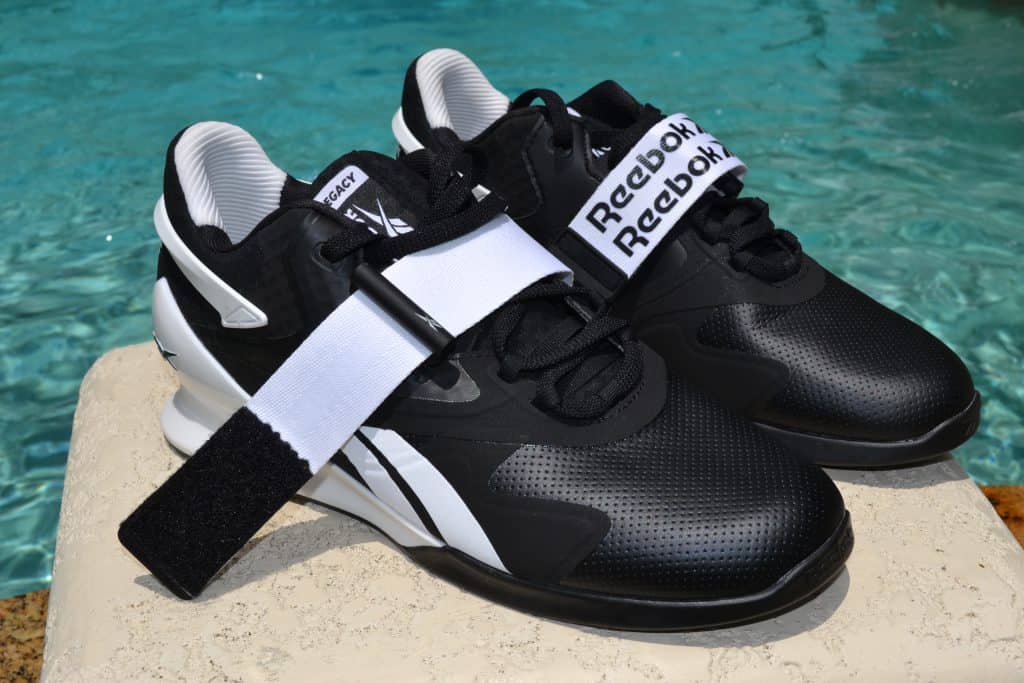 This is an expected feature of an Oly lifter shoe.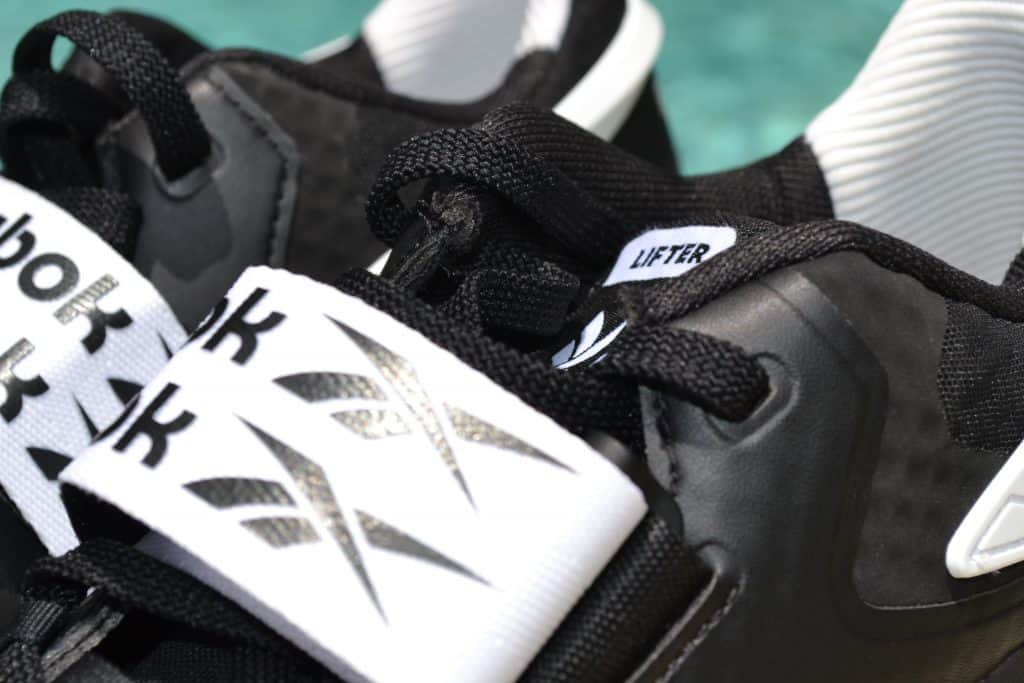 It ensures you can get the most secure fit possible – for a locked in feel.
(With the explosive lifts you don't want your shoes slipping and sliding around on your feet.)
The upper is described as being "textile", but most of it really is what I would call faux leather.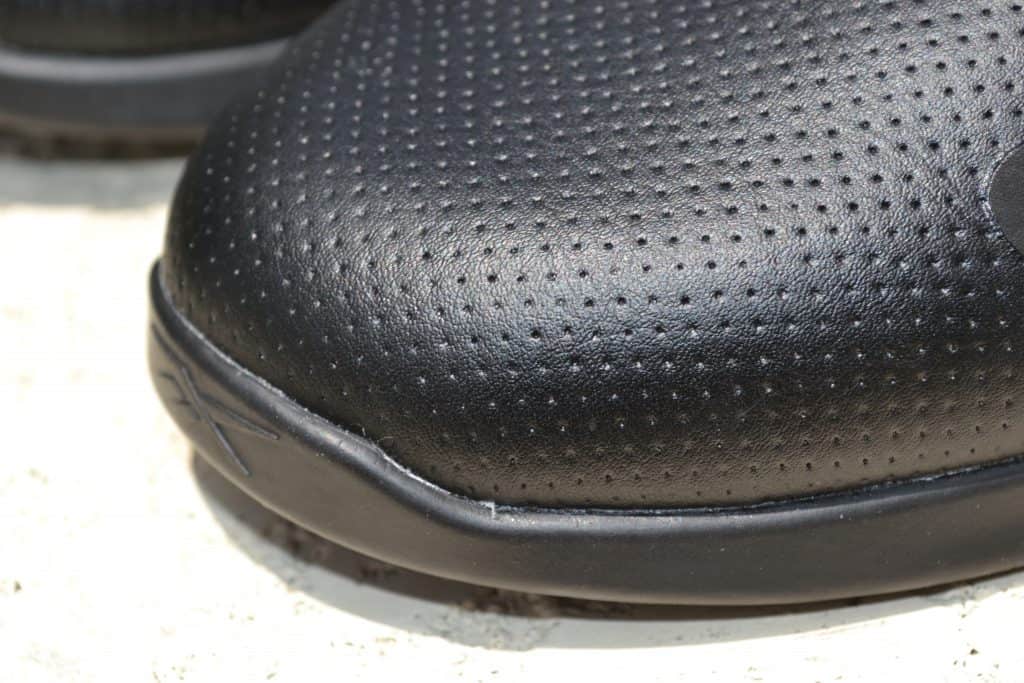 Regardless, it is comfortable and supportive.
I would not describe it as breathable though.
The collar looks similar to the new Nano X. It's comfortable and I get no heel slip in this shoe.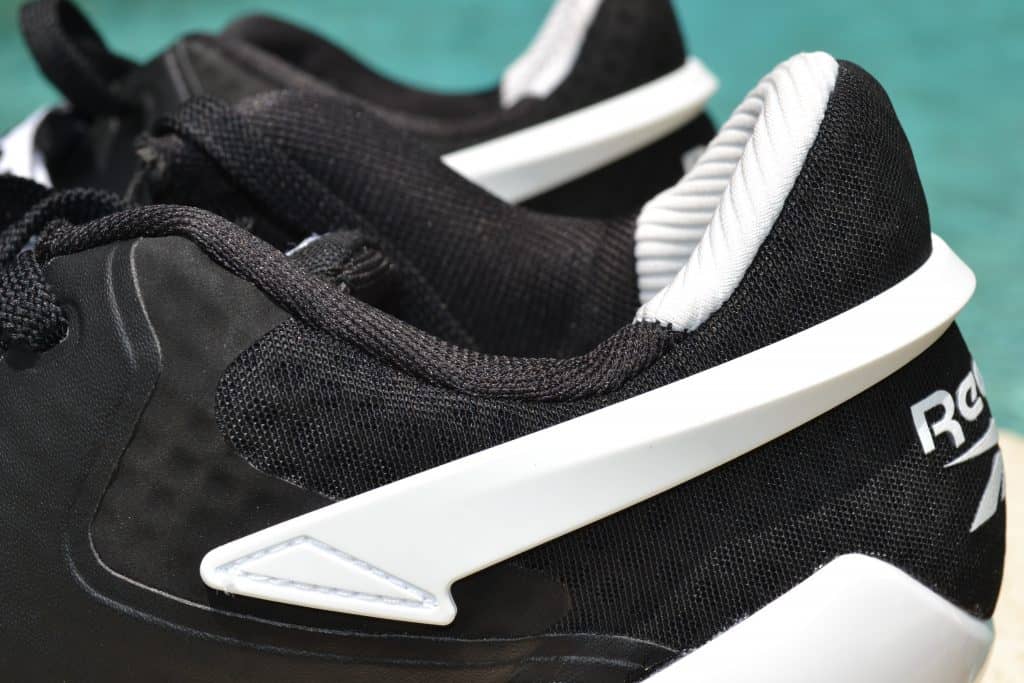 Reebok Legacy Lifter II – Fit, Sizing, and Feel
OK, so how does sizing run on this shoe?
I'm calling it true to size. A Men's Size 11 fits me fine. The width is good, and the length is a tiny bit long, but OK.
Therefore I recommend you order your normal shoe size.
How does it feel?
It's an Oly lifter – it's got the heel raise – and it's rock solid stable.
In side by side testing, it's nearly indistinguishable from it's predecessor.
And that's a good thing – because that was an excellent shoe.
Overall, these are great Oly lifters. Heel raise, supportive, firm and stable.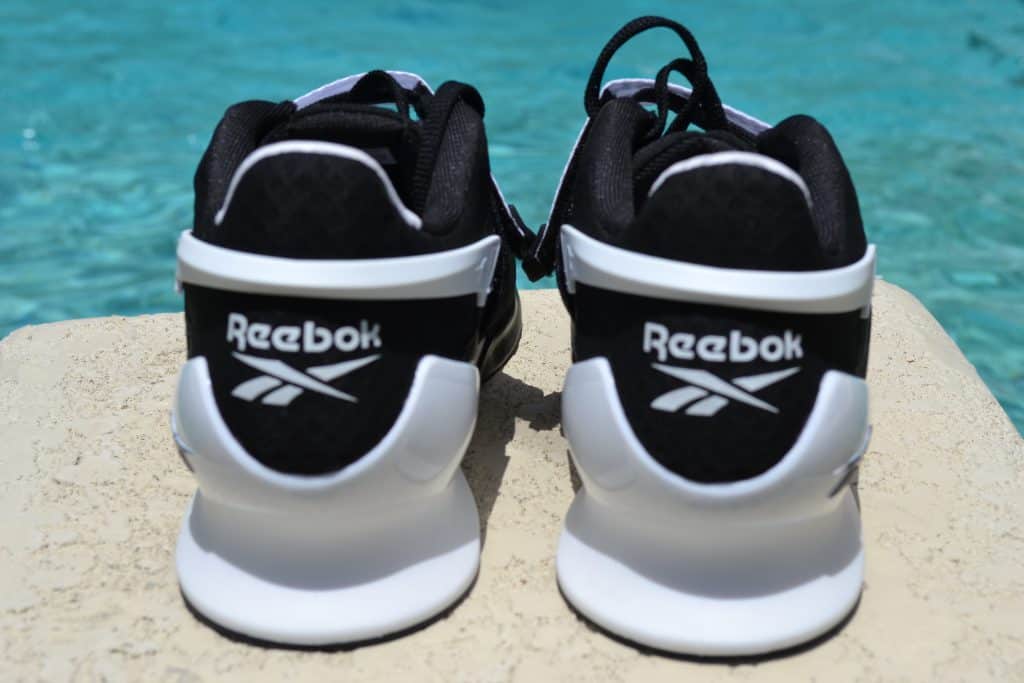 Here's another tip for a perfect fit.
Does the shoe feel a bit loose in the heel?
Try socks with a padded heel – this can make the difference between a slightly loose feel and a perfect fit.
I can vouch for ALMI's All-Day Performance Dress Sock as being a great match with these shoes – this is what I use.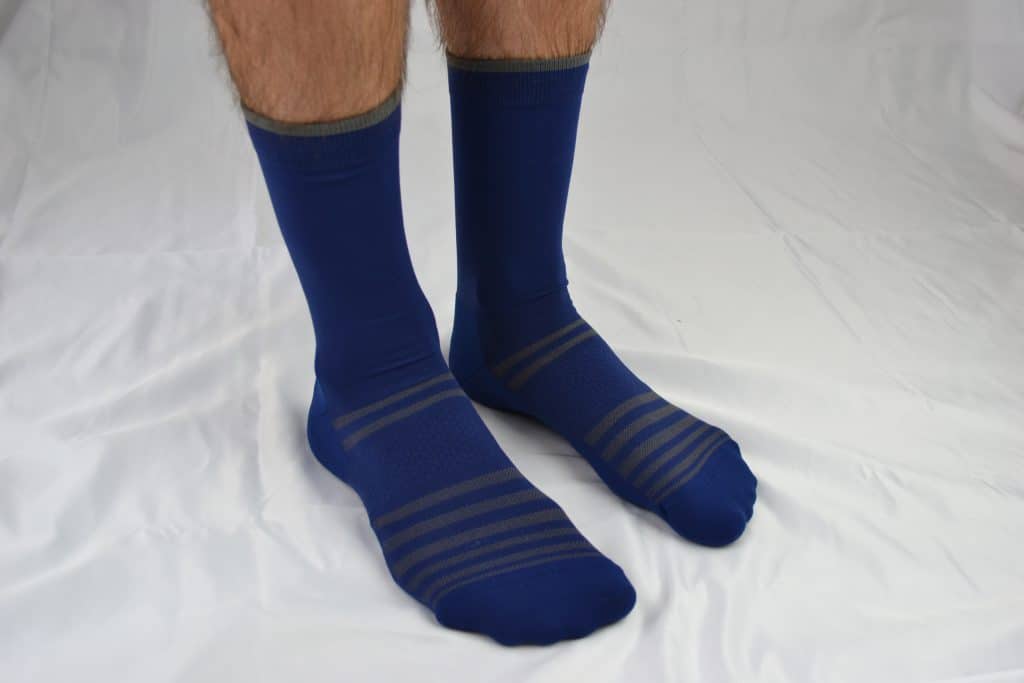 Let's compare them head to head to the original Legacy Lifter next.
Reebok Legacy Lifter II Weightlifting Shoe Versus Legacy Lifter Original
Now we'll take a look at what is new and different with this shoe – as compared to the original Legacy Lifter shoe.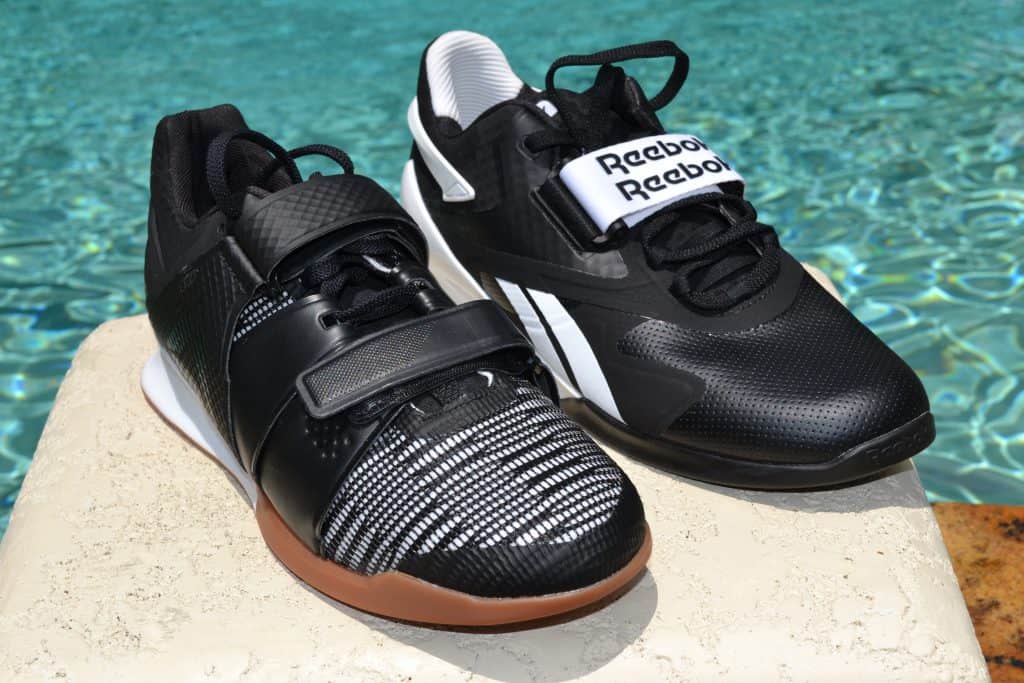 Let's start with upper – the part that covers your foot.
The original legacy lifter looked pretty busy – with all those straps and pieces wrapping around. These specifically are the Flexweave version of the shoe.
In comparison, the upper on the Legacy Lifter II is more sophisticated and looks a lot cleaner – in my opinion.
The perforated faux leather upper has a lot less going on – and looks more streamlined.
Around the sides of the heel we can see that the TPU heel clip comes up higher.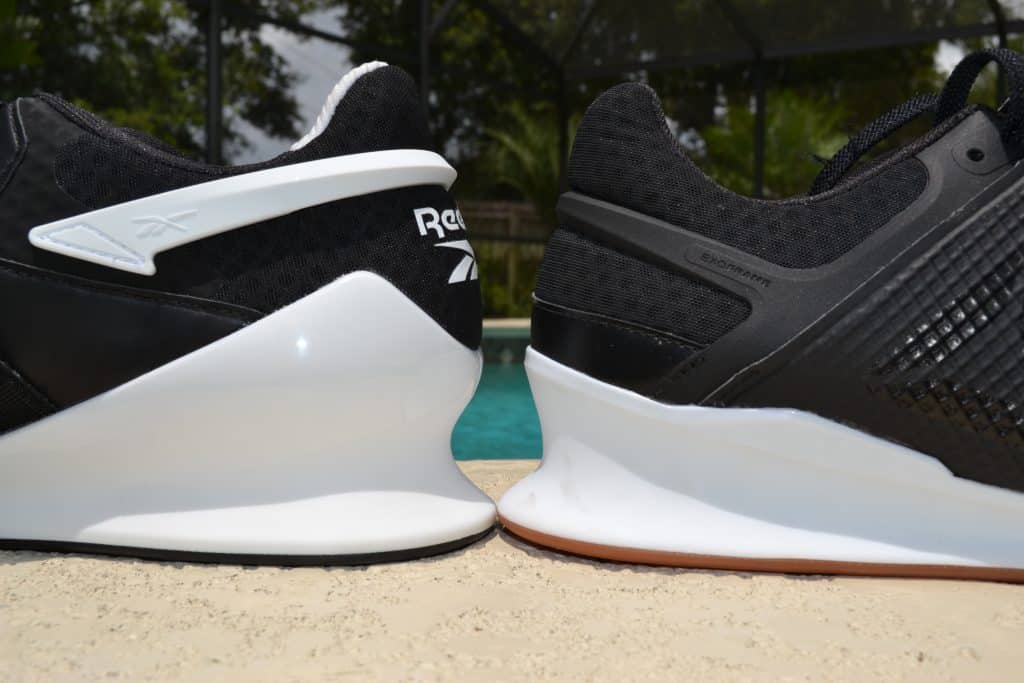 You might expect the taller TPU heel clip to enhance lateral stabillity – but I can't feel the difference.
The outsoles are all-rubber. The shoe no longer has the drop listed on it.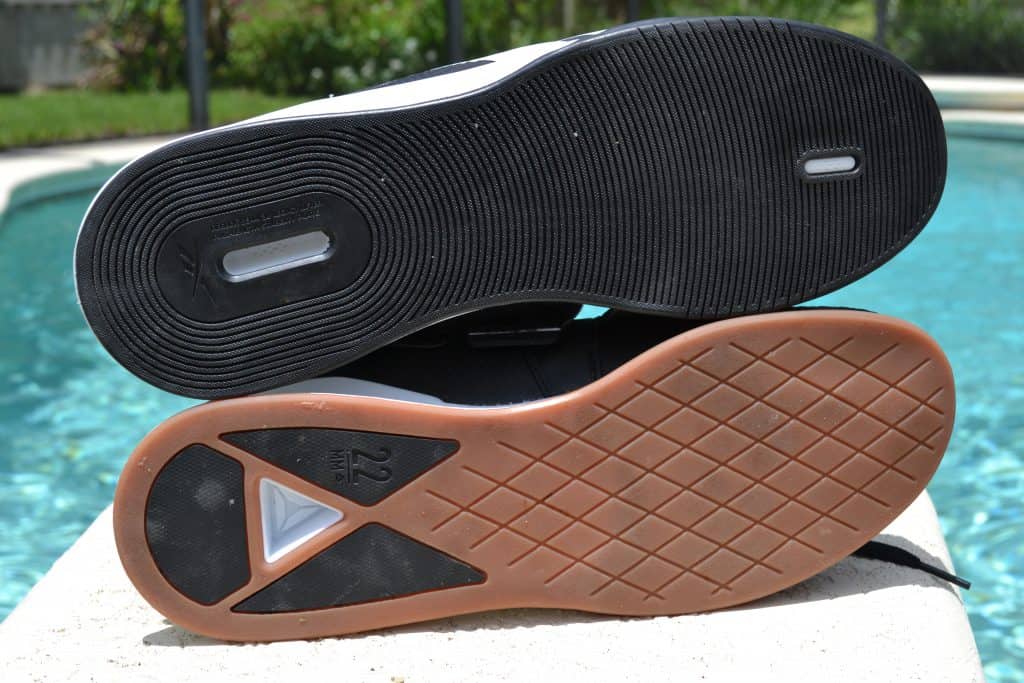 Both have grip – and they are flat for maximum contact area (and therefore traction).
The heels are the same width.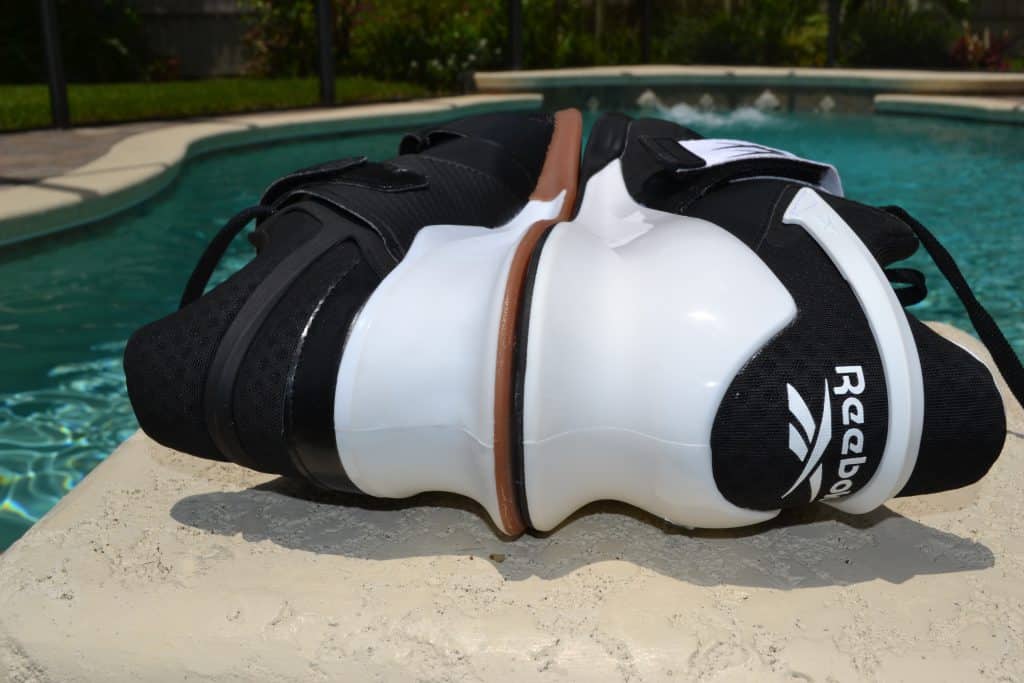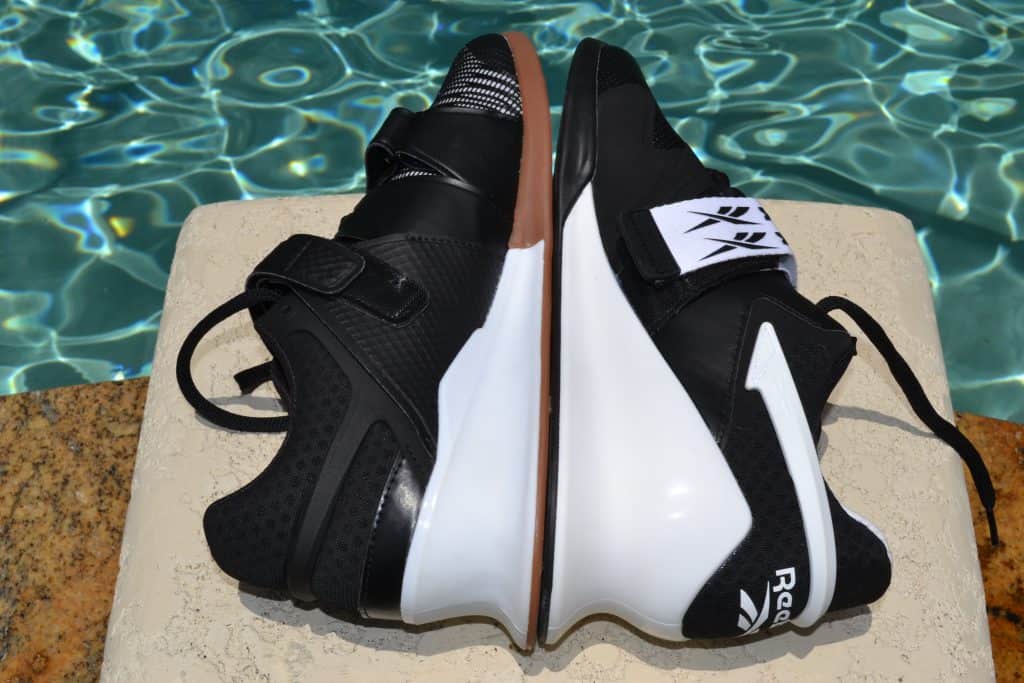 And here's a change that might be controversial – they've gone from two smaller mid-foot straps to one big one.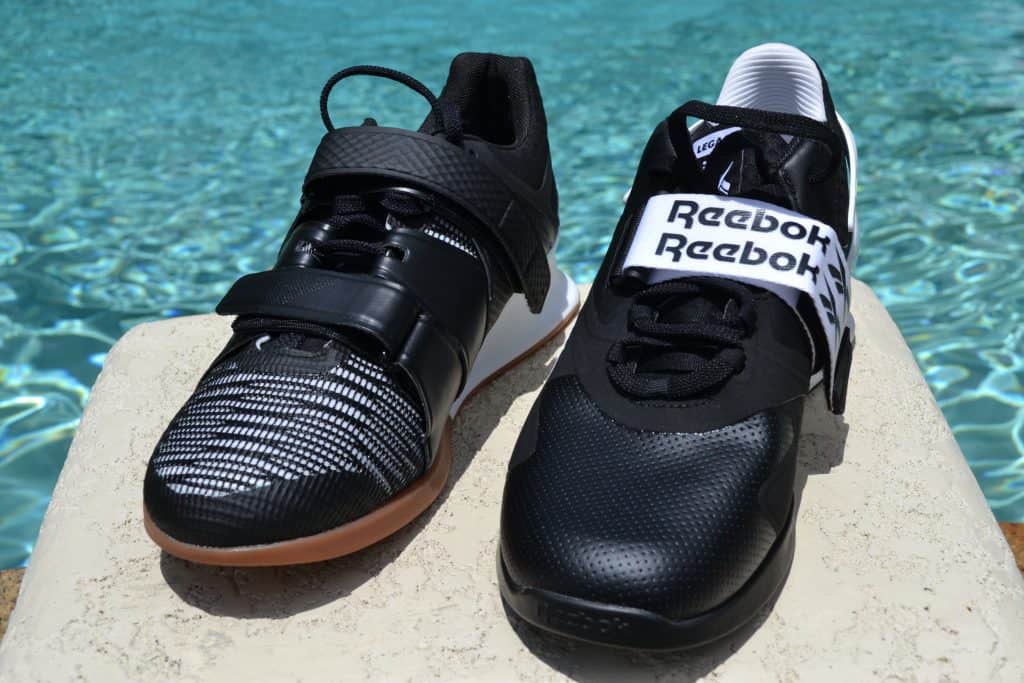 I personally like having two smaller straps – one at the top, one at the bottom.
Why? Because you can get a more precise fit.
But you can see here that Reebok has gone with a single big and wide strap.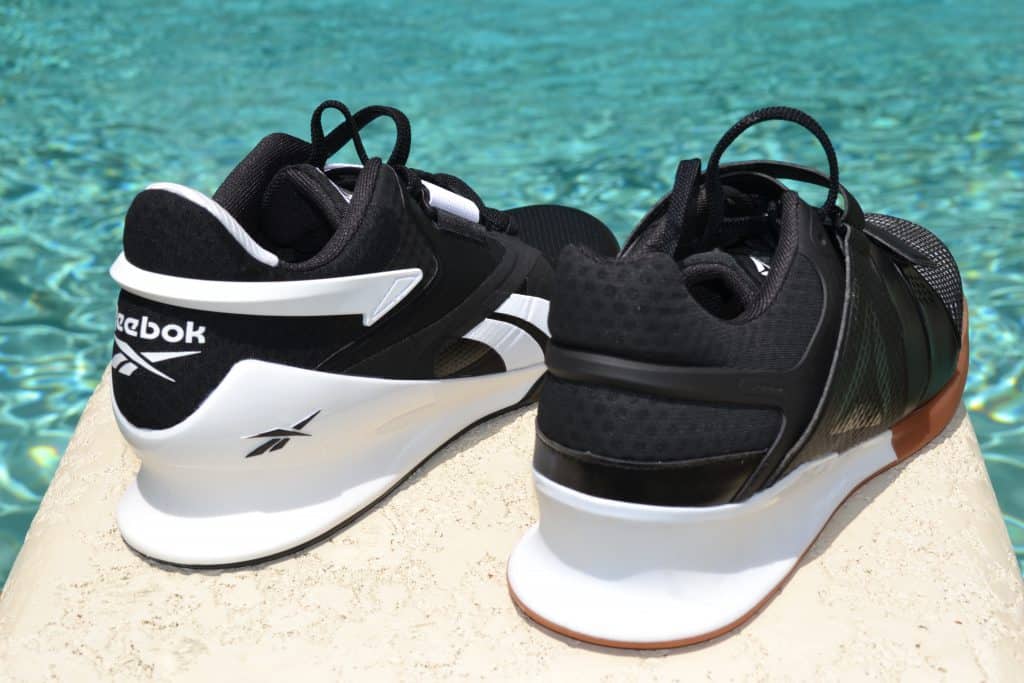 Otherwise, it looks like they've kept a lot of the good features of the Legacy Lifter – this is definitely an evolution rather than a radical make-over.
As mentioned, both feel very similar underfoot.
The only difference that stands out – the forefoot flexibility is improved in the newer shoe.
If you can find the Legacy Lifter original on sale – that's probably your best bet.
But, I do feel like the new shoe looks a lot better.
Reebok Legacy Lifter II Weightlifting Shoe Versus Nike Romaleos 4
Here's a more interesting comparison – how does the Reebok Legacy Lifter versus the Nike Romaleos 4 look?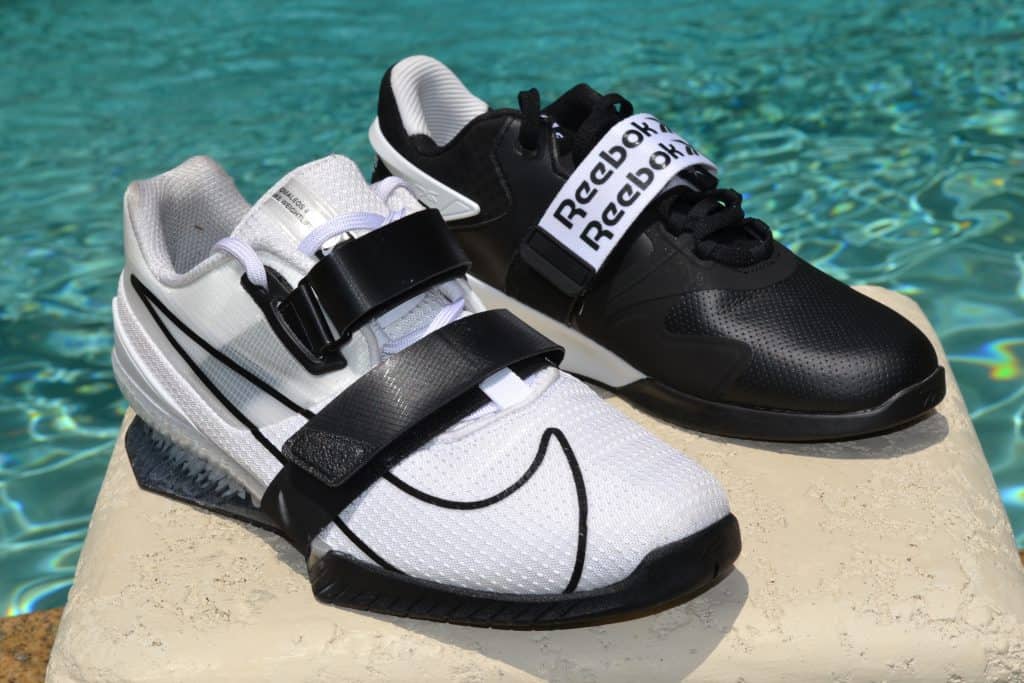 Here's the Romaleos 4 – Nike has gone with flashy design – and a space-age look.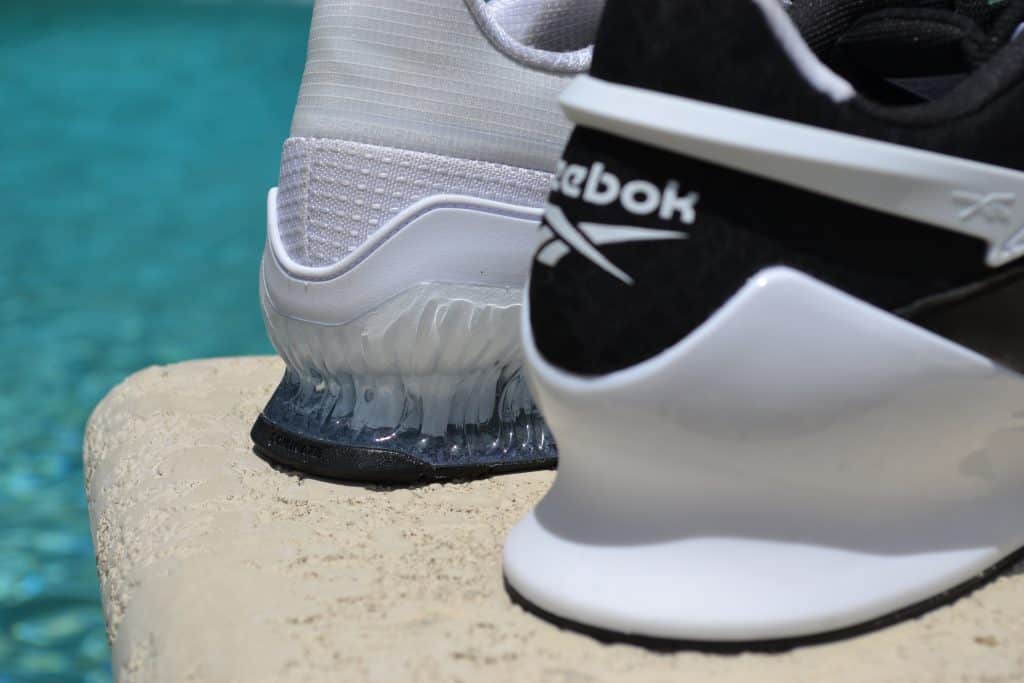 I was pleased to see the Romaleos go to two straps – versus the single that was on the Romaleos 3 XD.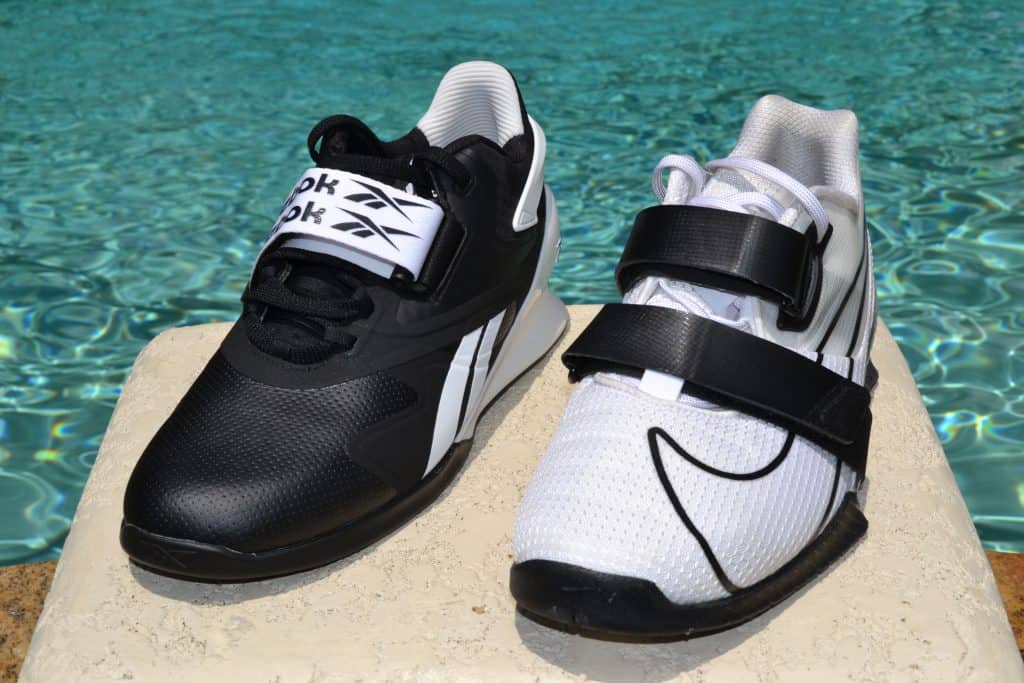 Was Reebok's move a net gain or loss? Check back in the future and we'll weigh in.
I can say I'm pleased to see the extra TPU heel clip height on the Reebok – the Romaleos 4 definitely has the original Legacy Lifter beat in terms of lateral stability.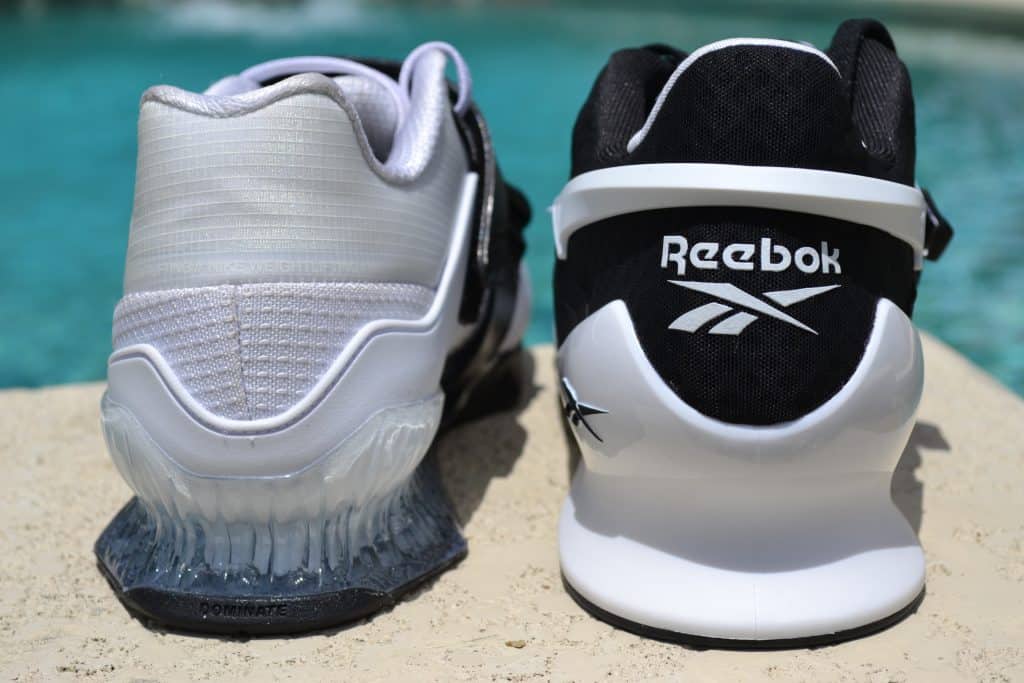 The Nike Romaleos 4 is a 20 mm heel to toe drop – so it gives up 2 mm to the Reebok.
Honestly, 20 mm is enough heel raise for me though – and the extra 2 mm are hard to feel, in my opinion.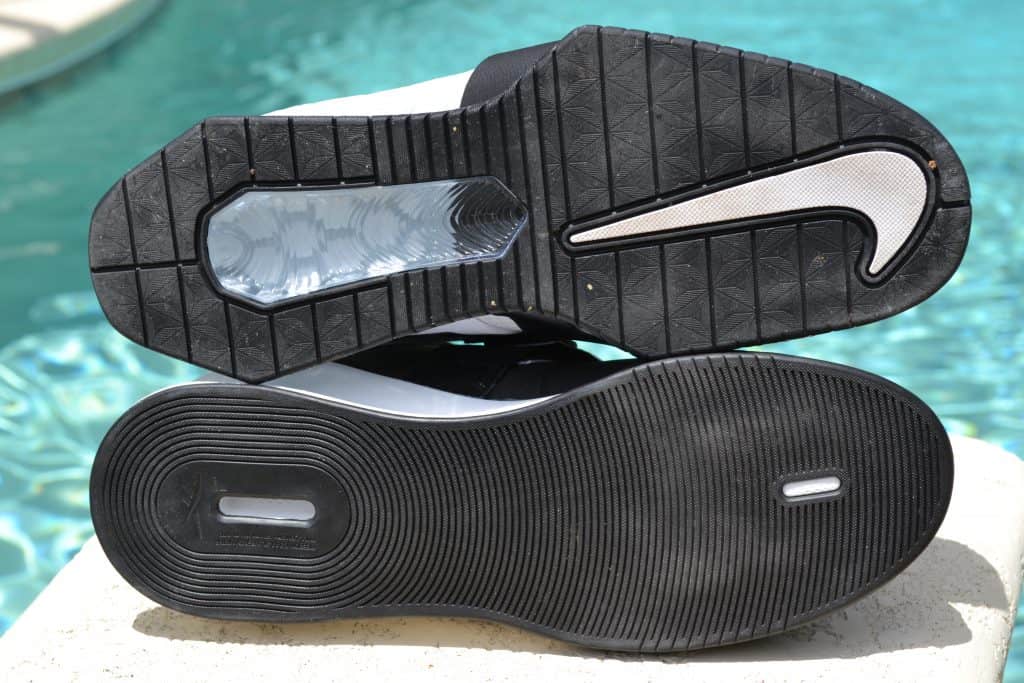 By the way, both of these shoes are in the $200 US range, so expect that to continue.
I prefer the premium cloth upper on the Romaleos 4 over the Legacy Lifter II. It looks better, it's supportive, and it's not any less breathable than the Reebok.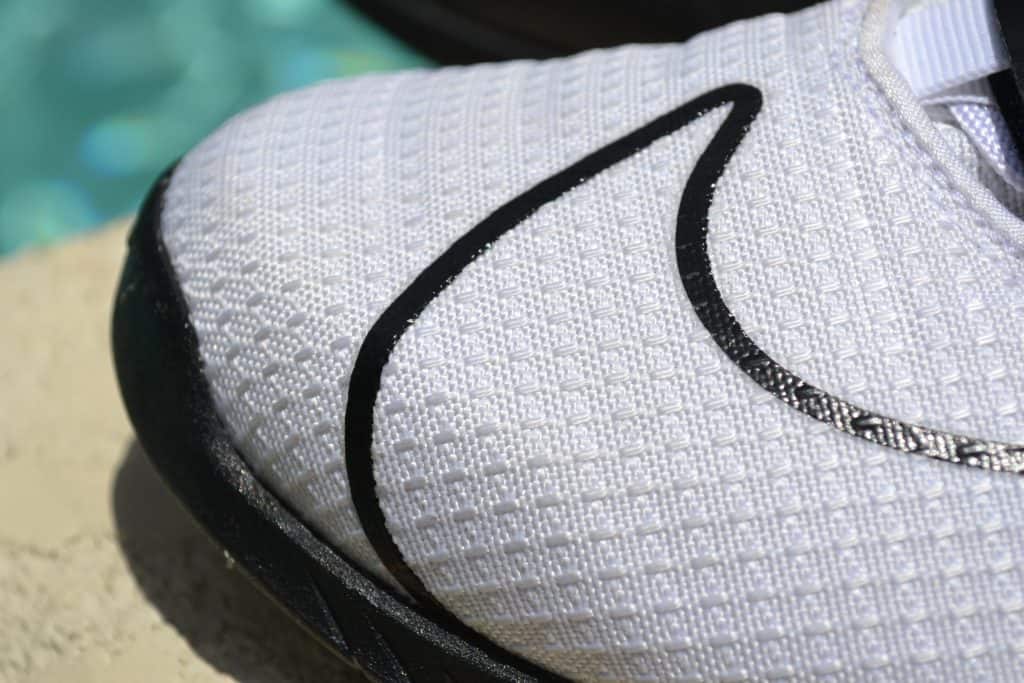 Biggest drawback of the Romaleos 4?
We mentioned it is a noisy shoe – so there's that – but a lot of people don't like the giant, over-sized swoosh.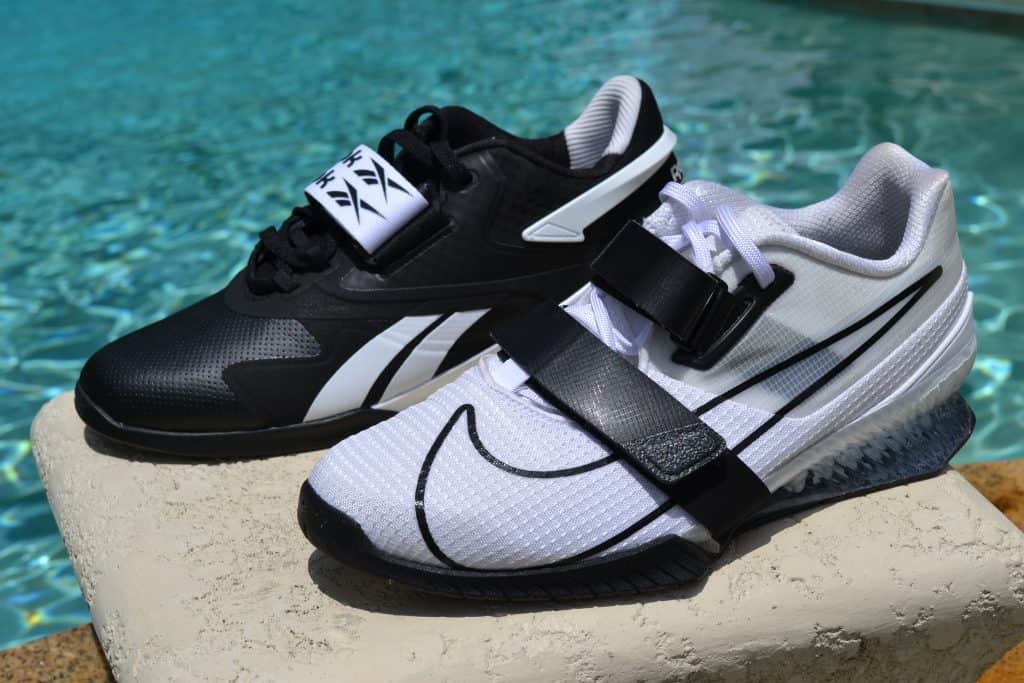 Which one performs better?
I'll be honest they are both $200 weightlifting shoes – and both are great.
I think it's going to come down to which style you prefer.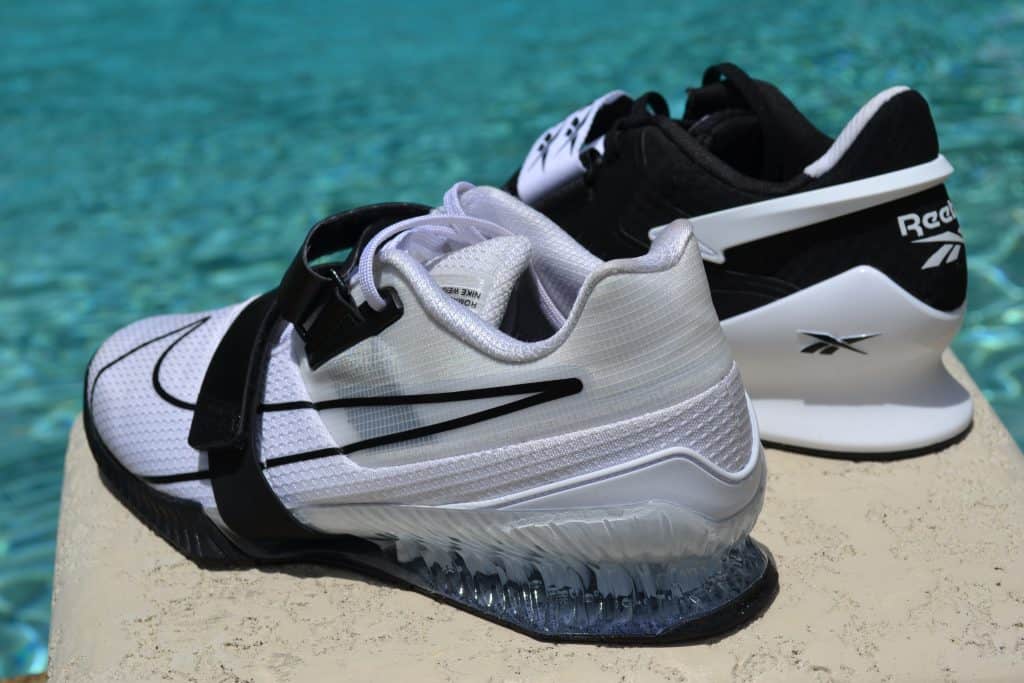 Reebok Legacy Lifter II Weightlifting Shoe – In Summary
This new version of Reebok's Legacy Lifter shoe is be available in the US as of July 1st, 2020.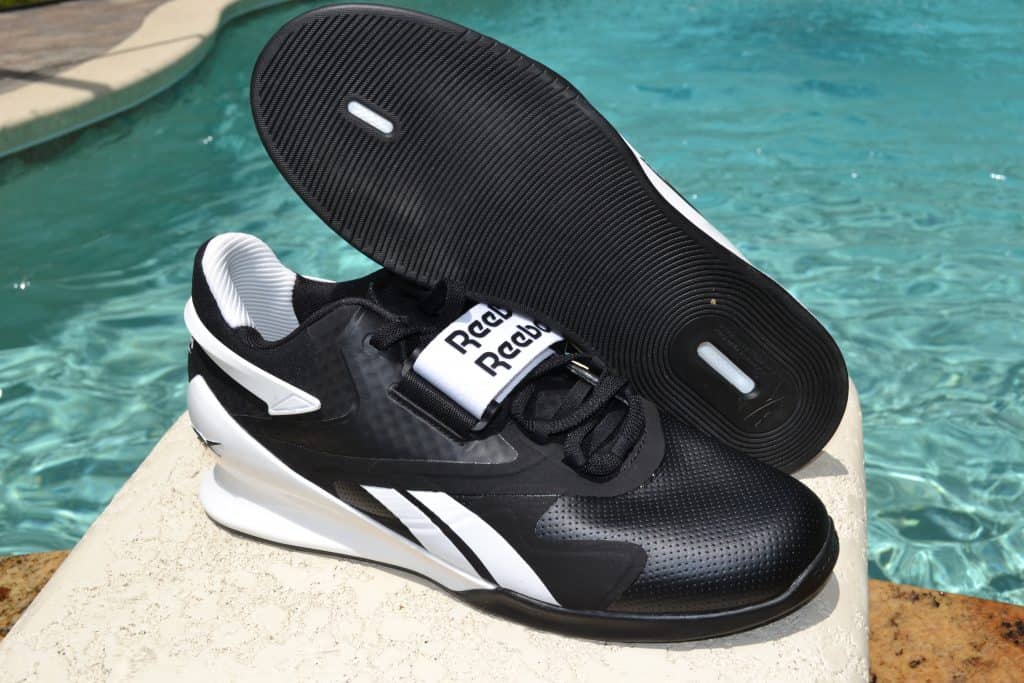 There are some evolutionary tweaks and changes to the shoe – and it looks good too.
However, there's not much to make someone want to upgrade if they already have the original Legacy Lifter shoe.
My recommendation is that if you are in the market for a new pair of shoes – these will be great for Oly lifting.
But otherwise, you might find a great deal on some original Legacy Lifters – and they are going to feel nearly identical underfoot.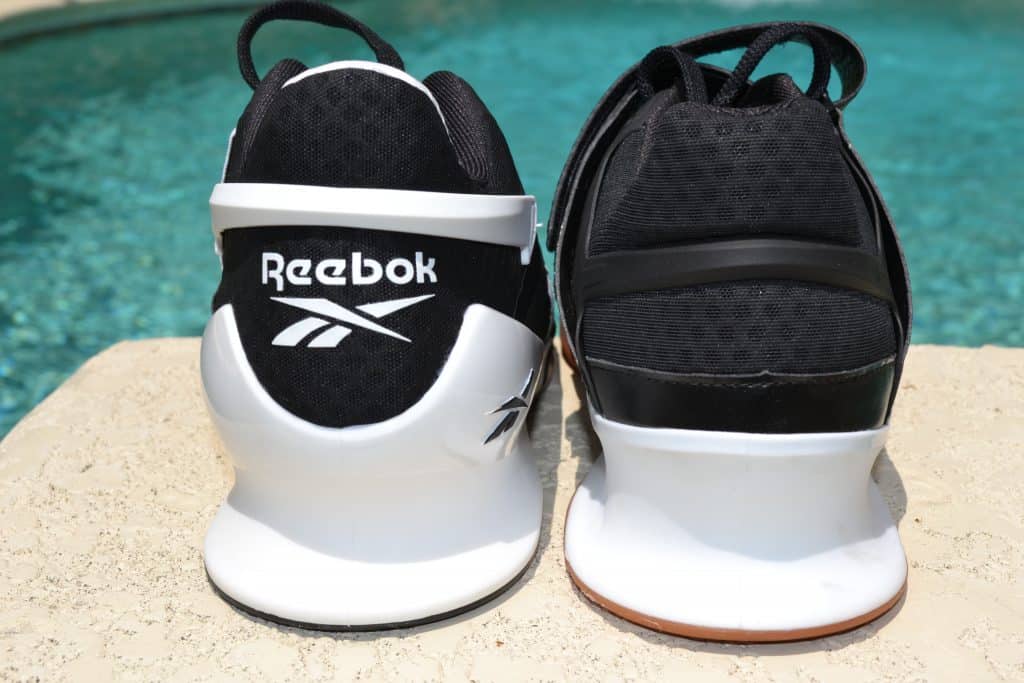 Photo Credits
Some product photos on this page are property of Reebok, Inc.
This website is not affiliated or associated with CrossFit, Inc. CrossFit is a registered trademark of CrossFit, Inc.
We are a Reebok affiliate, and if you purchase shoes or other gear after clicking the links in this article, we receive a small commission fee at no additional cost to you. This helps us to bring you our in-depth hands-on reviews of these products.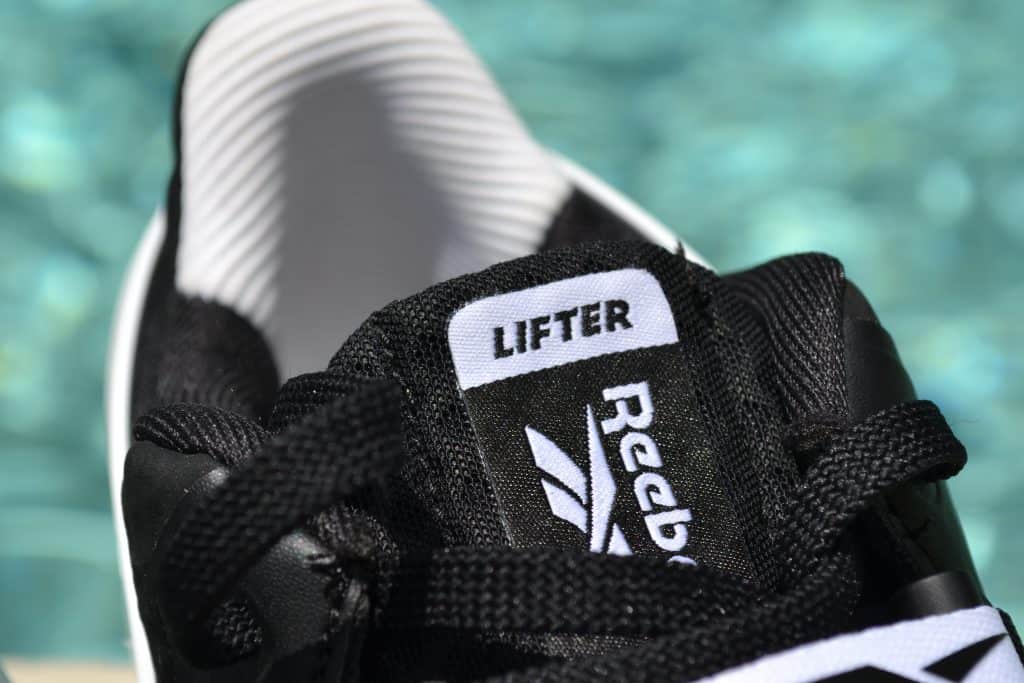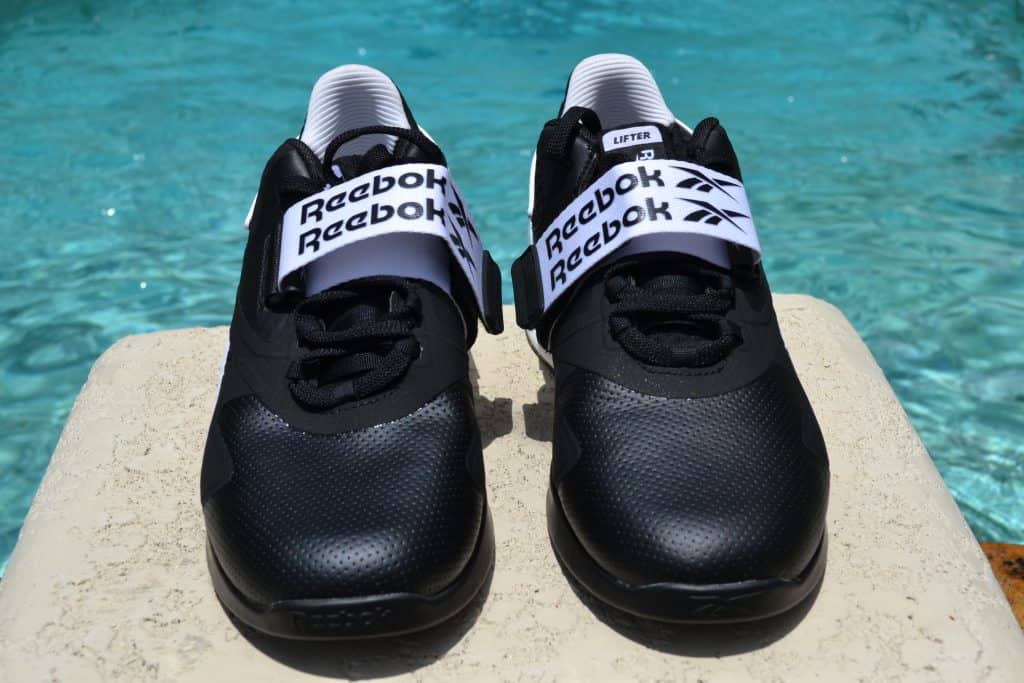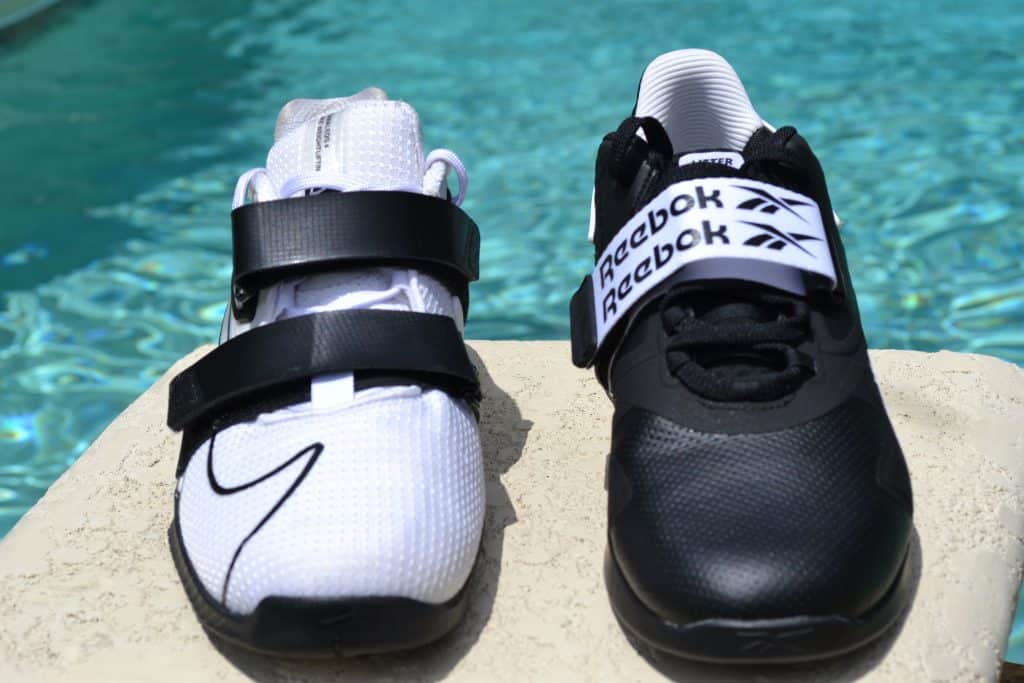 Tim is the founder of FitAtMidlife.com – an avid gym rat for 30+ years, he's a reviewer of many, many shoes – and founder of the Speed Bag Gathering – the world's only gathering of speed bag punching enthusiasts.  See more gym reviews at Tim's YouTube channel.