The 3rd version of Dwayne Johnson's Project Rock training shoe is now available.
What's special about the Project Rock 3 training shoe?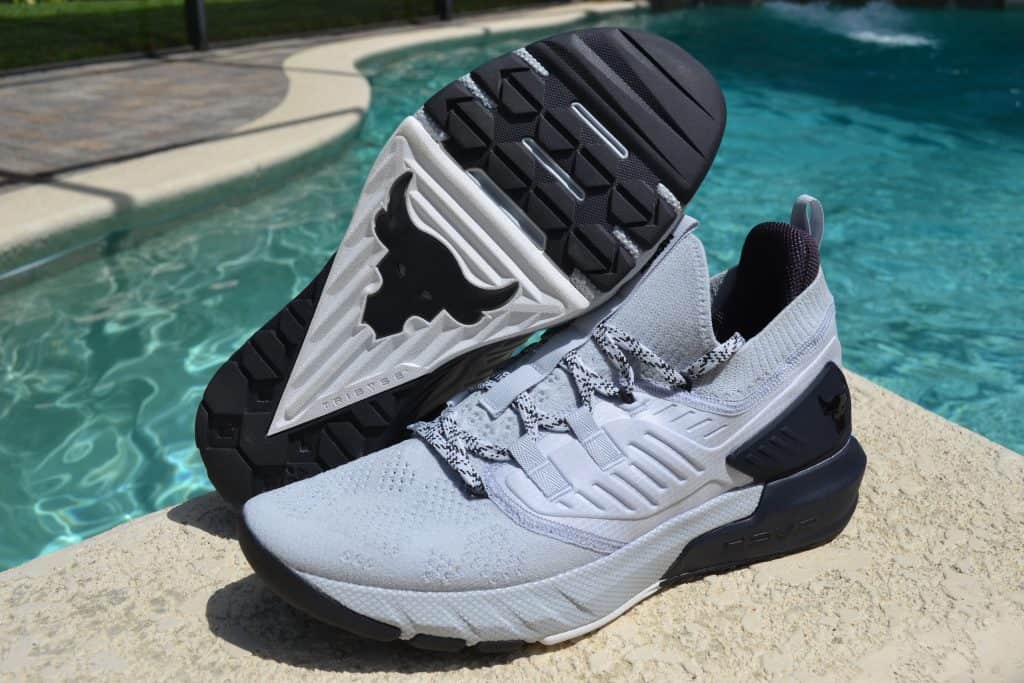 This is our hands-on review and deep dive on the Project Rock 3 Training Shoe.
Here's some of the styles we are going to look at: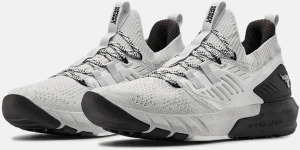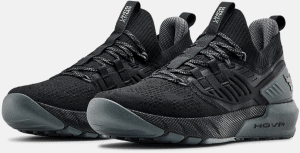 Project Rock 3 Training Shoes – Video Review on our YouTube Channel
Why read when you can watch? Check out this video from our YouTube channel:
Project Rock 3 Training Shoes – Sizing
These shoes run SHORT and NARROW.
I highly recommend you go 1/2 size up from your normal UA shoe size.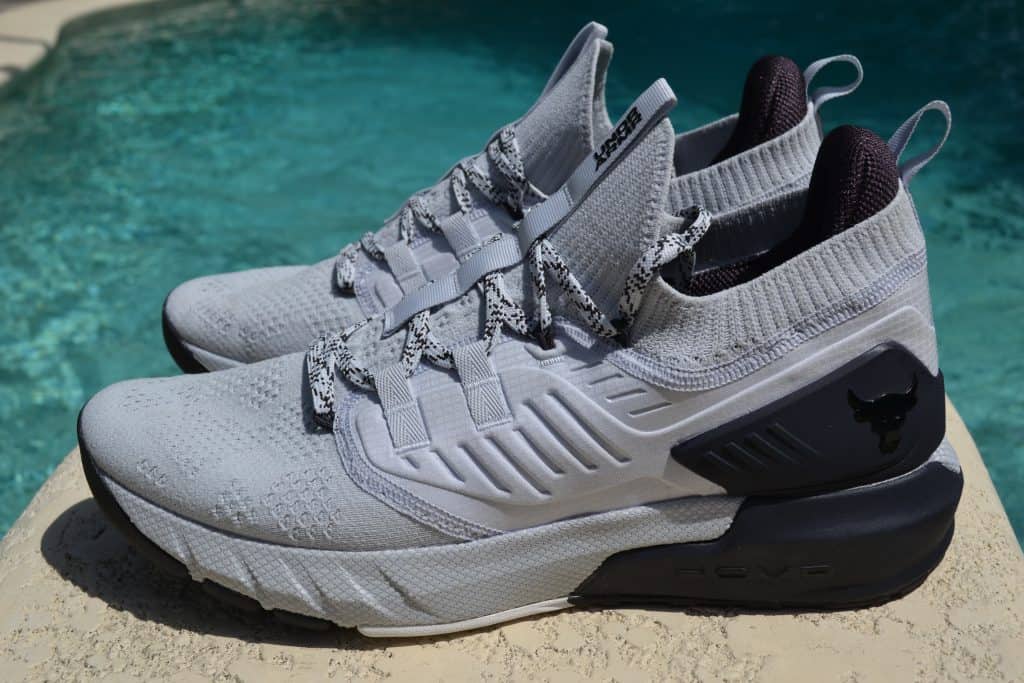 The toe are is quite restrictive, and even with the stretchy, knit upper it's still very tight (since I bought my normal shoe size.)
They are also slightly too short for me as well, as my big toe is crammed into the front of the shoe.
I've worn these quite a bit during testing, and they aren't going to stretch out or better conform to my foot.
Project Rock 3 Training Shoes – Overview
Let's look at the features of this training shoe.
Let's start at the outsole.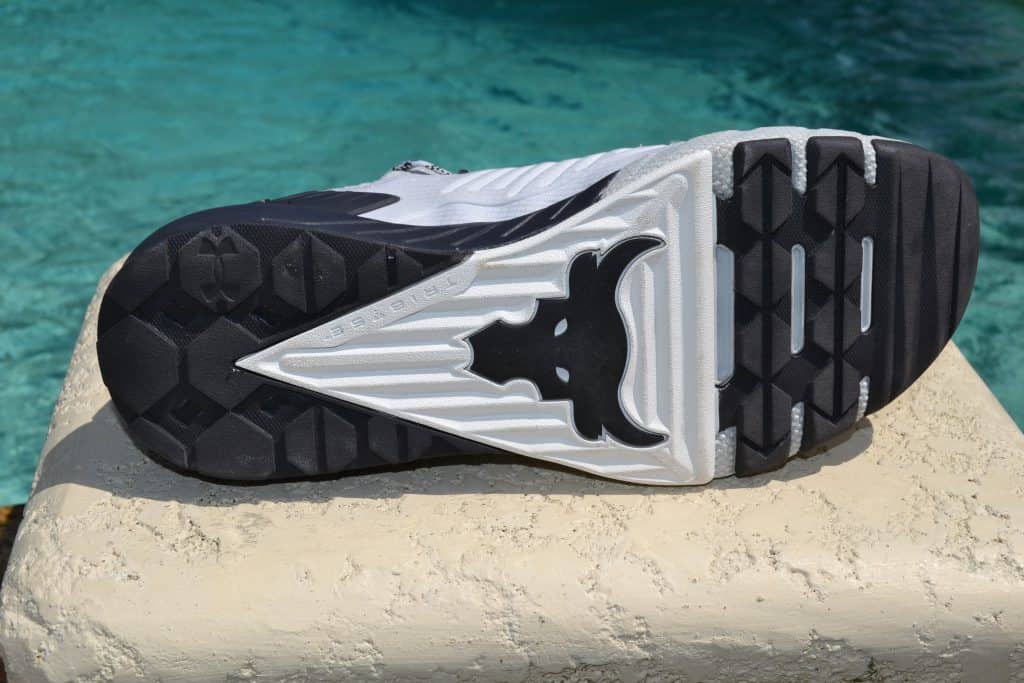 It is an all-rubber outsole, and it features a cool looking steer head logo – the official logo of Project Rock gear.
The main feature you'll notice right away is the Tribase – this triangular feature maximizes ground contact and promotes natural motion.
The Tribase is also a part of the UA Tribase Reign 2 Training Shoe, which we reviewed earlier this year.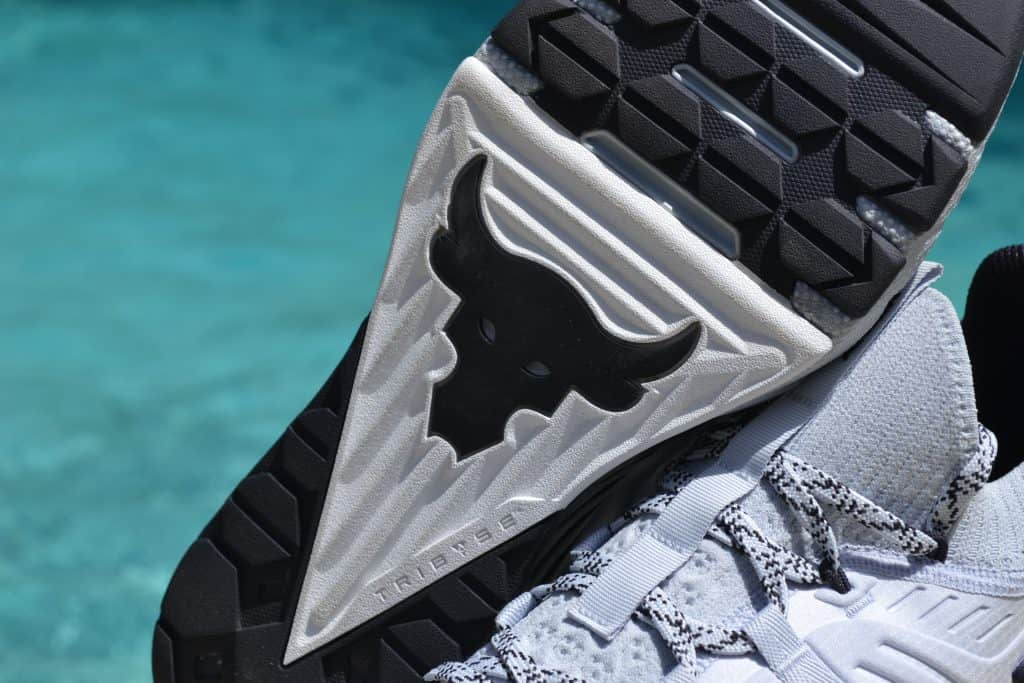 UA's HOVR technology is used in the midsole, which they describe as providing a "zero gravity feel". This works in conjunction with UA's compression mesh energy web.
This isn't a running shoe though, so it doesn't feel like there is a lot of HOVR foam – and cushioning is minimal.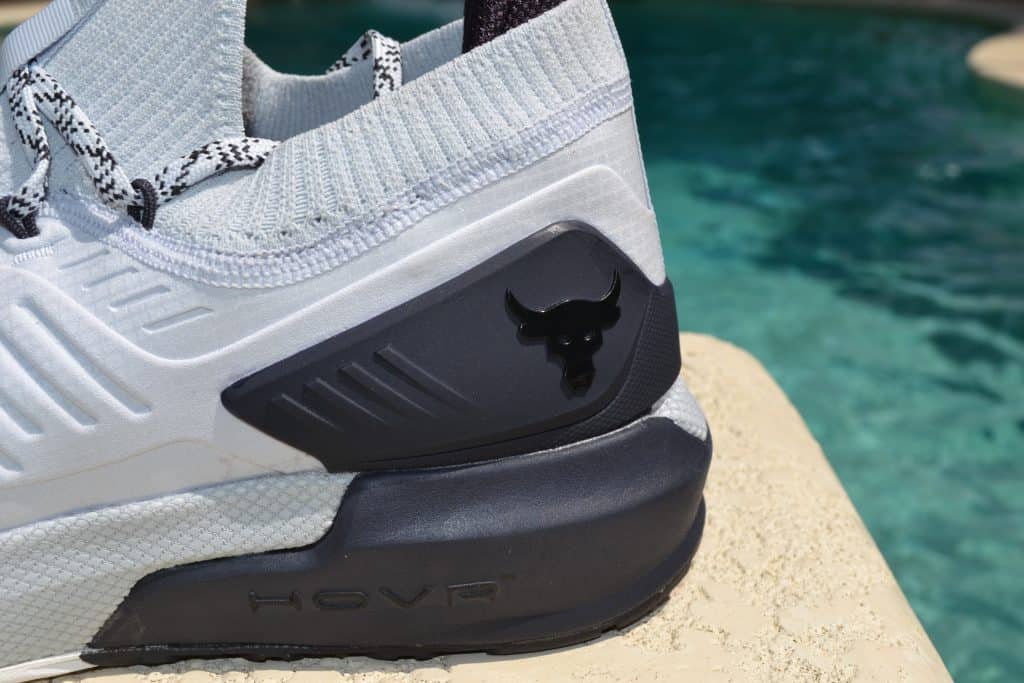 But that's what we expect in a training shoe. It can't be too mushy – and make no mistake – this shoe is for lifting weights.
The Project Rock 3 uses an external heel counter to further make the heel stable.
Speaking of that, there is a moderate heel to toe drop (or offset) of 8 mm.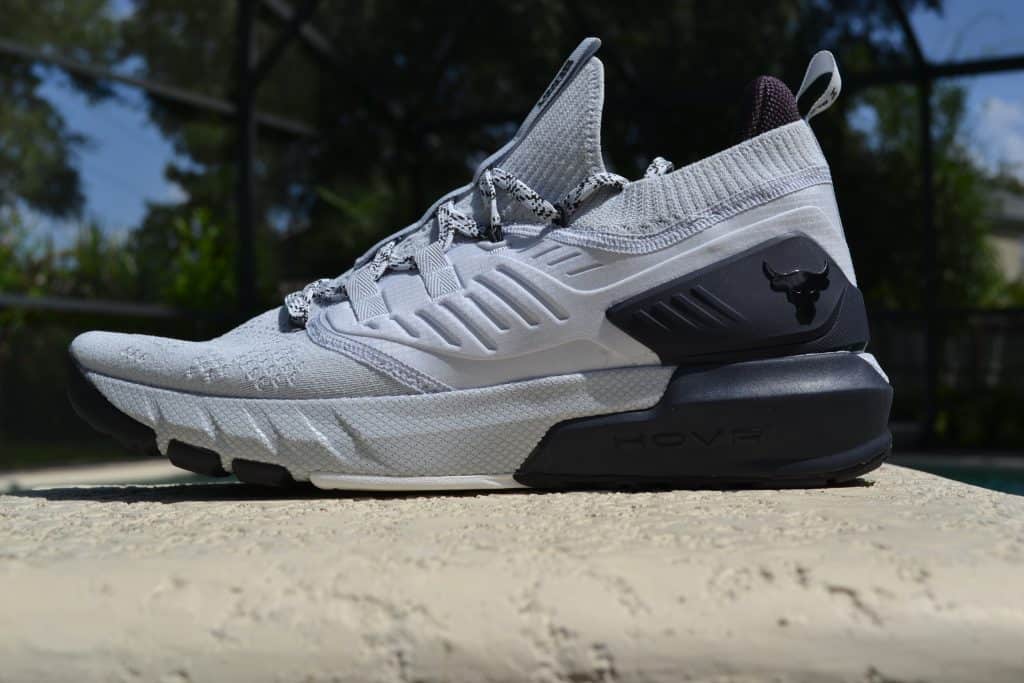 This is a bit more than your average cross training shoe but not as much as your typical running shoe.
These shoes do not have a ton of forefoot flexibility either – the sole is very stiff.
We've got traditional laces which work perfectly fine.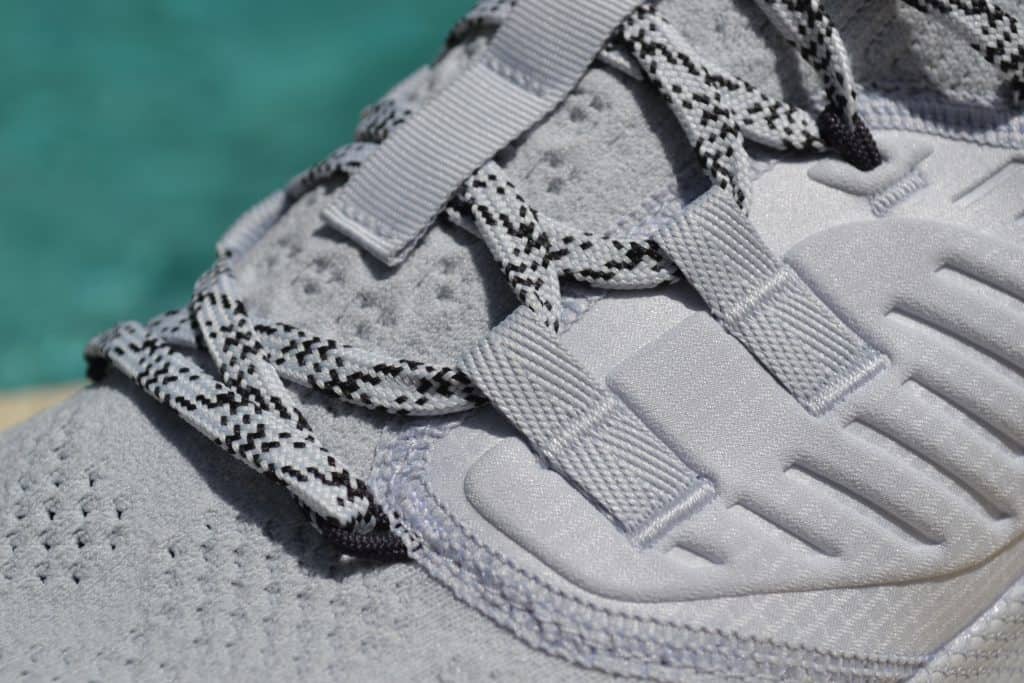 This is a tight fitting shoe – because it uses a knit bootie upper that makes for a snug, sock-like fit.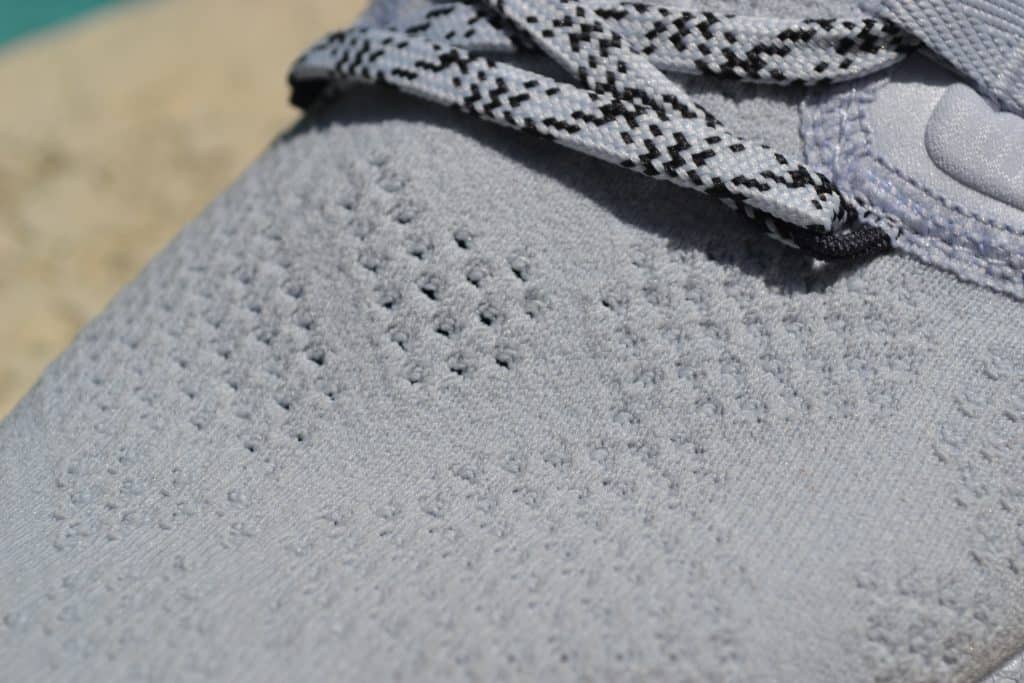 There's a pull tab on the heel to help put the shoe on.
Overall, the upper reminds me of last year's Nike FlyKnit – knit and stretchy all over.
(Nike's FlyKnit in 2020 is not nearly as stretchy – but it is tougher.)
As such, the entire upper on this shoe feels quite delicate. I would NOT use it for anything where the upper is going to be subjected to abrasion.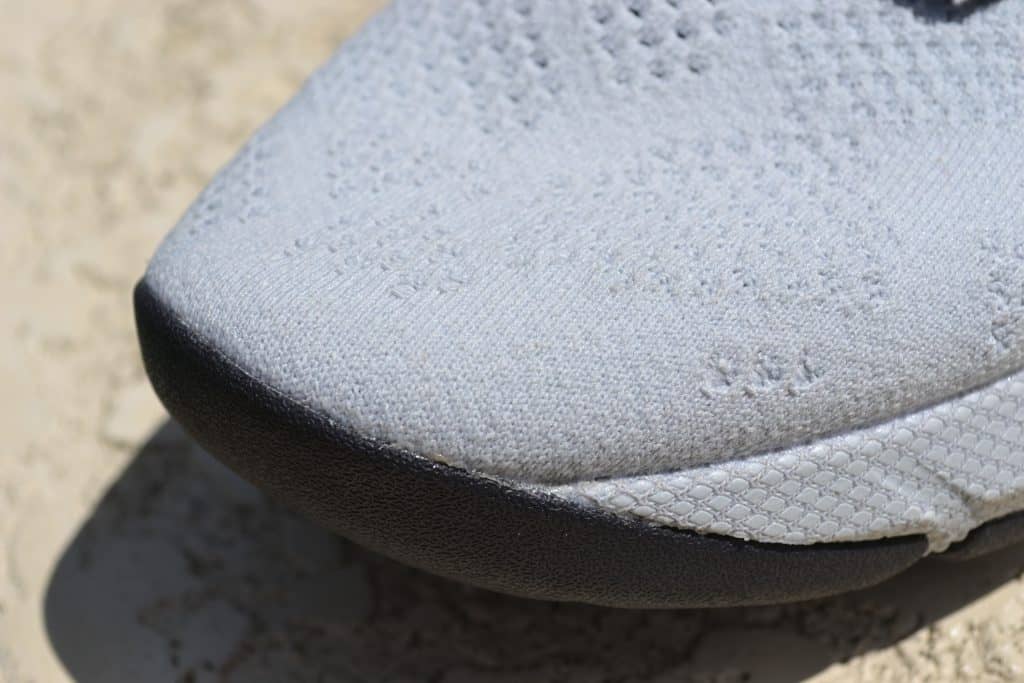 That includes rope climbs – the outsole is tough enough, but there's no protection for the upper in areas that might be abraded while rope climbing.
Overall, it's a big shoe – it's tall.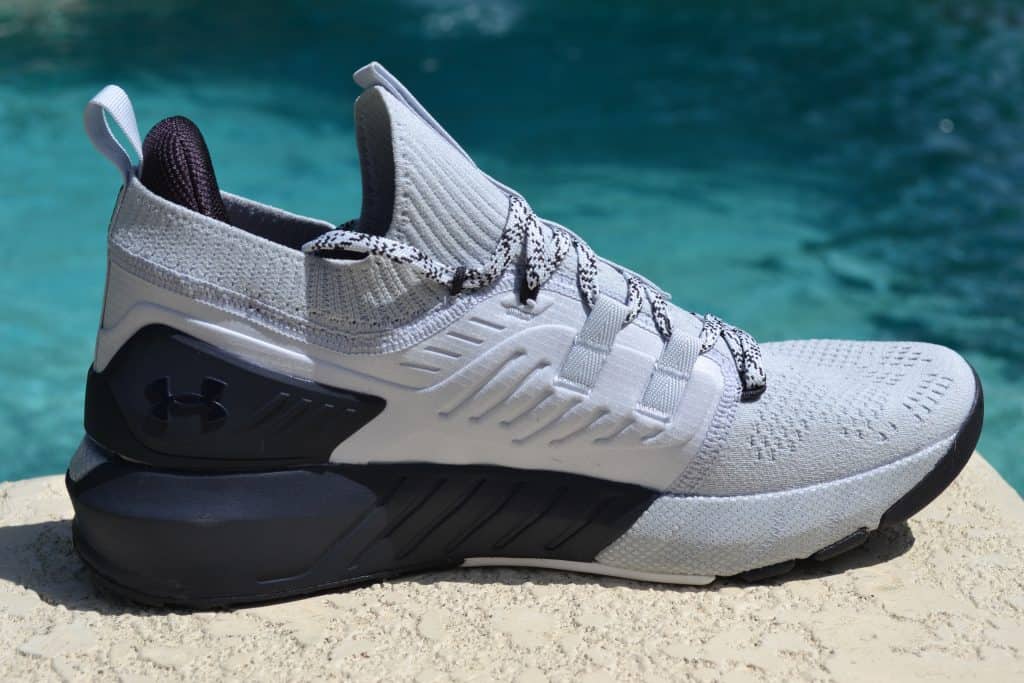 Given the large amounts of outsole and upper, it should be no surprise that these are relatively heavy.
The Men's Size 11 shown in these photos weigh 13.4 ounces each.
That's heavier than your average running shoe, but actually lighter than the current crop of cross trainers from Nike and Reebok.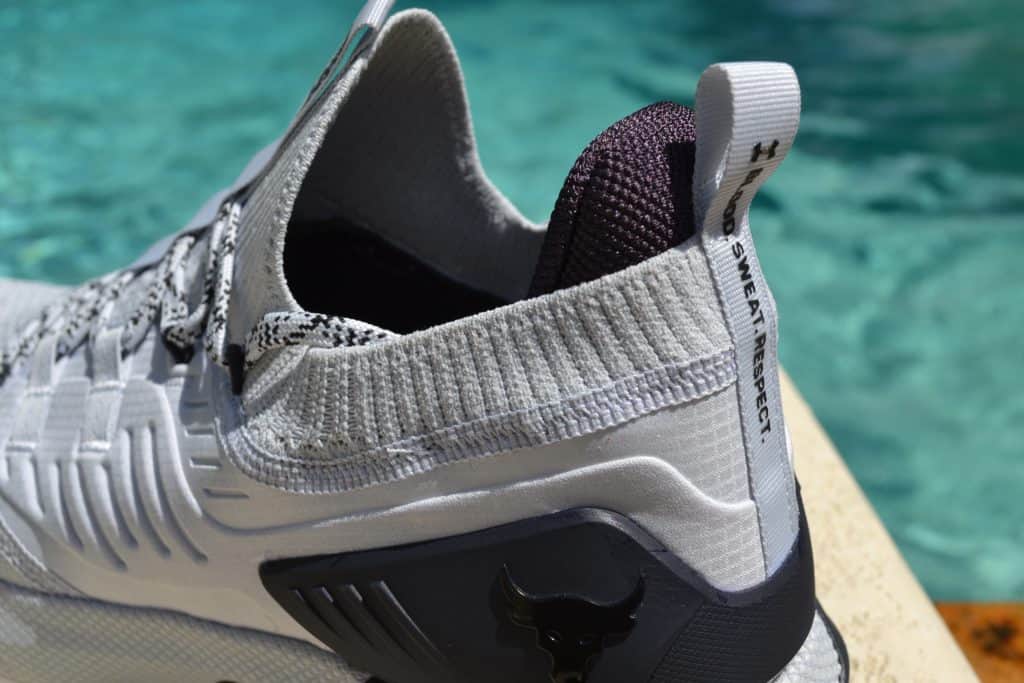 Project Rock 3 Training Shoes – In the Gym
There's no doubt – the sweet spot for these is lifting weights.
Bodybuilding, powerlifting, and things like that.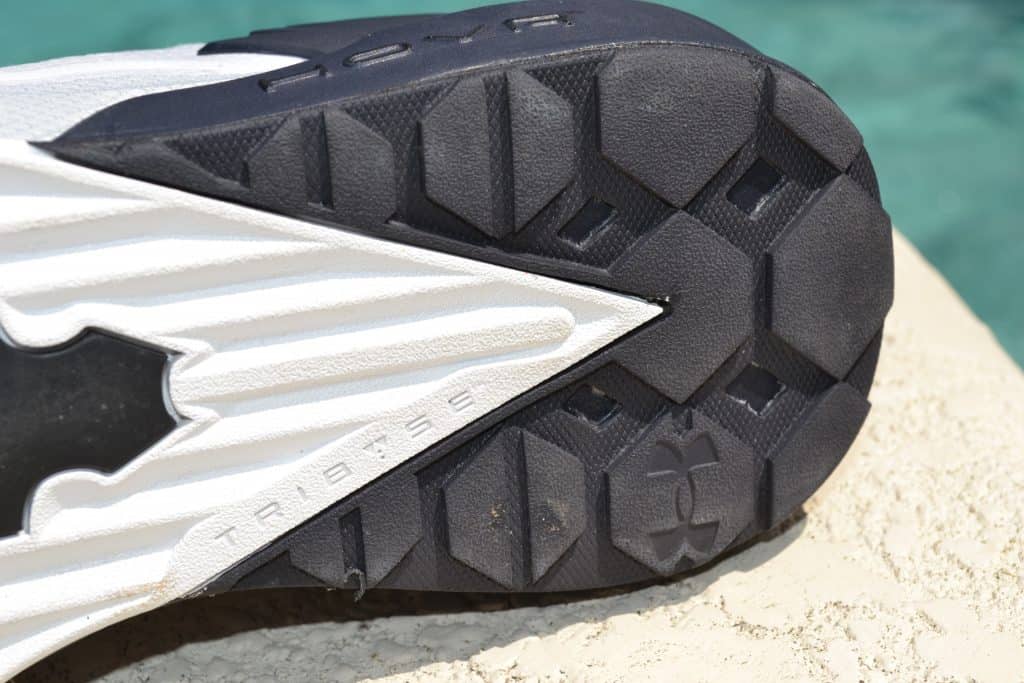 There's not a lot of cushion in the heel (good for lifting weights), and not much in the forefoot either.
These are definitely NOT running shoes.
Given the relatively delicate upper, I think these might be best suited for traditional resistance training in the gym.
Subjecting the knit upper to a lot of abrasion is probably going to cause problems.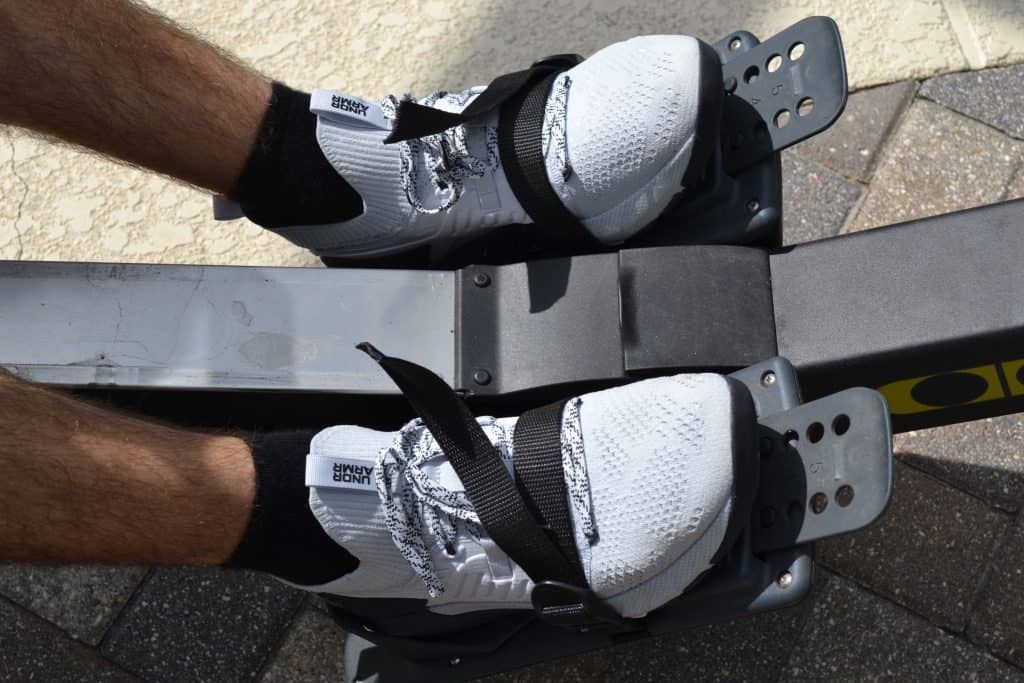 Also as mentioned, I would not run in these – there's barely any cushion in the heel.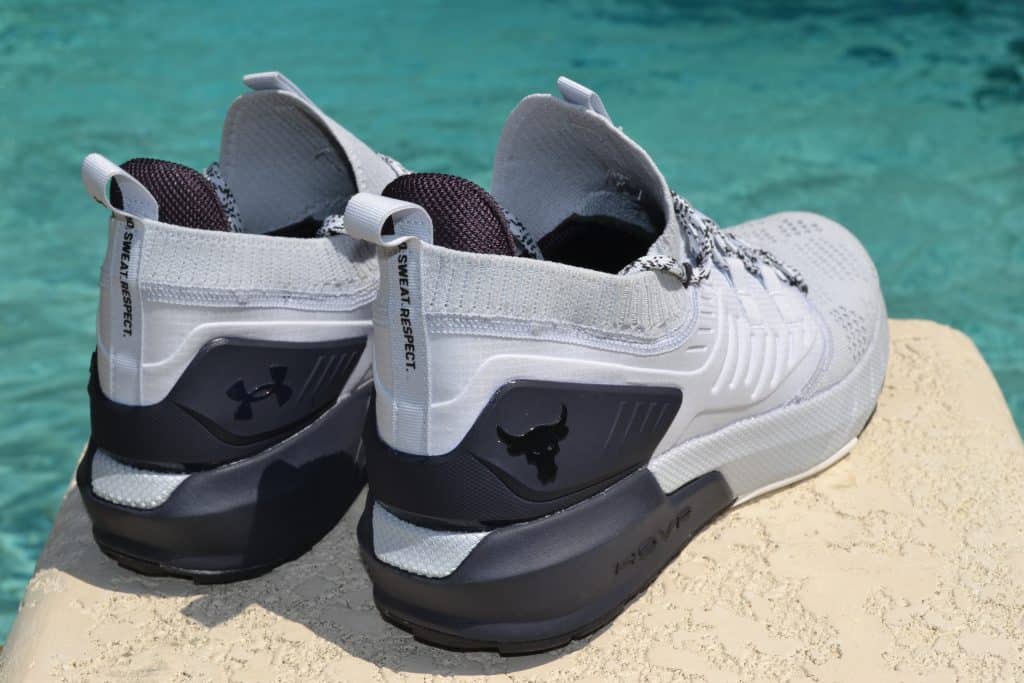 There's no problem using these for non-impact workouts – like the world's best air bike: Rogue Echo Bike. Great grip from the all-rubber outsole.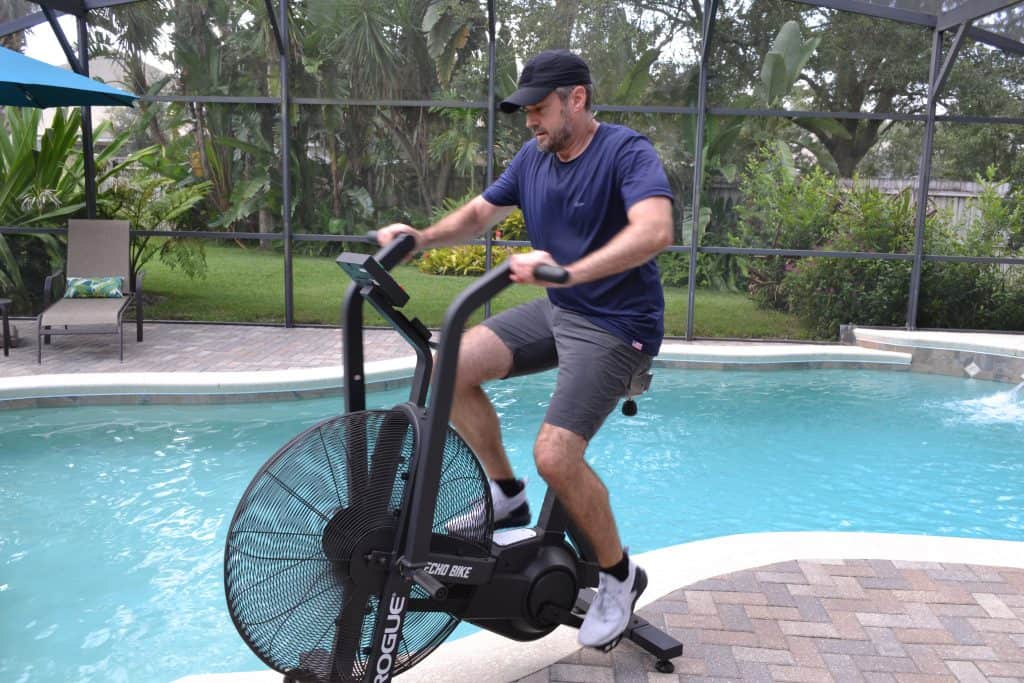 Project Rock 3 Training Shoes Versus Nike Metcon 6
Let's compare to the Nike Metcon 6 – a shoe we reviewed just a month ago.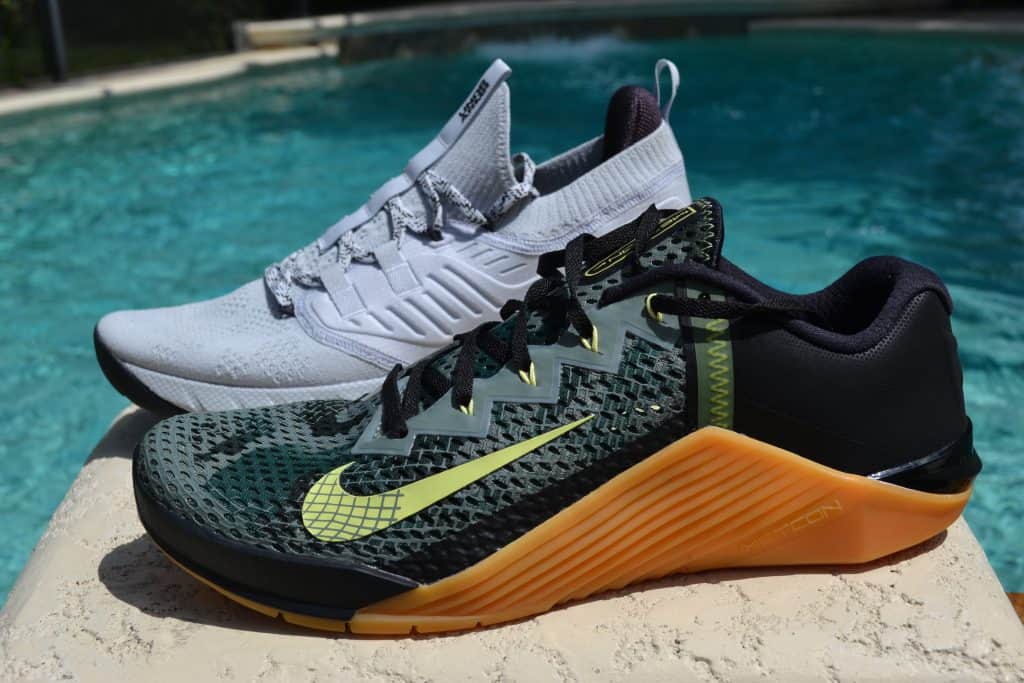 The Nike feels (and looks) more streamlined – but it's actually heavier at 14.0 ounces (Men's Size 11.5).
The Nike Metcon 6 is a very good multi-purpose training shoe.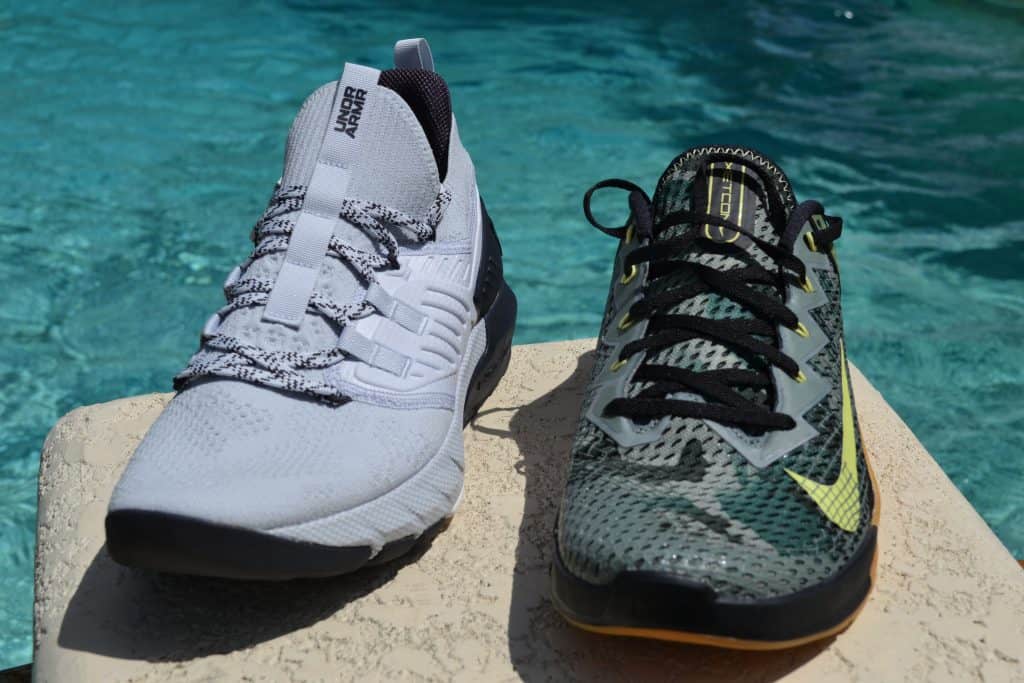 It uses a dual density midsole – with some decent cushion in the forefoot, and less in the heel.
Because it comes with Nike's Hyperlift wedges, you can drop these into the shoe and go from the standard 4 mm of drop to 12 mm (10 mm in Women's).
That's a nice benefit.
The Nike Metcon 6 has an super-breathable upper – see those perforations? They are HUGE.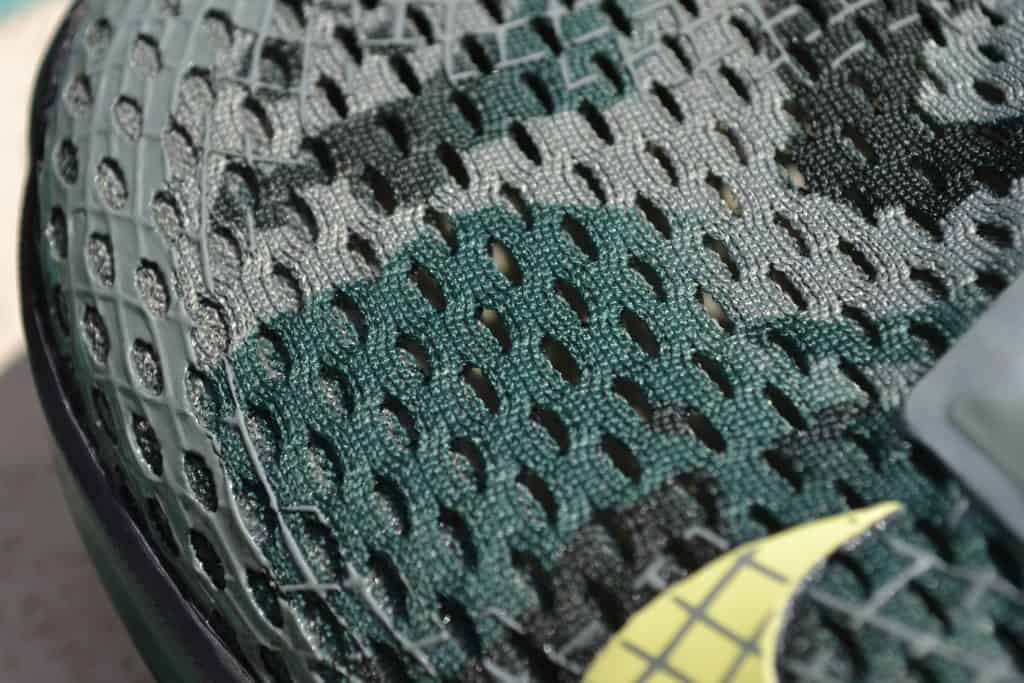 In contrast the Rock 3's upper is lightweight and has some perforations, but not like the Nike.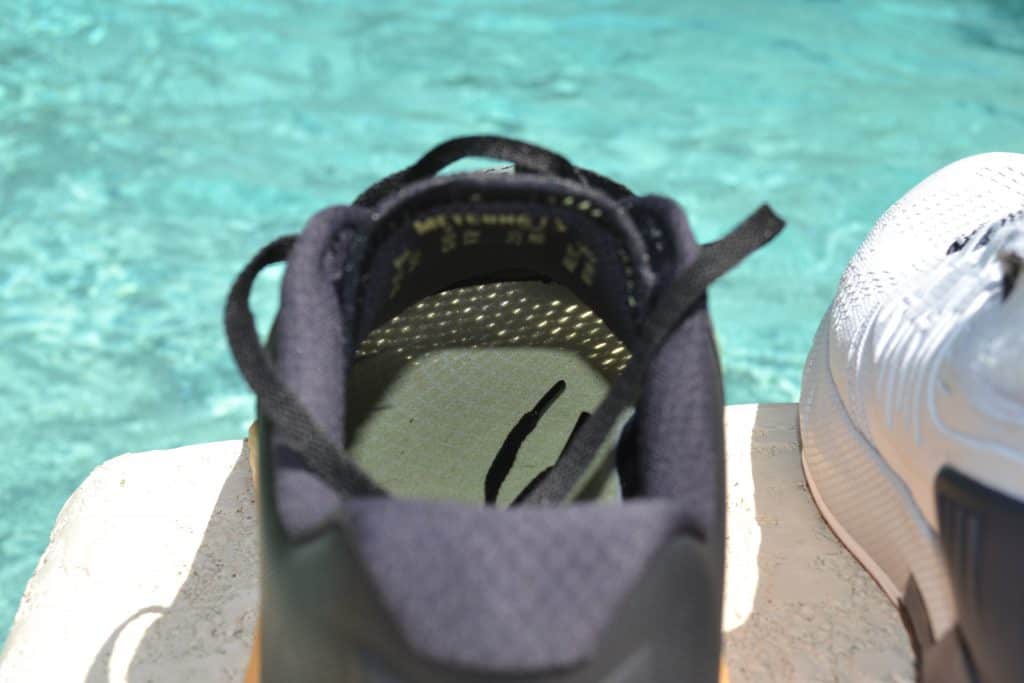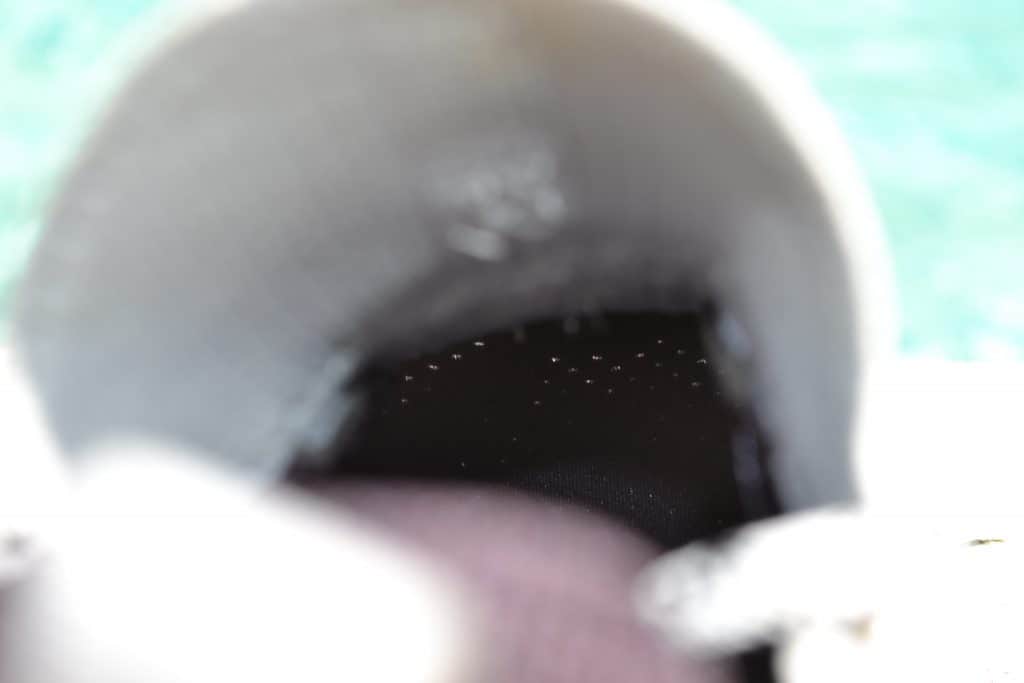 Why is the Nike heavier, despite being smaller?
It's built like a tank. There's a huge "rope wrap" to keep rope climbing abrasion off the upper, and the upper is very tough too.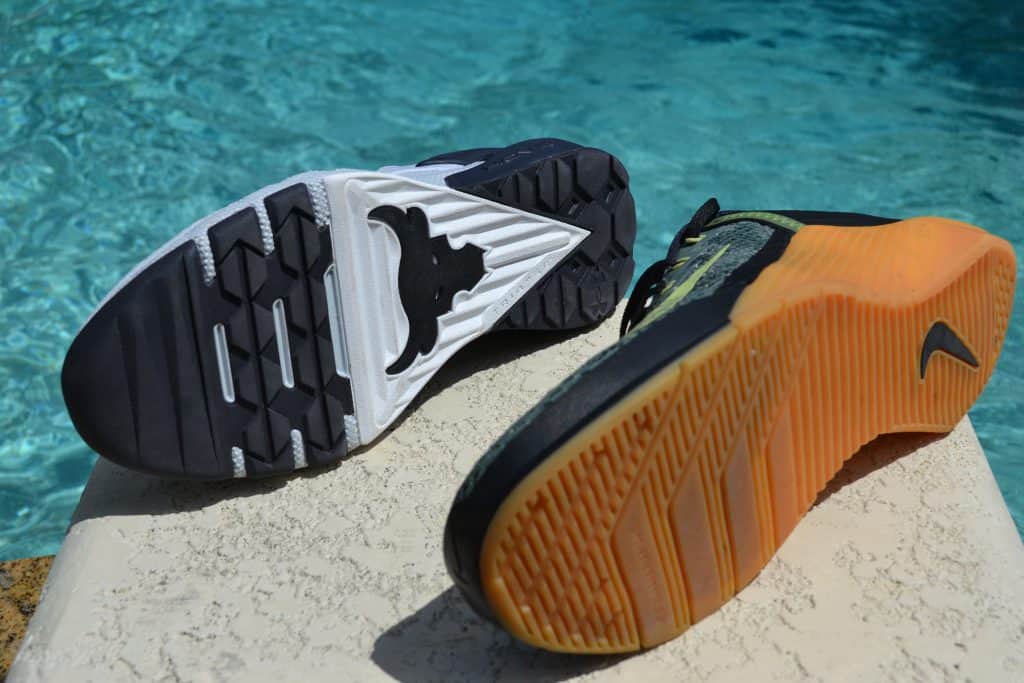 The upper incorporates reinforcements in key areas – unlike the Project Rock 3.
Subjectively, the Project Rock 3 feels to have LESS cushion in both the heel and forefoot.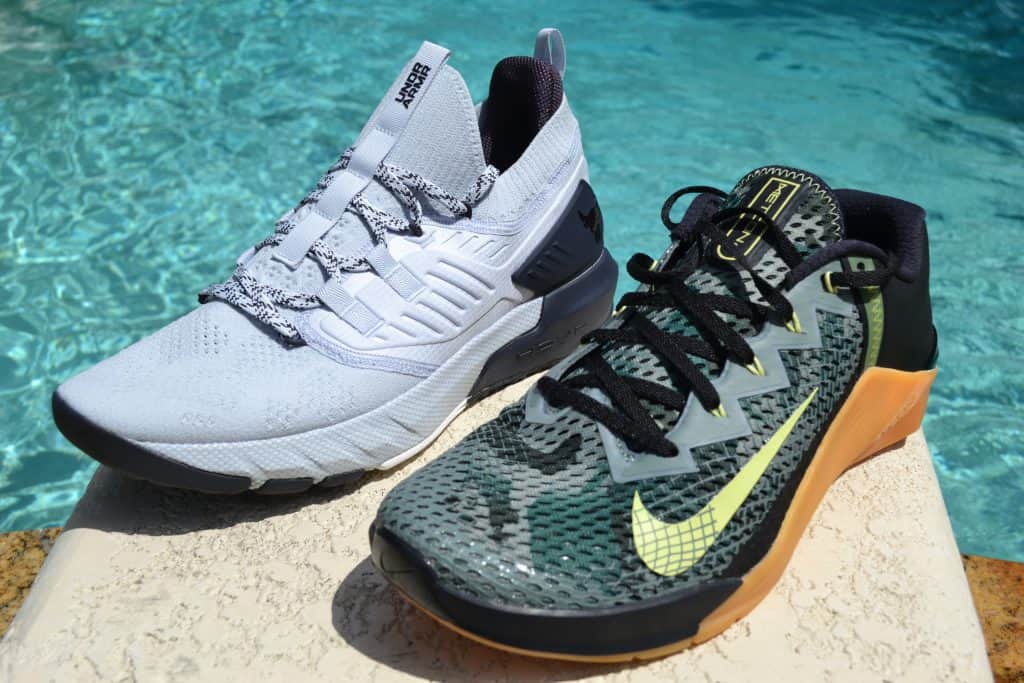 With the more delicate upper, I think the Nike Metcon 6 makes the better shoe for CrossFit.
Keep the Project Rock 3 for your in the gym workouts.
In fairness, UA doesn't market the Project Rock 3 as a CrossFit shoe – that's what the UA Tribase Reign 2 is for.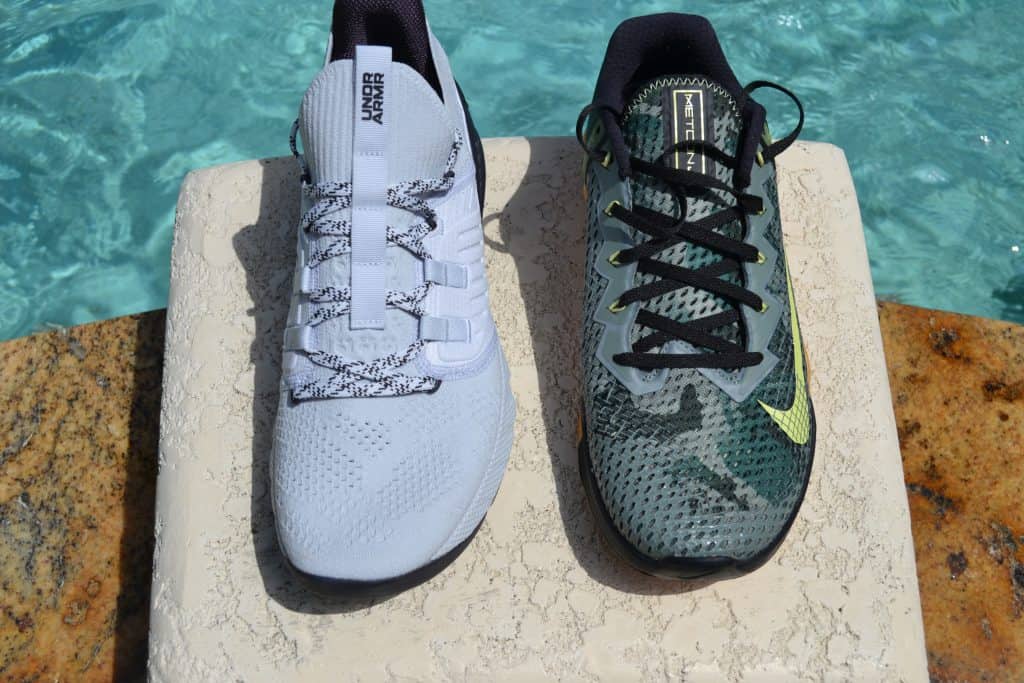 Project Rock 3 Training Shoes Versus Reebok Nano X
How about the Reebok Nano X?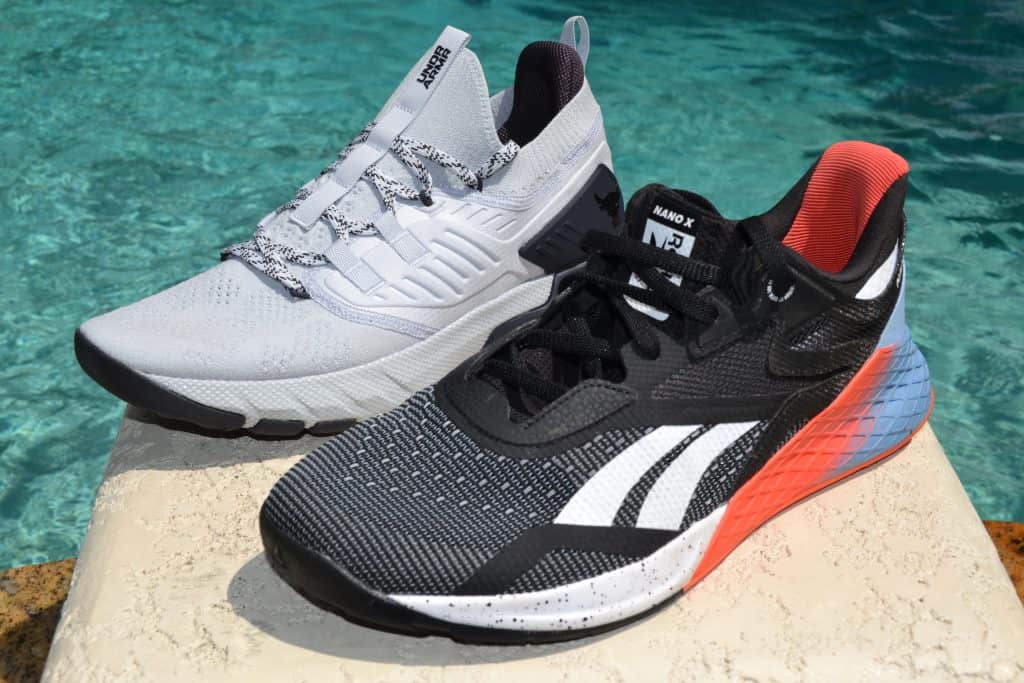 The Nano is a great CrossFit shoe – now in it's 10th version they have incrementally improved it bit by bit.
Like the Project Rock 3 there is little cushion – in the heel and forefoot.
There's also a vague similarity in that both shoes have a very tall collar , and achilles pad.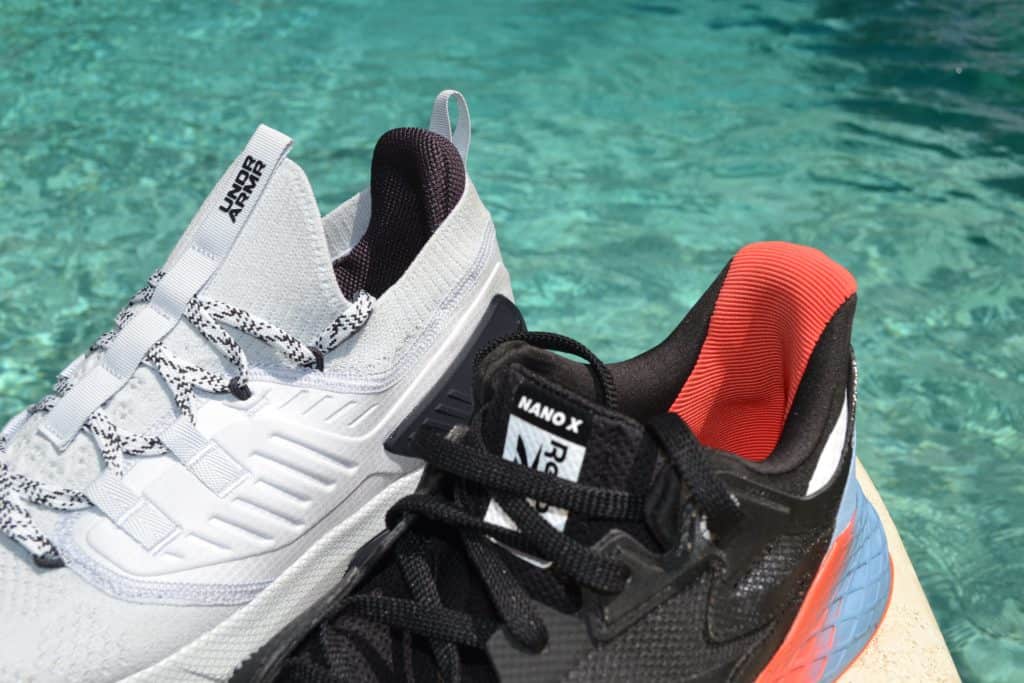 The Nano X also uses a flexible upper – but it's much, much tougher than that of the Project Rock 3.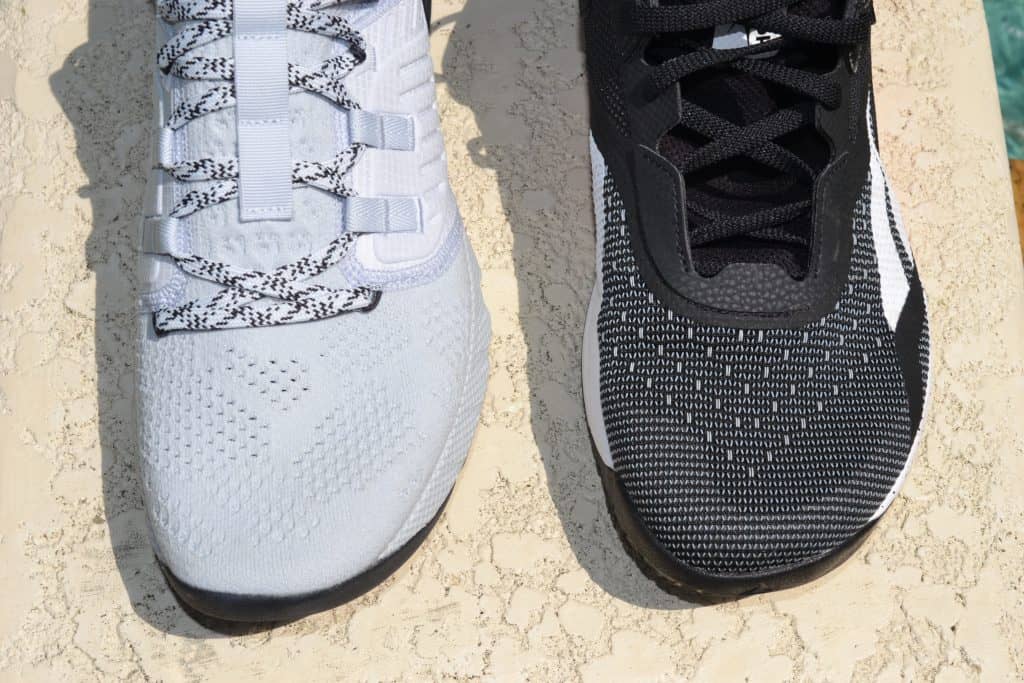 The Nano is built like a tank – and has the weight to prove it.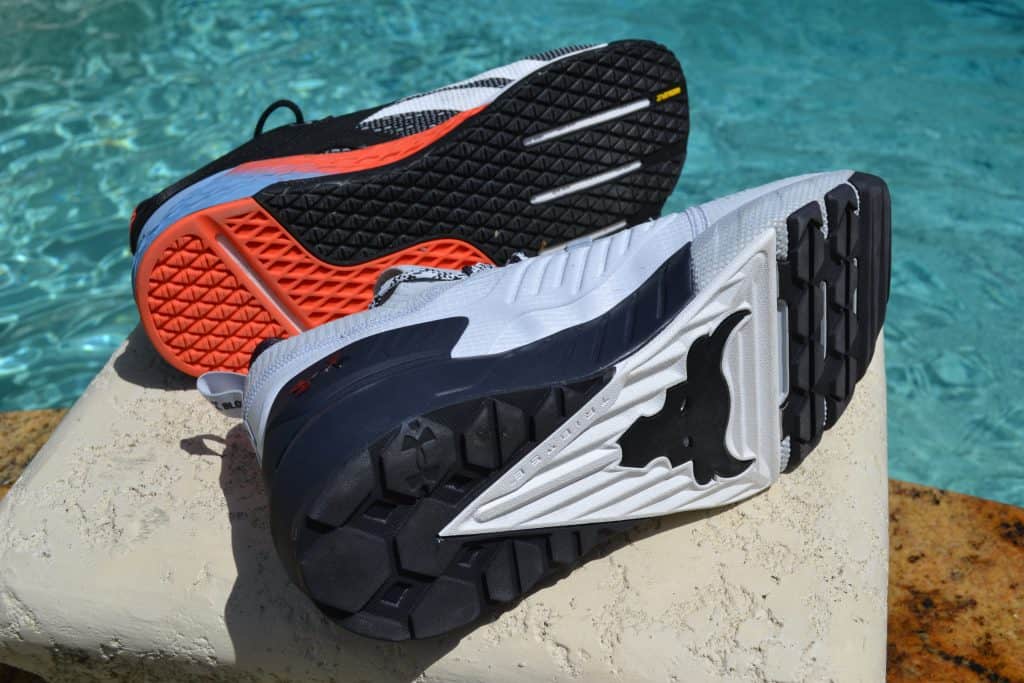 The Nano is well over a full ounce heavier than the UA shoe.
The Nano X makes a great weight lifting shoe by the way – very stable heel, minimal cushion, but has a modest 4mm heel to toe drop.
There's also nothing like the Hyperlifts in the Reebok shoe.
So, if you want a larger drop (8mm) like the Project Rock 3 has that's probably a point in favor of that shoe.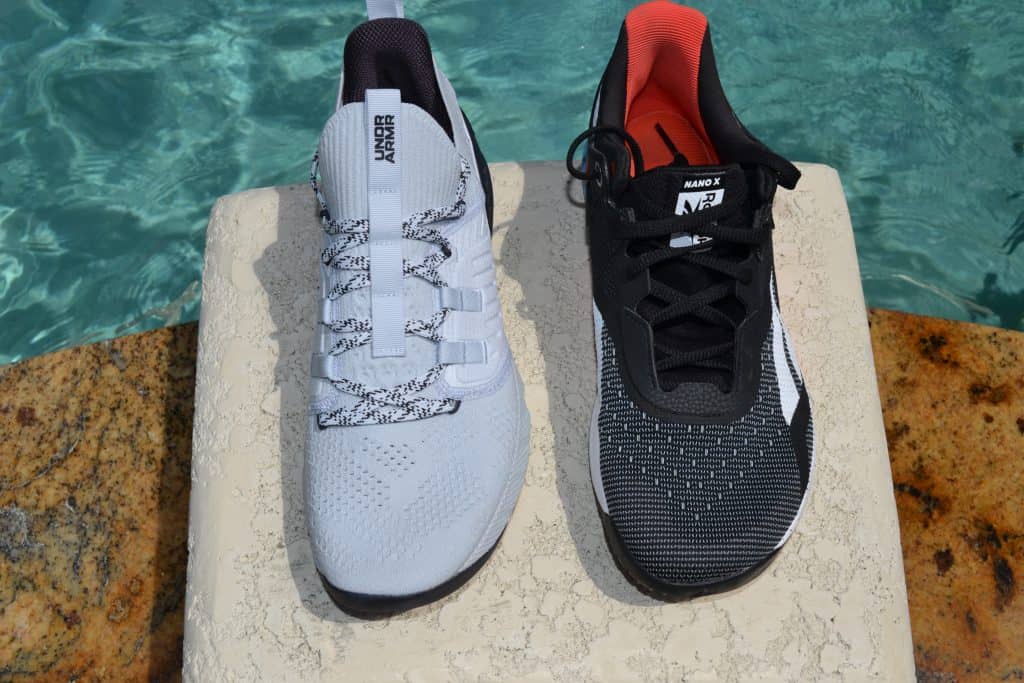 Project Rock 3 Training Shoes – In Summary
The Project Rock 3 Training Shoes from UA will be great for your in the gym strength training sessions.
It has a rock solid heel with excellent support.
The stretchy, knit upper is comfortable and feels nice.
It is a bit delicate though, so this shoe is clearly meant for more traditional gym workouts.
I wouldn't recommend it for running or impact activities as despite the presence of HOVR foam there just isn't a lot of cushion.
Looking for a UA shoe that's tough and versatile? You might like the UA Tribase Reign 2.
Or – check out the new kid in town – the UA TriBase Reign 4 is now available.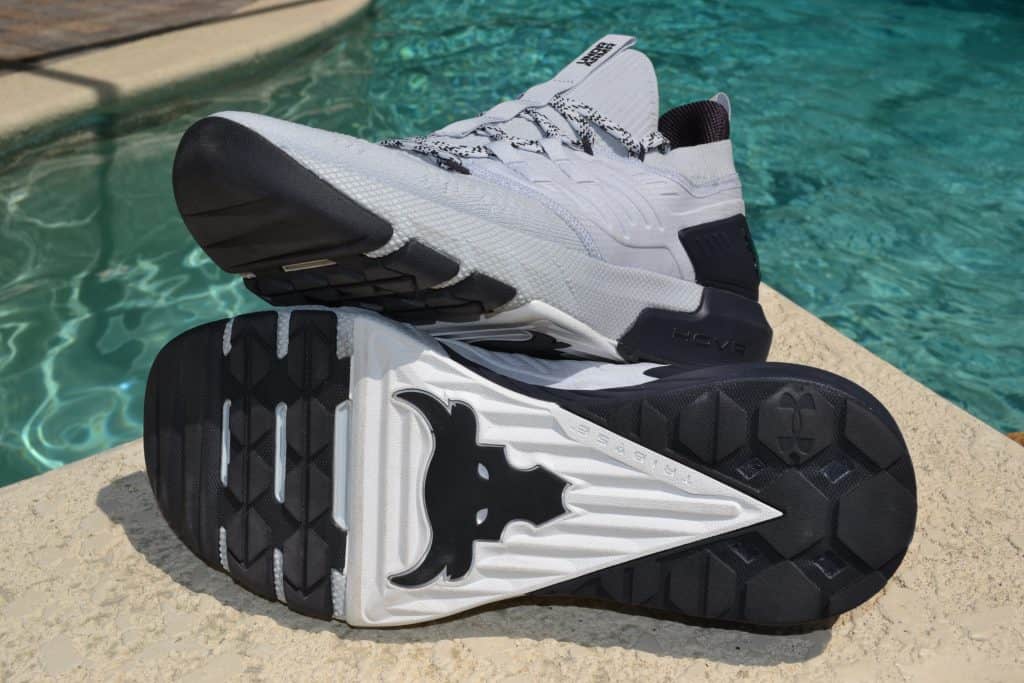 Photo Credits
Some product photos on this page are property of Under Armour.
This website is not affiliated or associated with CrossFit, Inc. CrossFit is a registered trademark of CrossFit, Inc.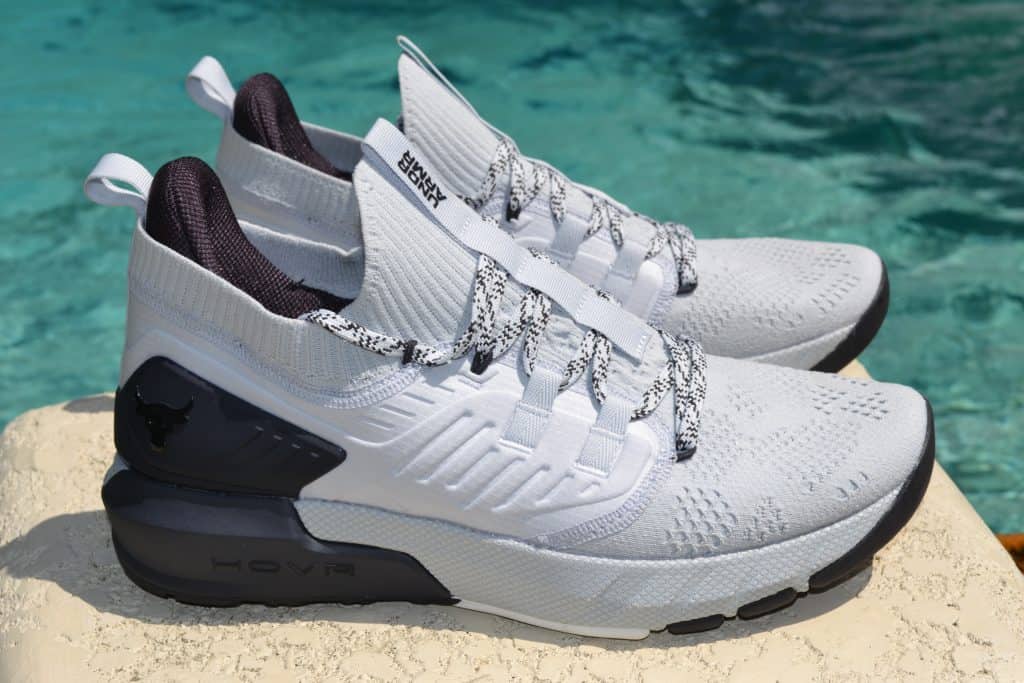 Affiliate Disclaimer
We are an affiliate of Under Armour. If you buy shoes or apparel after clicking the links in this article, we receive a small commission at no extra cost to you. This helps us to bring you in-depth information and content on these great training shoes.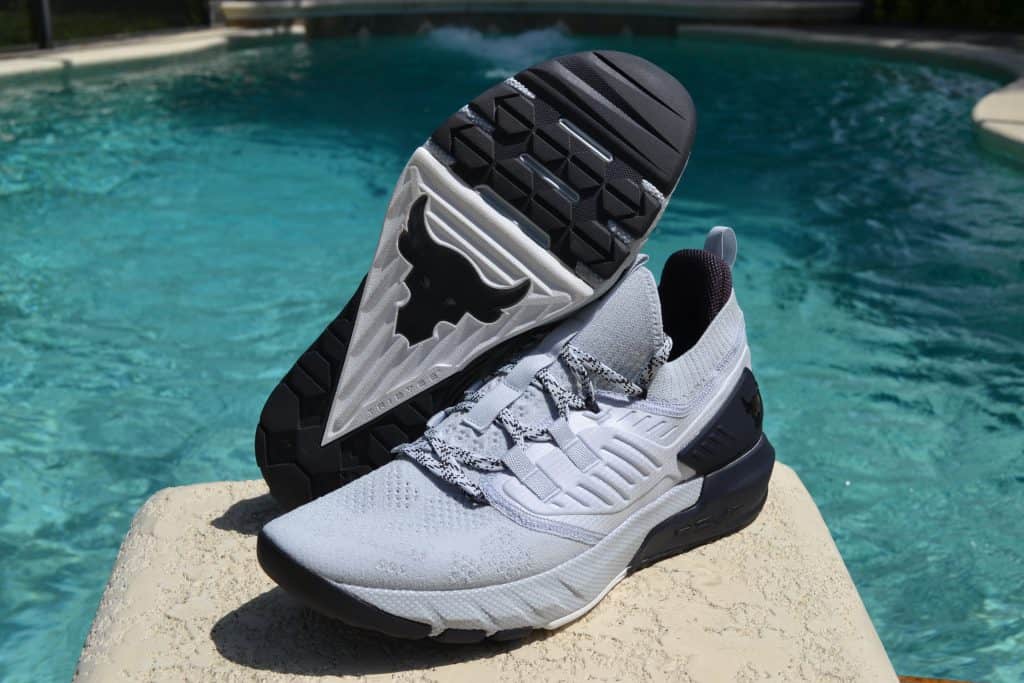 Tim is the founder of FitAtMidlife.com – an avid gym rat for 30+ years, he's a reviewer of many, many shoes – and founder of the Speed Bag Gathering – the world's only gathering of speed bag punching enthusiasts.  See more gym reviews at Tim's YouTube channel.